We visited Lisbon to compile an efficient Lisbon one day itinerary for you. We show you how to see the best of what the Portuguese capital has to offer – even if you only have 24 hours in Lisbon or less.
Lisbon in a Day Quick Guide
One Day in Lisbon Map
All stops for your Lisbon itinerary:
How Long to Spend in Lisbon?
How many days in Lisbon is enough? Like always, we like to be efficient. Even if you're only in Lisbon for one day, you can see all of the major sights and get a taste of the vibe of the Portuguese capital.
If you have more time, you can use the same itinerary at a more relaxed pace. Additionally, you need to go on some day trips – Sintra and the Portuguese beaches should not be missed!
Best Districts For a Day in Lisbon
If you only have 1 day in Lisbon, it's best to stick to the central areas:
Alfama
Baixa
Chiado
Barrio Alto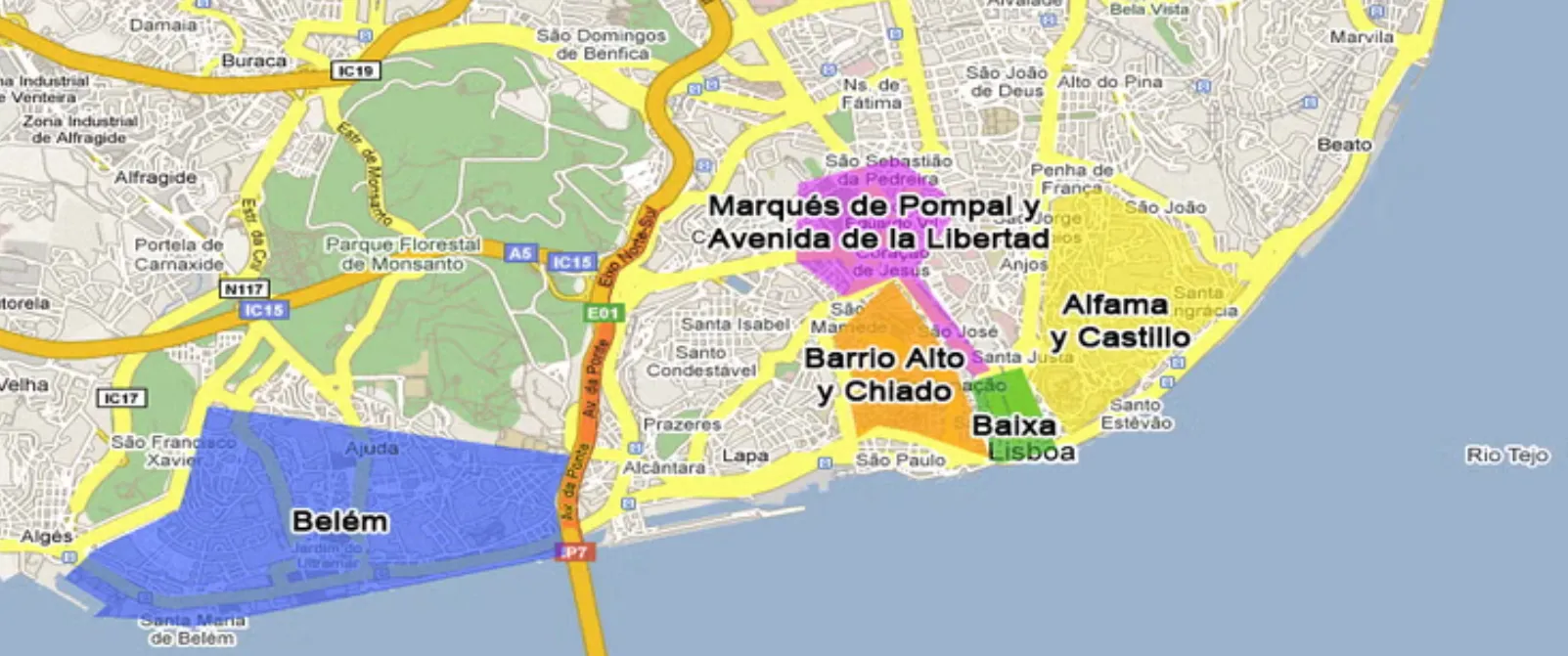 Is Lisbon Walkable?
Depending on your stamina, the central areas are walkable.
Be aware that Lisbon is dubbed the City of the Seven Hills. If you're tired of walking uphill, ascensores and elevadores (loosely translated to lift or elevator) provide a fun way to cover the vertical distance.
If you want to travel outside of the centre, e.g. to Belem, you should take public transport in the form of a tram to save time and energy, especially if you only have 1 day in Lisbon.
Speaking of trams, riding the historic tram 28 is another fun way to move around the city.
What to Do in Lisbon For a Day
The 10 best things to do if you only have one day in Lisbon:
Tram 28
Alfama & Miradouros
Castelo de Sao Jorge
Lisbon Cathedral
Praca do Comercio
Lisbon Pink Street
Carmo & Chiado Square
Santa Justa Lift
Bairro Alto & Fado
Time Out Market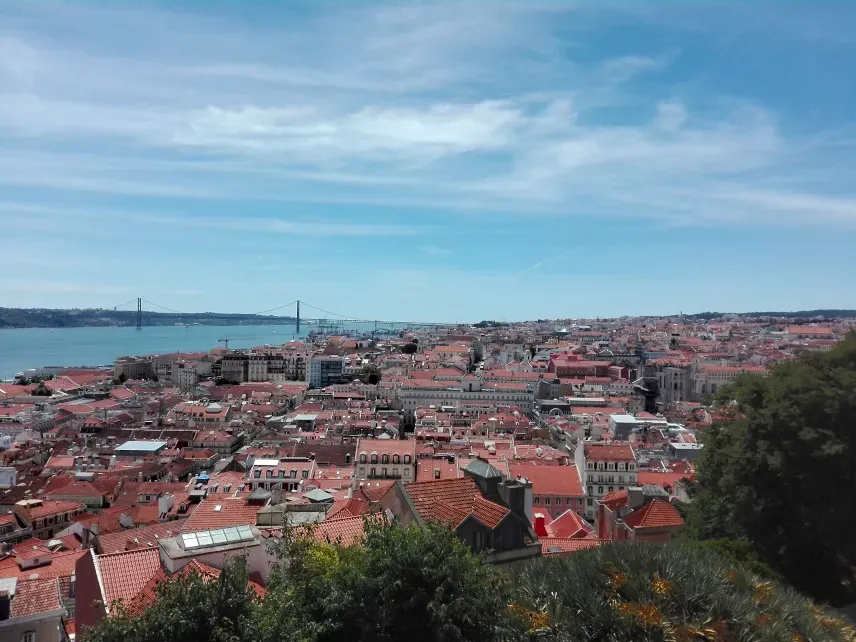 What to See in Lisbon in 1 Day
Lisbon 1 Day Itinerary Morning – Alfama
Tram 28 and Miradouros
Grab a quick breakfast at your hotel or on the go and start your day by hopping on the historic tram 28 towards Alfama. Hop off at Miradouro de Santa Luzia and enjoy the view. If you're looking for another angle, you can also check out Miradouro das Portas do Sol.
Castelo de São Jorge
Make your way to Castelo de São Jorge. The castle was built by the Moors and later used as a royal castle for centuries. The complex includes several towers, sentries, a moat, excavations from Phoenician, Roman and Moorish times and two large squares that invite you to linger. The viewing platform of the fortress allows a wide view of the entire city and the Tagus.
💡
The site extends to around 6,000 m² so plan some time if you want to enter. It opens at 9:00 am.
Alfama
Stroll through the lovely alleyways of Alfama. If you're interested, you can visit the Fado Museum.
Lisbon Cathedral
On your way back to the city centre, stop at Lisbon Cathedral and Saint Anthony's Church right opposite it.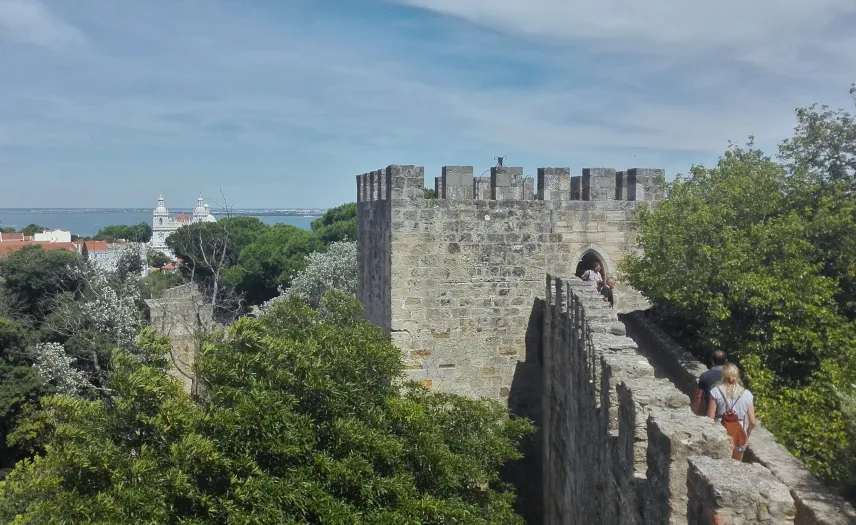 Lisbon 1 Day Itinerary Lunchtime – Baixa and Chiado
Comercio Square or Praça do Comércio
Comercio Square is the heart of the city. It faces the Targus River. We loved this area to relax and people-watch for a while. When the weather is nice, you'll find loads of street music along the riverfront promenade.
Rua Augusta
Through the Rua Augusta Arch, the Rua Augusta brings you deeper into Baixa or downtown Lisbon.
Santa Justa Lift and Carmo Square
The Elevador Santa Justa is one of the main sights of Lisbon. It brings you up to Carmo Square where you'll find the stunning Carmo Convent.
💡
If you don't want to pay for the elevador ride, you can walk up the stairs behind the elevator towards Convento do Carmo. From here, you can access the viewing platform for free.
Chiado Square and Luís de Camoes Square
Praca de Chiado and Praca de Luís de Camoes are two landmarks you shouldn't miss on your way to lunch.
Elevador da Bica and Pink Street
You've seen an ascensor, now it's time to check out an elevador: Elevador da Bica will bring you back down the hill to your last stop before lunch: The Instagram-famous pink street.
Time Out Market
Let's hope you made it all the way to Time Out Market for lunch. You'll find everything your heart desires from Portuguese to international cuisine at more than 40 stalls. If you only have a limited amount of time, this is the best place to sample different dishes!
Lisbon 1 Day Itinerary Afternoon – Belem
Tram to Belem
Time Out Market is directly next to Cais do Sodre Station. Here, you can hop on a tram to Belem. Make sure to check out Ponte 25 de Abril, also known as the Lisbon Golden Gate Bridge, on the way.
Pasteis de Belem
No visit to Belem would be complete without sampling the famous Pasteis de Nata or Pasteis de Belem where they originate from.
Belem Tower and Monument to the Discoveries
Head to the riverside to check out the Monument to the Discoveries and the Belem Tower.
💡
Our advice: If you're short on time (which we assume you are if you read this one day in Lisbon itinerary) there is no need to visit the inside of the tower. Instead, head to the Jerónimos Monastery.
Jeronimos Monastery
Like the Belem Tower, the Jerónimos Monastery is classified as a UNESCO world heritage site. Erected in the early 1500s, it is one of the most prominent examples of the late Portuguese Gothic Manueline style of architecture.
In our opinion, it's very much worth a visit if you can spare the time and energy.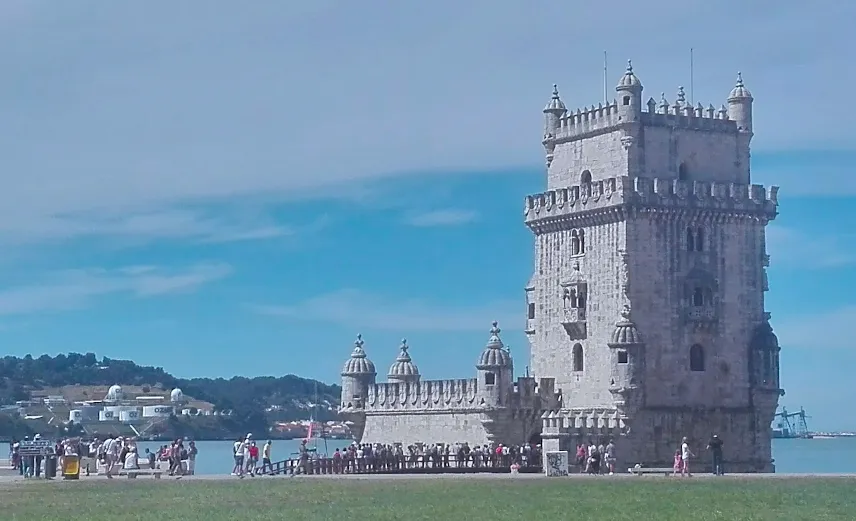 Lisbon 1 Day Itinerary Evening – Barrio Alto
Fado Dinner
In Barrio Alto, you'll find more than 100 bars and restaurants. While this might not be the most authentic way to enjoy Fado, there are plenty of restaurants which offer a free Fado show with your dinner. If you ask us this is an excellent option for the time-efficient traveller and we can recommend it by experience.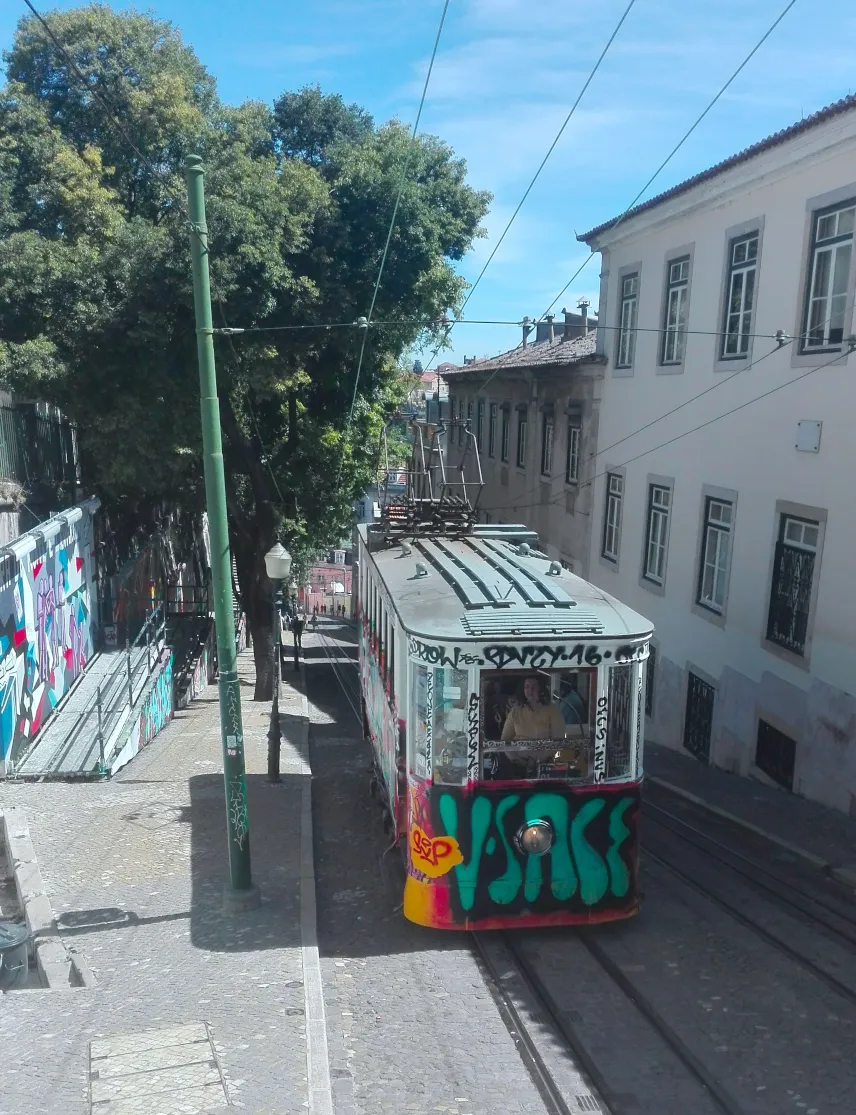 Lisbon 1 Day Itinerary Nightlife
PARK Rooftop Bar
We love a good drink with a good view. Of course, we have to recommend the PARK rooftop bar.
Riverside Clubs
If you still have some energy left in you (kudos!), how about visiting a nightclub along the banks of the Targus River like Urban Beach?