When you're planning a trip to Central America, El Salvador belongs on your travel bucketlist! First, we provide 5 reasons why you should go backpacking in El Salvador, afterwards we provide you with an easy 7 days backpacking El Salvador itinerary.
5 reasons why travelling El Salvador is easy
1. It's easy to reach from Guatemala, Honduras, and Nicaragua
You can easily include El Salvador in your Central America backpacking itinerary. Shuttles run between Santa Ana and Antigua, Guatemala as well as El Tunco and Leon, Nicaragua. Don't spend a whole day in a shuttle going directly from Antigua to Leon! Instead, break up the long journey and venture off the beaten path a bit.
2. The public transport is amazing
El Salvador has amazing public transport. You can just stand on the street and a bus will come by within a matter of minutes. Even at the bus stations in San Salvador or Santa Ana we never had to wait. You can just tell the bus driver or ticket guy where you want to hop off as well. Prices are regulated and can be found written on the front of the bus so there is no opportunity for scams. Buses run all over the country - you can hop the beaches, visit Santa Ana volcano, or explore the Ruta de las Flores - all cheap, easy, and convenient with public transport.
3. Uber is widely available
Even if bus travel is safe and easy enough - even for female solo travel - it's even more convenient that you can find Uber pretty much everywhere in the country. Especially in El Tunco we thought it was great to just hire an Uber after a night out. You don't have to haggle with a taxi driver for a good deal and you have the safety benefit of reviews. We have not tried it ourselves as we took local buses but theoretically, Uber quotes you cheaper prices for transfers in between the beaches and the airport or Santa Ana than private shuttles.
4. The currency is the US Dollar but you can also pay with bitcoin
The official currency is the US Dollar so if you're from the US you don't have to exchange money or rethink prices. Even if you're not from the US you probably have easy access to Dollars. Additionally, the conversion rates are easy, even if you're from the UK or the EU.
In theory, you can also pay with bitcoin but we don't own any so we have not tried it ourselves.
5. The people are super helpful
So far, we have explored Mexico, Belize, Guatemala, El Salvador, Honduras, and Nicaragua in Central America and we must say that the people in El Salvador were the most open. Everyone seemed very happy to see tourists and to showcase their beautiful country. Nowhere did we have so many conversations with locals. When we looked lost in the street many offered us directions or even a ride. We overall felt very welcome in this country.
Easy one week El Salvador itinerary
Day 1 - Arriving in Santa Ana
After taking a shuttle from Antigua to Santa Ana, you still have around half a day left to explore Santa Ana, which was enough for us. Visit the main square with the theatre, cathedral, municipal hall, and loads of street food. For sunset, head to the hospital tower we marked on the map. This hidden gem features a rooftop terrace with great views over the city. From here, it's not for to La Ceiba, where you will find the best pupusas in town. This might well be the best version of the traditional El Salvador street food you'll try in the country.
We couldn't recommend the Casa Vieja Guest House more highly - the amazing host will help you with all questions and directions.
How to get from Antigua, Guatemala to Santa Ana, El Salvador
Take a shuttle! it should take you around 4 hours and cost you around 40$. It's also the easiest way to cross the land border.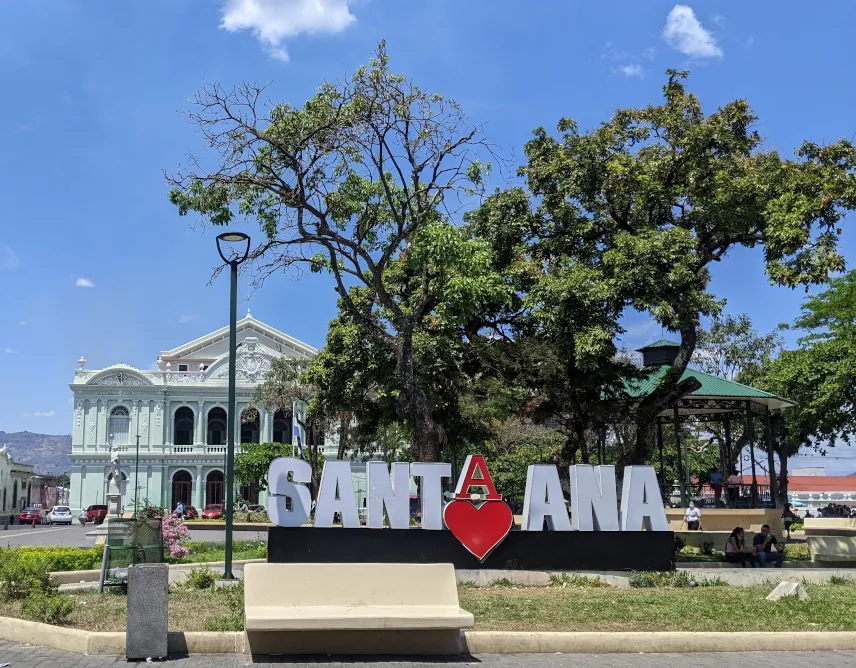 Day 2 - Santa Ana Volcano day trip from Santa Ana by bus
Santa Ana Volcano is definitely one of the highlights of Santa Ana and El Salvador. The hike is of moderate difficulty but you still have to summit 500 m (1600 ft). Depending on your speed it will take you around two hours to go up and another two to go back down.
On the way, there's a view tower with views over the nearby Coatepeque Lake and other volcanoes. On the top, you'll (hopefully) be rewarded with views of the turquoise blue crater lake. Another reward you can get at the top is an ice lolly. You heard right: a guy is carrying ice cream to the top of the volcano - what a brilliant business idea!
How to go from Santa Ana to the Santa Ana Volcano with public transport
Just head to the spot we marked on the map. The bus leaves at 7:40 a.m and costs around 0.7$. Hop off at El Tibet with all the other tourists and get a guide for 3$. Additional costs are 7$ for the national park entrance - all in all, a rather cheap day trip.
Beware that the buses back only go at 1:20 p.m. (which is barely enough time) and 4 p.m. (which is way too much time).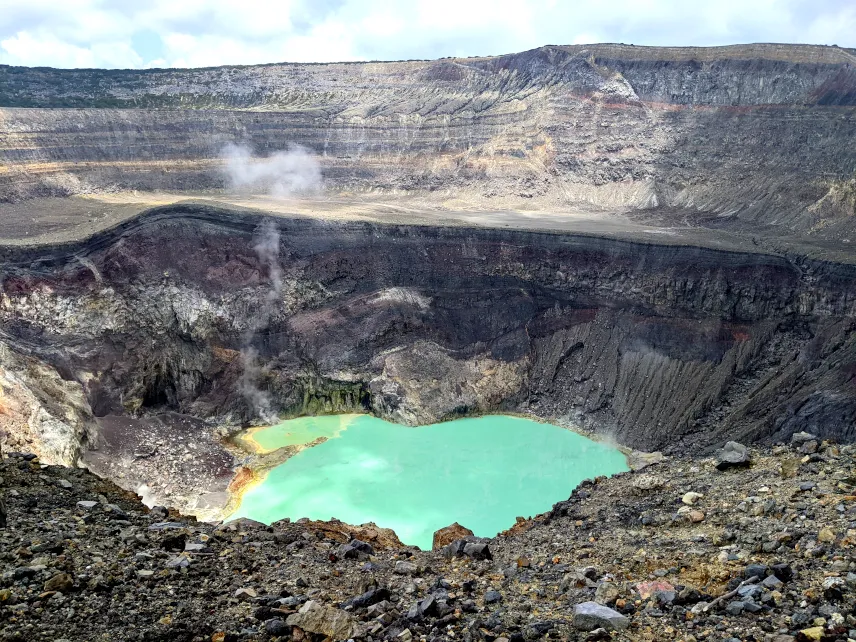 Day 3 - Ruta de las Flores day trip from Santa Ana by bus
The Ruta de las Flores is one of the touristic highlights of El Salvador. 5 towns belong to the Ruta de las Flores, which is more about the picturesque villages than about flowers.
Ataco
Apaneca
Juayúa
Salcoatitán
Nahuizalco
The first three towns are super easy to visit from Santa Ana by public transport.
Ataco is known for great coffee. Additionally, you can find a lot of arts and crafts here - both to buy and to admire. Don't forget to check out the Mirador de La Cruz viewpoint.
Apaneca is mostly famous for its labyrinth. It's a fun place to get lost for a while. They also have a cafe and loads of ziplines - for example, you can ride a bicycle on a zipline here.
Juayúa features a beautiful church with stained glass windows. Additionally, it's famous for the Chorros De La Calera waterfall, which is part of the seven waterfalls hike. Beware that nowadays you need a guide, otherwise you will stand in front of a closed gate.
How to go from Santa Ana to the Ruta de las Flores with public transport
You can easily see the three towns we visited on a day trip from Santa Ana.
First, you have to go to the main bus station. Here, you catch a bus to Ahuachapán. Exit the bus at the traffic light we marked on the map and change to a bus to Ataco. Exit the bus in Ataco at the spot we marked on the map.
Second, hop back on the bus where you left it to travel further down the road to Apaneca. If you tell the bus driver that you want to go to the labyrinth he will drop you off there.
Third, hop back on the bus to go to Juayúa.
Forth, there is one direct bus going from Juayúa to Santa Ana leaving at around 4 pm. If you miss that bus you have to go back the way you came - first to Ahuachapán and from here to Santa Ana.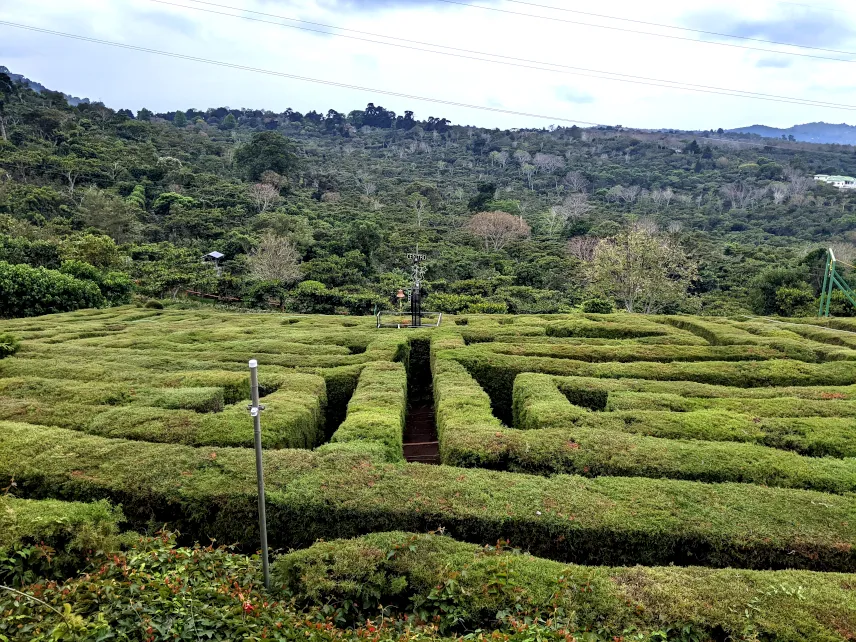 Day 4 - Salto Malacatiupan hot waterfall day trip from Santa Ana by bus
This was my personal favourite day trip from Santa Ana. After all, where in the world do you get to swim in a hot waterfall? Not many tourists go here. After you pay 1$ entrance fee, you can walk down a small path and cross the river on small wooden bridges. Another small path leads down the side of the waterfall. Here, you will find two pools, where you can swim in. A small pool right in front of the waterfall with an easy entrance and a bigger pool you have to use a rope to climb into. You can swim a bit in the bigger pool but it's quite tiring as the water is as hot as a bathtub!
Beware that you cannot buy food and drinks in the area so bring enough to stay hydrated - I found the hot water to be a bit tough on the circulatory system.
Bonus: If you are looking for hot springs with more infrastructure, we can recommend the Alicante Hot Springs. For 5$ you can bathe in 11 pools varying in temperature from warm to boiling hot. They serve drinks and small dishes. You can easily walk here from the Ahuachapán - Ataco road.
How to get to Salto Malacatiupan from Santa Ana with public transport
Hop on a bus to Ahuachapán at the main bus terminal. Hop off the bus in Atiquizaya. From here, a tuk tuk will take you to the waterfall. It should not cost you more than 6$.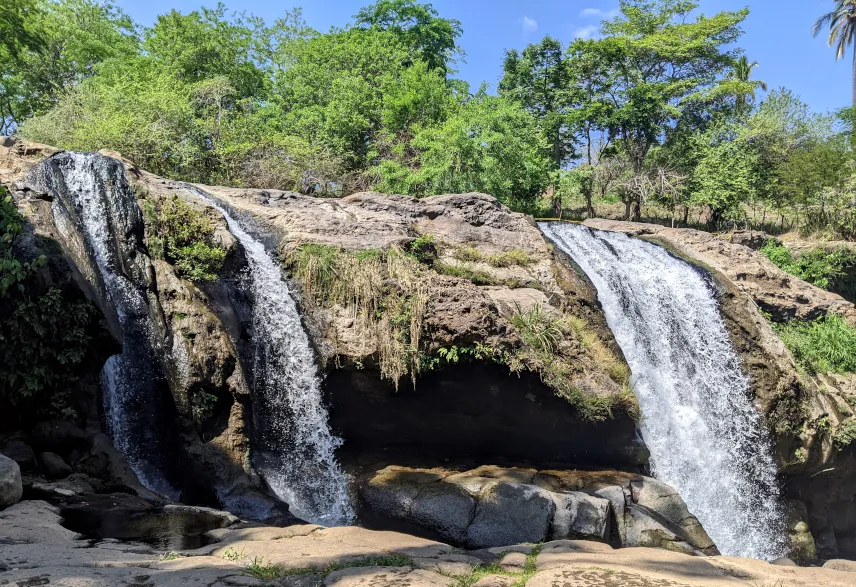 Day 5 - Taking the public bus from Santa Ana to El Tunco
Taking the bus from Santa Ana to El Tunco is easy. First, you have to take a bus to San Salvador. Change buses to El Tunco or La Liberdad at the Terminal de Buses de Occidente. If your bus stops in La Liberdad just hop on another bus to El Tunco. We found people screaming the directions of their buses everywhere we went so the bus system is super easy to navigate. Like all buses in El Salvador, they run often enough that you don't need (or get) a timetable.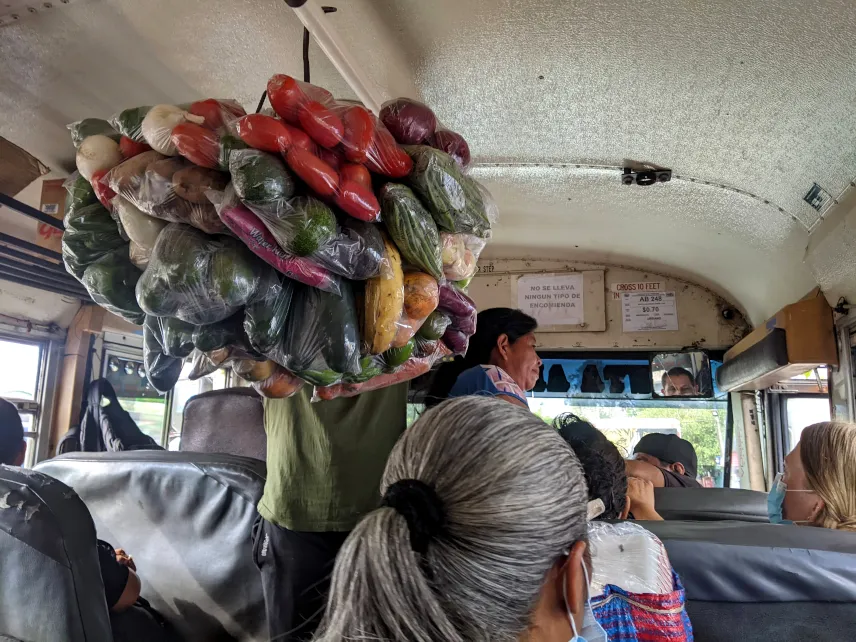 Day 6 - 7 (or as many as you want) - relax and surf in El Tunco
El Tunco is a surfer's paradise. Everything in this town is surf, so of course, you can rent boards or take lessons. We enjoyed our surfing lesson but we won't become avid surfers any time soon. If you're like us, there are still some things you can do in El Tunco: First, and foremost, you can chill at the beach. If you're cheap like us, we marked a spot with Gazebos on the beach, where you can enjoy some free shade. Of course, the sunsets are spectacular. After sunset, El Tunco is known to be a party place. You can find everything for a great night out: from beach clubs over fire dancers to street food. If you are in the mood for an adventure, you can find sea caves ar around the spot we have marked on the map. Go at low tide and maybe be smarter than us and take a guide when the guy offers it to you. Bonus: If you are looking for a sandy beach go to Mahahual. Here, you can find fine black sand and a lot of local food.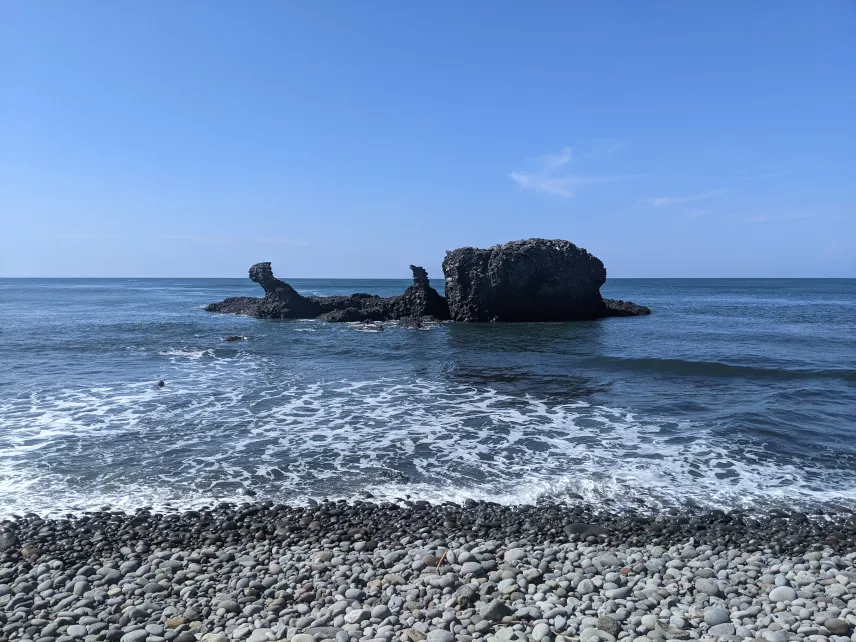 Shuttle from El Tunco, El Salvador to Leon, Nicaragua
El Tunco is the perfect vantage point for your 12-hour shuttle from El Salvador to Nicaragua via Honduras. Don't make the mistake of skipping El Salvador - this will also cut off some hours (and a land border crossing) from the trip from Antigua, Guatemala.
This post contains affiliate links. If you use these links to buy something we may earn a commission. You would help us a lot if you do so. Thanks.