Most people will either visit Hue with a guided tour or miss out on many of the sights. This is where our self-guided Hue cycling tour comes into play: You can see all the major sights and get off the beaten path!
You can rent a bicycle everywhere in town for as little as 30000 Dong (1,30€).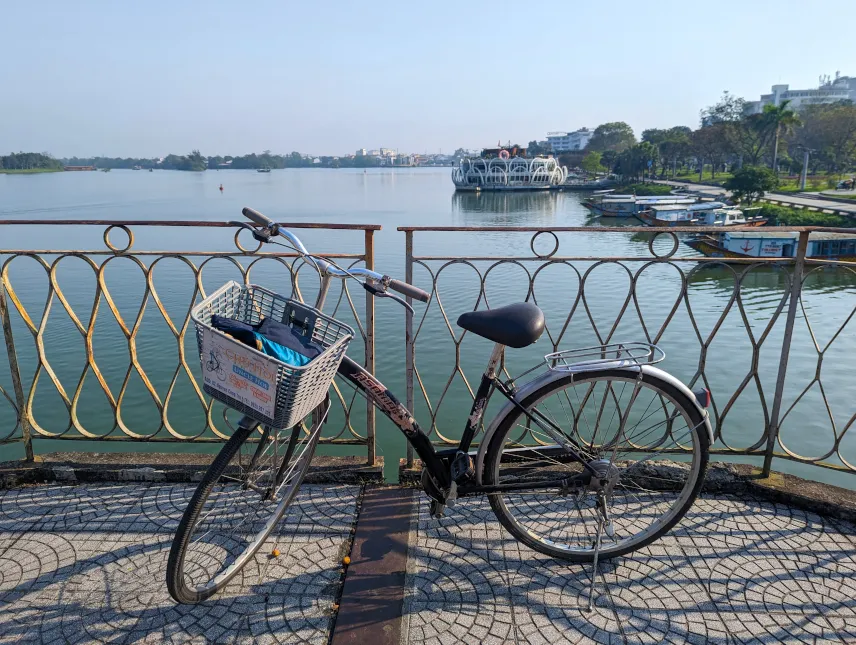 Is Hue Worth Visiting?
Yes, so much so that it was our favourite place in all of Vietnam. We had amazing weather (in contrast to the north of Vietnam), there is so much culture and history, and the food is amazing. At night, the city centre turns into a walking street which is a nice change of pace from the busy Vietnam streets.
We stayed in an amazing hostel which had a great social vibe without being a party hostel.
How many days in Hue
There are enough things to do in Hue to spend at least two days. That way, you can fully enjoy the Imperial City, the other historic sites, and the amazing food. It also helps you to keep to your own schedule and be independent of the time frame and tourist masses of a guided tour. When you're short on time, you can also squeeze everything into one day.
Hue 2 Day Itinerary
What to See in Hue Day 1 - The Imperial City and a Food Tour
1. The Imperial City
Start with the main attraction of Hue, the Imperial City. There are many better resources out there about visiting the Imperial City, so we will only advise you to budget enough time. We spent 2 hours but we met travellers who have spent the entire day here.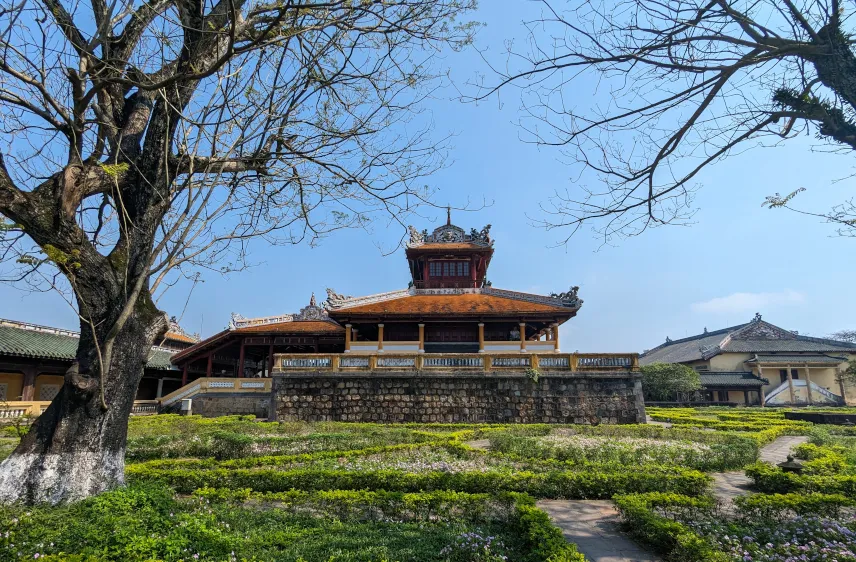 2. Food Tour
Back in the day, Hue has been Vietnam's seat of power. Of course, this led to some royally good food. Supposedly, more than half of the modern Vietnamese dishes originated in Hue or were at least influenced by imperial Hue food. Don't miss out on the opportunity to try some on a guided food tour.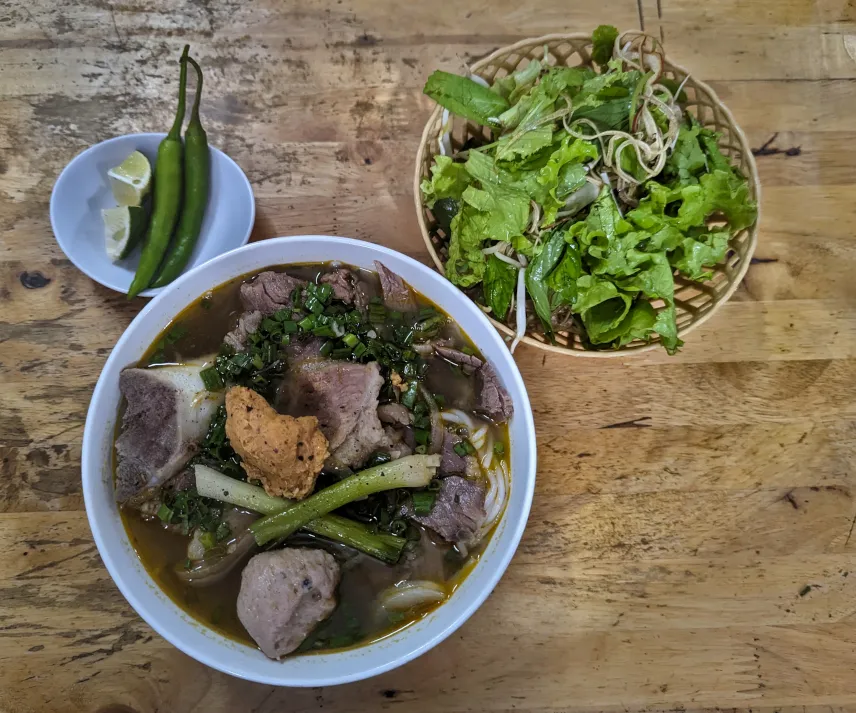 What to See in Hue Day 2 - DIY Hue Bicycle Tour
1. Tomb of Minh Mang
Start heading south, towards the furthest point of your cycling tour, the tomb of Minh Mang (if you don't make it all the way it's ok to skip this stop and start the tour at the tomb of Khai Dinh). There are several imperial tombs in hue but the three we visit on this Hue city tour are the most famous.
The Tomb of Minh Mang is large and orderly. It reflects military vigour and successful conquest, but also cultural conservatism. The grounds are filled with blossoming lotus ponds and pine-covered hills. The emperor's final resting place is locked and only opened once a year.
Distance cycled: 12.5 km / 7.5 mi
💡
Pro Tip: If you already know that you want to visit the Imperial City and several tombs, a combo ticket will save you money. It's valid for two days.
2. Tomb of Khai Dinh
The Tomb of Khai Dinh is a blend of Eastern and Western styles. In contrast to Minh Mang, Khai Dinh embraced french colonialism and imported loads of luxury goods from France. He was considered eccentric which is reflected in his tomb which spans over several climbing platforms overlooking the surrounding pine-covered hills.
The mosaics inside the tomb are super rich and opulent.
Distance cycled: 3.5 km / 2 mi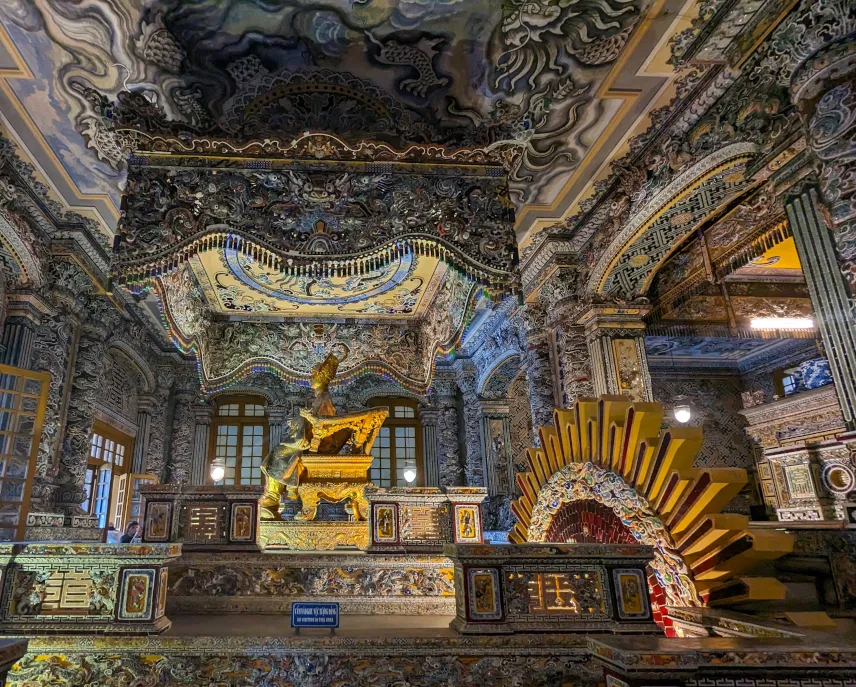 3. A peaceful bit of forest
The shortest way from Khai DInh's tomb to the abandoned water park will lead you through a nice bit of forest.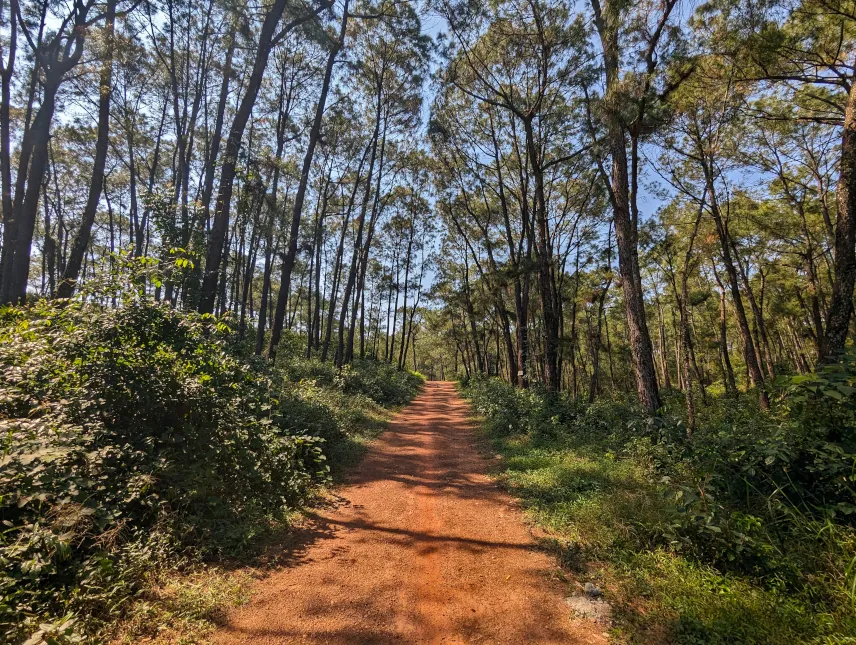 4. Thuy Tien Lake Abandoned Water Park
This was a recommendation from my hostel host.
Thuy Tien Park was officially opened in 2004. However, soon after being put into operation, the park was degraded and eventually abandoned.
The main attraction is the Aquarium and Dragon House. You can even climb into the mouth of the dragon for a panoramic view across the lake.
There are also slides and a gigantic abandoned music stadium with 2500 seats.
It's theoretically free to visit but there's a guy at the entrance asking for "money for a coffee". We gave him 10000 and he seemed happy with that.
Distance cycled: 4 km / 2.5 mi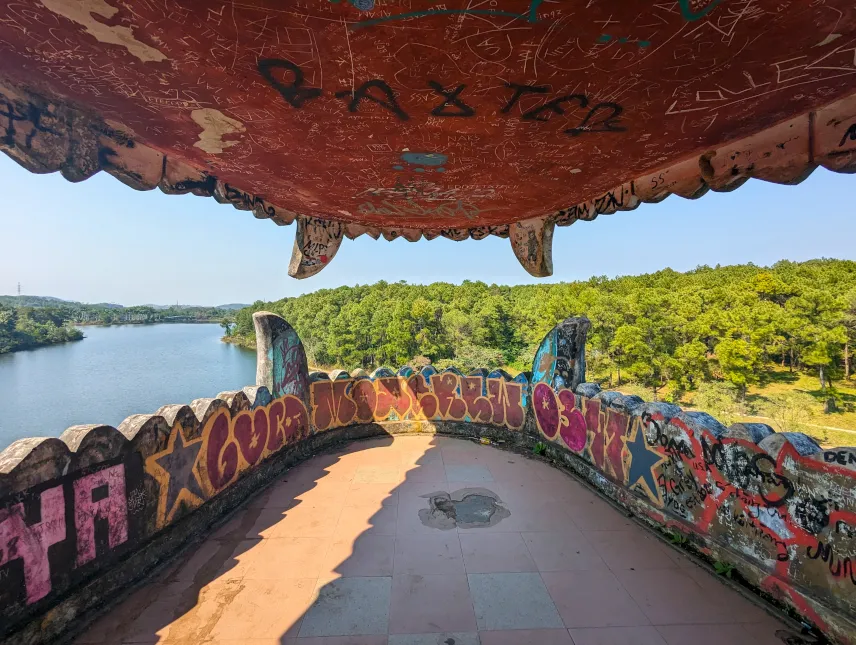 5. Tomb of Tu Doc
The tomb of Tu Doc is considered the most romantic of the tombs and still, it's not featured on the standard itineraries of the group tours.
Emperor Tu Doc was fond of art and poetry which is strongly reflected in his tomb. It is the greenest of all tombs and blends perfectly with nature. In fact, Tu Doc visited his grave several times before his death to write poetry.
Distance cycled: 5 km / 3 mi
6. Tu Hieu Pagoda
Tu Hieu Pagoda is Hue's largest and oldest pagoda and yet it's not very heavily visited as it's not on the itinerary of the majority of guided tours. The location in a pine forest is a very calm setting.
It used to be the home of the palace eunuchs who are buried on the grounds. Nowadays, it's home to 70 monks.
The entrance is free. If you park directly in front of the entrance, people will try and charge you 10000 Dong for parking but you can just park a few meters away and avoid this.
Distance cycled: 2 km / 1.2 mi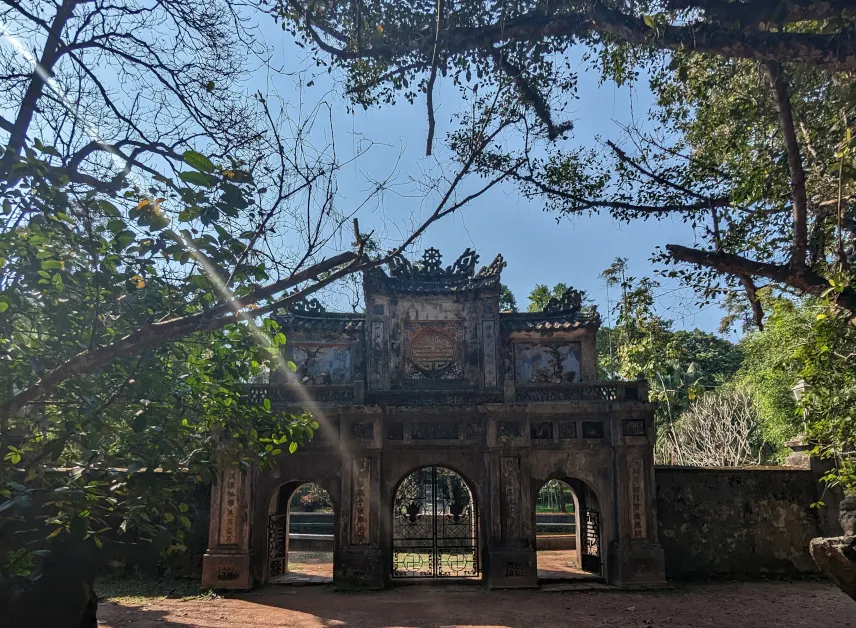 7. Outdoor Exhibition Area - Vietnam History Museum
This is such a cool Hue hidden gem we stumbled across. The outdoor exhibition features many tanks, planes, and other war equipment the Americans left behind after the war. You can wander around the area completely undisturbed.
The entrance is free.
Distance cycled: 1.6 km / 0.9 mi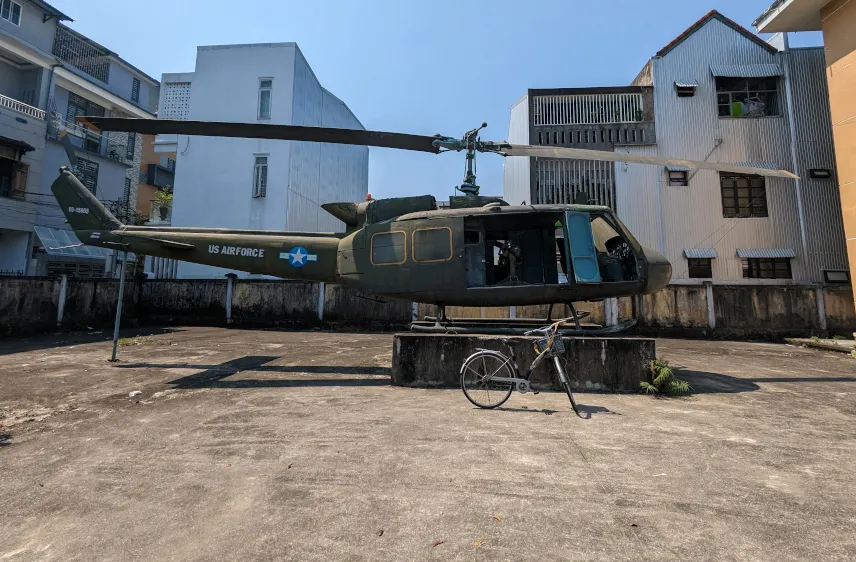 8. Tu Dam Pagoda
This is just a quick but very worthwhile stop in case you want to visit a pagoda without any other tourists. It's on your way so no detours are needed.
The entrance is free.
Distance cycled: 0.8 km / 0.4 mi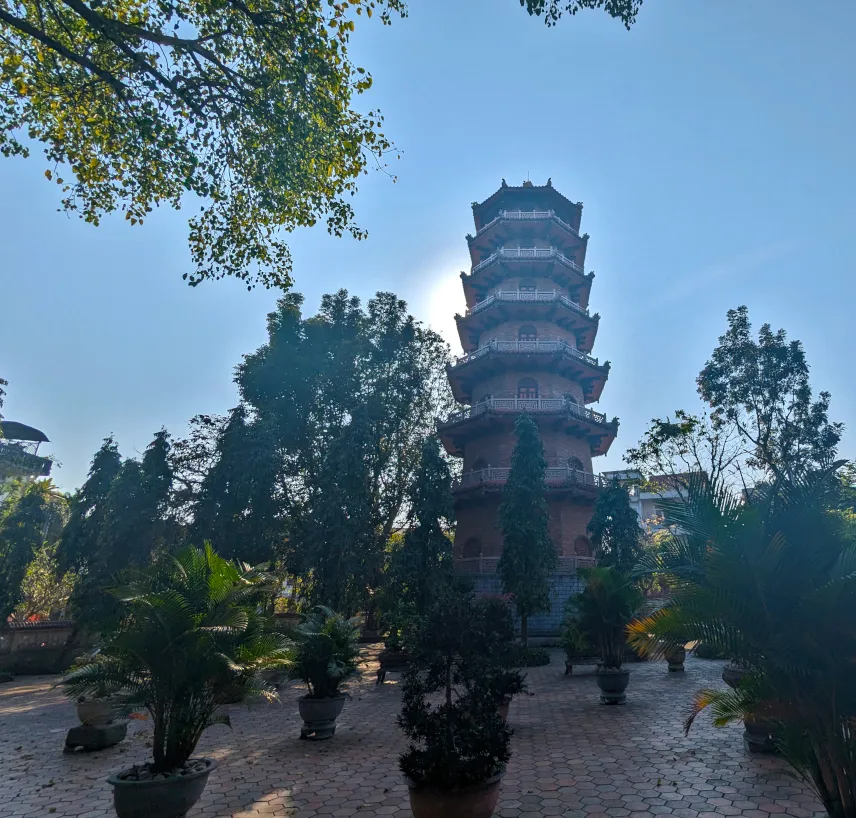 9. Thien Mu Pagoda
Thien Mu Pagoda is the unofficial symbol of the city of Hue. It sets itself apart by housing the car from the famous picture of the burning monk.
Thích Quảng Đức also known as the burning monk was a Buddhist monk who burned himself to death at a busy Saigon road intersection on 11 June 1963. He was protesting the persecution of Buddhists by the South Vietnamese government led by Ngô Đình Diệm, a Roman Catholic.
The entrance is free.
Distance cycled: 5 km / 3 mi
Total Distance cycled
Adding another 6 km / 3.7 mi to get back to your accommodation, you have cycled a total distance of 40 km / 25 mi.
It's 25 km / 15 mi if you skip the first and the last stop in case you're more like us and that seems more manageable for you 😉
This post contains affiliate links. If you use these links to buy something we may earn a commission. You would help us a lot if you do so. Thanks.