Our self-guided street food Hoi An will introduce 15 dishes to you - all for a price of less than 15€. We especially recommend doing this tour with two or more people so that you can share the dishes and the cost but it's also a lot of fun alone. As we Germans say: Selber essen macht dick 😉
Of course, you can also join a guided food tour.
Self-guided Food Tour Hoi An
Hoi An Food - Breakfast:
1. Best Mi Quang Hoi An: Mì Quảng Ông Hai
This is a traditional breakfast dish in Hoi An. For the average Westerner, it might seem weird to eat a noodle dish for breakfast - and so it did for us so we came later.
It's one of the typical Hoi An dishes that feature thick noodles. The main ingredients are wide rice noodles, meat, and fresh herbs, most commonly served with a small amount of turmeric-infused broth.
Mì Quang is often garnished with peanuts and toasted sesame rice crackers, which sets the dish apart from other noodle dishes.
Price: 35000 Dong
Alternative: Mì Quảng Cưng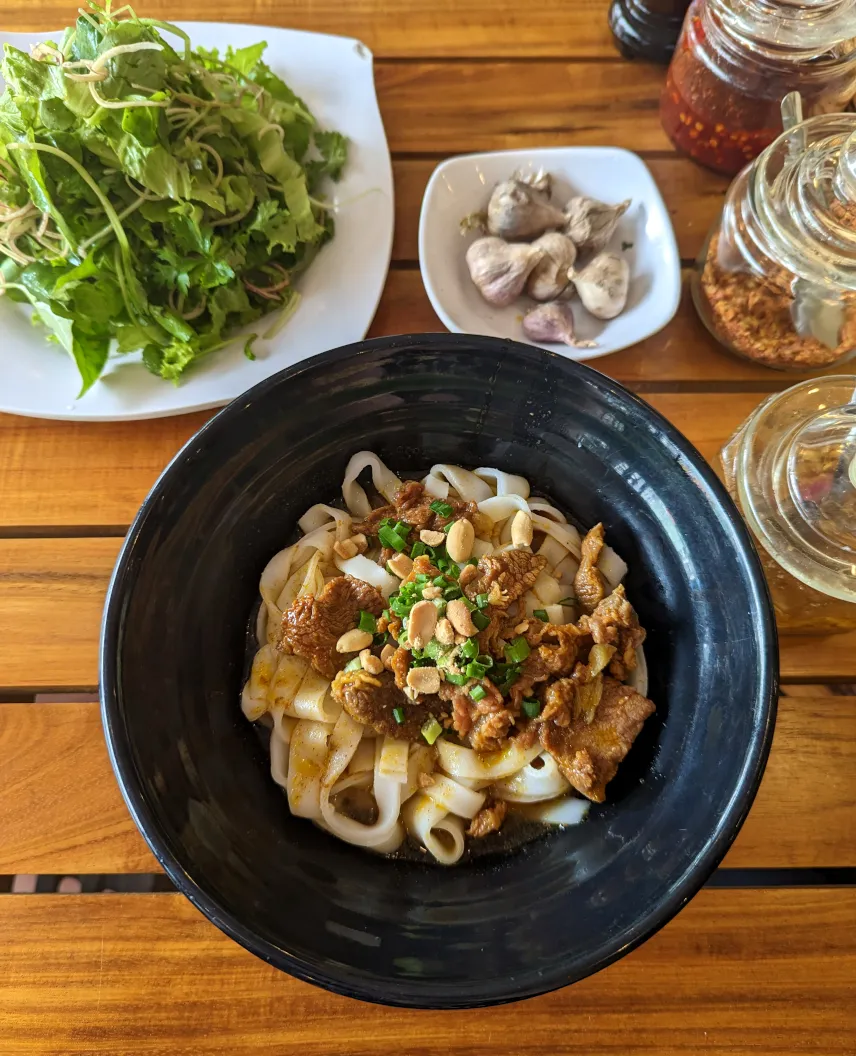 2. Best Bun Bo Hue Hoi An: Bún bò Huế Phạm Hồng Thá
Bun Bo Hue is another breakfast-style soup in Hoi An. The dish originates from Hue, a town north of Hoi An, but it can also be found all over Hoi An. The dish has a mix of spicy, salty, and delicious umami flavours. It comes with rice noodles, sliced beef, chả lụa (Vietnamese sausage), and sometimes pork knuckles. Again, the rice noodles are thicker than the usual thin Vietnamese rice noodles.
Price: 50000 Dong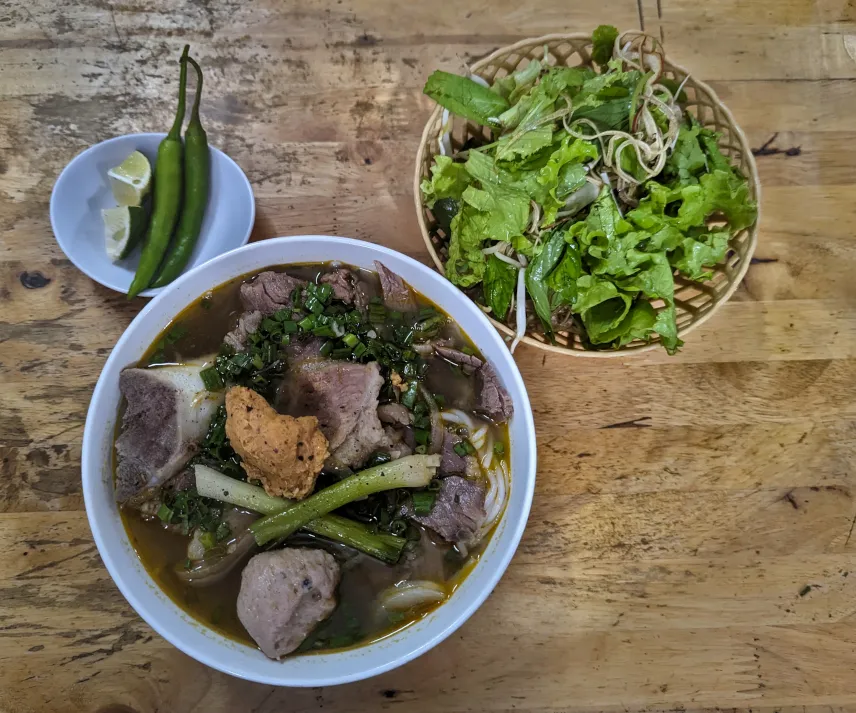 More Food in Hoi An
3. Best Banh Mi Hoi An: Madam Khanh - The Banh Mi Queen
Banh Mi is one of the most famous Vietnamese dishes. In Hoi An, it comes with a twist. Keep an eye open for the slightly different shape which supposedly makes the bread crunchier. The bread is filled with roasted pork or chicken, pate, Vietnamese sausage, well-seasoned fried egg, homemade pickles, papaya, carrot, herbs, chilli sauce, and soy sauce. Madam Khanh - also called the Banh Mi Queen - has been selling Banh Mi for over 30 years. She also serves vegetarian Banh Mi.
Price: 40000 Dong
Alternative: Bánh Mì Phượng
The other contestant for the Banh Mi crown of Hoi An is Ms Phuong. Her claim to fame was a visit from no other than Anthony Bourdain. Nowadays, she has a proper store in town but you should also keep your eyes open for the original little stall on the Hoi An Market.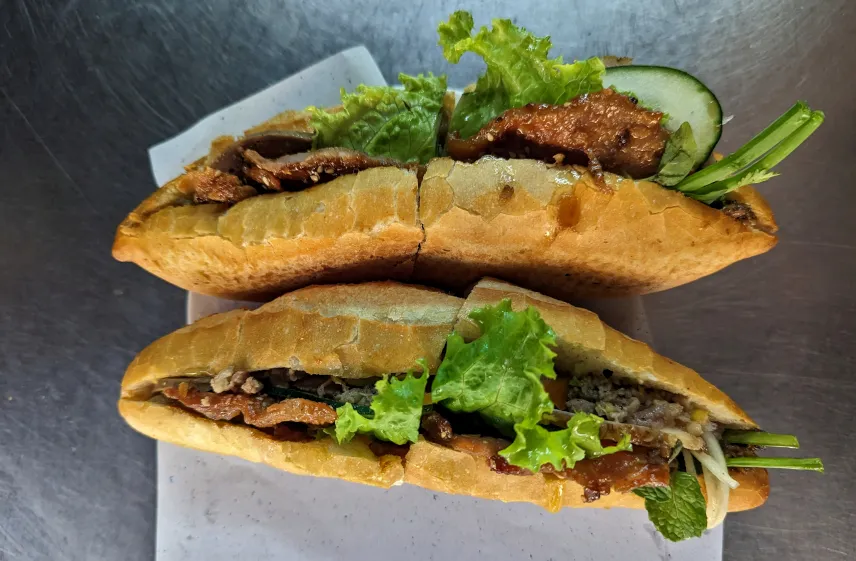 4. Bun Thit Nuong (Grilled Pork With Vermicelli)
Bun Thit Nuong consists of cold rice vermicelli noodles topped with grilled pork, fresh herbs, fresh salad, and bean sprouts. The dish is garnished with fish sauce, roasted peanuts, and pickled carrots. We particularly enjoyed the peanutty flavour.
I don't think the stall we went to has a name and it's not on Google Maps but we have marked it on our map.
Price: 35000 Dong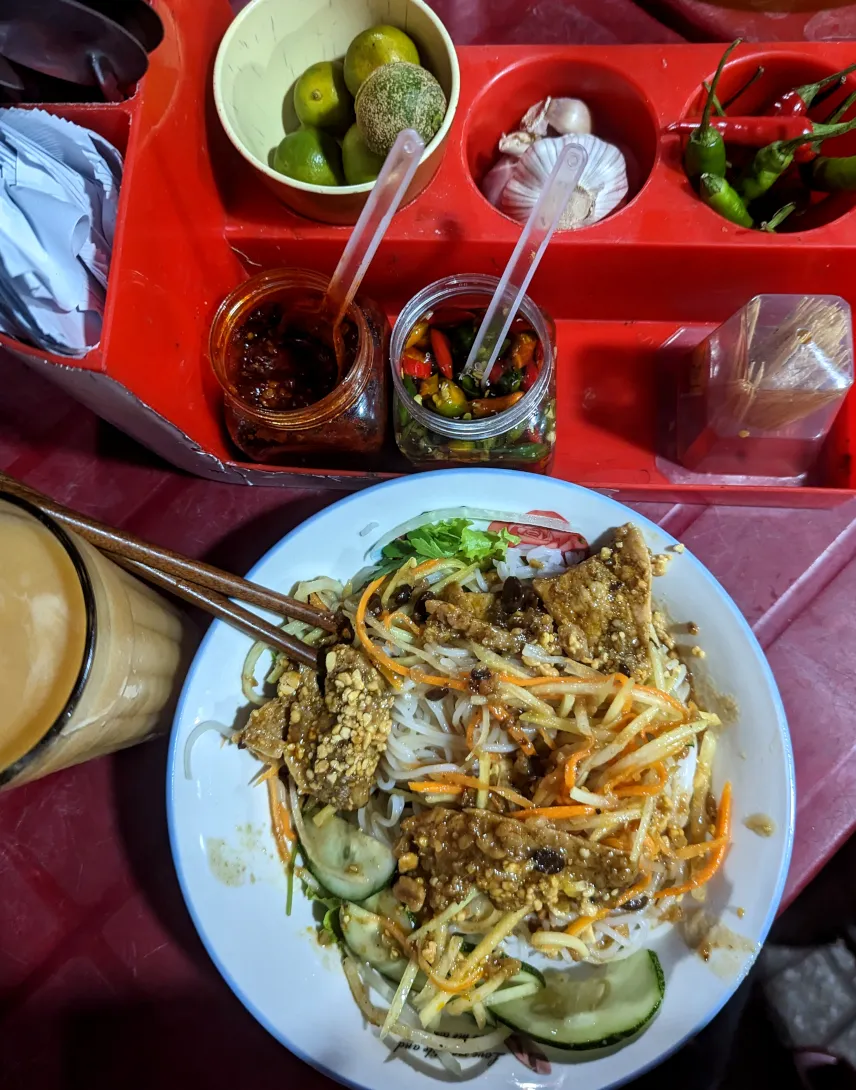 5. DIY Fruit Smoothies
The same stall which sells the Bun Thit Nuong also sells DIY Fruit Smoothies. It's a mix of dry and fresh fruits, jelly, ice, and (of course) condensed milk which you squish yourself. We heard it's popular with Vietnamese children but we also liked it a lot as adults.
They also sell delicious regular fruit smoothies.
Price: 35000 Dong
6. Best Com Ga (Chicken Rice) Hoi An:
Chicken Rice sounds simple but it's a staple dish in Hoi An. It consists of yellow flavourful rice with fresh chicken, salad, herbs, lime and chilli. You'll get a small bowl of chicken broth you can use to make the dish even more flavourful and succulent.
Price: 25000 Dong
Alternative: Cơm Gà An Hiền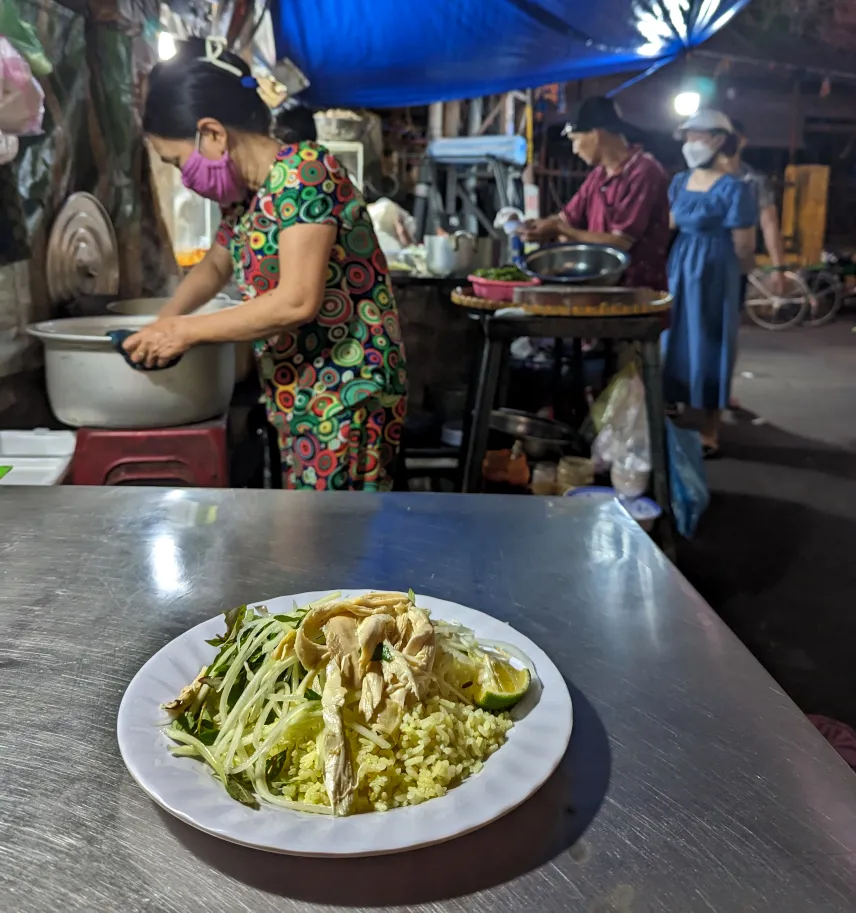 7. Best Cao Lau Hoi An: Quan Cao Lau Ba Le
Real Cao Lau only exists in Hoi An as it uses the water of the Ba Le well - up to this day.
It is very distinct as the thick rice noodles are first dried and then soaked in lye water, giving them a characteristic texture and colour. It typically comes with pork and greens.
Price: 40000 Dong
Alternative: Cao Lầu Hồng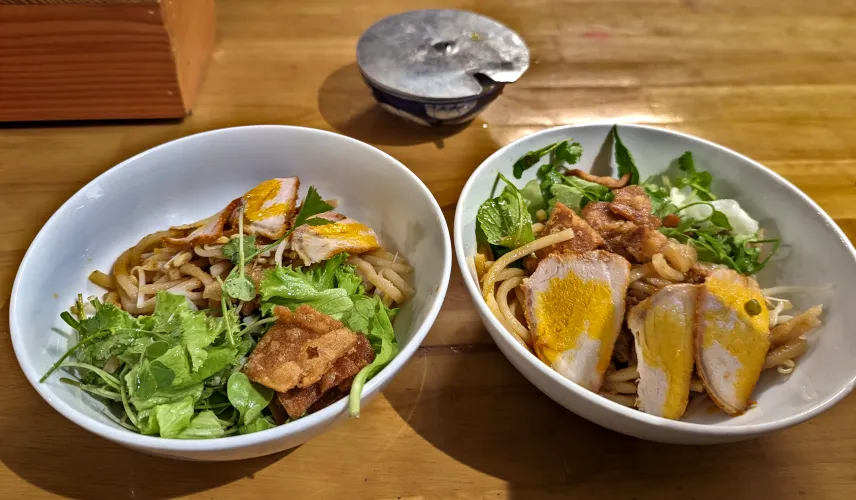 8. Black Sesame Soup
Although it is called sesame soup, it tastes more like a sweet pudding made from roasted sesame seeds.
Both the founder and his wife grew well over 100 years old and we couldn't help but assume that the delicious dessert had something to do with it. Nowadays, their son carries on the family business.
Price: 10000 Dong
9. Sweet Bean Soup
You can find sweet bean soup in many places around the old town and we tried to mark our spot on our map because it's not on google maps.
While the Vietnamese like to eat hearty soups for breakfast, they tend to eat their beans as dessert.
This particular dish is a mixture of different beans (white and black, big and small) and bean pastes which might sound weird but is surprisingly delicious.
Price: 15000 Dong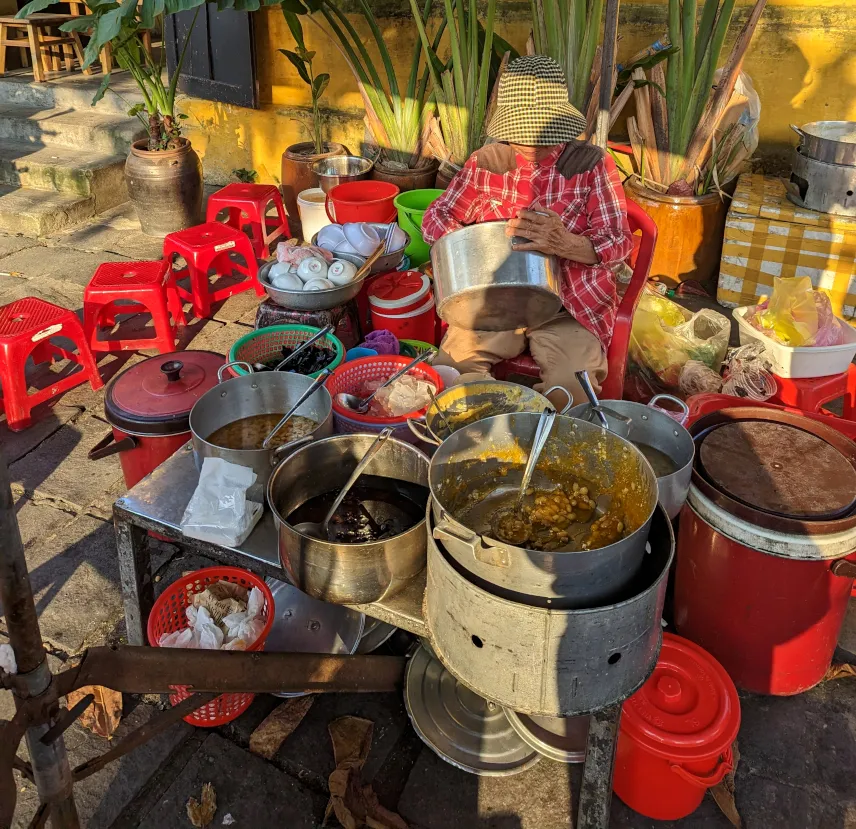 10. Hoi An Market: Crash Cake
Crash Cake is a small dish made of rice paper and a crispy rice cracker. The crispiness of the cracker gives the dish its name.
The special ingredient is the dipping sauce, which admittedly, is not for everybody as the main ingredient is fish sauce. You can also eat Crash Cake with soy sauce.
Price: 5000 Dong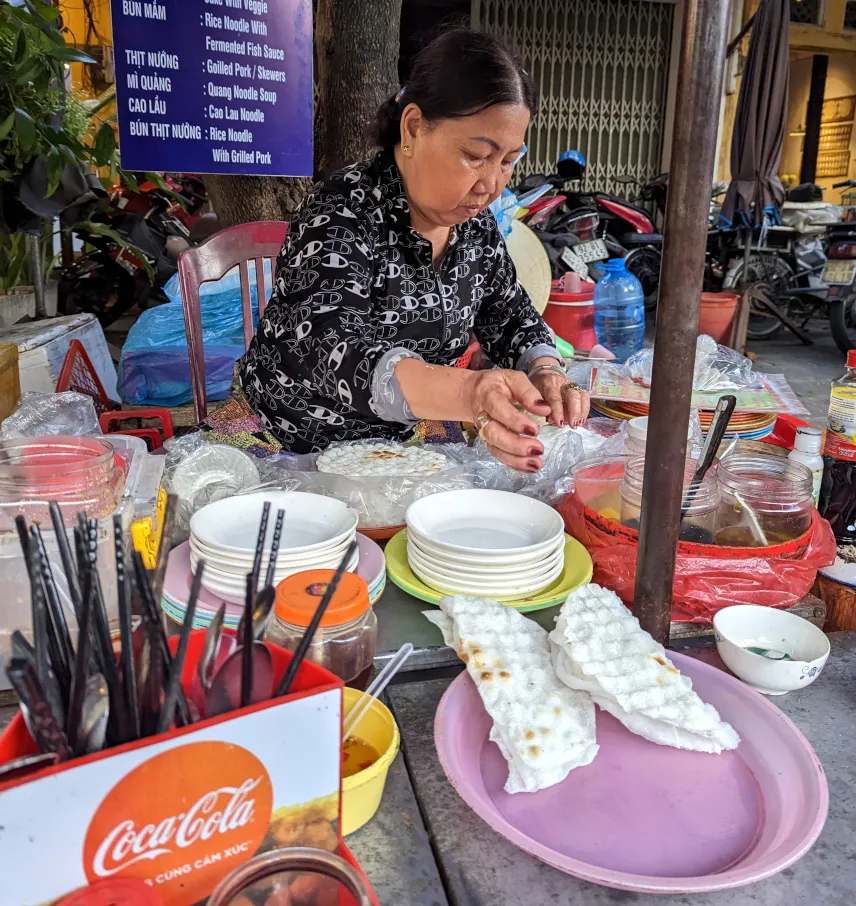 11. Hoi An Market: Bahn Xeo (Vietnamese Crepes)
Bahn Xeo is Vietnamese for sizzling pancake and that's what it is: A crispy, stuffed rice pancake Some common stuffings include pork, prawns, diced green onion, mung bean, and bean sprouts. It is also served with lettuce and fresh herbs.
You can find it at different stalls in the market and we could not possibly describe the one we ate.
Price: 10000 Dong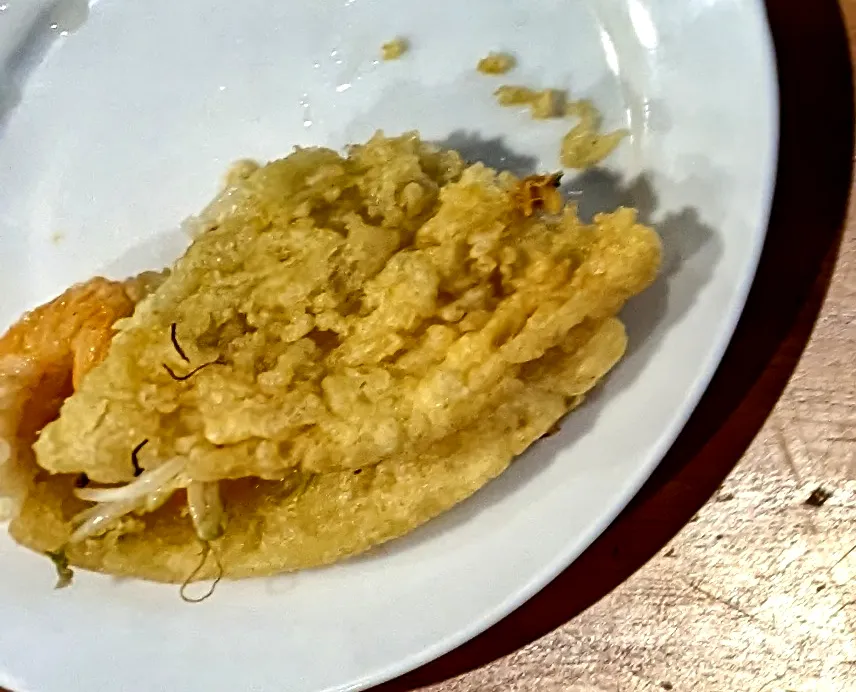 12. Quail Egg Pizza
Just Rice paper fried with quail eggs but super delicious. While quail eggs are a delicacy, they are a common ingredient in Vietnamese street food.
The little family restaurant is not marked on Google Maps. They also serve delicious little quail egg bowls.
Price: 10000 Dong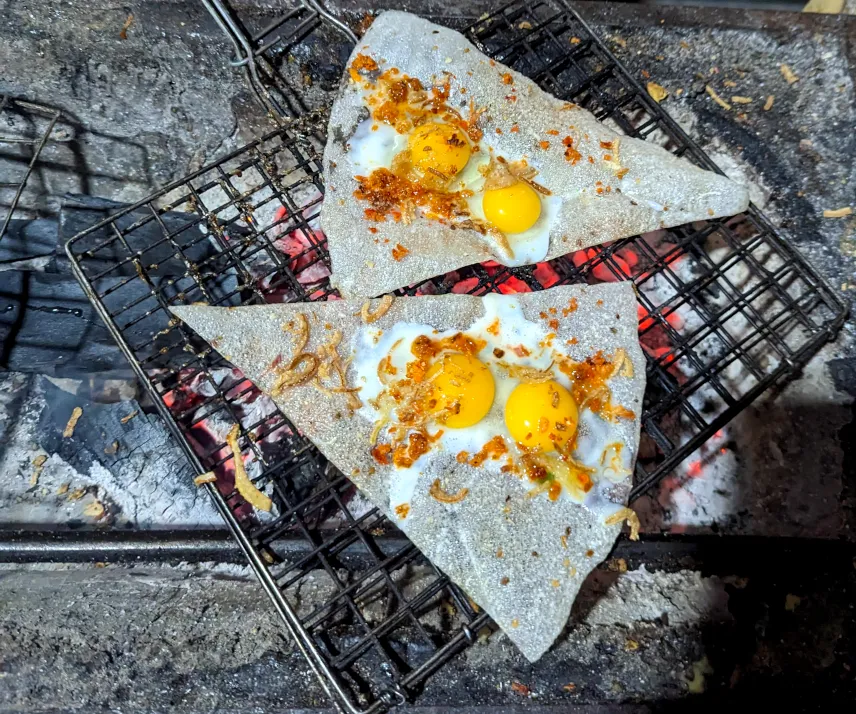 13. Mango Cake
Supposedly, it's called Mango Cake because it's shaped like a mango - the taste has nothing to do with mangos. It's a delicious mochi-like cake filled with loads of peanuts which you can find all over Hoi An old town.
Price: 10000 Dong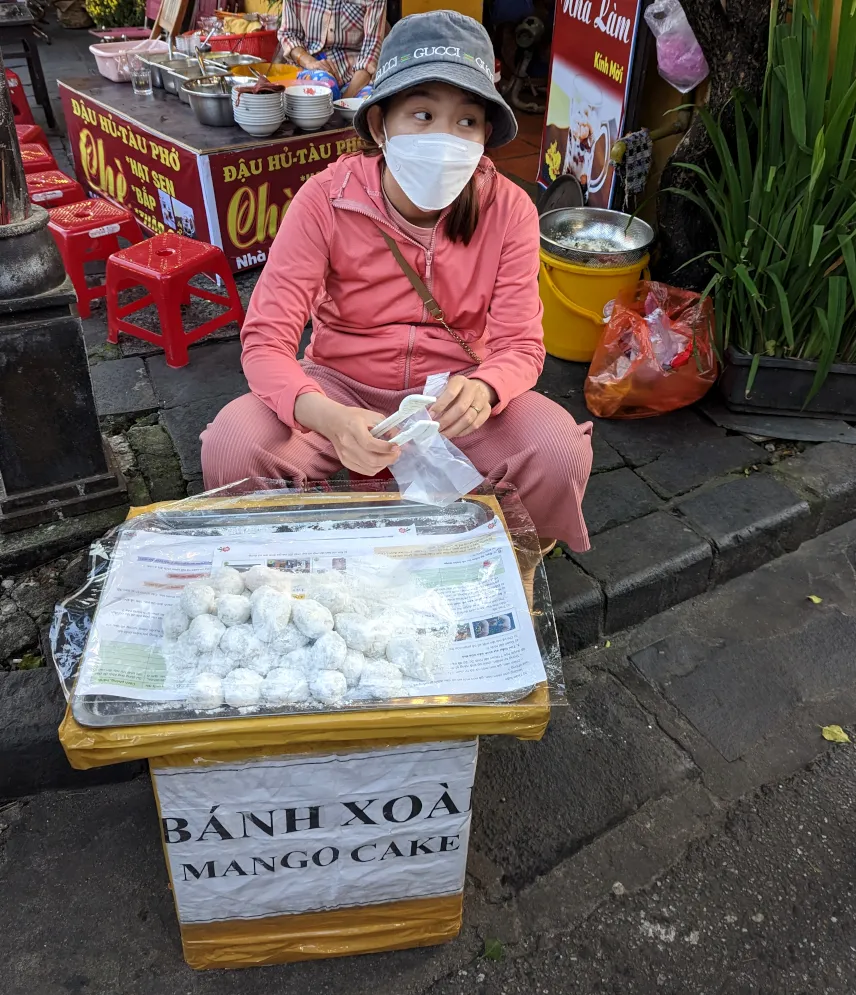 14. Best Bánh Bao Bánh Vạc (White Rose Dumplings) Hoi An: Quan Thang House
Last but not least, another super famous Hoi An dish: White Rose Dumplings. It has its origin in the Chinese community of Hoi An and we even tried it in a historical house (you don't have to pay the entrance fee if you want to eat killing two birds with one stone. The dumplings are made of translucent rice paper which is wrapped to resemble a flower shape. The full meal consists of seven bao-style dumplings. The filling is prepared with a mix of shrimp, mushrooms, bean sprouts and spring onions. The dish is topped with fried shallots and sweetened fish sauce.
Price: 50000 Dong
Alternative: White Rose Restaurant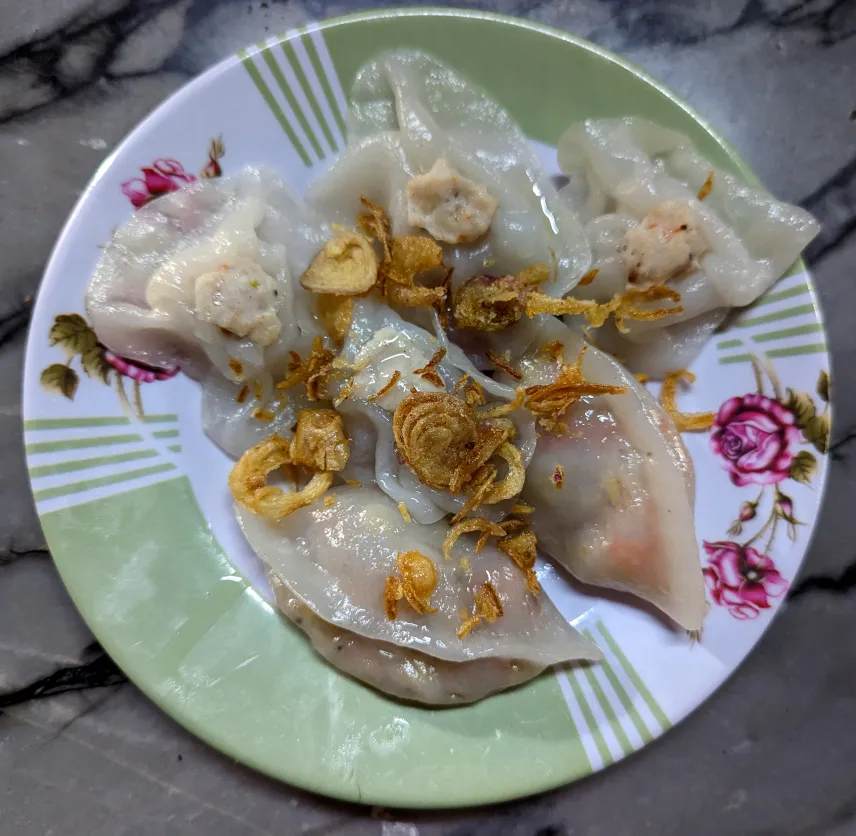 15. Bonus Food Hoi An: Night Market
If you still are not full, head to the night market for even more Hoi An street food options. Here, you can get everything from grilled skewers to banana pancakes and different ice creams.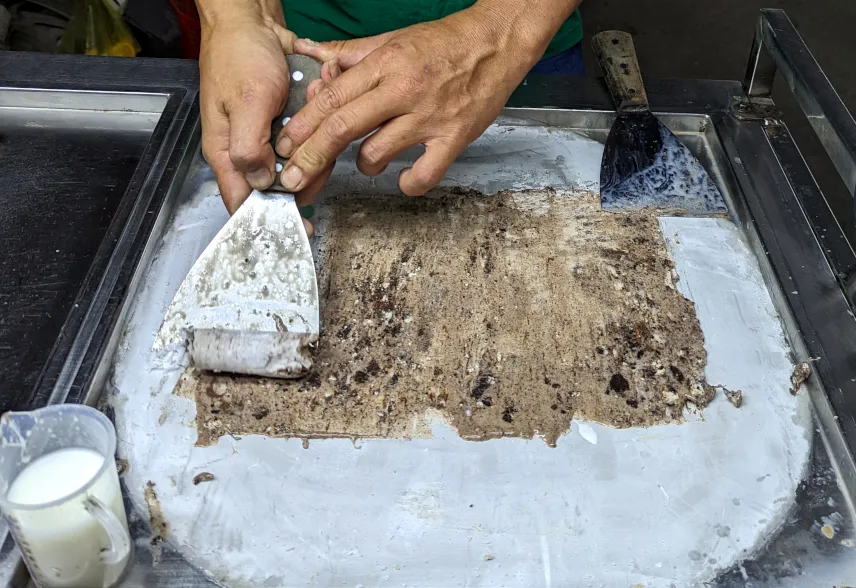 The total cost of our DIY Hoi An Street Food Tour
370000 Dong which is currently less than 15€. It's even less when you share the food with old or new friends!
This post contains affiliate links. If you use these links to buy something we may earn a commission. You would help us a lot if you do so. Thanks.