Complete travel guide to the Nicaragua Caribbean coast
The Caribbean coast of Nicaragua features some of the best beaches of Nicaragua. It is certainly among the best places to visit in Nicaragua and belongs on every Nicaragua backpacking itinerary. You can relax at some of the best beaches in Nicaragua, experience Garifuna culture, enjoy sports like fishing or scuba diving, and see beautiful nature. People here speak English so it's easy to communicate even if you don't speak any Spanish. If you backpack Nicaragua, the Caribbean coast should be on your radar if you want to venture off the beaten path.
How to backpack the Nicaragua Caribbean coast on a budget
Of course, you can just fly from Managua to the Corn Islands for 140$ and save yourself some stress and time but you'll also miss out on a great adventure. Travelling by bus and boat takes some time but the experience is totally worth it. It also costs you around 1/10 of a flight ticket (around 8$ for the bus and 7$ for the ferry). This way, you can easily have a great Caribbean getaway for 20$ per day or less.
How to travel around the Nicaragua Caribbean coast
Oftentimes, the main form of transportation is a panga - a small open boat. It brings you from Bluefields to Pearl Lagoon and from Pearl Lagoon to Orinoco and the Pearl Cays. In places like Bluefields and Pearl Lagoon, you can also find reasonably priced taxis.
Infrastructure at the Nicaragua Caribbean coast
As of 2022, Bluefields and Pearl Lagoon are connected to Managua by paved roads and reliable bus service.
Still, you have frequent power cuts on the mainland and a scheduled power cut from 6 am to 1 pm every day on Little Corn Island.
Once you leave Bluefields, your internet connection will decline. On Little Corn Island it's bad, on the Pearl Cays nonexistent.
Safety at the Nicaragua Caribbean coast
Full disclosure: With the exception of Little Corn island, this is not the safest area in Nicaragua. Especially around Bluefields and Pearl Lagoon, there is a lot of cocaine and with drugs comes crime. It is advised to show the same behaviour as if you were in a city like Managua: Be cautious, attentive, don't carry around your valuables and avoid walking around in the dark. Still, we were robbed in broad daylight in Pearl Lagoon on our way to Awas. In case of a robbery, it's safest just to collaborate and hand over your money.
Two weeks Caribbean coast of Nicaragua itinerary
Day 1 - Bus from Managua to Bluefields or bus from Managua to Pearl Lagoon
Day 2 - Boat from Bluefields to Pearl Lagoon (maybe Awas)
Day 3 - Day trip to the Pearl Cays
Day 4 and 5 - Orinoco
Day 6 - Boat to Bluefields
Day 7- Boat to Corn Islands (make sure this is a Wednesdays, maybe a Saturday)
Day 8 - 15 - Enjoy Little Corn Island (go back on a Thursday or Sunday)
Bluefields
Bluefields is the biggest town on Nicaragua's Caribbean coast and will most likely be your travel hub. If you ask for our honest opinion, Bluefields does not have a lot to offer for tourists and it did not really vibe with us. Our impression of this place was pretty chaotic and stressful.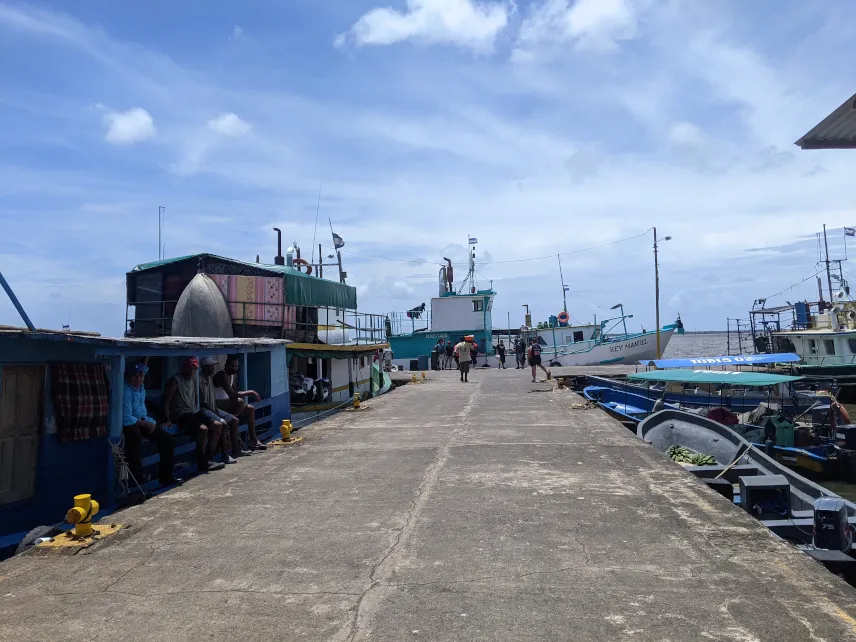 Things to do in Bluefields
Leave to other places.
How long should I stay in Bluefields?
If you ask us, one night is more than enough.
How to get from Managua to Bluefields
First, you have to take a bus from Managua to Bluefields (around 8$). Buses leave at the Terminal Buses Costa Caribe. They run all through the day and should take around 8 hours. If you want to avoid travelling at night - which we recommend for safety reasons - , the latest bus you can take is 9:15 am. From the bus station in Bluefields, you need to take a taxi into town.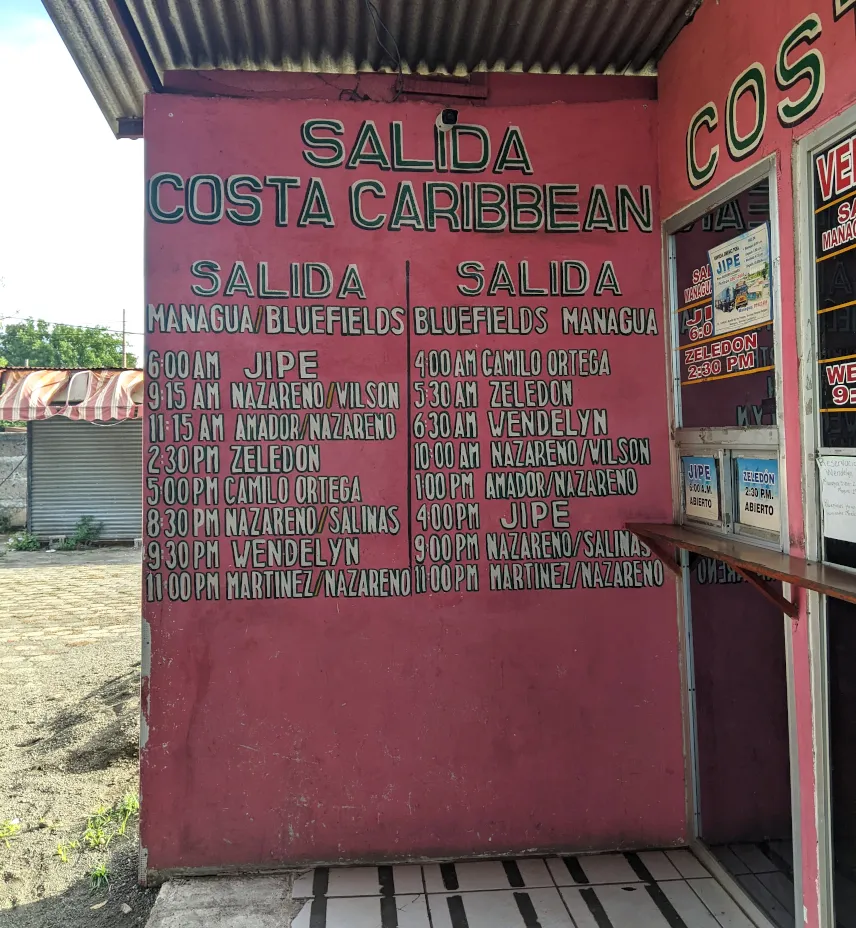 Little Corn Island
Little Corn Island was our favourite Caribbean island of our whole Central America trip. You can stay in a beachfront bungalow for 5$ per day and you can enjoy a meal for under 3$.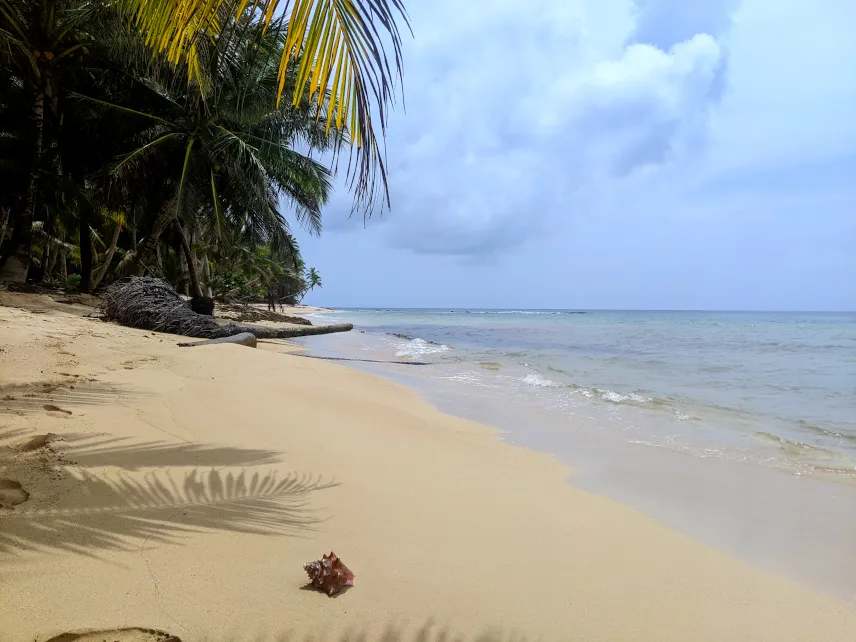 Things to do on Little Corn Island
Snorkelling and scuba diving: We have done both snorkelling (20$) and scuba diving (35$) here and the experiences were quite different. While snorkelling, we saw 5 nurse sharks as well as some other fish. While scuba diving, we went down to 18 meters (60 ft) and saw a giant school of fish (the biggest I've ever seen). It's definitely a nice place to scuba dive and Dolphin Dive (recommendation!) offers discover scuba dives for complete beginners. Full disclosure: the coral reef itself could be in a better condition…
Exploring the beaches: A 45 minutes path brings you to beautiful Otto Beach on the north side of the island. You can simply relax here or snorkel from the shore although we found our snorkelling trip by boat more enjoyable. You can also venture out to find more hidden beaches.
Garifuna drumming and happy hour at Tranquilo: Every Wednesday, there is Garifuna night at Tranquilo Cafe with drumming and a bonfire. Every sunset, you can have happy hour drinks. It's definitely the place to be on the island although the cocktails are small and overpriced - even during happy hour.
Banana bread: The best banana bread of my life. Try it! I've marked the spot on the map 😉
Beachfront bungalow: Rent a beachfront bungalow and just relax in your hammock.
What not to do on Little Corn Island: If you ask us, don't visit the old lighthouse. It's super hard to find and the way up is somewhere in between sketchy and dangerous. The view is not entirely worth it…
How long should I stay on Little Corn Island?
Honestly, the way by ferry is so long and hard that we suggest staying at least a week. It would also make sense to catch the next Thursday ferry if you arrive on a Wednesday because it's the bigger boat - making it a stay of 8 days. Most people we met, including us, prolonged their stay.
How to get from Bluefields to Little Corn Island by ferry and panga
First, you have to take the ferry (around 7$) from Bluefields to Big Corn Island. Currently, it leaves every Wednesday and Saturday. The Wednesday ferry is the bigger boat and according to all sources, you should aim to catch this one as the ride is around 7 hours long and can be quite choppy. You'll find toilets on the boat and you can buy some snacks but to be honest, I could not eat a thing the whole day. We sat outside which has the advantage of fresh air but the disadvantage to get wet when it rains. Inside, a lot more people will get sick. It's really a tradeoff between getting wet or sick - neither is really comfortable but both are manageable.
After 7 hours on the ferry, when you really don't want to see another boat, you'll arrive on Big Corn Island. Make sure to immediately make your way to the panga that goes to Little Corn Island. Buy your tickets at the ticket office as spaces on the boat are limited and fill up fast. If you miss the public panga for around 5$ you have to catch a private panga, which is basically the same boat but for 20$. The ride takes around 30 - 45 minutes and is super bumpy. Your luggage will be in a dry storage area but be prepared to get wet yourself.
The public panga leaves Big Corn at 4:30 pm - enough time to catch it after the ferry - and goes back at 6:30 am - again enough time to catch the ferry on the way back.
There are absolutely no cars on Little Corn Island so you have to walk to your hotel. It is possible to get a porter for your bags.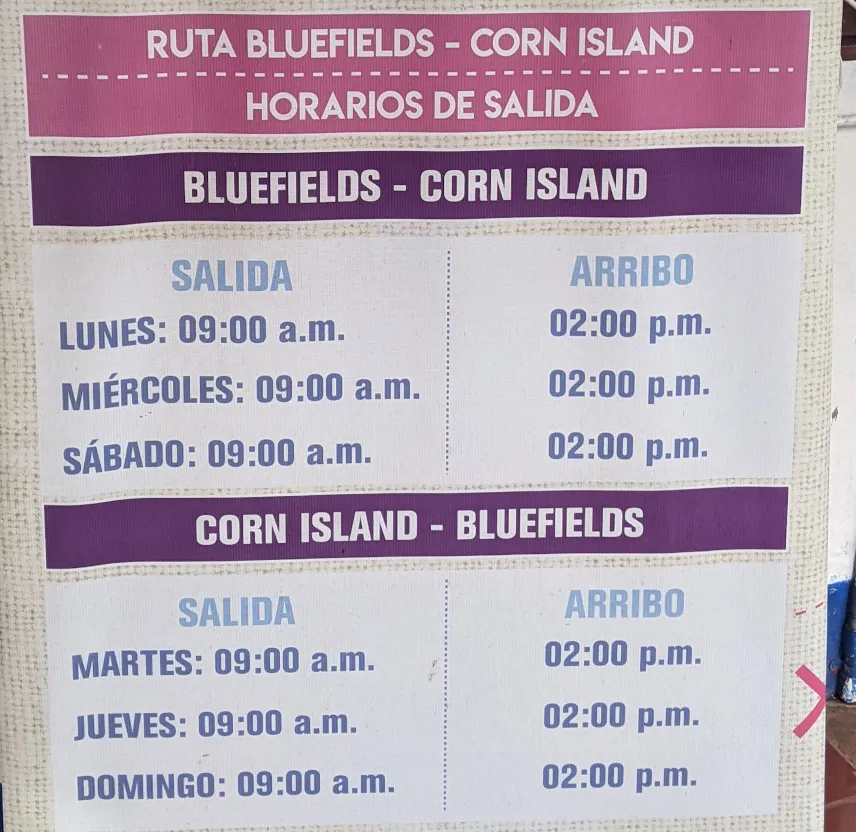 Pearl Lagoon
Pearl Lagoon is a great base to explore the Pearl Cays and Okiango. The town itself features some nice restaurants facing the lagoon and has a chill Caribbean vibe to it.
Things to do in Pearl Lagoon
Awas beach: The main activity in Pearl Lagoon is walking to Awas beach. The walk itself is super nice. You walk over a wooden boardwalk and can spot birds and other wildlife. Unfortunately, it is not safe. This is where we got robbed at knifepoint - we were three people and it was broad daylight. Even if your accommodation tells you otherwise, we recommend you not to go as we later learned that we were not the first ones to get robbed here. If you really want to check the place out, be safe and take a taxi.
How long should I stay in Pearl Lagoon?
We suggest using Pearl Lagoon mostly as a base because there is not a lot to do here. Also, we did not feel entirely safe. We were advised not to go outside in the dark and still experienced an armed robbery in the daytime.
How to get from Bluefields to Pearl Lagoon
Public pangas leave from Bluefields harbour all throughout the day as soon as they are full - and I mean full. Currently, boats only run to Kukra Hill and not all the way to Bluefields. You can easily take a taxi from Kukra Hill to Bluefields as they are waiting at the harbour. The boat should cost around 3$ and the taxi around 2$ per person.
Pearl Cays
The Pearl Cays are the undisputed gem of the Caribbean of Nicaragua. They are beautiful but they are not the untouched paradise the internet pictures them to be. You'll find bars on some and hotels on others.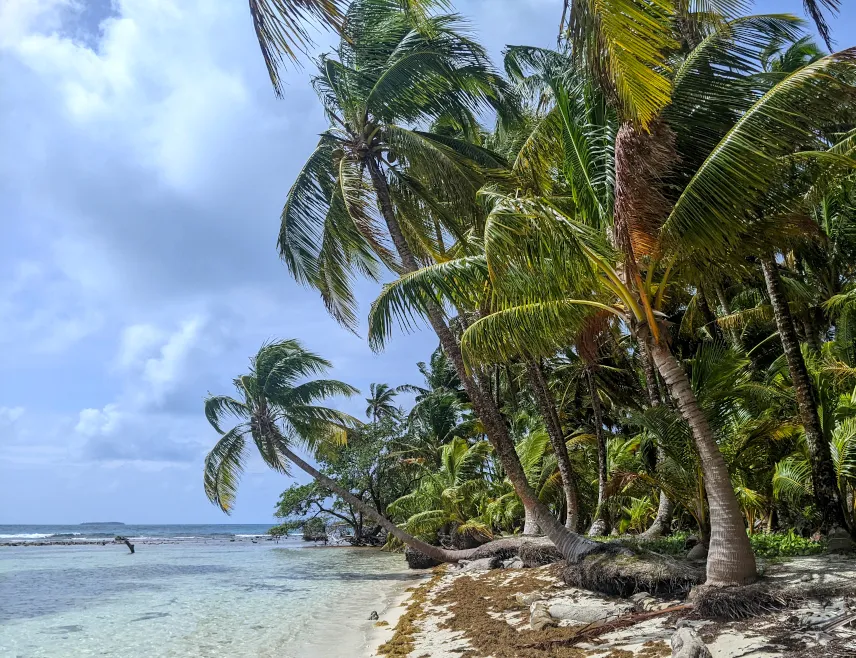 Things to do on the Pearl Cays
Snorkelling: You can do some nice snorkelling here. Beware that the reef is quite shallow and that it can be quite hard to navigate with the waves.
Fishing: We met some fishermen who told us that fishing is world-class around the Pearl Cays, especially for tarpon.
Relaxing: Of course, you can spend plenty of time relaxing on the beach.
How long should I stay on the Pearl Cays?
How long you should stay on the Pearl Cays depends on your budget. Most people do it as a day trip. If you bring your own gear, you can also stay the night but in that case, you have to pay for the boat twice as it will leave and come back to pick you up. If you seriously want to splurge, you can go to a fancy resort and stay longer.
How to get from Bluefields to the Pearl Cays
You have to rent a panga to get here. We rented ours via our homestay and paid 90$ per person for three people. Other travellers paid 50$ inquiring directly at the port in Pearl Lagoon. The journey takes around an hour and was super bumpy when we did it.
Orinoco
Full disclosure, we have not gone to Orinoco ourselves. Orinoco is a mix of nature and culture. The town is considered the capital of many Garifuna communities in the Caribbean region of Nicaragua.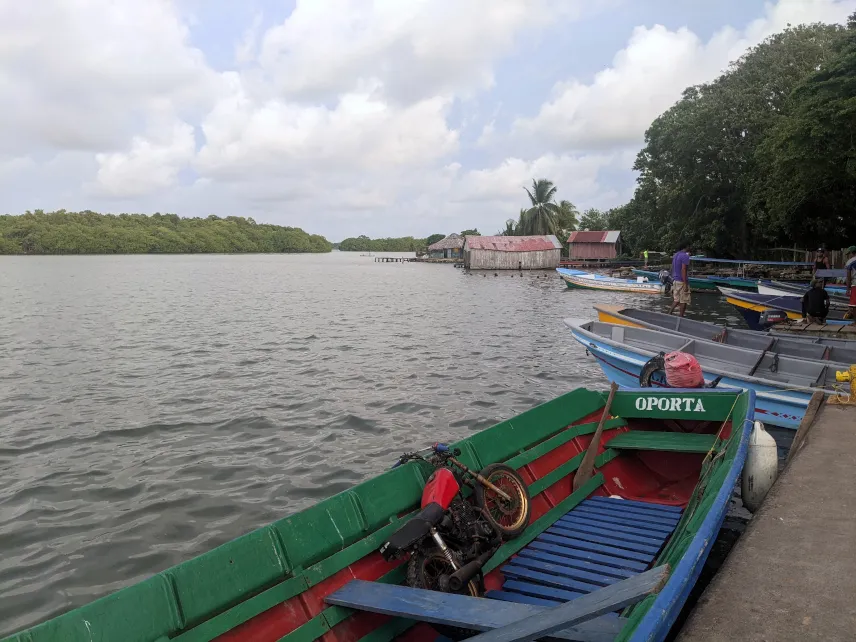 Orinoco
Things to do in
Nature: You can do some world-class fishing here. Additionally, you can spot wildlife cruising on the river.
Culture: Get in touch with the Garifuna culture.
Orinoco?
How long should I stay in
If you don't book a tour, you have to stay at least one night because the public boat leaves in the morning - both from Bluefields and from Orinoco on the way back. In 2022, we heard that a lot of the Garifuna is not as vivid as it used to be because many people left the area during the course of the pandemic.
Orinoco
How to get from Bluefields to
There is one public panga from Bluefields to Orinoco per day in the morning and one back from Orinoco to Bluefields in the morning as well.
This post contains affiliate links. If you use these links to buy something we may earn a commission. You would help us a lot if you do so. Thanks.