We thoroughly enjoyed our stay at Hostel Tribu Holbox. Read on to find out if you will too!
Should You Book Hostel Tribu?
Yes. Tribu Hostel is perfect for you if you want to be close to the beach, enjoy loads of free activities, and a great vibe.

Holbox Tribu Hostel - Our Personal Experience!
We loved our stay at Tribu Hostel Holbox. It's perfect for beach bums like us and people who love free activities (like us 😅).
The hostel is super colourful with a nice vibe which makes it easy to get to know people if that's what you're into but also spacious enough to keep to yourself if that's what you're looking for.
Where Is Tribu Hostel Mexico?
Tribu Hostel Holbox is located on the island of Holbox in the northeast of the Yucatan Peninsula in Mexico.
Which Airport Is the Closest One to Tribu Hostel?
The closest airport to Tribu Isla Holbox is Cancun, Mexico (CUN).
How Far Is Cancun From Tribu Hostel?
It's around 145 km / 90 mi or a 2-hour drive to Chiquila where you hop on the ferry.
Travelling to Isla Holbox
Direct ADO buses from Cancun to Chiquila leave a couple of times per day.
In Chiquila, you catch the ferry, which runs every 30 minutes during the day. The two companies are virtually the same. There are no cars on Holbox. Golf cart taxis are pretty expensive but you can easily walk from the ferry to Tribu Holbox.
Of course, you can also book a transfer from Cancun to Holbox.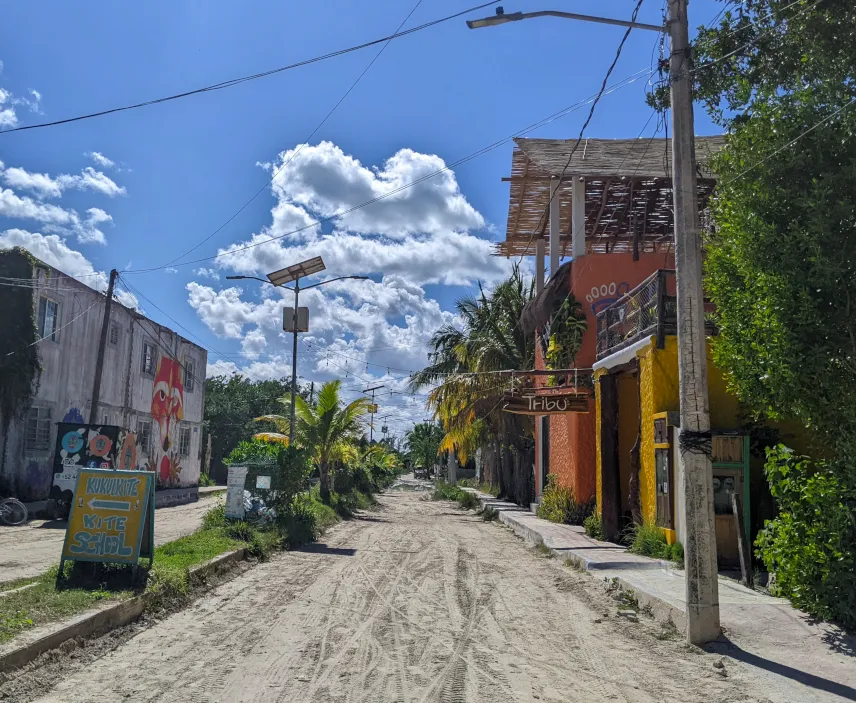 What Facilities Are Offered at Tribu Hostel?
Tribu Hostel is comprised of several buildings. There's loads of hangout space with comfy hammocks in the yard. You can also chill on the rooftop with sea views if you like it quieter.
WiFi was decent in the common areas but not so much in the dorms – keep in mind that you're on an island.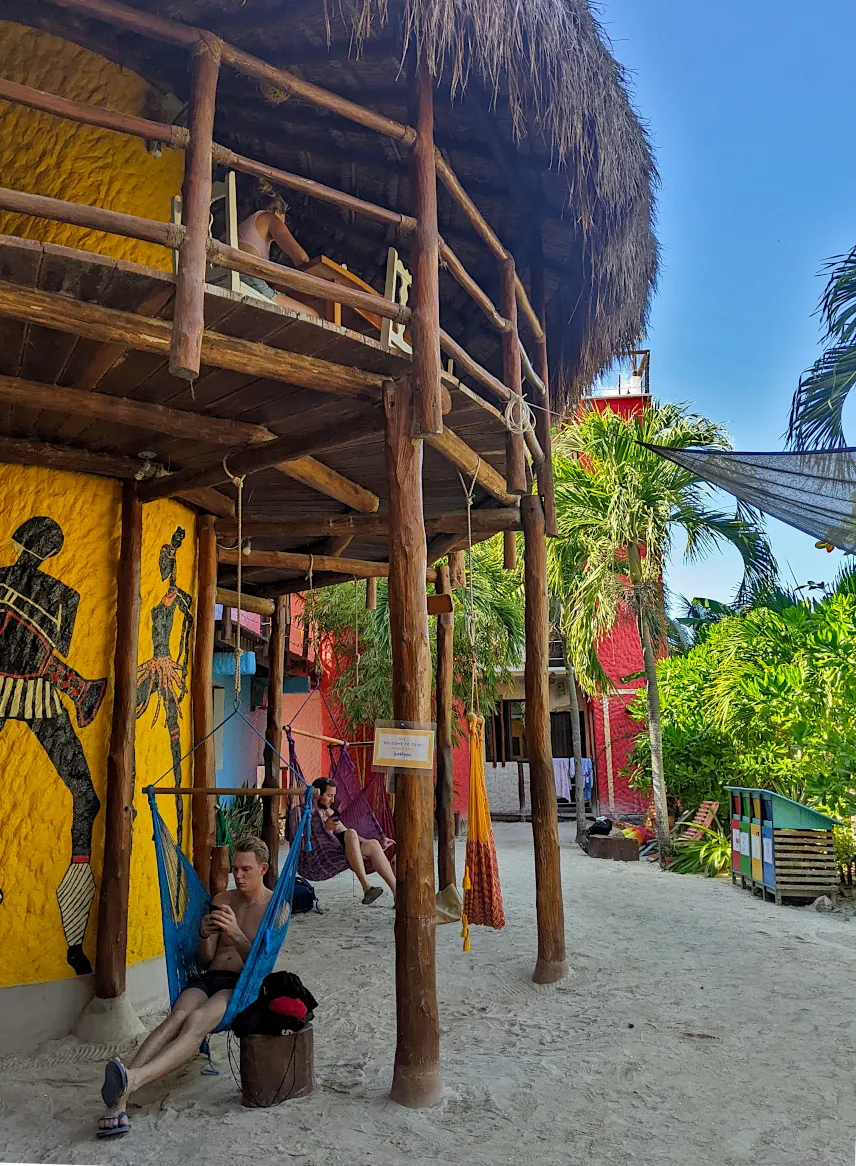 What Are the Room Types Available in Tribu Hostel?
Tribu Hostel offers a ton of different rooms:
3 bed mixed dorm (fan).
4 bed mixed dorm (fan).
6 bed female dorm (fan).
8 bed mixed dorm (fan).
8 bed mixed dorm (AC, en suite).
10 bed female dorm (AC, en suite).
10 bed mixed dorm (AC, en suite).
Double room (fan, en suite).
Double room (AC, en suite).
Suite (AC, en suite).
We slept in a big dorm. The beds were sturdy and big. They felt pretty private for the fact that there were no curtains.
What Room Amenities Should We Expect in Tribu Hostel?
All rooms come with lockers. Some rooms have a private balcony with a clothesline.
Does Hostel Tribu Have a Kitchen?
Yes, Hostel Tribu has a fully stocked kitchen. It was well-stocked and clean when we visited.
Which Types of Bathrooms Does Tribu Hostel Feature?
As Tribu Hostel is comprised of several buildings, we can only speak for the bathrooms in our building. They were spacious, clean, and always available without waiting. Water pressure is not the best but that needs to be expected on an island.
Does Tribu Hostel Have a Restaurant on Site?
Hostel Tribu does not have a restaurant but a bar that also serves food.
We enjoyed tasty cocktails and live music during our stay.
The swing seats are a nice touch in our opinion.
There are tons of events at Tribu Bar:
Tuesday: Salsa lessons.
Wednesday: Art night.
Thursday: Open mic.
Friday: Live music.
Saturday: DJ night.
Sunday: Jam session.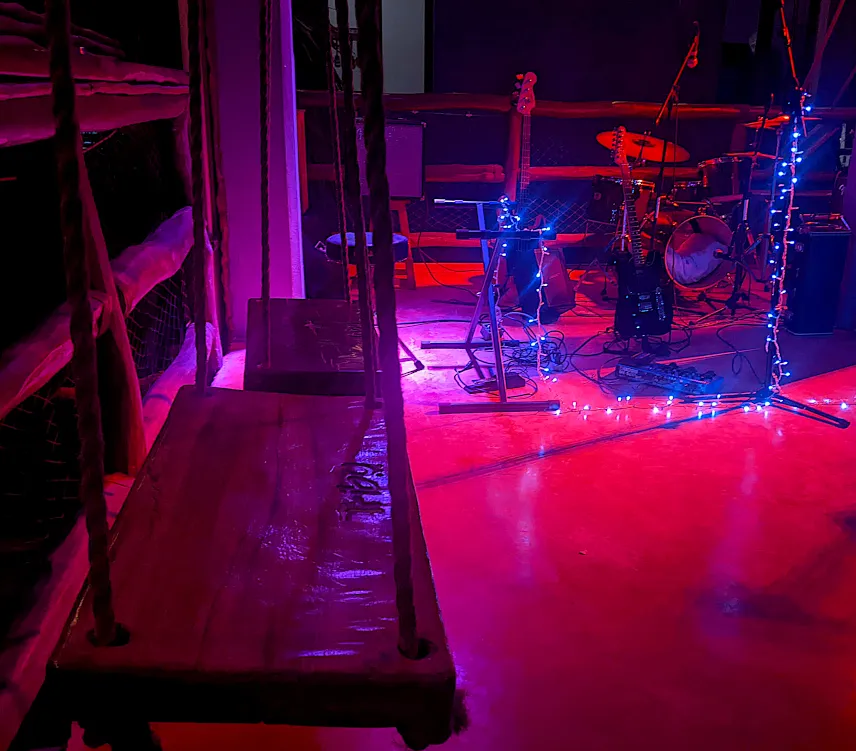 What Is There to Do at Tribu Hostel?
There's a ton of stuff to do at Hostel Tribu which is one of their main pulls in our opinion.
What Is Included in the Rooms at Tribu Hostel?
Mural Tour.
Yoga (the amazing teacher even taught a class although I was the only person attending).
Bootcamp.
Sunset tour.
A visit to the local animal shelter to walk the dogs.
A slack line.
Beach volley.
Drinking water.
Sometimes, there are free group meals. We got to enjoy free pasta and pancakes.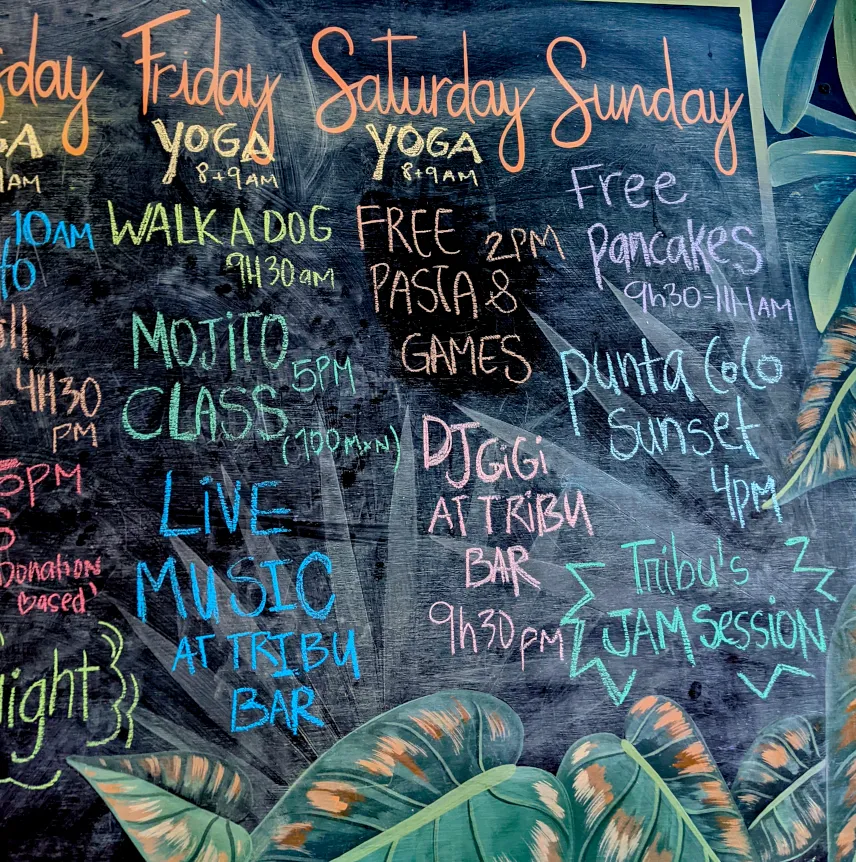 What Popular Attractions Are Close to Tribu Hostel?
The main attraction of Holbox is the beach which is super close.
Another highlight of Holbox is the omnipresent street art.
The three main activities you can do on Holbox are a bioluminescence tour, kayaking in the mangroves, and the 3 Islands Tour.
Is Tribu Hostel Close to Bars and Restaurants?
Yes, Tribu Hostel is in the centre of Isla Holbox and very close to bars and restaurants in town as well as on the beach.
You can also find some delicious street food in the area.
There are small tiendas nearby but they come with island prices. If you want to do your own cooking, we advise you to shop on the mainland.
Is Tribu Hostel Close to the Beach?
Yes. Just walk down a small path for 50 m /165 ft and you're there.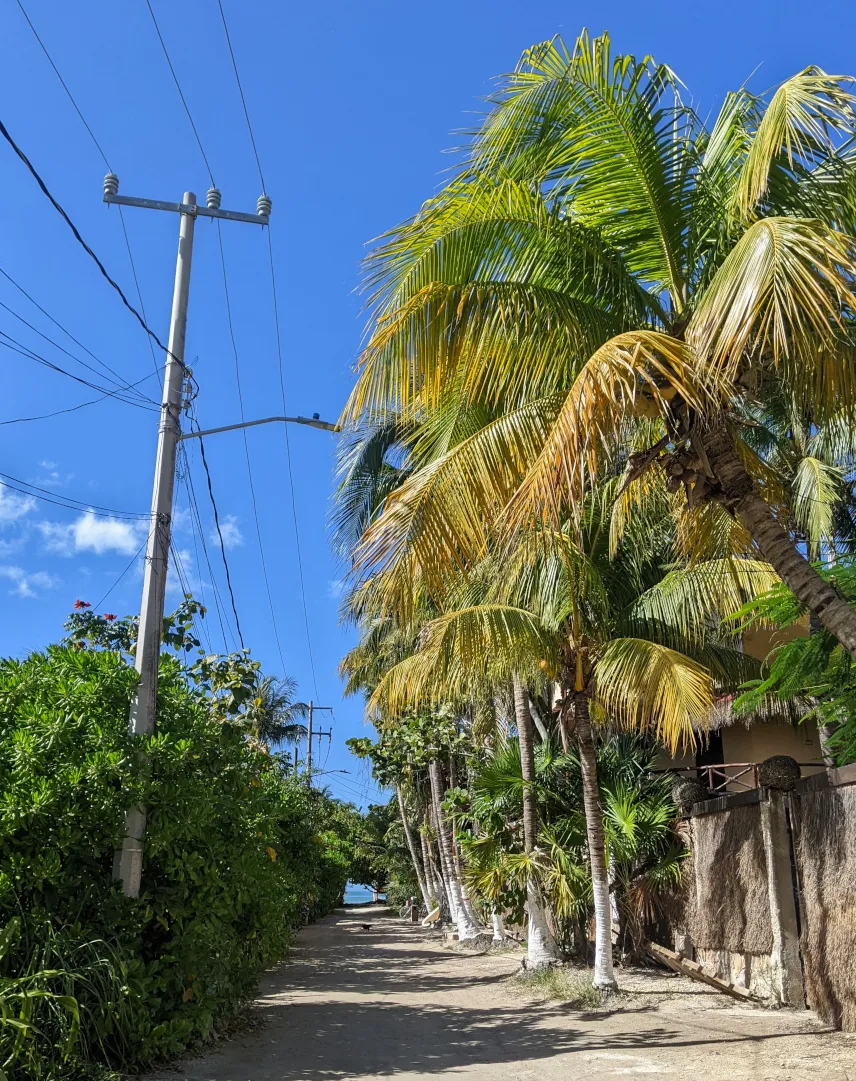 FAQs About Tribu Hostel
How Is Tribu Hostel Rated?
8.6 /10 on (1059 reviews).
Best place to stay in Holbox

Stuff is really great. Daniel, the Manager, is very lovely, caring, friendly, and really great in playing Volleyball. The hostel has a bar. Every night (except of Monday) they have someone thing on, which is really great. Not talking about drinking games, they have performances on the stage of the bar like an open mic stage. Every morning there is free yoga classes. During the week they have different activities planned, which also includes sightseeing around the island. Volleyball court just there. Everyday people get together and play. The location of the hostel is perfect. Right by the beach, close to the hot corner and everything else in walking distance. Stay here!
How Much Does it Cost to Stay at Tribu Hostel?
Real talk: Tribu Hostel Isla Holbox is not a super budget accommodation. You pay for great facilities, free activities and an amazing vibe.
What Are the Check-in and Check-out Times at Tribu Hostel?
Check-in: 1 p.m.
Check-out: 11 a.m.
They store your luggage for you!
Which Languages Can the Staff at Tribu Hostel Speak?
You will have no problem getting by with English!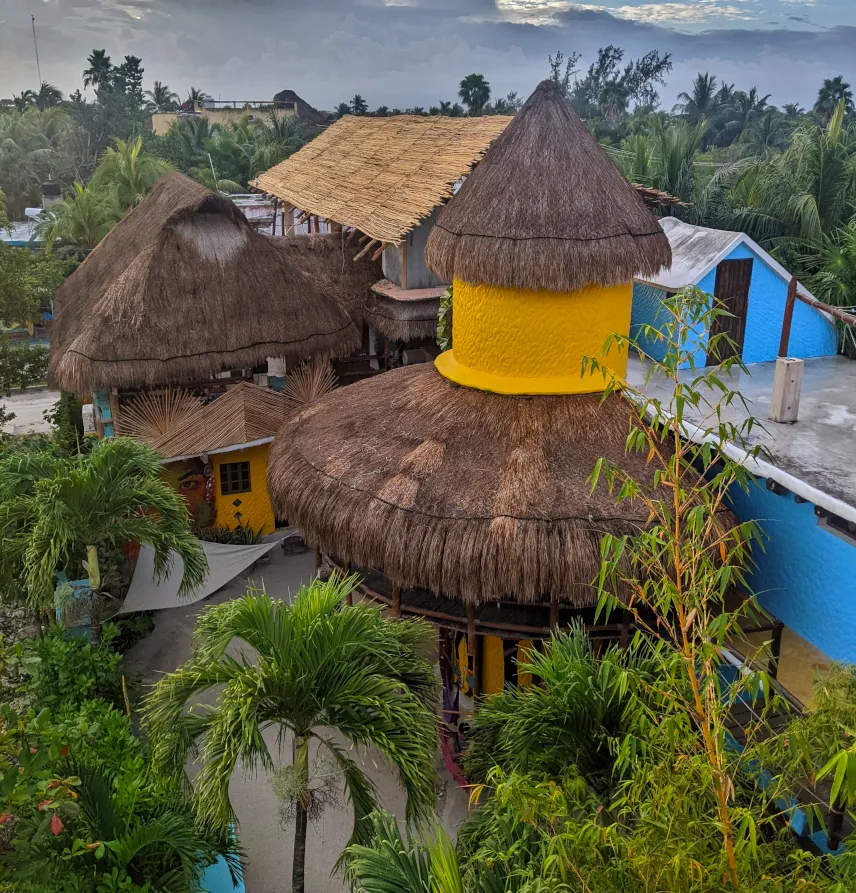 This post contains affiliate links. If you use these links to buy something we may earn a commission. You would help us a lot if you do so. Thanks.