We have travelled Bulgaria by public transport and enjoyed it a lot. But we must also say it was kind of an effort and not really beginner friendly. Here are some ways day trips from Sofia can make your life easier:
The language barrier: As the Bulgarian language uses the Cyrillic Alphabet it was hard to read the bus timetables. Also, there wasn't always staff at the bus stations and if there was, they sometimes were not able or willing to communicate with us.
Time: To places like Belogradchik, buses to and from Sofia only run once a day. This means that you have to spend at least one night which means that you lose time.
Comfort: Using Sofia day trips means that you don't have to pack and move – a huge bonus if you ask us!
Save money: As This sounds counterintuitive, let us give you an example: Because we needed to take a taxi to get to the Seven Rila Lakes, we paid 34,50€ for transport (bus + taxi) alone. Accommodation and food still need to be added on! A guided tour from Sofia costs 30€. In hindsight, it's a no-brainer.
Top 3 Picks Sofia Bulgaria Tours
Day Tours from Sofia
1. Sofia to Rila Monastery Tour
⭐ Rating: 4.6 / 5 (1212 reviews)
The Rila Monastery day trip from Sofia is the most popular in all of Bulgaria. Rila Monastery is the largest and most important Orthodox cloister in Bulgaria.
Why choose this tour? This Rila Monastery and Boyana Church Group Tour is the Rila Monastery tour from Sofia with the best value for money!
Explore 2 of Bulgaria's UNESCO World Heritage Sites in 1 day:
Rila Monastery
Boyana Church
Including:
Transportation by modern, comfortable air-conditioned vehicle
English-speaking driver/guide
I had an incredible time on the tour led by Maria. The itinerary was thoughtfully curated, offering a perfect blend of culture, and relaxation. Maria was not only knowledgeable about the destinations but also passionate, creating an engaging and informative experience. The group size was just right, allowing for personalized attention, and the logistical aspects were well-managed, ensuring a smooth and enjoyable journey. This tour exceeded my expectations and left me with a deep appreciation for the places we visited.
2. Sofia to Rila Monastery, St. Ivan Rilski Cave & Stob Pyramids Tour
⭐ Rating: 4.9 / 5 (31 reviews)
Why choose this tour? You want to visit the Rila Monastery AND get some hiking in? Then the Rila Monastery, St. Ivan Rilski Cave & Stob Pyramids Tour is for you! It's a three-in-one:
Visit the UNSECO Rila Monastery!
Enjoy a beautiful walk in the Rila Monastery Forest Reserve.
Explore the cave of St. Ivan Rilski and the Stob Pyramids on foot.
Including:
Pick-up/drop-off at your hotel or address in Sofia.
All transfers with private car or bus as per itinerary.
Licensed mountain guide member of UIMLA (Union of International Mountain Leader Association).
Guidance in Rila Monastery and throughout the tour.
Good to know:
Walking time: approximately 2 hours (Cave of St. Ivan Rilski) + 1 hour (Stob's Pyramids)
Total ascent/descent: 250 meters (Cave of St. Ivan Rilski) + 100 meters (Stob's Pyramids)
We had Ves as our guide and he was excellent and very informative, he was punctual in picking us up and gave us flexibility.. the spots he took us too were so worth it and he even would stop so we could get good pictures, would highly recommend this tour for anyone (there is Quite a bit of hiking for anyone who may struggle with this keep in mind), all around 10/10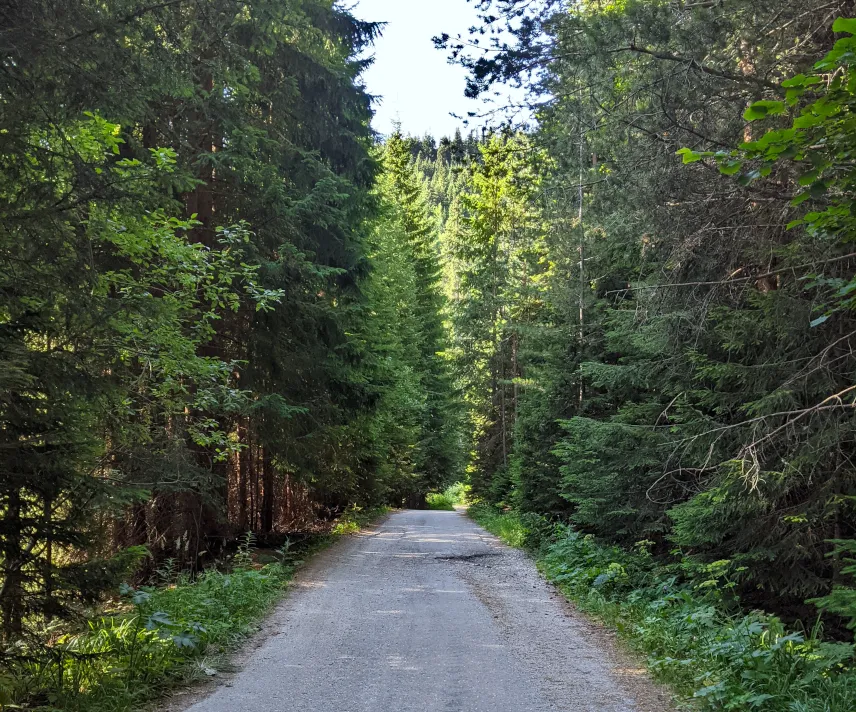 3. Sofia to Rila Monastery & Melnik Tour
⭐ Rating: 4.6 / 5 (7 reviews)
With only 208 inhabitants, Melnik is the smallest Bulgarian town. It's famous for its architecture with lovely white houses and cobbled streets as well as internationally recognised brands of red wine.
Why choose this tour? Explore two highlights of southwest Bulgaria on this Full-Day Tour to Rila Monastery and Melnik.
Rila Monastery.
Guided walking tour through Melnik including a visit of the biggest Bulgarian Revival Period style house and its tunnel-like wine cellar.
Explore the strangely shaped sand and clay formations also known as Melnik Pyramids
Including:
English-speaking guide throughout the tour.
All transportation and parking costs.
See reviews
4. Sofia to Rila Lakes Tour
⭐ Rating: 4.8 / 5 (221 reviews)
Hands down one of the most beautiful hikes we have ever done.
Why choose this tour? On this Seven Rila Lakes tour, you can visit the Rila Mountains with a professional mountain guide on your side.
After you take the chairlift to the Rila Lakes mountain hut, you start exploring on foot: The standard route includes all 7 Rila Lakes. It is not difficult and can be altered on the spot depending on fitness levels or strength, following either more gentle routes or steeper gradients.
Including:
Transfers from Sofia
English-speaking guide (unless the self-guided option is chosen)
Good to know:
The hike is not accessible for the mobility impaired
You'll be in the mountains. Bring proper shoes, prepare for colder and wetter weather, and wear sunscreen.
You need a decent level of fitness.
Bring cash for the chair lift.
I went on three day trips during my stay in Sofia and this one was my favorite and had the highest value! The tour took place on 1 May, when the Rila Lakes as well as the trails were still covered with snow. For safety reasons, the guide accompanied us throughout the hike, which was much appreciated. Otherwise I would be clueless about directions and orientation in the snow. It was also very kind of the guide to repeat what he had said to the others when I caught up with the group.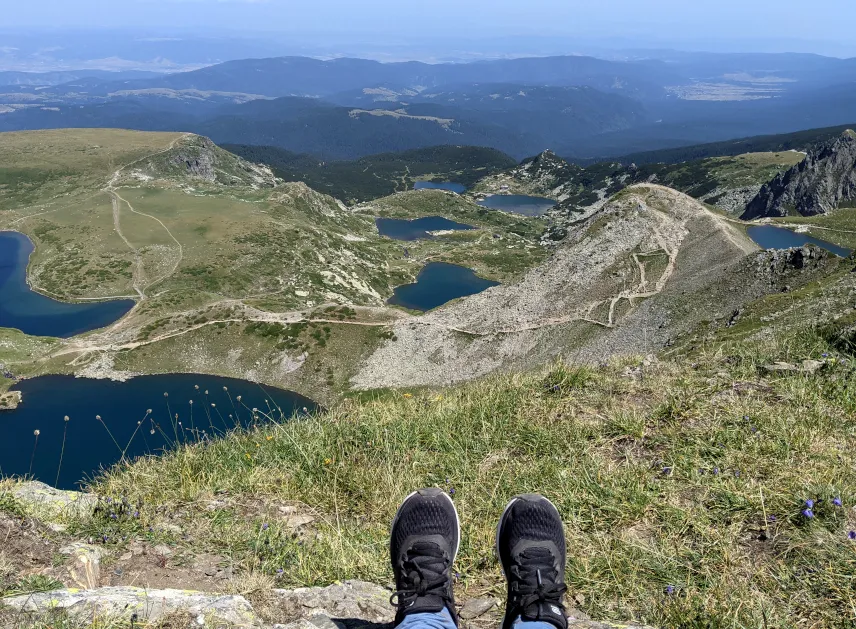 5. Sofia to 7 Rila Lakes AND Rila Monastery Tour
⭐ Rating: 4.5 / 5 (505 reviews)
Why choose this tour? This is simply the best tour for travellers who want to see the Seven Rila Lakes and Rila Monastery in one day!
Including:
Round-trip shared transfer by air-conditioned minivan.
For 6€ extra you'll get a licensed mountain guide.
This was an incredible trip! Both the lakes and the monastery were wonderful experiences. Loved how organized and easy the trip was.
6. Sofia to Rila Lakes and SPA at Sapareva Banya Tour
⭐ Rating: 5 / 5 (3 reviews)
Sapareva Banya is the spa capital of the Balkans! Saparevian mineral water is clear and colourless with a smell of sulphide. It is claimed that the water has health benefits for the musculoskeletal system, nervous system and upper respiratory tract.
Why choose this tour? The Spa Nature Tour to the 7 Rila Lakes & Sapareva Banya is perfect if you want to treat yourself after a strenuous hike!
Hike the 7 Rila Lakes
Dive into the hot thermal waters and enjoy the magnificent panorama on the outskirts of the mountain in Sapareva Banya.
See the hottest geyser in Europe in Sapareva Banya.
Including:
Driver/guide
Live commentary on-board
Small group tour
If you wish to make your walk harder or easier, your guide will be able to adjust the group program accordingly.
Hotel pick-up and drop-off
Very satisfied with the tour and our guide Lubo.
7. Sofia to Plovdiv Tour
⭐ Rating: 4.2 / 5 (102 reviews)
We loved Plovdiv! Plovdiv is the oldest town in Europe, has the longest pedestrian street in Europe, and was the European Capital of Culture in 2019. It's worth a visit!
Why choose this tour? Plovdiv should not be missed on your Bulgaria itinerary. If you don't have the time to visit overnight, this Sofia to Plovdiv Tour is your best option to explore this gem of a city.
Including:
Air-conditioned transportation to Plovdiv
Guide or driver (depending on the booked option)
Our driver and guide were really good. The drive took just over 2 hours on the way there, but slightly less on the way back. The guide was really informative and I learnt a lot. Plovdiv is really pretty and has a lot of history, it is definitely worth visiting. There were 11 of us in total, split between two buses. There were 5 in my bus and we were all solo so it was a really nice experience. Good value for money and I found that we had enough time to explore.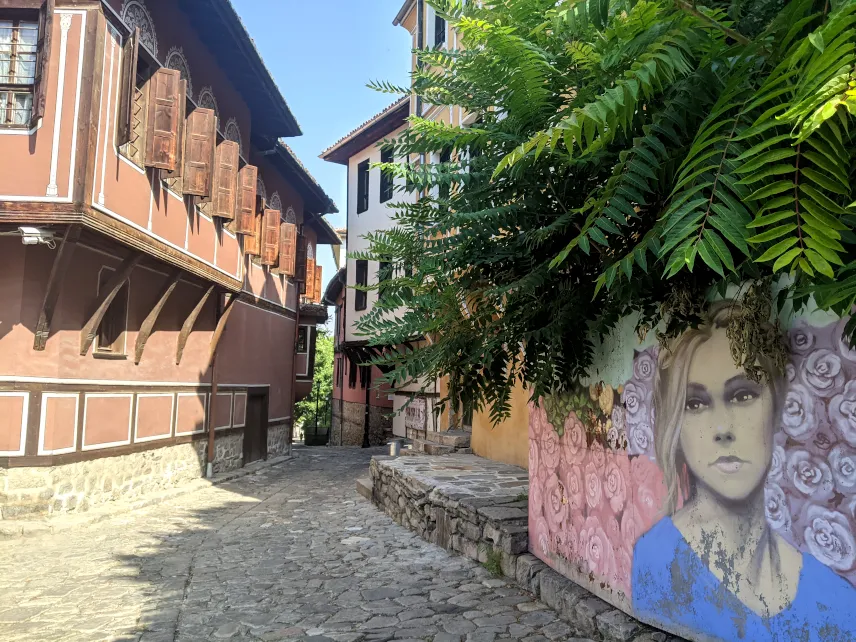 8. Sofia to Belogradchik Tour
⭐ Rating: 4.7 / 5 (79 reviews)
The Belogradchik Rocks and Belogradchik Fortress are a unique sight – we believe it belongs on every Bulgaria bucketlist. In 2009, the Belogradchik Rocks were nominated as one of the New 7 Wonders of Nature.
Why choose this tour? Belogradchik is quite far away from Sofia and you cannot avoid spending at least one night if you visit with public transport. The Sofia to Belogradchik Tour is your perfect option if you're short on time.
Visit the Belogradchik Rocks and learn about their formation as well as the associated legends.
Explore the nearby Belogradchik Fortress.
Walk in Veneca Cave, one of the biggest caves in Bulgaria.
Including:
Entrance fees for the mentioned places.
Tour guide during the whole day.
Air-conditioned vehicle.
They picked me up in front of the hotel where I was staying in Sofia and we made the trip in a very small group, so the guide made it like a VIP tour. Even the way to the attractions was very beautiful and the Belogradchik Fortress is a fantastic place to visit, with its surreal rock formations. Also the Venetsa Cave that we visited is extremely beautiful and looks like something out of a dream. The guide was very kind, funny and very knowledgeable. We also stopped for lunch at a typical bulgarian restaurant with excellent traditional "real food" (as the guide told me), in a very cozy and heartwarming place, as an experience that was good even to fill the soul. In the end I was dropped back at the same hotel. It was perfect and I highly recommend the experience.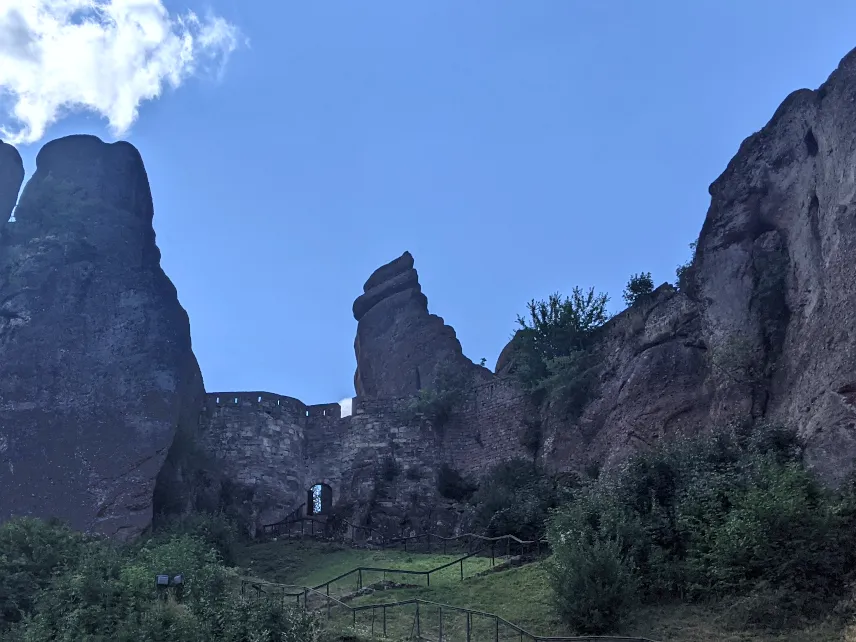 9. Sofia to Bansko Tour
⭐ Rating: 5 / 5 (4 reviews)
Bansko is not only one of the best ski resorts on the Balkan Peninsula but also a great hiking destination in summer!
Why choose this tour? Visit Bansko and the Pirin National Park in one day!
Hike in the Pirin National Park.

The hike takes approximately 3.5 hours in both directions, during which you pass by 3 of the Banderishki Lakes.

Optional Bulgarian lunch in Bansko.

30-minute walking tour of Bansko with an introduction to the local Revival period architecture.
Including:
Air-conditioned vehicle
Hotel pickup and drop-off
Professional guide
It was an amazing experience, definitely recommend it. Despite not great weather conditions we had a great time. Our guide Georgi was quiet knowledgeable and had the patience to answer all our queries. We explored many lakes and the beautiful Bansko, but unfortunately the town was quite, due to off season, however our guide gave us a tour around the town and it was nice to walk around.
10. Symbol of Communism: Buzludzha Monument
⭐ Rating: 5 / 5 (8 reviews)
Learn more about the history of Communism in Bulgaria on this tour!
Why choose this tour? Travel back in time to the Socialist Republic of Bulgaria on a full-day Communist tour.
Visit the Museum of Socialist Art in Sofia.
Visit Buzludzha Monument.
Along the way, listen to in-depth commentary about the country's eventful history from 1946 to 1989.
Including:
Professional guide
Hotel pickup and drop-off
Transport by private vehicle
Entrance to all attractions
Fantastic day tour! I was very impressed that the tour ran notwithstanding that I was the only person who booked it. My tour guide/ driver Martin went above and beyond in making certain I had a great trip. It was surprising that the remotely situated Buzludzha Monument was buzzing with activity- there was a Serbian film crew on site. Additionally there was a small crew of restoration workers inside the monument. Of the nearly 3 weeks I spent in the Balkans, this was the sight I had most looked forward to and it did not disappoint even on a dreary rainy day.
11. Sofia to Lovech, Devetaki Cave & Krushuna Waterfalls Tour
⭐ Rating: 4.7 / 5 (85 reviews)
One of the oldest cities in Bulgaria, a cave, AND a waterfall? Yes, please!
Why choose this tour? On the Sofia to Lovech, Devetaki Cave & Krushuna Waterfalls Tour you will
Walk through one of the oldest cities in Bulgaria with small cobbled streets and typical 14th-century houses.
Visit the picturesque Devetashka Cave.
Experience Krushuna Waterfalls, one of the biggest cascades in the country.
Including:
Hotel pickup and drop off
Entrance fees
Professional guide
A fantastic day out filled with lots of "Wow" moments! The cave and waterfall were beautiful+were easy to get to aswell (no crazy hikes or walking involved)! We asked our guide if we could add in a visit to the Eyes of God cave on the way back and he kindly agreed! It was pretty spectacular,so ask your guide too 😄💕 If you want to explore Lovech, I'd take lunch with you as you don't get much time there, and eating at a restaurant takes up most of it!!!
12. Sofia to Prohodna, Saeva Dupka Cave & Glozhene Tour
⭐ Rating: 4.8 / 5 (12 reviews)
Discover some of the most amazing caves in Bulgaria!
Hike from Iskar Gorge to Prohodna Cave.
Journey through the largest cave passage in Bulgaria.
Continue to the Sueva Dupka Cave, where 5 halls and 400 meters of corridors reveal some of the most beautiful stalagmite formations in Bulgaria.
Marvel at the 13th-century Glozhene Monastery on the cliffs of Stara Planina Mountain.
Including:
Pick-up, drop-off, and transportation.
Licensed guide.
Entrance fee to the Saeva Dupka Cave.
Wow wow wow. This trip made our holiday ! Can't say enough about George - what a guy ! So knowledgeable and a beautiful soul ! George took us off the beaten track with a beautiful hike to the eyes god cave - such an adventure ! Nectari the black monk at the monastery was so hospitable and the stalactites and mites in the Saeva Dupka was unbelievable- this tour is incredible 10/10. George's kindness showed us how warm Bulgarians are ! Most enjoyable moment - all of it. Loved watching the bouldering in the caves. This is an absolute must of a trip - top top notch. Can't say enough. Book book book this one
13. Sofia to Veliko Tarnovo and Arbanasi Tour
⭐ Rating: 5 / 5 (13 reviews)
Veliko Tarnovo and Arbanasi are two highlights of Bulgaria!
Why choose this tour? Visit two of northern Bulgaria's top attractions on this private Veliko Tarnovo and Arbanasi tour from Sofia.
Visit the traditional village of Arbanasi, famous for its rich past and fresco-coated Church of the Nativity.
Continue to Veliko Tarnovo, Bulgaria's former medieval capital and home to the Tsarevets fortress.
Including:
Professional guide.
Hotel pickup and drop-off.
Excellent tour to really interesting historical sites that would be really hard to reach any other way. Methodiy was an excellent and informative guide, with a real appreciation for the archaeology and history.
Tours in Sofia
1. Sofia Walking Tours
⭐ Rating: 5 / 5 (15 reviews)
Why choose this tour? Because it's The Most Affordable Private Sofia Walking Tour.
Including:
Personal guide (if the privately-guided option is chosen).
E-guide for the whole itinerary.
The tour was really great overall. My guide was super friendly, knew his stuff, and made the tour a nice experience to get a quick intro into the history, culture, and structure of Sofia. He was very passionate about it and clearly enjoyed it, making the experience really great for me too. Would definitely recommend to anyone who wants a nice and flexible tour of Sofia.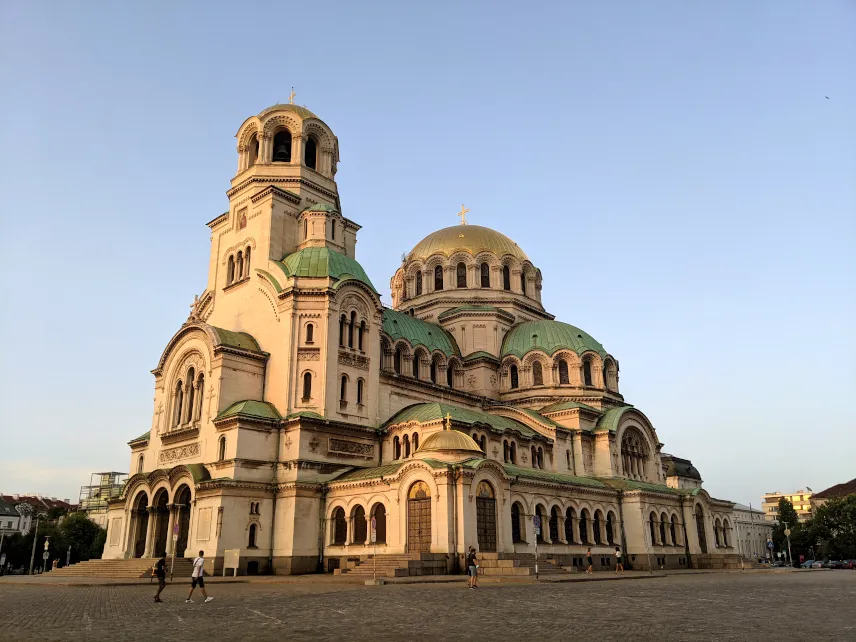 2. Sofia City Tour
⭐ Rating: 5 / 5 (30 reviews)
Why choose this tour? The Sofia Communist History 2-Hour Tour in a Classic Trabant is the perfect option for travellers who don't want to (or can't) walk much.
Zip around Sofia's historic landmarks in a traditional Trabant car on this private 2-hour tour.
Learn about life in Bulgaria during the communist era as you pass landmarks such as
The National Palace of Culture.
The former Headquarters of the Communist Party.
The Central Department Store.
The State Archive Agency.
Including:
English-speaking driver/guide.
Ride with the Trabant during the tour.
Hotel pickup and drop-off.
Wonderful tour! Wonderful guides. We highly recommend this tour! Our guides were friendly and highly professional.
3. Communist Tour Sofia
⭐ Rating: 5 / 5 (398 reviews)
Why choose this tour? The Communist Walking Tour of Sofia is the best walking tour to learn about communism in Bulgaria.
Including:
Great tour. Thoroughly enjoyed it. Fascinating history. Outstanding delivery by our tour guide Niki. Very knowledgable. Really good value for money.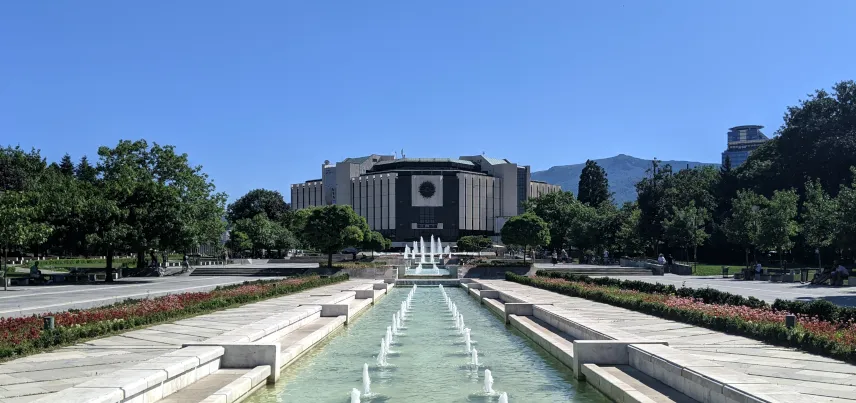 4. Sofia: The Communist Times Exploration Game
⭐ Rating: 5 / 5 (8 reviews)
Why choose this tour? For only 5,99€, Sofia: The Communist Times Exploration Game is a steal!
Embark on a quest where you will uncover the secret stories from the communist era of Sofia.
Including:
The city exploration game is available on your phone (Questo app).
Full availability: 24/7, every day of the year.
Flexibility: Start, take a break and continue at your own pace.
24/7 customer support.
A wonderful tour around Sofia's hidden communist secrets. You will solve puzzles to get to the next stop and will learn what it was like to live here some half a century ago.
5. Sofia Food Tour
⭐ Rating: 5 / 5 (4 reviews)
Why choose this tour? As this is a 3-Hour Private Bulgarian Food Tasting Tour of Sofia, the guide can cater to all your dietary requirements.
Including:
Food and drink tasting.
Pickup and drop-off from designated meeting points.
Private guide.
My husband and I took chose the vegetarian option as we do not eat meat. Our guide met us at our hotel and we were off. At the first stop, we had a fried dough appetizer with powdered sugar, cheese, and blueberry jam. These were served with a traditional yoghurt drink that was delicious. The next stop was at a health food store where we has a strawberry smoothie/shake and a crepe like thing filled with a lentil mixture. From there we hit a vegetarian restaurant where we had a wonderful soup with bread. Next we hit a place with veggie burgers and the final stop was at a wine bar so we could taste three types of local wines. Throughout the tour, our guide gave us information, chatted with us as if we were old friends and the whole evening was fantastic. I enjoyed all the food and had such a nice time. I highly recommend this tour.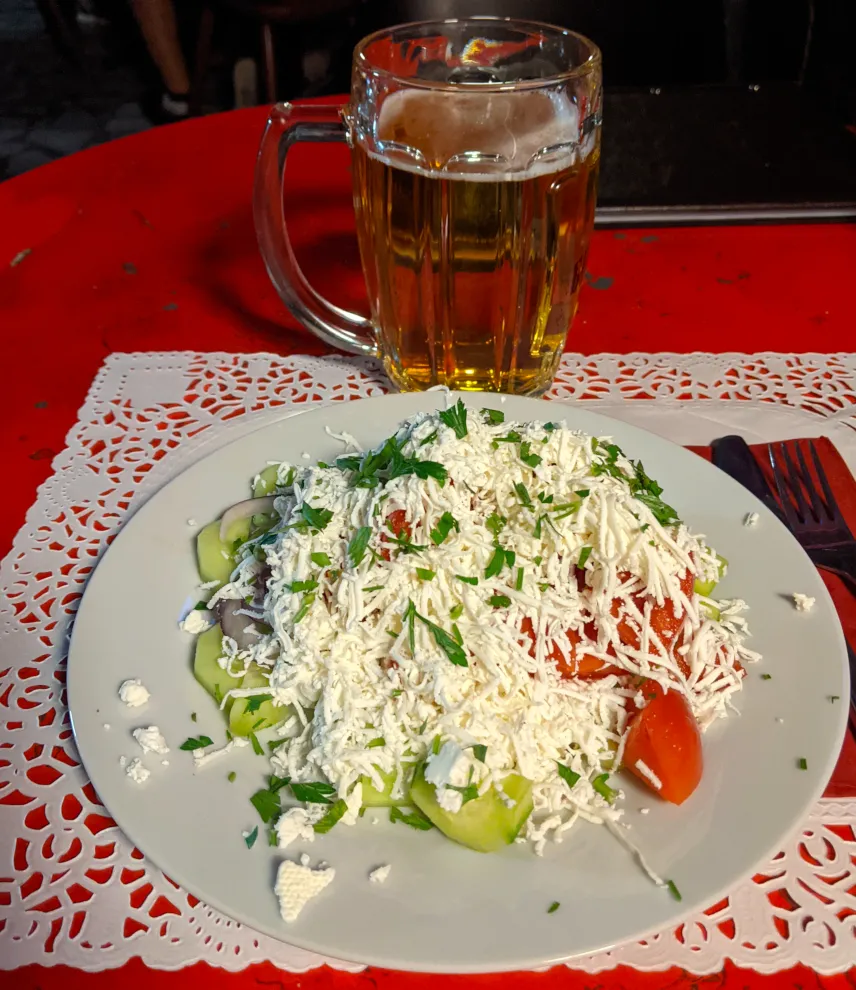 6. Sofia Market Food Tour
⭐ Rating: 4.5 / 5 (7 reviews)
Why choose this tour? The Sofia Market Food Tour was designed with foodies in mind. This off-the-beaten-path market tour visits three essential Sofia markets:
Flea Market.
Women's Market.
Central Market Hall.
Including:
We had a wonderful few hours with Dara. She was so knowledgeable and friendly, and taught us a lot about the city and the cuisine. We ate at four different places and the food was excellent at all of them. Highly recommend this tour!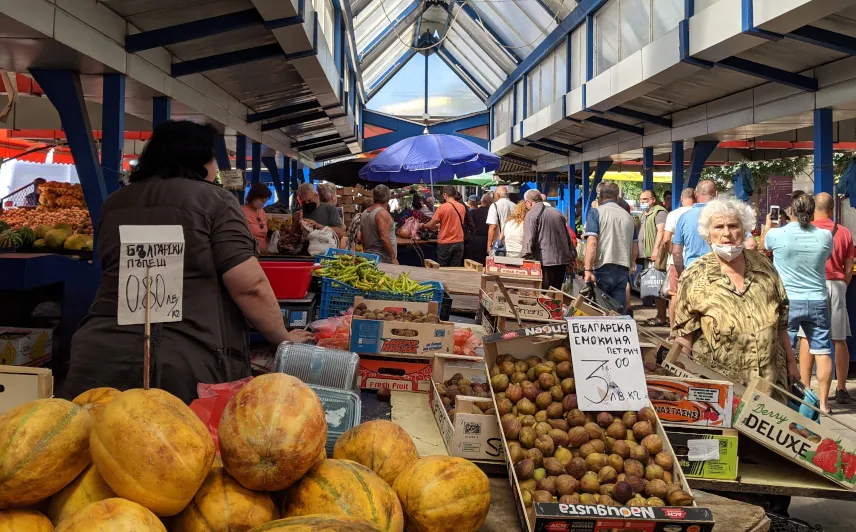 7. Wine Tasting in Heart of Sofia
⭐ Rating: 5 / 5 (304 reviews)
Why choose this tour? We fell in love with Bulgarian wine. After the Wine Tasting in Heart of Sofia, you will too!
Including:
Sample five wines made from different local grapes, all unique to Bulgaria.
3 different local Bulgarian cheeses.
An excellent introduction to some Bulgarian wines, in a specialist shop run by a friendly and informative host. Highly recommended.
8. Airport Transfer Sofia
If you don't want to deal with public transport in Sofia, how about an airport transfer?
This post contains affiliate links. If you use these links to buy something we may earn a commission. You would help us a lot if you do so. Thanks.