The Konglor Cave is the highlight of the Thakhek Loop and for many travellers of all of Laos. Most people will visit this cave as part of the Thakhek Motorbike Loop. But what if you don't ride a motorbike? We show you three options to do the Thakhek Loop without a motorbike:
1. Kong Lor Cave by Public Transport
The way to the Kong Lor cave is the easiest part of the Thakhek Loop you can do by public transport.
Thakhek to Kong Lor by Songtaew (Tuk Tuk)
Theoretically, there are direct Songtaews from Thakhek to Kong Lor leaving at 7:00 am and 2 pm from the central market (marked on the map).
When we arrived at the market we were told that there will not be a 7 am Songtaew as the driver is still asleep. With Google Translate we managed to figure out that there will be a Songtaew at 7:30 am going to Na Hin. After a 1.5-hour wait in Na Hin, we made it to Kong Lor at around 3 pm - just in time to make it to the cave on the same day.
We found the most up-to-date information on the homepage of the Spring River Resort.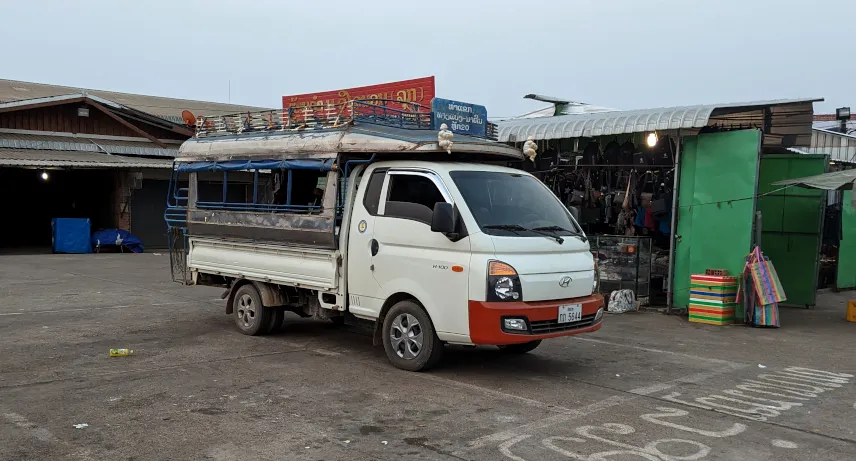 Vientiane to Kong Lor by bus
There is one daily direct bus leaving from the southern bus station in Vientiane at 10 am (marked on the map). With this bus, you will not make it into the cave on the same day.
This is also the bus we took from Kong Lor to Vientiane at 7 am. Budget some time as it took us 10 hours.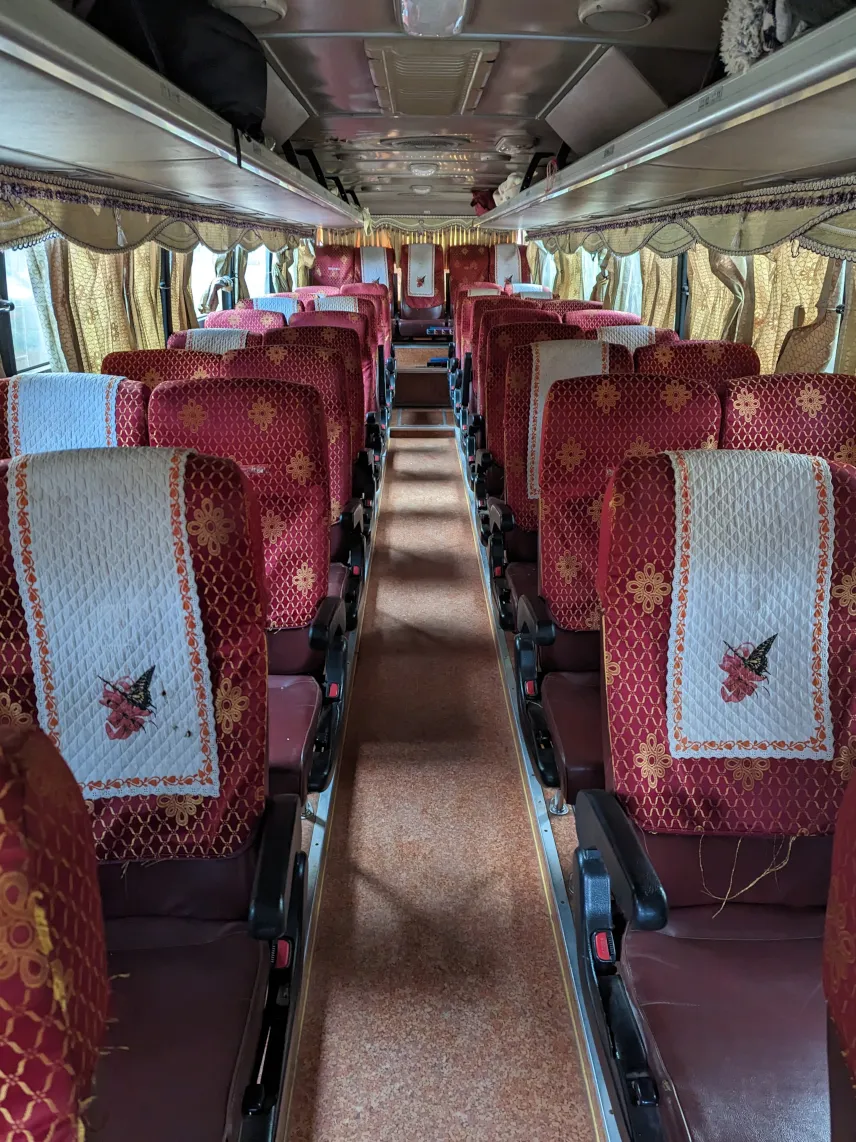 2. Thakhek Loop by Easy Rider
We could not find any information online but found this announcement in our hostel in Thakhek. We have no idea how the service is but want to let you know that the possibility is out there.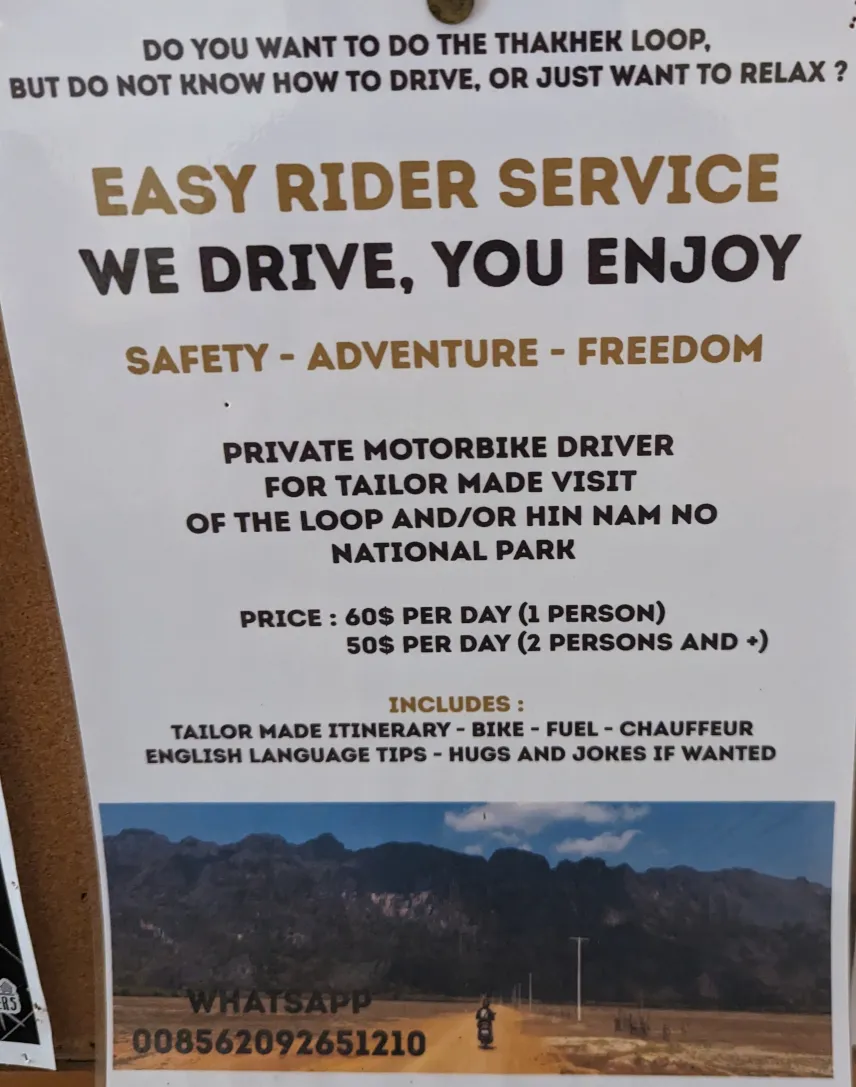 3. Thakhek Loop by Organised Tour
We have not seen any information about this ourselves but other travellers have told us that their hotel advertised a bus tour around the Thakhek Loop. As tourism in this area increases it might be worth asking your accommodation.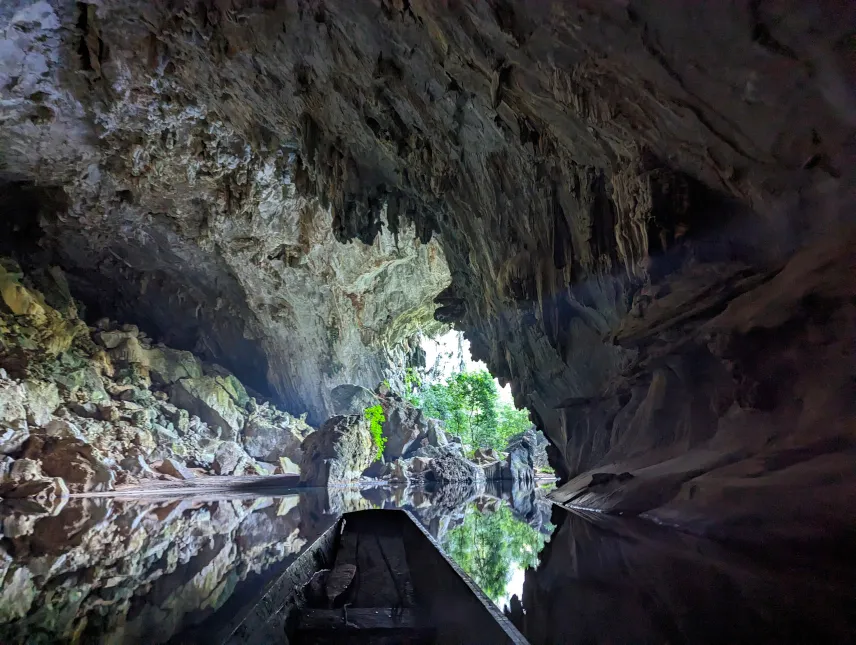 Best Accommodation in Kong Lor (When You Don't Have a Motorbike)
The best accommodation in Kong Lor if you don't have a motorbike is Kong Lor Cave Resort. The bus stops directly in front of it and it's an easy walk from the entrance of the cave.
If you are looking for something a bit more upscale we can recommend the Spring River Resort.
This post contains affiliate links. If you use these links to buy something we may earn a commission. You would help us a lot if you do so. Thanks.