In February 2023, we spent some time at Kactus Koh Ta Kiev Island Cambodia. Here's our small guide:
Koh Ta Kiev Accommodation
Kactus Koh Ta Kiev
When we visited at the beginning of 2023, Kaktus Koh Ta Kiev was the only accommodation that had survived the pandemic.
Kactus Koh Ta Kiev offers four types of accommodation:
A treehouse dorm for 3$ per person and night.
Beach tents for 9$ per person and night.
Private treehouses with shared bathrooms for 11$ per person and night.
Private treehouses with private bathrooms and sea view for 22$ per person and night.
We stayed in the treehouse dorm and loved it. It comes with lockers, power outlets and mosquito nets. There are plenty of shared bathrooms.
Pro Tip: The bathrooms are open style so you might encounter some animal visitors.
The common seating areas were super comfy. You could either find your own private hideaway or socialise with other guests.
We also enjoyed the free yoga with a sea view.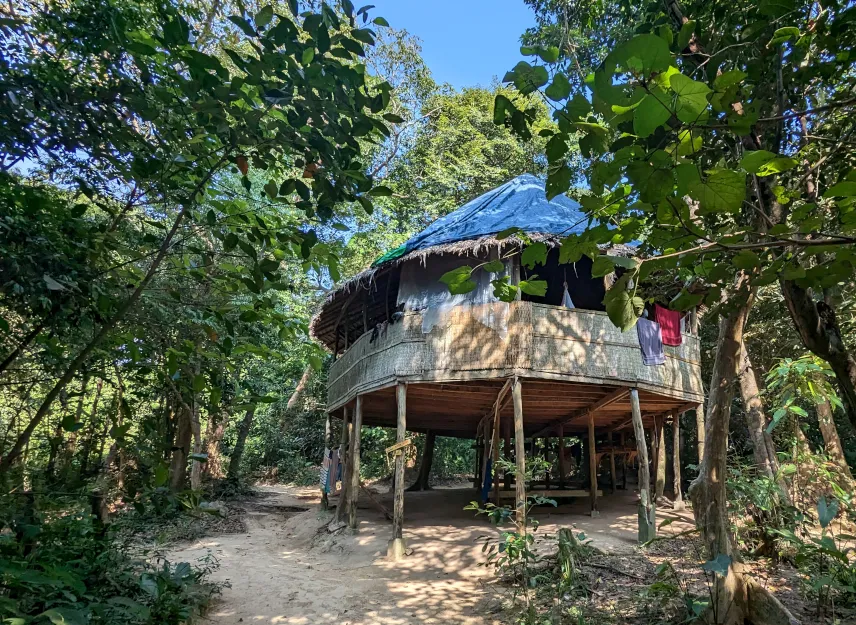 Crusoe Koh Ta Kiev
Crusoe Koh Ta Kiev and Nak's Shack seem to be reopening after the rainy season in October 2023.
Koh Ta Kiev Island Travel Guide
Best time to visit Koh Ta Kiev Island
Heavy rain tends to fall from June until September. Accommodations can remain closed during that time.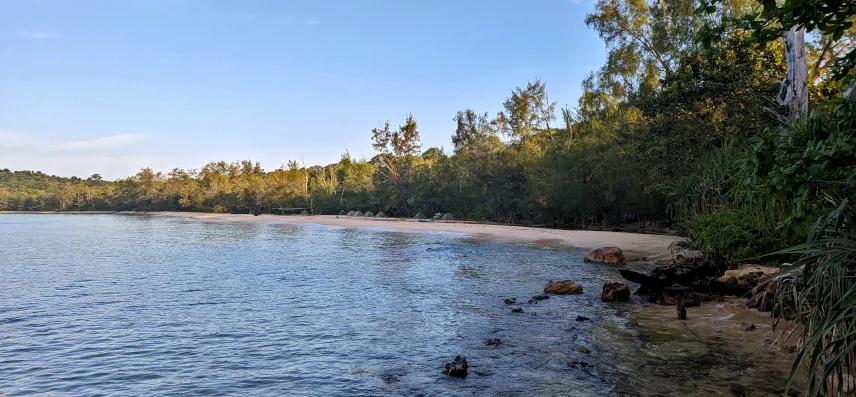 How to get to Koh Ta Kiev Island
At the beginning of 2023, the only way to reach Koh Ta Kiev was by the private boat of Kactus Koh Ta Kiev. It leaves every day at 12:30 pm from Ream Beach and the price is 7.50$ per person one way.
You can reach Ream Beach from Sihanoukville or Kampot. The owner of Ta Eng Guesthouse in Kampot organised our direct transfer for us so we could avoid spending an extra night in Sihanoukville.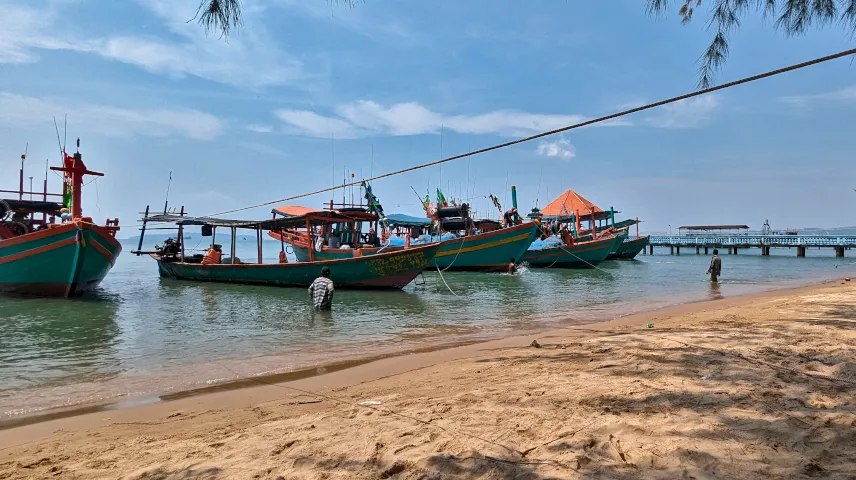 Power And Internet On Koh Ta Kiev Island
In old blogposts, you can still read that power and internet are a problem on Koh Ta Kiev. Power was no problem whatsoever.
Our local SIM card had a good enough connection to get text messages through. Kactus offers a WiFi package and even has its own co-working space.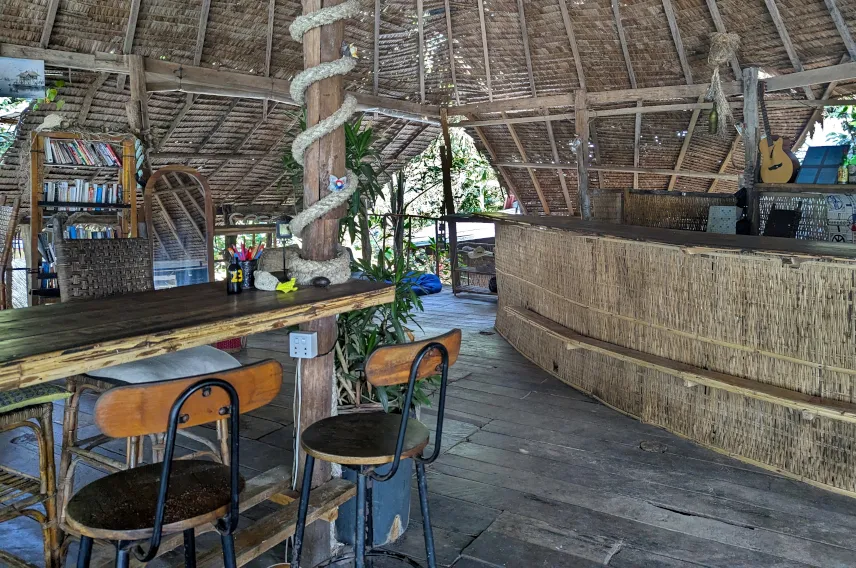 Food on Koh Ta Kiev Island
There are no shops or restaurants on the island so you pretty much depend on the food of your accommodation. At Kactus, food and drinks were on the pricier side, especially by Cambodian standards.
On the pro side, they offer a water refill flat rate for 1$ per day.
Pro tip: Bring some durable snacks from the mainland if you want to keep your cost low.
What to do on Koh Ta Kiev
The best things to do on Koh Ta Kiev are:
Hit the beach (Long Beach, Kactus Beach, Last Point Beach).
Jungle Hike.
Visit the Fishing Village.
Bioluminescent Plankton – You can either go on a boat tour or hop in from the beach to see it on your own. Kactus Beach is also dubbed Plankton Beach and we managed to see some faint bioluminescence just swimming from the beach at night.
Snorkelling – Good snorkelling spots are just south of Kaktus Resort or at the ends of Long Beach. You can rent gear at Kactus Resort.
Cliff jumping at Elephant Rock.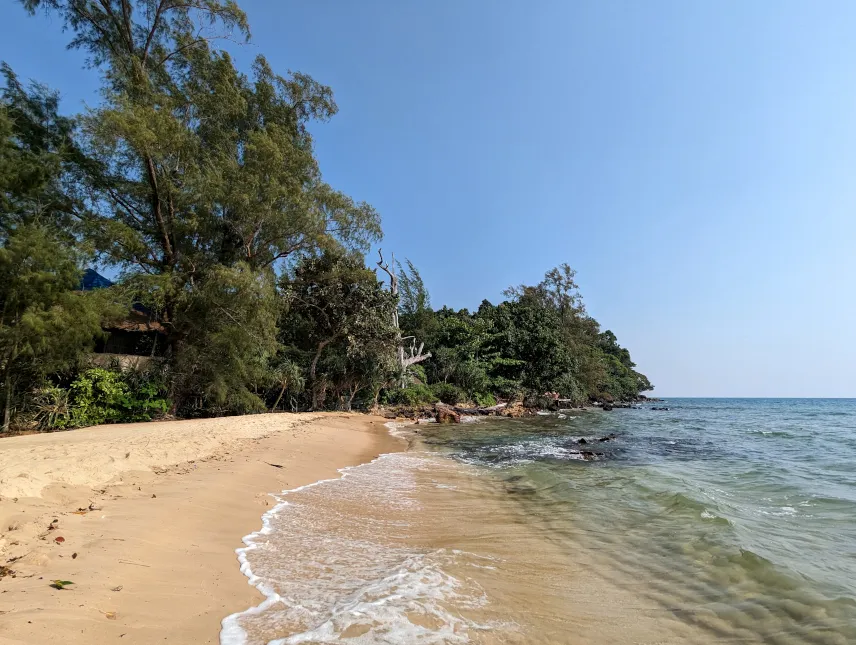 This post contains affiliate links. If you use these links to buy something we may earn a commission. You would help us a lot if you do so. Thanks. This post is not sponsored.