Honest Estonia backpacking guide including the best places to visit in Estonia. Tallinn, Tartu, and Saaremaa itinerary without a car - whether you travel the Baltics as a whole or just Estonia.
Backpacking Estonia by Public Transport
Backpacking Estonia by Bus
To be honest, we're not big fans of the Estonian local buses. They just don't run often enough for touristy purposes (I directly quote the nice lady at the tourist information who told me a bus that runs 6 times per day runs "very often"). Hence it is super hard to do day trips by public transport in Estonia. The situation is even worse on the weekend.
The long-distance bus situation is not much better. There is one daily bus from Tartu to Saaremaa and some more between Tallinn and Tartu as well as Tallinn and Saaremaa. LUX express is a nice alternative here.
Backpacking Estonia by Train
The train network is not as extensive as in Estonia's neighbouring countries. The only train you will likely take as a tourist is the Tallinn - Tartu route. During the day it should run every 1 to 2 hours, take around 2 hours, and cost around 10€. You can buy tickets online.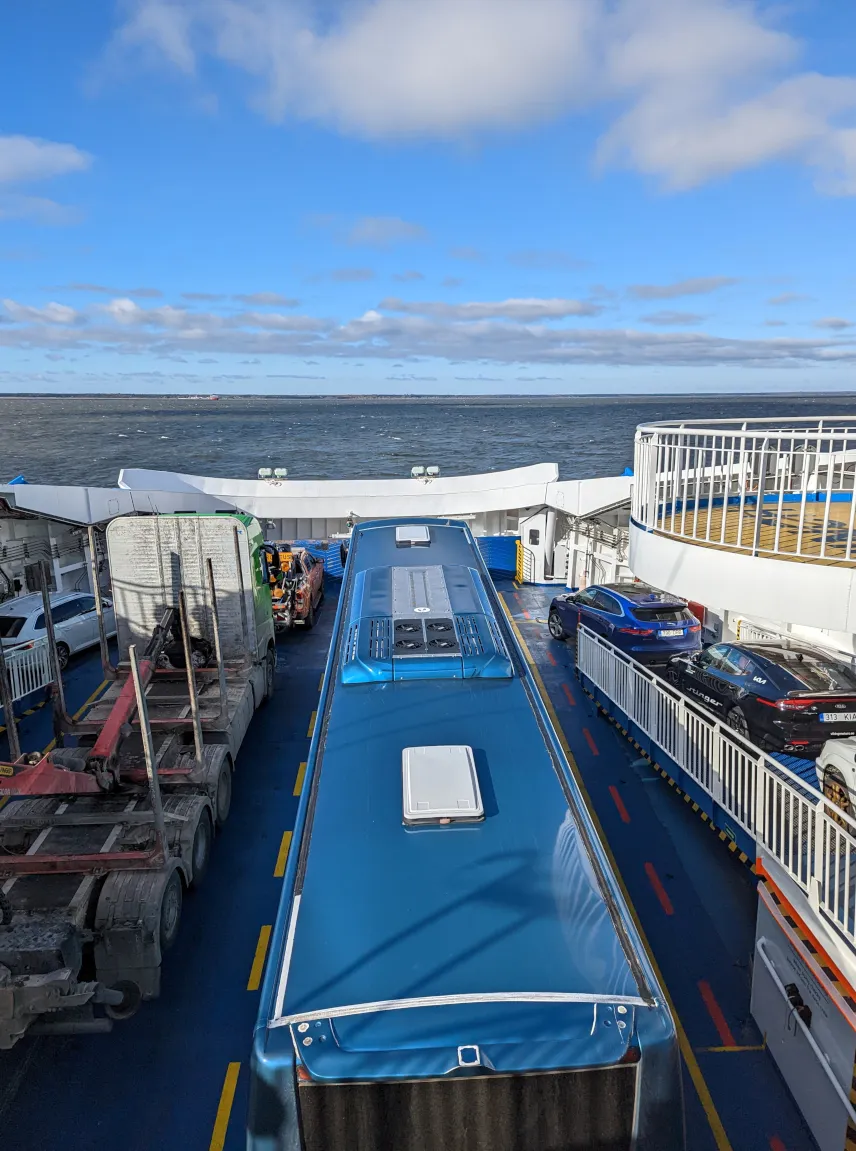 How Many Days are Enough in Estonia?
While many travellers only spend a couple of days int he capital, we think it's worthwhile to spend at least 7 days in Estonia to venture off the beaten path.
Quick 7 Day Estonia Itinerary
3 days in Tallinn

Old Town
Modern City
Day trip: Helsinki or Lahemaa

2 days in Tartu
2 days in Saaremaa

Kuressaare
Day trip: Kaali crater
Comprehensive 1 Week in Estonia Itinerary
Backpacking Tallinn, Estonia
Is Tallinn worth visiting?
Yes! Many bloggers rave about the medieval city centre of Tallinn and yes, it's amazing. What really surprised us is the modern side of the city: The Telliskivi area full of street art, the market right behind the train station, exceptional museums, relaxing seaside walks and cool rooftop bars in the modern skyscrapers.
What to see in Tallinn?
There are loads of blogposts detailing what to do in Tallinn so we only mention our highlights here.
Old town:
As always, we recommend you start your stay with a free walking tour.
Of course, the city wall and tunnels are a must. We loved the Bastion Tunnels below the Kiek in de Kök!
Alexander-Newski-Cathedral is worth a visit and in contrast to many other churches in Tallinn, it's free.
Don't miss Town Hall Square. The historic Pharmacy is free to visit. If you're looking for a cheap and quick bite but don't want to miss out on the medieval atmosphere head to III Draakon.
The best contemporary restaurants can be found on Rataskaevu Street - e.g. Rataskaevu 16.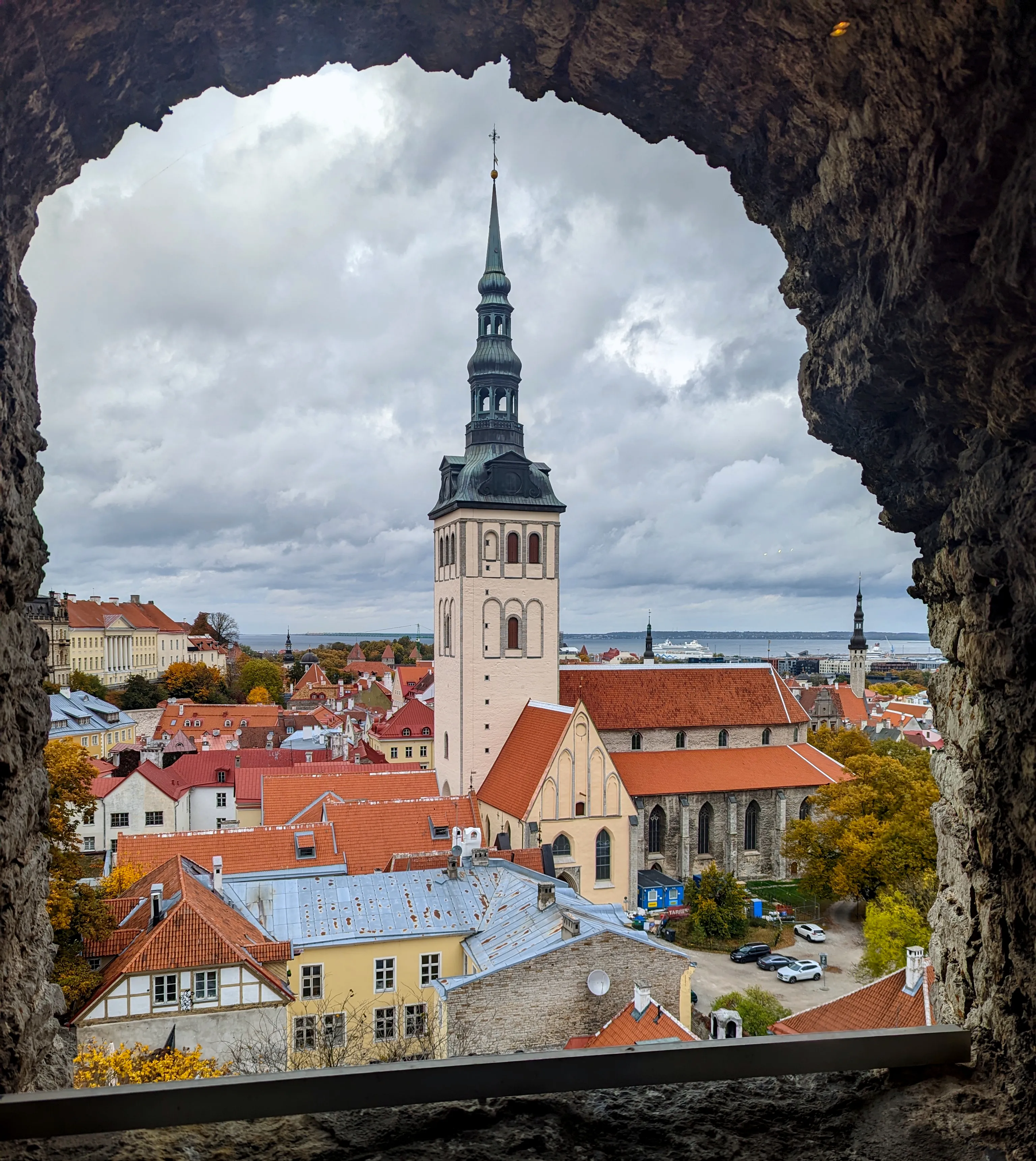 Modern Tallinn:
The Telliskivi area offers prime street art.
You've probably heard about Balti jaama turg market for great street food and alternative shopping.
Right next to the market, you'll find the Kalamaja area with colourful wooden houses.
If you don't mind walking, walk all the way to the waterfront.
At the waterfront, you can chill out with a sauna and street food at the Iglupark.
Check out the super modern Seaplane Harbour Museum.
Stroll along the waterfront past Patarei Prison and Kalarand beach.
The EKKM modern art museum is super unique and free to visit. Make sure to check out the Kultuurikilomeeter!
For some serious Sowjet architecture, visit the Linnahall old Olympic stadium.
The KUMU Art Museum was our favourite museum in Tallinn. Combine it with the Kadriorg Palace when you make your way out there.
Lounge 24 on top of the Radisson Hotel is a great rooftop bar.
How many days in Tallinn?
We'd suggest three days in Tallinn: One day is enough to see the historic city centre but you need another one to venture outside and explore the modern side of Tallinn. You need an additional day if you want to go on a day trip to Helsinki, which is a 100% recommendation.
Best Hostel in Tallinn
There seem to be loads of hostels in Tallinn with similar ratings in a similar price range. We ended up staying at The Knight House which was a decent choice.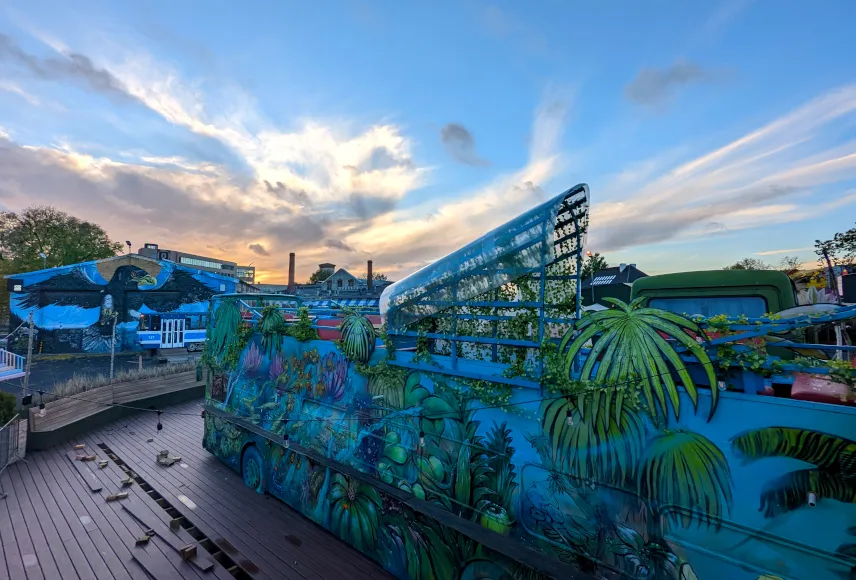 Day trips from Tallinn
Viru bog
The Instagram famous bog walk in Lahemaa National Park.
How to get from Tallinn to the Viru Bog by public transport
To be honest, we tried. First, we contemplated the local bus but it only ran twice per day on the weekend with either way too little or too much time for the walk.
Here are some tour options instead:
Helsinki
Instead of day-tripping in Estonia, go to Helsinki.
How to get from Tallinn to Helsinki by public transport
There are multiple ferries by multiple companies daily and the price is very reasonable. You can get a round-trip ticket for as little as 15€ even if you book last minute.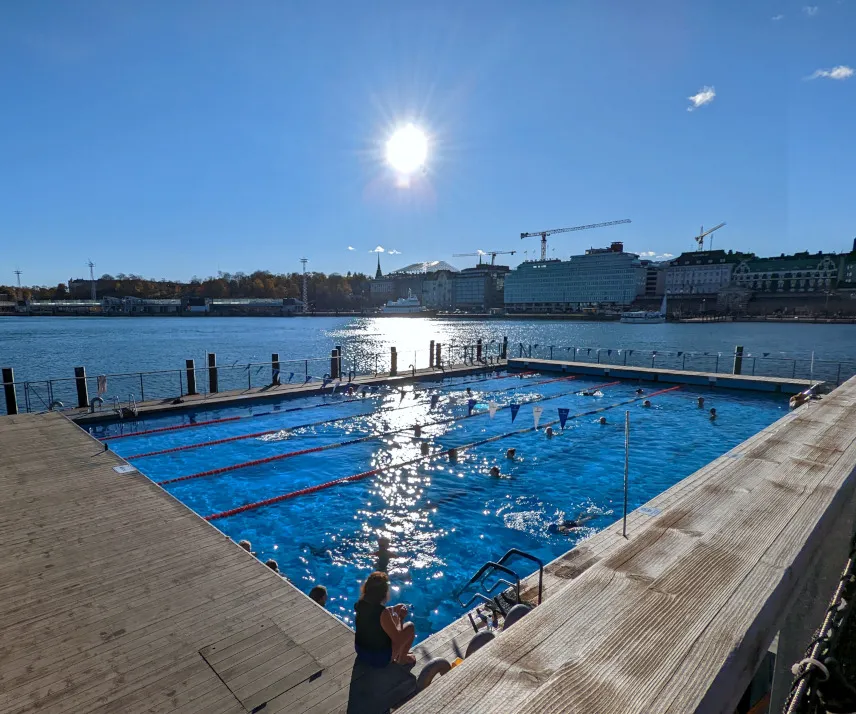 Backpacking Tartu, Estonia
Is Tartu worth visiting?
Yes! Estonia's second-largest city is going to be the European Capital of Culture in 2024. The university city has a very alternative vibe with loads of street art as well as cool shops and cafes.
What to see in Tartu?
Stroll down the Rüütli tänav pedestrian street and visit some of the shops and cafes.
Stroll along the Emajõgi and visit the Tartu Statue of Liberty.
The Dome of Tartu is a must-visit. The ruins are incredibly picturesque. On your way visit the Angel's Bridge and the Devil's Bridge.
St. John's Church is a Brick Gothic Lutheran church. Its most outstanding feature is its wealth of terracotta figurines surrounding the exterior. Originally, there were more than 1000 figurines of which about 200 have survived.
Some of the most outstanding buildings are the university, town hall, and toy museum.
The Botanical Garden is a green oasis within the city. For a small fee, you can warm up in the greenhouses.
A bit outside the city centre, Aparaaditehas is an area full of art and cool shops, bars, and restaurants. Take your time to go here and also explore the surrounding block to find more street art. If you still can't get enough of street art, the Karlova neighbourhood is a recommendation.
Soup Town or Supilinn neighbourhood is full of cute wooden houses.
If you want to visit museums, make sure to not go on a Monday (guess what we did). The KGB Cells Museum and Estonian Printing & Paper Museum come recommended. We would have loved to visit the Museum of Natural History and the AHHAA Science Centre looks super cool.
How many days in Tartu?
As Tartu is quite a small city, 2 days should be enough to explore the highlights and soak up some of the atmosphere in the hip bars and restaurants.
How to get from Tallinn to Tartu by public transport
With LUX Express buses and trains, you can make the journey between Tallinn and Tartu pretty much hourly during the day.
Best Hostel in Tartu
We stayed at Looming Hostel. The vibe was great and it's super close to the train station but a bit far always from the centre. Next time, we'd probably stay at Hostel Tartu which is much closer to the centre and has its own sauna.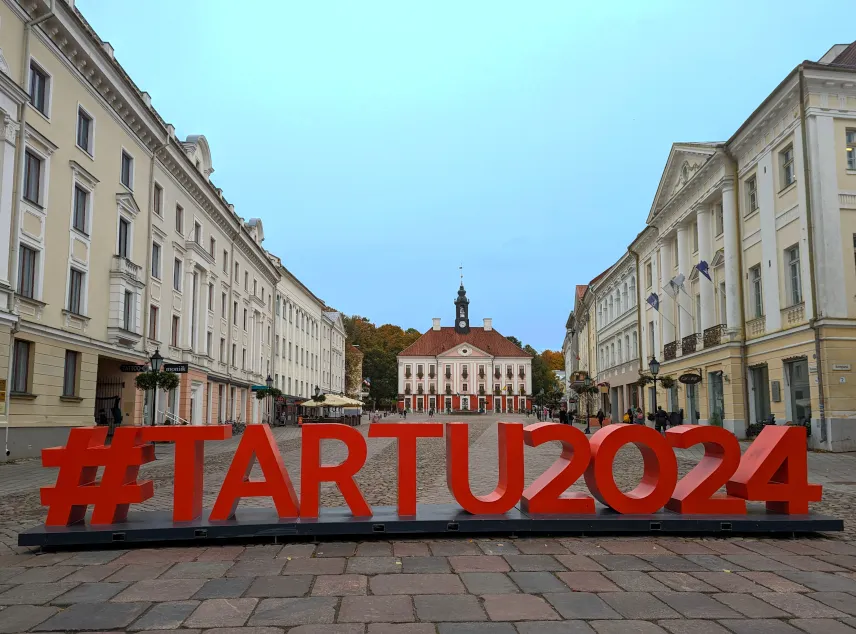 Backpacking Saaremaa, Estonia
Is Saaremaa worth visiting?
Honestly, it depends. Estonia's biggest island is a prime seaside destination in the country. The downside? The coastline is much more rugged than the long sandy beaches in Lithuania and Latvia and the public transport situation in Estonia overall makes moving around the island a challenge. If you're travelling to all three Baltic countries, we suggest visiting Klaipeda/Palanga, Lithuania and/or Jurmala, Latvia, instead.
What to see in Saaremaa?
Kuressaare is a charming little city with a tiny but charming historic centre around the main square.
The highlight is Kuressaare Castle. It is one of the best-preserved medieval castles in the Baltic States. The imposing structure made of dolomite blocks has retained its original appearance to this day. A trench filled with water surrounds the castle. Today the castle houses a museum on the history of Saaremaa.
The beach in Kuressaare is tiny but it looks charming for the summer.
A drink or snack with a sea view at Resto HAFEN is a must.
There are several SPA hotels. Meri Seaside Hotel & SPA looks like a reasonably priced option.
I wish I had read an honest review before going so here it is: The one thing you cannot seem to do here is hiking. There are no hiking trails along the coast around Kuressaare - trust us, we tried to walk to the left and to the right for a while. Defeated, we asked at the tourist information and learned that there are only very few short hiking paths around town.
To the west, there's a hiking path to a bird-watching tower but it leads mostly along a busy road and through an oak wood.
To the east, you can hike towards the Roomassaare viewing platform. You mostly hike along a road as well although it's not as busy as the other one.
How many days in Saaremaa?
The beach is quite small so unless you're not seriously into beach bumming in summer or want to take a spa break 1-2 days should be enough.
How to get from Tartu to Saaremaa by public transport
There is one daily bus from Tartu to Saaremaa at stupid o'clock (we bought our ticket here). It's a direct bus hopping on the ferry with you.
Best Hostel in Saaremaa
There seems to be one hostel in Kuressaare, Kuressaare Central Hostel. As the price was not higher in a private room, we opted to stay at Guesthouse Laurits with an unbeatable price right in the centre of Kuressaare.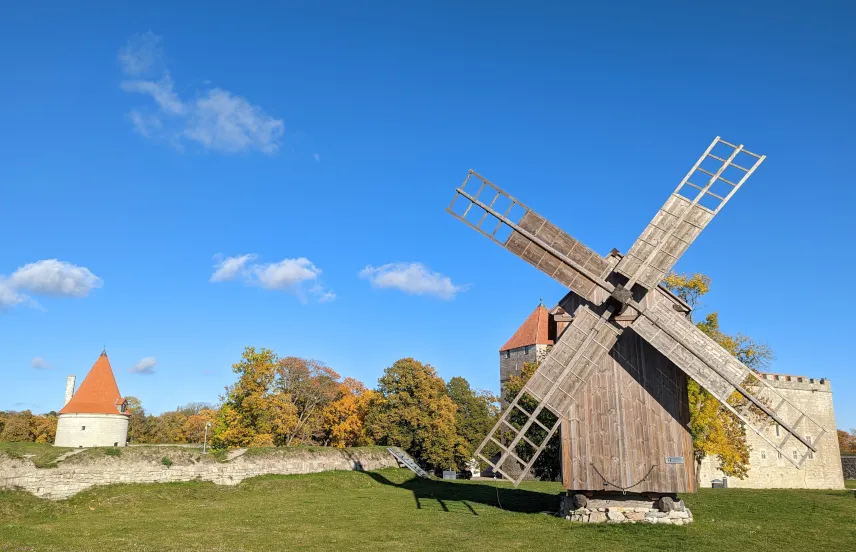 Day trips from Kuressaare, Saaremaa
Kaali Crater
Kaali is a group of nine meteorite craters created by an impact event. Most recent estimates put its formation shortly after 1530–1450 BC.
How to get from Kuressaare to Kaali Crater by public transport
There are 6 buses per day so it's manageable but you have to plan your trip. You can check out the timetable here.
This post contains affiliate links. If you use these links to buy something we may earn a commission. You would help us a lot if you do so. Thanks.