Planning your Helsinki city break? Here are the best things to do in Helsinki, Finland, including our favourite Helsinki sauna and cafe.
Short travel guide to Helsinki
Is Helsinki worth visiting?
Yes! It's a super modern city with an amazing vibe. While it may not have the same historic relevance as other European capitals, it's super liveable. See for yourself and check out the saunas, the cafes with the amazing cinnamon rolls, and the amazing nature. Helsinki is a great combination of a city trip with a relaxing getaway.
Best time to visit Helsinki
Yes, the summer is the brightest time to visit Helsinki but the off-season has its advantages as well. It's even more fun to get cosy in a cafe or hit the sauna when it's cold outside!
How many days in Helsinki?
One day is enough to see all the sights of the city.
You should budget three days if you want to check out the islands, museums, and some hidden gems.
If you have even more time, you can go on day trips to Porvoo or Nuuksio National Park.
Helsinki public transport
The HSL Helsinki public transport is amazing. It's reasonably priced, frequent, and comes with an English app.
Where to stay in Helsinki!
Although the prices in Helsinki are high, we recommend you stay in the centre. Public transport is great but it's always an obstacle if you want to pick up your bathing suit to visit a sauna or go out in the evening. We stayed at Hostel Diana Park which is a great budget option in the centre.
Backpacking Helsinki on a budget
Your biggest costs will be:
Accommodation: Central accommodation starts at around 30€ per person and night.
Transport: Is super reasonable in Helsinki. A day pass costs 8€, a 3-day pass 16€.
Food: Probably the highest cost on the list. Be prepared to pay around 15€ for a lunch and even more for dinner. You will hardly find a beer for less than 5€.
Sights and sauna: A sauna visit will set you back around 20€. You can visit many sights for free but museum entrance fees are quite costly.
We ended up spending 60€ per person per day.
Best cafes in Helsinki
We love cinnamon rolls so here are our favourites places:
Cafe Engel
Rams Roasters
Cafe Regatta
Cafe Succes
Cafe Fazer
Helsinki Itinerary
Day 1 in Helsinki - The Helsinki must-see sights
Morning: Helsinki Free Walking Tour
Start your time in Helsinki with a free walking tour to get an overview of the city and visit the most important sights. Amongst others, you'll probably visit
Helsinki Dome
Uspenski Cathedral
The statue of Finland
Havis Amanda fountain
The harbour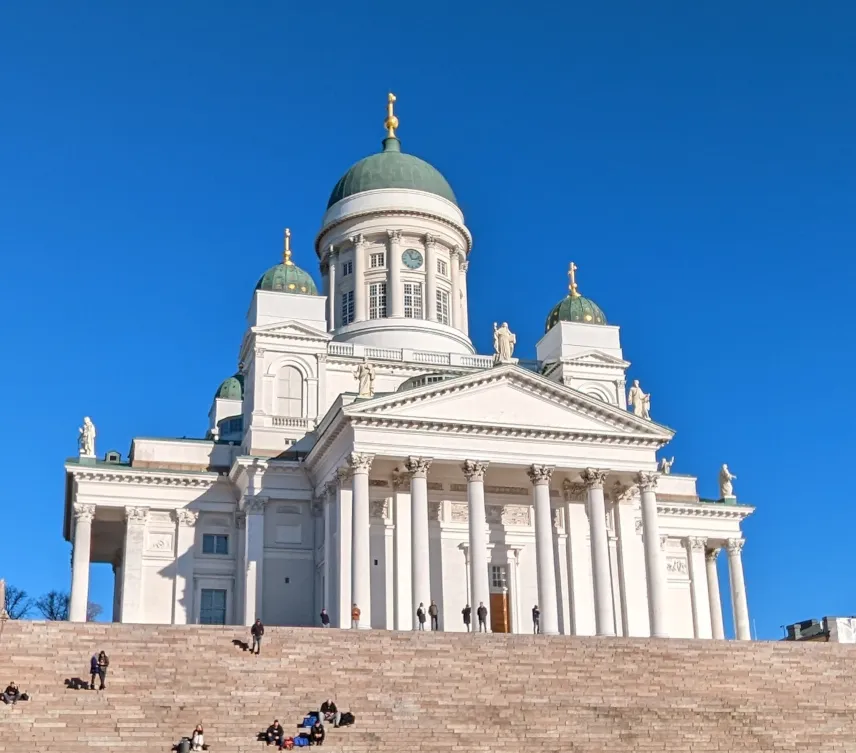 Vanha Kauppahalli Market
Lunch:
The traditional Finish salmon soup is a must try and SOUP+MORE is a great place to get it. Have a walk around to find some traditional and exceptional snacks like reindeer, liquorice, or cloudberry jam.
At Story, you can get a decent cinnamon roll for dessert.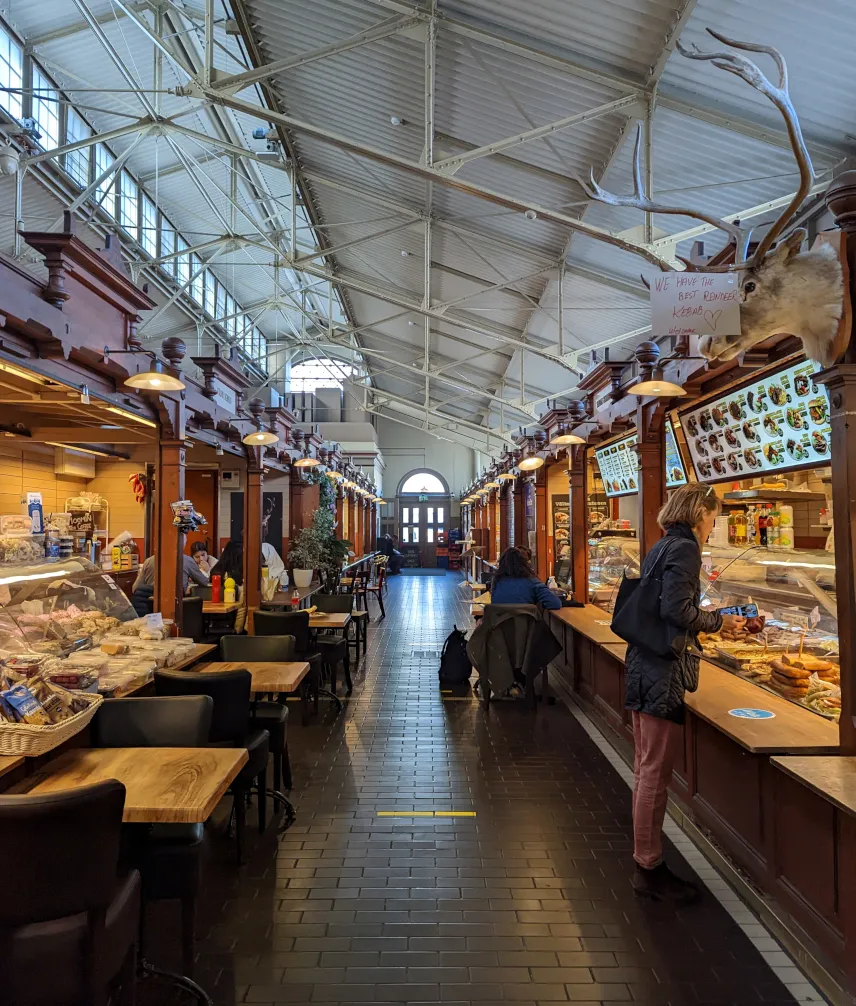 Afternoon: Explore the attractions in Helsinki
Make sure to explore the highlights the free walking tour missed. We have marked them on our map so you can plan the best route. Make sure to include:
The Finish National Library - free entry and stunning architecture.

Oodi Central Library - this is a true gem. This library has everything from recording studios over gaming rooms to 3D printers. Unfortunately, you can only borrow things when you're a resident but you can marvel at the most modern library we've ever seen.

Make sure to check out the Helsinki sign, the Parliament building, and Finlandia Hall when you're in the area.

Helsinki City Museum - free entry. This cute little interactive museum is definitely worth a visit.

Esplanadi - a nice park and walking area in Central Helsinki.

Pohjola Insurance building - this might sound like a weird inclusion on this list but Helsinki is famous for its lore-inspired Art Nouveau architecture and this building is a stunning example of that.

Around Kamppi:

Kamppi Chapel or Chapel of Silence - free entry.
HAM Helsinki Art Museum - entrance fee 12€ but they have one small free exhibition which is worth a quick pit stop when you're in the area.
Amos Rex Art Museum - entrance fee 20€ but you can walk around the eerie landscape on the outside for free.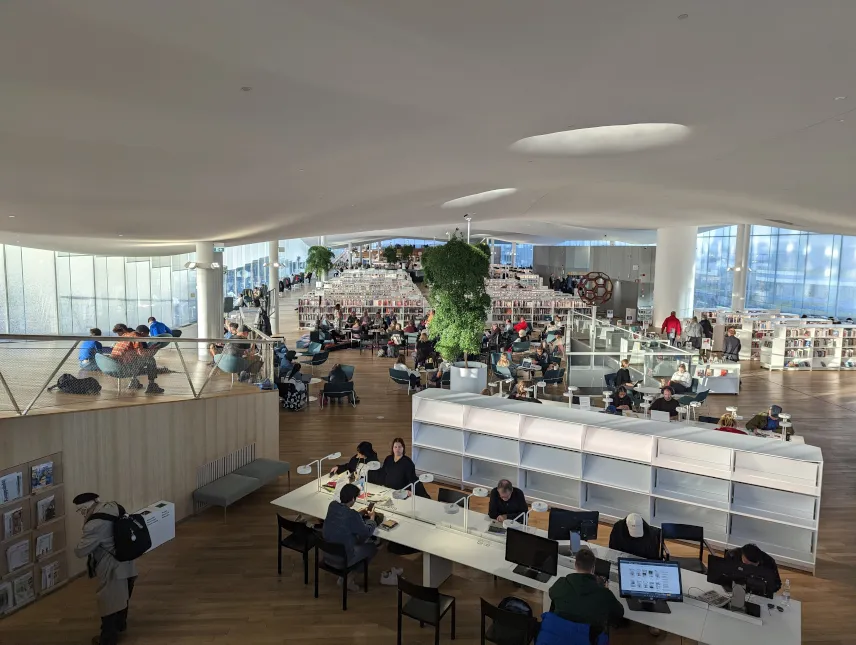 Evening: Allas Sea Pool Helsinki
To be honest this was not our favourite sauna of this trip. The temperature is a bit low and there is no rest area. The location of this sauna is unbeatable though and the scenery with the sea view is stunning - there are not many places where you can swim in a heated pool with a view like that.
You can also get a dinner with a sea view here.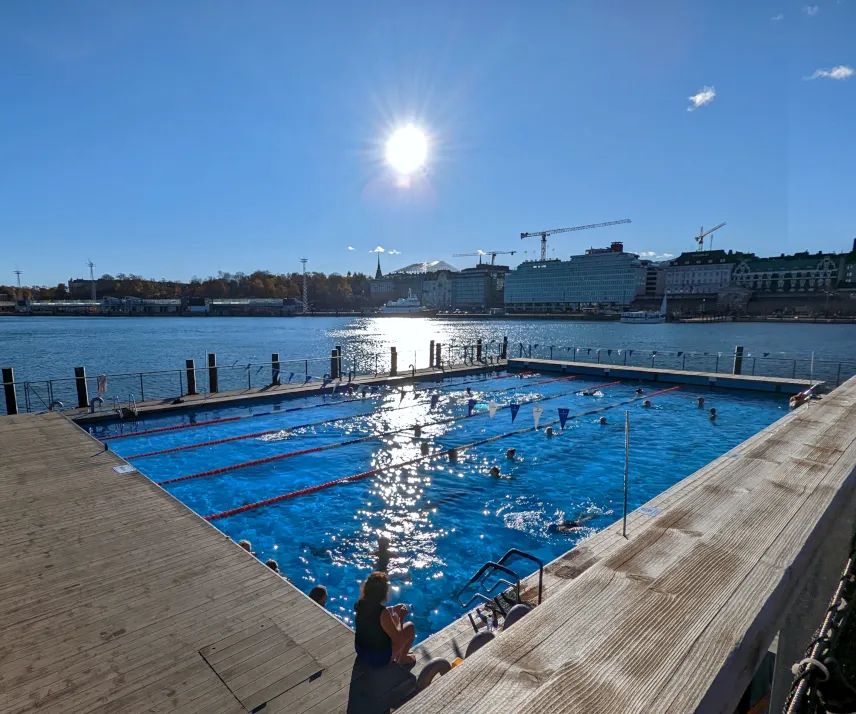 Day 2 in Helsinki - Suomenlinna
If you didn't opt for a 3-day pass, buy an HSL day pass for public transport today.
Morning: Suomenlinna
Suomenlinna is an inhabited sea fortress. You can visit the 4 main islands by ferry. The ride is included in your HSL AB day pass.
The UNESCO World Heritage Site is totally worth a visit. You'll have great views over Helsinki, you can explore old canons and tunnels, and there are many small bays and beaches. Additionally, there's the fortress, several museums, a dry dock, a submarine, and so much more to explore. Budget a couple of hours here.
In summer there are restaurants on the island.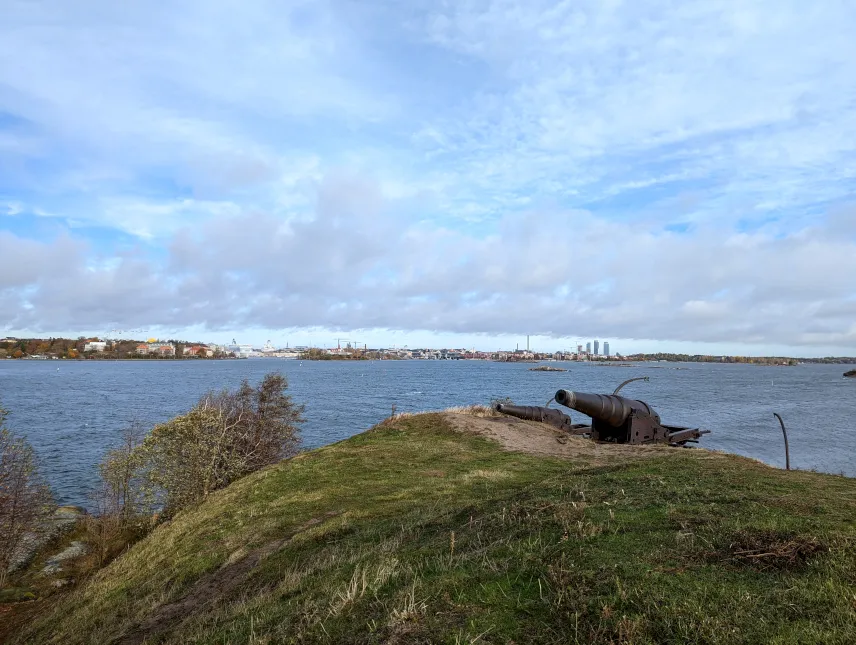 Lunch: Cafe Engel
As we visited Suomenlinna during the off-season and all the restaurants were closed, we took the ferry back to the city centre and opted for lunch at Cafe Engel. The traditional reindeer stew was amazing.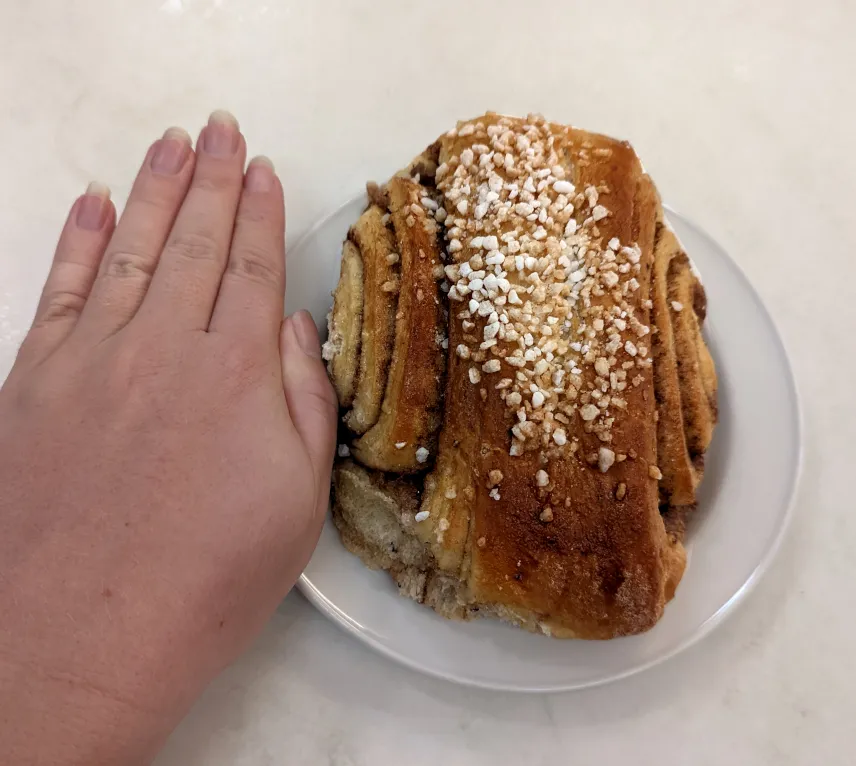 Afternoon: Sompa Sauna
This was our favourite sauna of this trip! It's a bit outside of the centre but easy to reach by subway with your HSL ticket. We have marked the new location on the map.
This place is super local. It comes with three wood-fired saunas and a place where you can cool down in the sea. There is no water so bring enough to drink. You can use a locker when you bring your own lock. The ground is quite gravelly so it's best when you have some kind of slippers. The sauna is clothing optional.
The best about it? It's donation-based so you can pay as much as you see fit!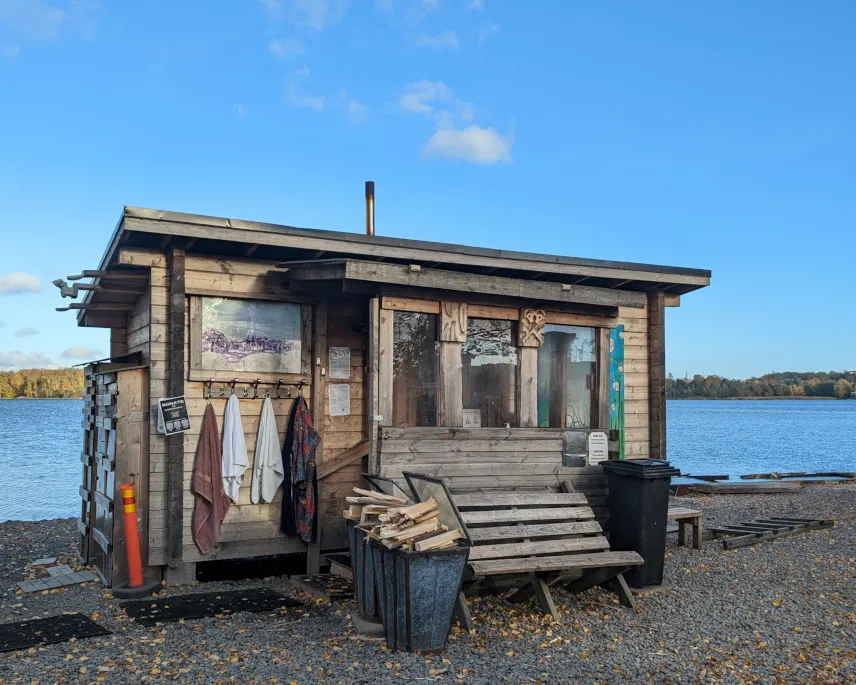 Evening: Ateljee Rooftop Bar
This was our favourite rooftop bar. You have 360° views and two terraces if it's warm enough to sit outside. The inside area is quite small but you also have the option to sit one floor down which is much quieter. Drinks are expensive but the sunset view is worth it.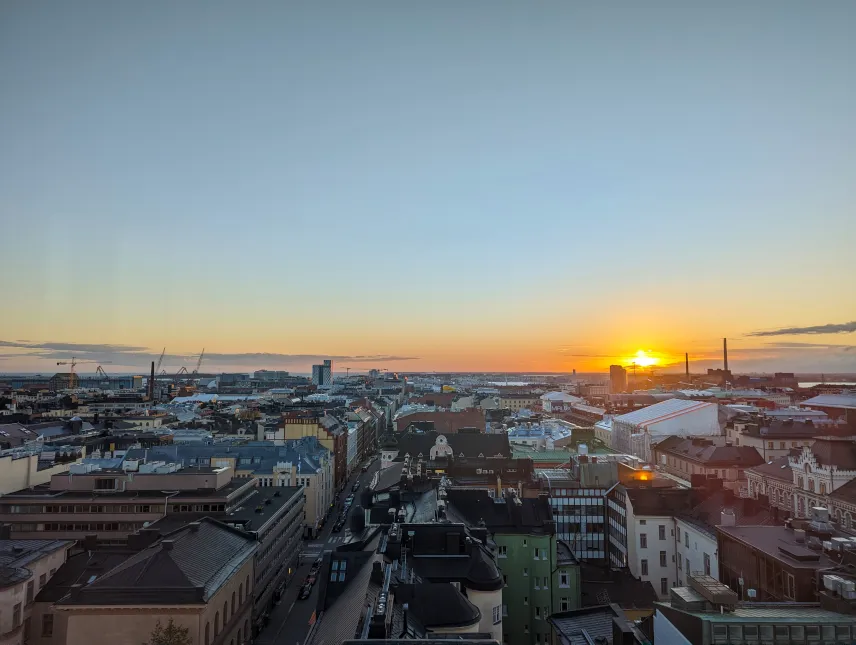 Night: The Riff Metal Bar
It's a must for Metal lovers. Even if you're not we believe that metal is such a big part of Finish culture that a metal bar is a must.
Day 3 in Helsinki - Seurasaari
Today, you'll make your way north of the centre. We walked all the way to Seurasaari because the path is beautiful and runs along the seaside for quite a while but you could also include the Church of the Rock in your self-guided walking tour on day 1 and take public transport today.
Morning: Exploring north of Helsinki City Centre
Temppeliaukio Church (Church of the Rock) - The entrance fee is 5€ but you can explore the outside and walk the surrounding bedrock for free.
Sibelius monument - it looks like a lot of organ pipes and is dedicated to the Finnish composer Jean Sibelius.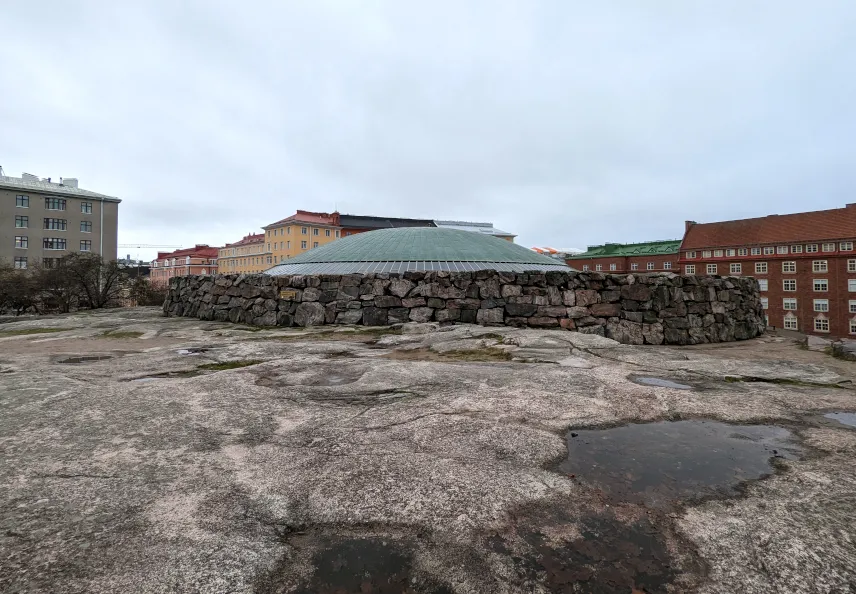 Lunch: Cafe Regatta
To be honest, the Sibelius monument wouldn't have made our list of recommendations if it wasn't next to Cafe Regatta. It is located in the cutest little red hut with a giant terrace right on the waterfront.
Nowadays it's pretty touristy but prices are still reasonable.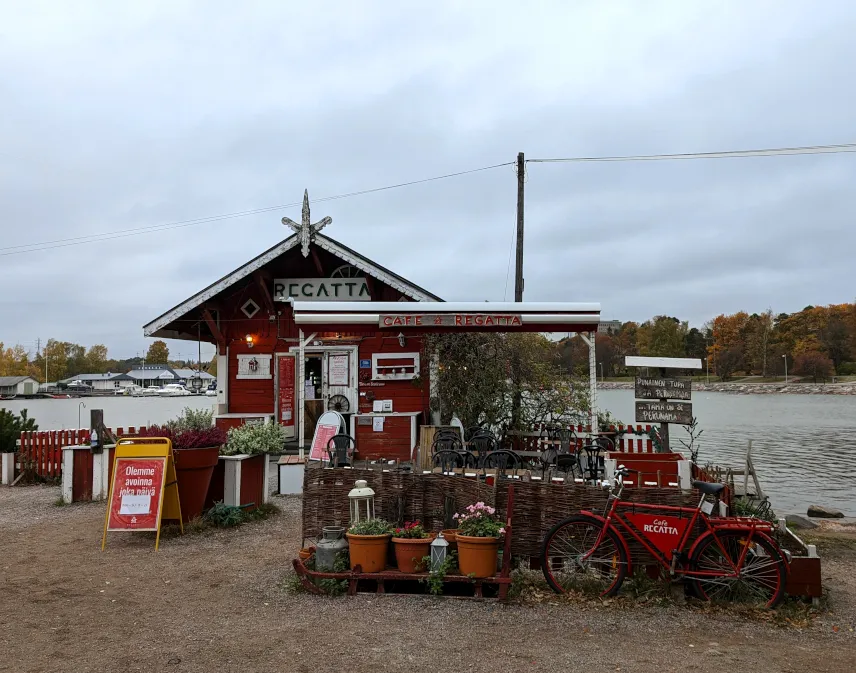 Afternoon: Seurasaari
Seurasaari is an absolute gem of an island. The undisputed highlight is the open-air museum. You have to pay to get into the buildings but you can wander the grounds for free. Don't let yourself be deterred when Google tells you the museum is closed. You can still explore the area in the off-season.
You'll find plenty of historical houses which have been moved to Seurasaari from different parts of Finland. 87 separate buildings give an overall view of the life in Finnish countryside from the 18th to the 20th - from churches and windmills to farmsteads and manor houses.
Additionally, the landscape of the island is stunning. Solitary paths in the woods and hidden coves along the seaside will make you feel like you've left the Finish capital behind you. We even met a group of wild deer during our visit!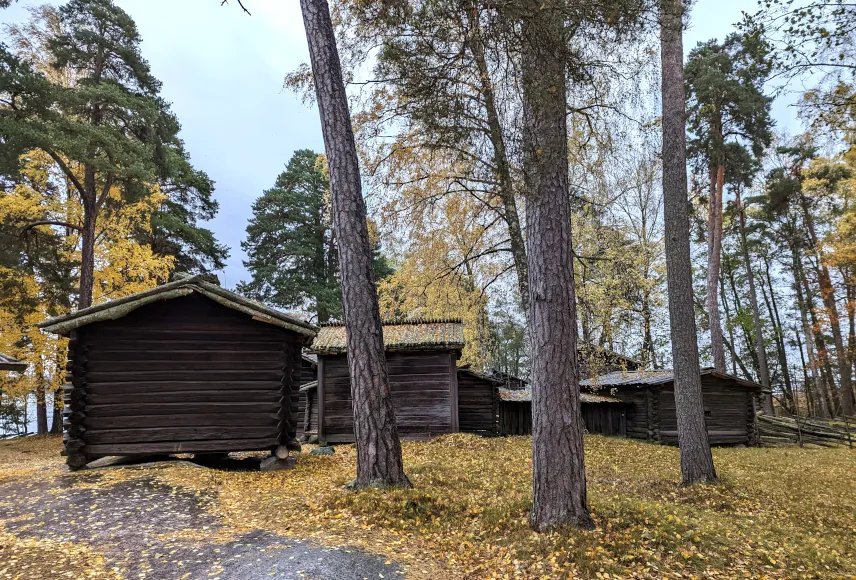 Evening: Loyly Sauna
This is definitely the fanciest public sauna in Helsinki. There's a traditional Finish sauna and a smoke sauna which was super cool to try. You can cool off in the sea and they have a large terrace. Our favourite part was the resting room with the fireplace. You get a towel but you should bring your own bathing suit.
Löyly comes with a restaurant so you can have your dinner here.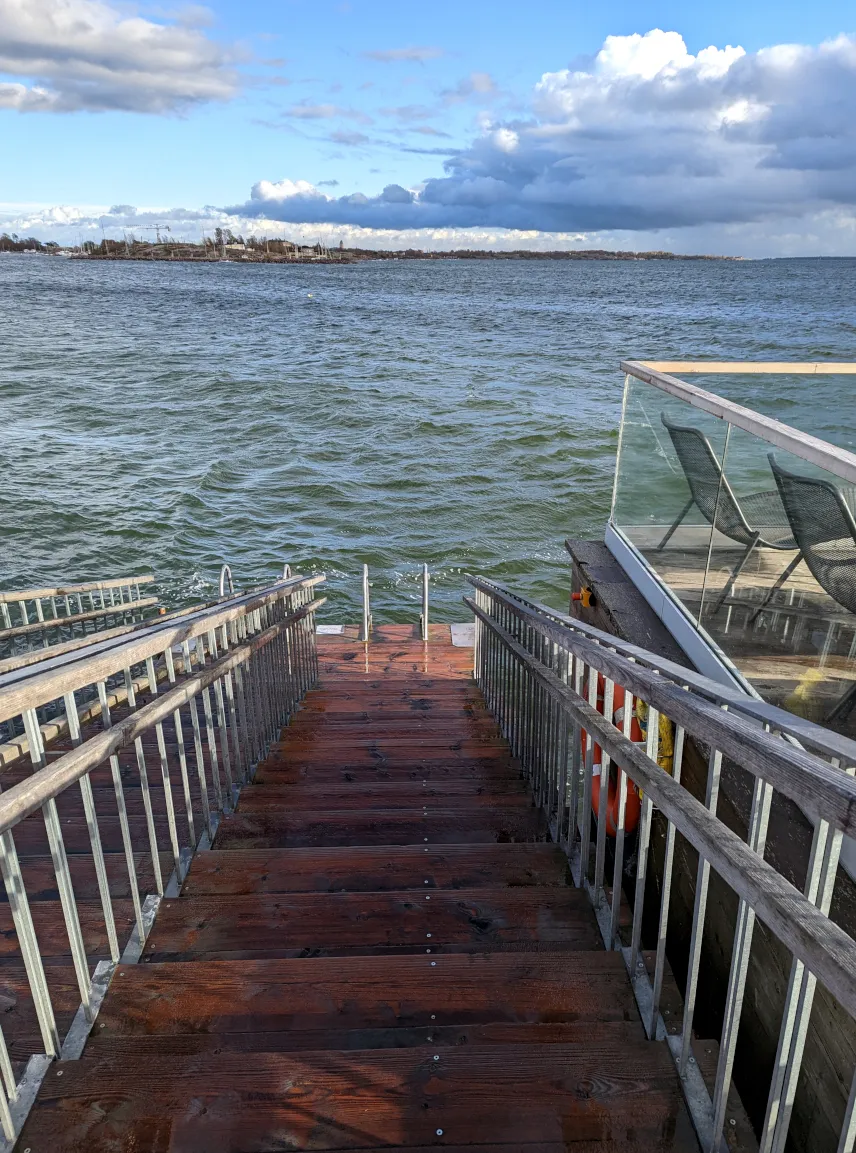 This post contains affiliate links. If you use these links to buy something we may earn a commission. You would help us a lot if you do so. Thanks.