If you want to take the ferry from Helsinki to Germany, the Finnlines Helsinki - Travemünde and Finnlines Travemünde - Helsinki ferry is currently your only option. Here's our review and travel guide.
Ferry Travemunde Helsinki - travel time and schedule
30 hours, leaves Travemunde around 2-3 a.m. and arrives at 9:15 a.m. the next day.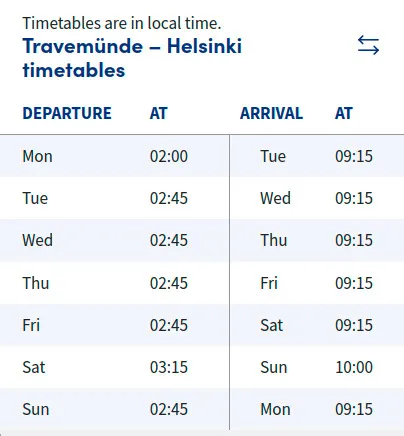 Finnlines Travemünde Check-in
Check-in starts at 8:30 p.m. the day before departure and closes 2 hours before departure.
After checking in, you have to wait in the terminal for a bus to take you to the boat. Make sure to budget some time for the bus on the way back. It takes around 30 minutes from the arrival of the ferry to the departure of the bus to the terminal.
How to get from Lübeck to Travemünde ferry port by public transport
The ferry is mostly a car ferry hence the ports are a bit remote. Travemünde is easiest reached from Lübeck which has connections to major German cities like Hamburg or Berlin. Bus lines 30, 31 and 40 take you from Lübeck main station to the "Skandinavienkai Terminal" which is directly opposite the Finnlines Terminal. The ride takes around 30 minutes.
Don't take the train to "Lübeck-Travemünde Skandinavienkai" as it's quite far away from the terminal and there is no footpath.
As you have to check in quite late, buses will come roughly every 30 minutes. The very last bus leaves Lübeck main station at 0:30 a.m. and arrives at the terminal at 1:04 a.m. .
As you'll arrive quite late on your way from Helsinki to Travemünde, buses again run roughly every 30 minutes. The last bus from the terminal leaves at 11:46 p.m. and arrives at 0:22 a.m. at Lübeck main station. This should be fine if the ferry is on time.
Ferry Helsinki Travemunde - travel time and schedule
27 hours, leaves Helsinki around 4:15 p.m. and arrives at 9:45 p.m. the next day.
Finnlines Helsinki Check-in
Check-in Mon–Sat 1:30-3:00 p.m., Sun 12:00 -1:30 p.m.. Again, you have to take a bus from the terminal to the boat and back.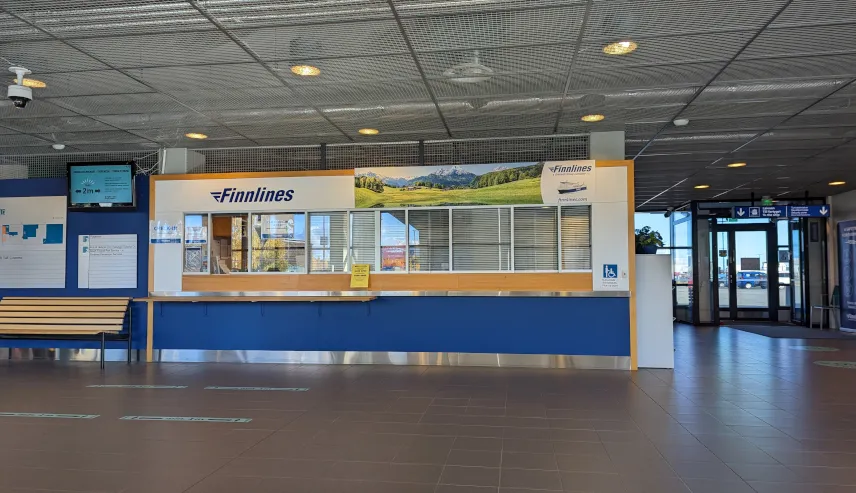 How to get from Helsinki to Vuosaari ferry port by public transport
Don't make the same mistake as we did and assume that the ferry port is in the centre. In contrast to the ferries to Tallinn and Stockholm, it is in Vuosaari.
To get there, take the metro line M1 all the to the last stop of the line Vuosaari. Here, take bus number 90 to Hansaterminaali. It runs every 15 minutes during the day. The journey from the centre of Helsinki should take you around 1 hour.
On your evening arrival in Helsinki, buses will run every 30 minutes. The last bus number 90 leaves at 11:05 pm. . After that, you can take the 90A bus directly to the main station.
By the way, Vuosaari is in zone B 😉
Ferry Travemunde Helsinki - boats
Three different boats, the Finnlady, Finnmaid and Finnstar cruise the Baltic Sea from Germany to Finland and vice versa.
Ferry Travemunde Helsinki - cabins
There are 10 different cabin types. We chose the cheapest cabin, a 4 berth shared inside cabin. It came with its own bathroom, linen, and towels and was absolutely sufficient for the journey.
In summer, you also have the option to sleep in recliner seats on deck 12. They looked reasonably comfortable and had lockers for your valuables nearby.
The cabin types range from inside to outside and from private to shared:
Berth in a shared inside cabin for 3-4 people, separated by gender
Berth in a shared outside cabin for 1-2 people, separated by gender
Private Inside cabin for 3-4 people with bunk beds
Private Outside cabin for 2-4 people with bunk beds
Private Outside cabin for families of up to 4 people
Junior Pet Suite if you travel with your pet
LUX cabin
Junior Suite
Owner's Suite complete with a living room and a filled mini bar
Ferry Travemunde Helsinki - budget
A recliner seat booked in advance costs upward of 100€, the cheapest shared cabin around 20€ per person more. It seems like the sky is the limit. The Owner's Suite sets you back around 900€ per person and night.
You save a bit if you book a round trip but it's only 20% on the second leg of the trip.
A small car booked in advance costs around 100€. The bigger the vehicle, the more it costs.
A meal package sets you back 62€ on the way to Helsinki and 75€ on the way to Travemünde.
If you don't book WIFI in advance you pretty much won't have any connection on board. WIFI packages start from 7€ per hour.
Ferry Travemunde Helsinki - food
You pretty much have two options: bring your own snacks or eat your meals in the buffet restaurant.
There is a snack bar on the boat but the offer is limited and the food is quite expensive. The only hot option on our trip were two small slices of Pizza for 10€ or some baked goods and snacks for a high price and mediocre quality.
If you want to bring your own food beware that you will not have access to a water boiler or microwave.
You can safely drink the tap water on board!
If you can afford it, the best option is the meal package.
The dinner food is plenty - from cold starters to soups and warm dishes over cheeses and lovely deserts. Brunch starts with breakfast foods like cereal, eggs, sausages, and bread and later on hot lunch dishes get added on.
At dinnertime, you'll have a beer, wine, and soft drink flat rate, for brunch there's tea, coffee, and juice.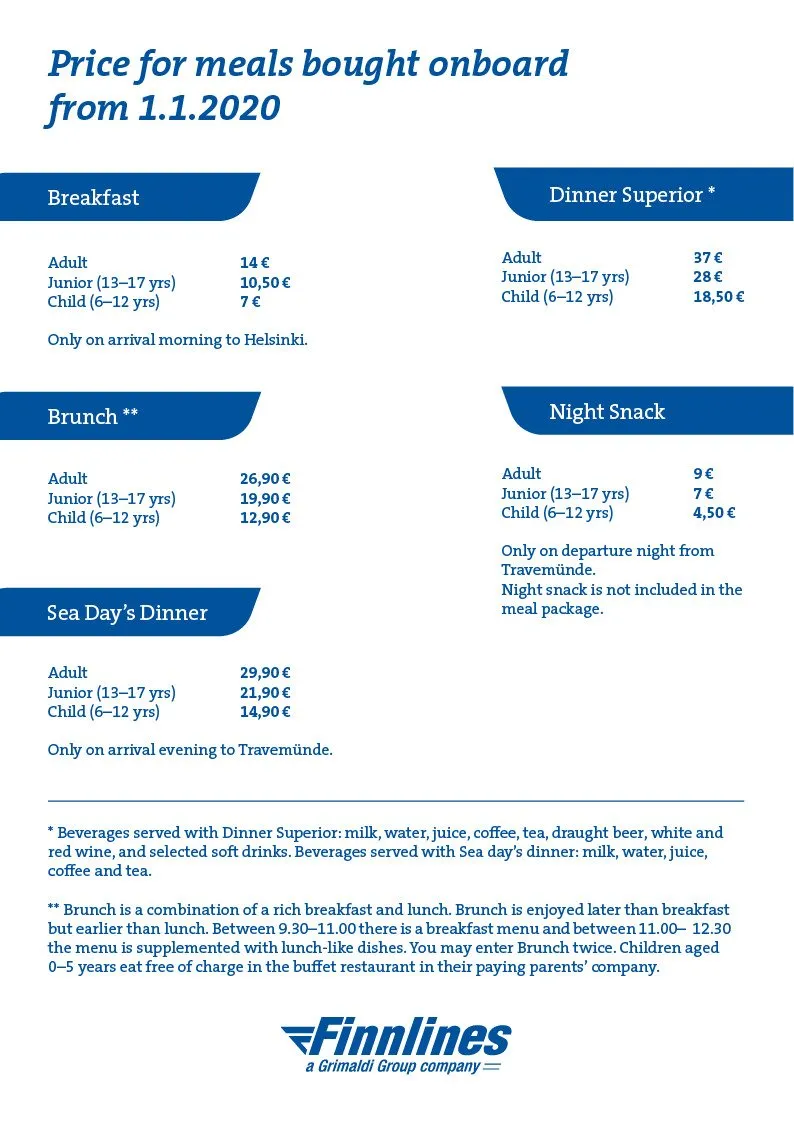 Ferry Travemunde Helsinki - entertainment
Kids
There's a kids' corner with a ball pit for small children and a teens' lounge with table football for teenagers and larger children
Gym
There is a small gym with two treadmills, two bikes, one cross trainer, one rowing machine, and some weights (in a windowless room). It's free of charge to use it.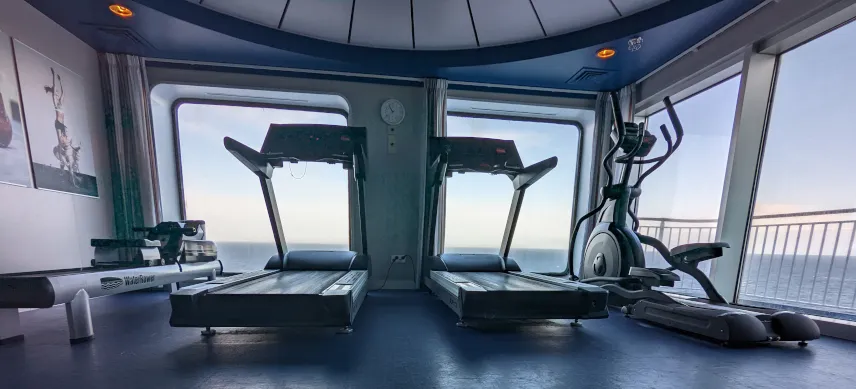 Sauna
Also free of charge, there's a sauna. It is separated by gender. Beware that the whirlpool is pretty cold.
You can also book a massage.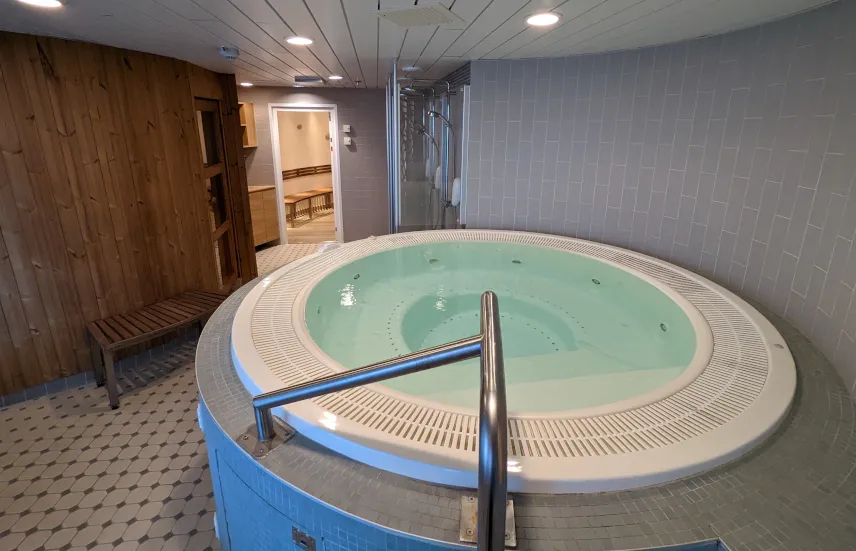 Bar and shop
If you want to spend some extra money, there's a small shop on the boat which mostly focuses on alcohol and a bar which serves cocktails and other drinks.
Ferry Travemunde Helsinki - pets
You can take up to two pets with you but you have to book one of the Junior Pet Suites. Additionally, your pets are not allowed to use the common rooms like the restaurant, bar, or sauna.
Ferry Travemunde Helsinki - conclusion
Travelling from Travemünde, Germany, to Helsinki, Finland, by ferry is definitely not the cheapest option, especially if you're a foot passenger. It's still an adventure to do some digital detoxing, enjoy the buffets, relax in the sauna, and watch the sea go by.
If you're travelling by car, it's a convenient option as you pretty much cannot reach Helsinki from Germany by car without taking the ferry at least once (either from Stockholm or Tallinn). It's also a super convenient option for camper van travellers.
The ferry is also a great option if you travel with pets as it can be quite complicated to take them on a plane.
Additionally, I think it's a great adventure for children as they can move freely on the boat and explore instead of being confined to an airplane or car seat.
Disclaimer: This post is not sponsored by anyone. I wish it was…