Riga 100% belongs on your Baltics travel itinerary. We tried and tested all the Riga things to do and Riga places to visit to give you honest recommendations for your Riga sightseeing.
Latvia public transport
The historic and modern centres of Riga are very walkable so there is no need for using public transport if you don't go on any day trips.
Day trips from Riga by train
Taking the train is one of the easiest things to do in Riga Latvia. The trains run frequently, reliably, and cheaply. You rarely pay more than 2€ for your ride. There's a brilliant English website where you can check schedules and buy tickets.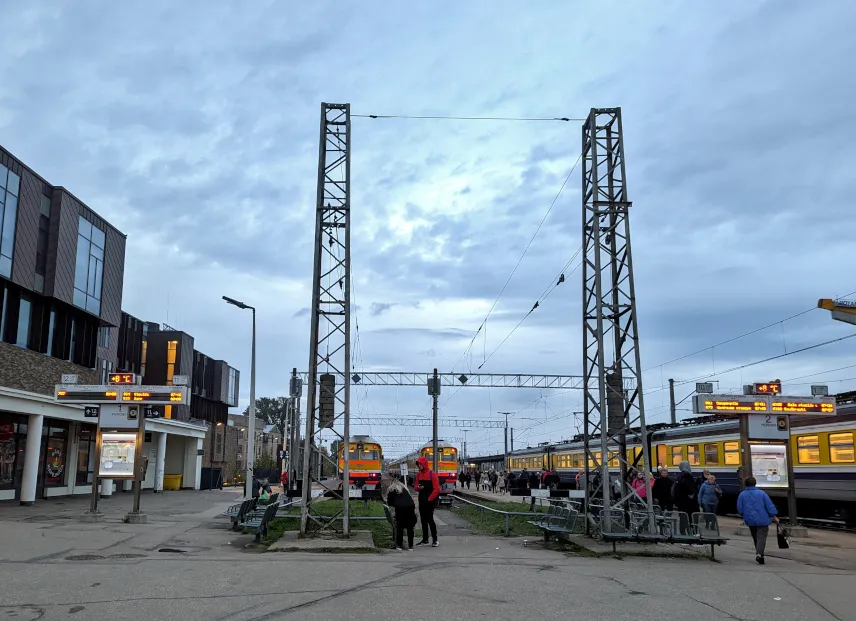 Riga travel guide
Is Riga worth visiting?
Yes! When you're travelling the Baltics, Riga is a great addition to the other capitals baroque Vilnius and medieval Tallinn. Riga really shines with its Art Nouveau architecture which is the prettiest we've ever seen.
A Riga city break is totally worth a trip on its own - especially as you can do amazing day trips to the Baltic Sea or the mountains in the "Switzerland of Latvia".
Riga has the most inhabitants of the Baltic capitals and feels the most Metropolitan. The nightlife here is not to be missed!
What to do in Riga
Of course, we would not be bucketlist2life if we did not recommend doing a free walking tour to get an overview of what to do in Riga, Latvia.
One of the best things to see in Riga is the Art Nouveau architecture. The highlights are found on Albert and Elisabeth Street. On Albert Street, there's also the Art Nouveau Museum. Elisabeth Street 10B might be the prettiest Art Nouveau Building we've ever seen. Art Cafe Sienna is a great option if you're looking for a coffee break in style. The German Embassy is a nice Art Nouveau gem as well - not only for Germans like us.
Sample street food at Riga Central Market, Europe's largest market and bazaar. The UNESCO World Heritage Site was constructed by reusing old German Zeppelin hangars. The market has a size of 72,300 square metres (778,000 sq ft) with more than 3,000 stands.
Of course, you shouldn't miss the highlights of the city centre. Jauniela Street was our favourite street - did you know that the Soviet Sherlock Holmes TV show was filmed here? Other highlights are Town Hall Square with the House of the Blackheads, Riga Cathedral, St Peter's Church (look for the Bremen Musicians) and the Three Brothers.
At the border between the historic and modern centre of Riga, you'll find Bastejkalna Parks with the Freedom Monument.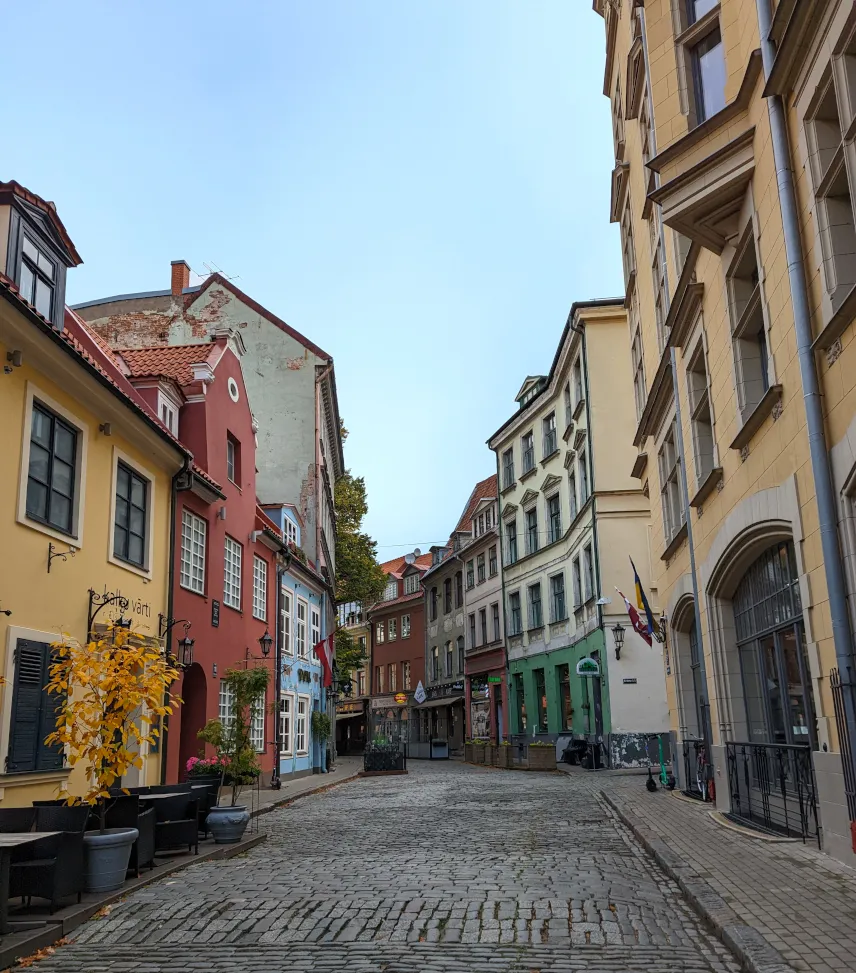 Unusual things to do in Riga
Riga: What to see when you've seen the major sights.
Don't miss the modern city centre. Skyline bar makes for a great break here.
Another great view can be found on top of the Latvian Academy of Sciences.
You've heard about the market but did you know that you can visit the tunnels below? The warning signs are currently only in Latvian and we don't understand Latvian, do we? Of course, this is at your own risk and we do not recommend you do anything dangerous or illegal!
The Church of Jesus is the biggest wooden building in Latvia.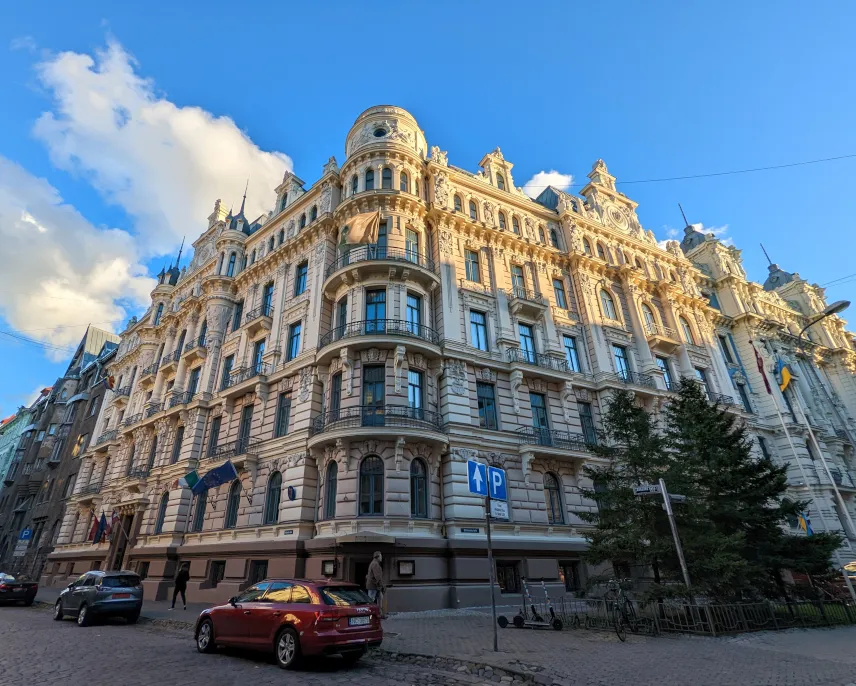 Riga food and drink
Riga Balsam is a must-try drink if you drink alcohol. Black Magic is a super charming place to try it.
Cheap food: LIDO Alus sēta does not look like much but you'll find the cheapest food in central Riga in this buffet-style restaurant. Of course, the market is a great address for affordable food as well.
Have a beer. We loved Two More Beers and Folkklubs Ala Pagrabs which also offered some fun traditional live music.
Drink in style: Art Cafe Sienna gives you all the Art Nouveau vibes and Skyline Bar provides you with the best views.
How many days in Riga?
Yes, we suggest spending st least 4 days in Riga:
4 days Riga itinerary
2 days in Riga

Old Town
Modern Centre and Art Nouveau architecture

Day trip: Jurmala and Kemeri Bog
Day trip: Sigulda
Best Hostel in Riga
We stayed at the Blue Bird Capsule Hostel. The price was great, the location super central and you had a lot of privacy in the capsule-like beds.
Riga day trips
Kemeri Bog
Day trip to Jurmala and
Jurmala is actually a long stretch of beach with several train stations, Majori and Dzintari being the main ones. We recommend taking the train to one of them and walking to the other. It's super manageable, so much so that we even ended up walking all the way from Dzintari to Bulduri.
We tried to visit a bog in Estonia with public transport but it proved to be nearly impossible. Instead, we recommend you visit the Kemeru National Park in Latvia.
What to do in Jurmala
The single best thing to do is hit the beach. It's super walkable and endlessly long. During the main season, there are beach bars, in the off-season, it's nice to bring a pick nick - there are plenty of benches. We learned the hard way that you cannot rely on the opening times on Google Maps.
Jomas Street is the main street of Jurmala and offers some nice cafe and restaurant options- even in the off-season.
Admire the beach town architecture like in the summer house of Mr Morberg.
What to do in Kemeri
The Kemeri Bog Walk is a loop featuring boardwalks and view towers. The whole hike should be around 10 km (6 mi) long and take around 3 hours.
How to get from Riga to Jurmala by public transport
Trains from Riga to Jurmala run around every 30 minutes during the day and take only half an hour. Tickets cost between 1€ and 1,50€. You can take trains toward Sloka or Tukums 2.
How to get from Riga to Kemeri by public transport
To get to the Kemeri Bog Walk just hop back on the train in the same direction and go another 30 minutes further to Kemeri station. Beware that you can only take the trains to Tukums 2 so they run a bit less often. The walk from the train station is around 3 km (1.8 mi).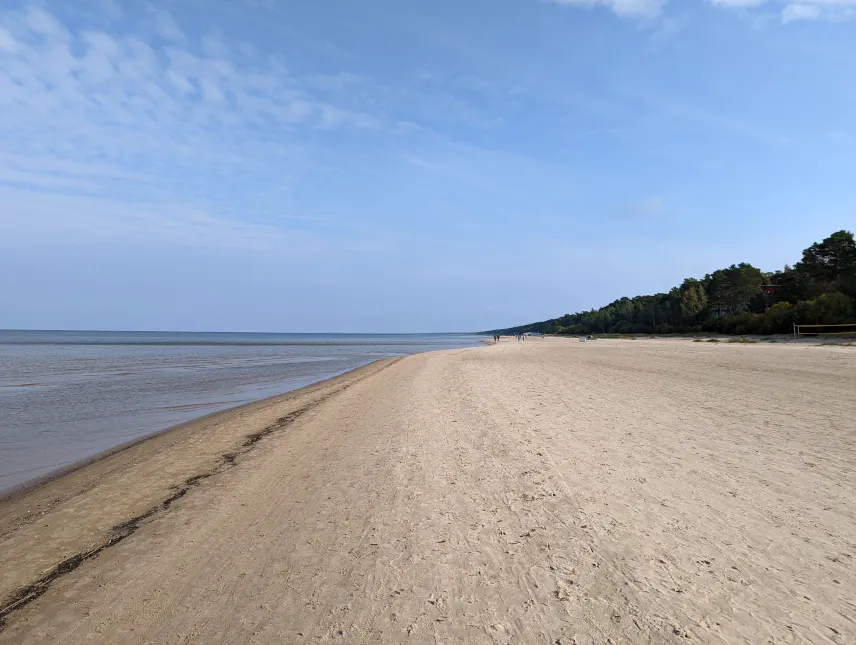 Day trip to Sigulda
Sigulda is also dubbed the "Switzerland of Latvia". You can do some hiking here, visit castles and caves, and get some action sports in.
What to do in Sigulda
First and foremost you can hike. The most famous hike brings you from the train station to the Complex of Sigulda Old and New Castle, over the river Gauja, along the Gutmann Cave to Turaida Castle. When you still have some energy left, you can hike to Krimulda Castle.

From Krimulda Castle, you can theoretically take a cable car back across the Gauja to Sigulda, saving you a lot of steps. There is only one gondola going back and forth which led to a waiting time of 1 hour when we visited.

The shortest hike of 6 km (3 mi) mostly follows the street. Budget some extra time for detours when you want to go further into the Gauja National Park and get rid of the car traffic.

Sigulda Old and New Castle: You have to walk through the grounds of Sigulda New Castle to get to Sigulda Medieval Castle. Sigulda New Castle was only built in 1878 in the Neo-Gothic style. You can enter for 4,50€. The Medieval Castle was built in 1207 as a fortress and later rebuilt into a convent. Since 1432 it served as a residence of the Livonian Order. Nowadays it's mostly ruined but the 2€ entrance fee will also give you access to great views across the Gauja Valley.

Turaida Castle is definitely a highlight. Construction of the Medieval castle was started in 1214 by the Livonian Brothers of the Sword. The castle was constructed largely in the classic red-brick construction of the Baltic crusading orders. The 6€ entrance fee not only provides you with entrance to the restored castle with its exhibitions but also to open-air museums with loads of Latvian historic houses so budget enough time. Be aware that the descriptions and explanations are rarely in English.

Krimulda Castle or Manor House is more of a nice-to-have than a must-have. It's right next to the cable car and the ruins of the old Krimulda Castle.

We would have loved to have a go on the bobsleigh track but it was super rainy when we visited so we skipped it.
How to get from Riga to Sigulda by public transport
Trains from Riga to Sigulda leave every 1 to 2 hours and take around 1 hour and 10 minutes. Tickets cost under 2€. If you want to have enough time for all activities in Sigulda, we recommend taking the 7:46 a.m. train.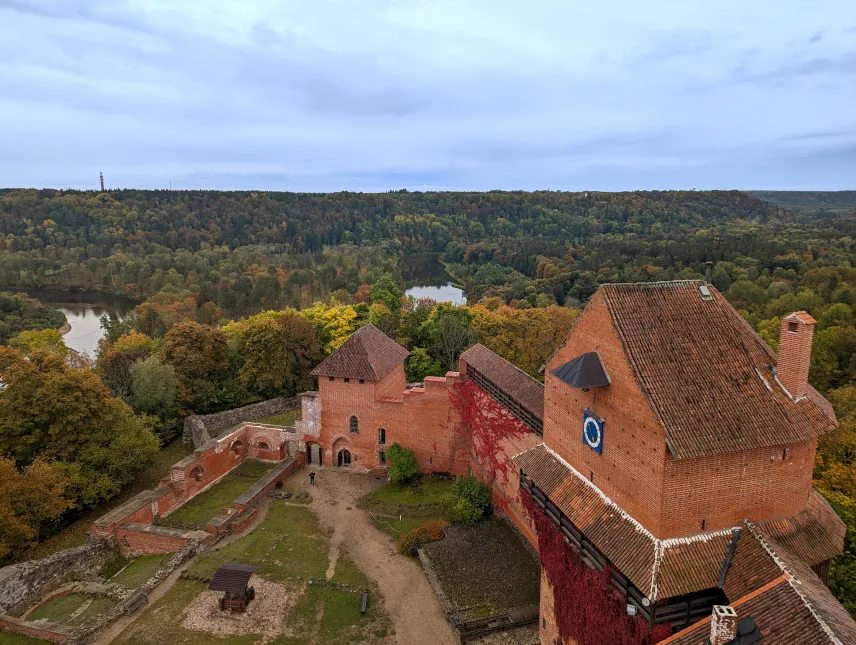 Day trip to the Ethnographic Open Air Museum
We have not done this ourselves but feel like it needs to be included for the sake of completeness. Right at the outskirts of Riga, there's the Ethnographic Open Air Museum which can be reached by bus from central Riga in around 45 minutes.
It's one of Europe's oldest and largest outdoor museums. Since its establishment in 1924, the museum has collected 118 historical buildings from all over Latvia - Kurzeme, Vidzeme, Zemgale, and Latgale, are represented here. The buildings have been set up to give visitors a sense of Latvia's rural landscape.
This post contains affiliate links. If you use these links to buy something we may earn a commission. You would help us a lot if you do so. Thanks.