Lithuania might just be the best Baltic country to visit. It's definitely the cheapest. The public transport by bus and train is amazing. The food is hearty and affordable. There's a great variety of Lithuanian cities like Vilnius, Kaunas, and Klaipeda as well as beaches like on the Curonian Spit and Palanga.
This blogpost highlights the best places to visit in one week in Lithuania - whether you travel the Baltics as a whole or just Lithuania.
Lithuania public transport
Lithuania bus
Buses in Lithuania are cost-efficient and run frequently. It's easy to go on day trips with local buses. You can easily purchase tickets for local and long-distance buses online.
Lithuania train
Trains are a great alternative to buses although the network is not as extensive as the bus network. It's the best way to get from Vilnius to Kaunas. You can easily purchase train tickets online.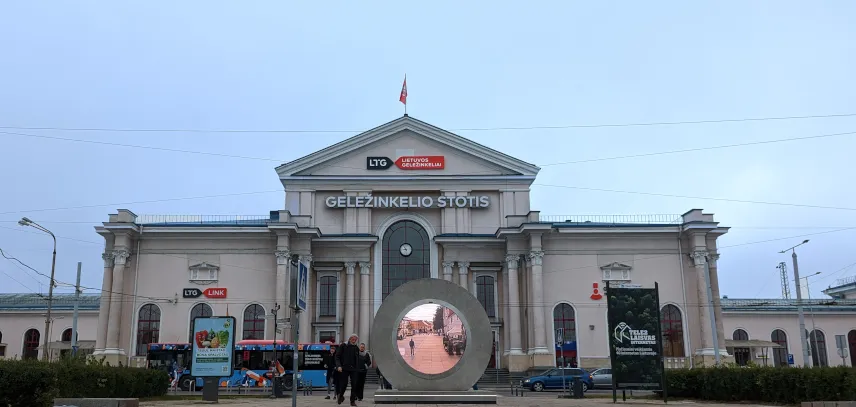 7 days Lithuania itinerary
3 days in Vilnius

Old Town
Modern City
Day trip: Trakai

2 days in Kaunas

Old Town and Kaunas Modernism
Day trip: Ninth Fort

2 days in Klaipeda

Old Town
Day trip: Curonian Spit
What to do in Lithuania
Backpacking Vilnius, Lithuania
Is Vilnius worth visiting?
Yes! We probably shouldn't pick favourites but it was our favourite capital of our tour of the Baltics. The combination of the historic city centre with the artsy Užupis area offers it all. The food in Vilnius was the cheapest of all Baltic capitals. If you look around, you can find a hearty local dinner for under 5€.
What to see in Vilnius?
As in every capital city, start your trip with a free walking tour to get an overview.
Our highlights in the city centre include:
The view from Gediminas's tower
The stunning cathedral and Cathedral Square
Town Hall Square
Gothic St. Anne's Church
Stroll Along Pilies Street and Gediminas Avenue
The open-air gallery at Literatai Street
Every last Sunday of the month, museums are free of charge. We visited the Palace of the Grand Dukes of Lithuania and the National Museum of Lithuania. To be honest, we wouldn't pay for the Palace because the exhibition was super text-heavy and not very well presented.
Our highlights outside the city centre include:
Looking for street art. This works especially well in the free republic of Užupis but you can find art scattered around the city.
Enjoy street food at **Halės turgus market** where you can indulge in local foods like gherkins, traditional meats like Skilandis, and traditional cheeses like Dziugas.
Enjoy the view from the three crosses. If you have nice weather this is a great spot to bring a drink or a little picnic as well.
We wrote a whole blogpost about our favourite things to do in Vilnius outside of Vlinus old town.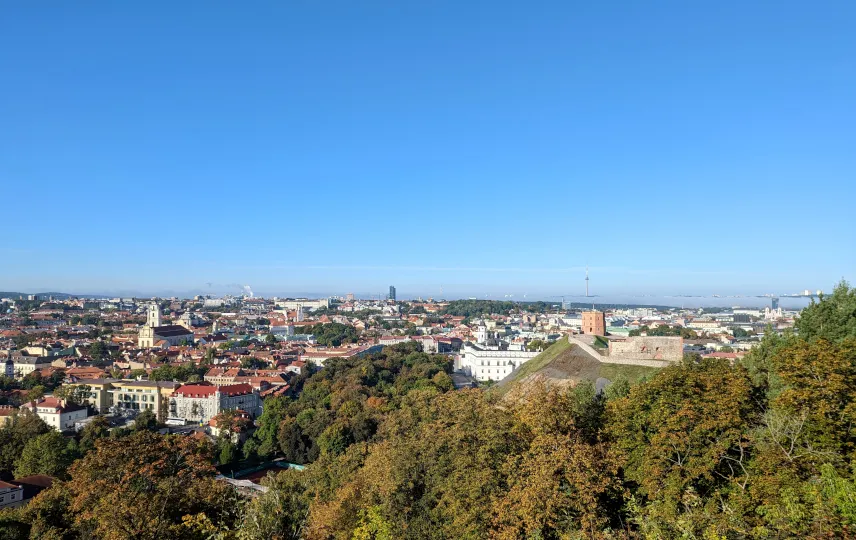 How many days in Vilnius?
You need at least 3 days in Vilnius:
1 day for the city centre and old town
1 day for the modern part of town
1 day for a daytrip to Trakai
Best Hostel in Vilnius
We stayed at Mikalo House. The location was super central and the price was great. The staff was extremely friendly but the beds could have been sturdier and one shower is barely enough for the whole hostel.
Day trips from Vilnius
Trakai
The most notable and easiest day trip from Vilnius is Trakai.
Of course, the highlight is the Trakai Island Castle - and the castle alone is worth the visit. You can either just look around the outside or pay the entrance fee to enter the courtyards and exhibitions.
Don't make the mistake to think that this is the only thing you can do in Trakai. You can also:
Walk along the lakeside. There are many benches and even swings! Don't miss the observation deck.
Explore cute wooden houses.
Learn about Karaite Judaism and visit the Karaite Ethnographic Museum as well as the Trakai Kenesa Karaite House of Prayer.
Old Trakai Castle houses the Trakai History Museum.
For a more tacky attraction, you can visit the AJ Chocolate Museum, for a more low-key experience you can just have a little chocolate break here.
How to get from Vilnius to Trakai by public transport
The easiest way to get from Vilnius to Trakai is by bus. It runs approximately every 30 minutes throughout the day and costs 2,60€. It's a bit of a walk to the castle but it's beautiful and worthwhile. We recommend the bus over the train as it runs more frequently and the walk is a bit shorter.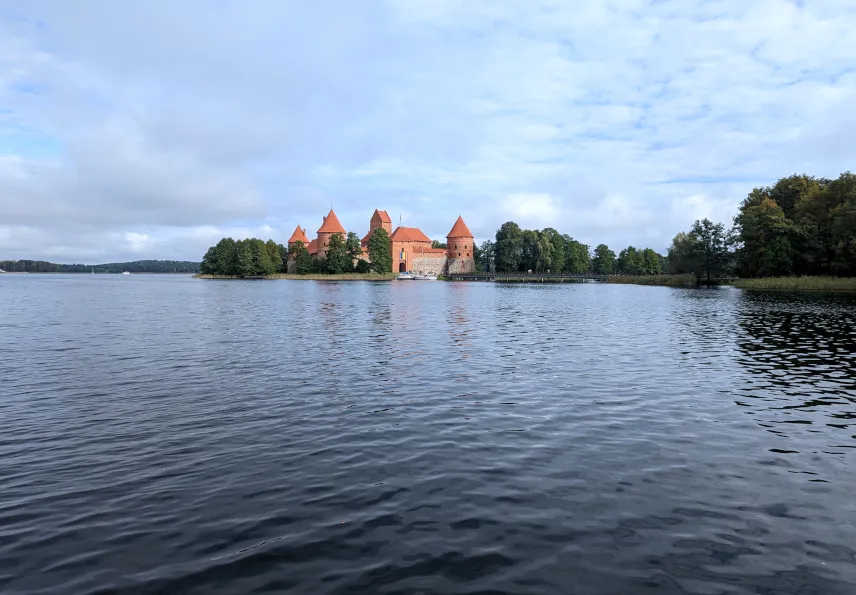 Kernavė
Kernavė was the first capital of Lithuania. The Cultural Reserve of Kernavė belongs to the UNESCO World Heritage list. The archaeological site consists of 5 mounds which demonstrate 11,000 years of continuous human use.
How to get from Vilnius to Kernavė by public transport
Only 6 buses per day go from Vilnius to Kernavė so make sure to time your visit.
Paneriai Holocaust Memorial
The Paneriai massacre was the mass murder of up to 100,000 people, mostly Jews, Poles, and Russians by Germans and their Lithuanian collaborators during World War II. The murders took place between July 1941 and August 1944 near the railway station at Paneriai, a suburb of Vilnius.
How to get from Vilnius to Paneriai by public transport
The train from Vilnius to Paneriai runs super frequently (often more than once per hour), takes under 10 minutes and costs less than 1€ so there's no reason to visit this bleak part of Lithuanian history.
Backpacking Kaunas, Lithuania
Is Kaunas worth visiting?
Yes! Kaunas is the second largest city in Lithuania and was its capital from 1920 to 1940. Kaunas Modernism architecture is super interesting. The city is very different from Vilnius and hence a great addition to your Lithuania itinerary.
What to see in Kaunas?
We wrote a whole blogpost about the amazing things you can do in Kaunas so check it out!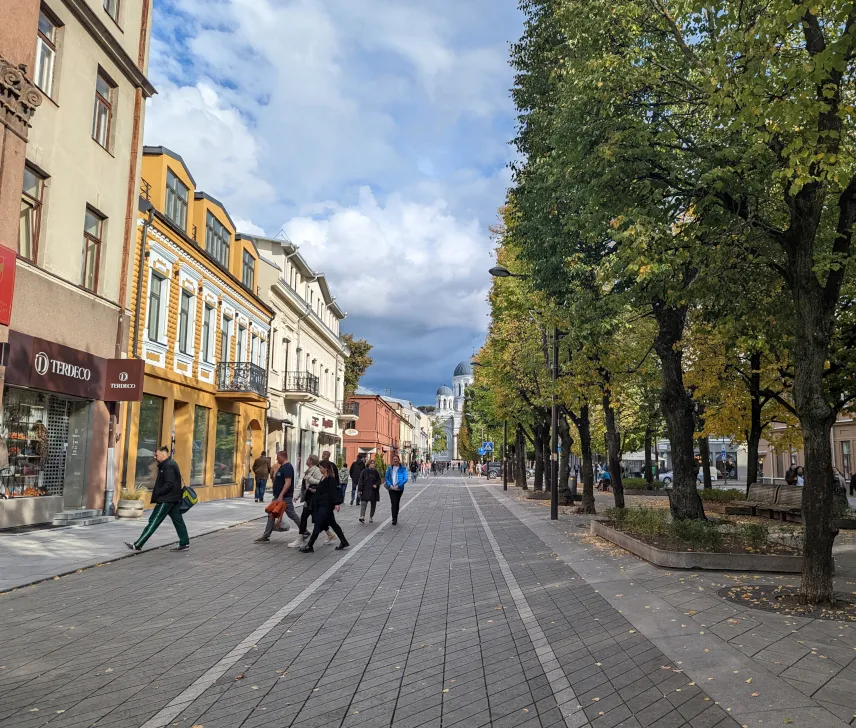 How many days in Kaunas?
You can easily spend two days in Kaunas. There is plenty to see in the city centre, loads of museums, and, of course, the day trip to the Ninth Fort.
How to get from Vilnius to Kaunas by public transport
A bus ticket costs around 9€. Buses run at least every 30 minutes during the day so you don't really have to plan ahead. The ride takes under 2 hours.
At around 7€, the train is even cheaper. It runs around every hour, takes under 2 hours, and is super comfortable.
Best Hostel in Kaunas
We stayed at The Monk's Bunk Kaunas which was right on the main street, clean, and had a good vibe.
Day trips from Kaunas
Ninth Fort
The Ninth Fort is a part of the Kaunas Fortress, which was constructed in the late 19th century. During the occupation by the Soviet Union, the fort was used as a prison and way-station for prisoners being transported to labour camps. After the occupation of Lithuania by Nazi Germany, the fort was used as a place of execution for Jews and others.
How to get from Kaunas to the Ninth Fort by public transport
On weekdays, bus 57G runs several times from Kaunas city centre to the Ninth Fort. On weekends, the buses run less frequently.
Backpacking Klaipeda, Lithuania
Is Klaipeda worth visiting?
Yes, Klaipeda is worth visiting. It is very different from Vilnius and Kaunas with an abundance of German architecture. Klaipėda's Old Town is unique in Lithuania with its fachwerk architectural style and the planned street structure. Additionally, it's the perfect jumping-off point for Lithuanian beaches.
What to see in Klaipeda?
Stroll through the old town. Do not miss Friedricho pasažas, the most picturesque street in town, and Theatre Square.
Walk around the harbour. The ferries to the Curonian Spit and Germany leave here but you can also see many bigger and smaller ships.
Walk along the Dane River.
Have a drink at VIVALAVITA rooftop bar. You can look over the Curonian spit and the prices are reasonable.
Have a beer at Svyturys brewery, Lithuania's second-oldest brewery.
Klaipeda Fort or Memelburg is not nearly as spectacular as Trakai. It features a nice museum though.
The Sculpture Park was unfortunately closed when we visited so we have to trust the internet when it says that it's worth a visit.
How many days in Klaipeda?
Two days should be enough to see Klaipeda. You should budget one day to see the Curonian Spit and some additional time if you want to hit the beach at Palanga.
How to get from Kaunas to Klaipeda by public transport
No trains are running from Kaunas to Klaipeda so the bus is your best option. Buses run approximately once per hour during the day and cost around 20€.
Best Hostel in Klaipeda
We stayed at Klaipeda Hostel. You cannot beat the location right next to the bus station, the kitchen was well equipped and there was a decent amount of showers and toilets.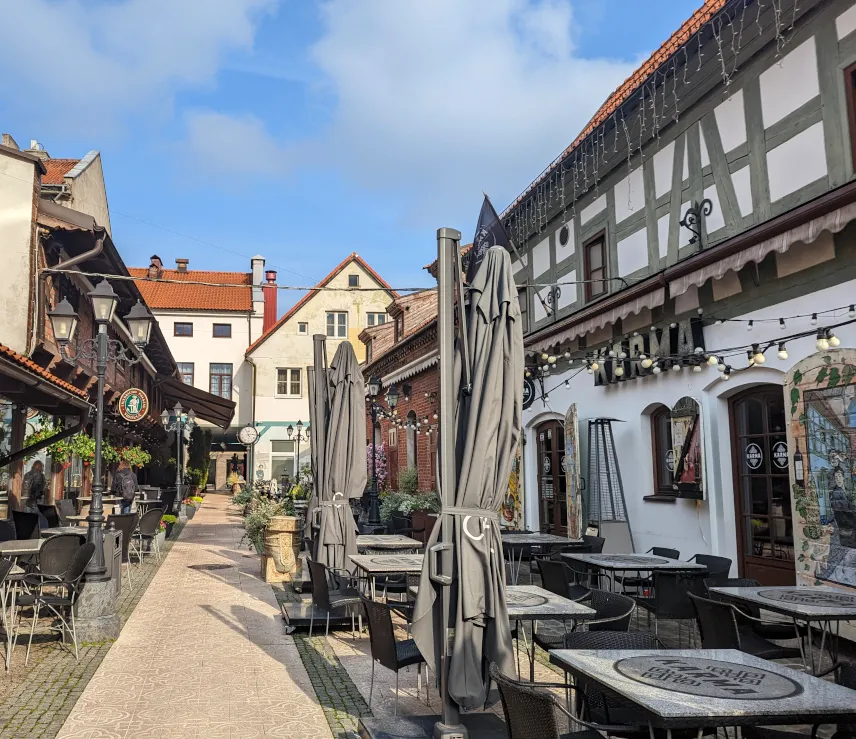 Day trips from Klaipeda
Curonian Spit, Lithuania
The Curonian Spit is a UNESCO World Heritage Site, It is a 98-kilometre (61 mi) long, thin, curved sand-dune spit that separates the Curonian Lagoon from the Baltic Sea. Its southern portion lies within Russia and its northern within Lithuania. Nida on the southern end is not only a famous seaside resort but also known for the second largest sand dunes in Europe.
The sand dunes in Nidda are impressive but you should also visit some of the other sights like
The colourful fisherman's houses.
Nida lighthouse (which is not open every day).
The beach which seems to be endless.
The old German cemetery with its unique wooden crosses.
If you have the time, hike the "Around Nida Trail". It's 9 km (5.5 mi) long and well-signposted. It will bring you to the major highlights in the Nida area and we loved it.
How to get from Klaipeda to the Curonian Spit by public transport
There are basically two options:
You can take the foot passenger ferry from Klaipeda old town. It runs super often and costs 1,30€. Here, you can walk around on foot, explore the area by rental bike (although we must say that we did not really see a bike rental place), or hop on the bus to Nida. The bus runs around every two hours so plan your trip in advance.
You can hop on the direct bus from Klaipeda bus station to Nida which takes the car ferry south of the centre. Two buses are going there and two buses going back so you have to plan your trip even more carefully.
We took option 1 there and option 2 back.
Palanga
The spa town Palanga is the centre of Lithuania's 100 km (62mi) long Baltic Sea coast.
How to get from Klaipeda to Palanga by public transport
Buses from Klaipeda to Palanga run every 30 to 60 minutes during the day. A one-way ticket costs 2-3€.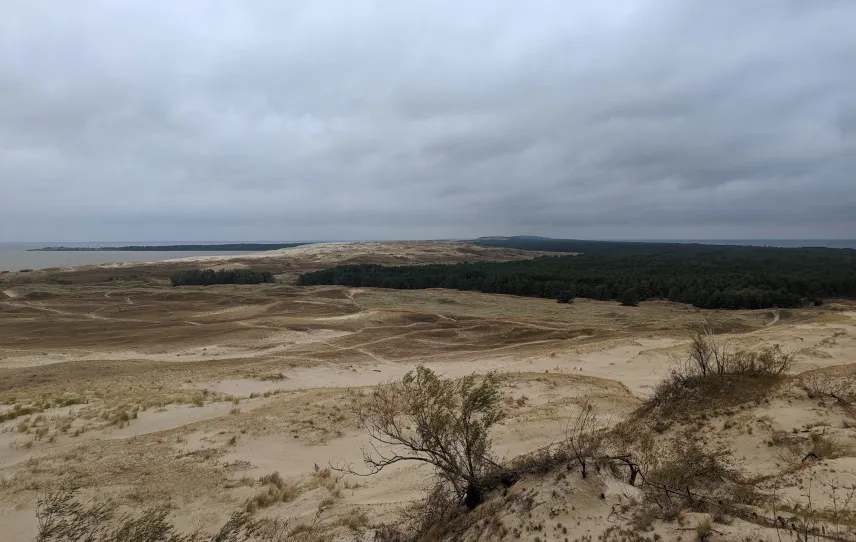 This post contains affiliate links. If you use these links to buy something we may earn a commission. You would help us a lot if you do so. Thanks.