This North Macedonia travel blog shows you the best places to visit in Macedonia using only public transport. In this Macedonia itinerary we show you what to do in Macedonia using buses and the occasional boat.
Macedonia transport
Backpacking Macedonia by public transport is cheap and easy so there is no need for a rental car. The country is small so you'll never loose a lot of time transferring from one place to the next.
Bus North Macedonia
Travelling North Macedonia by bus is fairly easy. Although you cannot buy most tickets online, they are easy to buy at the bus stations. Buses run several times a day between major cities. We found tickets to be very inexpensive – all bus rides were around 2€ to 10€. We found that the times online were not 100% reliable (maybe because we travelled post Covid?) so we found it's better to go to the bus station in advance to figure out the times and buy a ticket. Oftentimes, the bus companies in North Macedonia like Galeb and Transkop have separate counters so you have to find out which one matches your needs best. Just go there and ask around!
Taxi North Macedonia
Taxis are cheap and readily available. A taxi ride within a city should not set you back more than 1€ so it's a convenient way to go from the bus station to your hotel or hostel. Even longer distances like going from Skopje to the Matka Canyon should not cost you more than 10€.
Train North Macedonia
There is a train system in North Macedonia but to be honest, we never took a train in this country. The bus system is just too easy to navigate and also seems to be cheaper and quicker. For example Rome2Rio suggests that a bus ride from Skopje to Prilep costs 5€ and takes 1h 46 minutes whereas a train ride costs 8€ and takes 2h 39 min - unless you're a train enthusiast, there's not really a reason to choose them over a Macedonia bus.
North Macedonia Tours
North Macedonia is a small country. Even if you don't want to rent a car, you can see a lot of the country via day trips from Skopje.

Open blogpost
Macedonia itinerary
Day 1 – Exploring Skopje
Start your trip by exploring the lively capital Skopje. With only 540,000 inhabitants it's a very walkable city. The Skopje 2014 project to rebuild the city after an earthquake destroyed the majority of buildings is a love it or hate it situation. Its official purpose was to give the city a more classical appeal. Some say the optics are too kitschy but we actually enjoyed the city with its many impressive statues and facades. We liked that there is rarely any car traffic in the city centre and the waterfront provides a quiet area to relax.
Things to do in Skopje
The main Square, Macedonia Square is very imposing – even though it's boiling hot in summer. And don't miss Mother Theresa House, where you can learn about Mother Theresa's life free of charge.
Make your way over Stone Bridge or Art Bridge with its many statues to the "old" side of the city. Here, you find the Old Bazaar with many food and shopping opportunities. The Kale Fortress on Skopje's highest hills offers a great view over the city.
Supposedly, you also have a nice view from Vodno Mountain. It was closed due to wildfires when we visited so we don't have a firsthand experience. On top, you can find the Millenium Cross, the largest Christian cross in the world. You can go by bus No. 25 to the middle of the mountain and from there take a cable car all the way to the top of the mountain.
How to get from the airport to Skopje by public transport
There's an airport bus running a couple of times a day all the way to the Holiday Inn Hotel in the centre of Skopje. Apparently, the departure times match the flight times. For us, it worked ok. The bus was overcrowded but they said that they would send a second bus for the remaining passengers. It costs only 180 denars (3€) which is a great deal cheaper than the taxi for around 1200 denars (20€).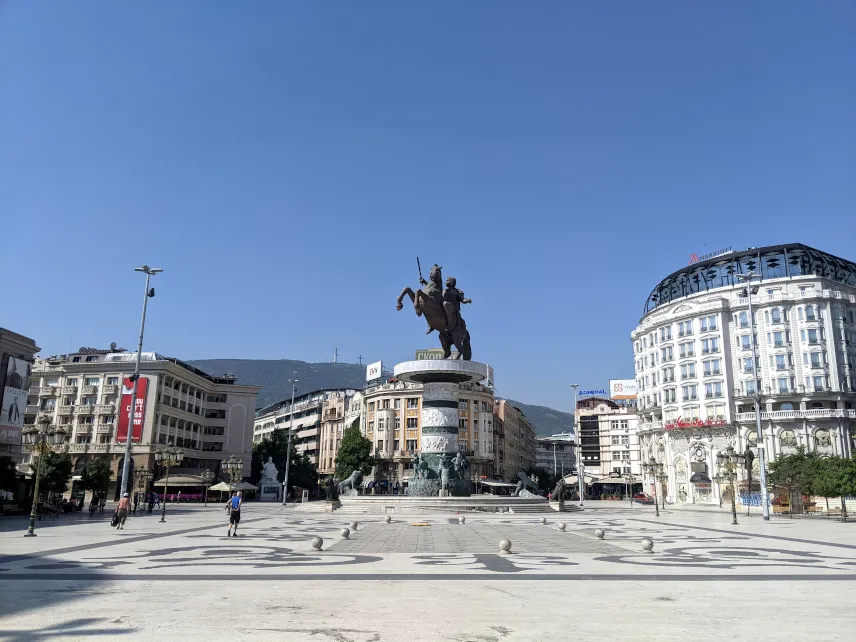 Day 2 – Day trip from Skopje to Matka Canyon
The Matka Lake within the Matka Canyon is the oldest artificial lake in the country. Here, you can rent kayaks, go on boat tours, or hike along the lake. Bring a picnic and enjoy the stunning scenery. We took a boat to the Vrelo Cave or Bat Cave and couldn't recommend it more.
When you're in the area, take a bit of time to explore the surrounding of the canyon. There are many hiking opportunities. The Holy Mother of God Monastery is beautiful and just a short walk from the bus station but there are many more hiking trails leading to other monasteries and viewpoints.
We enjoyed the cave restaurant for a refreshment. It was not the best food we ever had, but it was certainly the best food we ever had in a cave 😉
How to get from Skopje to Matka Canyon by public transport
You can take Bus No. 60 to reach Matka Canyon. It runs approximately every 60 minutes from various stops in the city. We found the JSP - On The Go App to be the most reliable source for stops and times. If you're too lazy to wait, you can take a taxi for around 500 Denar (8€ one way).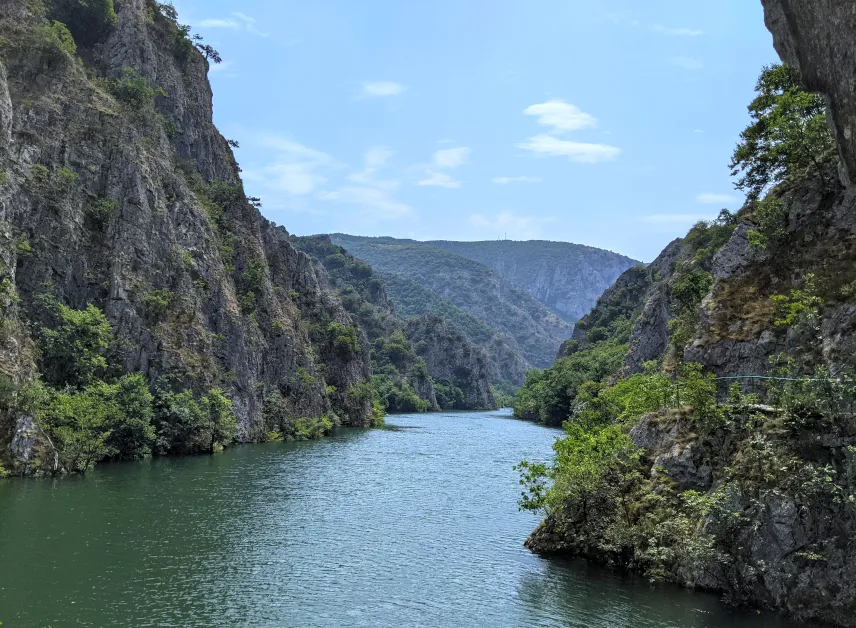 Day 3 – Prilep
Prilep is also known as the as "the city under Marko's Towers" but don't let yourself be fooled: There's plenty more to explore.
Things to do in Prilep
The main square of Prilep is lively and beautiful. Like everywhere in Macedonia, the town has a clock tower and an old bazaar. This town has to offer some hidden gems like the Holy Annunciation Church you can find by just wandering around.
For us, the highlight of our time in Prilep was our hike to Marko's Towers or Markovi Kuli. The hike from the city centre is around 4 km (2,5 mi) and leads you through a beautiful neighbourhood with loads of drying tobacco (Prilep is dubbed the city of beer and tobacco 😉). You can also take a taxi to Elephant Rock and hike up from there. On top, you can explore the ruins, find the prominent cross, which you can see from everywhere in town, and admire the views all around.
We decided to combine the hike with a visit to the St. Archangel Michael Monastery, which is very picturesque. Beware that you cannot take pictures inside or visit all areas as it's still in use.
For sunset, we relaxed on the rooftop bar of the Atlas Hotel which is a recommendation with its friendly service and reasonable prices. Afterwards, we enjoyed an ice cream in the lively evening atmosphere of the main square.
How to get from Skopje to Prilep by public transport
Coaches from Skopje to Prilep run several times a day with many companies like Galeb and Transkop. We just walked to the bus station and bought a ticket for the next bus although we had to wait for a bit. The bus station in Prilep is within walking distance of the city centre.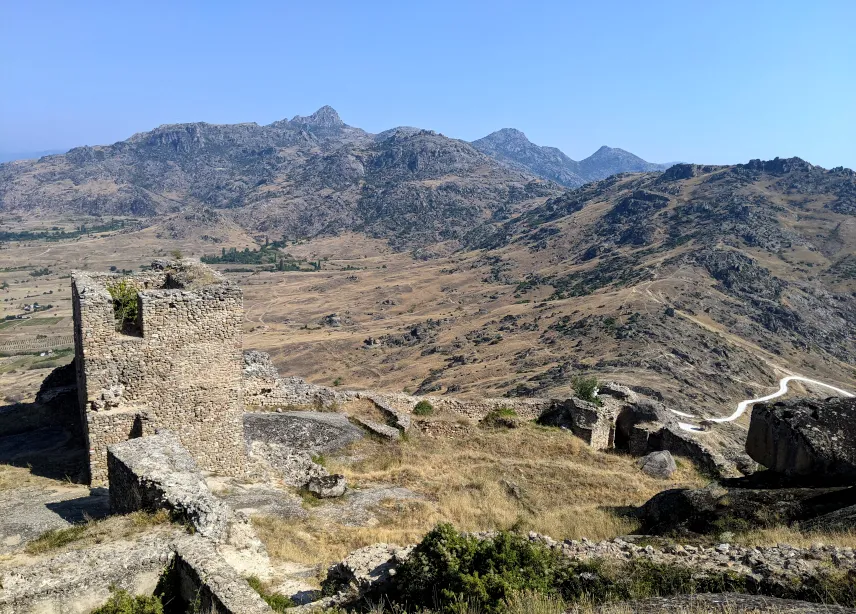 Day 4 – Bitola
Bitola is known as the the "City of Consuls", since many European countries have consulates in Bitola. It is also super close to the Greek boarder making it a logical first stop for travellers coming from Greece.
Things to do in Bitola
Like in many Macedonian towns, the clock tower is one major sight. Be sure also not to miss the beautiful Shirok Sokak Street leading to it. The pedestrian street is lined with nice colourful romantic and neo-classical buildings as well as cafes which are excellent for people-watching. The old bazaar supposedly is the most beautiful bazaar in the whole country and many travellers confirmed this.
The major tourist attraction of Bitola is the archaeological site of Heraklea. It was founded in the 4th century BC and most of the monuments that you can see are from the Roman and the early Christian period. The amphitheatre is the most impressive but there are also some nice mosaics. Be brave when you go there and just explore using the various boardwalks.
How to get from Prilep to Bitola by public transport
We found the buses from Prilep to Bitola run a lot less often than mentioned online. When we visited there were only a handful of buses per day. The walk from the bus station to the centre is nice although it is a bit far. It's 1.7 km (1 mi) to the clock tower but you'll walk through the beautiful park and pedestrian street.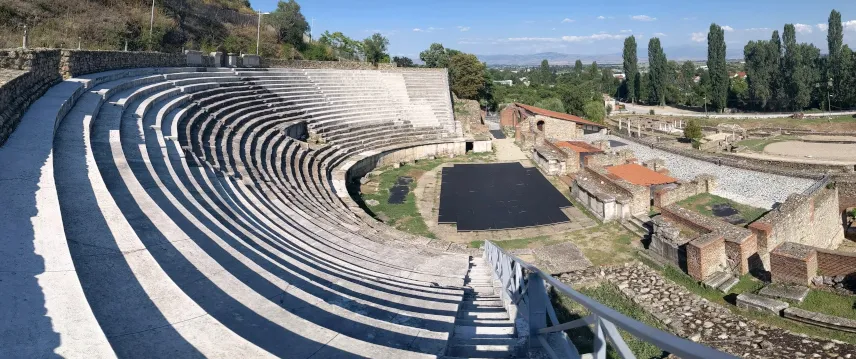 Day 5 – Lake Ohrid
Ohrid is the name of a city as well as the famous lake. Both are beautiful and well worth exploring.
Things to do in Ohrid
Exploring the old town with all the narrow alleys and churches like the Church of St. Sophia is a beautiful activity. Be sure not to miss the scenic St. John the Theologian. You can reach this church from the old town via a wooden boardwalk which is a sight in itself. You can close the loop back to the city by climbing up to Samuil's Fortress from where you'll have incredible views. Descending back down to the centre you'll pass the amphitheatre.
With all this history, make sure not to miss the modern side of town. The Boulevard Macedonian Educators has proper holiday town vibes and we found the best food in Ohrid there. If you're looking for a dessert or a snack, check out Kej Makedonija. The street along the waterfront gets closed for cars every evening as street vendors set up their stalls.
Of course, you should't miss the beaches. There are some smaller beaches close to the old town. The beach that came highly recommended to us is Beach Labino. You can also swim all along Kej Makedonija.
How to get from Bitola to Lake Ohrid by public transport
The coach from Bitola to Ohrid runs around every two hours throughout the day. Our lovely bus driver dropped us off at the City Central Roundabout which is pretty much as close as you can get to the old town and the Boulevard Macedonian Educators. The proper bus station is a bit further away so we decided to take a taxi on the way back.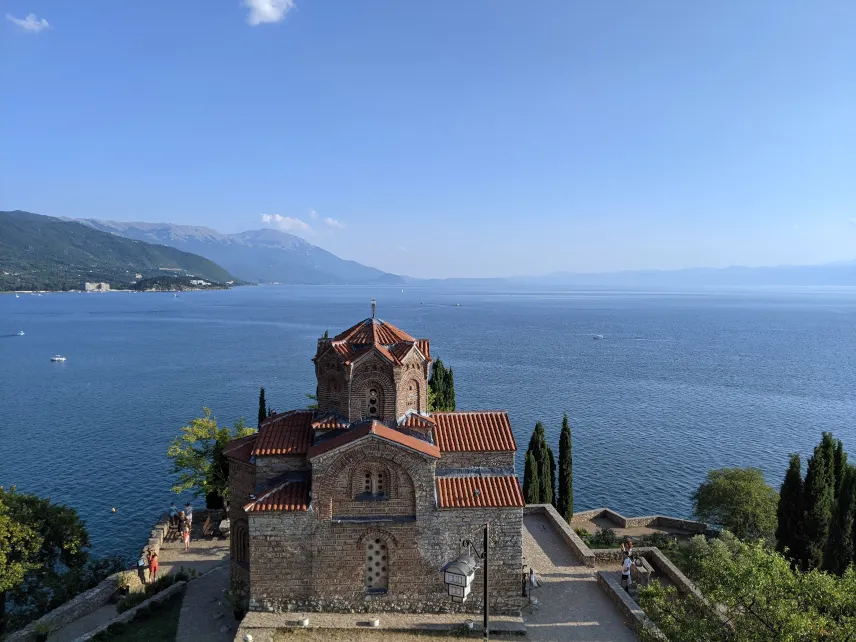 Day 6 – Day trip from Ohrid to St. Naum
The area around St. Naum was one of our favourite places in North Macedonia. Of course, you can visit the famous St. Naum Monastery. Make sure to press your ear on St. Naum's coffin to hear his heartbeat!
The surrounding is what made it for us though. We loved our rowing boat excursion to the springs of the Black Drim. Water is bubbling up everywhere and it's so clear that your boat looks like it floats. The Saint The Mother of God Church was a real hidden gem on this tour. There's a spring in the church!
When you're done exploring, you can relax on the beach and have a little snack on the beachfront promenade or a proper and scenic (but mediocre) meal at the restaurant.
How to get from Ohrid to St. Naum by public transport
You can take a bus from Ohrid to St. Naum which leaves at the spot we marked on the map. In our opinion, the easier and more scenic way is by boat. You'll leave Ohrid harbour in the morning and make a quick stop at the Bay of Bones before you arrive in St. Naum. The ticket cost us 10€ for the return trip, which we found to be very reasonable.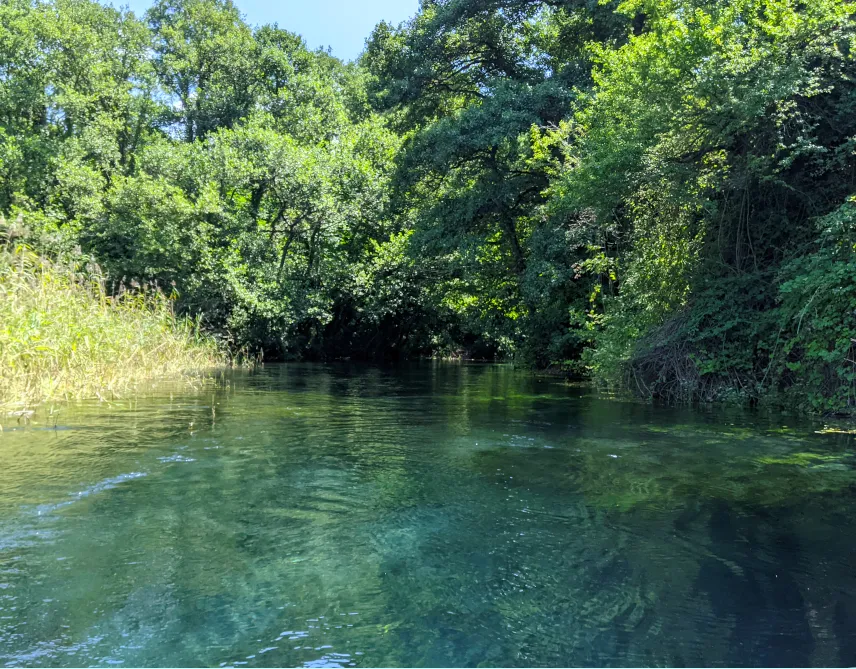 Day 7 – Go back to Skopje or travel further to Tirana, Albania
Instead of going back to Skopje, we drove further to Albania and we loved it!
How to get from Lake Ohrid to Tirana or Skopje by public transport
Buses from Ohrid to Tirana or Skopje run frequently as Ohrid is close to the border and pretty much all buses drive through Ohrid on their way from North Macedonia to Albania.