Albania is one of the last countries in Europe where wild camping is allowed. We really loved the freedom to just drive and stay at places we liked and leave places we didn't like. Stopping in random little towns for coffee led to some of our favourite travel memories ever. This travel guide gives an honest review of Albania's best castles, beaches, hikes, restaurants, and naturally campsites.
Camping Albania
We found Albania an easy country to wild camp, although we had no prior experience. There is loads of infrastructure, like springs to fill up your water supplies, as well as restaurants with WiFi and places you can take a shower for free. Additionally, the locals are amongst the friendliest we have ever met. We were never chased away. Quite the contrary: We were offered coffees in the morning or access to the toilets at night, although we never paid for a spot and it was high season.
Albania Campsites
We mostly used the park4night app (#notsponsored) to find our campsites for the night, but we found that not all of them were suitable for us. Here, we only recommend overnight parking spaces and campsites we have tried and tested ourselves. Also, we honestly review the spots that didn't quite live up to their expectations. You can find all the campsites as well as the other spots mentioned on our map!
Of course, you can also use this 14-days itinerary if you just want to do a road trip or use campgrounds!
Road Trip Albania
Beware that you cannot drive every road that Google Maps and Co suggest with a regular two-wheel drive car! We'll give you detailed directions and information about the conditions of the road. Although Albania is dubbed Europe's off-road capital you can still have a lot of fun in a regular car!
Itinerary for Albania
Day 1 – Exploring Tirana
Don't miss your chance to visit Albania's capital Tirana on your trip! Yes, it's chaotic and trafficky and loud, but it's also the heart of the country. During the day, visit the highlights like Skanderberg Square, the Bunk Art 2 museum (yes, it's in a real bunker), and the pyramid (which is under construction as of 2021). Be aware that the city truly comes to life at night: Visit the hip Blloku area with all its amazing bars and witness people dancing traditional dances on Skanderberg Square.
Sleep: Tirana
Distance: /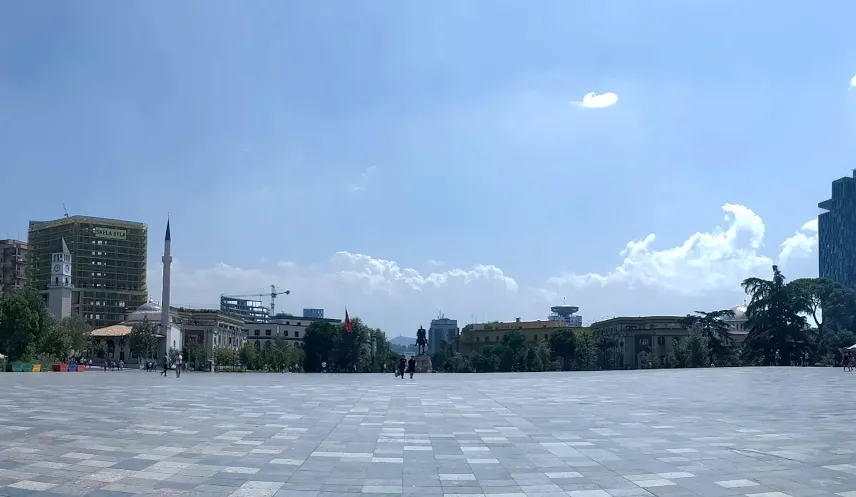 Day 2 – Wild camping Durres
After you've picked up your car, Durres makes for a great first stop at the beach. Only 38 km (24 mi) away from Tirana, it's kind of a love it or hate it situation. Some people say it's too crowded because all inhabitants of the capital go on holiday there. We personally enjoyed the city and the beach a lot. We thought the amphitheater and the venetian tower were lovely sights – and who doesn't like strolling through cute alleys?
Yes, the beach is quite touristy, but the further you drive along the coast towards the south, the fewer people you'll see.
Where to wild camp in Durres
We found a perfect free camp spot for the night right at the beach (you can find it on the map at the top). The food in the evening was ample and delicious (think masses of fish and seafood) and we even got a coffee in the morning.
How to drive from Tirana to Durres
It's an easy drive along the highway.
Sleep: Durres
Distance: 38 km (24 mi)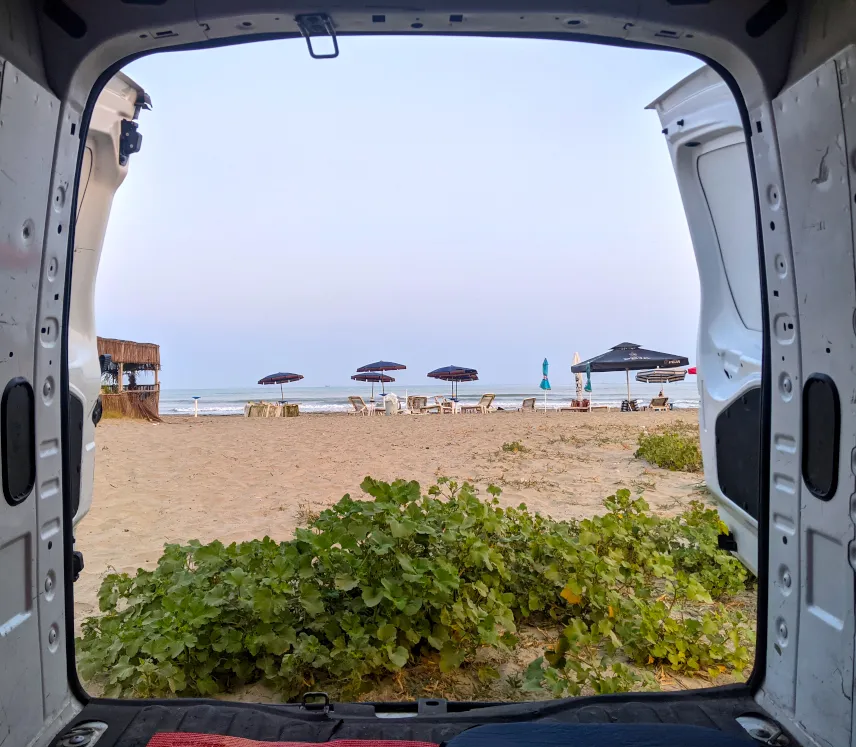 Day 3 – Wild camping Berat
After a morning dip in the Adriatic Sea, make your way over to Berat – The Town of a Thousand Windows. To be honest, this was our favourite city in Albania. We loved getting lost in the cobbled alleys as well as the scenic views across the Osum river. We even found a cheeky little free entrance to the castle by accident (marked on the map). And the castle has it all: The views, the ruins with its mosque and church and cistern, the refreshments, and the residential alleys.
Don't miss your chance to stay overnight! The Republic Boulevard boats many amazing cafes and we found the atmosphere to be lively, authentic and amazing.
Where to wild camp in Berat
We found a surprisingly quiet parking spot (see map) next to the river and within walking distance to the centre.
How to drive from Durres to Berat
It's an easy drive along highways and major roads.
Sleep: Berat
Distance: 97 km (60 mi)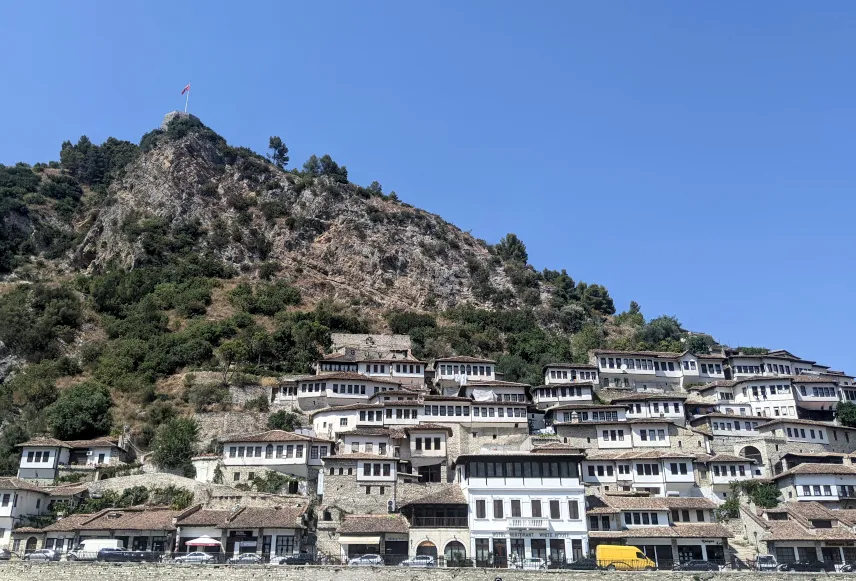 Day 4 – Wild camping Osum Canyon
Ossum Canyon is a great place to relax and enjoy a swim. If you decide to make the long way to the Ossum Canyon, you will be rewarded with amazing views and swimming opportunities in crystal clear waters. If you are into action sports, you can go kayaking or canyoneering.
Where to wild camp at Osum Canyon
We found our favourite camp spot for the entire trip here. If you go to the spot we marked on the map, beware that the last few meters are quite steep and gravelly – we barely made it back up. Also, bring provisions because there is no guaranteed place to buy food in the vicinity. All this means that you will have a beautiful secluded spot to sleep and swim in nature – probably all to yourself.
How to drive from Berat to the Osum Canyon
If you want to make the way to Osum Canyon, be warned that it will lead you on a road dubbed the longest dead-end street in the world. Contrary to what Google Maps and Co make you believe, there is no direct way to reach Permet and Gjirokastra without a 4WD!
Sleep: Osum Canyon
Distance: 60 km (37 mi)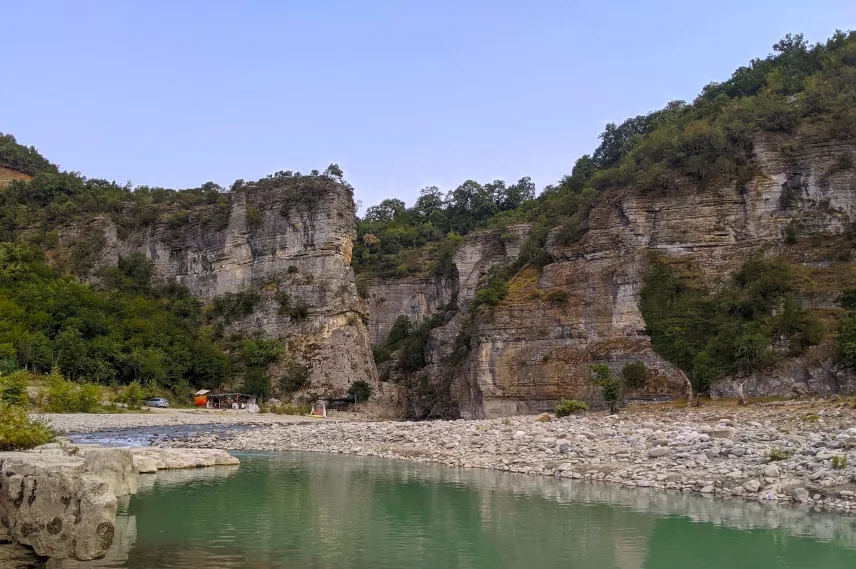 Day 5 – Driving to Permet
The drive to Permet will take you one full day. We found a great spot to break up the long trip at the Vjose River. A business-minded guy set up sun loungers and umbrellas to rent and you can buy drinks and snacks. Additionally, we found a lovely restaurant (marked on the map) where you have a great view of the Vjose River from the many terraces. The restaurant is right next to a spring where you can replenish your water supplies.
Where to wild camp in Permet
We recommend you not to sleep in the city but rather at the hot springs 13 km (8 mi) outside the city centre because it will be much quieter.
How to drive from the Osum Canyon to Permet
If you don't have a 4WD, you will have to drive all the way back to Berat to reach Permet. We've already established that you can't drive south but also don't drive across the bridge towards Fshat I Ri, trust us. The best road will lead you over Berat, Qark Fier and Tepelena – which makes 250 km (155 mi) out of 40 km (25 mi).
Sleep: Permet
Distance: 250 km (155 mi)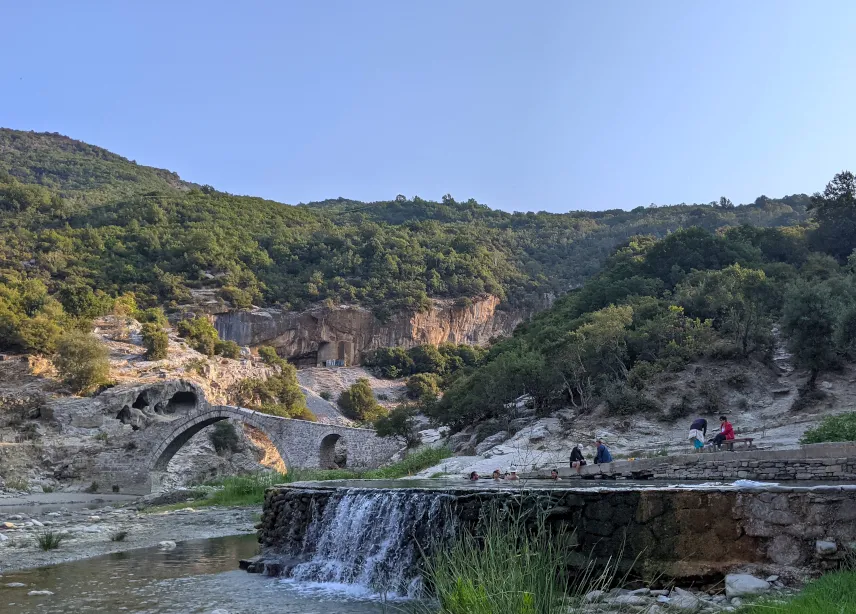 Day 6 – Wild camping Permet and Gjirokastra
Go for a morning dip in the hot springs of Permet and enjoy the scenery. As there is no entrance fee, you can have a swim as often as you wish. There are two pools: A small one next to the bridge and a large pool that has an infinity pool feel to it. If you are better prepared than we were and bring water shoes (also recommended for the beaches tbh) you can also hike the canyon.
Afterwards, explore the town of Permet. Make the short climb on The Rock (I guess this one has been around longer than Dwayne Johnson), landmark of the city and grab a cheeky breakfast.
The city centre of Girokastra is quite small so half a day was enough for us to explore it. You can visit the cold war tunnel, which was quite interesting. You can also visit the castle. The entrance fee doesn't include the museums but there is a large outdoor area to explore as well as some nice views. If you are looking for a nice view, we recommend searching for the obelisk because you get a view over the city and the castle.
The Taverna Tradicionale is a total restaurant recommendation. The way up there is steep but it's worth it. The food and the service are exceptional and the prices very reasonable.
Where to wild camp in Gjirokaster
In Gjirokastra, we found a nice parking space close to the city centre and just off the main road (we marked the spot on the map) – the road there was broad and not too steep. We tried to make our way to other spots marked in the park4night app but the roads were too steep and narrow for us as inexperienced drivers.
How to drive from the Osum Canyon to Gjirokaster
The drive is easy but you have to backtrack a bit.
Sleep: Gjirokastra
Distance: 62 km (38 mi)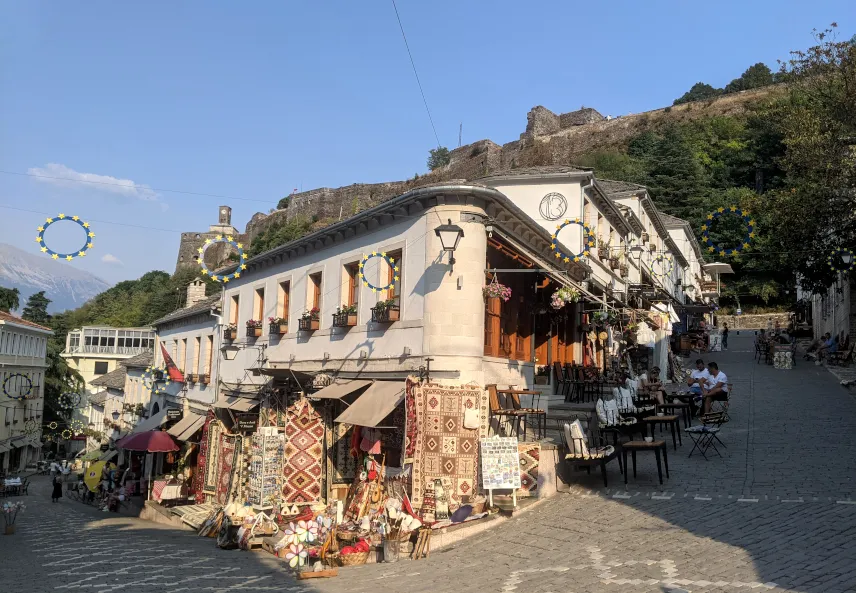 Day 7 – Wild camping Blue Eye, Butrint, Ksamil, and Borsh
To reach the Ionian Sea, you drive past the famous Blue Eye (or Syri i Kalter). The spring with its crystal clear blue and turquoise waters is worth a quick stop but nothing more if you ask us.
Drive further to the Butrint UNESCO World Heritage Site. The ancient Greek and Roman ruins are alined along a visitor path and the English descriptions are really informative. Additionally, the setting in the national park is very picturesque. If you want a bonus ruin you can visit the Venetian castle which is just a short ferry ride away.
You'll drive through Ksamil on your way up the coast. We read online that Ksamil is this wild untouched paradise with waters that match the Caribbean. In the summer of 2021, we found Ksamil to be quite the opposite. It was very crowded, touristy, and expensive. We paid 700 Lek (5€) for our parking space and another 1200 Lek (10€) for our sun loungers (we were not allowed to simply sit on the sand, we tried). Maybe the water was beautiful but it was so full of people that we couldn't tell.
We recommend you to make your way further up the coast and sleep in Borsh.

Open blogpost

Open blogpost
Where to wild camp in Borsh
We preferred the beach in Borsh by far. It was much less crowded and we found a quiet parking space for the night. There were free showers at the beach. The loungers, drinks and food were reasonably priced and of course, you can get WiFi from the restaurants.
How to drive from Gjirokaster to Borsh
The road via the Blue Hole is easy to drive. Once you reach the coast at Ksamil, things will get quite crowded. Don't drive through Saranda but around it. We marked the perfect little coffee place to break up your journey on our map – trust us although it doesn't look like much you will be blown away by the hospitality of the owner plus it has crazy fast WiFi.
Sleep: Borsh
Distance: 125 km (77 mi)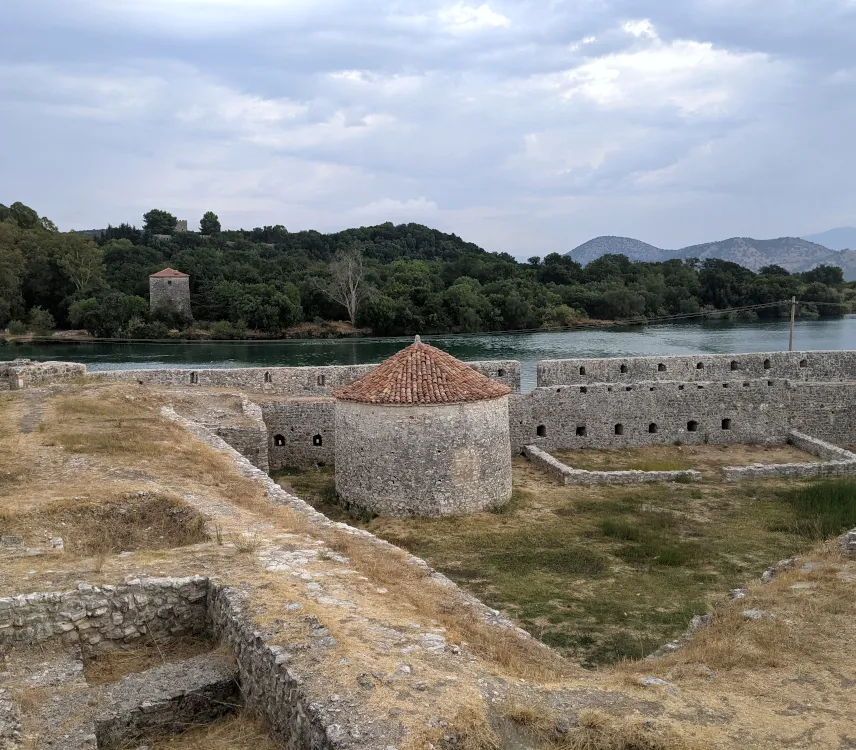 Day 8 – Wild camping Jale
Refill your water supplies at the beautiful Borsh waterfall (skip the restaurant though) before you drive further up the coast. You'll reach Palermo Castle also known as Ali Pasha Fortress, which offers super nice sea views.
You'll also drive through Himare which has 6 nice beaches and a hilltop castle.
We were recommended to go to Jale beach because it supposedly is a hidden gem with a hippie vibe. Again, we found the beach and all the official campsites there to be quite crowded.
So we travelled on to Aquarium Beach. The beach itself does not have any infrastructure so bring water and food as well as water shoes 😉 You'll be rewarded with a true hidden gem with clear water and almost no other people.

Open blogpost

Open blogpost
Where to wild camp in Jala
We decided to drive further along the coast towards Aquarium Bay. Our 2WD camper didn't quite make it all the way but some 4WD vehicles did. There are many nice spots to stop along the way like an olive grove and several viewpoints.
How to drive from Borsh to Jala
It's a short, beautiful drive along the coast. It only get's challenging when you want to drive all the way Aquarium Bay. Sleep: Jale
Distance: 30 km (18 mi)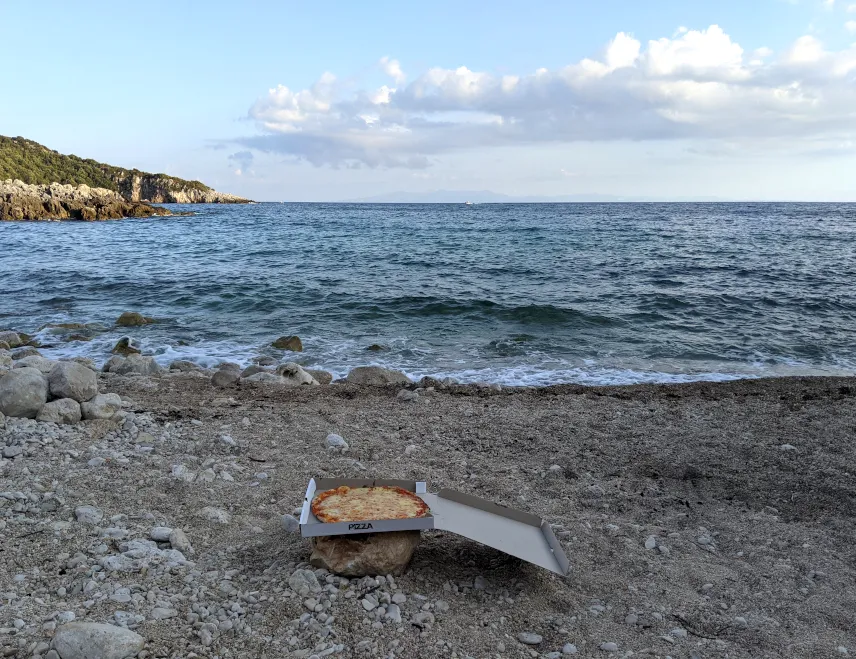 Day 9 – Driving the Llogara Pass to Vlore
This next road stretch is a real treat. The Llogara Pass is a high mountain pass within the Ceraunian Mountains along the Albanian Riviera. All along the pass, you'll have beautiful views of the coast as well as the mountains.
In Vlore, don't miss the chance to visit St Mary's Monastery, a medieval Byzantine church on Zvernec Island inside the Narta Lagoon. You reach the island via a long boardwalk. You'll notice that you're back at the Adriatic Sea because the beach is sandy and the water is less turquoise but it's nonetheless beautiful.
Where to wild camp in Vlora
The whole area is beautiful to explore and Narta Beach offers perfect camp spots in a lush forest right next to the beach. There are many bars and restaurants with sunbeds, WiFi and showers.
How to drive from Jala to Vlora
The Llogara Pass will be the most beautiful drive of this trip. It's easy enough to drive, the hardest part is finding a parking spot to take pictures.
Sleep: Vlore
Distance: 74 km (46 mi)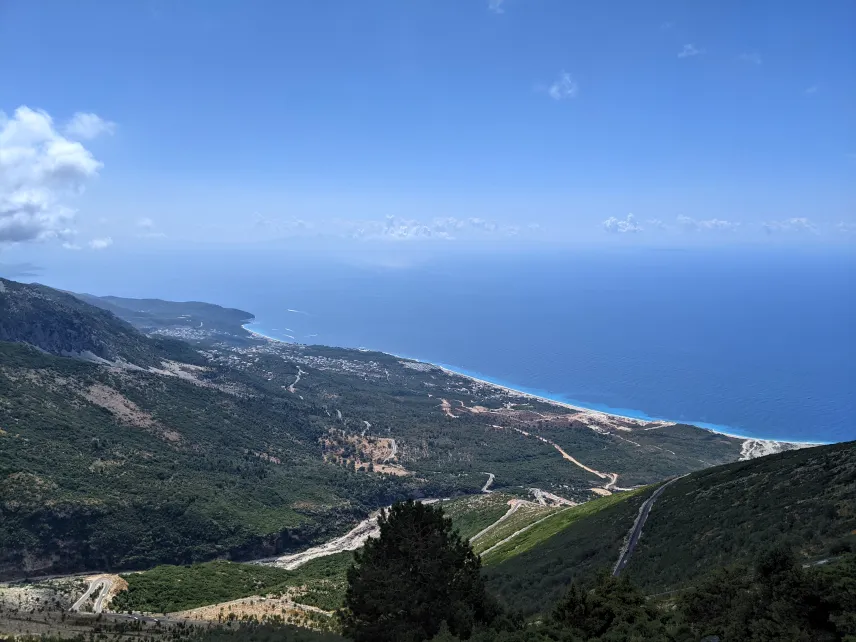 Day 10 – Wild camping Lagoon of Patok
After you've enjoyed the beach a bit more, you can make your way further north to the Lagoon of Patok. We found this place by accident because we were looking for a quiet place to sleep and what can I say? We were blown away! The road leads you straight through the lagoon and the views to both sides are breathtaking. There are many restaurants on stilts that have a serious Maldives vibe. Additionally, there is a small public beach. We don't know why this picturesque place is not swarming with tourists but luckily it's not.
Where to wild camp in Patok
Just chose a parking space. This whole area is beautiful!
How to drive from Vlora to Patok
It's an easy drive which circles back the way you came from to start exploring the area north of Durres.
Sleep: Lagoon of Patok
Distance: 180 km (112 mi)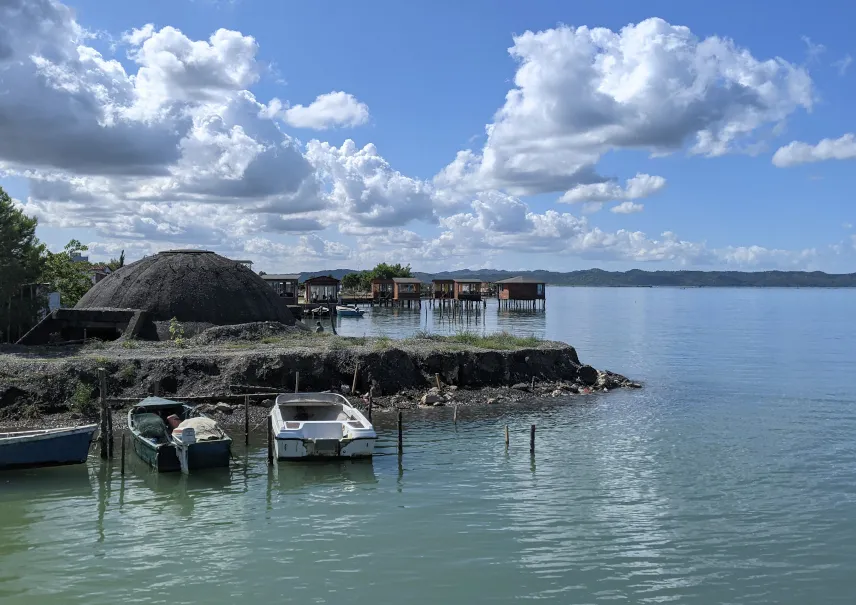 Day 11 – Wild camping Theth
On your way to the Albanian mountains, stop for lunch at Mrizi i Zanave Agroturizem for the best meal of your journey. They give you a fixed meal (in our case six courses) but still were able to accommodate for our dietary needs. They grow and produce everything themselves and they are truly worth the hype!
From your parking space in Theth, you can easily walk to the cute village with the Defense Tower. If you still have some energy left, you can make the short hike to the Grunas Waterfall. While the path is short it is also very steep. But it's worth it as the waterfall is stunning.
Where to wild camp in Theth
There's a perfect parking space for the night next to the Thethi National Park Information Center that you can reach with a 2WD car. Beware that it gets cold at night even in summer!
How to drive from Patok to Theth
As of 2021, the road to Theth is fully paved. It starts to become gravelly once you cross the bridge but that's where you'll sleep anyways.
Sleep: Theth
Distance: 180 km (112 mi)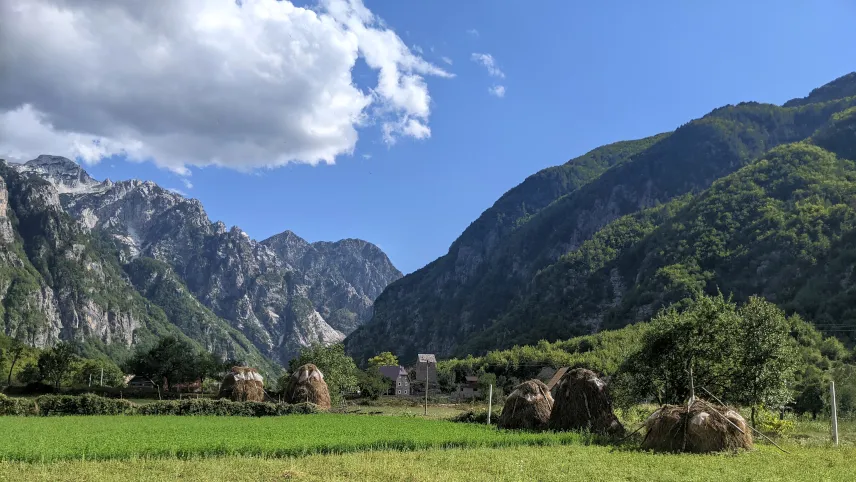 Day 12 – Theth to Valbona hike with a camper van
Yes, you can do the famous Theth to Valbona hike one way if you have a car and luggage and you don't want to ditch it for a couple of days. Just hike to Valbona Peak and back. We decided to hike from Theth because it was easier to reach and the village itself is supposed to be nicer (we can't compare). Be warned that this is the steeper side and you have to conquer more altitude (about 1000 m or 3280 ft). There are several cafes along the way where you can get drinks and snacks and also refill your water bottles. We thought the hike was a bit overhyped on the internet as you pretty much don't get good views along the way. As soon as you make it to the top of the trail, there's a small path leading you even higher up to a point where you get a 360° view around the whole area. You have to be a bit brave/stupid and free from giddiness to reach it but the view was incredible.
This was the only time we spend two nights in a row in the same spot because we just couldn't be bothered to drive across the windy mountain pass after a long day of hiking.

Sleep: Theth
Distance: /
Day 13 – Wild camping Shkoder
On your way back to Shkoder you can stop for a coffee at the Buni i Bajraktarit cafe and viewpoint. In the Shkoder area, you can explore the lake as well as Rozafa Castle. We also enjoyed the city itself quite a bit. We liked strolling down the main boulevard at day and at night and we also relished in the many food and shopping opportunities. There are some rooftop bars from which you can enjoy sunset views and a plethora of bars for later in the evening.
Where to wild camp in Shkodra
The parking space we marked on the map was central which meant that it was not very quiet. It's still a good choice if you don't mind wild camping in a city.
How to drive from Theth to Shkodra
Backtrack the way to drove to Theth.
Sleep: Shkoder
Distance: 76 km (47 mi)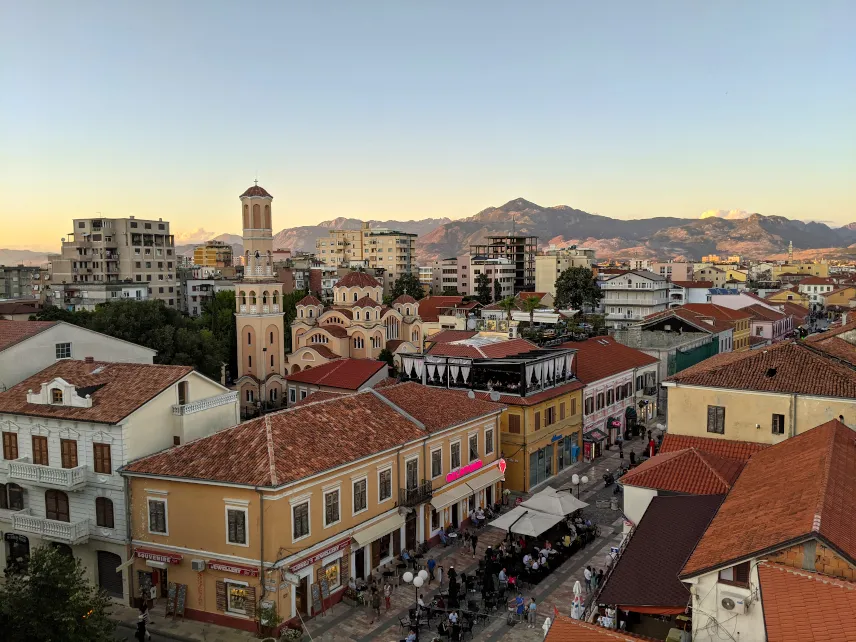 Day 14 – Wild camping Kruje
If you still have time on your way back to Tirana you can make a quick pitstop in Kruje. The Bazar is quite pretty although we are sure that not every shop offers traditional craftsmanship nowadays. The castle ruins with the museums are interesting to visit. You will find some restaurants that offer traditional dishes catered towards tourists as well.
Sleep: /
Distance: 100 km (62 mi)