We have visited many beaches in Albania and can recommend Borsh Beach wholeheartedly. Here's why:
Should you visit Borsh Albania?
Yes! Borsh Beach is an up-and-coming destination in Albania. With its pebbly beach and crystal clear water, it's still not overrun.
Every year, more hotels and restaurants are constructed. Go ASAP while Borsh is still a hidden gem!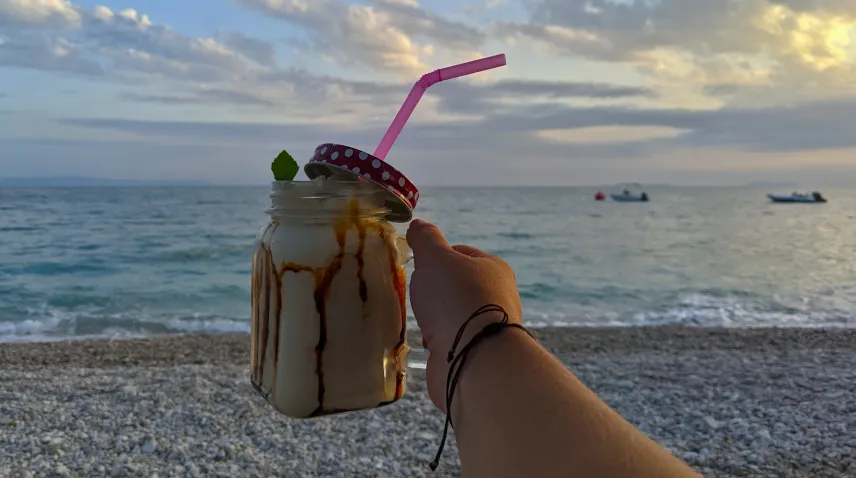 Where is Borsh
Borsh is located at the Albanian Riviera an hour north of Saranda.
Borsh Beach is located around 2 km (1.2 mi) from the main road and main town of Borsh.
How to get to Borsh Beach Albania
Rental Car
By far the easiest way to reach Borsh Beach is by rental car.
Public Transport from Tirana to Borsh
Three times a week, there's a mini bus from Tirana to Borsh. It takes around 6 hours.
To reach the beach, you either have to brace yourself for 30 minute downhill walk (uphill will be worse), hope that you can catch a taxi, or organise transport with your accommodation.
Public Transport from Corfu to Borsh
First, you have to take the ferry from Corfu to Saranda. Three times a week, there's a mini bus from Saranda to Borsh. It only takes around one hour.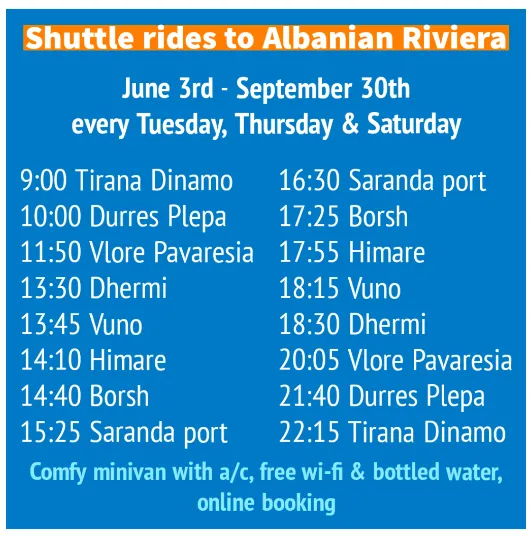 Tours of Borsh Beach
Given the complicated public transport situation, a Borsh tour is your best option when you don't want to rent a car:
Beach Hotels in Borsh
Map of the Best Beach Hotels in Borsh Albania
Sole Luna Hotel
The Sole Luna Hotel comes with many amenities:
110€ per night for a room with a balcony and side sea view
free breakfast
private beach area where guests can enjoy sun loungers and parasols
Hotel Beach Restaurant Fabio
The amenities of Hotel Beach Restaurant Fabio include:
65€ per night for a room with a balcony and sea view
a swimming pool
free breakfast
free parking
hotel beach area 100 m away
Borsh Beach Apartments BBA
The beachfront Borsh Beach Apartments BBA offer
44€ per night for a room with a balcony and sea view
Small private beach with free sunbeds
Terrace at the sea
Each unit is fitted with air conditioning, a private bathroom, and a kitchen
free parking
Camping Borsh Albania
Camping Jungle in Borsh is the most budget-friendly accommodation on Borsh Beach:
only 12€ per person per night
at the beach
private beach area
sunbeds and umbrellas for rent
SUPs for rent
tents with proper mattresses
shared kitchen and bathroom
Borsh Beach
We loved Borsh Beach! The beach is pebbly but this just makes the water more clear. There are enough bars and restaurants that will feed you and also rent out sunbeds and umbrellas. Nonetheless, the beach is far from overrun.
Borsh Beach is more than 2 km (1.5 mi) long. In contrast to Ksamil Beach, there's always a free space and you can also sit down on the beach for free.
There are plenty of free showers on the beach.
Parking is also free.
Additionally, we were able to use the WiFi at the place we stayed (Solymar – which we can 100% recommend. The owner is amazing!).
Beaches near Borsh
When you read our Ksamil Beach guide, you know that the beaches in Ksamil rarely get a Google rating of more than 4 stars.
With the beaches around Borsh, the opposite is the case. All have a rating well above 4. They are all pebbly (bring water shoes) with crystal clear blue water.
There is enough infrastructure to be comfortable but not enough tourists to be crowded.
The best beaches near Borsh are:
Gjiri Blu (4.8 ⭐) Warning: Nude Beach!
Qeparo Beach (4.7 ⭐)
Buneci Beach (4.6 ⭐)
Lukove Beach (4.5⭐)

What to do at Borsh
There are not too many things to do at Borsh, but here are some:
Borsh Waterfall
Borsh Waterfall is the highlight of the town of Borsh. You can not only refill your water bottles for free but also have a drink or a meal at the restaurant with the stunning waterfall backdrop.
Borsh Castle
Borsh Castle is a castle ruin with stunning views over the Adriatic Sea and the mountains in the back. The way is quite steep and strenuous. If you decide to go, prepare yourself to go for the view rather than for the ruins.
You'll likely be the only one visiting. The entrance is free. Bring some water, there are no vendors.
Porto Palermo
Porto Palermo is a castle on a small peninsula. The castle is not huge but we loved the views. There are some sunbeds and umbrellas for rent on the beach between the mainland and the peninsular.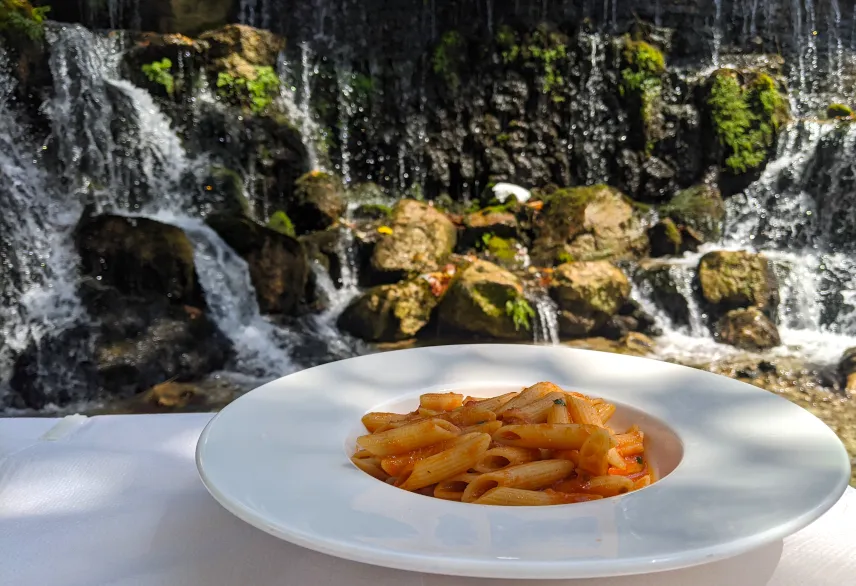 This post contains affiliate links. If you use these links to buy something we may earn a commission. You would help us a lot if you do so. Thanks.