We have checked out Ksamil, the supposed best beach destination in Albania.
Is Ksamlil Beach the Maldives of Europe or a tourist trap? Find out in our honest review.
We also show you:
How to get to Ksamil
The 14 best Ksamil beaches
The best beach hotels in Ksamil, Albania
The 10 best Ksamil things to do
Should You Visit Ksamil Beach in Albania?
Why should you visit Ksamil? Because Ksamil is the Top Beach Destination in Albania!
Pros of Beaches in Ksamil
The sand is the nicest we have seen in Albania, the water is a beautiful turquoise, and the backdrop with the Ksamil Islands and Corfu is stunning. Wait, there's a but coming.
Cons of Beaches in Ksamil
It is also by far the most expensive beach we have visited in Albania. We paid double the price for sunbeds, food, and a parking space. Additionally, we were shocked to learn that some beaches do not let you sit on the sand for free but force you to pay for a lounger or leave.
Furthermore, Ksamil is by far the most crowded beach we have visited in Albania. We visited in September which is theoretically the off-season. Still, it was hard to find a free sunbed and the water was full of people.
Our Review of the Beaches in Ksamil
When you type Ksamil beach into the Google picture search, you'll find Maldives like empty beaches. For us, this was simply not the reality (see picture below).
We strongly believe that you should check out Ksamil Beach. We suggest that you lower your expectations a bit and if you have the time, consider adding some other beaches to your Albania itinerary. We'll give you some suggestions at the end of this blog post.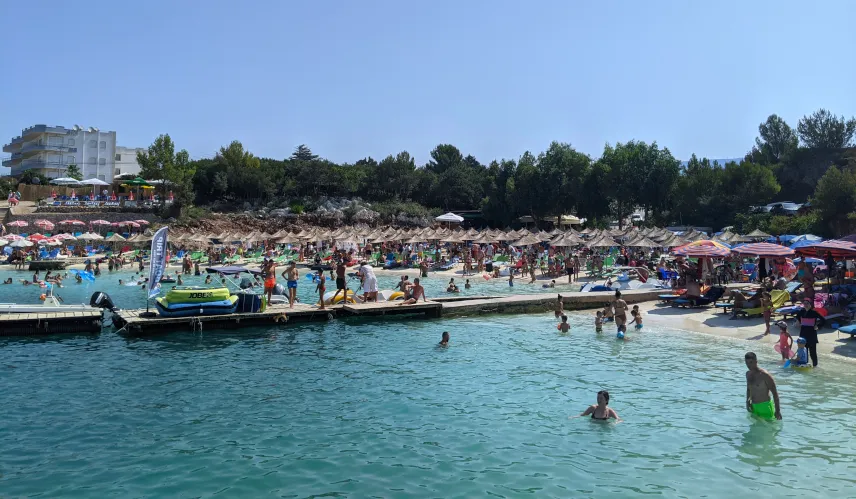 When to Go to Ksamil Albania?
Ksamil Albania weather: Like in all of southern Europe, summer is the best time to visit weatherise. Unfortunately, this means that the months of July and August are also the most crowded.
You'll have decent weather from April to October as well but with fewer people. In September and October, you'll have the additional advantage of a warmed-up sea. Beware that it was still pretty crowded when we visited in September.
How to get to Ksamil?
Public Transport or Rental Car?
This depends on your plans for your holidays:
If you mostly want to stay in Ksamil and hit the beach, public transport is a convenient and cheap way to reach the seaside town.
If you want to explore more of the beautiful country and go on some day trips, a rental car will make your life easier.
There are two main ways to get to Ksamil by public transport:
1. Corfu to Ksamil
Take a public bus from Corfu airport to the ferry port. The bus runs multiple times per hour and takes around 2 minutes. A ticket should cost you around 2$.

Hop on a ferry from Corfu, Greece, to Saranda, Albania where you go through immigration. The normal ride takes 80 minutes and the fast ferry around 30 minutes. Depending on the season, they should run multiple times a day. Currently, there are four companies (Sarris Cruises & Lines, Finikas Lines, Ionian Seaways, and Joy Lines) with over 30 daily sailings. A ticket should cost around 20$.

Get some Albanian Lek for the bus.

Hop on a bus from Saranda to Ksamil. It departs close to the port every 30 to 60 minutes during the day. The Saranda Ksamil distance is 16 km (10 mi) and the ride takes 30 minutes. It should cost around 1$.

How much costs a taxi Saranda to Ksamil? A taxi should cost around 15$.
2. Tirana to Ksamil
There are multiple buses a day from Tirana to Saranda. They take around 5 hours and cost around 15$.
Take a bus from Saranda to Ksamil (see step 4 above).
Ksamil Hotels
Best Hotel in Ksamil Map
Where To Stay In Ksamil Albania:
Beach Hotels in Ksamil
Real talk: There are no Ksamil hotels on the beach. Not a single one. Even when you filter by beachfront into booking.com, you have to walk a few minutes to reach the beach from your Ksamil hotel. Additionally, you'll face the same sunbed struggle as everybody else because there are no hotels with their own beaches in Ksamil.
Ksamil Accommodation with a Sea View
What you can find however are sea view accommodations:
Cheap:

Apartments Denis

50$ per night
slightly obstructed sea view
9.7 Rating

Mid-range:

Blue Bay Ksamil

105$ per night
unobstructed sea view
8.1 Rating

Luxury:

Vila Bello

130$ per night
swimming pool with sea view
8.6 rating
What are the Best Beaches in Ksamil?
Quick Tips For the Ksamil Beaches
To our knowledge, there are no more free beaches Ksamil. You can walk the beach for free and enter the water but you can not sit down in the sand anywhere let alone put down a towel and an umbrella.
The sunbeds are expensive. Plan to pay around 2000 Leke (20$) for two sunbeds plus one umbrella.
The sunbeds fill up quickly. Consider reserving one day in advance.
Bring water shoes because Albanian beaches can be rocky.
Ksamil Best Beach, sorted by Google rating:
We have marked all the beaches with a rating of >4 dark blue and <4 light blue.
Central Ksamil Albania Beaches
As you can see, most of the beaches within walking distance of central Ksamil have horrendous ratings. They are expensive, crowded, and most likely blast loud music.
A rule of thumb seems to be that the beaches furthest away have the best rating:
1. Cubana Beach Ksamil (4.7 ⭐)
Rocky beach
Fewer people than closer to town
No loud music
Cheaper sunbeds (1000 Lek)
Free parking
Free Wifi
2. The Last Bay Ksamil (4.5 ⭐)
See Cubana Beach as they are super close together.
3. Lori Beach Ksamil (4.3 ⭐)
Sandy beach
Crowded
Loud music
Cheapish sunbeds (1500 Lek)
4. Coco Beach Ksamil (4.3 ⭐)
The northernmost of the walkable beaches.
Tiny
Rocky beach
On the quieter side
Cheapish sunbeds (1500 Lek)
5. Puerto Rico Beach Ksamil (3.7 ⭐)
6. Bora Bora Beach Ksamil (3.4 ⭐)
7. Ksamil Beach Ksamil (3.3 ⭐)
The main beach in Ksamil
The most picturesque but also the most crowded
Loud music
Sunbeds for 2000 Lek
8. Paradise Beach Ksamil (3.3 ⭐)
9. Castle Beach Ksamil (2.6 ⭐)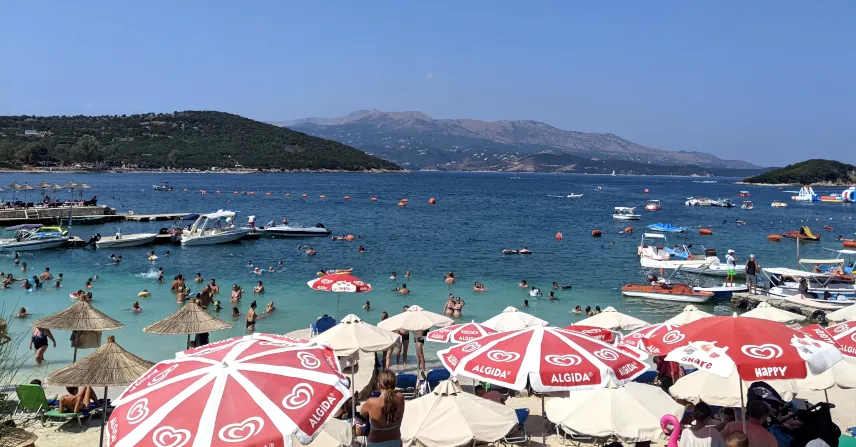 South Ksamil Albania Beaches
10. Pema e Thate Beach Ksamil (4.0 ⭐)
The main draw of Pema e Thate Beach is the Instgramable over-water hammocks
Normal sunbeds for 2000 Lek, sunbeds with overwater hammock 7000 Lek
Tiny road in bad condition
North Ksamil Albania Beaches
11. Harta Beach Ksamil (4.3 ⭐)
Sandy beach
Small
Crowded
Cheapish sunbeds (1500 Lek)
12. Pulëbardha Beach or Seagulls Beach Ksamil
Rocky beach
Small
Crowded
Sunbeds for 2500 Lek
Unpaved road
Parking Scam
13. Sunset Beach Ksamil (4.2 ⭐)
Rocky beach
No loud music
Cheapish sunbeds (around 1500 Lek, but seems to vary)
Free parking
14. Monastery Beach Ksamil (4.1 ⭐)
Monastery Beach can no longer be reached as it has changed to a giant construction site.
What are the Best Things to do in Ksamil?
The 10 best things to do in Ksamil are:
1. Hit the Beaches (see above)
2. Visit the Ksamil Islands
The Ksamil Albania Islands are four little uninhabited islands just across Ksamil Beach.
How to get to Ksamil Islands
To get to the closer two islands, you can organise your own Ksamil boat trip by SUP, kayak, or paddle boat.
To get to the further two islands, expect to pay around 5000 Lek for a boat tour including two sunbeds and an umbrella.
3. Butrint National Park
Butrint National Park encompasses 9,424 hectares (94.24 km2) of hilly terrain with freshwater lakes, wetlands, salt marshes, open plains, reed beds and islands. It is home to over 1,200 different species of animals and plants.
4. Butrint Archeological Site
The highlight of Butrint National Park is the Butrint Archeological Site. It is a UNESCO World Heritage Site and one of the most important archaeological sites in all of Albania. The structures date back from the Iron Age up until the Middle Ages. You can visit many buildings including the city walls, a late-antique baptistery, a basilica, a Roman theatre, and not one but two castles.
It is this combination of culture and nature which makes Butrint a super unique place to visit.
5. Triangular Fortress
When you're in the area, think about hopping on the small ferry to visit the Venetian Triangular Castle on the other site. It's free to visit and a lovely bonus to your Ksamil day trip.
There's a nice little coffee place with a super friendly owner on the other side as well.
6. Ali Pasha's Island Castle
Ali Pasha's Island Castle is another nice addition to your Ksamil day trip. You can only reach it by boat. When we visited, several boat drivers were waiting outside the Butrint Archeological Site.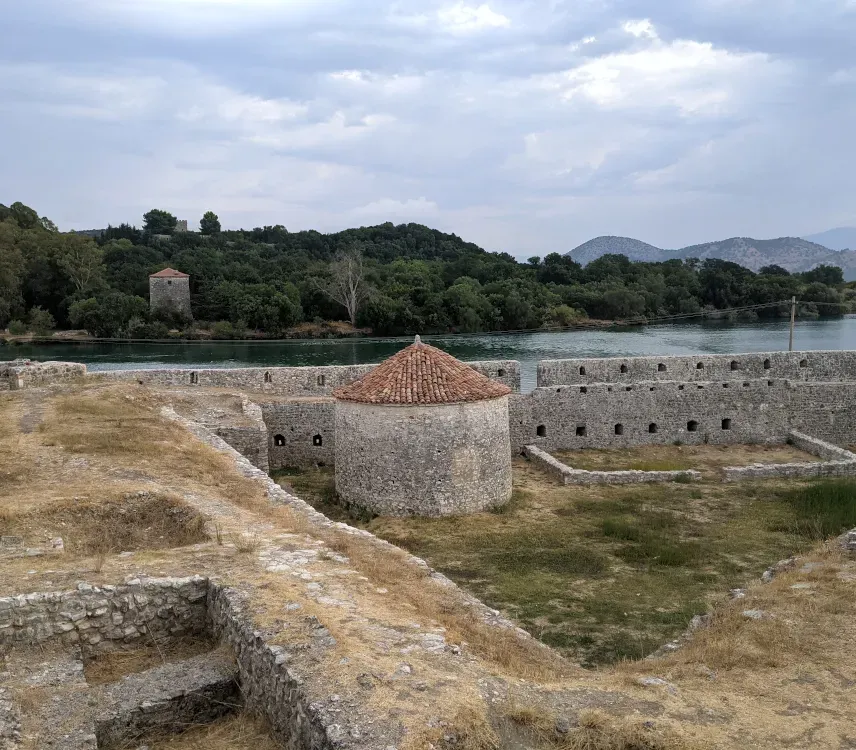 7. Blue Eye (Syri i Kalter)
The Blue Eye is another popular day trip from Ksamil. The spring with the blue water is only a quick stop and the water is super cold in case you consider swimming here. It's best combined with a trip to Gjirokaster.
8. Gjirokaster
Gjirokaster or Gjirokastra is a small UNESCO World Heritage city. The compact size of Gjirokaster's city centre allows you to explore it within just a few hours. We especially liked the cold war tunnel and the castle. For a nice view of the city and the castle, we suggest that you seek the obelisk.
9. Saranda
Saranda or Sarandë **is the port town next to Ksamil. With 17500 inhabitants, it's much livelier than Ksamil. You can find plenty of cafes and restaurants as well as bars and a bustling nightlife.
The highlights are the castle and the Monastery of 40 Saints.
💡
On your way from Ksamil to Saranda, stop at the small coffee shop we have marked on the map and let yourself be blown away by the hospitality of the owner.
10. St. George's Monastery and Lake Butrint
St. George's Monastery could be a short stop on your way to Saranda. The ruins offer nice views of the coast. It's close to King Mussel Taverna where you'll get great mussels + a great view across Lake Butrint, a beautiful salt lagoon.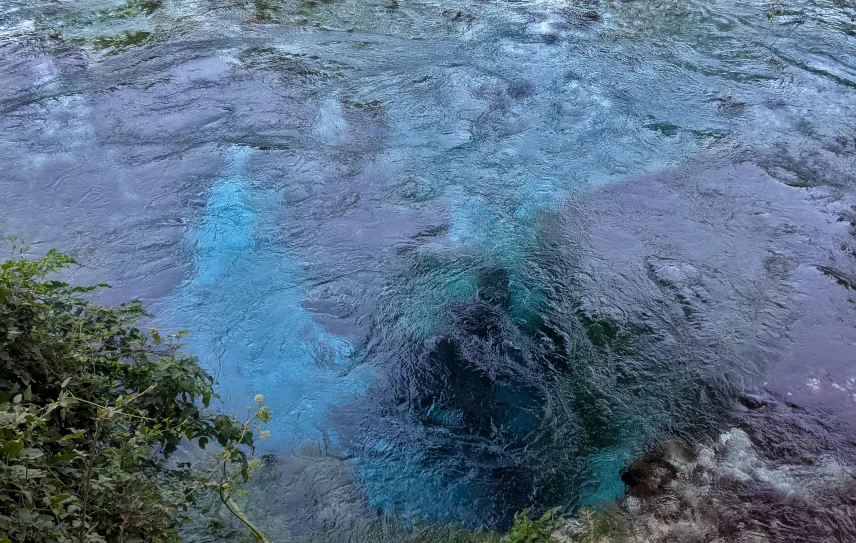 This post contains affiliate links. If you use these links to buy something we may earn a commission. You would help us a lot if you do so. Thanks.