We travelled to Himare Beach Albania to compile an efficient guide for you. We show you
How to get to Himare
The best hotels in Himare
The best Himare beaches
The best things to do in Himare
Quick Himare Guide
Himare Albania What to expect
In Himare, Albania you can expect
many beautiful beaches
a lovely beachfront promenade
an old castle with a view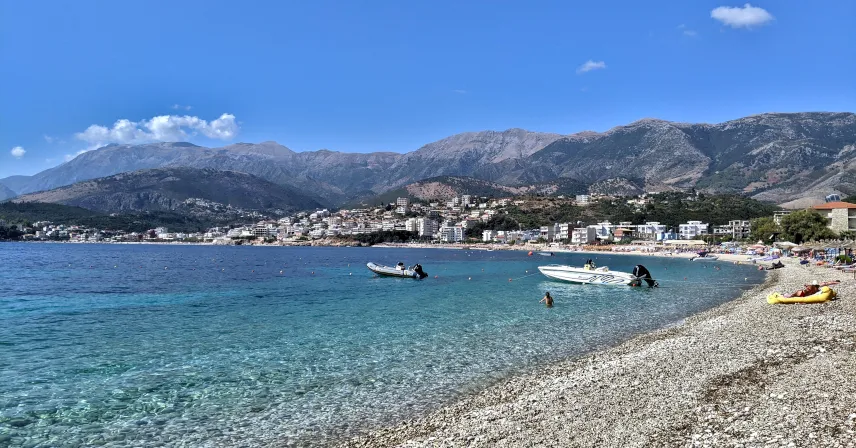 How to Get to Himare
Rental Car
In contrast to other places along the Albanian Riviera, a rental car is not necessary (or significantly more convenient) to visit Himare.
Public Transport
The main Himare beaches and town centre are close to each other as well as the main road. You can easily take the bus without having to walk long distances up and down hills.
Tirana to Himare
The Tirana to Himare bus leaves three times a week and takes around 5 hours.
Saranda to Himare
The Saranda to Himare bus leaves three times a week and takes around 1.5 hours.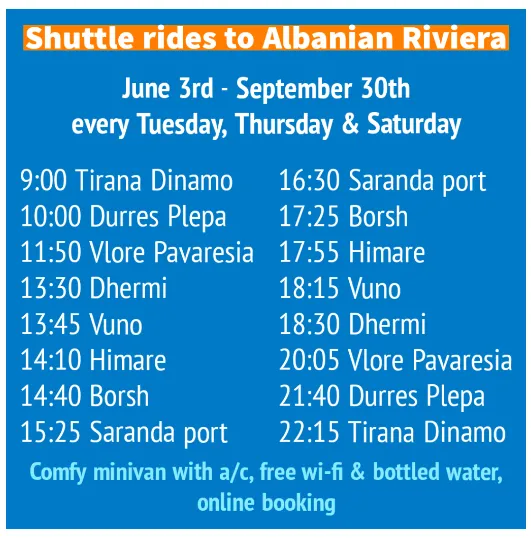 Best Time to Visit Himare
Like everywhere on the Albanian Riviera, the Himare weather is best in July and August. These months are also the most crowded.
For nice weather and temperatures around 25°C but fewer people, head to Himare in June or September.
In May and October, you can still expect temperatures around 20°C.
In the off-season, in winter it can get quite rainy.
How Long to Spend In Himare Albania
This really depends on the time you have.
One day is enough to relax on the beach, stroll along the promenade, and head to the castle.
On the other hand, Himare is easily nice enough with enough infrastructure and different beaches to choose from to spend several days or even weeks.
Himare or Ksamil
As we did not particularly like Ksamil, we would choose Himare any time. Quite frankly, Himare is
less crowded
cheaper
more beautiful with the beachfront promenade
Where to Stay in Himare
Himare Hotel
Himare Hotels map:
As there are plenty of hotels in Himare Albania, here are our top three picks:
8.0 rating on Booking.com
25€ for one person in a sea view room
on Spile Beach
next to the beachfront promenade
8.1 rating on Booking.com
20€ for one person in a sea view room
on Potami Beach with sunbeds
looks like a castle!
9.0 rating on Booking.com
4 stars
75€ for one person in a sea view room
swimming pool
2 min walk to Prinos Beach
Himare Hostel
If you're looking for a hostel in Himare, you basically have three options:
8.7 rating on Booking.com
12€ for an 8 bed dorm
between Filikuri Beach and Potami Beach
8.7 rating on Booking.com
16€ for an 8 bed dorm
150 meters (500 ft) to Potami Beach
8.8 rating on Booking.com
15€ for a 6 bed dorm
Himare Centre, 8 minutes walk to the beach
Himare Camping
You have three options for camping in Himare:
9.3 rating on Booking.com
11€ for one person in a tent
Sea view and swimming access to the sea
9.8 rating on Booking.com
11€ for one person in a tent
400 meters (0.25 mi) to Potami Beach
Wild Camping
As wild camping is legal in Albania, this is always an option. We recommend the far end of Potami Beach as this is a quiet spot where you can stand mostly undisturbed.
Best Beaches in Himare
How to Get to the Best Beach in Himare
All the beaches in Himare are located around the same bay and hence within walking distance of each other.
1. Spile Beach Himare (Plazhi i Spillese)
4.4 stars on Google ⭐
Spile Beach is the northernmost beach of the bay. It's the perfect combination of being close to town while still being quiet. It's also where you find the jetty for boat tours.
2. Himare Beach Albania (Plazhi i Himares)
4.6 stars on Google ⭐
Spile Beach merges with the main beach of Himare. There are showers and a lifeguard. It is right in the centre of town and on the beachfront promenade yet it's still not crowded. You don't need swimming shoes as the sand on the beach is nice and soft.
3. Sfageio Beach Himare
4.6 stars on Google ⭐
Sfageio Beach is a tiny beach with soft sand. It's the smallest beach in Himare. It is located between Himare Beach and a small cliff. On the cliff, there's Acta Restaurant, a great spot to watch the sunset.
4. Marachi Beach Himare (Plazhi i Maracit)
4.4 stars on Google ⭐
Marachi Beach is a private beach but also arguably the nicest beach in Himare. If you plan to rent sunbeds anyway why not do it here?
Two sunbeds and an umbrella cost 1000 Lek per day. Even during the main season, you'll find enough free places and the loungers are set up with enough distance from each other. There are two bars but the music is not too loud.
5. Prinos Beach Himare
4.3 stars on Google ⭐
Further south, you'll find Prinos Beach. It merges with Potami Beach. Many of the hotels and hostels are located in this area. Hence you'll also find some beach bars and sunbeds to rent. The beach is beautifully sandy.
6. Potami Beach Himare
4.5 stars on Google ⭐
This is the most southern beach in Himare and hence the quietest. There are some bars and sunbeds to rent but the further south you go, the more the infrastructure fades out.
The beach is a mix of sandy and pebbly.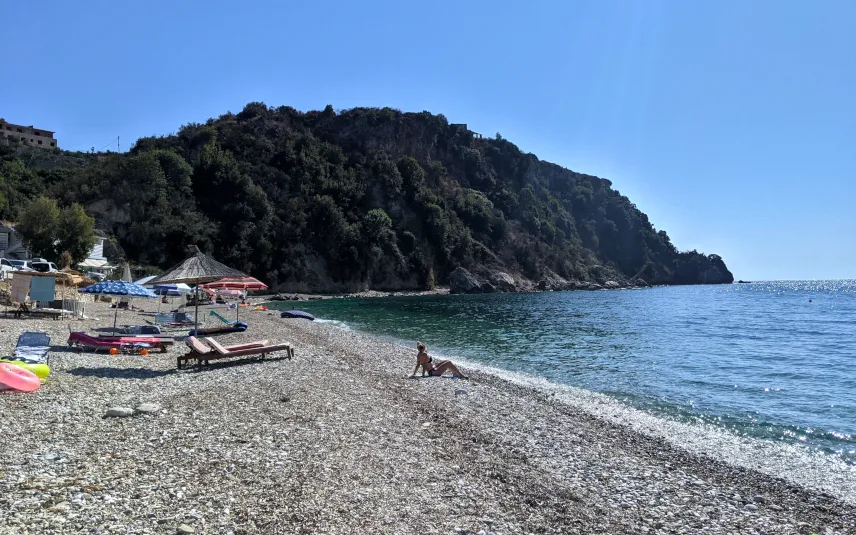 Best Beaches Around Himare
7. Livadhi Beach Himare
4.5 stars on Google ⭐
You can hike from Himare to Livadhi Beach. It's a 60 minute hike through a forest with lovely viewpoints.
On the way, you can stop at Kico Beach. There's a small restaurant and a swimming spot where you can refresh yourself. You can even rent out sunbeds here.
Livadhi Beach itself is wide and long. It's mostly pebbly. You have the option to rent sun beds or stay in the public part of the beach with your towel.
Akuarium Beach)
8. Aquarium Beach Himare (
4.6 stars on Google ⭐
If you walk even further from Livadhi Beach, you'll reach the beautiful Aquarium Beach. We've dedicated a whole blogpost to Aquarium Beach and Jale Beach.

Open blogpost
9. Filikur Beach Himare (Plazhi i Filikurit)
5.0 stars on Google ⭐
Directly south of Himare Bay, you can find Filikur Beach. You can only reach it by walking down a rather steep path (the "there's a rope" kind of steep!). This small public beach is a true hidden gem.
10. Andreas Beach
4.4 stars on Google ⭐
Not to be confused with Andreas Bay, a popular beach in Llogara National Park.
11. Llamani Beach Himare (Plazhi i Llamanit)
3.9 stars on Google ⭐
Llamani Beach is a private beach which you can not enter if you don't pay for a sunbed. During the week, it seems to be rather quiet but there seem to be frequent parties with DJs and even foam parties on the weekends.
12. Mateus Beach Himare
4.7 stars on Google ⭐
You can only reach Mateus Beach by walking 15 minutes from the main road. You will be rewarded with crystal clear turquoise water, a sandy to pebbly beach, and FREE sunbeds. Just be aware that there is no shade and no infrastructure so bring food and drinks.
13. Porto Palermo Beach (Plazhi i Porto Palermo)
4.8 stars on Google ⭐
Porto Palermo Beach is close to Porto Palermo Castle a 10 minute drive south of Himare.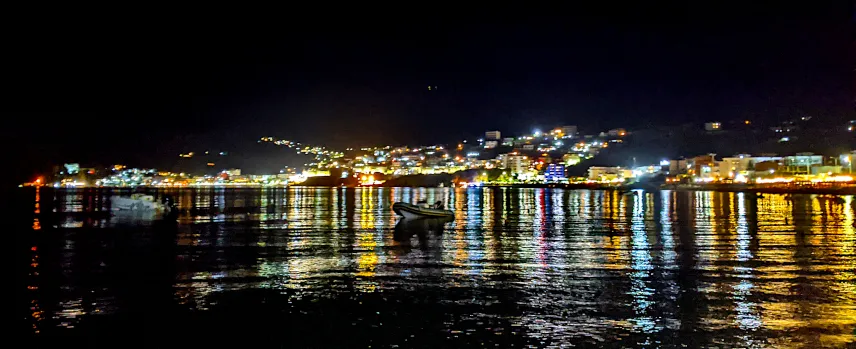 Best Things to Do in Himare Albania
1. Himare Beach Hopping
There are six beaches in the Bay of Himare alone and countless more in the area. Go and find your personal favourite!
2. Himare Boat Tour
Jump on a Himare Boat Trip is one of the best things you can do in Himare. While you can reach many beaches simply by walking or by car, there are some hidden gems in the area which you can only reach by boat.
Discover beautiful secluded beaches with white sand and small coves carved into dramatic cliffs as well as stunning sea caves like:
Aquarium Beach
Goats Bay
Couples Bay
Doves Cave
Gjipe Beach
Saint Theodores Cave
Pirates Cave
3. Himare Castle
To visit Himare Castle, you have to make your way up the hill either by walking uphill for 60 minutes or by car. Because of its location on the hill, you'll be rewarded with beautiful views of the surroundings.
Himare Castle is the main attraction in the old town of Himare. Its ancient walls date to the 5th century BC. Get lost in the winding streets filled with stone buildings before reaching the castle at the top. How about a stop with a view at Cafe Butterfly? There are also several churches there such as All Saints and the Church of Saints Sergius and Bacchus
4. Stroll The Promenade (Xhiro)
We love a good stroll or xhiro. Arguably, there's not a much better place to do this than a beachfront promenade. How about treating yourself to some ice cream or a cheeky little drink while you're at it?
5. Enjoy a Rooftop Bar
We just love drinks with a view. How about
UMI Sushi & Cocktail
Locca Rooftop
Thea Rooftop Bar?
6. Old Submarine Bunker Himare
Super close to Mateus Beach, you can find an old submarine bunker from the Hoxha era. As for Mateus Beach, you have to have a 4WD vehicle or walk to get to the bunker.
While you cannot enter, it's a unique sight from the outside.
7. Porto Palermo Himare
Porto Palermo is located between Borsh and Himare. It's a castle on a peninsula with lovely views.

This post contains affiliate links. If you use these links to buy something we may earn a commission. You would help us a lot if you do so. Thanks.