We visited Shkoder in Northern Albania in 2021 and loved it. Now, we have compiled the 22 best places to visit in Shkoder and the 22 best things to do in Shkoder as well as genral tips for visiting Shkoder.
Best Things To Do in Shkoder
What To Do In Shkoder City
1. Pedestrian Street Rruga Kole Idromeno
Strolling down Rruga Kolë Idromeno is a must when you visit Shkoder. How about a break in one of the many cute cafes?
2. Take a Stroll, Aka a Xhiro
In the evening, Rruga 28 Nentori becomes a pedestrian street as well. If you drink alcohol, make sure to taste a Raki at least once during your stay in Albania.
💡
Pro tip: The further you venture from the centre, the cheaper your sundowner will be.
3. Rooftop Bar at Hotel Colosseo
You don't just find rooftop bars in the metropolises of the world – there's also one in Shkoder, Albania – with surprisingly cheap drinks and great sunset views.
4. Grab a Coffee
Did you know that Albania is the world leader in the number of coffeehouses per capita? You'll also find plenty of cute cafes when you venture off the main street in Shkoder – for example, Goje Gaditese.
5. Try Tave Krapi
Tave Krapi is carp from the Shkoder Lake, marinated in onions, garlic, and tomatoes and then baked. A good place to try it is Vila Bekteshi Restorant.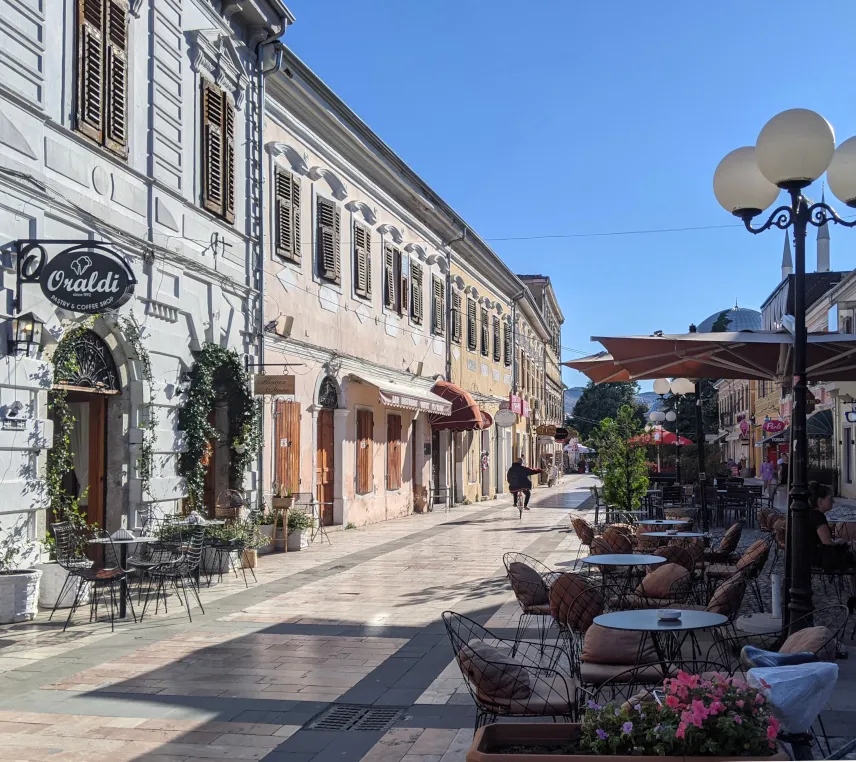 6. Shopping at Rruga Europa
While looking for new shoes, we found this hidden gem of a shopping area where you can literally buy everything in cute little shops on the sidewalk.
7. Shkoder Historical Museum
The Historical Museum of Shkodra opened in 1947. Visitors will find exhibits from everyday life over the past centuries. Additionally, artefacts from Roman and early Christian times are on display.
8. Marubi National Museum of Photography
The Marubi National Museum of Photography was founded in 1856 by Pietro Marubbi, an Italian painter and photographer who settled in Shkoder. The studio was directed by three generations of photographers until the early 1950s with the rise of communism. The current museum is designed to promote the dialogue between tradition and modernity.
9. Ebu Bekr Mosque
The mosque was built from 1994 to 1995 on the site of the old Fushe Cela Mosque, which was destroyed during the communist era. It is named after Abu Bakr, the first Rashidun caliph. The mosque covers an area of 622.72 square metres (6,702.9 sq ft) and can accommodate 1,300 worshippers.
10. Shkoder Cathedral
Also known as St Stephen's Catholic Church, Shkoder Cathedral was closed in 1967 and reopened in 1990.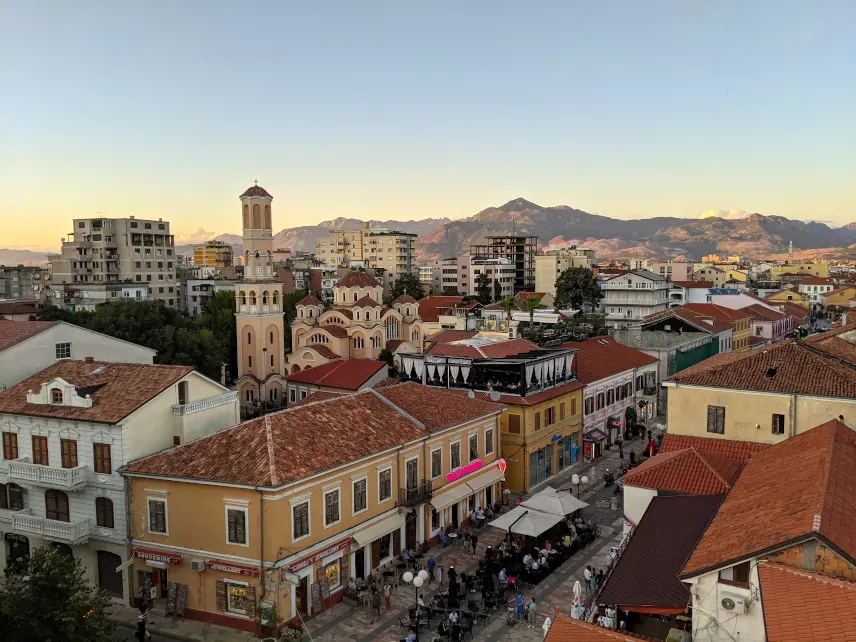 Things to Do on the Outskirts of Shkoder
11. Rozafa Castle
If you ask us, Rozafa Castle is the highlight of Shkoder. Also known as Shkoder Castle, it rises on a rocky hill 130 metres (430 ft) above sea level. It is surrounded by the Buna and Drin rivers which provide a stunning backdrop for your views.
12. Mesi Bridge
Mesi Bridge is located in the village of Mes, about 5 km (3.1 mi) northeast of Shkoder. It was built in the 18th century by the local Ottoman pasha and spans the Kir River. With 13 arches and a length of 108 m (350 ft), it is one of the longest Ottoman bridges in the region. The architecture with slick round stones and stone plates is intriguing, and the surrounding panorama makes the bridge even more picturesque.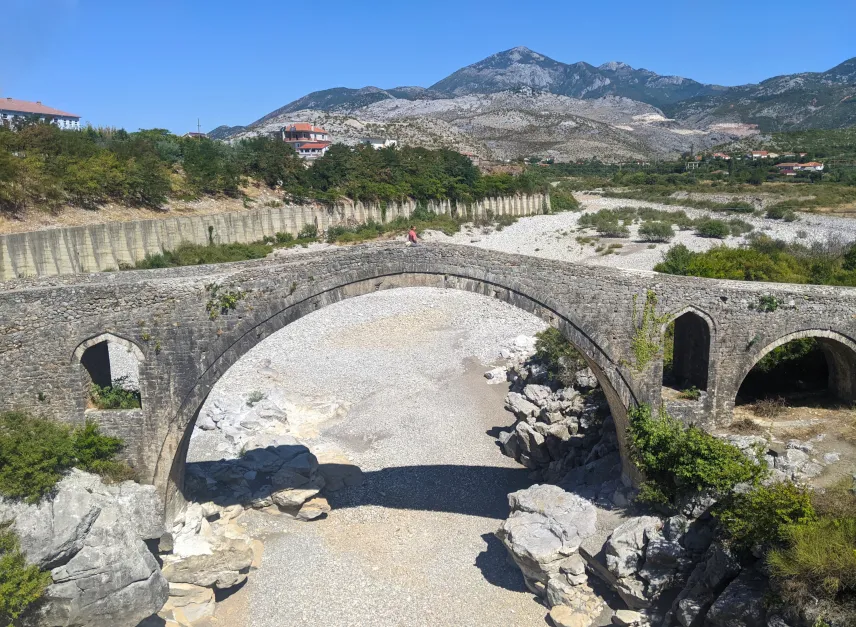 13. Go on a Bike Tour Bike – Maybe to Shiroka
Shkoder feels like the bicycle capital of Albania. At least we have seen more bikers here than in the rest of the country combined. And you can certainly feel the strength in numbers as some of the drivers are quite – let's say – confident.
How about a nice tour along Lake Skadar to Shiroka?
14. Lake Skadar
Speaking of Lake Skadar. No trip to Shkoder would be complete without a visit to the largest lake in southern Europe. Also called Lake Scutari or Lake Shkodra, it lies on the border of Albania and Montenegro. The Albanian section is a nature reserve.
You can explore the lake by boat. Either rent your own kayak or go on a cruise.
💡
We could only find cruises that start in Montenegro.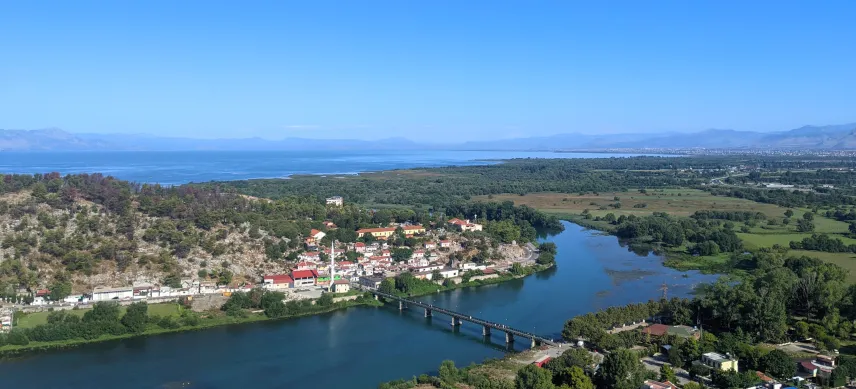 Day Trips From Shkoder
15. Mrizi i Zanave Agroturizem
Here, we had by far the best food in Albania. They literally farm everything they serve on site. You can even visit the farm. We had a set meal – one with meat and one vegetarian – and we cannot recommend both of them more.
16. Montenegro – Podgorica or Ulcinj
Shkoder is close to two Montenegrin destinations: The capital Podgorica and the beach seaside town Ulcinj. You drive around an hour to both of them, making them great for a day trip.
💡
If you have a rental car, you should check if you're allowed to take it across the border!
17. Hit the North Albanian Beaches – E.g. Lezha
Contrary to popular opinion, we were not the biggest fans of Ksamil Beach in the South of Albania. However, we fell in love with the less touristy beaches of Northern Albania.
Only a 45-minute drive from Shkoder, you'll find the beaches of Lezha with a perfect infrastructure but much cheaper prices and much fewer people than in Southern Albania.
The city of Lezha also features two highlights:
The Skanderbeg mausoleum right in the city centre. The memorial was built around the ruins of the medieval church of St. Nicholas.
Lezhe Fortress, which towers over the city. The remains of walls from ancient and Ottoman times can be viewed here.
Multiple Day Tours From Shkoder
18. Theth
To reach Theth, you have two options: Drive yourself or go on a guided tour. When we road tripped Albania in 2021, the road was just recently paved completely, making a 4WD car unnecessary. You can stop in Boga on your way.
Theth is a beautiful small village with historic buildings like the Defence Tower. Additionally, you can find beautiful natural sights like the northern Blue Eye and Grunas Waterfall.
Of course, the most famous activity is the hike between Theth and Valbona.
We just hiked to the top and back down. Of course, you could also hike all the way to Valbona, spend the night, and hike back the next day to pick up your car.
19. Valbona + Komani Lake
Alternatively to driving to Theth and doing the hike back and forth, you could book a round trip tour. On the first day, you'll take the ferry across Komani Lake to Valbona. On the second day, you'll hike the Theth-Valbona-Pass. On the third day you'll drive back.
20. Shala River + Komani Lake
If you want to take the Komani ferry but want to avoid the admittedly strenuous hike, how about combining it with a visit to the Shala River?
Shala River is only accessible by boat, so it's the perfect remote getaway!
Shala River is only accessible by boat, so booking a tour is the most convenient way of getting there!
21. Boge
Boge is a picturesque village in the Albanian Alps. It's best visited as a stop on the way from Shkoder to Theth. In the area around Boge, you'll find some of the most important caves in Albania.
22. Peaks of the Balkans
The Theth-Valbona hike is part of the Peaks of the Balkans, a 192 km (119 mi) long-distance hike in the Albanian Alps. It leads over ten daily stages through Albania, Kosovo and Montenegro.
Why not hike it all?
You can decide whether you want to hike the full 10 days or if you're fast enough to do it in 7 😉
Shkoder Travel Guide
Is Shkoder Worth Visiting
Why visit Shkoder, I hear you ask. It's not only the gateway to the Albanian Alps but also one of Albania's oldest continuously inhabited cities, with roughly 2,200 years of recorded history.
Shkoder is regarded as the traditional capital of northern Albania, with loads of arts and culture. The architecture of Shkoder is particularly dominated by mosques and churches, reflecting the city's high degree of religious diversity and tolerance.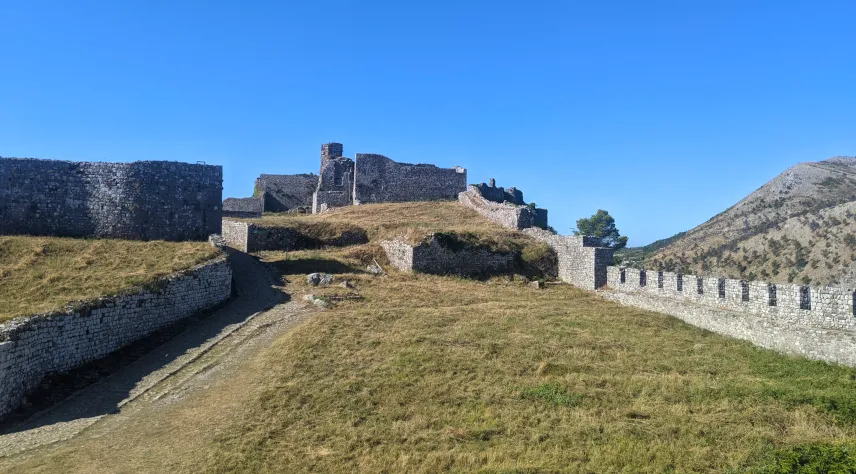 Where is Shkoder
Shkoder is located in Northern Albania, close to the Montenegrin border.
How to Get to Shkoder
Shkoder can be easily reached from Albania's capital Tirana. The three main options to get from Tirana to Shkoder are:
(rental) car
bus
tour/taxi
How to Get Around Shkoder
The city centre is walkable.
If you don't have your own car, you should rent a bicycle or go on a guided tour to explore Lake Skadar, Rozafa Castle, Mesi Bridge or even further away.
Where to Stay in Shkoder
We stayed at My Hostel. It's right in the city centre and super cosy.
Shkoder or Shkodra?
In case you're confused about the correct spelling, like us: Shkodra is the definite Albanian form of Shkoder. Unlike in English, the definite article can be in the form of noun suffixes, which vary with gender and case.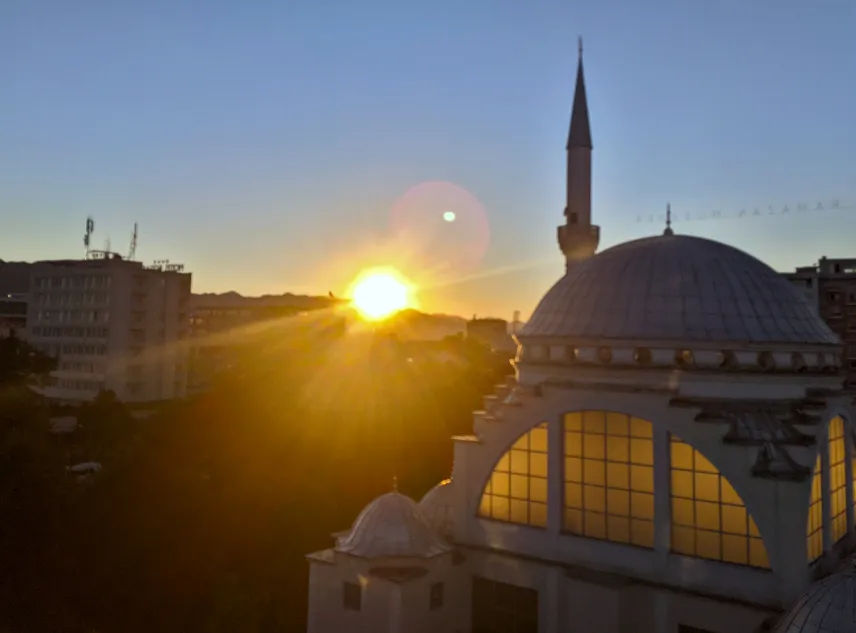 This post contains affiliate links. If you use these links to buy something we may earn a commission. You would help us a lot if you do so. Thanks.