We visited Jale Beach and Aquarium Beach in Albania to give you all the information you need for your visit including
Why you should go
How to get there
The best Jale Beach Albania hotel
Things to do at Jale Beach
Jale Beach Albania
Why You Should Visit Jale Beach
The pebbly Jale Beach is famous for its crystal clear blue waters.
It used to be a hidden gem. Nowadays, it's not so much anymore. Still, it's nowhere near as crowded and expensive as Ksamil Beach.
During the main season, it's the perfect party place. You'll find plenty of bars, sunbeds, and loud music.
The parties at Folie Marine Jale are famous (or infamous) throughout the whole country.
Jale Beach is very quiet during the off-season. If you're looking for some peace and quiet during the main season, head to Aquarium Beach next door!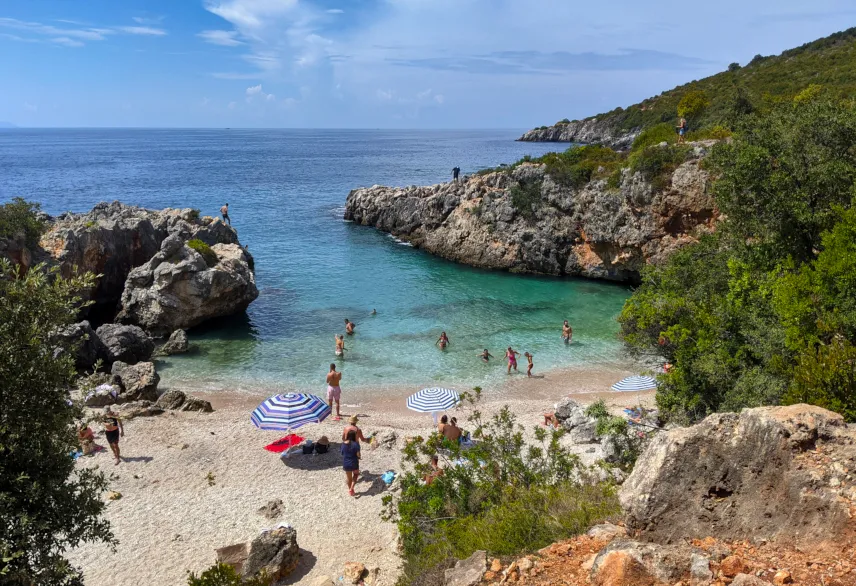 Where is Jale Beach
Jale Beach is located on the Albanian Riviera between the beach towns of Himare and Dhermi.
It's a 1.5 hours drive from Saranda and a 4 hour drive from the capital Tirana.
How to Get to Jale Beach
Getting to Jale Beach by Rental Car
By far the easiest way to reach Jale Beach is by rental car.
Getting to Jale Beach by Boat
To reach Jale Beach without a car, you can also take a boat from the nearby Himare Beach.
Getting to Jale Beach by Public Transport
You can reach Jale Beach by bus but it's a hassle. Minivans leave from Tirana or Saranda three times a week. You have to get off at Vuno.
From here, it's a 6 km (3.5 mi) walk downhill. Be aware that you have to walk back up as well. Ask your accommodation if they can arrange transport from Vuno for you if you don't want to walk.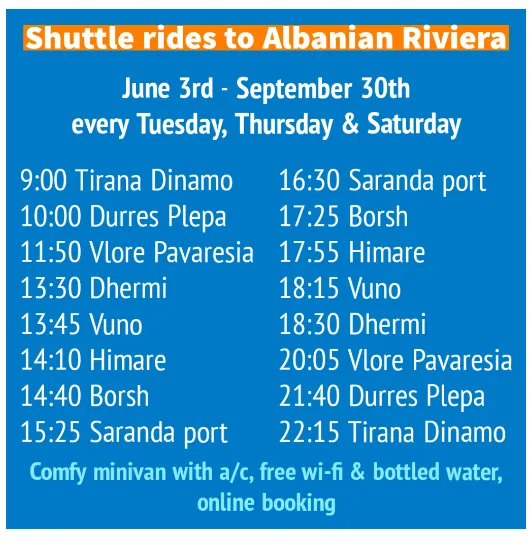 Where to Stay at Jale Beach
Jale Beach Hotel
Here are some of the best Jale Beach hotels:
Jale Beach Albania Hotels
Currently, there are not many hotels in Jale Albania:
3 stars
7.8 rating on Booking.com
on the beach
103€ per night (main season)
free breakfast
4 stars
5.8 rating on Booking.com
private beach
240€ per night (main season)
free breakfast
Camping Jale Albania
Camping is a great alternative when you don't want to pay for a Jale hotel.
8.8 rating on Booking.com
on the beach
30€ per night (main season)
bungalows available
free breakfast
9.3 rating on Booking.com
amazing hospitality
300 m (0.2 mi) from the beach
25€ per night (main season)
Mobile homes available
free breakfast
Folie Marine Jale Albania
Folie Marine Jale is the most upscale accommodation in Jale:
7.4 rating on Booking.com
private beach
swimming pool
300€ per night (main season)
free breakfast
💡
Folie Marine is famous for their parties. The nightclub is actually open day and night. They offer live Music and DJs from all over the world. Sometimes, there are pool parties so be aware of that.
Is Jale Beach Expensive
Jale Beach is medium-priced. Expect to pay around:
15€ for per person for a night in a tent
50-100€ per person for a night in a hotel
10-20€ for a sunbed, depending on the location
5€ for a beer
1€ for ice cream
1€ for coffee
There is no supermarket so bring food or expect to eat out.
💡
Parking should be free. Don't fall for a scam!
Best Time to Visit Jale Beach
What is the weather like at Jale Beach? The best Jale Beach weather is between April and October when temperatures mostly reach above 20°C.
July and August are high season and hence also the most crowded. Temperatures can reach over 30°C.
June and September are the best months to visit. The air is warm and the sea is warm enough to swim in (especially in September) but you'll avoid the crowds.
💡
If you want to stay overnight during the off-season, check the hotel and restaurant opening times!
What to Do at Jale Beach
To be honest, there are not plenty of things to do at Jale Beach.
1. Lounge on the Beach
This is the main reason to come here. Sunbeds cost upwards of 1000 Lek depending on the location but you can also sit on the beach for free.
2. Beach Bars and Restaurants
We found all places to be rather similar. Most of them have good ratings on Google e.g.:
Kapiteni
Marinero
Lemon at the Beach
3. Scuba Diving
Explore the crystal-clear waters from below!
4. Sea Caves
There are some sea caves near Jale. Pirate Cave is probably the most famous. You have to take a boat to reach them.
5. Kayak
You can also rent out a kayak to explore the sea caves or even the nearby Gjipe Beach if you feel especially active.
6. Vuno
The small village of Vuno is not only the place where the minibus to Jale Beach will drop you off. It is also a charming place full of white houses with orange roofs and steep cobbled streets. Flower pots, vines and coloured gates add to the beauty of the place. Stroll through the alleys and get lost in this hidden gem.
7. Hike to Gjipe Beach
The hike from Jale Beach to Gjipe Beach is around 3 km (1.8 mi). You need to follow a goat's path. Most of the time, there are a lot of thorns from the small bushes along the way, therefore make sure you wear long trousers. You can see virgin beaches and sea caves on the way.
Disclaimer: We have not done this hike ourselves and hence cannot comment on the difficulty.
8. Gjipe Canyon
There are not too many land-based activities around Jale. One of them is Gjipe Canyon. You can enter it from Gjipe Beach. If you go by car, you can access the canyon edge with viewpoints from the car park. You should not try to access the canyon from above without climbing gear.
The Canyon of Gjipe has a length of 800 metres (2,600 ft) and a width that varies between 10 metres (33 ft) and 20 metres (66 ft). It is a calcareous canyon carved by the Ionian Sea. There are numerous rock formations along the canyon, including some caves.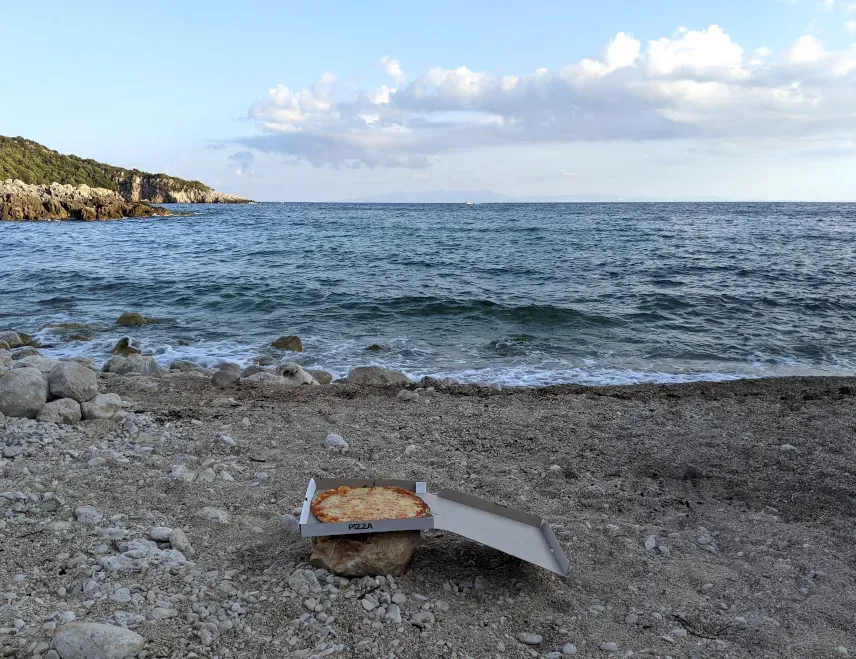 Aquarium Beach Albania
Why You Should Visit Aquarium Beach
Aquarium Beach is the perfect alternative when Jale Beach gets too crowded. Additionally, it's a great spot to see some fish. Locals call this place Gjiri i Akuariumit (Bay of the Aquarium) for a reason!
Where is Aquarium Beach
Aquarium Beach is located on the Albanian Riviera between Jale Beach and Livadi Beach. The distance is around 1.5 km (1 mi) to both beaches.
How to get to Aquarium Beach Albania
If you don't have a 4WD car, you have to walk. Trust us, we tried to take our regular camper van and failed. You can either walk from Jale Beach or Livadi Beach.
Camping at Aquarium Beach
There is no infrastructure, no showers, no food or drinks, no sunbeds, and no WiFi.
This makes Aquarium Beach the perfect camp spot in our opinion.
As there are also no accommodations at Aquarium Beach, wild camping is your only option.
If you have a 4x4 car, you can drive there. If not, it's always possible to pitch a tent!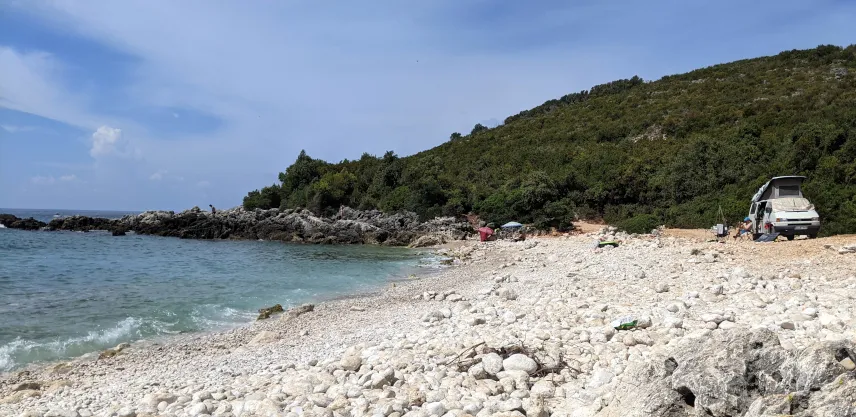 Which Beaches are Close to Jale Beach?
Gjipe Beach
Gjipe Beach Albania is a remote beach close to Jale. You can only reach it by hiking or by boat.
The beach is pebbly with crystal-clear water. There are several sea caves in the area. The shallow coastal waters provide a habitat for the loggerhead sea turtle and dolphins are not uncommon in the region.
To reach the beach, you have to walk around 20 minutes from the car park if you have a 2WD. If you have a 4WD, you can drive all the way to the beach.
Gjipe Beach used to be virgin but nowadays, you can find some restaurants and sunbeds for rent.
There are no Gjipe Beach hotels directly at the beach but Gjipe B&B Blu Horizon is located at the car park.
And then, there's Gjipe Beach camping. First of all, there's Gjipe Eco Campground. For 30€ per night, you can sleep on the beach and enjoy amenities like free breakfast and a bathroom.
Second, there's wild camping which is legal in Albania. During the main season, there will be a lot of it, especially during the weekends. Brace yourself for some music, campfires, and cooking smells. We heard that Gjipe Beach can turn into some kind of Hippie party place during summer weekends.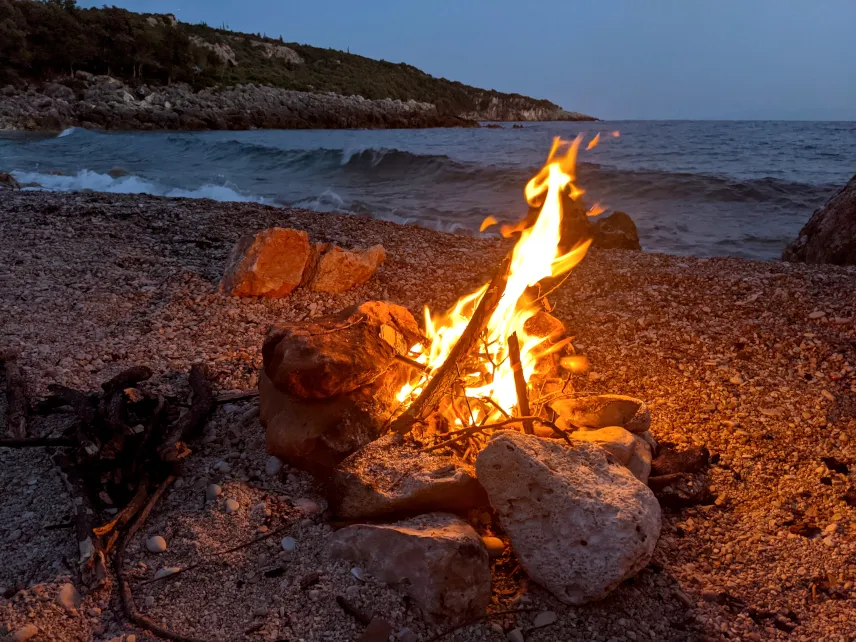 Dhermi Beach
Like all beaches in the area, the pebbly Dhermi Beach comes with crystal clear turquoise blue water. What makes Dhermi stand out is the nicely designed beach promenade. Here you'll find some restaurants and small shops as well as some cool beach clubs and bars.
Dhermi Albania is popular with young people. The beach clubs turn into party places in the summer evenings. There is loud music so it's not the best place for travellers who seek peace and quiet.
Prices are average Albanian prices. Expect to pay around 10€ for sunbeds and an umbrella. There's also plenty of room to lay down on your beach towel for free as the beach is quite long and wide.
Another thing that makes Dhermi Beach special is the adjacent village of Dhermi with its beautiful white Mediterranean houses.
Drymades Beach
Lonely Planet describes Drymades Beach Albania as follows: "One of the more attractive beaches on the Albanian Riviera is Drymades. It's a long, shingle white beach backed by olive groves and the first stirrings of development."
It's a perfect addition or alternative to the nearby Dhermi Beach for people who like it more quiet.
Livadi Beach
Livadi Beach Albania still flies under the radar for most tourists. You will find an amazing infrastructure with hotels, beach bars, restaurants, and even mini markets without the crowds of places like Ksamil or Saranda.
Prices are significantly lower than in other parts of Albania. You can find sea view rooms with amazing ratings for as little as 40€ per night.
This post contains affiliate links. If you use these links to buy something we may earn a commission. You would help us a lot if you do so. Thanks.