Interested in doing some backpacking in Panama? This Panama travel blog will provide you with unique things to do as well as the best places to visit in Panama!
You can use this Panama itinerary as a loop and fly in and out of Panama City. You can also use it to incorporate it in a longer Central and South America trip travelling to and from Costa Rica and Columbia without any flights.
Our itinerary takes at least 2 weeks in Panama to complete but of course, you can also stay longer and extend your stay in Bocas del Toro for some beach vibes, Santa Catalina for some surfing, Valle de Anton for some hiking or Panama City for some city vibes - there's really no upper limit.
Why visit Panama?
Why is Panama worth visiting? Easy! It's one of the most diverse countries in Central America with a great tourist infrastructure. From families over couples to solo backpackers Panama offers something for everyone. You can stay in cheap dorms, glamping tents or all-inclusive resorts. You can take tourist shuttles or the save and convenient public transport. You can eat traditional dishes or western food. You can relax on the beach or hike. You'll find waterfalls, volcanoes as well as paradise islands. The wildlife is incredible on land and in the water.
What to do in Panama?
Hiking Panama
The best destinations to hike in Panama are Boquete, Hornito, and Valle de Anton.
Best beaches in Panama
The best beach destinations are Panama's amazing islands like Bocas del Toro and San Blas in the Caribbean as well as in the Gulf of Chiriqui in the Pacific.
Budget Panama
Panama is not the most budget-friendly country in Central America. In fact, it was the country with our highest spending per day on our half-year trip. We roughly spent 70 USD per person per day (yes, the official currency used in Panama is the US Dollar), which also included expensive activities such as diving.
Day 1-3: Bocas del Toro
Bocas del Toro is one of Panama's two main Caribbean island paradises - the other being San Blas. If you're an island and beach lover like we are, we definitely recommend visiting both. We also recommend to visit more than one island if your time schedule allows for it. Stay on the main island Colon for major party vibes and move to a quieter island-like Solarte or Bastimiento for some relaxation afterwards.
Things to do in Bocas del Toro
Of course, there are plenty of things you can do in Bocas del Toro, including chocolate tours and sloth spotting but the main two reasons why people come are the nightlife and the beaches. It's super easy (and reasonably priced) to take taxi boats around the archipelago.
Bocas del Toro beaches
Locals told us that their favourite beach is Playa Bluff on Colon. Our personal favourite is Playa Polo on Bastimiento. It's the quintessential Caribbean beach with palm trees, coconuts, and some nice snorkelling. The famous Red Frog Beach is nice but the waves and currents are quite strong so it's tough to swim.
Bocas del Toro nightlife
The pinnacle of all Panamanian parties is Filthy Friday in Bocas del Toro. It's an island-hopping party that goes on the whole day so it's not strictly part of the nightlife. Great party spots in Bocas del Toro include the Floating Bar, the Selina on Colon and the Aqua Lounge on Carenero.
Pro Tip: The Aqua Lounge is a hostel and a party location - stay here if you're looking to party hard (not necessarily if you're looking for sleep). It's also the last stop of the Filthy Friday party. If you stay in the hostel, you can just pregame here and save the 30$ entrance fee. Additionally, the afterparty is wild and only open for guests of the hostel*.*
Bocas del Toro scuba diving
Diving or snorkelling Bocas del Toro is a definite recommendation. We dove with Panama Dive School and could not recommend them more (not sponsored).
You can either go snorkelling from the beach like at Polo Beach on Bastimientos or join a guided tour for example to Zapatilla. Be careful that you cannot go snorkelling everywhere because some beaches face the open Caribbean and have too strong waves and currents.
How to get from Panama City to Bocas del Toro
There is a daily night bus from Panama City to Bocas del Toro. It leaves at 8 pm and the drive from the Albrook terminal to Almirante takes around 9 hours. Here, you can take a watertaxi. The providers are all on the same road in case you want to compare and leave regularly throughout the day.
How to get from Puerto Viejo to Bocas del Toro
We took a shuttle, it's the easiest option. At a price of 25$ (including the boat) you just don't save that much compared to public transport and they also help you with the border formalities.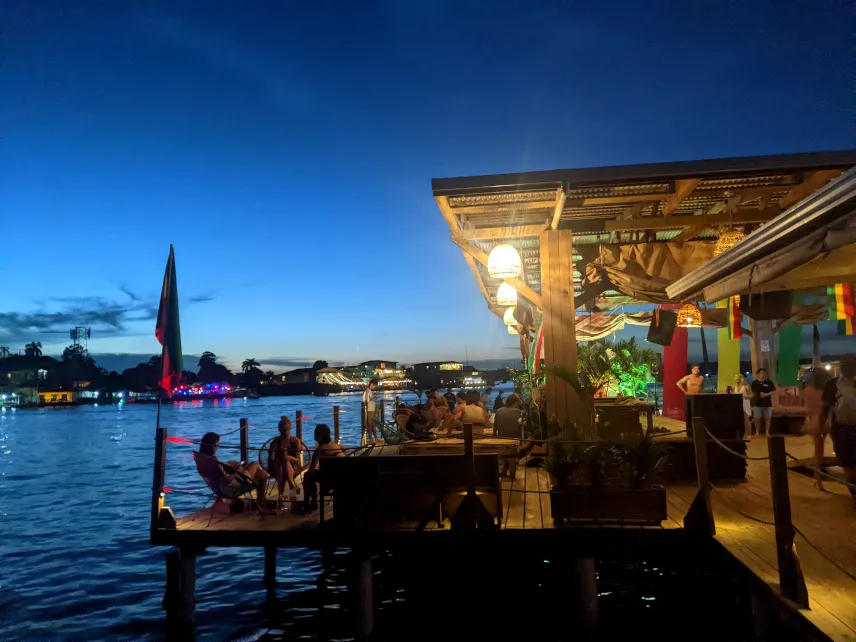 Day 5-7: Hornito or Boquete
Explore the Panamanian jungle. On the way from the Caribbean Coast to the Pacific coast, travellers have basically two options: Hornito and Boquete. We chose Hornito because it's easier to reach as it lies directly on the way between Almirante and David. The downside: There is not much to do in the area besides hiking. If we could choose again, we would probably stay in Boquete, where you have a lot more infrastructure and options.
Things to do in Hornito
People come here to hike and enjoy the cloud forest.
Celestine Waterfalls
Celestine Waterfall is one of the most beautiful waterfalls in the area. It's a true hidden gem as it's not marked on Google Maps. You'll have to hop on a bus to reach it and bus drivers will know where to drop you off. Your hostel will give you detailed directions.
Lost and Found Hostel
The Lost and Found Hostel might be the most infamous hostel in this region. To be completely honest, it might not be the best place to stay during rainy season as you have to hike in and many areas lack roofs. But it's definitely a great social place to keep you busy. They offer hiking trails, a treasure hunt and communal dinners which makes this an amazing base for solo travellers.
How to get from Puerto Viejo to Hornito
Absolutely no need for a shuttle here. Most people take a boat to Almirante, a 1$ taxi to the bus terminal and hop on the bus to David. Tell the driver where you want to be dropped off in Hornito and the bus will stop.
Another option is to take the boat to Chiriqui Grande. Buses either leave directly at the harbour or a shared taxi will bring you to the gas station for 1$ where you can hop on a bus to David
Things to do in Boquete
Like Hornito, people come here to hike. We have not been to Boquete ourselves but some of the things that have been recommended over and over to us are:
The Lost Waterfalls hike
Hike Baru Volcano
Take a coffee or chocolate tour
Our shuttle driver recommended to visit the Caldera Hot Springs
Open blogpost
How to get from Bocas del Toro to Boquete
To get from Bocas del Tori to Boqete, the first step is the same as going to Hornito. You want to stay on the bus until David, where you can hop on a chicken bus to Boquete.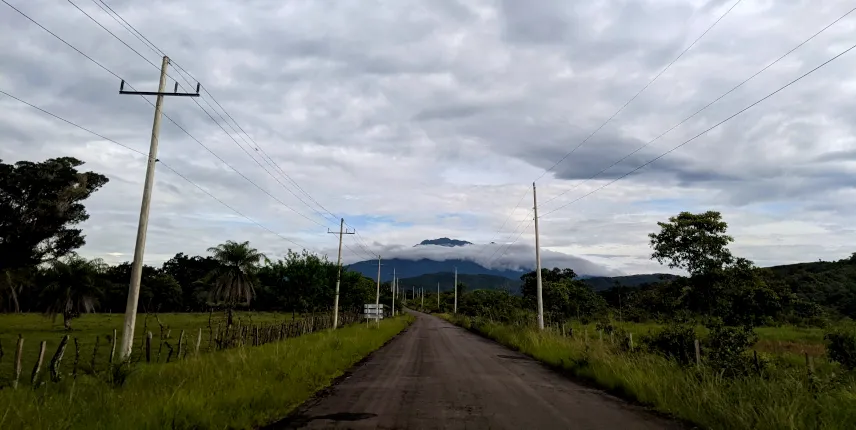 Optional (especially during the whale season): Boca Chica and the Gulf of Chiriqui
Disclaimer: We have not gone here ourselves as we did not visit Panama during the whale season from July to October but we heard that it's worth a visit all year round.
The fishing village Boca Chica is one of the last hidden gems of Panama. It's easy to reach from David by bus. It's also the jumping off point for the islands Isla Boca Brava, Isla Palenque, Islas Ladrones, Islas Paridas and Islas Secas in the Gulf of Chiriqui. The Chiriqui National Marine Park is a paradise for scuba divers and fishing enthusiasts.
Day 8-9: Santa Catalina
People come to Santa Catalina for two reasons: to surf and to visit Coiba. The town itself is quite sleepy with a few restaurant options but nowhere near as lively as other Central American surf spots like Puerto Escondido (Mexico), El Tunco (El Salvador) or San Juan del Sur (Nicaragua).
Pro Tip: As of 2022, there is one ATM in Santa Catalina but it's not 100% reliable.
Things to do in Santa Catalina
Surfing Santa Catalina
If you want to surf, you should base yourself at Playa El Estero - it's the nicest surf beach in town. Unless you're heavily into surfing 1 or 2 full days should be enough here. You can find various surf camps of which Surfers Paradise and Oasis Surf Camp come highly recommended.
Scuba diving Coiba
Scuba diving or snorkelling Coiba is one of the highlights in the whole of Central America. You can see a plethora of sharks (bull sharks, reef sharks, hammerhead sharks, whale sharks - you name it), rays, whales (July to October), turtles, and much more in this national park. Be warned that diving has quite a steep price tag here as you have to go far out with the boat - we paid 190$ for our three-tank boat dive including a small lunch and the nationalpark fees. We wish we could recommend our dive centre but we cannot, we heard good things about Panama Dive Center though.
How to get from Hornito or Boquete to Santa Catalina
Take a shuttle for 40$! You can theoretically take local buses but it takes ages. You can take a first bus to David, a second bus to Santiago, a third bus to Sona and a fourth bus to Santa Catalina. The bottleneck on your journey is the last bus from Sona to Santa Catalina. The last bus of the day leaves at 4 pm. We have met plenty of travellers who have missed this bus and needed to take a taxi for around 30$ which made their journey longer, more stressful, and more expensive.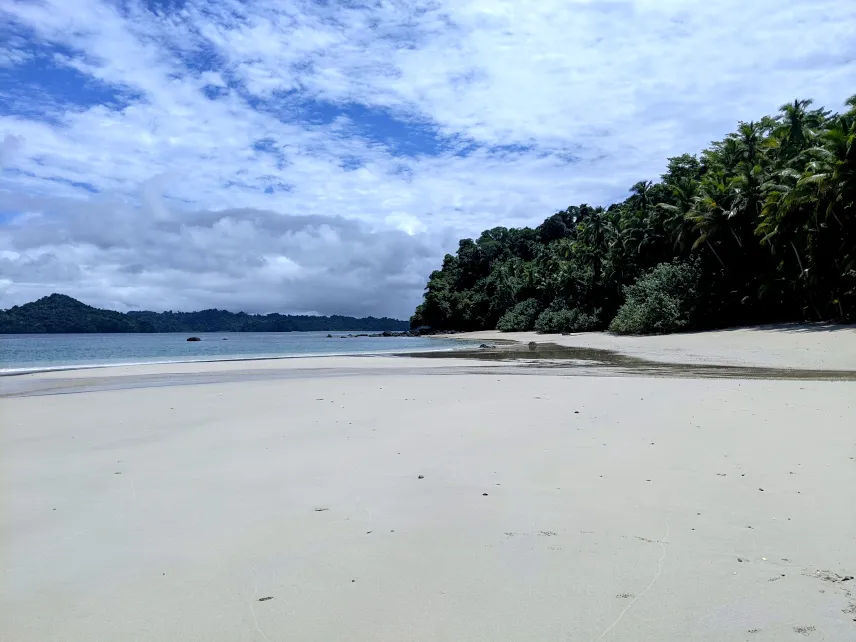 Optional (especially for hikers): Valle de Anton (Anton Valley)
Disclaimer: We did not go here ourselves as we were already quite "hiked out" by our previous hiking heavy travels through Central America.
Valle de Anton is the largest inhabited volcano crater in the world which seems pretty amazing in itself. The main activities are hiking and visiting waterfalls. In that respect, it's quite similar to Boquete and Hornito but it's more of a hidden gem.
You can reach it from Panama City by a direct minibus which leaves every 20 - 30 minutes from the Albrook terminal. If you're coming from the direction of David, you have to exit the bus at the Las Uvas crossing. Here, a colectivo leaves towards Anton Valley every 20 minutes.
Day 10-12: Panama City
Unlike other capitals in Central America, Panama City is definitely worth a visit. It's rather safe and walkable with some nice bar and restaurant options. There's a modern part of town, where you'll find skyscrapers and hotels with rooftop pools and the historic part of town or Casco Viejo. If you have the time it's nice to spend time in both areas.
Things to do in Panama City
There are a bazillion blogposts about things to do in Panama City so rather than giving a comprehensive list, we only name a couple of our favourite things.
Visit a rooftop bar
Or all of the rooftop bars. We have tried a different one every day and must say Tantalo is our favourite. Selina has a great view but mediocre service, Casa Casco offers no shade, and Lazotea is pretty pricy.
Take a free walking tour in Casco Viejo
Like all free walking tours, it's completely worth it - especially if you're too lazy to do a lot of research yourself.
Walk along la Cinta Costera
If you walk from Casco Viejo, you get great skyline views. Additionally, you can stop at Mercado de Mariscos for some cheap seafood.
Visit the Panama Canal
As people who are not engineering enthusiasts, we were a bit hesitant to make our way to the canal but we must say it was worth the visit. Plus it's an easy trip as you can just take an Uber.
How to get from Santa Catalina to Panama City
The easiest way is the 8 am bus to Sona. Here, you can hop on a direct bus to Panama City after a short wait which will bring you all the way to Albrook Terminal.
Day 13-14: San Blas
If you have time, don't just take a day trip but stay at least for one night. You'll be rewarded with an amazing sunset and sunrise as well as empty beaches.
Things to do in San Blas
Basically, you visit San Blas to do some combination of island-hopping and beach bumming. Of course, you can also learn more about the indigenous Guna Yala culture. Some of the highlights are:
Visit Pelicano Island
Which is famous from the Netflix series "Money Heist". There is not much to do here besides taking pictures, relaxing in a hammock or on the beach and some light snorkelling.
Take a tour to a Guna indigenous community and Saiba waterfall
Expect a hike and bring some good shoes. You can also buy a mola, the traditional textile art.
Eat seafood
It's not uncommon to get a lobster for dinner. Just enjoy.
How to get from Panama City to San Blas
It's easiest to take a tour. The road is quite bumpy and the region is part of the indigenous province Guna Yala which comes with its own rules and controls. Most tours are "all-inclusive" deals including transport, accommodation, food, and activities which is super convenient.
You can decide whether you want to be dropped off in Panama City again or continue your Central America trip and make your way to Columbia!

Open blogpost
This post contains affiliate links. If you use these links to buy something we may earn a commission. You would help us a lot if you do so. Thanks.