You have 2 weeks in Indonesia and want to see Java, Bali, the Gili Islands, Lombok, the Komodo National Park, and Flores? We have extended the typical backpacking Java, Bali, Lombok itinerary further east and show you how we managed to explore Indonesias highlights and hidden gems on our 2 week Indonesia itinerary.
Our Indonesia backpacking route for 2 weeks relies completely on public transport: buses, trains, boats, and the occasional taxi - all without any inland flights!
Java Itinerary
Day 1 – Arrival in Yogyakarta
Arrive in Yogyakarta, settle in and take in the atmosphere. We thoroughly enjoyed exploring this city and the Taman Sari Water Castle is a real hidden gem.
In the evening, go to Malioboro street where you'll find a lively night market full of super delicious food stalls as well as clothes and probably the cheapest souvenirs you'll find on this whole trip. Enjoy some street food and your first Bintang beer.
Day 2 – Borobudur and Prambanan Temples
The Borobudur is the largest Buddhist temple in the world. And while its sheer size is impressive, there are also plenty of details to explore, like the stupas and Buddhas on top and some intricate rock carvings. Additionally, the views are amazing. Prambanan is the largest Hindu temple in Indonesia and we're sure that it's equally as impressive and shouldn't be missed on your Indonesia travels.
How to get from Yogyakarta to Borobudur and Prambanan
If you only have a limited amount of time, don't repeat our mistake to try and take local buses. Yes, it's possible but it's time-consuming and they sometimes break down altogether (we write this from experience). If you want to see both of these amazing temples in one day, take a tour. They are not expensive and you can make the best of your limited time!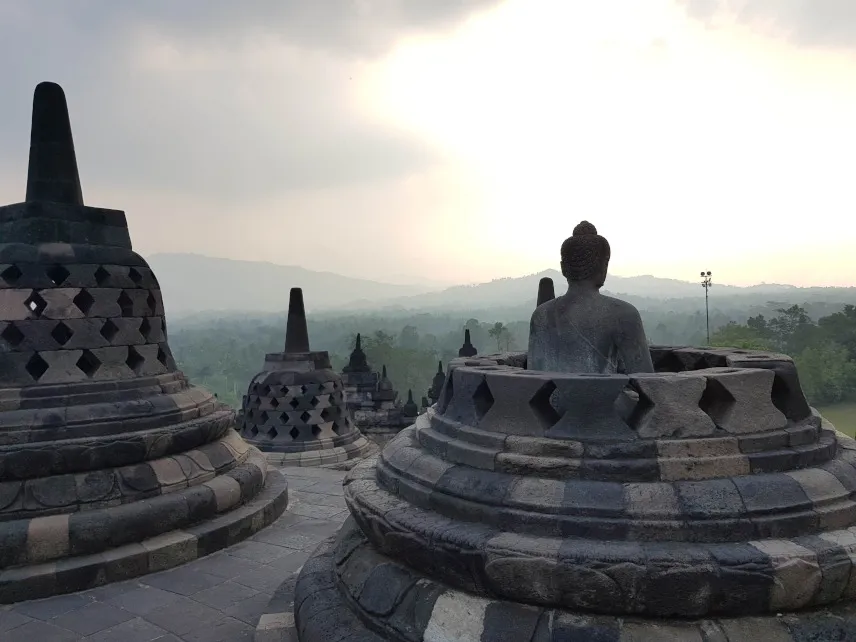 Day 3 – Train from Yogyakarta to Probolinggo
The next stop on this itinerary is Probolinggo because it's the perfect base to explore the Bromo volcano. It might seem excessive to dedicate a whole day of your limited time to a train journey but you'll need it. The ride itself takes at least 8 hours and is a super interesting experience in itself. And trust us: You want this day of rest before the next two days that are about to come.
How to get from Yogyakarta to Probolinggo with public transport
There are several trains from Yogyakarta to Probolinggo. Just go to the station and buy your ticket. Currently, the best option seems to be the direct train leaving at 11:15 am and arriving at 6:19 pm.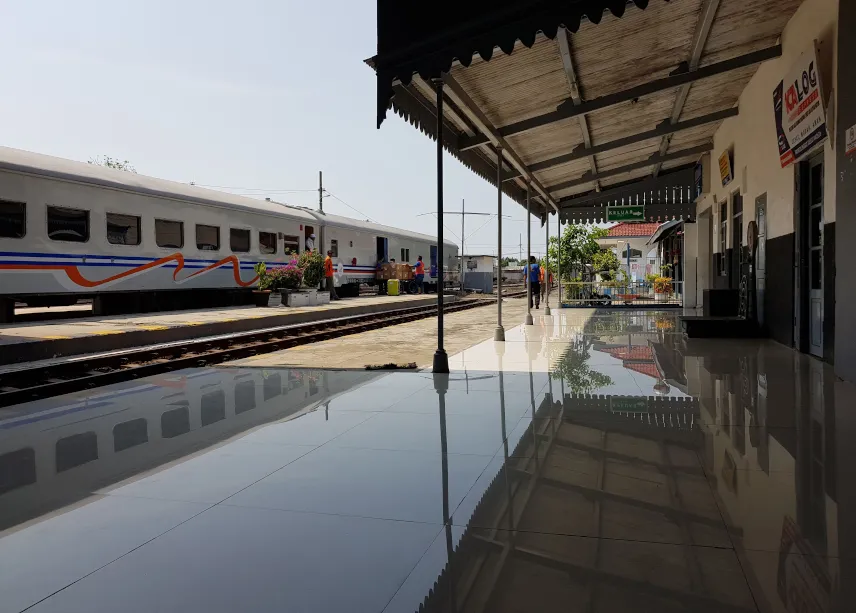 Day 4 – Day trip Bromo volcano from Probolinggo
Again, if you have a limited amount of time, you want to take a tour to explore the Bromo volcano. It's possible to do this self-guided with a scooter, but it's going to take more time. Many guesthouses in Probolinggo offer guided tours and ours was amazing. You'll get up in the dark to drive to a viewpoint and see the sunrise over the volcano. This might be the best picture spot we've ever been to. Afterwards, you drive through the caldera and make the short climb to the crater rim. If you are early and a fast walker you can leave the other tourists behind. Standing on the edge and looking down into an active volcano is an indescribable feeling. But beware, the rim might be a bit disconcerting if you are scared of heights.
Because this tour is a morning activity, you can hop on another train in the afternoon to Banyuwangi, the perfect base to explore the Ijen volcano. Make sure to get a good night's rest because this next hike is going to be tough.
How to get from Probolinggo to Banyuwangi with public transport
The train journey from Probolinggo to Banyuwangi takes roughly four hours. Although there are several direct trains per day, the 3:42 pm train currently seems to be the best option.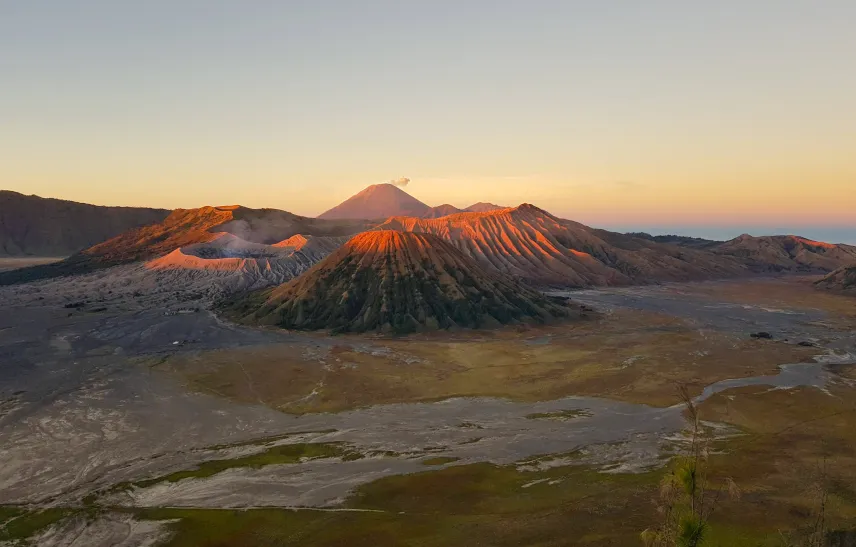 Optional: Tumpak Sewu waterfall
If you have a day to spare visit the super instagrammable Tumpak Sewu waterfall. It's on the south coast of Java, opposite Probolinggo. Apparently, the way down is quite a hike but it seems to be quite worth it to see the several streams of water flowing down a cliff edge with a volcano in the distance.
Day 5 – Day trip Ijen volcano from Banyuwangi
Book a guided tour to the Ijen volcano via your guesthouse in Banyuwangi, because you want to have a gas mask with you. And we don't assume that it's part of your regular travel gear. You'll leave in the middle of the night because the ascend begins at 1 am. You want to be in the crater before sunrise to see the unique blue flames! Don't underestimate this hike. Some people don't make it and you can even let yourself be pulled and pushed up the hill by several porters.
After you make it to the rim you'll start your descent into the crater. Here you'll see the famous blue flame. The colour originates from the sulphur, which is still actively mined in this volcano. To see the porters carry 80 kg (175 lbs) of sulphur and more up this steep mountain is awe-inspiring. And they do this several times a day! When the sun goes up you will be able to see the highly acidic crater lake. Once you make it back up to the rim, you can see the amazing views which you missed on your ascend during the pitch-black night.
Because this is a morning activity again, you can make your way to Bali in the afternoon.
How to get from Banyuwangi, Java to Ubud, Bali with public transport
The ferry to Bali leaves from Banyuwangi and a bus will take you from Gilimanuk on Bali to Mengwi, from where you can take a quick taxi to Ubud. The journey should take around 5 hours.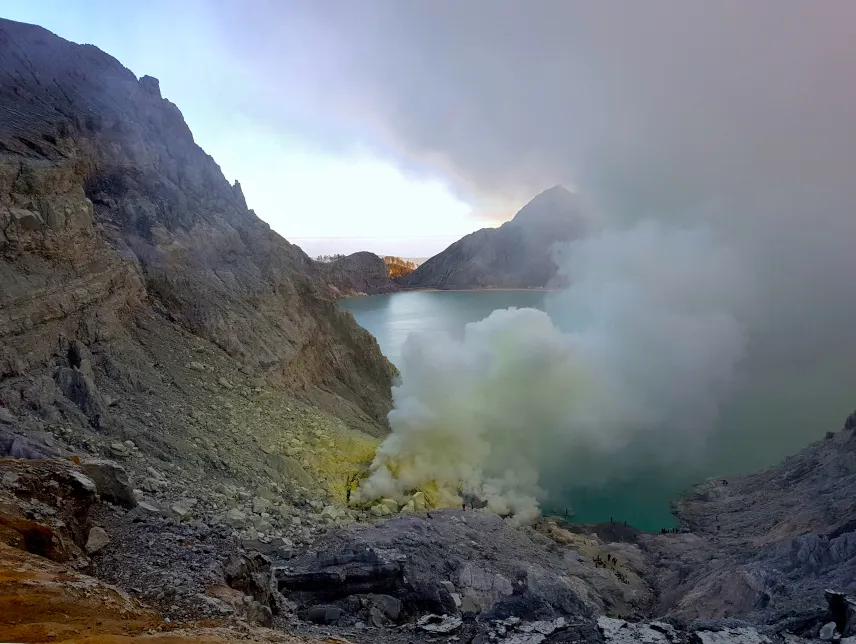 Bali Itinerary
Day 6 – Explore Ubud and its surroundings
We chose Ubud as a place to stay on Bali because it's central and there will be plenty of beaches waiting for you in the days to come. This is not a Bali guide, there a plenty of those online already. Instead, we'll give you a few of our must-dos.
We loved exploring Ubud with the instagrammable vegan restaurants and its beautiful temples, like the Saraswati water temple. In Ubud's surrounding, our favourites were of course the Tegallalang rice terraces and the Tirta Empul Temple.
On Bali, there are so many temples and waterfalls to visit, just pick the ones that sound most appealing to you! Of course, you can prolong your stay on Bali to your heart's content if you do have the time.

Day 7 – Bali to Lombok
Today, take the ferry from Bali to Lombok.
How to get from Ubud, Bali to Sekotong, Lombok with public transport
First, you need to take a taxi to Padang Bai.
If you don't plan to visit the Gili Islands, we advise you to take the local ferry to Lembar on Lombok, because it will bring you closer to your next destination Sekotong in southern Lombok.
If you do plan to visit the Gili Islands, there are speed boats readily available.
From Lembar, you will have to take another taxi. The taxi drivers there are quite aggressive. As the whole journey should take you around 5 hours, try to arrive in Lombok during the daylight hours.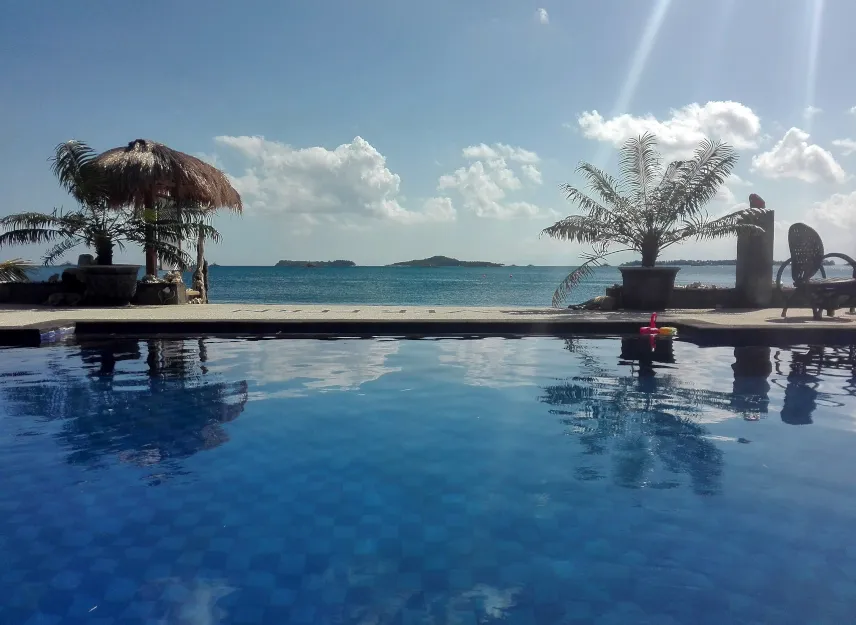 Lombok Itinerary
Optional: Gili Islands
If you do decide to visit the Gili Islands, there are three options: the party island Gili Trawangan, the quieter Gili Air, and the romantic Gili Meno. There are plenty of guides out there on the Gili islands.
We on the other hand have a different idea for your trip: the secret Gilis – a less touristy alternative to the three main Gili islands.
Day 8 – Day trip to the Secret Gilis from Sekotong, Lombok
The secret Gilis are a group of small islands off the coast of Sekotong, Lombok. Most of the islands are uninhabited but some do feature guesthouses. If you do have time to spare, spend a night on one of the islands. But they are also great for a day trip. The snorkelling we've done in this area was among the best we have ever done. You'll see plenty of soft corals and have a good chance to find a turtle or two. The beaches are beautiful and more often than not you'll have them all to yourself.
How to get to the secret Gilis from Sekotong, Lombok
Many places in Sekotong offer island hopping tours including snorkelling gear and several beach stops.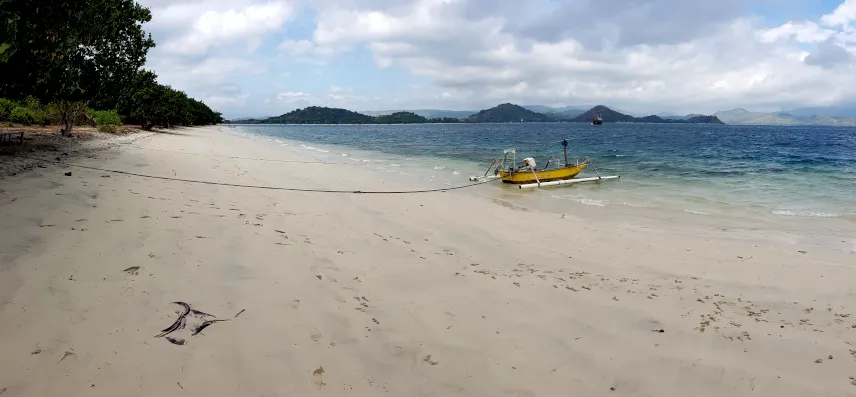 Komodo Islands itinerary
Day 9 - 12 Boat trip to Flores via Komodo National Park
This is where the real adventure of your trip starts. There are plenty of mixed reviews of this boat tour online and we advise you to read a couple of them before you decide to do this trip. Our journey was incredibly choppy, even the captain didn't come out of his cabin for a day because he was feeling unwell. The crazy thing? We would totally do it again!
The boat leaves in Lombok in the afternoon and you'll watch the sunset on one of the small islands off the coast of Sumbawa. On the next day, you'll visit the beautiful waterfall on Moyo island.
Day three is where the adventure begins. You'll visit Komodo Island where you'll get a first glimpse of the majestic Komodo Dragons. Afterwards, you'll visit Pulau Padar with the amazing pink beach (yes, it's really pink) and the Instagram-famous viewpoint. You end the day with the hundreds of flying foxes of Kalong Island.
On day four, grab the opportunity to visit the Komodo Dragons again on the island of Rinca. When we were there, we saw fewer tourists and more Komodo Dragons. Do opt for the longest hike, trust us, it's worth it! Afterwards, you'll go to Manta Point to try and find these majestic ocean dwellers.
In the evening, you'll be dropped off in Labuan Bajo. Our recommendation is to visit the local fish market for dinner, where you can gorge yourself on fresh fish for reasonable prices.
How to get from Sekotong, Lombok to the Komodo islands
The tours normally leave in the Mataram / Senggigi area so you have to make your way there first. A bus will pick you up and bring you to the dock. From here, you can enjoy a worry free 550 km ( 350 mi) trip along the course of 4 days / 3 nights.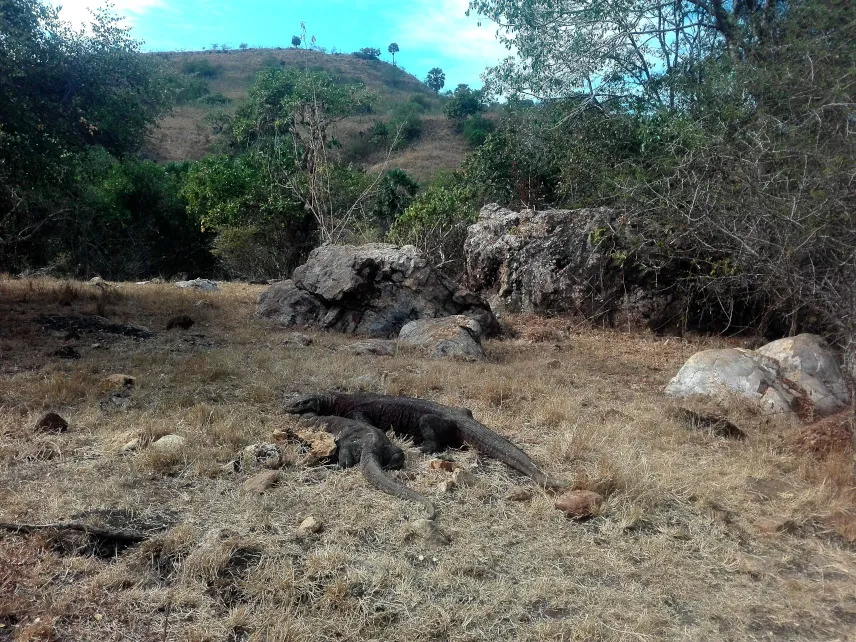 Flores itinerary
Day 13 – Labuan Bajo
Today, explore the surrounding of Labuan Bajo. Don't miss the stunning Gua Rangko cave, which you can only reach by boat. Additionally, there are some great waterfalls like the Cunca Wulang waterfall and great viewpoints like the Bukit Amelia Sea View.
If you're not ready to fly home just yet, you can travel further east on Flores and explore the traditional village Wae Rebo and the three coloured lakes of the Kelimutu volcano.