We visited Chiang Rai for three days in 2023. Here's our comprehensive and honest travel guide including hidden gems like a FREE TRAM as well as all the highlights like the White Temple – Plus a complete 2-day itinerary.
Important Things to Know Before Visiting Chiang Rai
Is Chiang Rai Worth Visiting?
Yes, Chiang Rai is worth visiting – if you have the time.
Chiang Rai vs Chiang Mai
Whether you should visit Chiang Rai or Chiang Mai is a different question. The short answer is: Visit Chiang Mai if you only have a limited amount of time. It's easier to reach from Bangkok and you can do similar activities like trekking and visiting hill tribes.
The major advantage that Chaing Mai has over Chiang Rai is the picturesque old town and the quality of life – also due to the many digital nomads.
Why should you visit Chiang Rai in addition to Chiang Mai you ask? It's less touristy. When visiting a hill tribe in the Chiang Mai area, it was crowded with other tourists. In Chiang Rai, we were the only group. Additionally, the unique White and Blue Temple are worth a visit.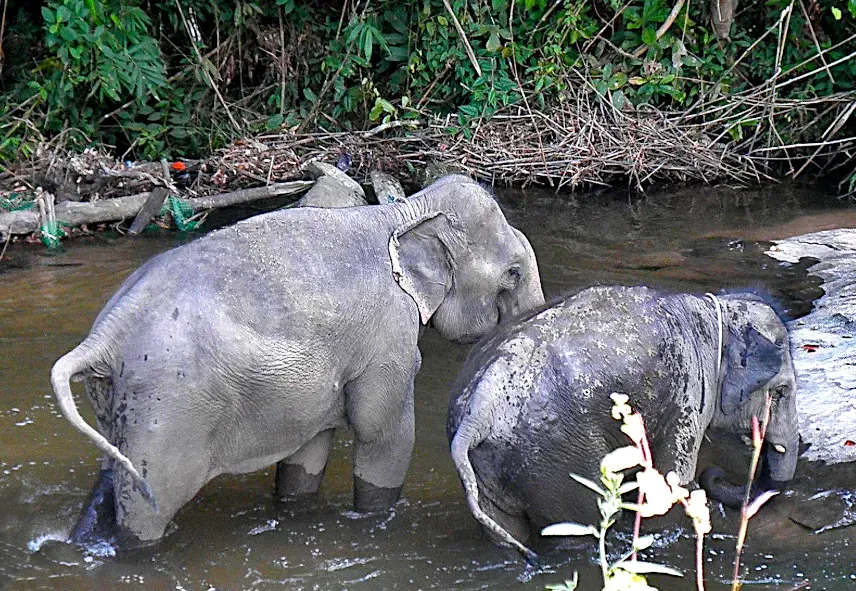 Getting to Chiang Rai
How To Get To Chiang Rai from Bangkok
Taking a direct bus from Bangkok to Chiang Rai is cheap, easy, and convenient.
How to get to Chiang Rai from Chiang Mai
Bus from Chiang Mai to Chiang Rai: Buses from Chiang Mai to Chiang Rai leave every 30 - 60 minutes throughout the day.
One Day Tour from Chiang Mai: A Chiang Rai day trip from Chiang Mai is a relatively cheap and easy option if you're short on time.
How to get to Chiang Rai from Laos
Chiang Rai is a great first stop when you come from Laos – it's only a 1.5 hours drive from the border. Transfers are widely available from Houayxay but you can also take public transport.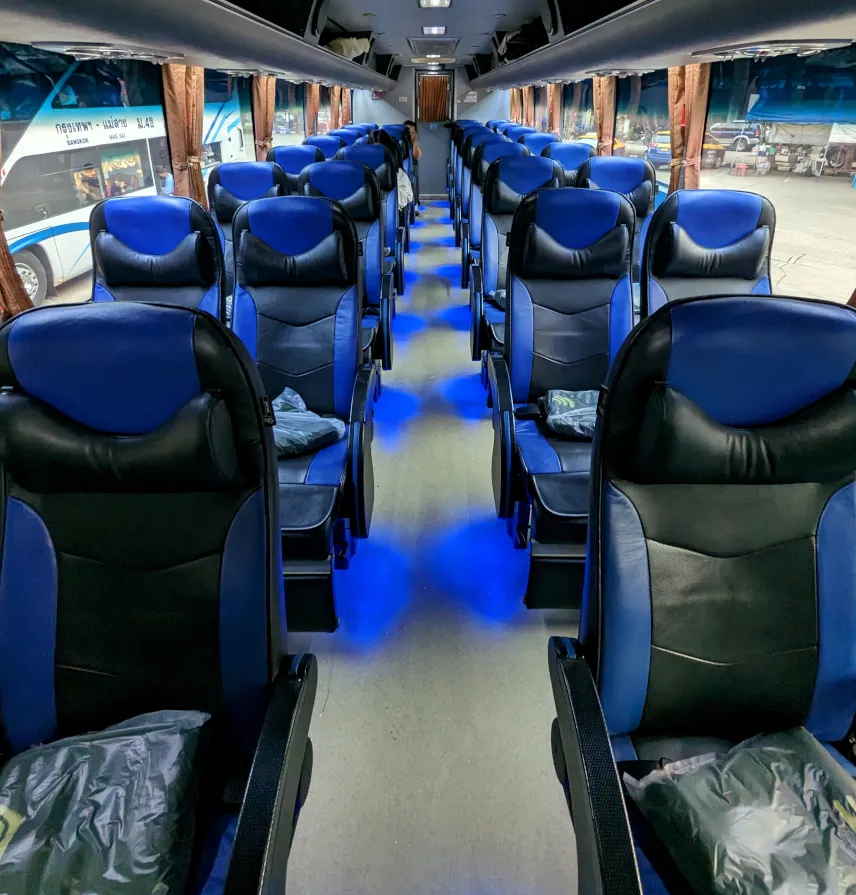 Getting Around Chiang Rai
There are six major modes of transportation in Chiang Rai:
Walking
Buses
Taxis
Motorbike rental
Bike rental
Tours
Most places in town are within walking distance.
Other destinations like the White and Blue Temple are a bit outside of the town centre so you need some form of transportation.
Tourist destinations like the White Temple can be reached by bus from bus terminal 1. The stop is easy to find and signposted in English but we cannot comment on the frequency of the buses.
Taxis are a good option if you want to stay more flexible. Don't just flag down a taxi in the street but use an app like Grab or Bolt.
If you want to be flexible and dare to drive a scooter or motorcycle, rental places are widely available.
We also met some tourists on bicycles (just putting it out there as an option 😉).
If you're short on time, a tour is the best option to see all the sights in one day.
Chiang Rai Bus Terminal
Chiang Rai has two bus terminals which can lead to some confusion.
Chiang Rai Bus Terminal 1
Buses to Chiang Mai leave from bus terminal 1 which is in the city centre and hence within walking distance to most points of interest.
Chiang Rai Bus Terminal 2
Chiang Rai Bus Terminal 2 is a 15-minute drive out of town. This is where buses to Bangkok leave. We could not buy tickets anywhere in town (not at our guest house, any travel agency or bus terminal 1) so you either have to go there in person or buy your ticket online.
You can reach terminal 2 by bus e.g. from terminal 1 or by Grab/Bolt.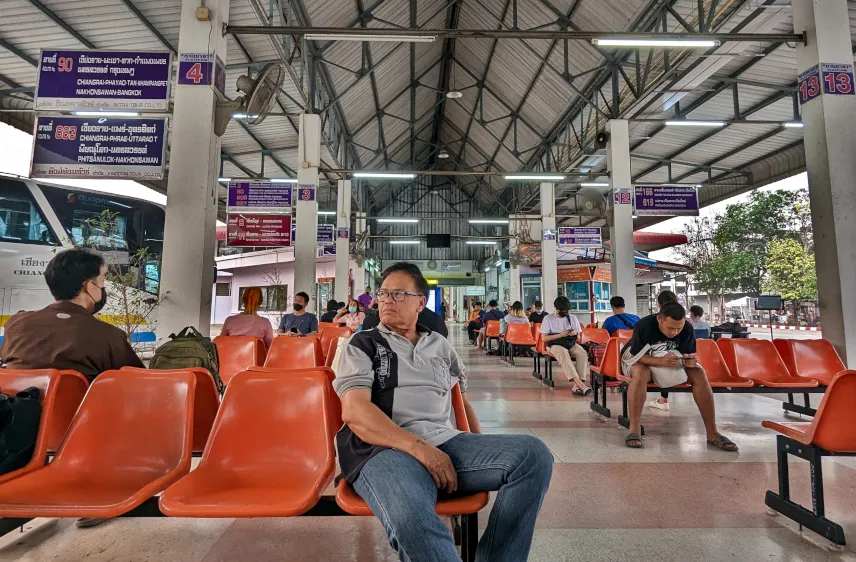 How Many Days For Chiang Rai
Depending on your time and interests, 1-2 days are enough to see the major sights of Chiang Rai (see our itinerary below).
Best Time to Visit Chiang Rai
The dry season in Chiang Rai is from October to February, so this is the best time to visit.
Chiang Rai Air Quality
From January to March, it's the burning season or smokey season. Make sure to check the air quality during this time of the year because it can be detrimental to downright dangerous. When we were there in March, we had to wear a mask pretty much the whole time.
Where to Stay in Chiang Rai
Our favourite Chiang Rai guest house is Baan Bua Guest House. It is a green oasis right in the centre of Chiang Rai.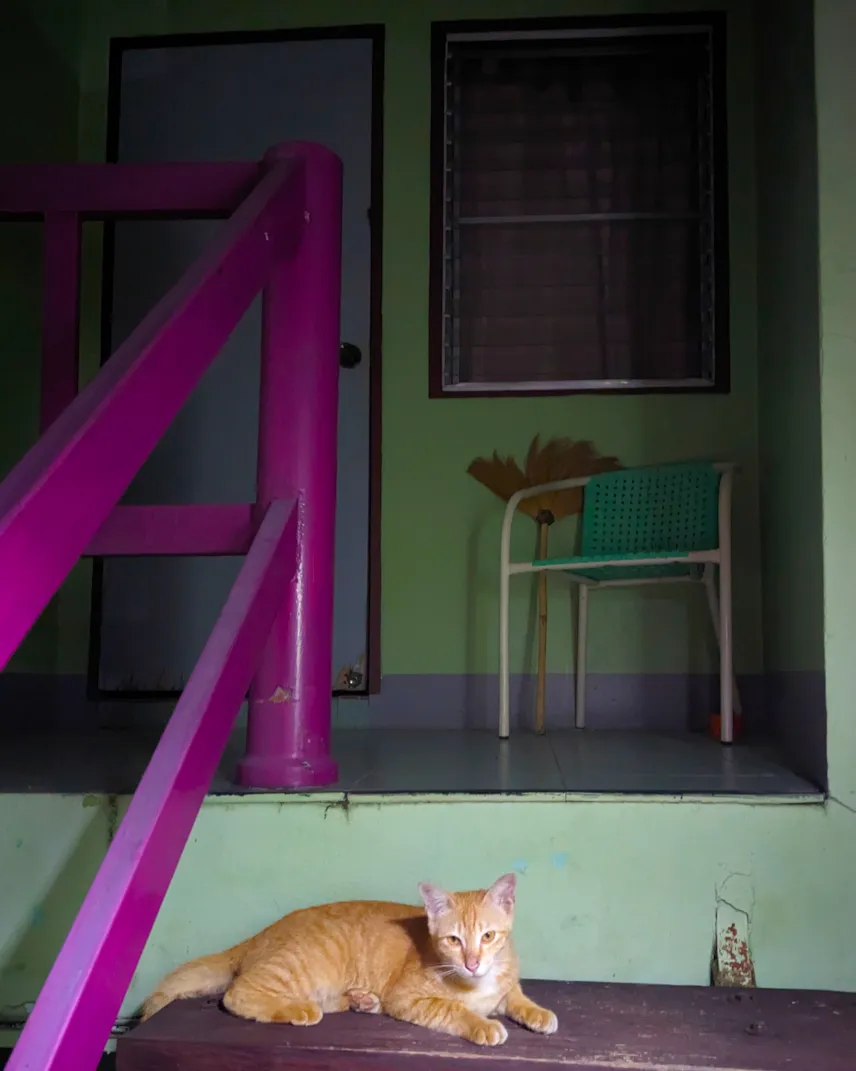 Chiang Rai Food and Drinks
Chiang Rai Cafe
Chiang Rai is famous for its coffee. We loved Kalae Cafe for its Thai coffee and delicious food. They also had super fast internet and power outlets if you need to get some work done.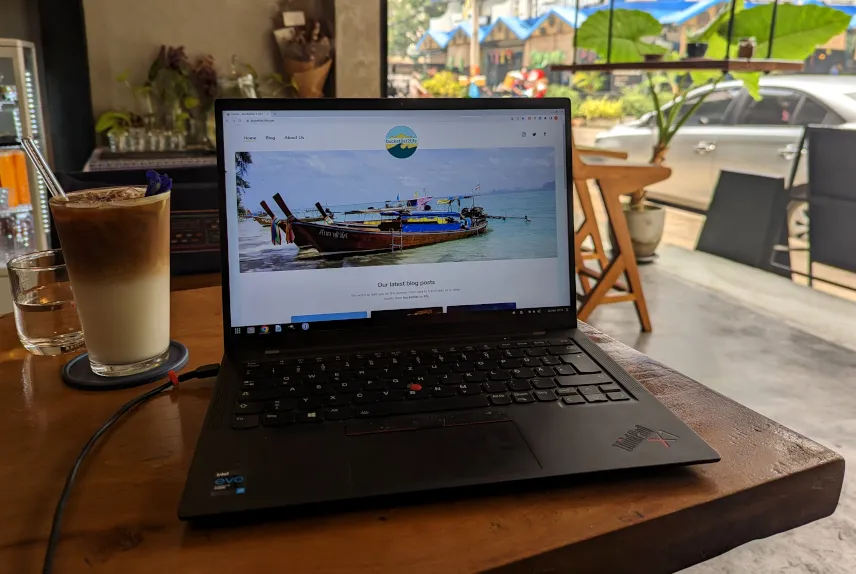 Chiang Rai Night Market
The food court of the Chiang Rai night bazaar is the single best place in town to eat. Period.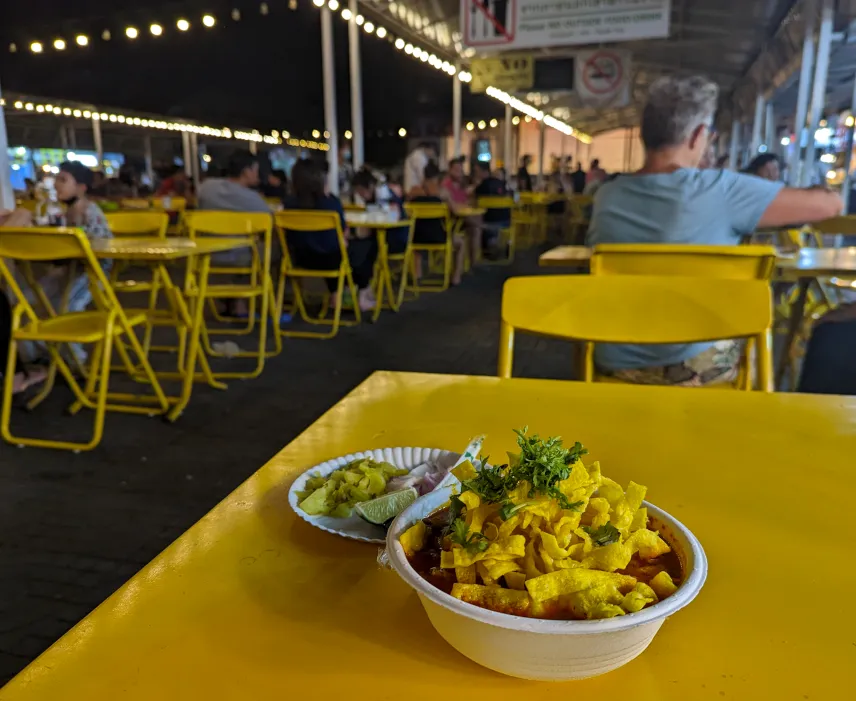 Chiang Rai Nightlife
The nightlife in Chiang Rai cannot be compared to Chiang Mai or Bangkok. There are some bars in town like the Reggae Bar, a Bavarian Pub, or O'Kane's Irish Pub but partying is not the reason to come to Chiang Rai.
Chiang Rai Itinerary
Day 1 of your Chiang Rai Itinerary
Explore Chiang Rai City
Free Tram
The single best way to explore Chiang Rai city centre is by the free tram. Yes, you heard right, there's a free tram taking tourists around town. We have no idea why this is not talked about more.
The tram leaves twice per day (9:30 am and 1:30 pm) in front of King Mangrai Monument. While the announcements are only in Thai, a lady boarded the tram with us, translating all the information.
The first stop is the impressive Busabok Royal Chariot Hall.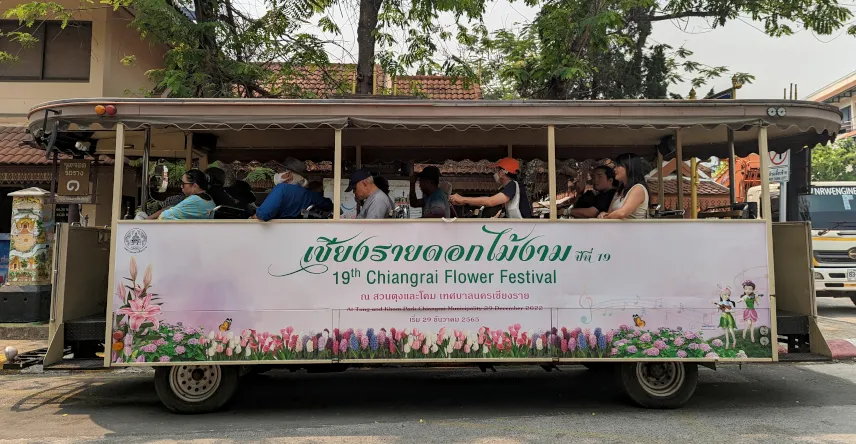 Chiang Rai City Temples
The free tram stops at all the major temples in the city centre:
Wat Prasing (one of the oldest temples in Chiang Rai)
Wat Prakeaw (a royal temple famous as the place where the Emerald Buddha was found, with a free museum)
Wat Doi Ngam Mueang (houses the ash of King Mengrai)
Wat Doithong and the Chiang Rai City Pillar
Wat Ming Muang (because of its location next to the old city gate, it was the first stop for many travellers and you can still see relics of the past like a fountain serving drinking water)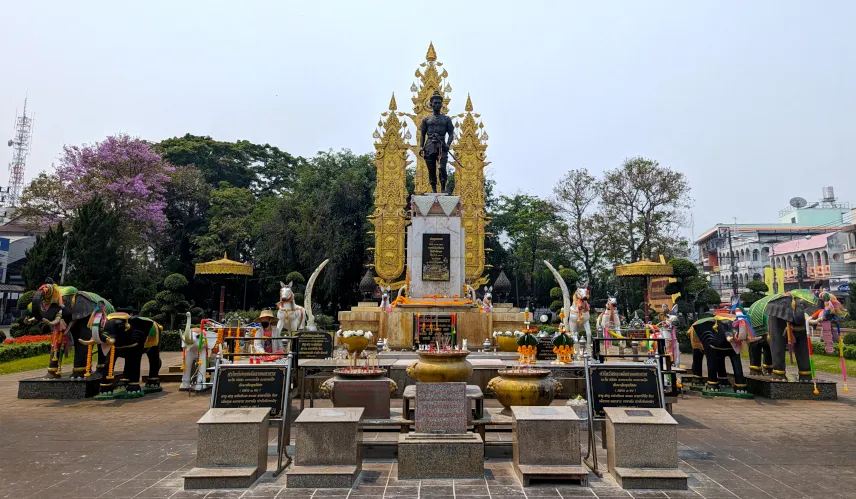 Chiang Rai Clock Tower
The last stop of the tram is Chiang Rai Clock Tower.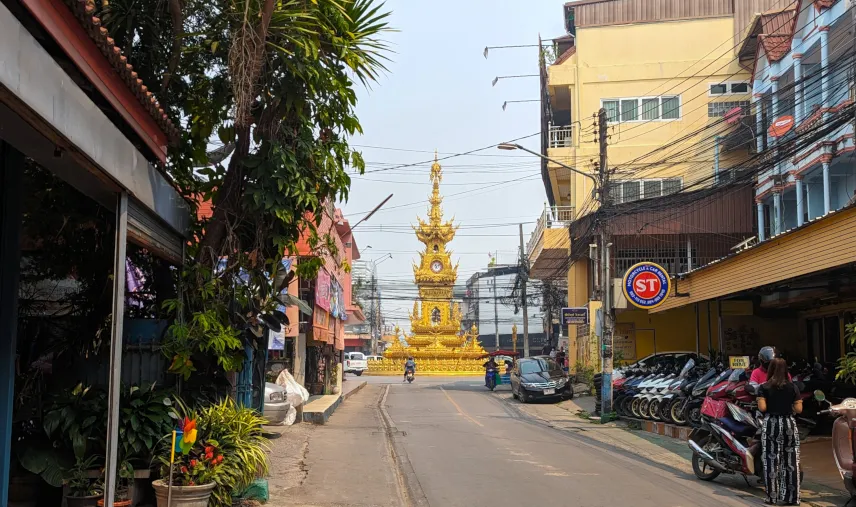 Day 2 of your Chiang Rai Itinerary
For this day, you need to rent a motorcycle, hire a driver, or go on a guided tour. As we don't dare to ride a motorbike and we're too cheap for a driver, we went on a guided tour and could not recommend it more.
Chiang Rai City Surroundings
White Temple Chiang Rai – Wat Rong Khun
The undisputed highlight of the Chiang Rai area and an Instagram hotspot. You can spend a lot of time here getting lost in the details. Not only the exterior is stunning but also the interior with its super unique art. Unfortunately, you are not allowed to take pictures inside.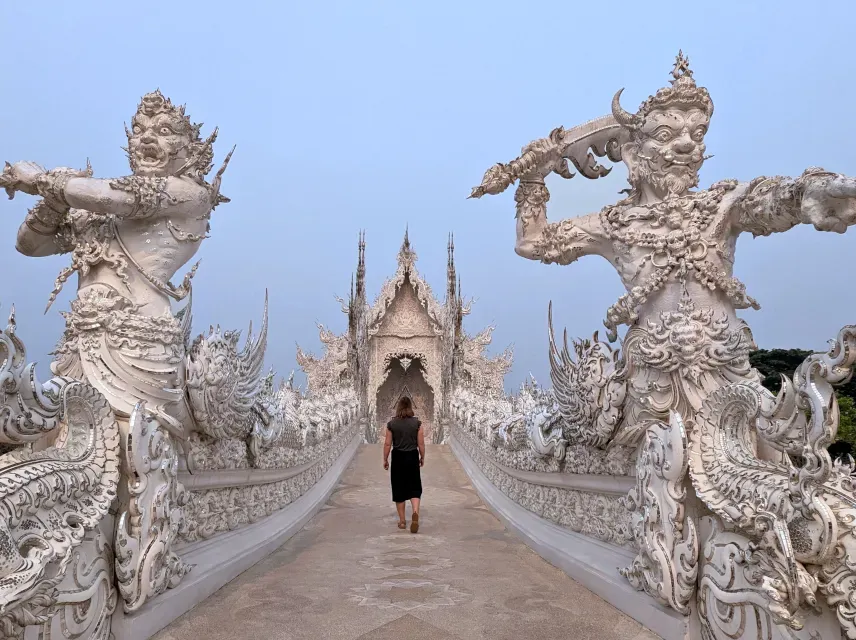 Blue Temple Chiang Rai – Wat Rong Suea Ten
Constructed by a student of the guy who built the White Temple, the Blue Temple is equally as interesting – with the added bonus that you can take pictures inside.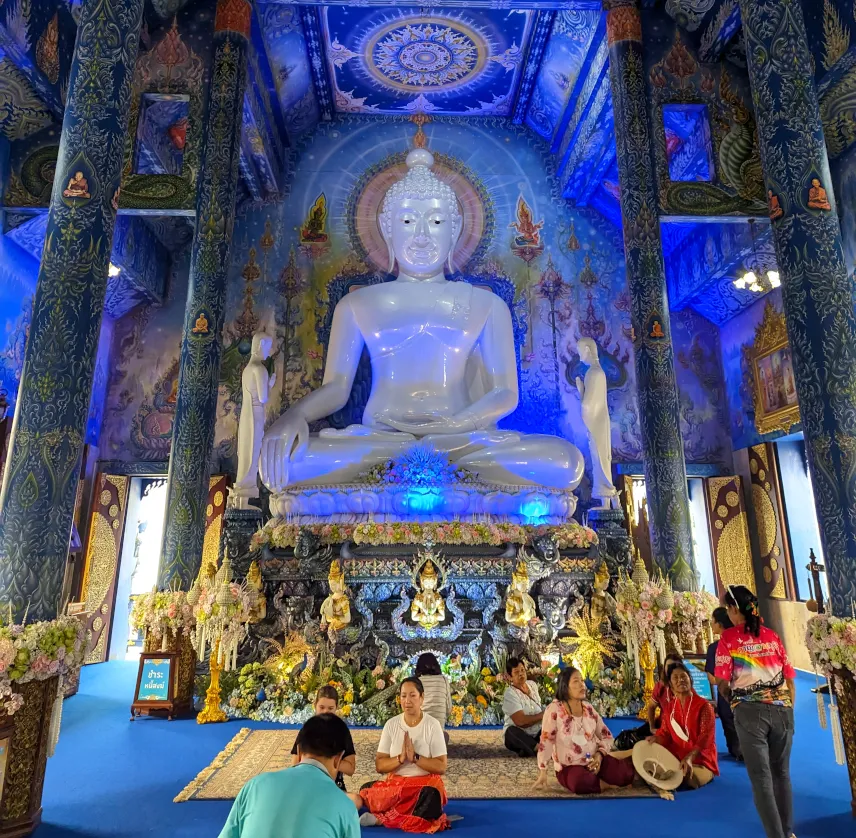 Black House Chiang Rai – Baan Dam Museum
A super dark and interesting museum. Using Instagram, you can scan QR codes on the paintings which will bring them to life.
You can visit one building but there are many more buildings on the premises you can admire from the outside.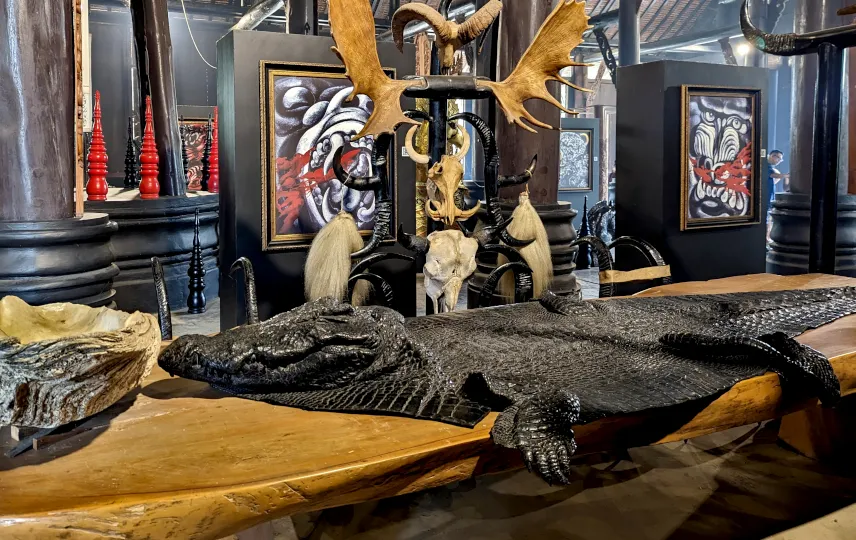 Chiang Rai Long Neck Village
To be honest, we thought that visiting the Chiang Rai hill tribes would be a tourist trap. To our surprise, our van was the only one in the parking lot and we were the only group. Leaving the stalls and wandering into the back alley, the experience was surprisingly authentic.
The locals even invited us to sit with them and have a beer although we did not share a common language.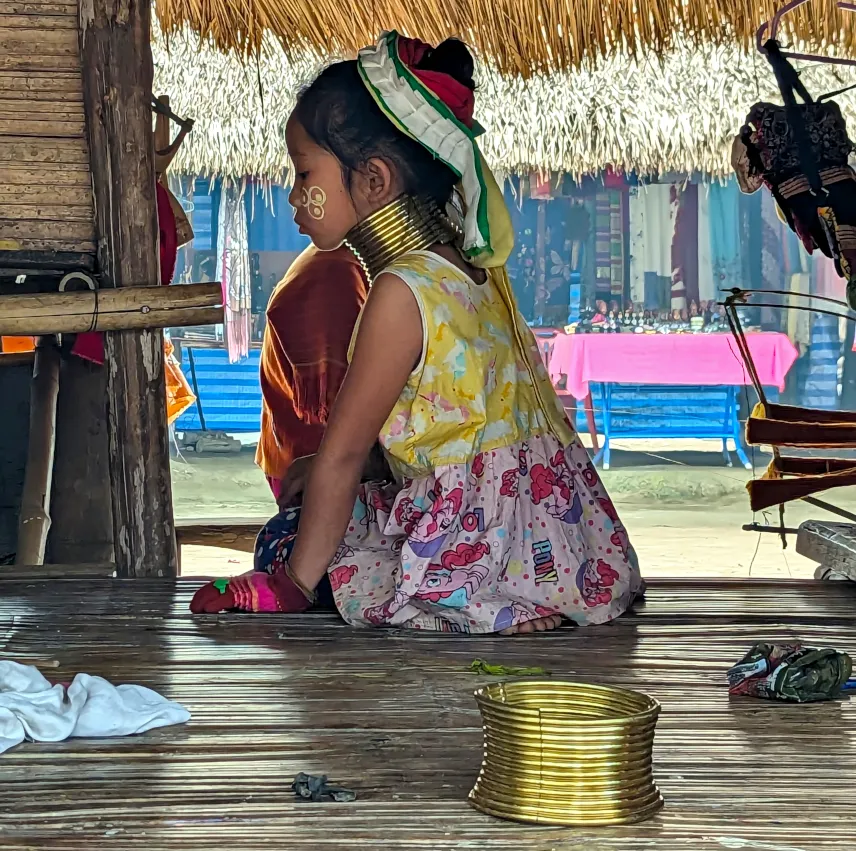 Golden Triangle
When you don't go in the smokey season as we did, you can see Myanmar, Laos, and Thailand from one spot.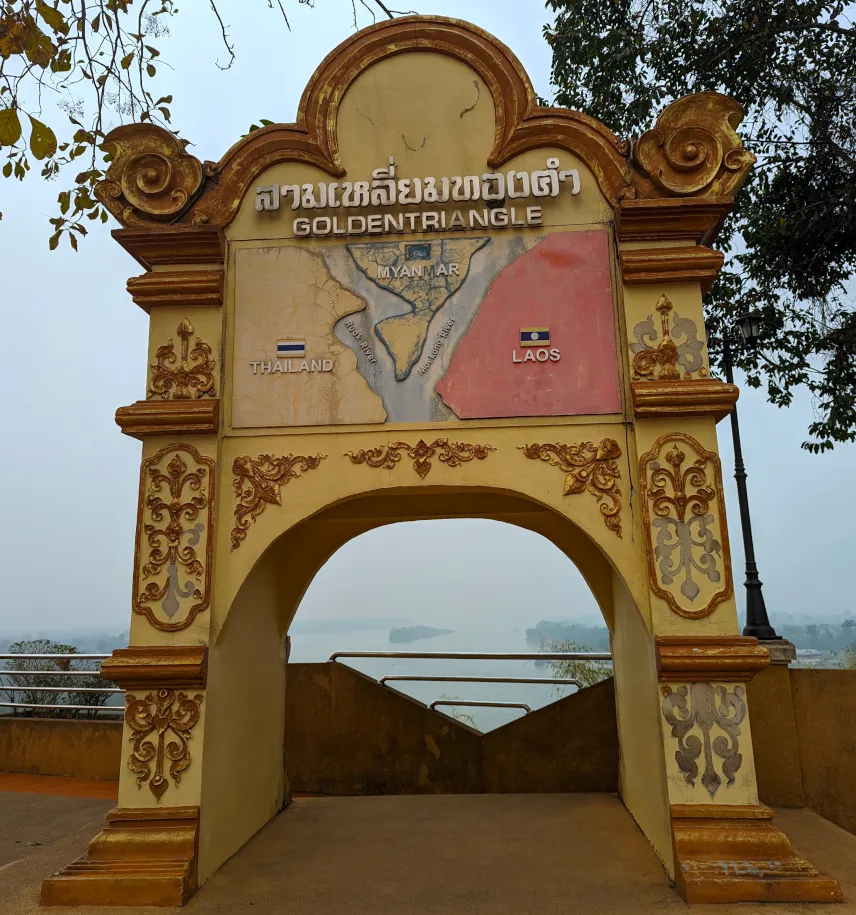 Chiang Rai Tea Plantation
We love tea so we had to visit Chui Fong Tea Plantation. Here, you do not only get a free tea tasting but also amazing views over the terraced tea fields.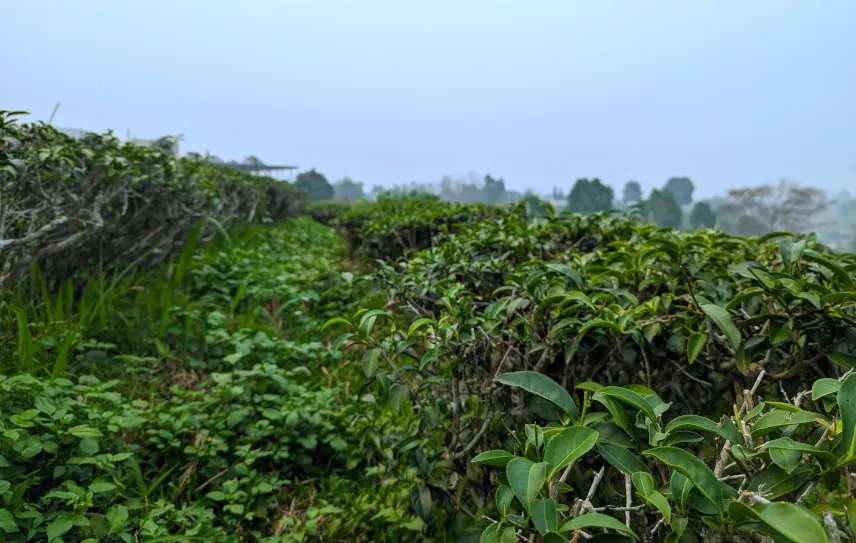 Other things to do in Chiang Rai
Chiang Rai Weekend Market
Every Saturday, Thana Lai Road turns into Chiang Rai walking street. Open from 4:30 pm to 0:30 am, you can find everything your heart desires from souvenirs to food.
The market stretches for roughly half a mile. Your best option for food is the square in the centre where you'll also find live music and dancing.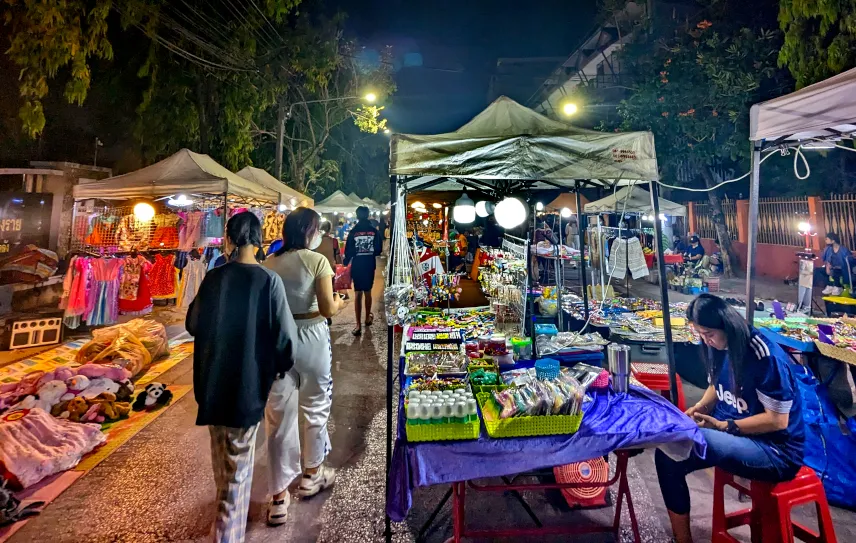 This post contains affiliate links. If you use these links to buy something we may earn a commission. You would help us a lot if you do so. Thanks.