Singapore can be expensive, but it doesn't have to be. We spent some amazing days in Singapore - without paying for a single activity or entrance fee! Our Singapore 3 day itinerary teaches you how to do the same.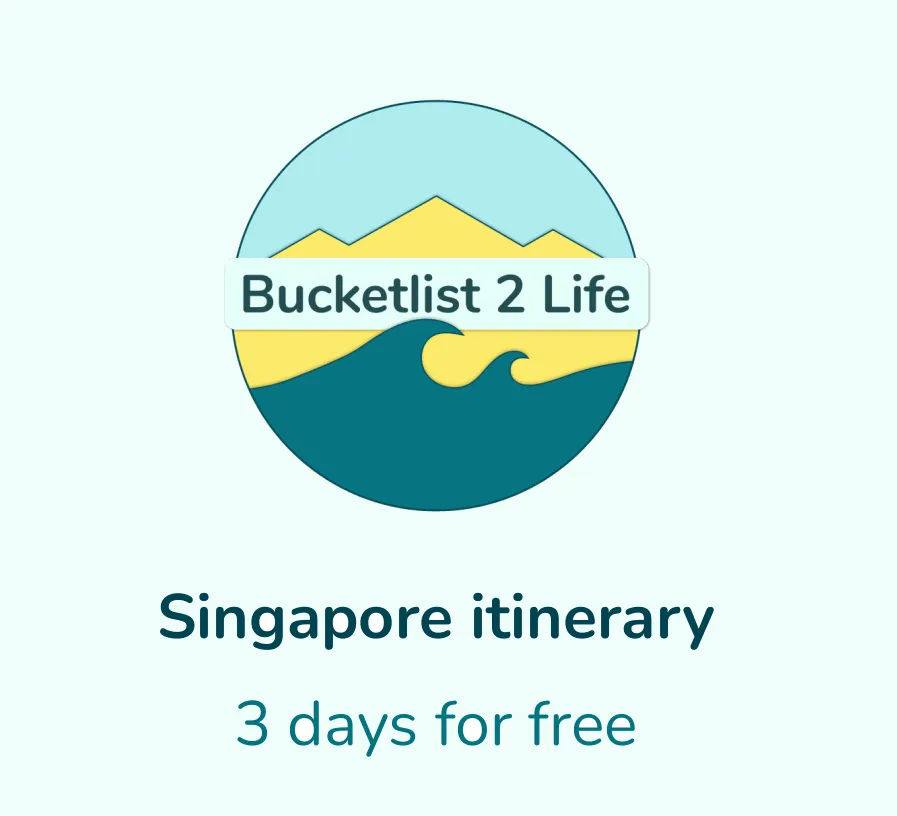 Get our
free Singapore Itinerary
Handy overview on how to spend 3 days in Singapore for free.
With Map!
How many days in Singapore?
Our 3-days Singapore itinerary covers the basics and most important cheap activities to do in Singapore. For a more thorough experience, our 4 and 5 days in Singapore itinerary has got you covered!
How to Get Around Singapore on a Budget?
The best way to get around Singapore on a budget is by MRT. For our three day Singapore itinerary, we opted for the Singapore Tourist Pass. Three days of unlimited travel for 20 SGD is a pretty good deal.
Alternatively, you can just check in and out with your contactless credit card. A fee of 0.5 SDG is applied in that case.
💡
It's a bit confusing to find out where to buy them at Changi Airport. The booth is a bit hidden under an escalator when you come from terminal 2 towards the MRT station. This is also where you can claim your deposit back in the end.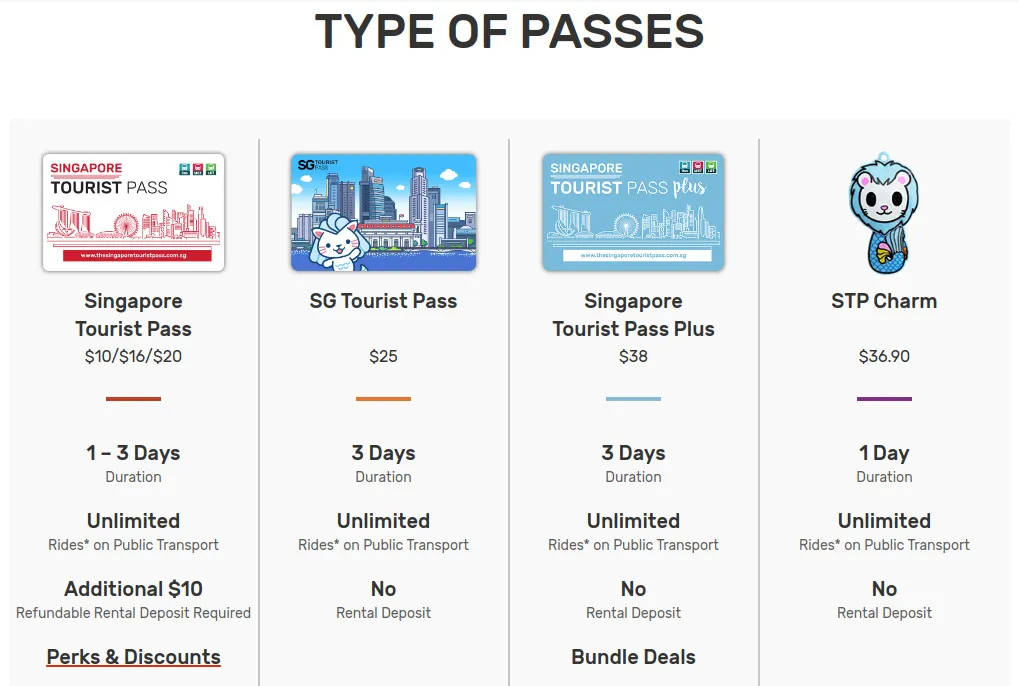 Best Place to Stay in Singapore on a Budget
We loved Boat Quay as our base in Singapore as it's super central and well connected by MRT. We chose Galaxy Pods Capsule Hotel Boat Quay. They are a budget-friendly option in Singapore with a lot of privacy.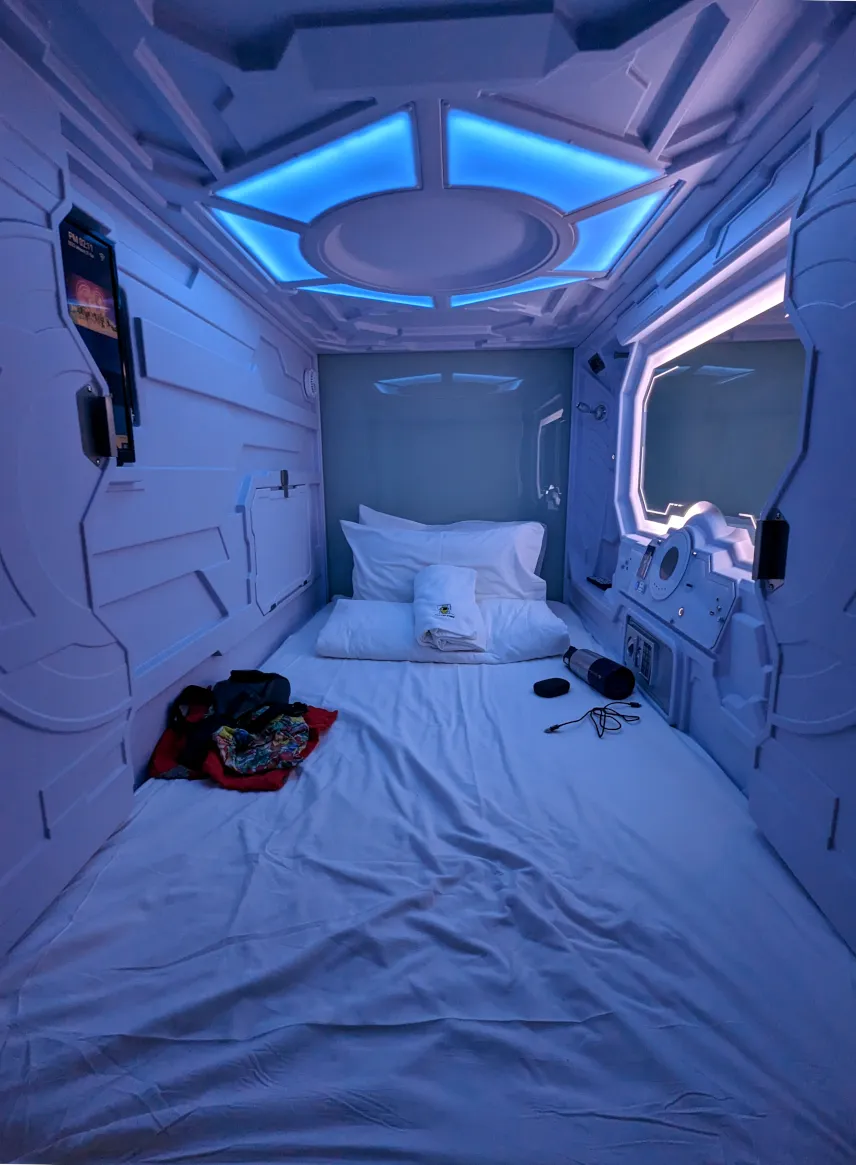 Cheap and Good Restaurants in Singapore
We loved breakfast at Kopitam. For under 3 SGD, you can get a typical Singapore breakfast including french toast, two super runny eggs, and coffee.
For lunch and dinner, we went to Hawker Centers which offer cheap and delicious street food. The letter rating (A means super clean, B means alright, C means better avoid with a tourist's stomach) helps you to keep your belly happy. There are plenty of Hawker Center guides online so we'll only recommend the ones we used on our walks and that fit our Singapore itinerary.
Food courts in shopping centres are another budget-friendly alternative.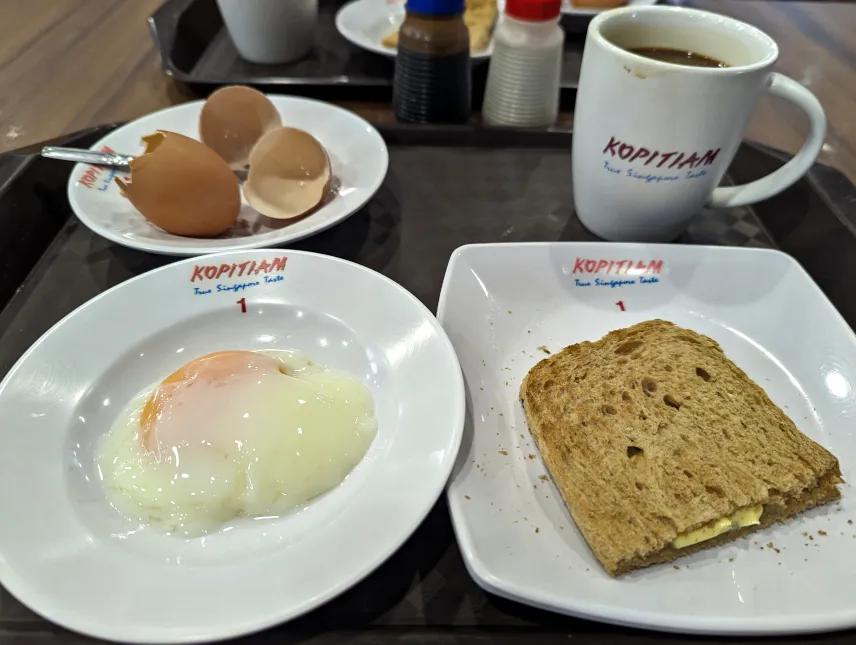 Day 1 Morning - Chinatown
Start your day by making your way to Telok Ayer MRT station. The first stop might sound a bit random but trust us on this one. Head to the entrance of AMOY Hotel. It used to be an old temple. Back in the day, a lot of Chinese workers came to Singapore by boat. The temple which was later converted into a hotel was one of the first things they saw in the new country and you can still see the story told inside.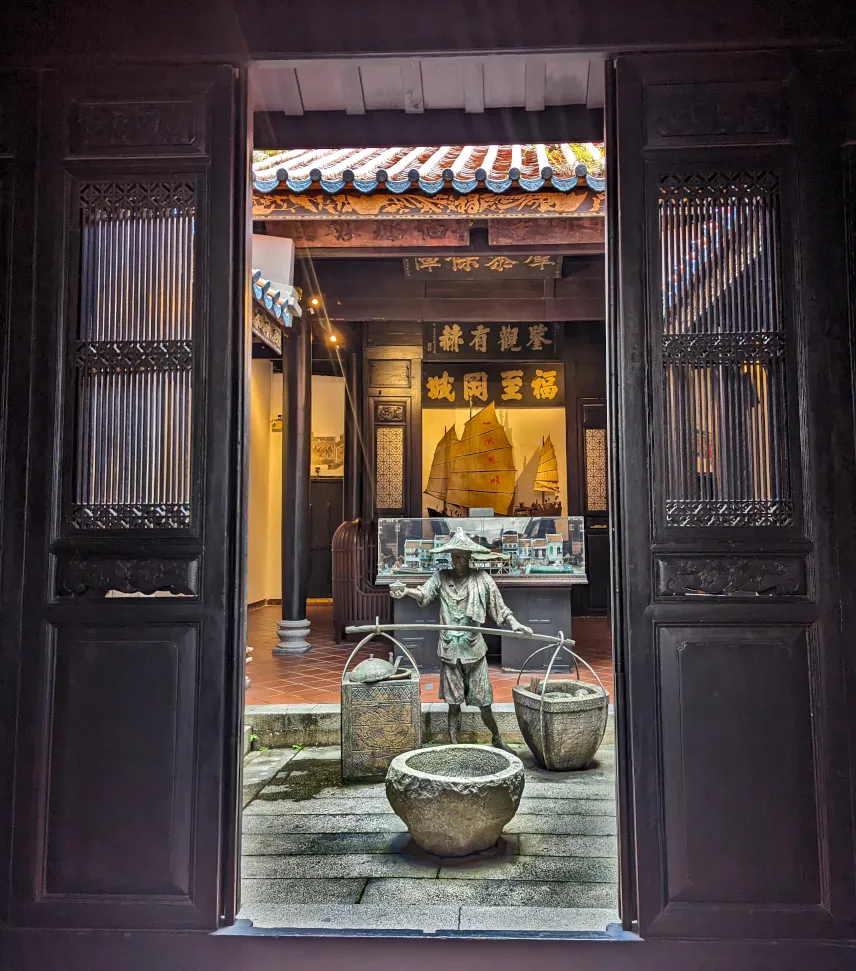 Afterwards, make your way to Thian Hock Keng Temple. It dates back to the eighteen hundreds and is one of the oldest and most important temples in Singapore.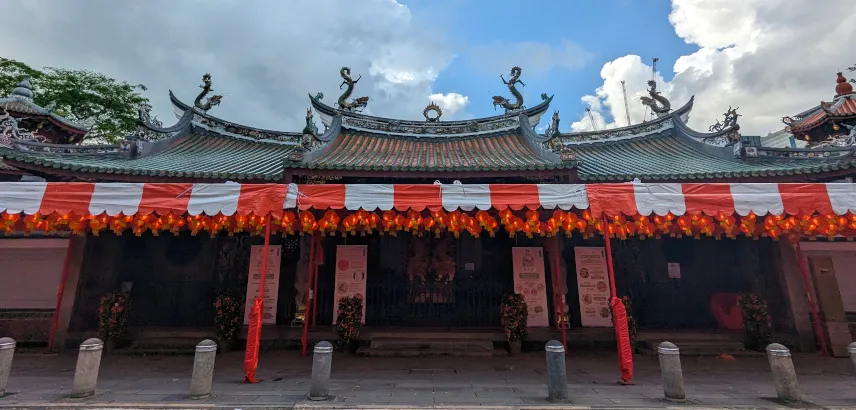 Head to the Singapore City Gallery to learn about Singapore's dramatic transformation over the past 50 years. It showcases over 50 interactive and immersive exhibits. Of course, the entrance is free.
The Buddha Tooth Relic Museum is another free museum that belongs on your Singapore itinerary. The richly designed interiors and comprehensive exhibits on Buddhist art and history tell stories of culture over thousands of years old.
Sri Mariamman Tempel, Singapore's oldest Hindu temple, is not located in little India but in Chinatown. It is also the last stop of our morning walking tour.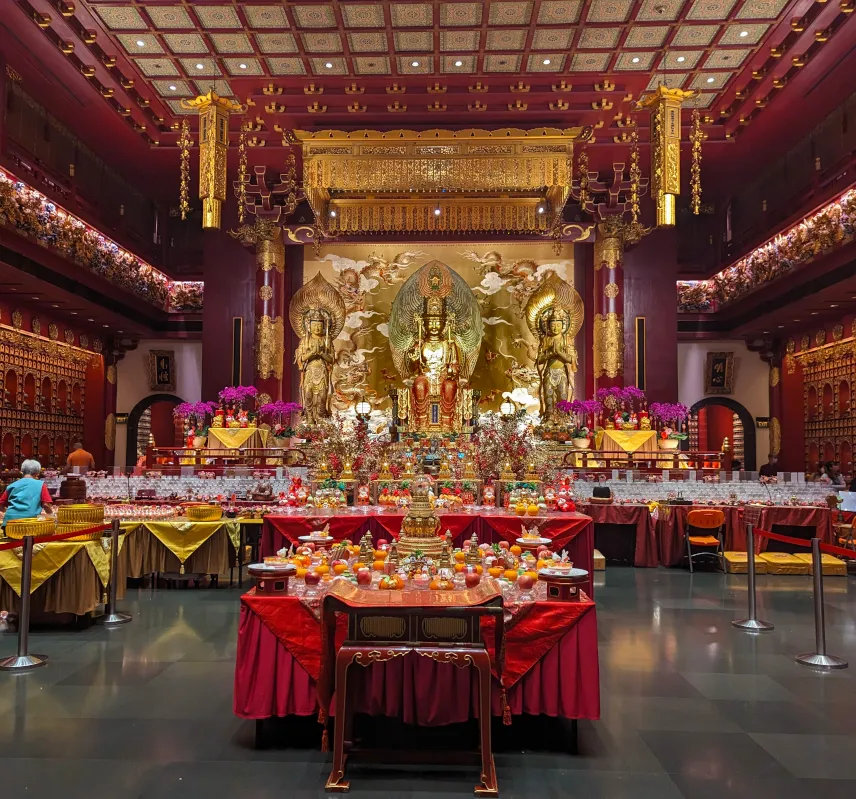 Day 1 Lunch - Chinatown Hawker Centre
Make your way through the small roads of Chinatown to get to Chinatown Hawker Centre. It is most famous for Hawker Chan ("The Cheapest Michelin-starred Meal In The Word") but you'll find plenty of other options.

Day 1 Afternoon - Civic District
Head to the Capita Spring Sky Garden for an amazing free view of Singapore.
💡
It is only open from Monday to Friday from 8:30 AM - 10:30 AM and 2:30 PM - 6:00 PM! (We also learned the hard way that it's closed on public holidays, i.e. Chinese New Year).
From here, head to Boat Quay and walk along the promenade to the landmark of Singapore: The Merlion.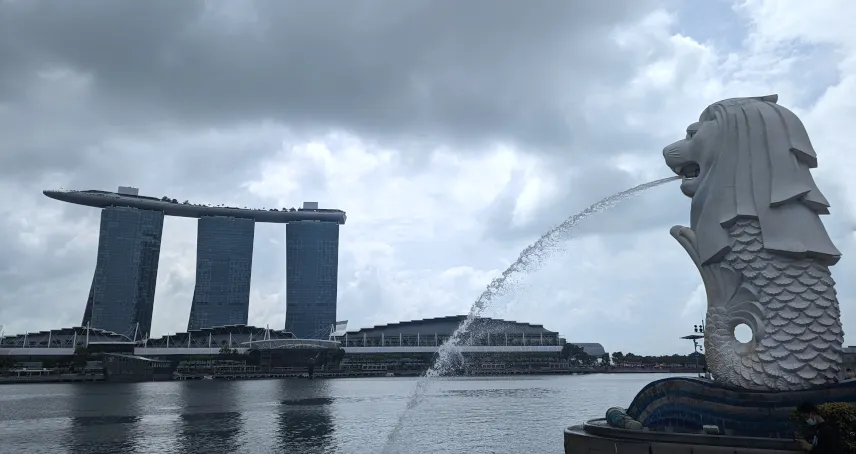 Cross over the Singapore River to head to the Civic District. Here, you can walk past the Asian Civilisations Museum, the Victoria Concert Hall, the Arts House, and the Parliament of Singapore.
The highlight of your afternoon will be a visit to the National Gallery of Singapore. While the exhibitions are only free for citizens of Singapore, the view from the rooftop terrace was the most underrated free view we had in Singapore.

You can either end your afternoon walk at Saint Andrew's Cathedral (the construction of this Anglican cathedral started in 1856!) or walk further towards the Raffles Hotel. Singapore's most iconic hotel was constructed in 1887 and you can wander some of the grounds for free.
Purvis Street is a picturesque street with many restaurants (which were all out of our budget, unfortunately).
Day 1 Evening - Makansutra Gluttons Bay, Spectra, Marina Bay Sands
While Makansutra Gluttons Bay might not be the most budget-friendly of all hawker centres, it is definitely the most scenic with its views across the Marina Reservoir. You can find some cheaper options, some fancy options, and even some western style dishes.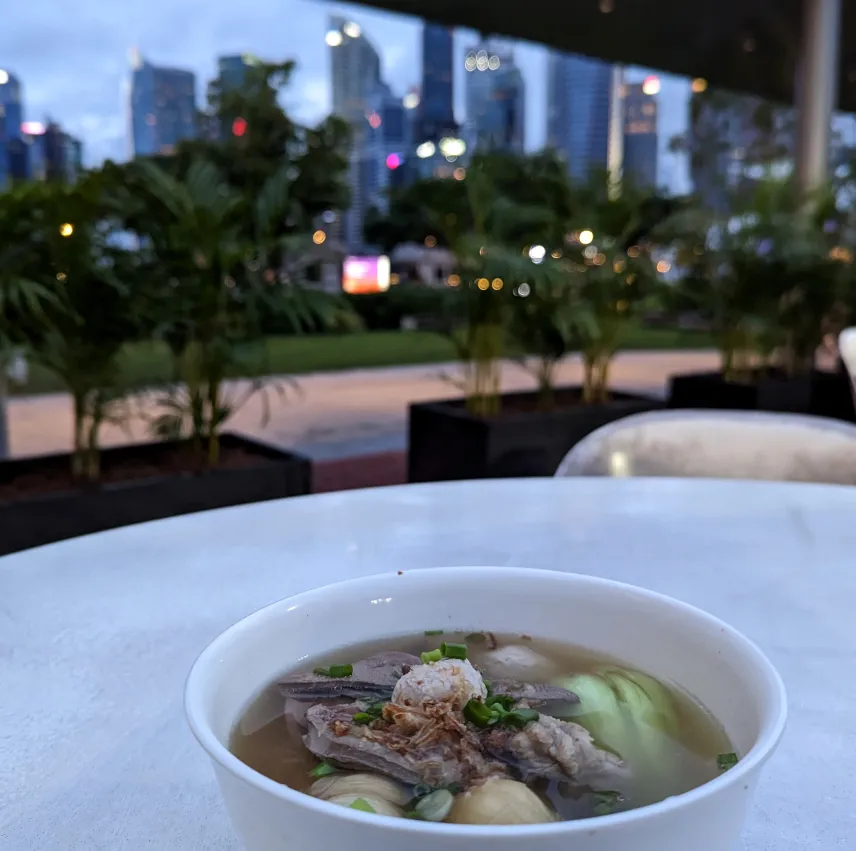 From Gluttons Bay, you walk across the Helix Bridge to the Spectra light show. The views across the Bay are spectacular (see our header). The show features sound, light, and water. Come early to get a good view. To be honest, we preferred the show to Garden Rhapsody. We loved it so much that we even watched it twice.
💡
Sun – Thu: 8 PM & 9 PM
Fri & Sat: 8 PM, 9 PM & 10 PM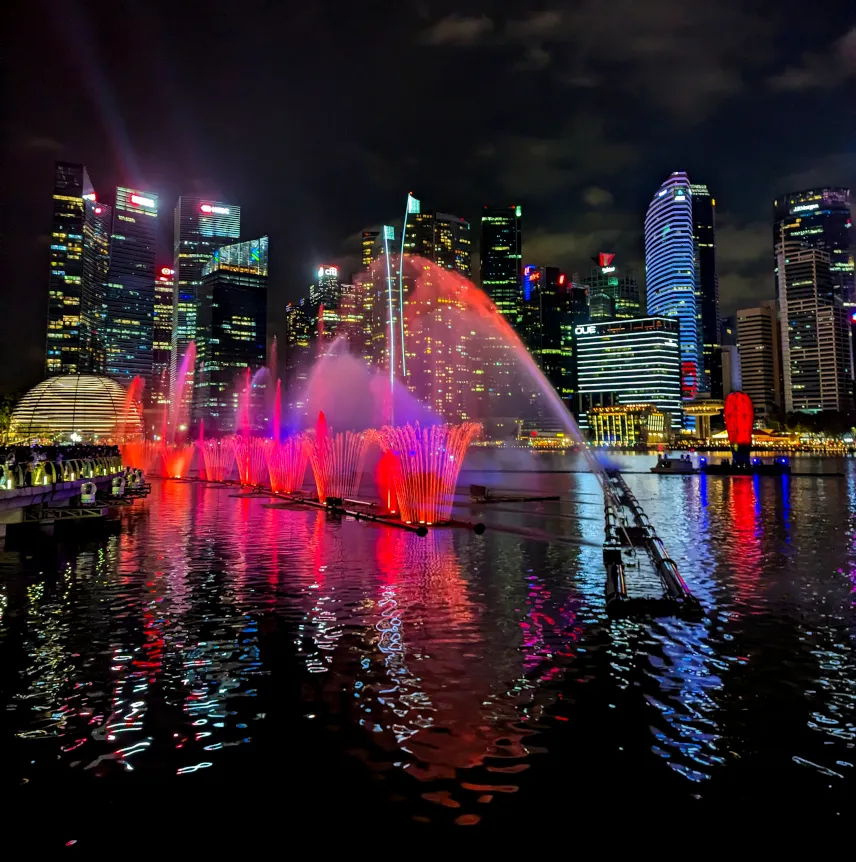 Yes, the Marina Bay Sands is one most expensive hostels in Singapore and far from free. There is a way to enjoy the views for free though: Head to the rooftop bar. Most people will head to CÉ LA VI in tower 3 where you're closer to the pool (which you can absolutely not visit when you're not a hotel guest), and the sky park observation desk. You have to expect a line here and dress smart to get in.
Lavo in tower 1 is the much simpler and less visited alternative with an equally great view. The two of us just hung around and did not buy a drink - enjoying one of the best views in Singapore completely for free!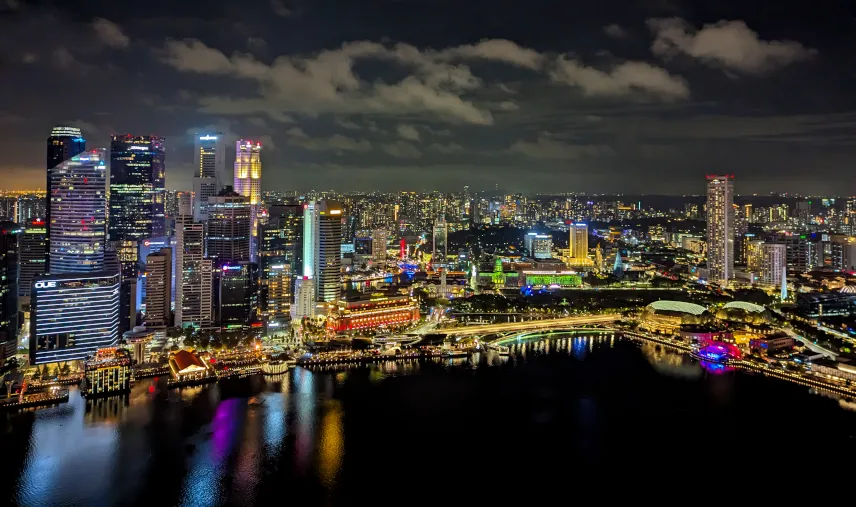 Day 2 Morning - Kampong Glam and Little India
Head to Bugis Station this morning to visit Singapore's Arab Quarter or Kampong Glam. Make sure to wander the small alleys, check out the small stores, and look for street art. The most famous of them all is Haji Lane.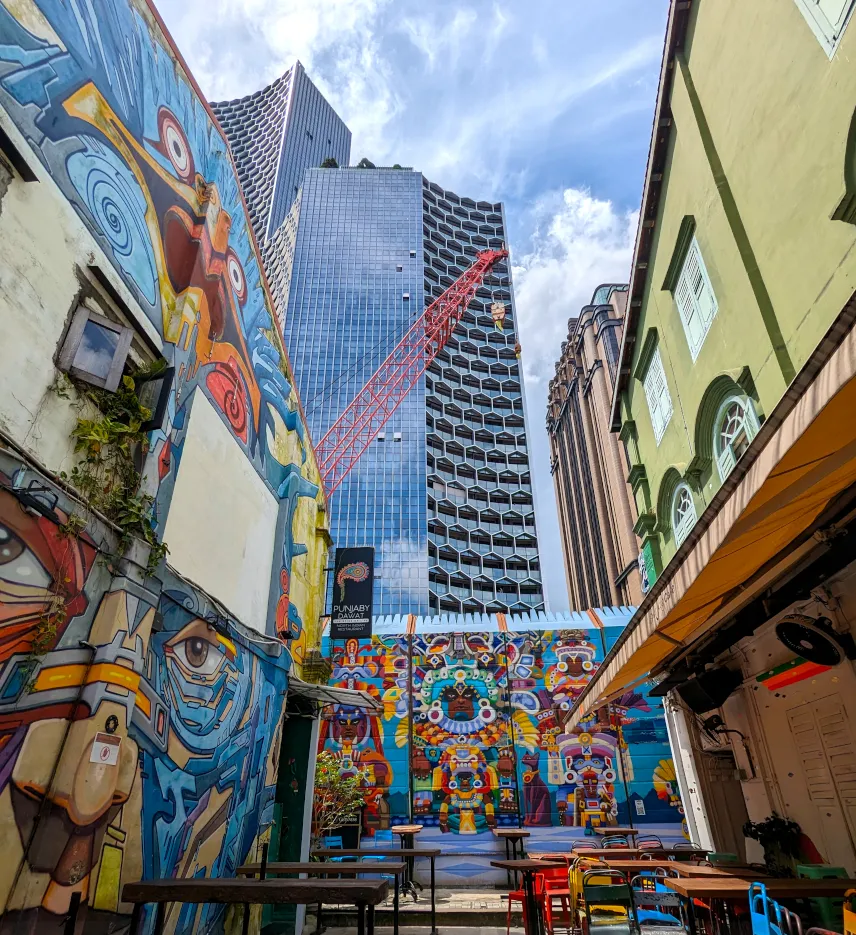 Walk along Muscat Street and feel like you've been transported to Turkey. The highlight is the Sultan Mosque which is open for visitors - and of course free to visit.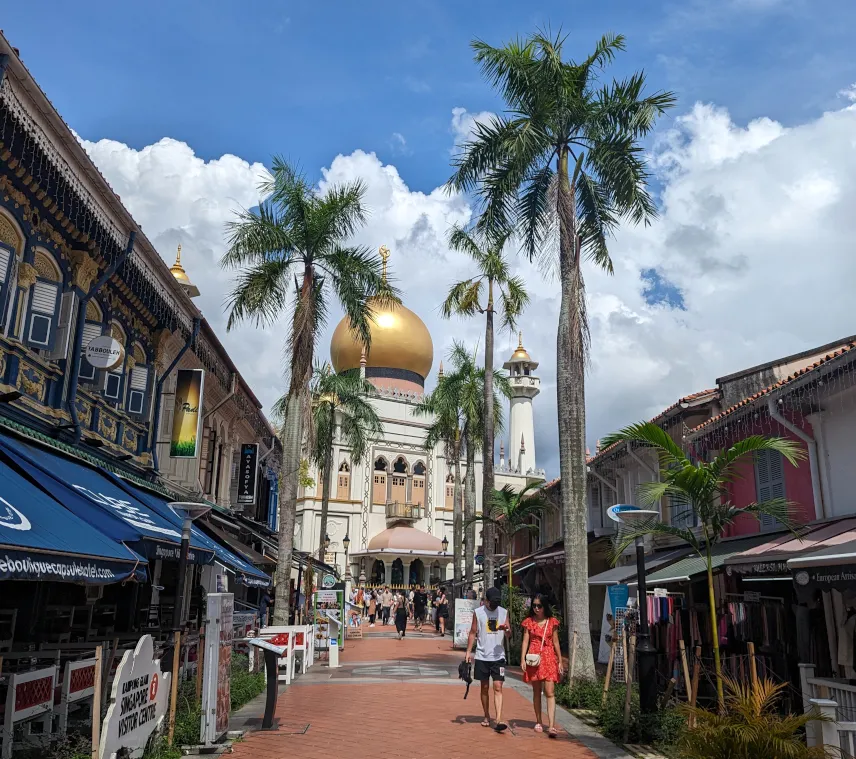 Now it's time for a change of scenery. Only 700 m (0.4 mi) from Sultan Mosque you reach Jalan Besar and with that Little India. Make sure to wander the small roads between Jalan Besar and Seragon Road.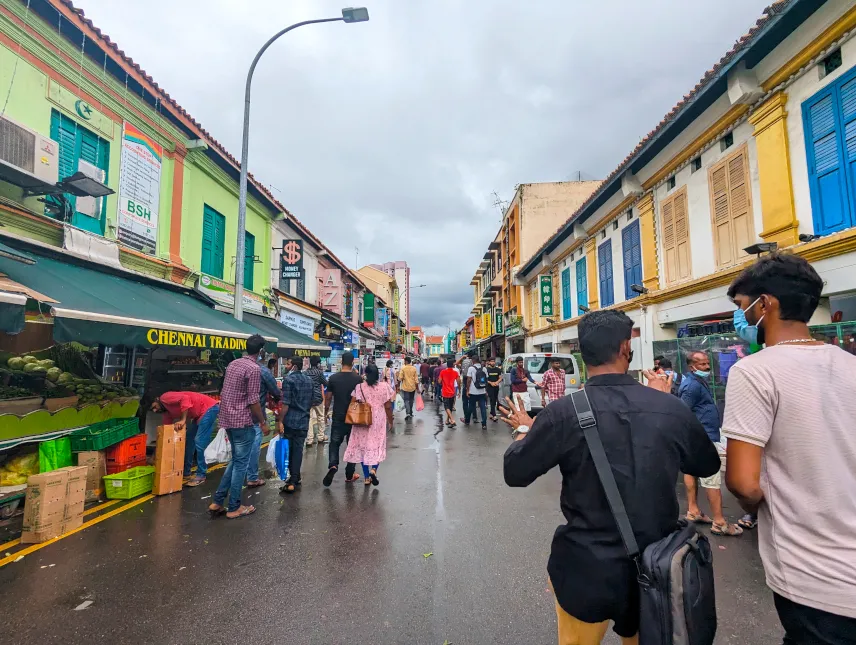 The highlight of Little India is Sri Veeramakaliamman Temple, one of the oldest Hindu temples in Singapore.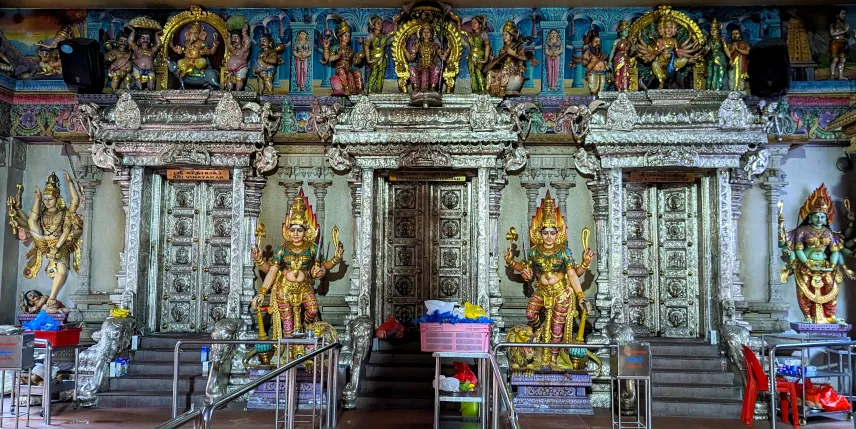 Day 2 Lunch - Tekka Centre Little India
Right next to Little India MRT, you'll find Tekka Centre, a multi-use building complex comprising a wet market, food centre and shops. On the ground floor is a hawker centre which offers Indian vegetarian meals, served on banana leaves or stainless steel platters.
Day 2 Afternoon - Orchard Road and Emerald Hill
Take the MRT from Little India to Dhoby Ghaut. Walk along the shopping paradise Orchard Road until you reach Emerald Hill (or further if you crave more shopping or window shopping).
Emerald Hill was home to many members of the city-state's wealthy Peranakan  community. Many of its homes feature Chinese Baroque architecture. Nowadays, it's a great Instagram spot. Make sure to walk all the way to the top!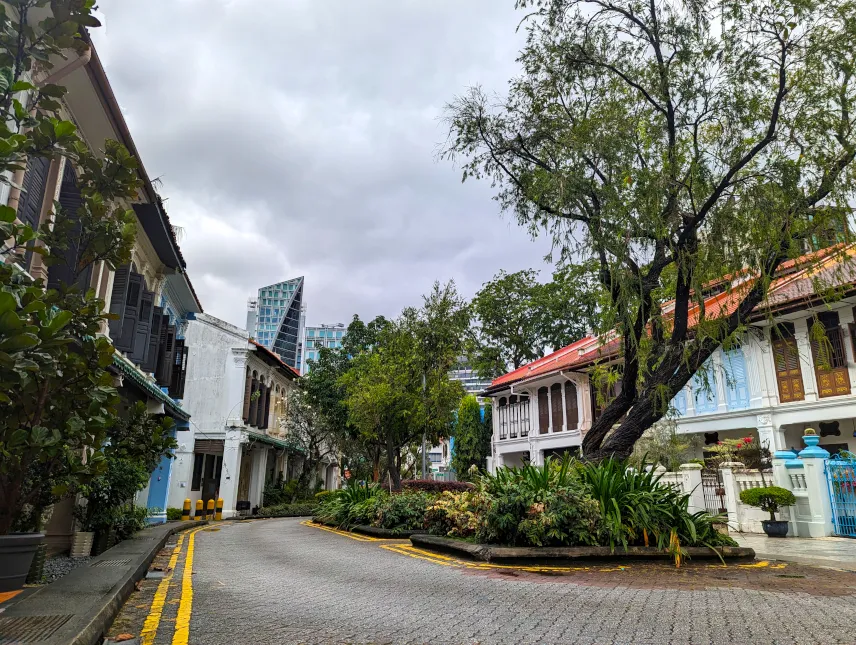 Day 2 Evening - Gardens by the Bay, Garden Rhapsody
Many of the attractions of Gardens by the Bay like the supertrees, the OCBC Skyway or the Flower Dome and Cloud Forest come at a price but you can wander the grounds completely for free.
The highlight is Garden Rhapsody, the light and sound show. It is best watched from the supertree grove or the Marina Bay Overpass Viewing Point an escalator ride above the park.
💡
Daily, 7:45 PM and 8:45 PM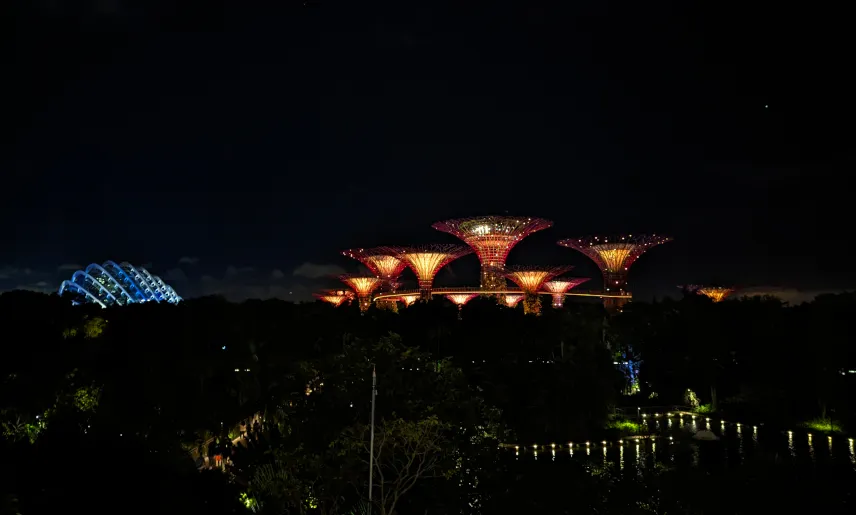 Day 3 Morning - Sentosa Island
While Sentosa Island, the getaway for Singapore citizens, is not the most budget-friendly destination, there are still plenty of things you can do for free.
Hop on the MRT to go to Harbourfront station. From here, a boardwalk takes you to Sentosa Island.
The best free activity is hitting the beach. Other free activities include:
taking a picture in front of the Universal Studios globe.
Fort Siloso, a decommissioned coastal artillery battery. The fort is now a military museum open to the public.
Fort Siloso Skywalk.
The Southernmost Point of Continental Asia.
The Magical Shores light show (Mon to Thu 7:30 PM to 9:30 PM, Fri to Sun 7:30 PM to 10:30 PM). We have not visited ourselves. Early reviews look great but recent ones not so much.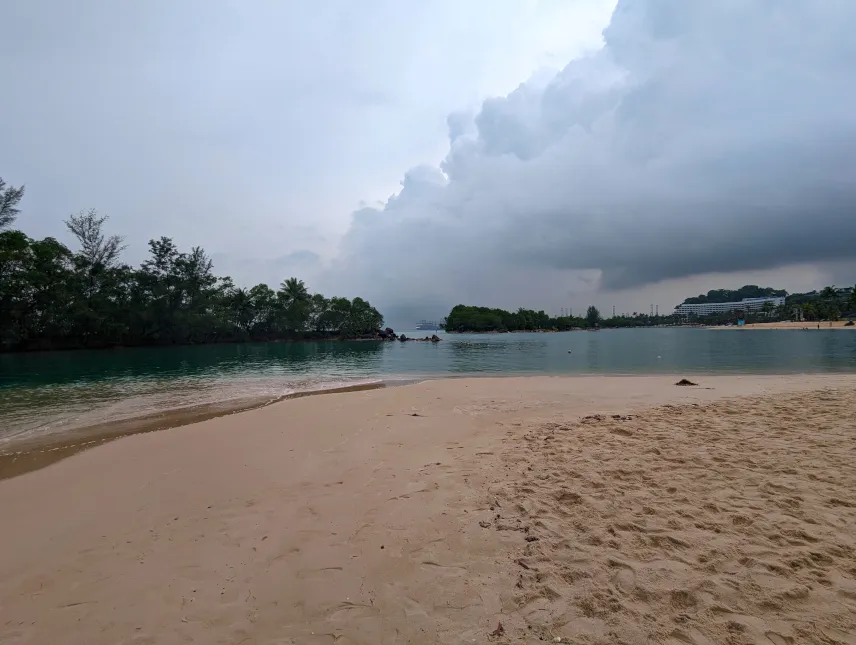 Day 3 Lunch - Vivo City Food Court
Food on Sentosa Island was too expensive for our taste so we decided to have lunch at the food court of the Vivo City shopping centre. Options are endless from Singapore staples to western classics.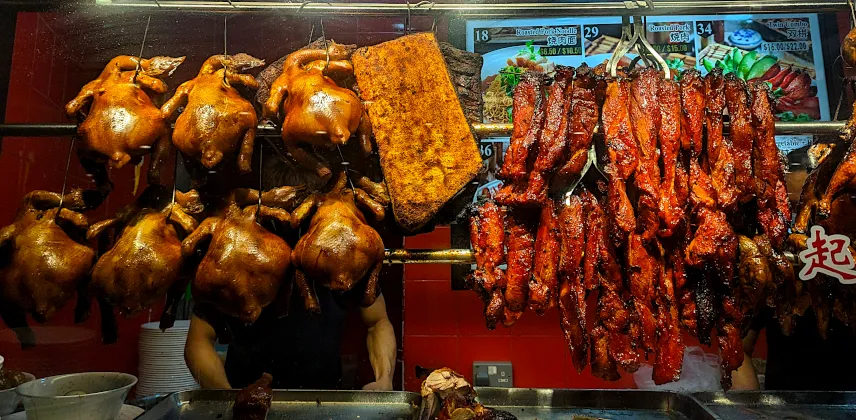 Kent Ridge Park Canopy Walk, Henderson Waves
Day 3 Afternoon - Haw Par Villa,
Hop back on the MRT to go to Haw Par Villa, conveniently located right next to Haw Par Villa MRT station. Haw Par Villa is a "theme park"  depicting scenes from Chinese mythology and history. The park contains over 1000 statues and 150 giant dioramas. There is also a Hell Museum on the premises which charges an entrance fee but the park itself is free to visit.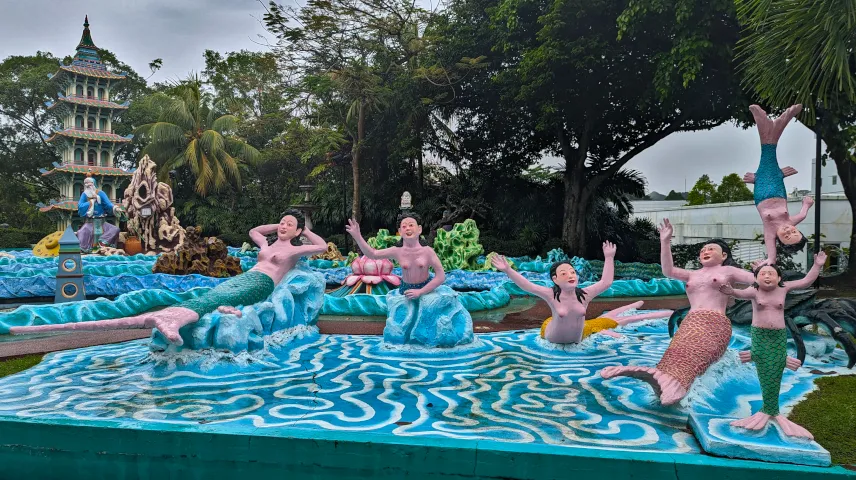 Afterwards, we have been recommended to walk along the Kent Ridge Park Canopy Walk all the way to Henderson Waves. At 36 metres (118 ft) above ground, the Henderson Waves bridge is the highest pedestrian bridge in Singapore and a piece of art in itself. Disclaimer: We had already done more than 30000 steps for three days in a row so we skipped that art.
4 Days Singapore Itinerary - the Green Singapore
Day 4 Morning - Fort Canning Park
Fort Canning Park is a green oasis in the centre of Singapore. Its location on a hill offers some great views, you can find gardens like the spice garden and landmarks like Raffles House and Fort Canning Gate. The tree tunnel is a famous Instagram spot.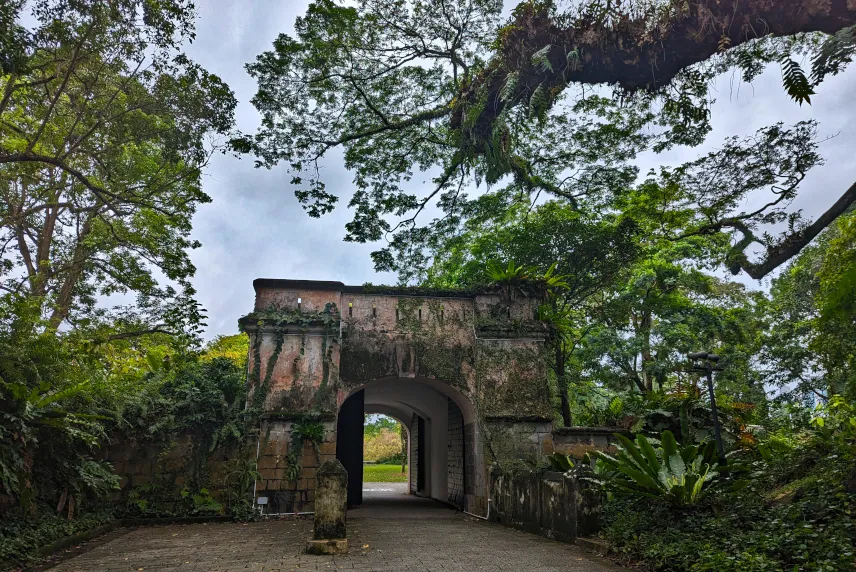 Day 4 Afternoon - Botanical Garden
Many people visit the Singapore Zoo when in town. Besides the animal friendliness concerns, this is also not a budget-friendly activity. Visiting the Botanical Garden is.
The Botanical Garden was the first UNESCO Heritage Site in Singapore as well as the first and only tropical botanic garden on UNESCO's World Heritage List. It houses more than 10.000 species of flora spread over its 82 hectares (200 acres) area.
MacRitchie Reservoir and Changi Airport
5 Days Singapore Itinerary -
Day 5 Morning - MacRitchie Reservoir
If you have the time to head out there, MacRitchie Reservoir is a local recommendation! Get to know Singapore's nature and do a free tree top walk!
Day 5 Afternoon - Changi Airport
No Singapore itinerary would be complete without mentioning Changi Airport. Budget enough time because the airport is huge and the ways can be long!
Here are some of the free highlights at Changi Airport:
The Jewel
The largest indoor waterfall in the world
Terminal 1
Cactus Garden
Water Lily Garden
Terminal 2
Butterfly Garden
Orchid Garden
Enchanted Garden
Sunflower Garden
Free movie theatre
Entertainment Deck
Terminal 3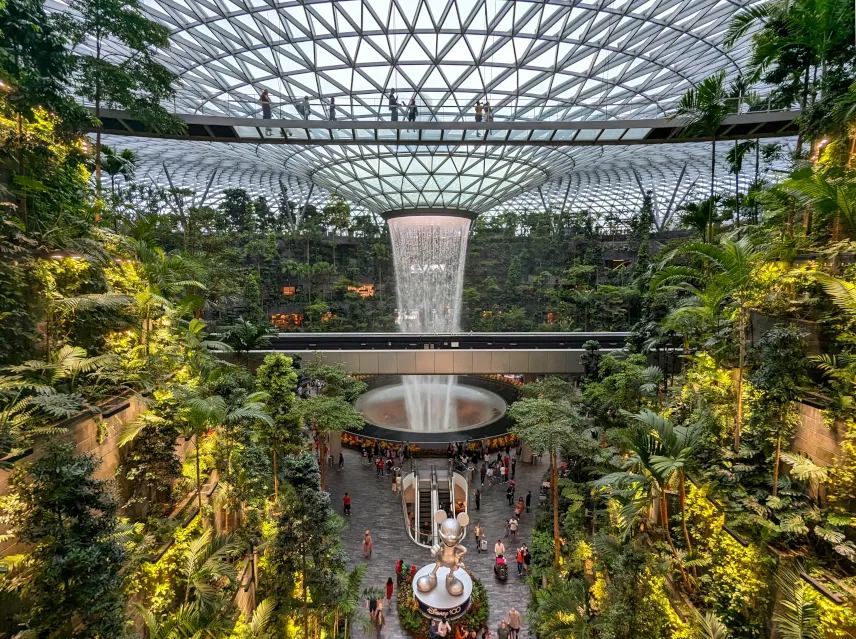 This post contains affiliate links. If you use these links to buy something we may earn a commission. You would help us a lot if you do so. Thanks.