I realised that there is not much English information about Lower Saxony tourism, and even fewer travel blogs from a local. So without further ado, here is my combined knowledge about Lower Saxony, collected in more than 30 years of travelling my home state - with the best places to visit in Lower Saxony, the best things to do in Lower Saxony, and the best food and drinks in Lower Saxony, Germany.
30 Lower Saxony Destiantions
Cities in Lower Saxony
1. Celle
Celle is one of the finest halt-timbered in Germany. Only half an hour away from Hannover, it was mostly unscathed by the bombings of World War II, so that visitors can admire its 17th-century charm.
2. Wolfsburg
If you like cars, check out Wolfsburg, the home of Volkswagen. Especially the Autostadt (Car City), a car-themed theme park can be an interesting visit for car lovers and children alike.
3. Braunschweig
Braunschweig, Lower Saxony's second-largest city, is worth a quick stop.
4. Wolfenbüttel
Wolfenbüttel near Braunschweig is much more charming. Often overlooked by tourists, it features over 600 half-timbered houses as well as Lower Saxony's second-largest castle. The famous playboy Casanova spent the most wonderful week of his life there so it's bound to be quite a place.
5. Hildesheim
Hildesheim used to be a beautiful medical city but was heavily damaged during World War II. In 1984, the council decided to re-build its former townscape, earning it a place on the UNESCO World Heritage list.
6. Osnabrück
Germany's happiest town? Osnabrück! Visitors are invited to explore this town on a "happy stroll". Starting at the train station, you walk through the historic city center towards the town hall, where the Thirty Years' War was ended through diplomacy.
Lower Saxony Capital Hannover
In 2020 I fell back in love with the Lower Saxony capital Hannover. It's urban without being too big, the small historic city center is super charming, and there are plenty of amazing bars (think rooftop bars, beach bars, dive bars, you name it) and restaurants.
7. The Red Thread
All of Hannover's sights are conveniently aligned along a Red Thread, which makes a self-guided city tour super easy.
8. Aegidien Church and New City Hall
Two of my personal favorites outside of the historic city center are the ruins of the Aegidien Church and the new city hall with its viewing platform, which can be reached by Germany's only inclined elevator.
9. Herrenhausen Gardens
Go and visit the Herrenhausen Gardens. The Great Garden is one of the most distinguished Baroque gardens of Europe. The 80 meters (262 ft) fountain is one of the highest in Europe. Adjacent are the Berggarten, which is a lovely botanical garden nowadays, and the Georgengarten and Welfengarten which are made in the style of English gardens.
10. Maschsee
The Maschsee lake is the perfect place to escape the hustle and bustle of the center whilst still being within walking distance.
11. Steinhuder Meer
If you want even more peace and quiet check out the Steinhuder Meer, the largest lake of northwestern Germany, only 30 km (19 mi) northwest of Hannover.
12. Herman Löns Wanderweg
If you really want to get into nature, we recommend to hike the Herman Löns Wanderweg close to Hannover.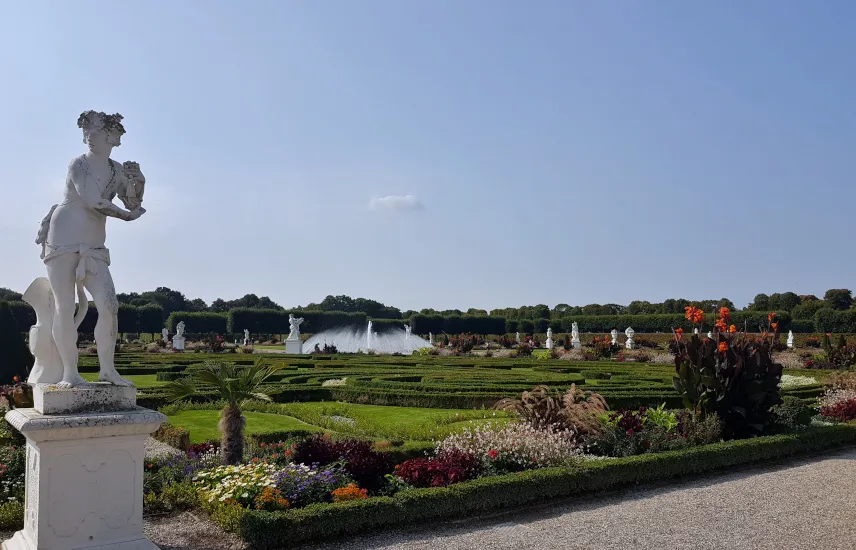 North Lower Saxony Destinations
The northern border of Lower Saxony is the North Sea. Most of this area belongs to a region called East Frisia with its 7 East Frisian Islands. East of East Frisia are Wilhelmshaven with the Jade Bight and the JadeWeserPort and Cuxhaven with the Elbe river delta. If you want to visit the German North Sea beaches, beware of the tides: Twice a day you won't have any water.
13. Wadden Sea National Park
The Lower Saxon Wadden Sea National Park has an area of about 345,800 hectares (1,335 sq mi). It is a large area of tidal flats in the North Sea which dry out during low tide and are flooded during high tide. It is the second most productive ecosystem of the world after the tropical rainforest. Watch out for the typical lugworm, which lives in a U-shaped tube under the surface of the mud. Close to the coast, you can hike the Wadden Sea yourself, but if you want to go further out, take a guide because of dangerous and unpredictable tidal creeks.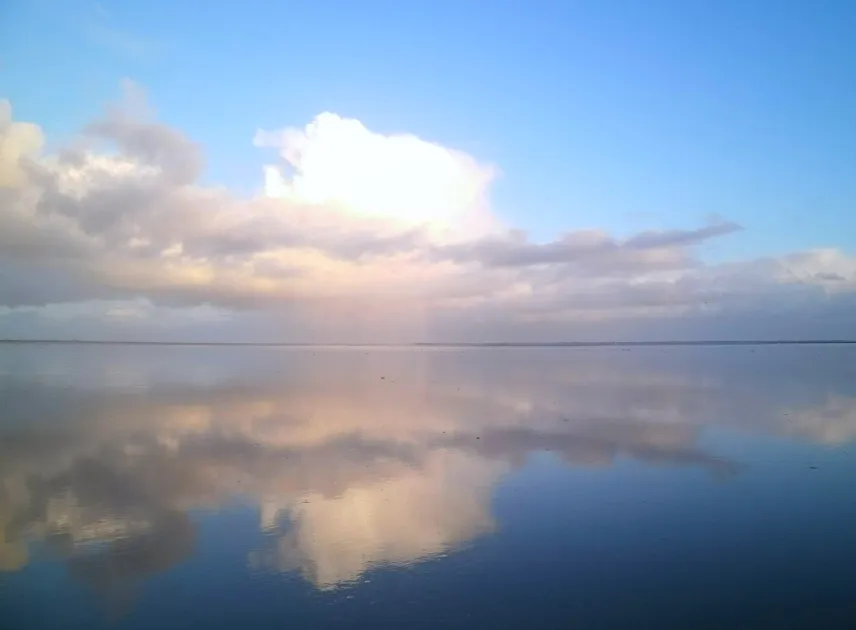 14. German North Sea Islands (East Frisian Islands)
The 7 East Frisian Islands Borkum, Juist, Norderney, Baltrum, Langeoog, Spiekeroog, and Wangerooge in front of the Lower Saxony coast are a real island paradise. All of the islands have endless beaches and dunes. Because they are super flat they are great for cycling. Juist and Baltrum are car-free (think Gili Islands in Indonesia). You can reach the islands via ferry or take a guided hike through the Wadden Sea (around 8 km or 5 mi) if you feel active.(around 8 km or 5 mi) if you feel active.
15. The Dikes
Dikes are typical for the coastal landscape. Originally built to reclaim land from the North Sea and protect the adjacent areas, the levees are like a green oasis nowadays. Oftentimes, you can walk or cycle directly on the dam, if not right next to it. Part of these paths belong to the North Sea Cycle Route, which is with 5,942 km (3,692 mi) the longest uninterrupted cycle path in the world. From the levees, you can spot windmills, lighthouses, and loads of sheep.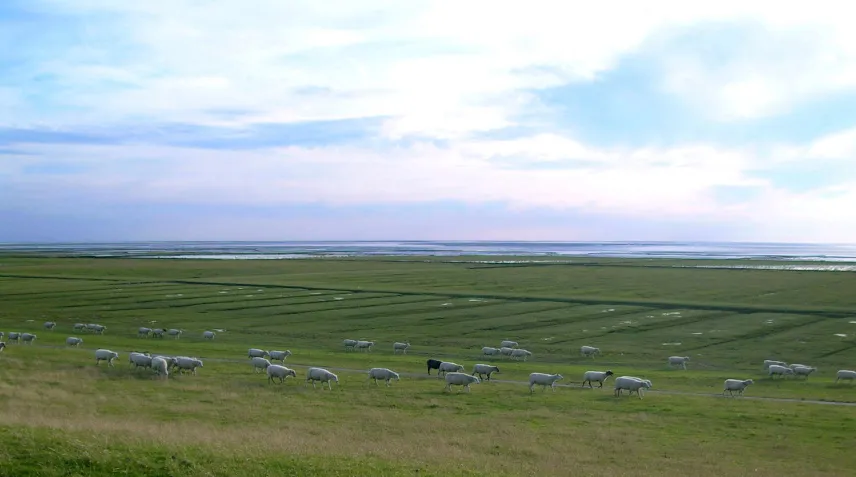 16. Emden
Emden is the biggest city in East Frisia. With 1200 years of history, this port city has loads to offer. You can hire a boat and explore the various canals, visit the East Frisian museum, or explore the city center with its typical red brick houses. A special highlight is the Otto Huus – a museum dedicated to one of Germany's most famous comedians – Otto Waalkes. Additionally, you can find Germany's walk of fame – the Hands of Fame – here. It was great fun to compare our hands to soccer player Uwe Seeler, Schlager (a distinctly german version of pop music – love it or hate it) singer Andrea Berg, or – you guessed it – comedian Otto.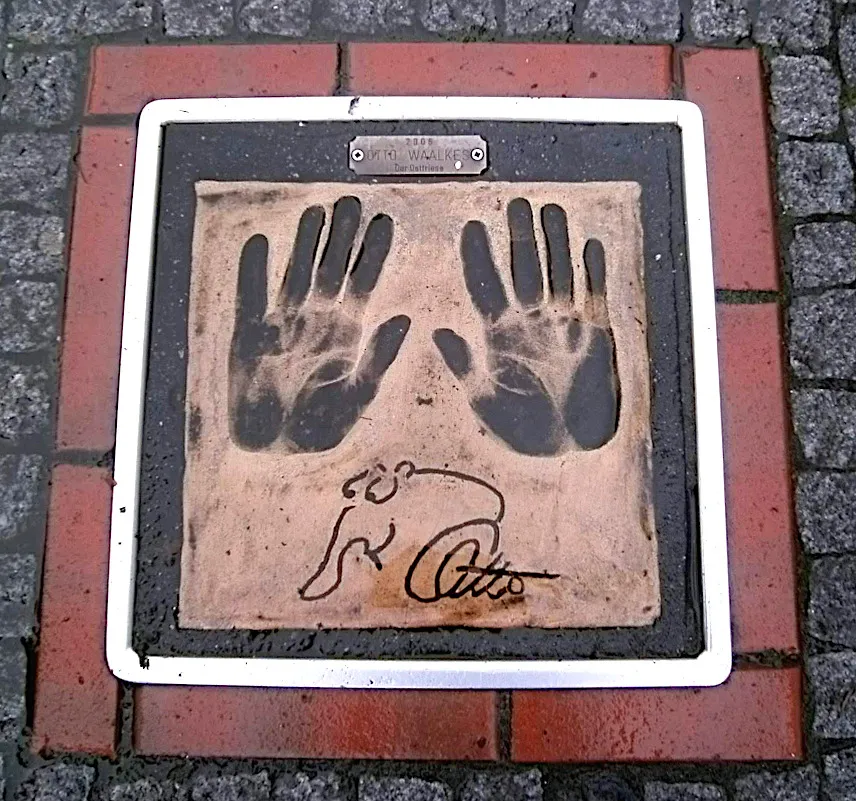 17. Cuxhaven
Don't miss Cuxhaven when you travel the German North Sea. It's one of Germany's most popular beach towns. Of course, you can do much more than relaxing on the beach. Take a horse carriage ride through the Wadden Sea to the island of Neuwerk. Explore the harbor with the Kugelbake, which marks the Elbe Delta, and the viewing platform Alte Liebe, from where you can see huge cargo and cruise ships coming up and down the Elbe River. I also recommend you to visit the Obereversand lighthouse, which sits on the end of a pier on a lattice construction (think Eiffel Tower).
18. Harbor towns
There are plenty of cute little harbor towns in Lower Saxony like Neuharlingersiel, Carolinensiel, or Bensersiel. We've tried and tested them all. They are all charming with colorful fishing boats, seafood restaurants, and beaches.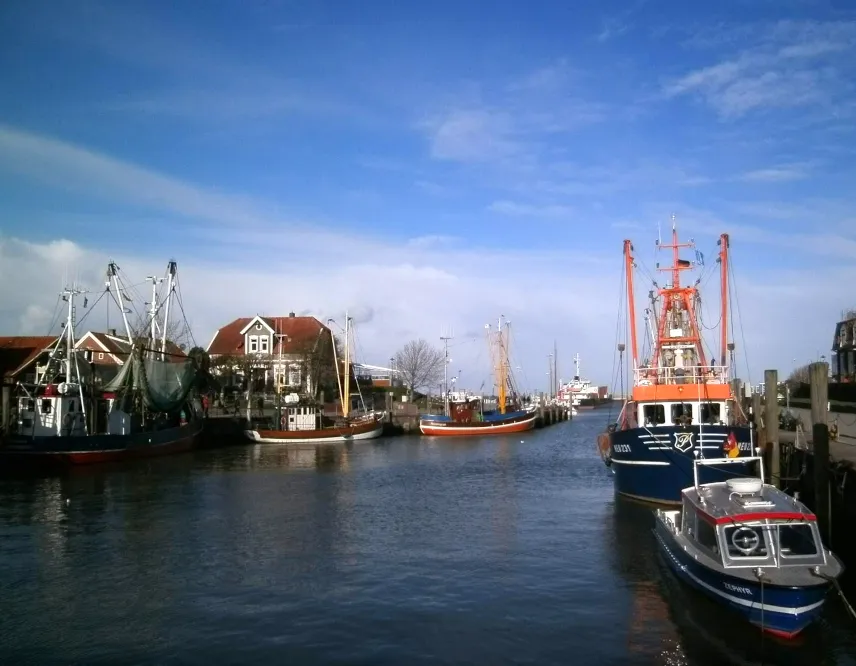 South and central Lower Saxony destinations
With the two attractions of the Harz Mountains and the North Sea, it's easy to overlook the south and center of Lower Saxony. Venture off the beaten path and explore the Weser River and the Weser Uplands in the south, parts of the German Fairytale Road like Hameln, the town of the Pied Piper of Hamelin, and many of the vibrant cities like Göttingen, Hildesheim or Osnabrück.
19. The Fachwerk5Eck
Duderstadt, Einbeck, Hann. Münden, Northeim and Osterode am Harz are 5 beautiful historic half-timbered towns in central Germany. Together, they from the Fachwerk5Eck.
20. Weser River
You can't miss the Weser River, which runs from the southernmost tip of Lower Saxony all the way to the North Sea. It originates in Hann. Münden through the confluence of the Werra and Fulda. Combined with the Werra it's the longest river wholly in Germany with 744 km (462 mi). Hann. Münden with its over 700 half-timbered houses is a personal recommendation! The Weser River is a biker's paradise: The Weser cycle path is 520 km (323 mi) long and oftentimes runs on both sides of the river – just take one of the small ferries to the side you prefer! Ride north to Bad Karlshafen, a baroque planned town, and further to Holzminden with its fragrant city tour and the Weser Renaissance castle in Bevern.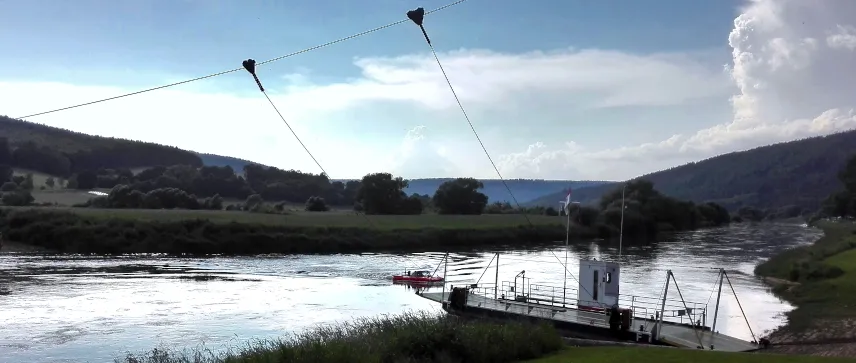 21. Lüneburg Heath
The Lüneburg Heath is a large area of heath, geest, and woodland. There are over 200 individual nature reserves in this area. But it's not all about the nature, the hiking, the cute Heidschnucke lambs, and the taking of Instagram pictures in front of the purple heath plants. There is also northern Germany's largest theme park, the Heidepark Soltau as well as some other theme parks. And there is a dark part of German history: The former Bergen-Belsen concentration camp.
Don't miss the name-giving town of this area, Lüneburg. It used to be Europe's largest salt producer and hence quite wealthy. This resulted in an incredibly picturesque cityscape with red brick buildings and loads of Hanseatic step-gables.
22. Altes Land
The Altes Land (which translates to old country) is northern Europe's largest fruit-producing region. Of course, a highlight is the blossom of the apple and cherry trees in spring. The Altes Land is south of the Elbe River, which is an excellent area for cycling. Additionally, there are many cute little villages. Many of the fruit farms in this region have characteristic elaborate gateways. Oftentimes you can find farmers' shops and cafes with plenty of homemade fruit cakes. This is the perfect place to slow down and enjoy nature.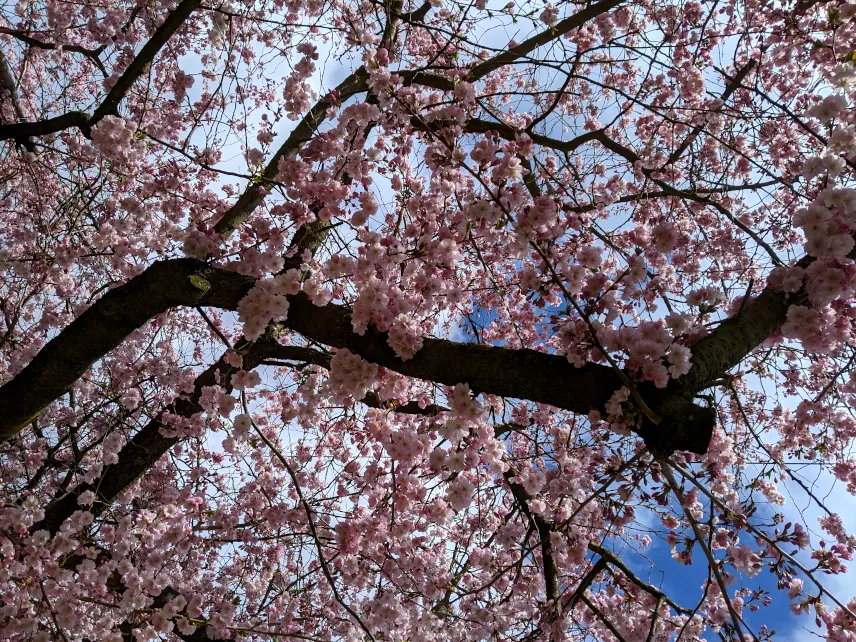 23. Göttingen
Göttingen with 100,000 inhabitants is the biggest city in southern Lower Saxony. It's a university city with loads of bars and cultural offers. Do stroll through the charming city center full of half-timbered houses, visit the famous Gänseliesel (goose girl) statue on the market square, or climb one of the church towers to get a great view. Our inside tip: If you plan to visit the famous Blautopf spring in southern Germany, go visit the Rhume Spring close to Göttingen instead, it boasts the same amazing blue watercolor but not the crowds.
24. Plesse Castle
Our favourite castle, Burg Plesse, is located close to Göttingen.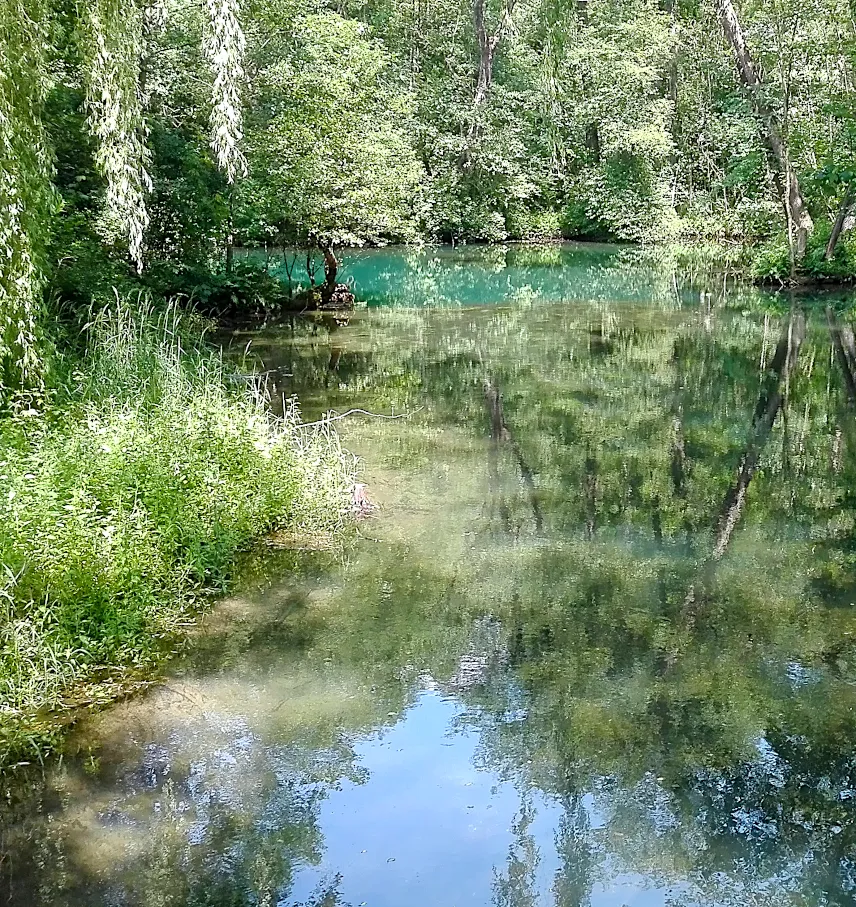 25. Hameln and the German Fairytale Road
Hameln, like many other towns in Lower Saxony, is part of the German Fairytale Road. This road traces the lives of the Brothers Grimm and their fairytales. One of the 60 stops is Hameln, the town of the Pied Piper of Hamelin. This town on the banks of the Weser River and among the rolling hills of the Weser Uplands boasts loads of half-timbered and Weser Renaissance buildings. Don't forget to check out the many Weser Renaissance castles in the area like Hämelschenburg and Schwöbber.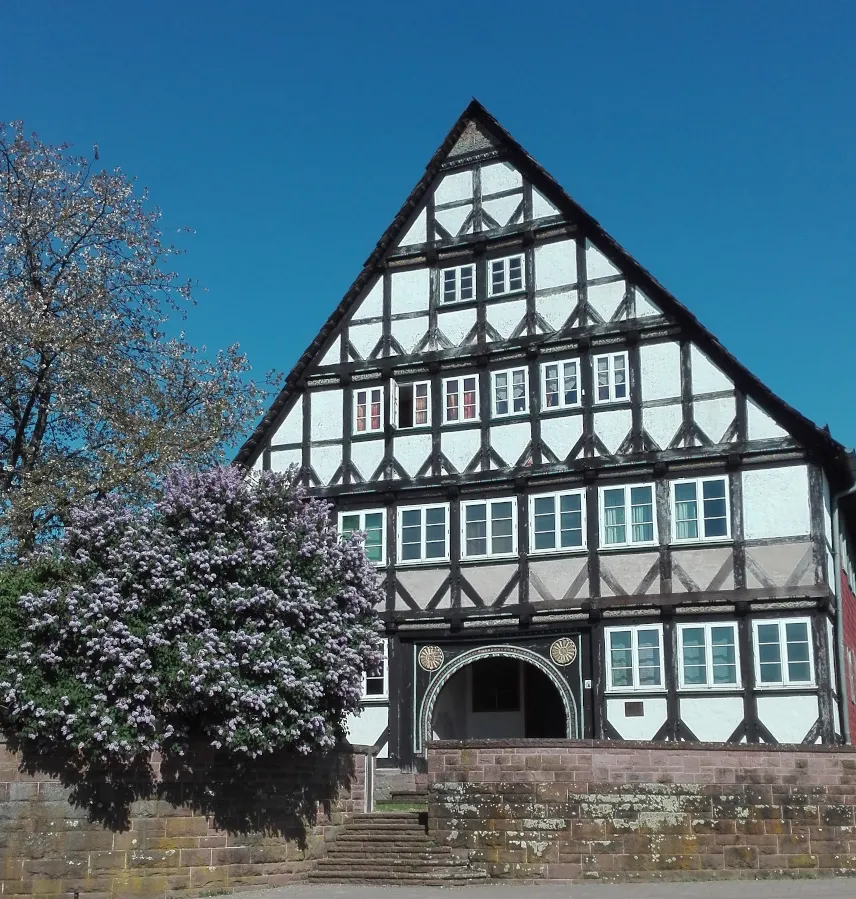 The Harz Mountains
Only a small part of the Harz mountains is located in Lower Saxony. Nonetheless, you have amazing hiking opportunities in this area, it's a great winter sports region, and you can find loads of quaint little mining and mountain towns.
26. Brocken
First and foremost, the highest mountain of northern Germany, the Brocken with its 1141 m (3743 ft) of elevation, needs to be mentioned. Yes, it's technically in Saxony-Anhalt, but it's only 2 km (1.2 mi) away from the border to Lower Saxony and it is the quintessential hike you can do in Northern Germany. The most popular route starts at Torfhaus, is 8.8 km (5.4 mi) long with an elevation gain of 360 m (1181 ft). If you're not into hiking, you can take the narrow-gauge steam railway, the Brocken Railway.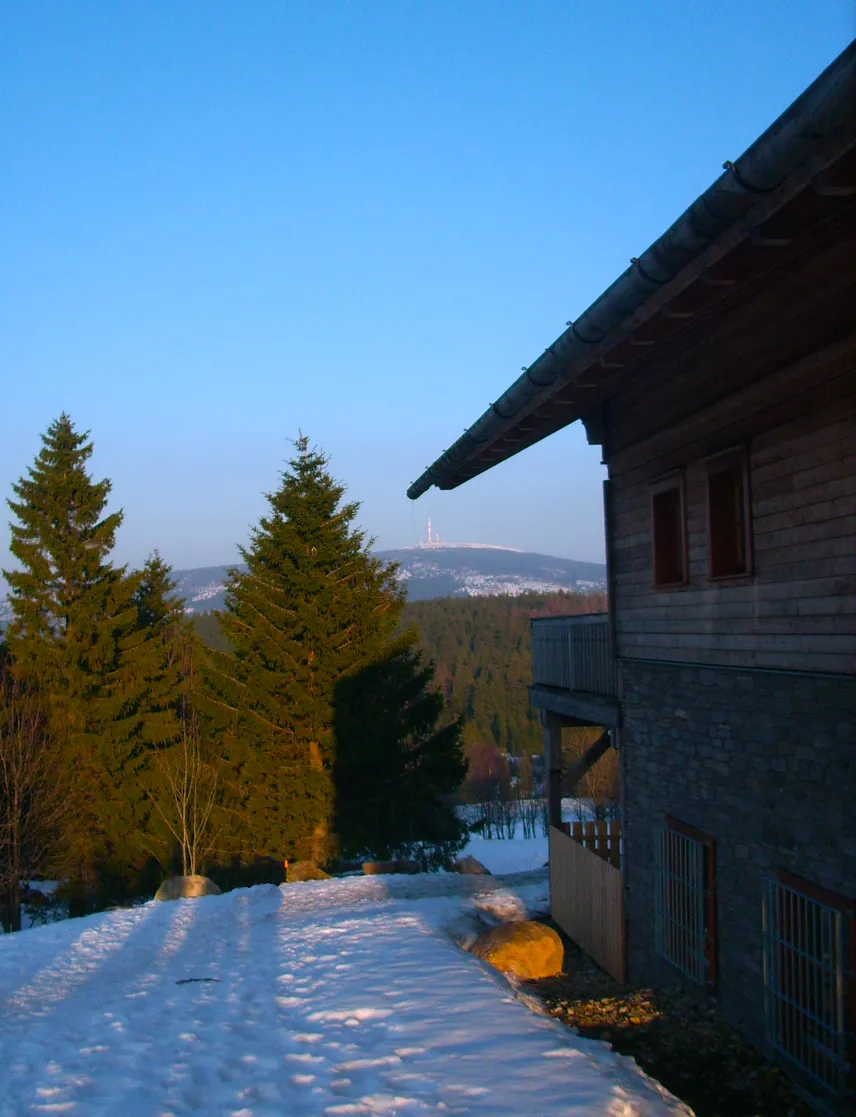 27. Torfhaus
Speaking of Torfhaus – here you can find the beautiful Torfhaus Moor. This bog features an instagrammable boardwalk with plenty of Brocken views. It's a raised bog, which already the famous author Goethe visited in his time (a sentence you will hear a lot in this region 😉).
28. Harz mountain lakes
Where there are mountains, there are mountain lakes as well. Clausthal-Zellerfeld alone features more than 60 lakes and ponds, with many of them being swimmable. The towns official swimmingpool is at a lake called the Oberer Hausherzberger Teich. Additionally, there are many dammed lakes like the Oker Dam.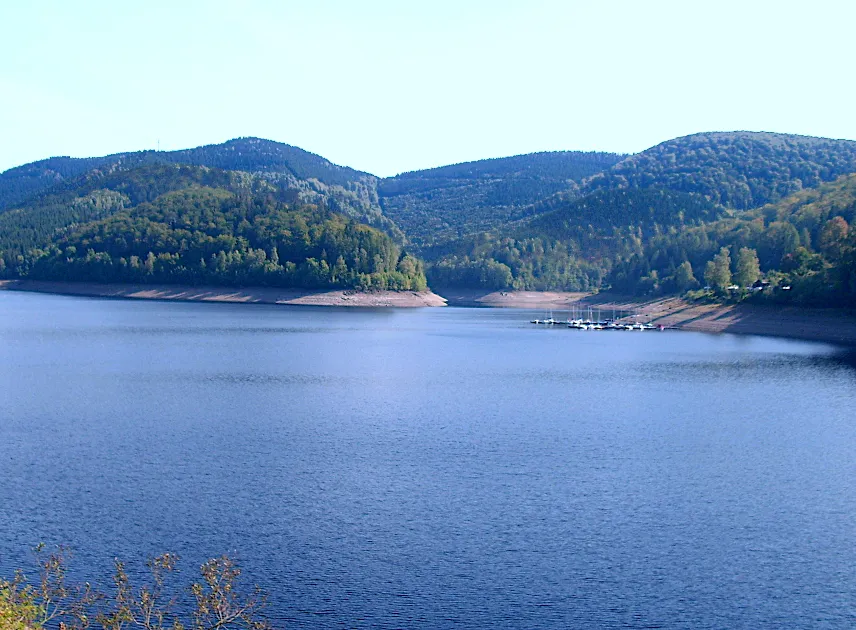 29. Goslar
Don't miss the UNESCO World Heritage city Goslar. Explore the amazing Rammelsberg Ore Mine, stroll through the historic town center and visit the Kaiserpfalz, the secondary seat of power for the Holy Roman Emperor in the Early and High Middle Ages. Also don't miss the Stave Church in the outskirts of Goslar.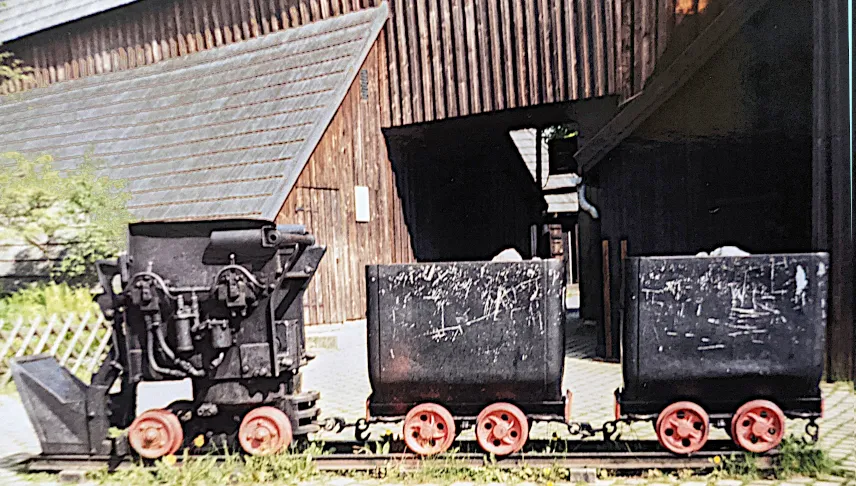 30. Braunlage
Braunlage with Lower Saxony's highest mountain the Wurmberg is one of the best winter sports places in the whole of northern Germany. You can find several ski lifts, slopes, and an ice stadium – you name it. You can do all kinds of winter sports from downhill to cross country skiing to sledding and ice skating here. Of course, it's also worth a visit in summer.
31. Bad Lauterberg
Bad Lauterberg is another notable city in the Harz mountains. The former mining town now features several spas, a cable car, which leads to the Hausberg, and my favorite cave, the Einhornhöhle (Unicorn Cave). Its name originates from misguided paleontological attempts, that identified the fossil remains in this cave as unicorns. Unfortunately, they were not...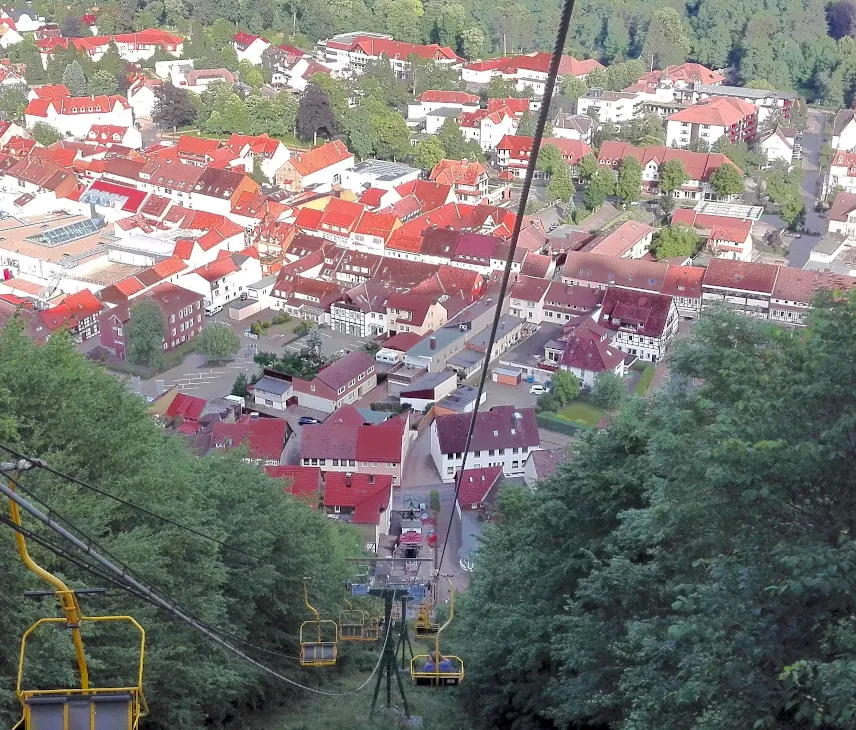 Things to do in Lower Saxony, Germany
Lower Saxony Food
Many people only think about the southern German cuisine with its Schnitzel, roast meats, and other heavy meaty dishes. But there's another side to German cuisine.
Labskaus
Close to the sea, you get loads of fish and seafood dishes like shrimps, fish rolls, and marinated herring. Do try Labskaus, a dish made from corned beef, potatoes, onion, beetroot, and pickled gherkin.
Pears, beans, and bacon
Famous and tasty dishes in Central Lower Saxony is a stew made of pears, beans, and bacon (Birnen, Bohnen und Speck) – it might sound like a crazy combination but trust me, it's delicious.
Kale
Kale is traditionally eaten with potatoes and boiled sausage like Bregenwurst, which used to contain brain but nowadays is made of pork and pork belly, or Pinkel, a smoked Kaszanka or Grützwurst.
Harzer Food
The Harz Mountains offer many specialties: Harzer cheese is a strong sour milk cheese. A popular cake in this region is the Harzer Schmandkuchen or sour cream cake. My favorite dish from the Harz is Harzer Schmorwurst, a braised sausage, which you can eat warm with Sauerkraut and potatoes or cold on your bread.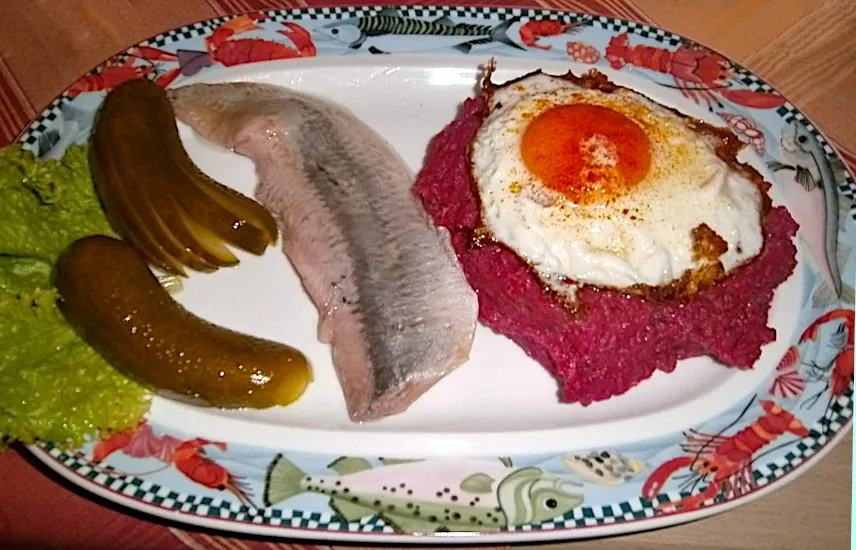 Lower Saxony drinks
Lower Saxony beer
A famous beer from Northern Lower Saxony is Jever.
A famous beer from Southern Lower Saxony is Einbecker. This is also one of our favourite beers.
A famous beer from the Harz mountains is Hasseröder. Also try the Goslar Gose, a unique sour wheat beer.
Lower Saxony booze
Don't forget to try Schierker Feuerstein, a half-bitters herbal liqueur, at a strength of 35%. Do compare the Schierker Feuerstein from the Harz mountains with the famous Jägermeister, which is at home in central Lower Saxony.
German tea ceremony
An East Frisian tea ceremony is a super tasty cultural experience.