This post contains affiliate links. If you use these links to buy something we may earn a commission. You would help us a lot if you do so. Thanks.
With over 8,000 restaurants and cuisines from 75 countries, Berlin is a foodie heaven. As the German capital is a huge city, it can be a bit overwhelming for first-time gourmand visitors.
As locals, we had a lot of time to explore the Berlin food scene to share our highlights and hidden gems.
If you're like us and you like to food travel, this blogpost will give you a quick overview over:
Traditional Berlin food.
The best foodie neighbourhoods in Berlin.
Berlin food tours that focus on different areas.
Food to Try in Berlin
Traditional Berlin Food
While you can find a mixture of typical German and international food in Berlin, there is some uniquely traditional Berlin food you must try:
Traditional Berlin Food with Meat
Currywurst (Curry Sausage)
Bouletten (Meatballs)
Königsberger Klopse (Königsberg meatballs in white cream sauce)
Leber Berliner Art mit Äpfeln, Zwiebeln und Kartoffelbrei (Berlin style liver with apples, onions and mashed potatoes)
Kassler mit Sauerkraut (lightly smoked cured pork with sauerkraut)
Eisbein mit Erbspüree (salted pork knuckle with pea puree)
Hackepeter (raw minced pork, mostly eaten on rolls with loads of onions)
Strammer Max (bread with ham and a fried egg)
Döner Kebab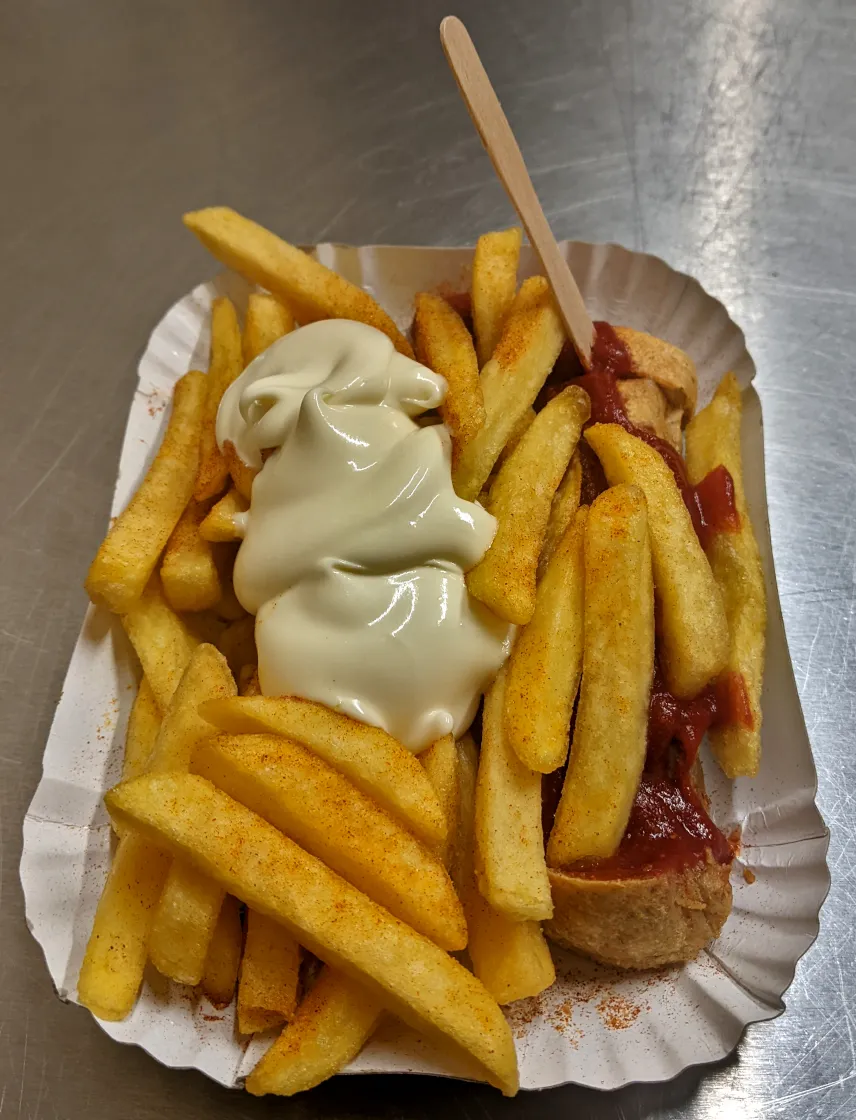 Traditional Berlin Food with Fish
Aal grün mit Salzkartoffeln und Gurkensalat (green eel with boiled potatoes and cucumber salad)
Rollmops (herring roll)
Vegetarian Traditional Berlin Food
While many traditional Berlin dishes are meat-heavy, you can find some vegetarian options as well:
Pellkartoffeln (potatoes with quark and linseed oil)
Bratkartoffeln (fried potatoes, served as a side dish or main course with a fried egg)
Linseneintopf (lentil stew)
Teltower Rübchen (Teltow turnips)
raditional Berlin Deserts
Berliner / Pfannkuchen (Berlin filled doughnut)
Berliner Luft (whipped creme dessert)
Traditional Berlin Drinks
Molle / Pils (beer)
Berliner Weisse (beer with syrup, mostly raspberry or woodruff)
Fassbrause (non alcoholic beer alternative)
Berliner Luft (peppermint schnapps)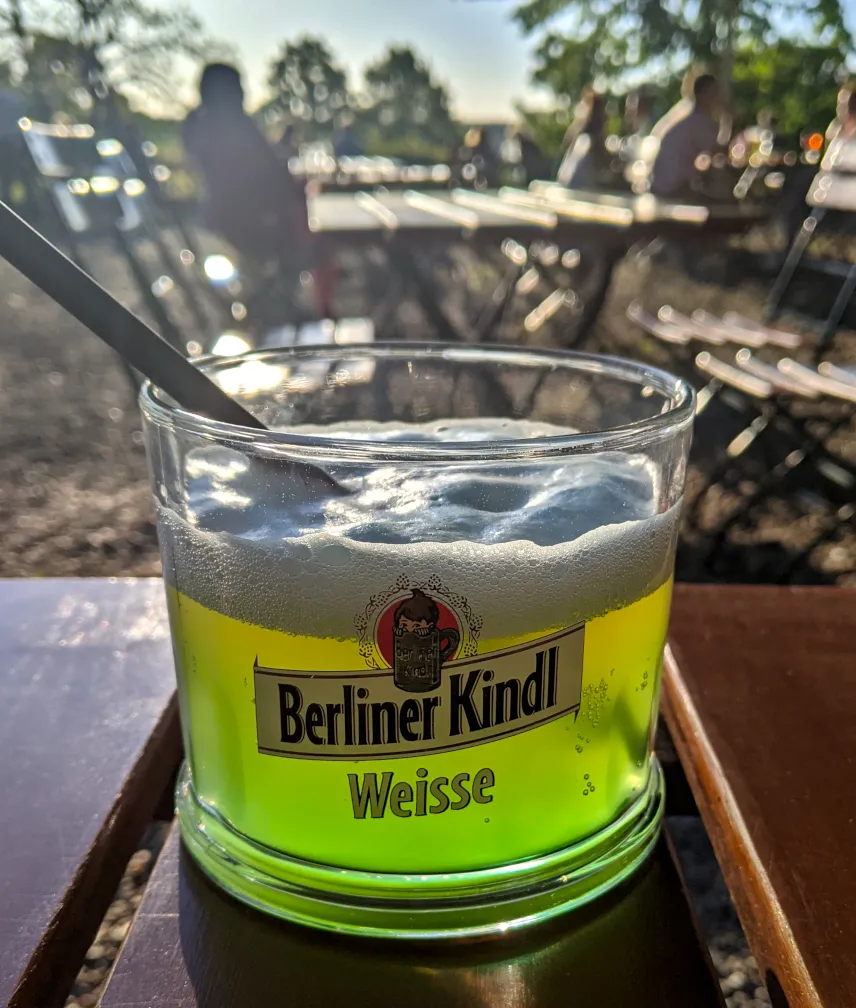 Traditional Berlin Food vs Traditional German Food
While you'll often find traditional German dishes like
Apple Strudel
Pretzel
Schnitzel
Spätzle
Maultaschen
in Berlin food guides, these are Southern German foods. This cuisine differs vastly from Berlin cuisine as they used to be different countries for the longest time.
💡
Fun Fact: Munich and East Berlin are only the same country since 1990!
International Berlin Food
The main international influences in Berlin are:
Middle Eastern (think Döner Kebab, Falafel, Baklava,…)
Asian (think Thai, Vietnamese, Korean, Indian, fusion,…)
Mediterranean (think Italian, Greek,…)
Fast Food
You can also find some more unique restaurants. Here are just some we like:
Balkans: Split
Cambodian: Angkor Wat
Ethiopian: Bejte-Ethiopia
French: La Cocotte
Georgian: Batumi
Indonesian: Mabuhay
Jamaican: Ya Man
Mexican: Ta'Cabron Taqueria
Peruvian: Chicha
Tajik: Tadshikische Teestube
Neighbourhoods
Best Berlin Foodie
Berlin Mitte
As this is the most central area, it's also the most touristy. Next to some tourist traps, you can find some true hidden (or not so hidden anymore) gems.
In our opinion, the best neighbourhood for foodies in Berlin Mitte is around Oranienburger Straße and the adjacent areas Hackesche Höfe and Torstraße.
Best Restaurants Mitte
For traditional Berlin food: Gambrinus
The best dessert: Princess Cheesecake
Something unique: Shiso Burger
Best brunch: House of Small Wonder
Best beer: Aufsturz
Berlin Food Tour Mitte
A guided food tour can save you the hassle of finding the best food spots on your own. On this Berlin Mitte food tour, you'll sample 5 international and original Berlin specialists in Berlin Mitte:
Berlin Friedrichshain
This area is especially amazing when you want to go out in the evening. If you ask us, this is the best neighbourhood to have dinner, especially if you want to go bar hopping afterwards.
You'll find the best food in Berlin Friedrichshain in the area around Simon Dach Straße.
Best Restaurants Friedrichshain
Best breakfast: Stilbruch
Best ice cream: Delabuu Ice Cream
Cheesy: MacLaren's Pub
Berlin vibes: Dachkammer
Best rock bar: ROCKZ
Berlin Food Tour Friedrichshain
The Secret Food Tour makes 7 different culinary stops – from traditional German to international cuisines.
Berlin Kreuzberg and Neukölln
This area is young, hip, and multicultural. The best street food and snacks as well as some of the best artisan ice cream stores in all of Berlin are located in this area. You'll find cuisines from every continent.
The best area for food in Kreuzberg can be found around Schlesisches Tor. In Neukölln, we like the Schillerkiez or Alt Rixdorf.
Best Restaurants Kreuzberg and Neukölln
Best Currywurst: Curry 36
Best burger: Burgermeister
Best street food: Markthalle 9
Best drinks: Schwarze Traube
Best rooftop views: Klunkerkranich
The best dessert: Brammibal's Donuts
Berlin Food Tour Kreuzberg and Neukölln
In Kreuzberg and Neukölln, you can find a perfect combination of street food and street art. If you're interested in both, why not try this guided tour?
Berlin Prenzlauer Berg
Prenzlauer Berg used to be like Kreuzberg and Neukölln a couple of years ago. Nowadays, you can feel the gentrification. A lot of vegan and organic food can be found in this neighbourhood.
The best food in Prenzlauer Berg can be found around Kastanienallee.
Best Restaurants Prenzlauer Berg
For traditional Berlin food: Altberliner Restaurant
Vegan traditional food: Försters
Best desserts: Burak Künefe
Something unique: Blumen-Café
Best bar: Druide Absinth & Cocktailbar
Berlin Food Tour Prenzlauer Berg
Berlin is a big city. This food tour does it justice by sampling Berlin food on a bike tour.
Berlin Charlottenburg
This is a posh area. You'll find many chic establishments. In residential areas you'll find rustic "Kiezkneipen" (neighbourhood bars), around the more touristy Zoo area, you'll find many modern rooftop bars and restaurants.
The best food in Berlin Charlottenburg can be found around Savignyplatz.
Best Restaurants Charlottenburg
For traditional Berlin food: Dicke Wirtin
Something unique: KLO
Best breakfast: Café im Literaturhaus
Best beer: Zwiebelfisch
Best vibe: Schwarzes Cafe
Rooftop views: Monkey Bar
Berlin Food Tour Charlottenburg
A guided food tour can save you the hassle of finding the best food spots on your own. On this Berlin Charlottenburg food tour, you'll sample a selection of savoury dishes and sweet desserts at 3-4 stops. Make sure to book the Tastyburg Food Tour if you're interested in Charlottenburg food.
Berlin Beer
The three major beers you'll find in Berlin are
Berliner Kindl
Berliner Pilsener
Schultheiss
Additionally, there are loads of craft beer breweries in town. We like:
Berlin Beer Tours
A tour for craft beer lovers like us: