We moved to Berlin more than 15 years ago. In our Berlin travel blog, we do not feature tourist traps but things we enjoy doing and still do on a regular basis. In our Berlin itinerary, we introduce
What to see in Berlin.
Cheap and efficient modes of transport.
Our favourite local neighbourhoods.
All the must-sees as well as a lot of hidden gems.
Is Berlin Worth Visiting?
Yes! Berlin is not only a very liveable city, but also a great place to visit as a tourist. Berlin is not only the capital of Germany, but also a very unique space full of
Culture from museums to techno clubs
History from the foundation in 1244 to the German Separation
A variety of neighbourhoods from the posh over the hip to the ones rough around the edges.
Berlin is a super international city and you'll get by using English just fine.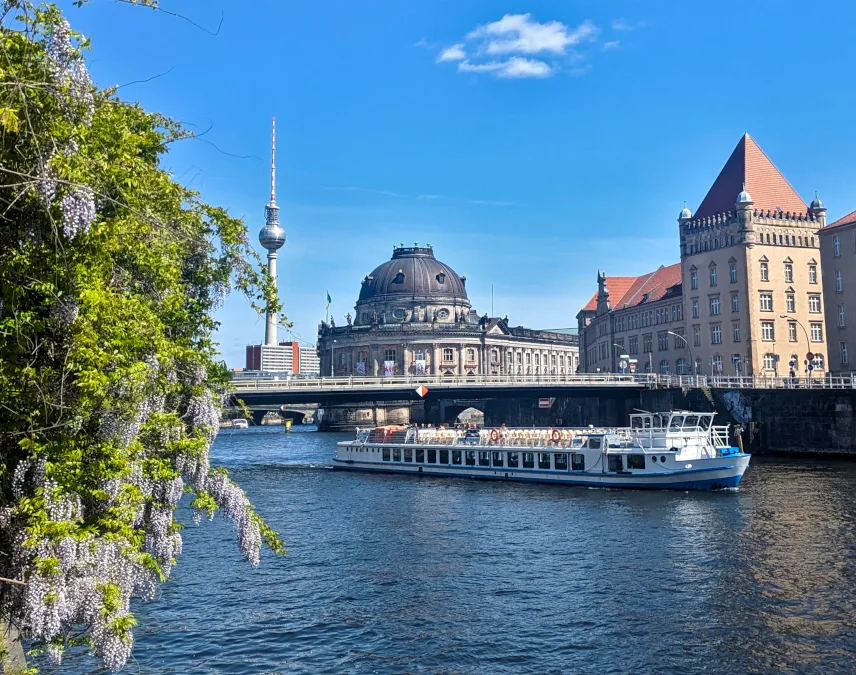 How Many Days in Berlin
How many days do you need in Berlin? Berlin is a huge city with loads to see.
To be honest, one day is barely enough to get a taste and you should have a very efficient plan to see as much as possible in such a short time.
A weekend in Berlin is enough to see all the highlights as well as venture into some local neighbourhoods to find some hidden gems.
In case you have a whole week to spend in Berlin, you can really immerse yourself and experience this city full of contrasts.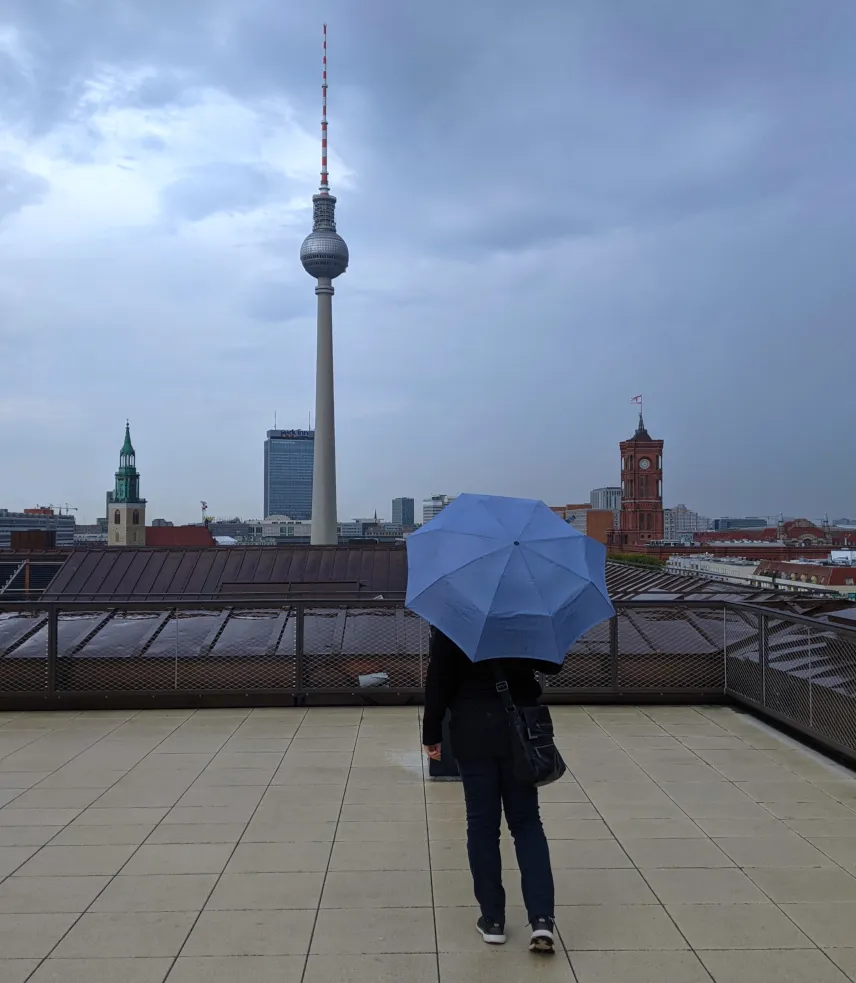 How to Get Around Berlin
Berlin is so large that it's not really walkable. Some places like the centre are within walking distance to each other but you will most likely not get around taking some form of transportation.
We love public transport in Berlin. The public transport company is called BVG. You can easily buy tickets online or in train stations as well as some small shops (look for the yellow BVG sign outside).
There are:
buses
trams
U-Bahn (underground train)
S-Bahn (urban-suburban train)
There are three zones in Berlin: A, B, and C. An AB ticket is enough for the majority of your touristy needs. You only need a zone C ticket if you venture out of Berlin, e.g. to Potsdam.
💡
Insider Tip: If you want to take more than three rides per day, it makes sense to buy a day pass. If you want to ride more than four days per week, it makes sense to buy a weekly pass.
If you're short in time or you just cannot be bothered to figure out a foreign public transport system, there's the option to take Hop-On Hop-Off buses.
💡
Insider Tip: The public bus lines 100 and 200 cover the same routes for a fraction of the cost.
Berlin Itineraries
Here's a quick overview of our suggested itineraries for Berlin. Of course, you can mix and match according to your preferences:
| | | | | | | | |
| --- | --- | --- | --- | --- | --- | --- | --- |
| | 1 day Berlin itinerary | 2 day Berlin itinerary | 3 day Berlin itinerary | 4 day Berlin itinerary | 5 day Berlin itinerary | 6 day Berlin itinerary | 7 day Berlin itinerary |
| Alexanderplatz | x | x | x | x | x | x | x |
| Unter den Linden | x | x | x | x | x | x | x |
| Regierungsviertel | x | x | x | x | x | x | x |
| Boat Tour | x | x | x | x | x | x | x |
| Gendarmenmarkt | x | x | x | x | x | x | x |
| Checkpoint Charlie | x | x | x | x | x | x | x |
| Charlottenburg | | x | x | x | x | x | x |
| Friedrichshain | | x | x | x | x | x | x |
| Neukölln | | | x | x | x | x | x |
| Kreuzberg | | | x | x | x | x | x |
| Potsdamer Platz | | | x | x | x | x | x |
| Berliner Unterwelten | | | x | x | x | x | x |
| Berlin wall | | | x | x | x | x | x |
| Berlin Mitte | | | x | x | x | x | x |
| Museums | | | | x | x | x | x |
| Culture | | | | x | x | x | x |
| Hohenschönhausen Prison | | | | | x | x | x |
| Cable Car | | | | | x | x | x |
| Köpenick | | | | | x | x | x |
| Spandau | | | | | | x | x |
| Grunewald | | | | | | x | x |
| Wannsee | | | | | | x | x |
| Potsdam | | | | | | | x |
1 Day in Berlin Itinerary
If you only have a day in Berlin, you need to put your walking shoes on and prepare for a long day filled with all the highlights.
Regierungsviertel
Morning: Alexanderplatz, Unter den Linden,
We love starting every city trip with a (free) walking tour because you'll get all the highlights presented in a very efficient manner.
We recommend you start your tour at the Alexanderplatz. Climb the TV Tower or Fernsehturm to get an overview of the city. You should book the ticket online to avoid a long wait time.
If you have the time and energy, visit the Nikolaiviertel, the oldest quarter of Berlin, next. Make sure to check out the Rotes Rathaus or Red Townhall on the way as well as the Nikolaikirche or St Nicholas Church.
Next, walk down our favourite street in Berlin, Unter den Linden. This street is so filled with sights that we can only name some in this blogpost:
Berliner Dom / Berlin Cathedral
Humboldt Forum / Berliner Schloss
Museumsinsel / Museum Island
Neue Wache / New Guard House
Brandenburger Tor / Brandenburg Gate
💡
Insider tip: If you don't want to walk all the way, you can also take the bus line 100 , also dubbed as the sightseeing bus.
The Regierungsviertel, the political centre of Berlin, is only a stone's throw away.
Make sure to visit the Reichstag. The visit to the famous cupola is free but you have to book in advance.
Admire the Siegessäule or Victory Column from afar.
If you have the energy, visit the Bundeskanzleramt or German Chancellery.
Visit the Memorial to the Murdered Jews of Europe.
Afternoon: Boat Tour, Gendarmenmarkt, Checkpoint Charlie
Make your way to the Friedrichstraße where you can hop on a sightseeing boat tour. This is something we still frequently enjoy as locals – as well as a great way to relax your feet a bit.
💡
Insider Tip: The Tränenpalast / Palace of Tears has a small free exhibition about the former German separation.
After the boat tour, take a walk or a U-Bahn to Gendarmenmarkt. If you walk you'll pass the Berlin version of Galeries Lafayette. Gendarmenmarkt is a lovely architectural ensemble that includes the Berlin concert hall, as well as the French and German Churches.
💡
Insider Tip: Rausch Schokoladenhaus is amazing for a break. Even if you don't want to indulge in chocolate, you can admire the chocolate miniatures of the major Berlin sights for free.
End your day at Checkpoint Charlie where you can take the famous picture. You can either learn more about the German separation at the Mauermuseum / Wall Museum or visit the free Topographie des Terrors / Topography of Terror exhibition about Nazi Germany.
2 Days in Berlin Itinerary
Day 2 is a day full of contrasts.
Morning: Posh Berlin in Charlottenburg
Start your day by visiting Charlottenburg Palace. It's a much less crowded and easier to reach alternative to the castles in Potsdam (which are also very much worth a visit if you have more time). The gardens are also worth visiting.
Afterwards, you can make your way over to the posh high street of Ku' Damm or Kurfürstendamm / Prince Elector Embankment. Here you can either shop until you drop or just window shop because it's where all the high-end stores are.
Even if you're not into shopping, you should check out the KaDeWe or Kaufhaus des Westens / Department Store of the West. It is the second-largest department store in Europe. In case you're a foodie, you can sample some high-end food here.
The ruins of Kaiser-Wilhelm-Gedächtniskirche / Kaiser Wilhelm Memorial Church should not be missed.
You'll find a lot of modern rooftop bars and restaurants in this area if you want to take a break in style. We personally love the Monkey Bar.
Afternoon: Alternative Berlin in Friedrichshain
Start your Friedrichshain itinerary at the East Side Gallery where you can admire art on old pieces of the Berlin Wall – open air and for free.
Make your way over to the Oberbaumbrücke. Ignore the smell of pee and check out the molecule man from afar.
You'll find plenty of amazing street art and nightlife options in this area. How about admiring the street art at the RAW Gelände before heading to the Simon-Dach-Straße for some dinner and drinks?
3 Days in Berlin Itinerary
From South to North Berlin.
Morning: South Berlin - Neukölln, Kreuzberg, Potsdamer Platz
Start your day in the Neukölln area of Rixdorf. Böhmisch-Rixdorf, also called Böhmisches Dorf (Bohemian village) was a small community of Protestant refugees from Bohemia, founded in 1737. Today, you'll find an eclectic mixture of historic houses and hip restaurants, cafes and bars in this area.
Make your way to the old Tempelhof Flughafen / Tempelhof Airport. You can either walk across the old airstrip which is a park nowadays or take bus M43.
Whether you walk or take the bus, make sure to check out Platz der Luftbrücke and the old airport buildings from the outside.
Your last stop in South Berlin will literally be the Kreuzberg (the German word Berg means mountain). Climb the waterfall (yes, there's a waterfall in Berlin) to the top and admire the views.
Walk to the S-Bahn station Yorckstaße to make your way to North Berlin. Take some time to admire the old bridges and have a quick look at the beautiful Gleisdreieck Park.
💡
Insider tip: The
BRLO Brwhouse
at Gleisdreieck Park serves amazing Berlin craft beer.
If you want to, you can have a quick stop at Potsdamer Platz on your way to the north. We think the Sony Centre with its unique cupola is well worth a visit. There's also a viewing platform called Panoramapunkt in case you're a sucker for a good view like us.
Afternoon: North Berlin: Berlin's Underworld, Berlin Wall, and Berlin Mitte
Start your afternoon at the Berliner Unterwelten Museum or the Berlin Underworld. Here, you can learn about the history of Berlin in various old bunkers – you just have to choose one.
Make sure to check out the old Flakturmruine Humboldthain / Humboldthain flak tower ruins which you can either enter with a guided tour from the Berliner Unterwelten Museum or (literally – there's a sport climbing wall at the flank of the flak tower) climb for a nice free view over North Berlin.
Work your way south (walking or with the S-Bahn) to the Gedenkstätte Berliner Mauer / Berlin Wall Memorial where you can learn about the Berlin Wall for free.
💡
Insider tip: Maybe it's not a hidden gem anymore but you should check out the Mauerpark Flohmarkt / Flea market on a Sunday.
If you take the S-Bahn even further south, you'll reach the Oranienburger Straße in Berlin Mitte. Here, you'll find the Synagogue. Additionally, it's another area full of bars, cafes, and restaurants.
💡
Real Talk: Oranienburger Straße is also a place where you'll find street prostitution. Don't be shocked. I still walked alone countless times as a woman and was completely fine.
End your day at the Hackescher Markt and Hackesche Höfe / Hacke's Courtyards. It is a courtyard complex consisting of eight interconnected courtyards, designed in the Jugendstil (or Art Nouveau) style.
You will find no shortage of food in this area. We love Gambrinus for traditional German cuisine.
4 Days in Berlin Itinerary
Day four in Berlin is full of culture!
Morning: Museums
Berlin has an amazing museum landscape. As there are over 170 museums, we introduce some of our favourites to choose from.
The Museum Island museums in Central Berlin are the most obvious choice for a museum visit. On Museum Island, you can find:
The best museums for nature and science are:
German Museum of Technology
The best museums for art are:
The best museums for Berlin history are:
Afternoon: Culture
There are so many options in Berlin that it can be hard to choose. Here are some of our favourites, make sure to choose at least one:
Berlin opera:
Deutsche Oper
Staatsoper
Komische Oper
Berlin classical music:
Konzerthaus Berlin
Berliner Philharmonie
Berlin clubs:
Berghain (with its infamous door policy)
Kit Kat Club (according to Wikipedia "known for its sexually uninhibited parties")
Kater Blau (at the River Spree with a nice outdoor area)
SchwuZ (LGTBQ-Club)
Weekend Club (rooftop terrace)
Other events:
There are so many things going on each day in Berlin, just keep your eyes open for events on the days of your visit.
5 Days in Berlin Itinerary
If you have five days in Berlin, you can slow down your pace significantly. You will not get a complete image of Berlin if you don't visit East Berlin with its Plattenbauten or panel buildings.
Hohenschönhausen Prison and Cable Cars
Morning:
Berlin-Hohenschönhausen Prison is a museum and memorial. It is located on the site of the main political prison of the former East German Communist Ministry of State Security, the Stasi. As of today, former inmates give personal and shocking tours about the dark side of former Eastern Germany.
Hop on the tram line M27 or M6 to reach your next destination, Gärten der Welt / "Gardens of the World". While the gardens themselves are worth visiting, the highlight is the cable car. Yes, you heard right, Berlin has a cable car. It leads to the summit of Kienberg Hill. You'll have a great view across East Berlin with its many panel buildings.
💡
Insider tip: If you want to see an original GDR apartment, you can visit the Museumswohnung for free every Sunday between 2 pm and 4 pm.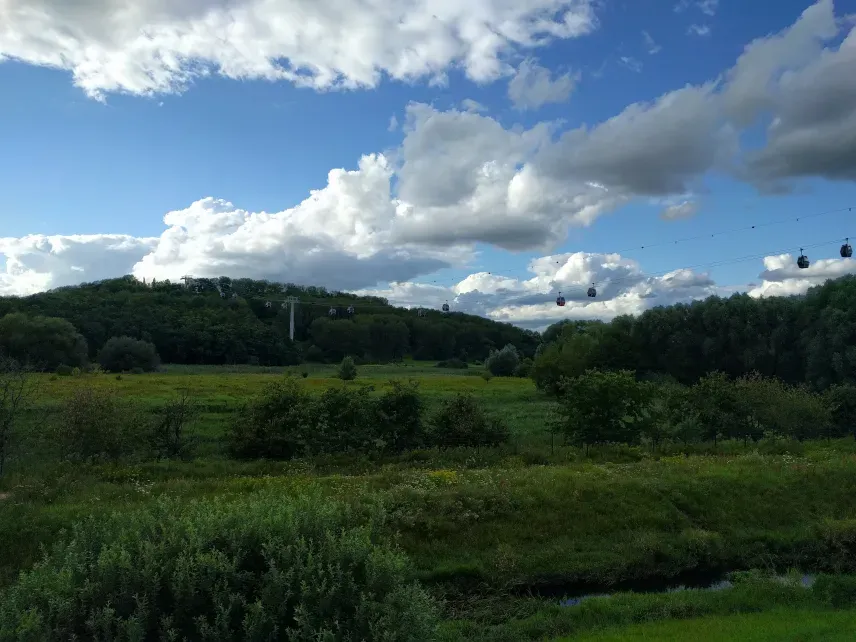 Afternoon: Köpenick
Köpenick is a particularly charming Berlin quarter. It was made famous by Friedrich Wilhelm Voigt  also known as the Hauptmann von Köpenick / Captain of Köpenick. He was an impostor who masqueraded as a Prussian military officer, rounded up several soldiers under his "command", and "confiscated" a lot of money from a municipal treasury. Although he served two years in prison, he became a folk hero and was later pardoned.
Nowadays, it's famous for its picturesque old town – including a castle – which is surrounded by water.
6 Days in Berlin Itinerary
On day six in Berlin, we venture to the wild wild West.
Morning: Spandau, Olympiastadion, Grunewald
Start your day at Zitadelle Spandau / Spandau Citadel (U-Bahn Zitadelle Spandau). The fortress is one of the best-preserved Renaissance military structures in Europe. Built on an island near the meeting of the Havel and the Spree River, it was designed to protect the town of Spandau. Nowadays it's a museum.
Make your way to Spandau's old town with its cute cobblestone streets.
💡
Insider tip: If you want a treat check out Florida Eis – ice cream made in Spandau.
On your way to the Grunewald, you can make a quick pit stop at the Olympiastadion / Olympic Stadium in case you're interested in Nazi architecture. It was built for the 1936 Summer Olympics. Today it is the home ground of the Berlin football club Hertha BSC.
You can reach the Teufelsberg / Devil's Mountain by a 30-minute walk from Heerstraße station. It is a debris hill with a height of 120 meters. It's not only great for views over west Berlin, but you can also visit the former Cold War U.S. listening station, Field Station Berlin. Here, you can find lost place vibes, amazing street art, and a rooftop terrace.
Afternoon: Wannsee
There are three main ways to reach Lake Wannsee: You can hop back on the S-Bahn at Grunewald station, you can hike, or you can rent a bike for the day. Walking will take more than two hours but it's a charming hike through Grunewald forest along the Havel River.
At Wannsee, you have several options:
When the weather is nice, you can enjoy the famous Berlin lake culture at Strandbad Wannsee.
You can enjoy a beer in a beer garden (we love Loretta am Wannsee).
History buffs can visit the Haus der Wannsee Konferenz / House of the Wannsee Conference. During this meeting, senior government officials of Nazi Germany decided on the "Final Solution to the Jewish Question", whereby most of the Jews of German-occupied Europe would be deported to occupied Poland and murdered.
If you're on the hunt for another castle, go to Pfaueninsel / Peacock Island. You cross over on a small ferry and admire the small castle as well as – you guessed it – loads of free-roaming peacocks.
💡
Insider tip: By now you know that we love boat rides. At Wannsee, you can hop on a public transport ferry to Kladow. The 20-minute ride is included in your BVG day pass. You can visit a beer garden on the other side or hop right back on the ferry to Wannsee.
7 Days in Berlin Itinerary
If you have one week in Berlin, you have time for one of our favourite day trips from Berlin: Potsdam. Potsdam, the capital German state of Brandenburg, can be easily reached by S-Bahn in under 30 minutes.
Of course, you can also opt for a guided tour.
💡
Insider tip: You need a ticket for zone C!
Morning: Potsdam Castles and Russian Colony
There are more than 30 castles in the Potsdam area.
Sanssouci Castle is the undisputed highlight in Potsdam. Hence it makes sense to buy tickets in advance.
Cecilienhof is also worth a visit.
One of our personal favourites is the Belvedere.
You can also visit many of the castles by boat.
On the way back to the centre, you can visit the Russian Colony with its traditional wooden houses and authentic Russian food.
Dutch Quarter
Afternoon: Potsdam Centre and
In the afternoon, take a stroll through the city centre with
The pedestrian street.
Potsdam's very own Brandenburg Gate.
St. Nikola church.
City Palace.
Here, you'll also find our favourite art museum: The Barberini Museum.
Make your way to the Dutch Quarter with its 134 brick houses.
💡
Insider tip: Filmpark Babelsberg  is a must-visit for movie enthusiasts. It's a film-themed amusement with over 20 film-specific attractions, shows, a 4D theatre, and original sets. On the downside, it's mostly geared towards German speakers.
This post contains affiliate links. If you use these links to buy something we may earn a commission. You would help us a lot if you do so. Thanks.