Drake Bay is definitely a highlight when you road trip Costa Rica. Located on the Osa Peninsula in Costa Rica, it's the perfect gateway for the Corcovado National Park, one of the most biodiverse regions on planet earth. It's also a great vantage point for snorkelling Cano Island. With the newly finished road, it's now easily possible to reach Drake Bay with a regular car as bridges render river crossings unnecessary.
How to Get to Drake Bay, Costa Rica After 2022
Drake Bay by Car, no River Crossings
Good news: As of 2022, you don't need a 4 WD car anymore to reach Drake Bay. New bridges have been constructed which make it easy to reach Drake Bay with a regular car. There are no river crossings necessary nowadays so that you can easily get to Drake Bay even during the rainy season.
Take the left road when you reach the spot we marked as "crossroads" on our map. There, you'll find a sign saying "Punte / Bridge Drake Bay" (see picture below from Costa Rica Travel Blog).
💡
When you use Google Maps to navigate, you have to manually change your route to the left!
Drake Bay by Public Transport
First, you have to take a bus to Sierpe. From there, you can catch a boat to Drake Bay. Currently, there is one daily direct Tracopa bus from San Jose to Sierpe. It leaves at 8:30 am and drives down the coast so you can also hop on along the way, for example in Uvita. It takes around 7 hours, leaving you very little time to catch the last boat. Tracopa buses to Palmar Norte run much more frequent. Here, you can change to a local bus to Sierpe or even take a taxi if you're not on a tight budget.
Two daily boats run from Sierpe to Drake Bay: The 11:30 am boat is $15 per person and the 3:30 pm boat is $20 per person. The boat takes around one hour, leaving you very little time to settle in before sunset if you take the later boat.
Corcovado National Park Tour
Of course, the easiest way to see the area is a tour. Most of the tours leave from Uvita but you can also find tours from Manuel Antonio and even San Jose. Corcovado National Park tours take at least a whole day. They include a boat ride, a hike and some beach time. This convenient sampler comes at a price but is the perfect choice if you don't have a lot of time.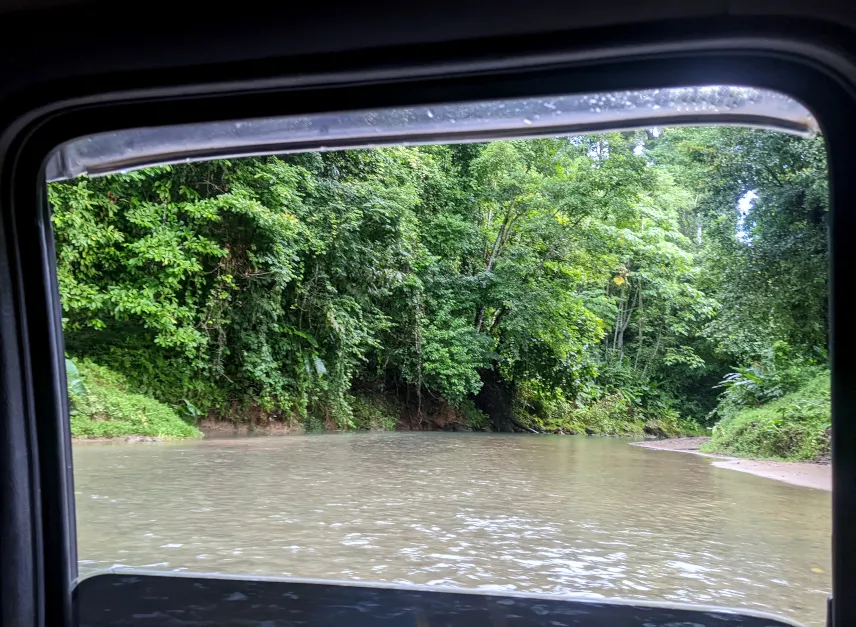 Where to Sleep in Drake Bay, Costa Rica
We chose the super budget-friendly Corcovado Adventures for our stay. For as little as 14$ per night, you can stay in dorms, but there is also the option to stay in tents or private rooms. You can walk into town along the Drake Bay Hiking Trail and there's a soda relatively close by. We still recommend bringing your food with you as the hostel provides a kitchen. The beach in front is nice but the current is very strong so beware if you want to swim. The accommodation is pretty basic with no hot water so we really only recommend it for the budget traveller.
The Jaguars Jungle Lodge is a nicer alternative. They have comfortable seating at the sea. It's further away from Drake Bay but much closer to Corcovado National Park. We have visited a travel friend here and can confirm that it's a nice place to stay.
If you want to be closer to the shops and restaurants in town, we can recommend the Corcovado & Drake Inn which comes with its own swimming pool.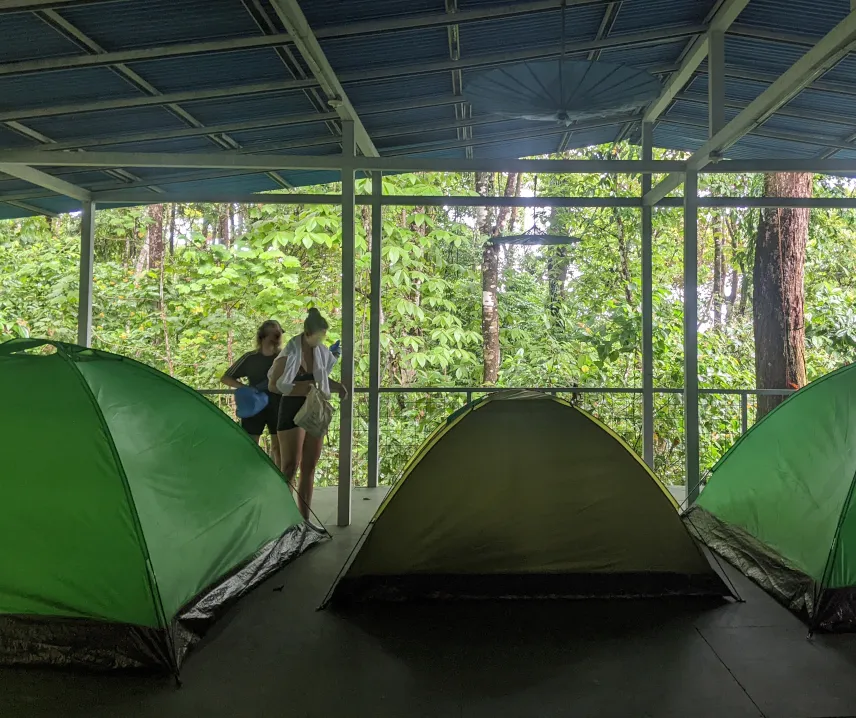 What to Bring to Drake Bay, Costa Rica
Bring enough cash. There are no ATMs in Drake Bay and activities can be quite costly. Many providers don't accept credit card payments.
Be smarter than we were and bring a headlamp. It can get very dark at night, especially if you sleep somewhere in the jungle.
Bring not only hiking boots but also waterproof boots if you want to hike a waterfall and for the beaches which can get quite pebbly.
You're in the jungle so be prepared to see a lot of animals. You'll want to take some heavy-duty insect repellent with you. We can recommend Off.
If you come with your own car, it's cheaper to shop on the mainland.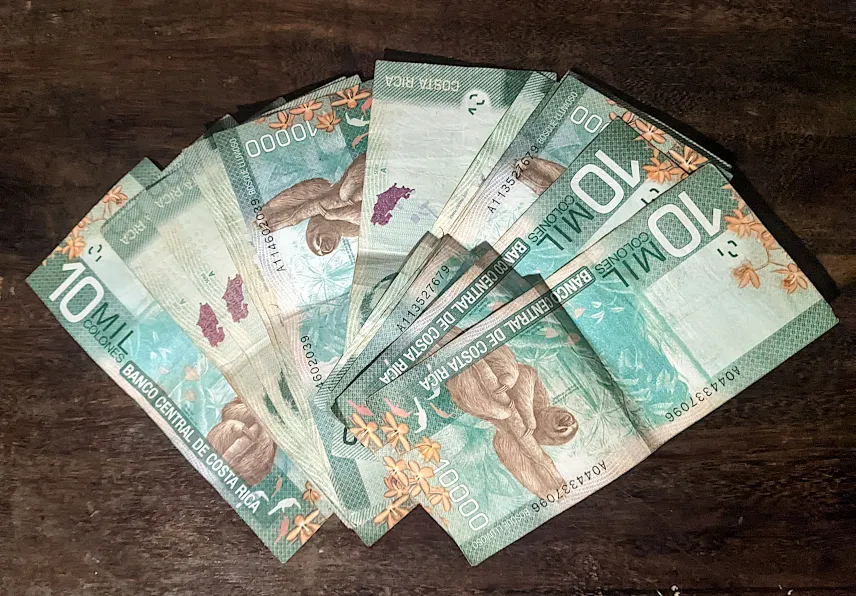 Best Things to Do in Drake Bay, Costa Rica
Jungle Trek in Drake Bay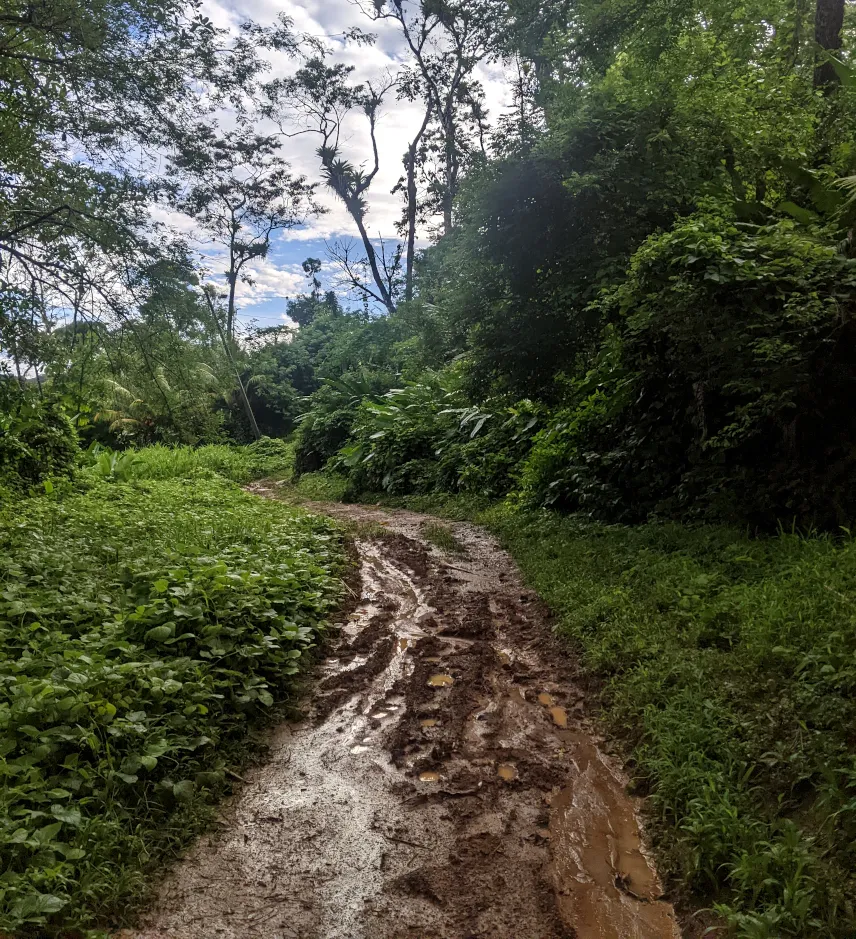 The animals don't know where the national park starts and ends so you also have good chances to spot wildlife on self-guided hikes around the national park. The Drake Bay Hiking Trail is a relatively easy hiking option with the added bonus of some amazing beaches along the way.
Corcovado Hiking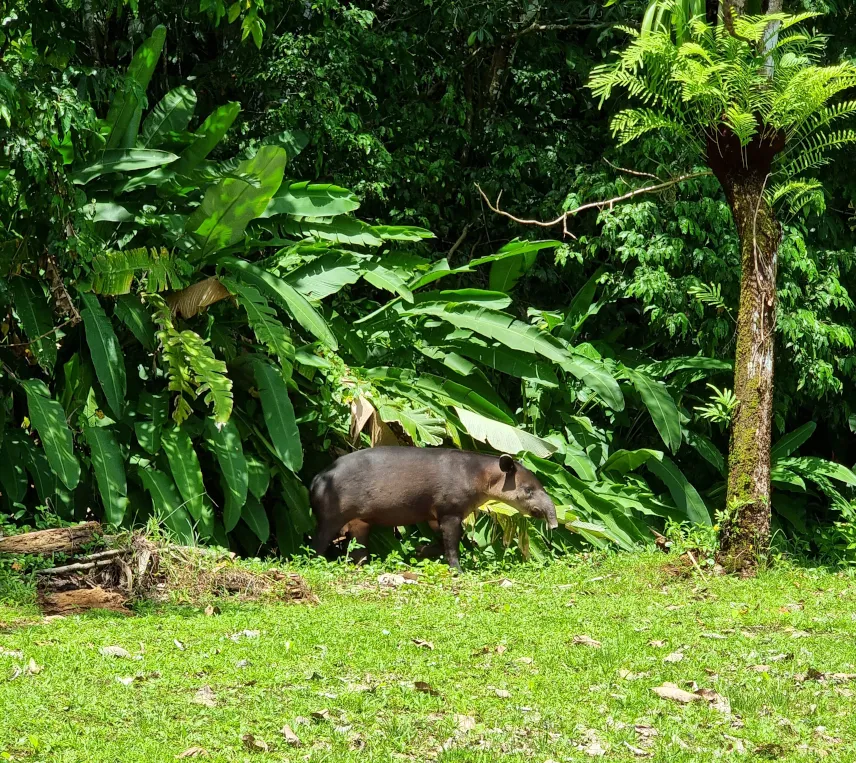 If you're in the area, we recommend you invest some money and do a guided hike through the Corcovado National Park itself. After all, it's not every day that you're in one of the most biodiverse regions on earth. You can spot plenty of birds like toucans, mammals like monkeys or tapirs, and reptiles like crocodiles. The guide will bring a large telescope and spot animals for you. Additionally, you can learn more about the local flora and fauna than you would on your own.
Night Hike in Drake Bay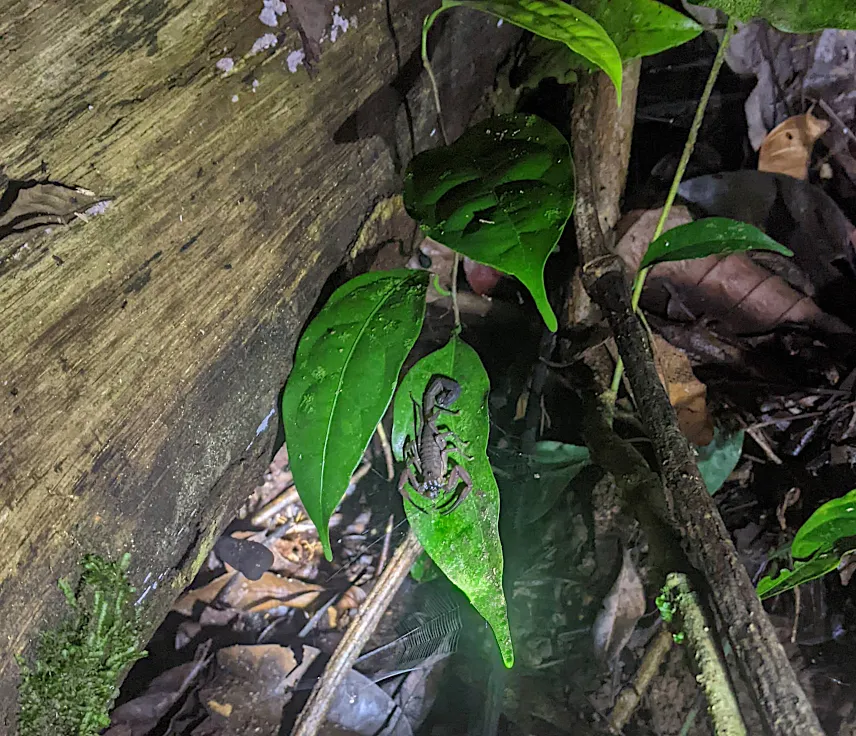 If you have the rather unique opportunity to spend one or more nights in this biodiversity haven, you should not miss a night hike. All the snakes, spiders, scorpions and other creepy crawlies come out at night to make the night hike memorable for you. Wear long trousers, solid shoes, and socks because there are ants everywhere along the hiking trails - surprisingly they were the animals which bothered us most on our night adventure.
Hit the Many Beaches in Drake Bay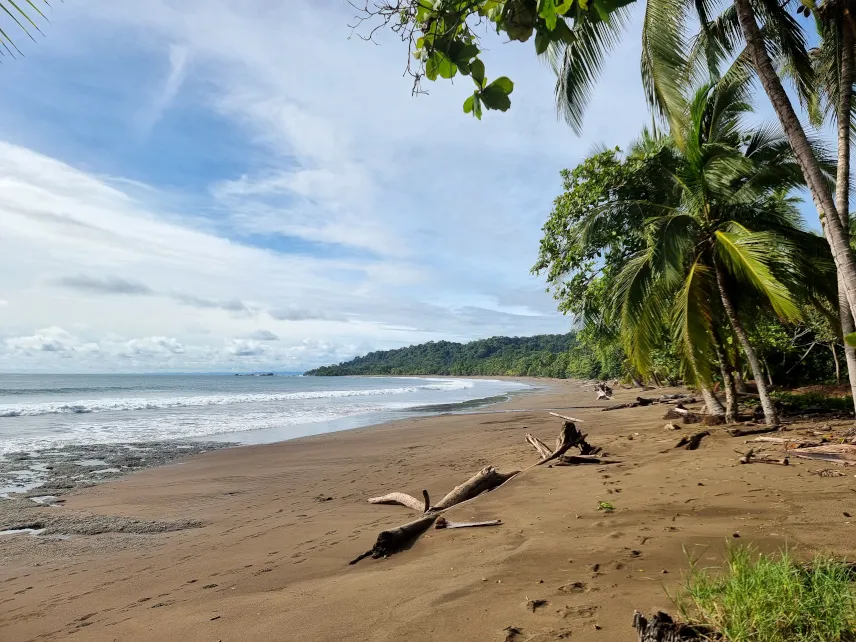 The beach in Drake Bay itself is not that nice because of the boat traffic. Along the Drake Bay Hiking Trail, you can find plenty of nice beaches though. The closest is Cocalito Beach, arguably the nicest beach in the area is San Josecito Beach. Watch out for some strong waves and currents and be extra careful not to go too deep into the water and familiarize yourself with safe swimming procedures.
You can also watch some amazing sunsets at the beach - maybe while enjoying a fresh coconut.
Chase Waterfalls in Drake Bay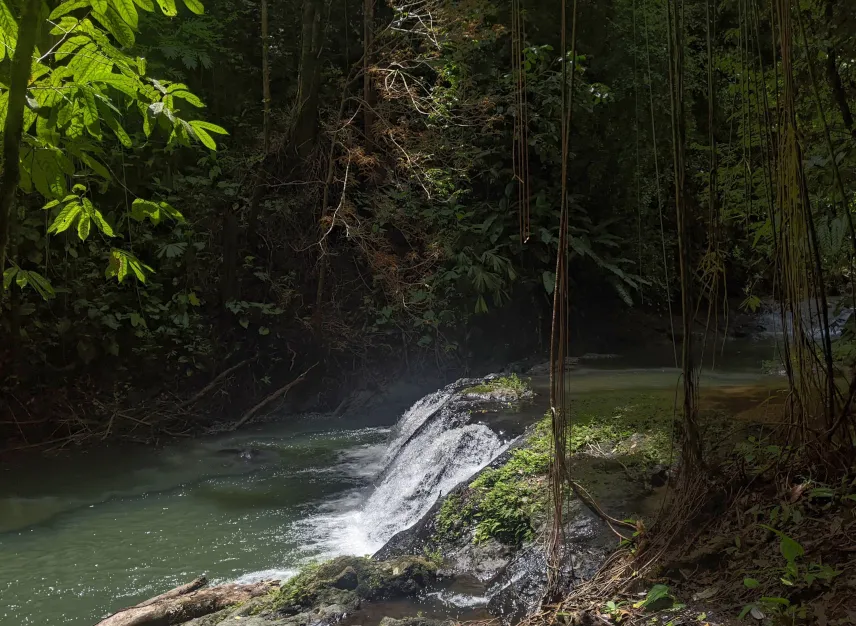 There are plenty of hidden waterfalls for you to explore on the Osa Peninsula. One of our favourites is located a 15 minutes hike from Corcovado Adventures. You have to follow the small river upstream and will have a hidden waterfall all to yourself - even including a swing. Make sure to be back before dusk because that's when the snakes are most active.
Of course, you can also visit bigger waterfalls - you can even book guided waterfall rappelling on the Osa Peninsula.
Cano Island, Costa Rica Diving and Snorkelling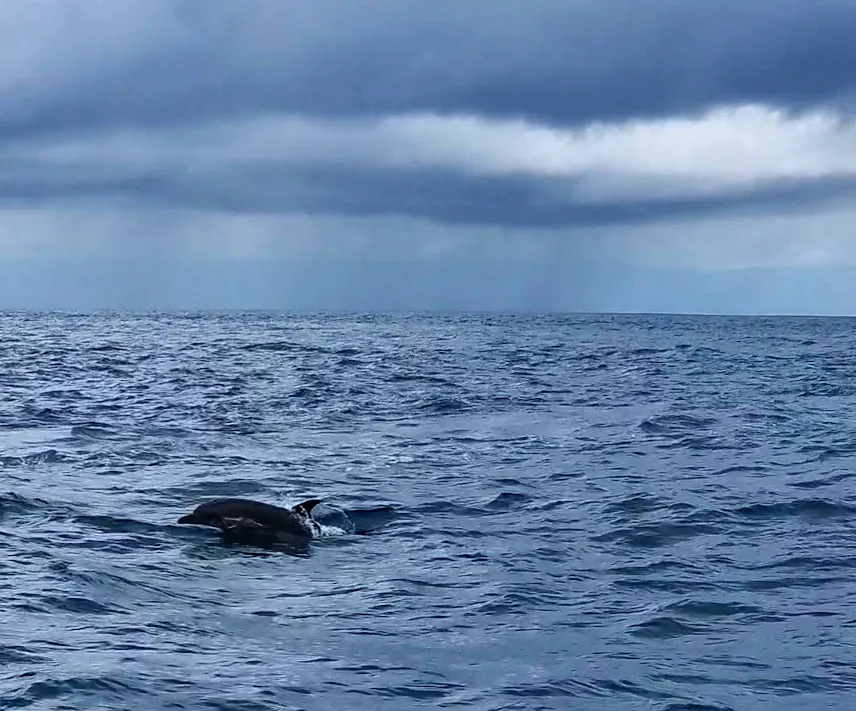 Cano Island or Isla del Caño is a marine protected area. It's popular for whale watching (from December to April and from July to November) and dolphin watching (all year round).
The waters around the island also offer some world-class snorkelling and scuba diving. You have a chance to spot manta rays, sea turtles, as well as a wide variety of fish.
This post contains affiliate links. If you use these links to buy something we may earn a commission. You would help us a lot if you do so. Thanks.