This post will be continuously updated. Feel free to recommend more hostels in the comments and we'll add them!
Do you want to go backpacking in Costa Rica but don't know where to stay? We have asked real travellers to tell us their best hostel in Costa Rica! Including a handy hostel map for your Costa Rica backpacking adventure.
11 Best Costa Rica Hostels
Best Hostel in Manuel Antonio: Planet B
Many travellers recommend Hostel Plinio in Manuel Antonio. We chose Planet B for its super social vibe and could not recommend it more highly. In this hostel, we met the best crowd in our 6 months of Central America travels. They have so many free activities that it's hard to stay alone: We did free yoga, a free Spanish class, and a free hike to a waterfall. The free breakfast is small but healthy.
The common areas are super comfy with hammocks and puppies (!!!). The communal kitchen is well equipped. In the greenery around the hostel, you can spot wildlife like monkeys.
The dorm beds are comfy enough for a good night's sleep, they have lockers and power outlets, and the en suite bathroom is clean.
Recommended by Carina from bucketlist2life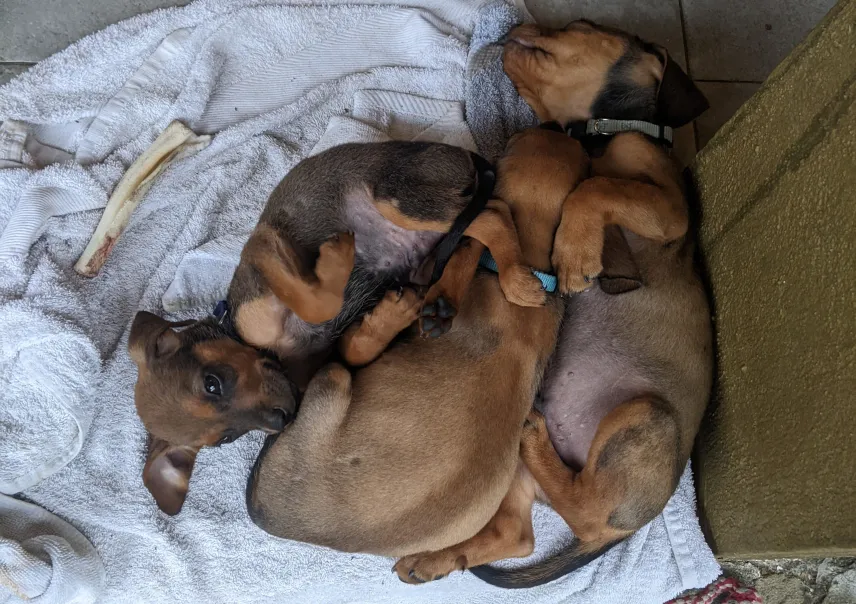 Best Hostel in Playa Grande: Pipehouse
The Pipehouse in Playa Grande is not one you want to miss! Each room is made from a pipe that was part of the refurbishment for the Panama Canal, it is such a unique place to stay.
The Pipehouse is a 1 minute walk from Playa Grande which is an untouched beach that spans for miles. It has brilliant surfing and beautiful sunsets each night. The Pipehouse itself is really chilled out so is a perfect place if you want some more chilled days. There are no dorms available and a private room costs $85 per night for 2 people. So it works out at $42.50/person if you are in a pair. There is a gym that is free to use at all times. There are also surfboards to rent. The breakfast is included which is a local breakfast of eggs, rice and beans. Felipe who owns and runs the Pipehouse grew up coming to this spot to surf with his family so it has a true history in the area.
Recommended by Ellie from El On The Move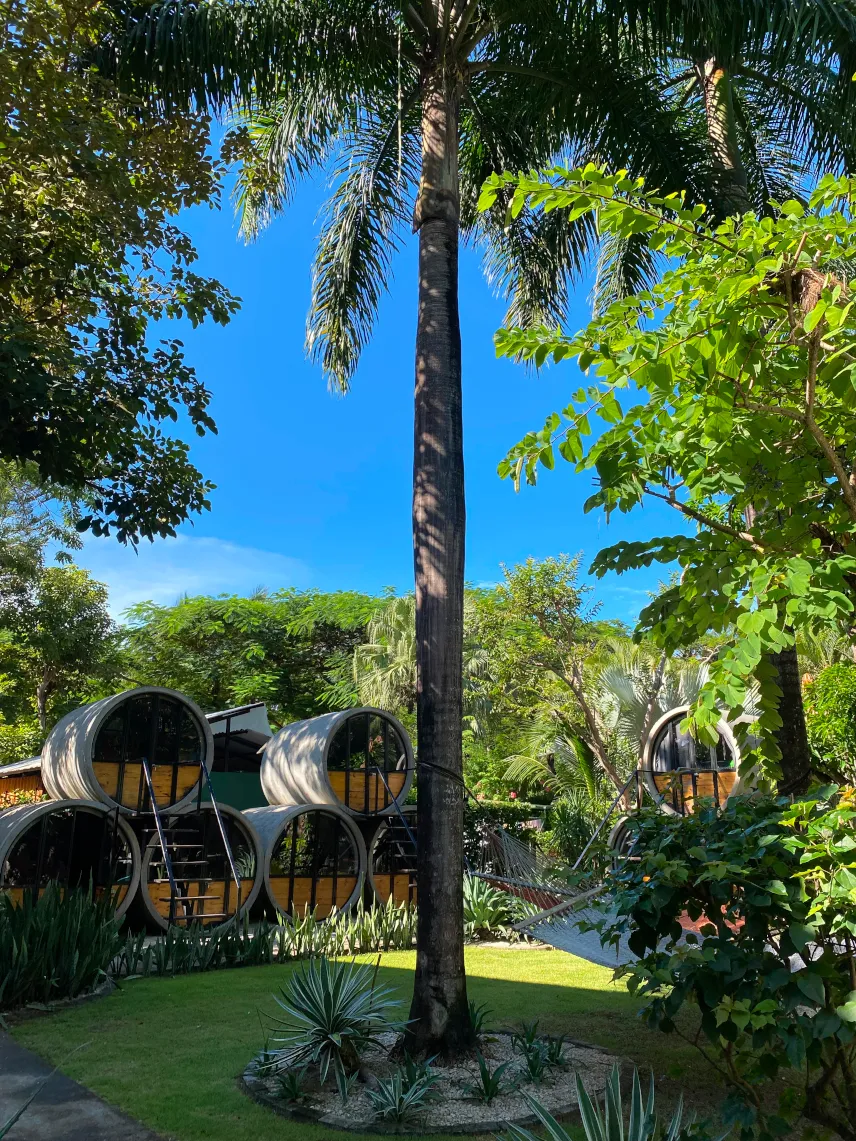 Best Hostel in Jaco: De Haan Hostel
The De Haan Hostel in Jaco is a fantastic choice for all sorts of travellers. It's not really a party hostel but it's very social and small enough that most guests tend to spend a lot of time together as a group. This is the most affordable hostel in all of Jaco but the facilities are surprisingly modern with a new second floor which has plenty of bathrooms and showers that were recently redone. A night costs around $10 in a dorm depending on the season and privates are priced around $25 and up. There is a wide variety of both rooms and also options for groups of travellers with 3 to 4 people who want to stay in a room together. The hostel has a pool and a large kitchen with plenty of equipment. The owner is the nicest person you'll ever meet and will help you out with any issues you might have. The de Haan Hostel is located just a few hundred metres from the beach and one of the best surf spots around. You'll love the friendly atmosphere and community that causes people to stay more than just a few nights.
Recommended by Victoria from Guide your Travel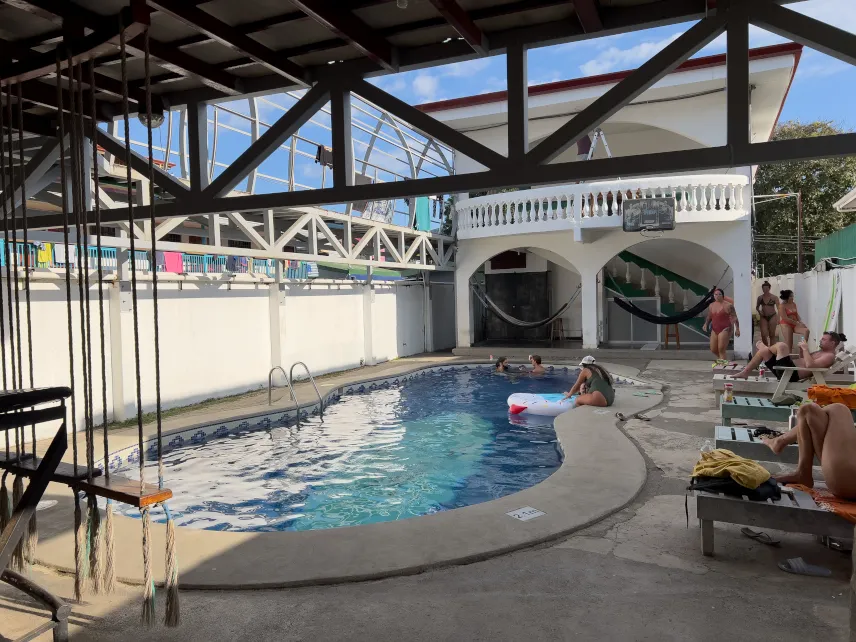 Best Hostel in Monteverde: Selina
Selina Monteverde is a top-notch hostel in Costa Rica, offering travellers the best of both worlds - modern amenities and unparalleled experiences. Located in Santa Elena, Selina Monteverde has something for everyone. Whether you're looking for an escape from life's hustle and bustle or an adventure-filled getaway, this hostel has something for you.
With a range of room types from dorms to private rooms and prices that are wallet-friendly, Selina Monteverde is the perfect place for budget travellers. The best part about staying here is its location — surrounded by lush jungle, rivers, and waterfalls; you'll be in the midst of a stunning natural paradise. Plus, with its strong community vibe, you're sure to make plenty of friends along your journey.
Selina Monteverde also offers an array of amenities and services that bring value to your stay. Enjoy free WiFi access, a restaurant bar, wellness sessions, tours & transportation, and parties & social events. Plus, its arts & culture activities will give you a deeper look into the vibrant Costa Rican culture. With its close proximity to canopy tours, bungee jumping, jungles, and wildlife spotting opportunities - you'll never be left without something fun to do!
So if you're looking for the best hostel experience in Costa Rica that has it all - come and stay at Selina Monteverde!
Recommended by Giorgy from G-Extreme Travel.
Best Hostel in La Fortuna: Casa Torre Eco-Lodge
If we had a car, we would have chosen Casa Torre Eco-Lodge in La Fortuna, recommended by the German travel bloggers Geh Mal Reisen (check their Costa Rica content out when you can read German!).
Just check out the view of Arenal volcano to see what convinced us. The downside: It's a 30-minute drive from La Fortuna so you really need a rental car to get there.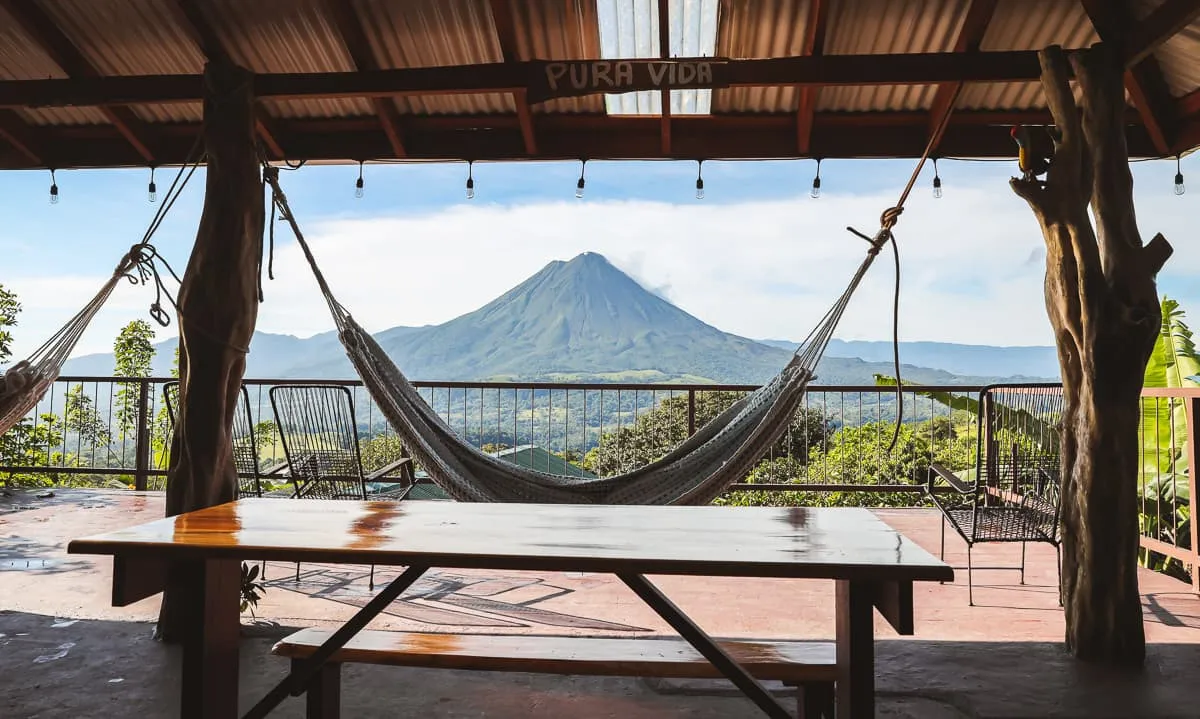 Best Hostel in Uvita: Cascada Verde Hostel
Yes, the Cascada Verde Hostel is pretty far away from the famous beach in Uvita (check out the hostel below if you want to be closer to the whale tail). It's located in a lush green jungle close to the Cascada Verde waterfall though. As it's up a hill, the views from the common areas are out of this world! The easiest way to get up to the hostel is by taxi in case you don't have a rental car.
The communal areas are super comfy and the kitchen is well-equipped - there is even free tea and coffee.
The hostel is super affordable. A budget single room costs as little as 24€ - no need to book a dorm!
Recommended by Carina from bucketlist2life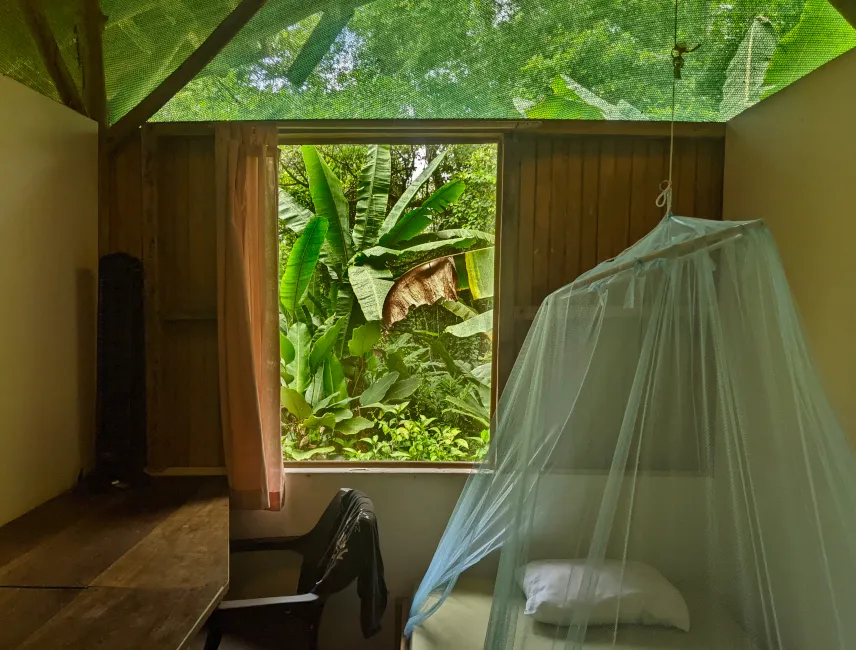 Best Hostel in Uvita (beach): Uvita Pirates Hostel
In case you want to be close to the famous whale tail beach in Uvita, we can 100% recommend the Uvita Pirates Hostel. It's a bit of a walk from the bus station but there is a small supermarket and a brilliant Mexican restaurant nearby. Additionally, it's only 500 m away from the beach (beware that you have to pay to enter the national park).
The owner Tom is super friendly and is always there for help or recommendations.
The dorms have comfy beds and lockers. Make sure to request a lower bunk if you need a power outlet next to you at night.
Recommended by Carina from bucketlist2life
Best Hostel in Drake Bay: Corcovado Adventures
Corcovado Adventures is one of the most budget-friendly hostels in Drake Bay. For as little as 14$ per night, you can stay in dorms, but there is also the option to stay in tents or private rooms. You can walk into town along the Drake Bay Hiking Trail and there's a soda relatively close by. We still recommend bringing your food with you as the hostel provides a kitchen. The beach in front is nice but the current is very strong so beware if you want to swim. The accommodation is pretty basic with no hot water so we really only recommend it for the budget traveller.
Recommended by Carina from bucketlist2life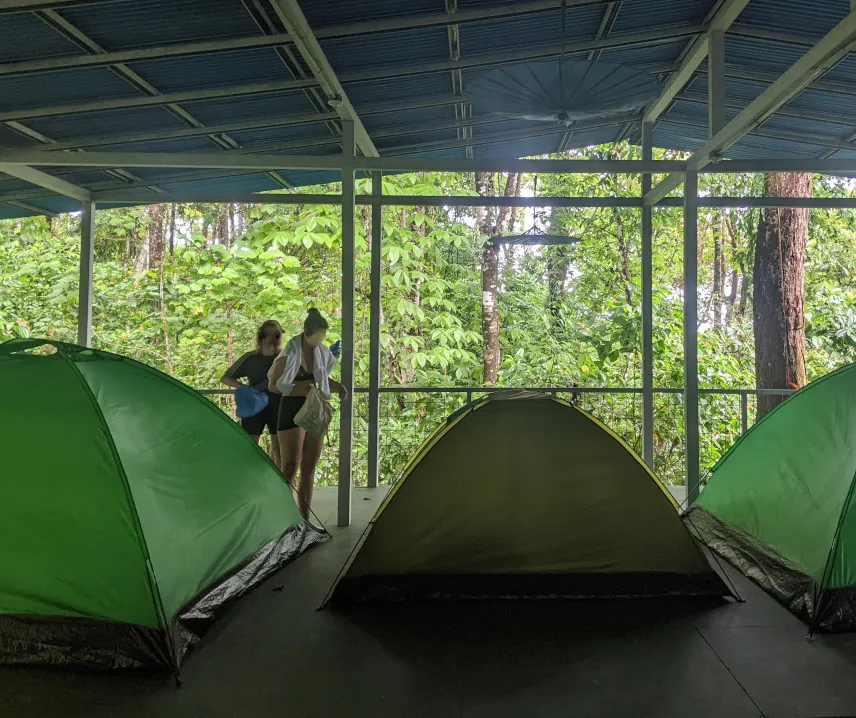 Best Hostel in Turrialba: Casa de Lis
Turrialba might be a bit off the beaten path but it's the perfect place to stop for the night on your drive from coast to coast when you want to skip San Jose. Casa de Lis is incredibly comfy. They do not only have one but two amazing areas to relax in: A garden and a rooftop terrace.
It's super close to the centre so you have tons of cheap food close by. Additionally, there is a small communal kitchen. During the day, you'll get free coffee. The bus and train station are also super close.
The staff is extremely friendly and has tons of recommendations for you.
Recommended by Carina from bucketlist2life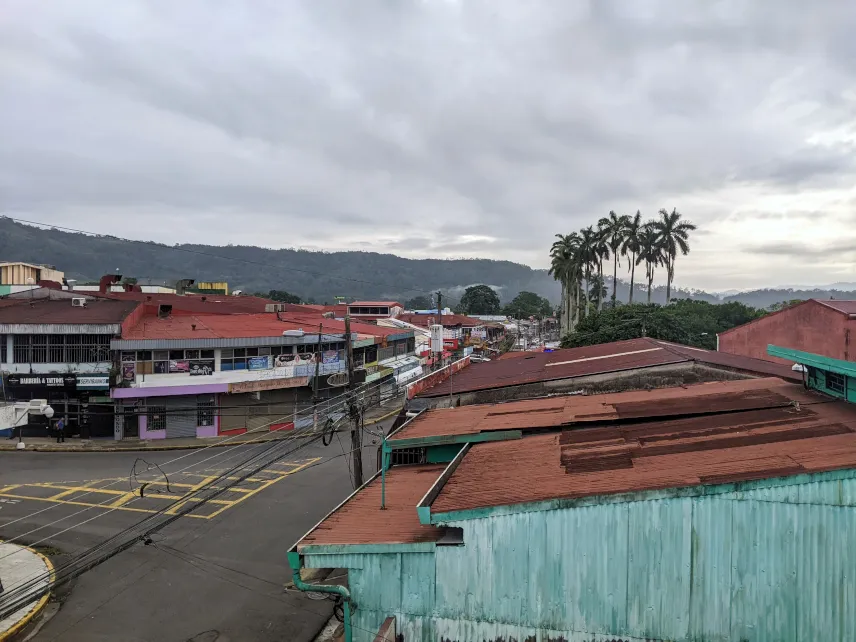 Best Hostel in San Jose: Costa Rica Backpackers
From as little as $12 a night, you can stay at Costa Rica Backpackers in San Jose and it really won't disappoint.
This hostel has a great party atmosphere and a chance to meet so many people, some of which you may even travel further with!
Both dorm and private rooms are available so whether you're travelling on the cheaper or have the ability to spend that little bit extra, it has everything you want.
Whilst it is located on the east side of the city, the hostel will happily sort an airport pick-up service for you. This is a testament to how friendly the staff are and how inviting they are.
Across the road is an extremely popular Irish bar, the Craic Bar, and La Estacion which are constantly full and another great way to meet others.
If you're travelling on a budget then don't worry, this hostel has its own kitchen facilities to whip up something on the cheap. Alternatively, Costa Rica Backpackers is a short walk away from Restaurante Nuestra Tierra. This fabulous eatery has amazing local cuisine at affordable prices so it is a must-visit!
Recommended by Alex and Leah from Alex and Leah on Tour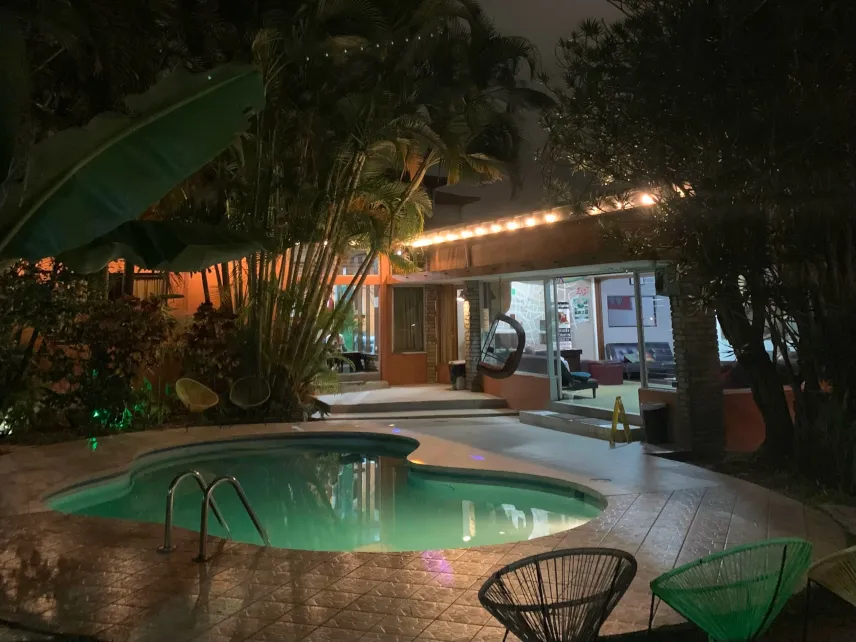 Best Hostel in Puerto Viejo: Kalunai Hostel
The Kalunai Hostel in Puerto Viejo is a laidback social hostel that is perfect for pre-drinks but doesn't really host parties. Its location in the jungle is perfect for those who want to be close to town but still enjoy some nature and all on a budget. Dorm rooms cost around 15$ per night which is among the cheapest in Puerto Viejo during high season. There is no pool but the hostel has a large hangout area with a roof so you can stay dry even during the high season. There are comfortable hammocks, plenty of bathrooms and all dorms only have four beds so they're not too big. Kalunai feels like a home away from home and the community of travellers here is fantastic. If you're looking for a budget stay in Puerto Viejo this is the perfect choice.
**Recommended by Victoria from My Australia trip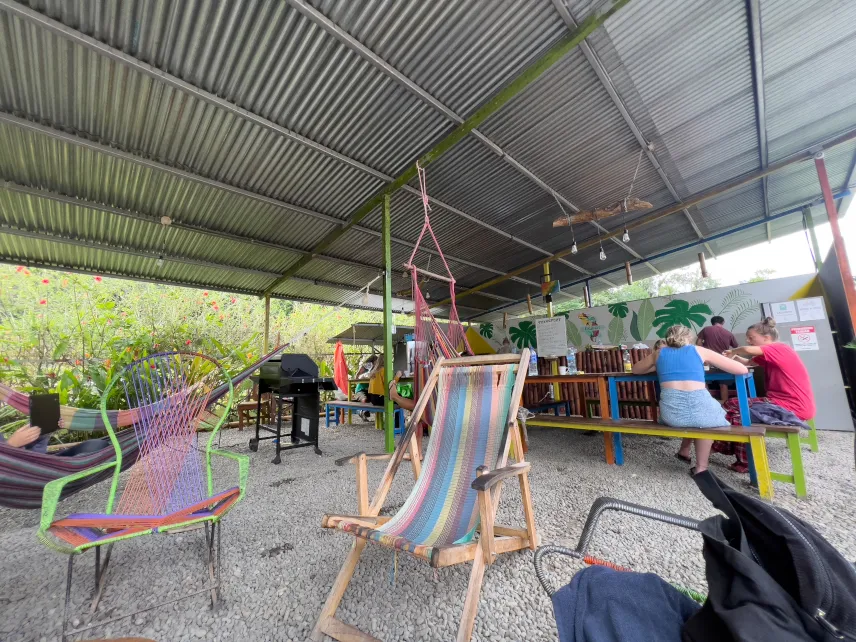 This post contains affiliate links. If you use these links to buy something we may earn a commission. You would help us a lot if you do so. Thanks.