Mexico City is the perfect first stop for your Mexico itinerary. I was lucky to have my friend, the local @globewanderlove, showing me around. We did an easy self-guided walking tour and she showed me Mexico City off the beaten path.
Non-touristy things to do in Mexico City
1. Metro Station Palacio de Bellas Artes
Start your tour at the Palacio de Bellas Artes Metro Station. It's not only a convenient starting point but also features the Galeria Metro - an art exhibition that's free to visit for everybody with a Metro Ticket. On some days you can even see a light installation!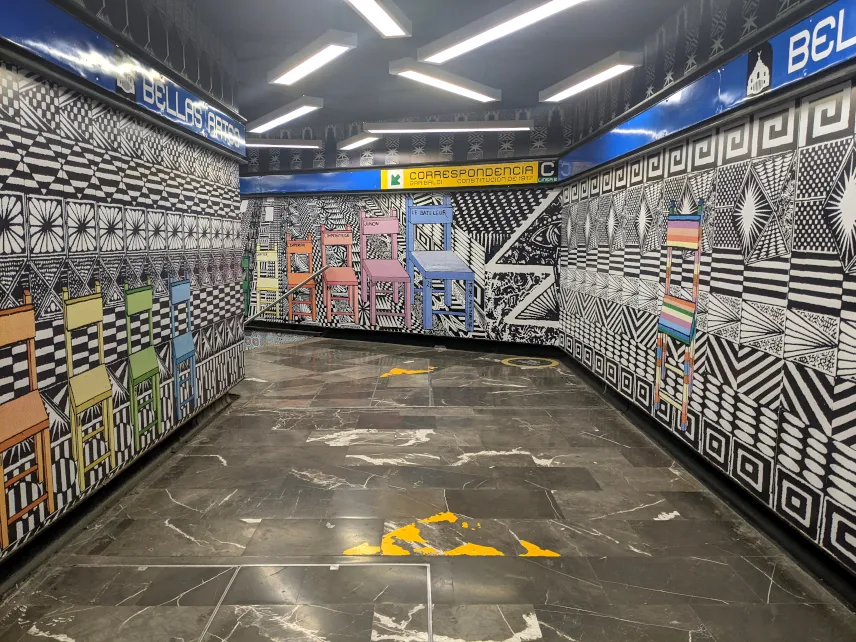 2. Palacio de Correos de Mexico
The Postal Palace of Mexico City is a hidden gem, which is completely free to visit. Its architectural style is a mixture of Art Nouveau, Plateresque, and many more. The staircase and the dome are its most noteworthy features but don't miss the elevator- it's one of the first three elevators that were installed in Mexico City!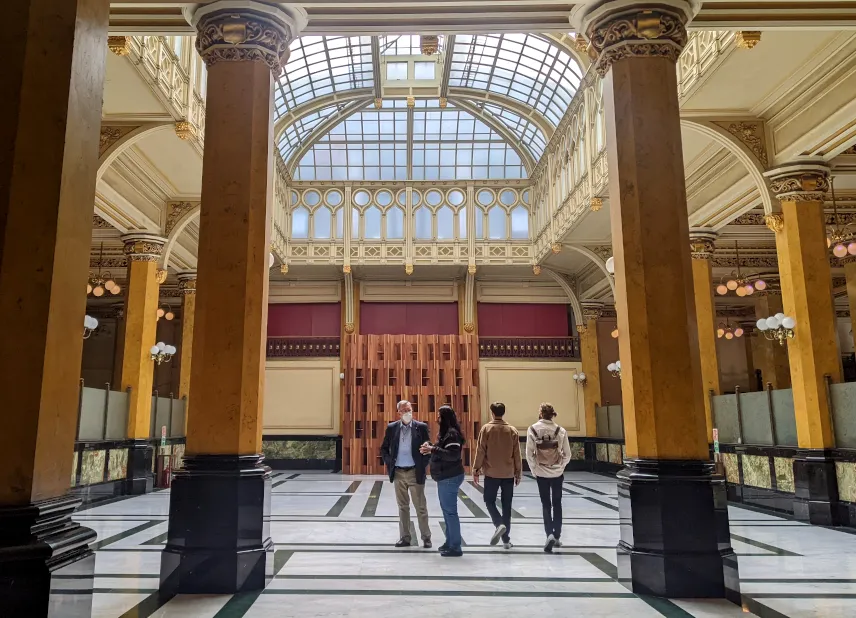 3. See real meteorites at the Palacio de Mineria
You have probably learned in school that a meteorite was responsible for the extinction of the dinosaurs at the end of the Cretaceous period. Did you know that this meteorite came down in Mexico on the Yucatan peninsular near the town of Chicxulub? You can see two meteorites in front of the Palacio de Mineria - for free!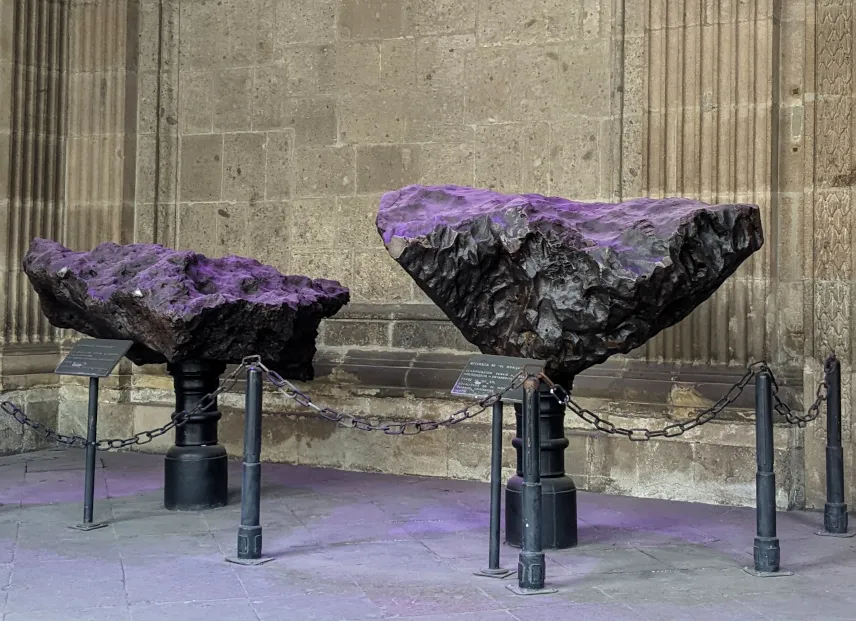 4. Public toilets at Casa de los Azulejos
I know the Casa de los Azulejos is not exactly a hidden gem. But did you know that it features the most beautiful public toilets in Mexico City which you can use free of charge? Additionally, you can find the mural Omniscience by Jose Clemente Orozco in the stairwell.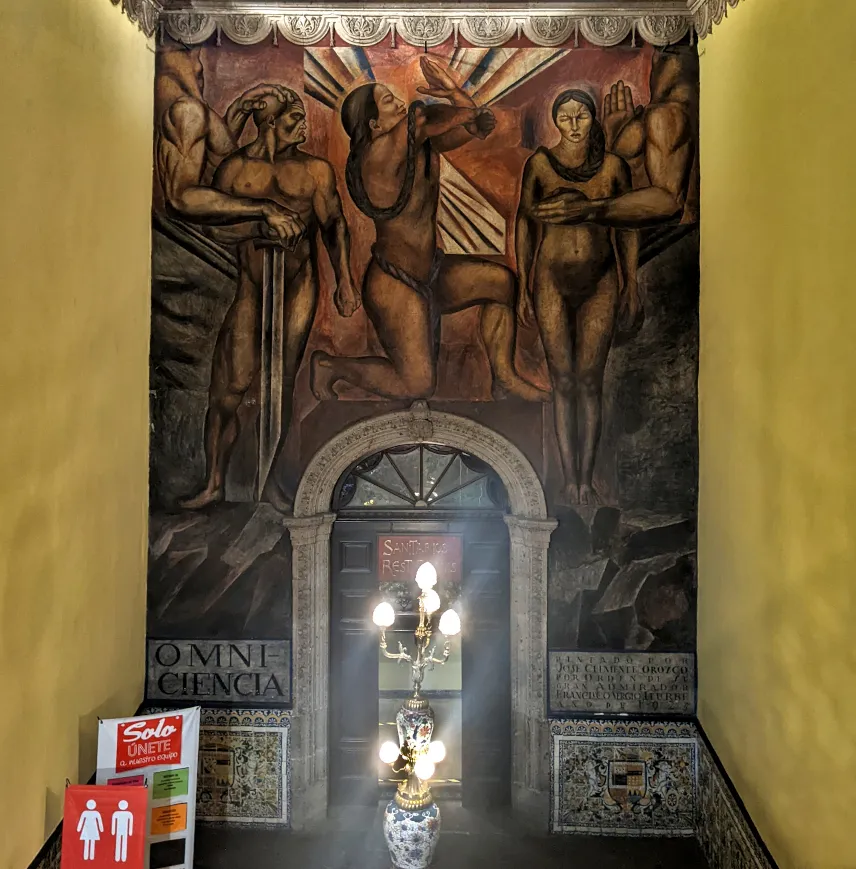 5. "Dali" exhibition
Right across the street from the Casa de los Azulejos, a free Dali exhibition takes place. The Soumaya Museum and the Mexico City municipal government showcase 20 bronze statues. And the best? - It's completely free to visit!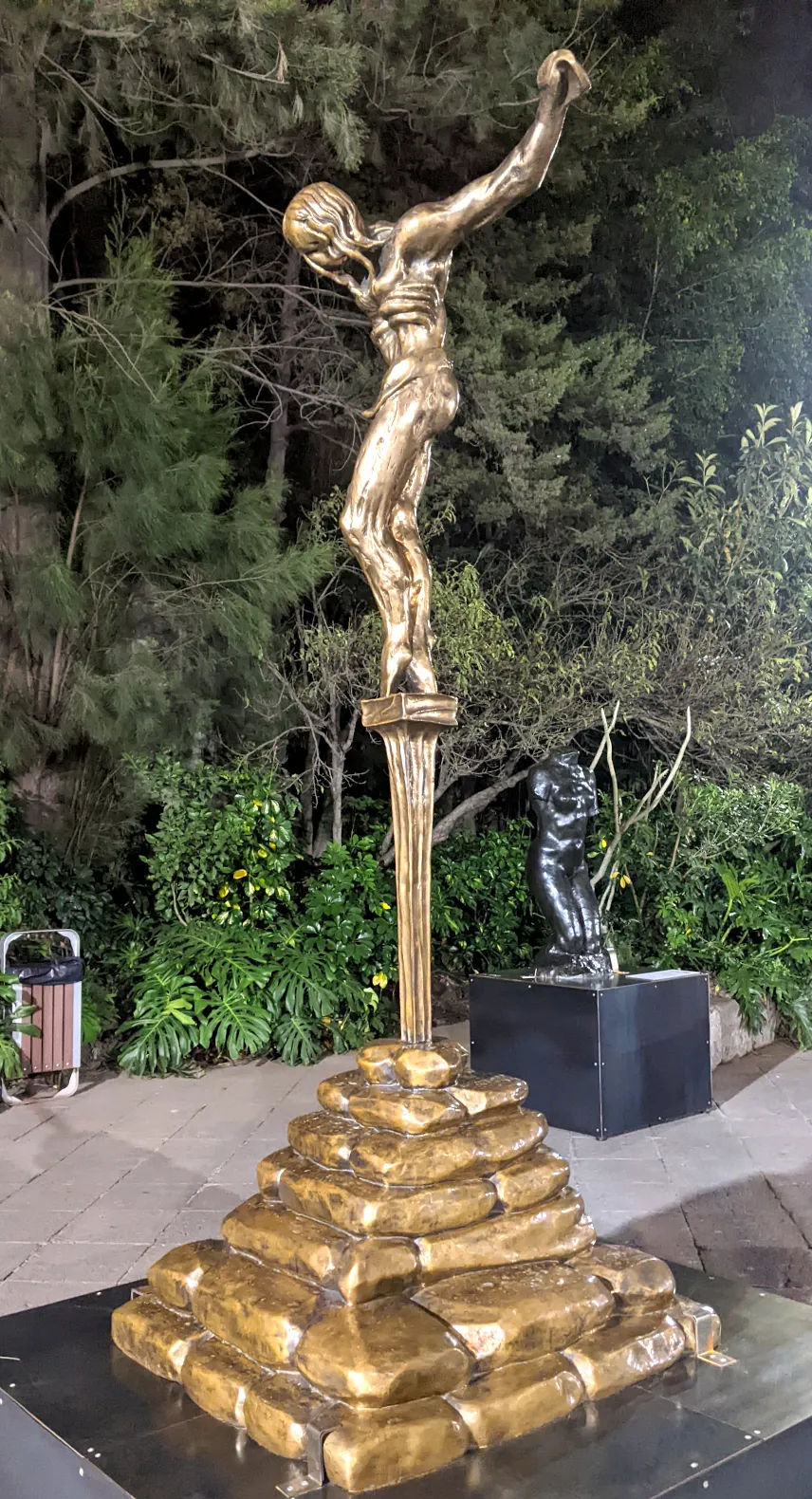 6. Chinatown Mexico City
A stroll through Chinatown with its many colourful lanterns and umbrellas will lead you to your next stop, San Juan Market. Don't miss the big Chinese style gates!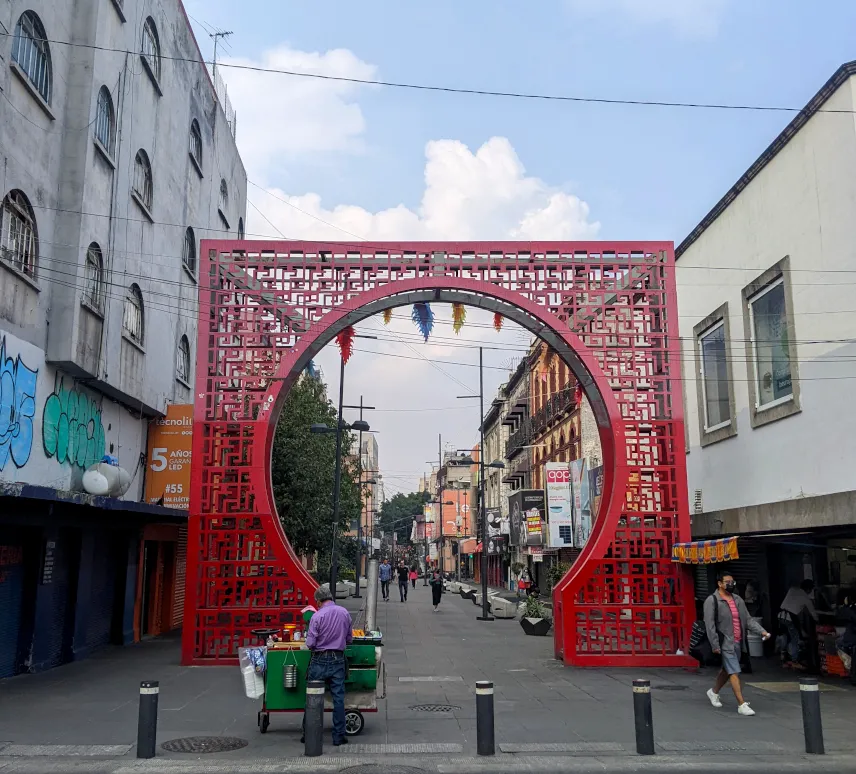 7. San Juan Market
Strengthen yourself on San Juan Market for the next leg of your tour. Here, you can not only find Mexican street food classics but also very unique dishes. Why not try insects like grasshoppers (which I really liked) or tarantulas (which I was not brave enough for)? You can also try exotic meats like crocodile, armadillo or even lion!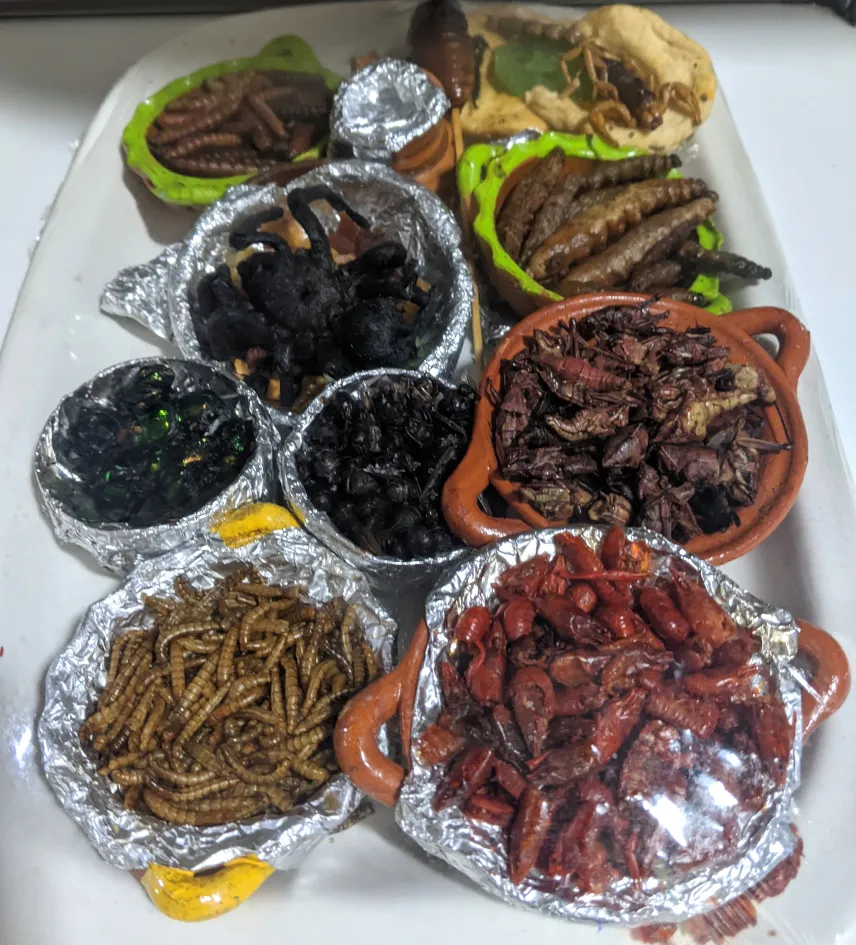 8. Hotel Imperial
Hotel Imperial is the Flatiron Building of Mexico City. But it's not the only highlight in this area. Keep your eyes open for some amazing art installations at Banco Santander. Additionally, this is a good place to admire some of Mexico City's many skyscrapers.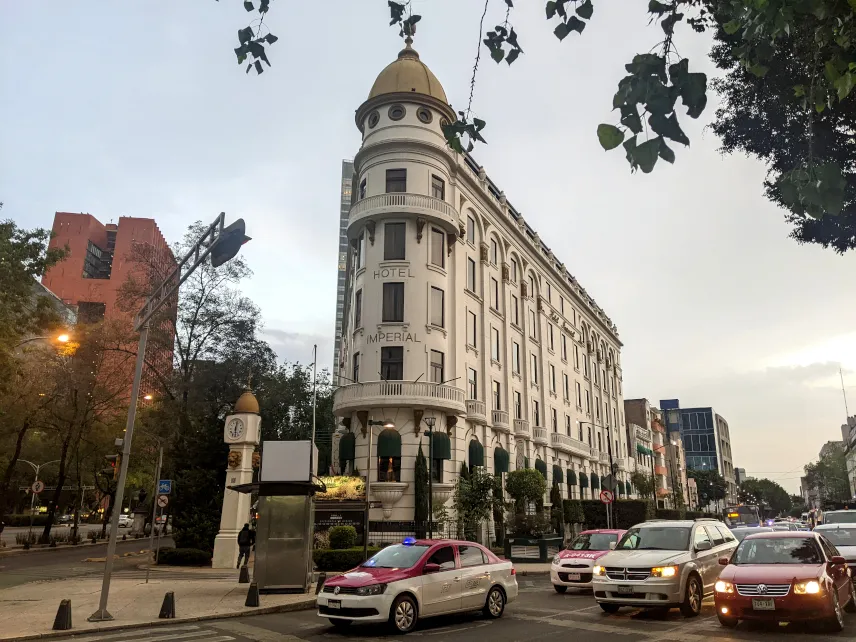 9. Monumento a la Revolucion
The Monument to the Revolution is the world's tallest triumphal arch with a height of 65m (213 ft). The monument was built in the 1930s. While the monument itself is well-known, the glass elevator leading you to an observation deck inside the cupola is lesser-known. Why not go up and enjoy an off-the-beaten-path view of Mexico City's skyline?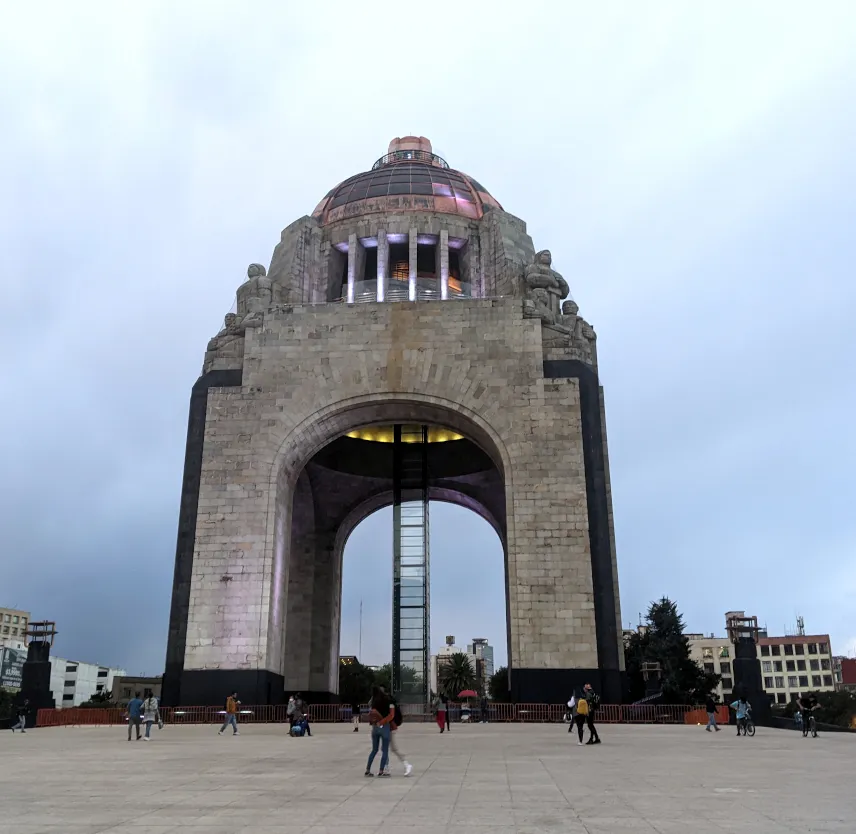 10. Mariachi restaurants
Going to a mariachi restaurant sounds super touristy and tacky. To our surprise, we were the only tourists in the place. All other people were Mexican. They knew the songs, sang a along and had an awesome time - a surprisingly unique experience.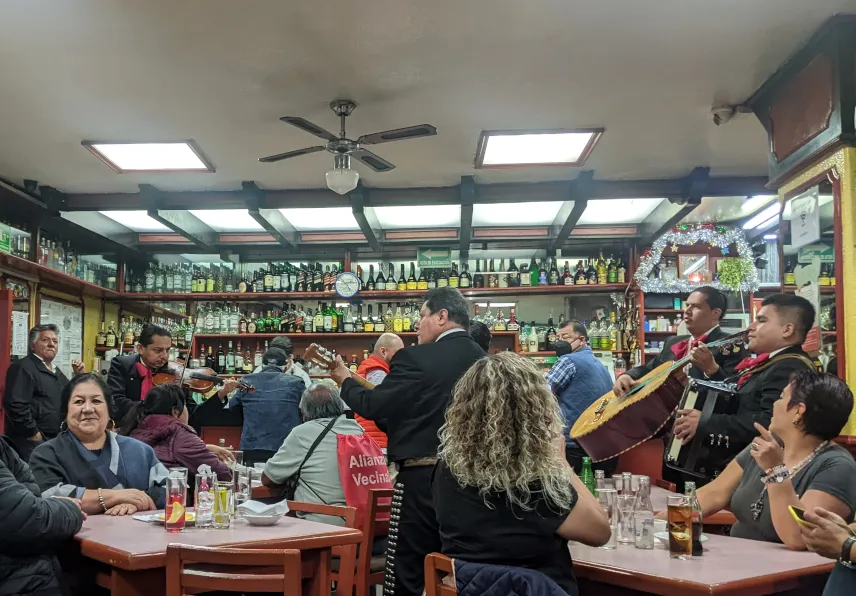 11. Ride a cable car
Full disclosure: We did not do it ourselves because we only stumbled across them on the way to Teotihuacan. Apparantly, you can even see rooftop murals along the way. What a cool non-touristy thing to do in Mexico City.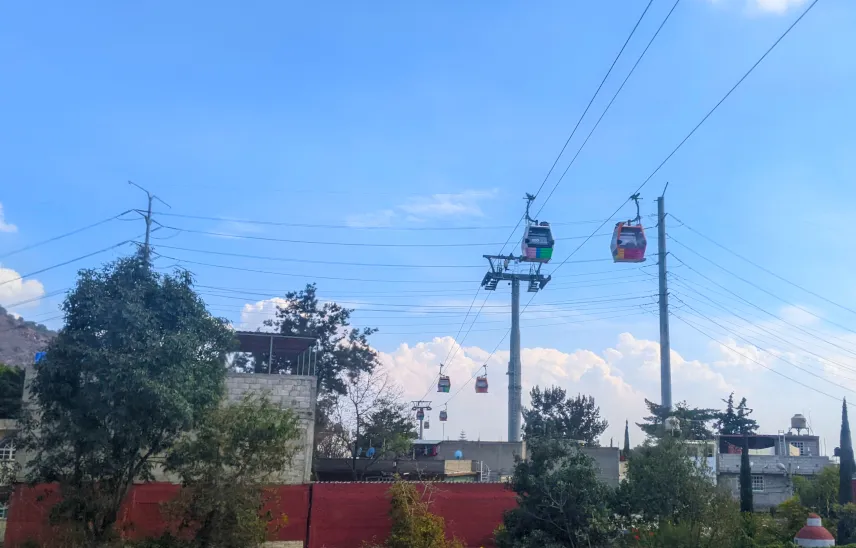 12. Skyline views at Parque La Mexicana
Thanks again to our friend globewanderlove for introducing this hidden gem to us. Who would have guessed that you can find skyline views like that in Mexico City…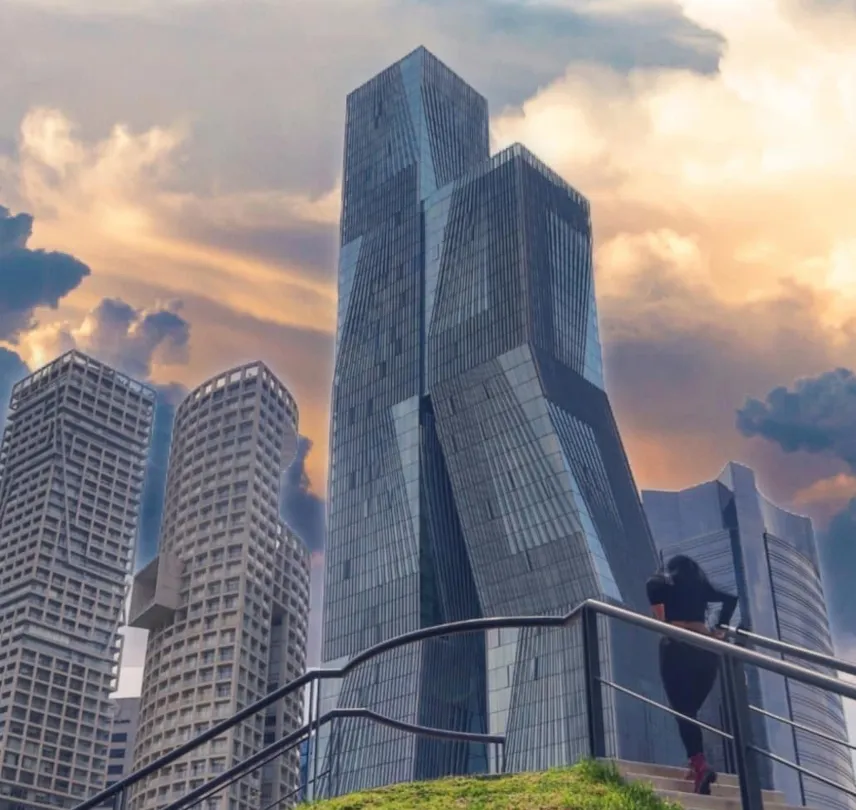 Unique Mexico City cafes
13. Torre Latinoamericana
While the Torre Latinoamerica is a well-known sight, only a few people know that it also features a restaurant and a bar. Here, you can enjoy a reasonably priced drink with the best view of Mexico City without having to pay the entrance fee of the observation deck.
A little lower but also with a free entry you can find the cafe of the Sears shopping centre right next door. Here, you have a great view over the Palacio de Bellas Artes.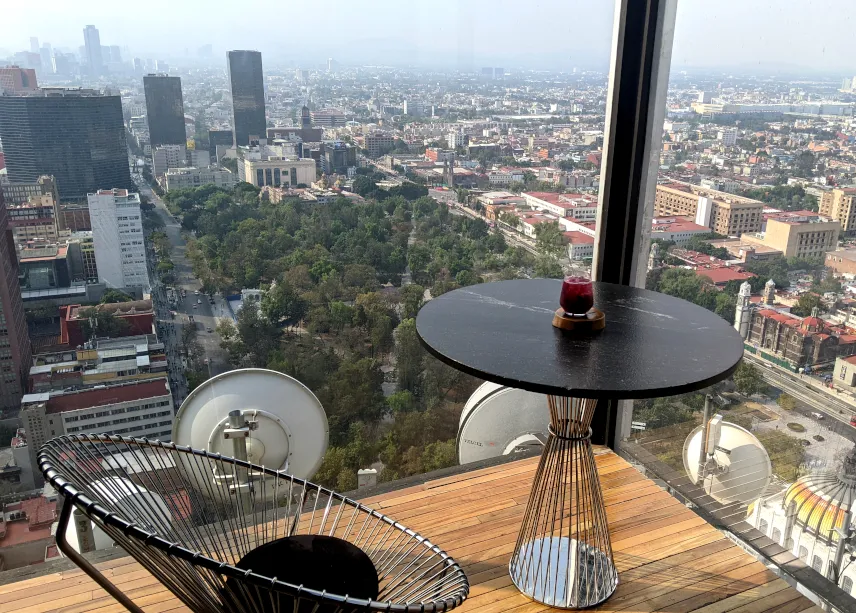 14. Churreria El Moro
Make a stop a Churreria El Moro for the best churros in town. Not much more to say here.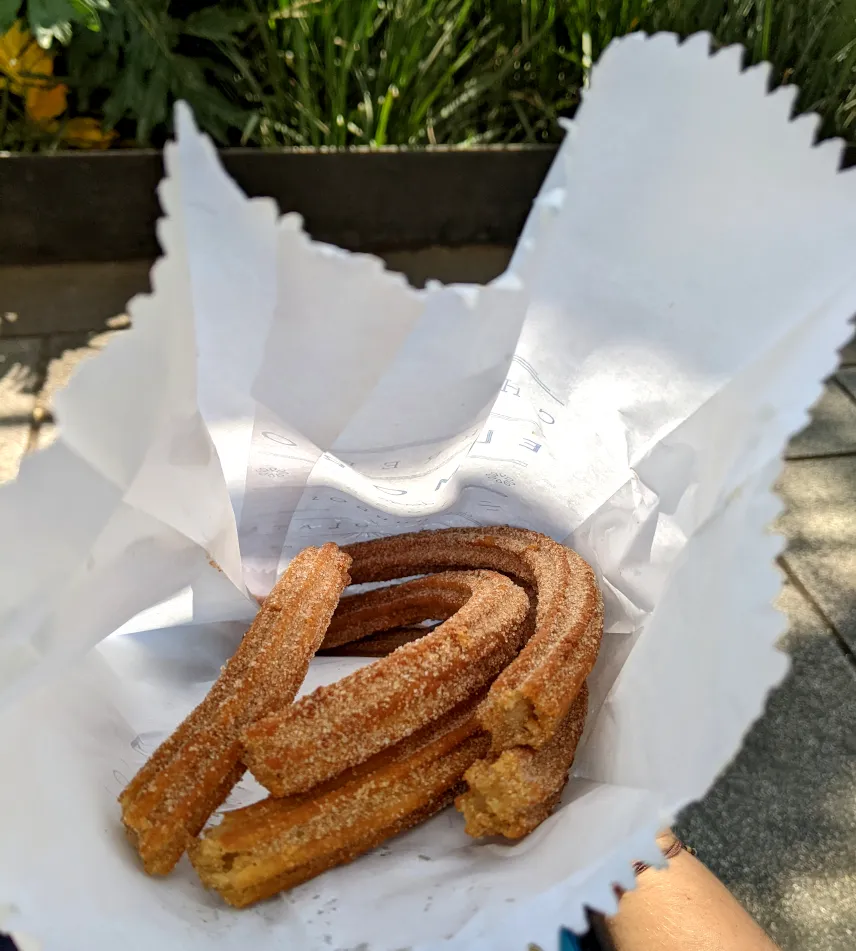 15. Isabella pink cafe
While it's not exactly on the route of our walking tour, I still had to mention this beautiful motto cafe. Everything is pink here - from the outside over the decorations to the drinks. This is probably the most instagrammable spot in Mexico City!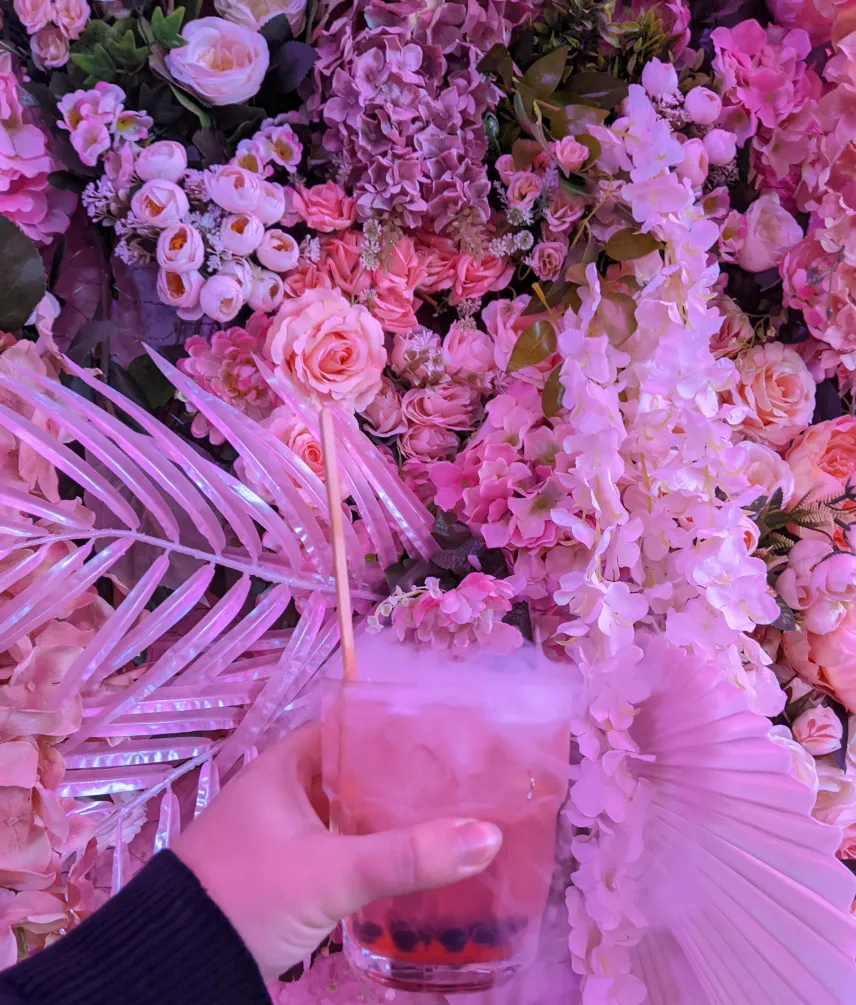 How many days in Mexico City
We only spent 4 days in Mexico City because the museums were closed but that's around the time you'll need at least.
Day 1: Explore the Centro Historico
Day 2: Day trip to Teotihuacan
Day 3: Walk around Roma Norte and La Condesa
Day 4: Explore the Coyoacan neighbourhood and go on a boat ride in Xochimilco
Optional: Make time for the many museums. The Museum of Anthropology, the Chapultepec Castle, and many more came highly recommended.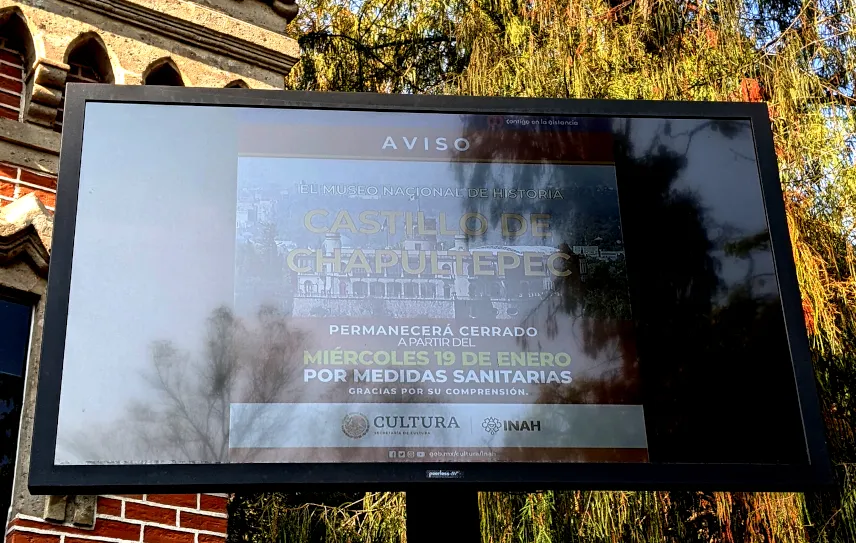 Mexico City travel budget
I spent around 30€ or 30$ per day:
15€ accommodation (hostel dorm)
5€ transport (public transport and Uber)
10€ food and drinks (mostly local but always eating out)
Of course, any tours or entrance fees will add to this, but there are so many things you can do for free on your own as our walking tour shows.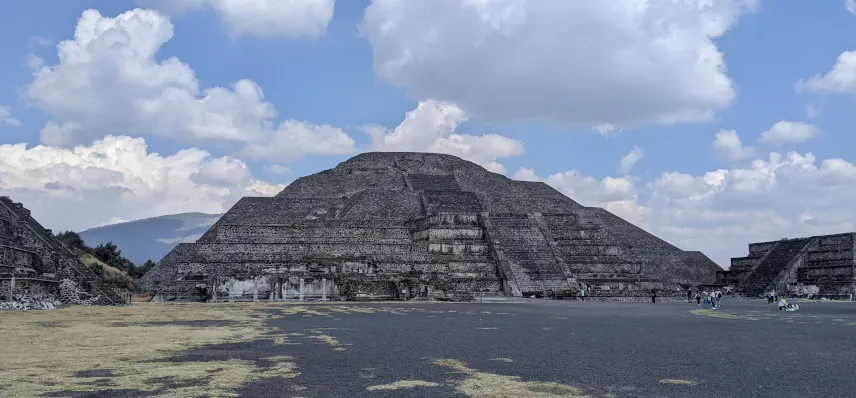 Female solo travel Mexico City
I travelled Mexico City alone as a solo female traveller and I felt completely safe walking the neighbourhoods Centro Historico, Roma Norte, and La Condesa.
I also braved the public transport system to save some money and did not encounter any problems. You pay 15 MXN for the Metro Card and 5 MXN per Metro ride (4 MXN for the Metro Bus) so it's much cheaper than an Uber. There are women's only compartments in the trains and buses for extra security.