We know that you shouldn't pick favourites (let alone tell the internet about them) but Mexico is our favourite country we've travelled to so far. Why is Mexico our favourite country? We love the food, the tropical climate, the history, and the beaches. Additionally, it's super easy to travel around. Even if you only speak little to no Spanish.
Yucatan Backpacking Guide
How to spend two weeks in Yucatan and Quintana Roo?
As this is a fast-paced one to two weeks itinerary, we decided to skip the tourist capitals Cancun and Playa del Carmen altogether and instead focus on more off the beaten path places.
Although this is a packed itinerary, we opted for fewer bases (hence fewer travel days) and more day trips. This way you can really make the most of your (limited) time. In this blogpost, we answer the question of how much time you need at least to see all the highlights.
As always, we have tried and tested this detailed and honest itinerary ourselves. With this schedule, you can make your Mexico dream happen!
How to travel Mexico using only public transport?
Bus: By far the best resource to find buses is ADO. Their schedules are online and you can also directly buy your tickets online. The coaches are comfortable and punctual.

There are also regular "second class" buses in most areas and we have jumped on a passing coach ourselves often enough. It's hard to find information online about them so it's best to go to the bus station and/or ask locals.

Colectivo: Colectivos are shared taxis that leave as soon as they have enough passengers. They are our preferred mode of transportation for shorter rides as they are cheap, frequent and reliable. And it's ok if you don't speak any Spanish as all the drivers we encountered as well as the other passengers were very helpful. If you want to be safe, make sure to ask the price before the journey but we personally never had any problems with scams.
How much does it cost to travel Yucatan by public transport?
Travelling around Mexico by public transport is very budget-friendly. For short Colectivo rides you should expect to pay around 1$ or 1€, for longer rides like Valladolid – Chichen Itza expect to pay around 2$ or 2€.
Even the longest ADO bus rides on the Yucatan peninsula shouldn't set you back more than 15$ or 15€. Short bus rides like Bacalar – Mahahual come as cheap as 3$ or 3€.
Day 1 – Backpacking Valladolid
We decided to leave the Caribbean side of Mexico for the end of our trip and start in the beautiful city of Valladolid. You'll fall in love with the colourful houses and the oldtimer Volkswagen cars in a heartbeat.
If you want to refresh in Mexico you don't have to jump into the sea as there are plenty of Cenotes – natural limestone holes filled with groundwater. One of our favourites is Cenote Zaci, a hidden gem right in the centre of Valladolid.
Make sure to not only visit the main park or Parque Principal with the adjacent San Servacio church but also the Convent of San Bernardino de Siena. By the way: Right next to the main park you can find the food market where you can get a delicious first taste of Mexican cuisine.
How to get from Cancun to Valladolid on public transport:
ADO buses from Cancun airport run here frequently. Travel time is around 2 hours.
How long should I at least stay in Valladolid?
We suggest staying in Valladolid for at least three days: One day to explore the city itself, one day for Chichen Itza, and one day for a day trip to Las Coloradas and Rio Lagartos. Add another day if you also want to visit Yucatan's capital Merida.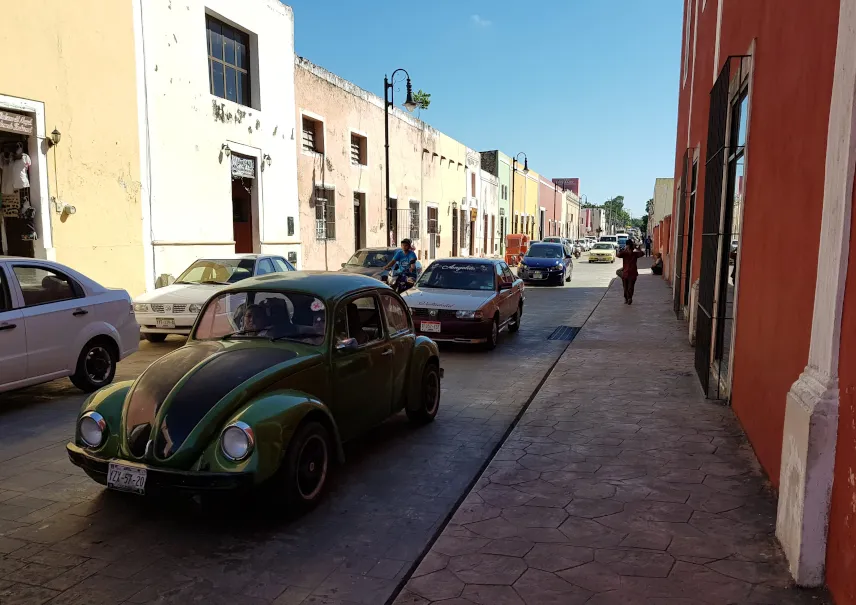 Day 2 – Day trip from Valladolid to Chichen Itza
Of course, one of the seven new wonders of the world is a must-see in this region and it really is worth a visit. In contrast to what you see online (we're guilty of that too I guess) it's not only the famous pyramid but also a huge archaeological complex with many ruins and even a Cenote. The Mayan site includes highlights like the observatory and the ballcourt so schedule a couple of hours for the visit.
How to get from Valladolid to Chichen Itza on public transport:
We decided to take a Colectivo to Chichen Itza and also on the way back. Early in the morning, there was almost no waiting time in both directions. They start right in front of the bus station. Of course, you can also take the bus. The driving time is around 45 minutes.

Rio Lagartos, and Ek Balam
Day 3 – Day trip from Valladolid to Las Coloradas,
Who wouldn't want to visit the Instagram-famous pink lakes of Mexico? Although you're not allowed to swim in them anymore they are still a special sight to see. Yes – they are really pink! It's one of the most unique things we have ever done.
As visiting the lakes themselves doesn't take very long, we suggest combining your trip with a visit to nearby Rio Lagartos. A boat tour will be a real highlight of your trip: you can see flamingos and give yourself a fun Mayan mud spa treatment. At the end, you wash off the mud in the Gulf of Mexico.
An additional gem on your way to Las Coloradas is the Mayan archaeological site Ek Balam (picture in header). In total, there are 45 structures and in contrast to Chichen Itza, you can climb the pyramid here.
How to get from Valladolid to Las Coloradas without a car:
As we only had a limited amount of time, we opted for a private tour. We went with Maya Adventure Yucatan (not sponsored) and can fully recommend them.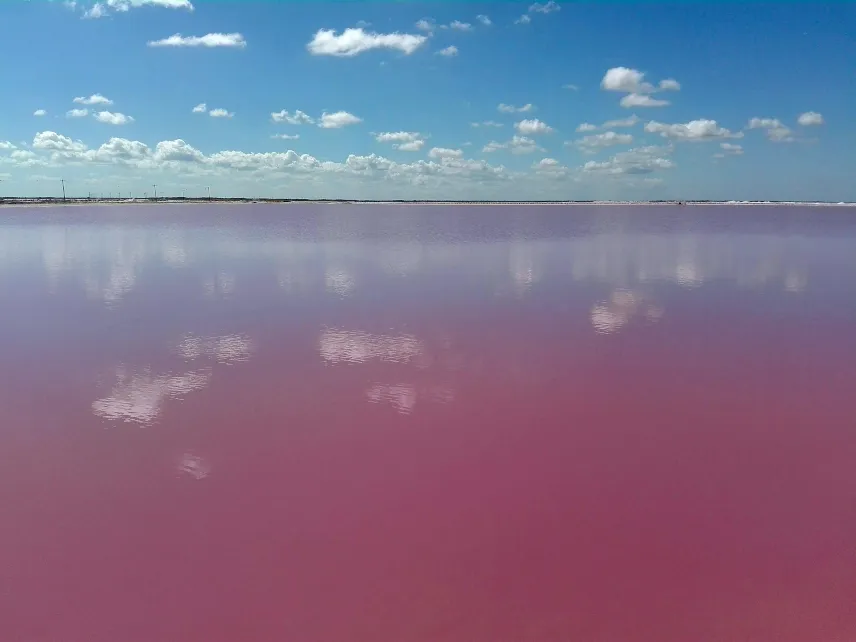 Day 4 – Backpacking Tulum
Tulum nowadays is a love it or hate it kind of situation. But even if you're not into the whole Instagram scene, the town is still worth a visit in our opinion. It's the perfect base to explore the surrounding cenotes and beaches. We also found some cheap hostels and street food.
Of course, the ruins are a must-see. The buildings themselves are nowhere near as impressive as Chichen Itza but the stunning location at the sea makes up for it. You can even enter the beach below the ruins for a swim. Where else in the world can history be as easily combined with a beach trip as here?
Make some time to explore the beach south of the archaeological zone. And who wouldn't want to end their day trips in one of Tulum's incredibly instagrammable beach bars? Try it at least once!
How to get from Valladolid to Tulum on public transport:
Going from Valladolid to Tulum can be easily achieved by ADO direct buses, which run several times per day. Travel time is around 1.5 hours.
How long should I at least stay in Tulum?
We suggest staying in Tulum for at least four days: One to explore the famous ruins, one to visit several cenotes in the area, one for a trip to Sian Ka'an, one to swim with turtles in Akumal, and some additional time to explore the beaches, the bars and restaurants, as well as all the Instagram hotspots if you're into that 😉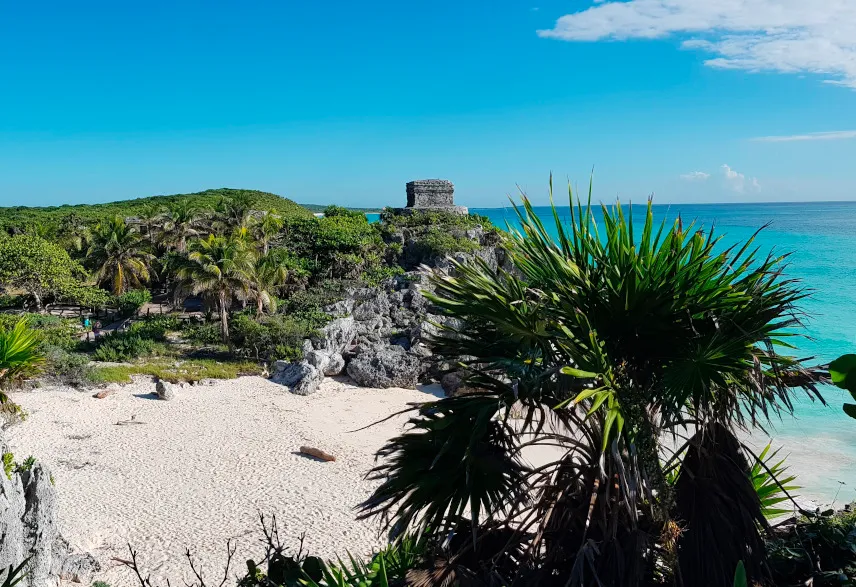 Day 5 – Explore the Cenotes in the Tulum area
Cenotes are natural limestone holes filled with groundwater that are perfect for swimming, snorkelling, scuba diving, or simply relaxing. There are over 6000 cenotes on the Yucatan peninsula so it's easy to find the perfect cenote for you – be it in a cave or open-air, off the beaten path or with good infrastructure, big or small.
One of the closest cenotes to town is Cenote Calavera. This cenote is little more than a little hole in the ground inviting you to jump in.
A bit further away is Gran Cenote. Like the name says, this one is bigger. It features platforms on the water to relax. You can visit turtles, who live in an area of the cenote which is off-limits for swimmers. It's mostly open-air but features a small tunnel from one part to another.
Cenote Zacil-ha offers a lot of infrastructure. You can find a restaurant and a zip line. It's right next to Cenote Carwash which is open-air and feels more like a pond than a cenote but it's significantly less crowded.
You'll find plenty more cenotes signposted driving along the highway – just explore them to your heart's content.
How to get from Tulum to Cenotes without a car:
One of the easiest ways to reach the Cenotes in the Tulum area is by rental bicycle. There are many Cenotes along the Carretera Tulum – Nuevo X-Can highway. Be aware when you drive it because right next to you will have fast cars and trucks passing by.
Some of the most noteworthy Cenotes are:
Cenote Zacil-ha and Carwash (9km or 5.5mi from central Tulum)
Gran Cenote (4.5km or 2.7mi from central Tulum)
Cenote Calavera (2.5 km or 1.5mi from central Tulum)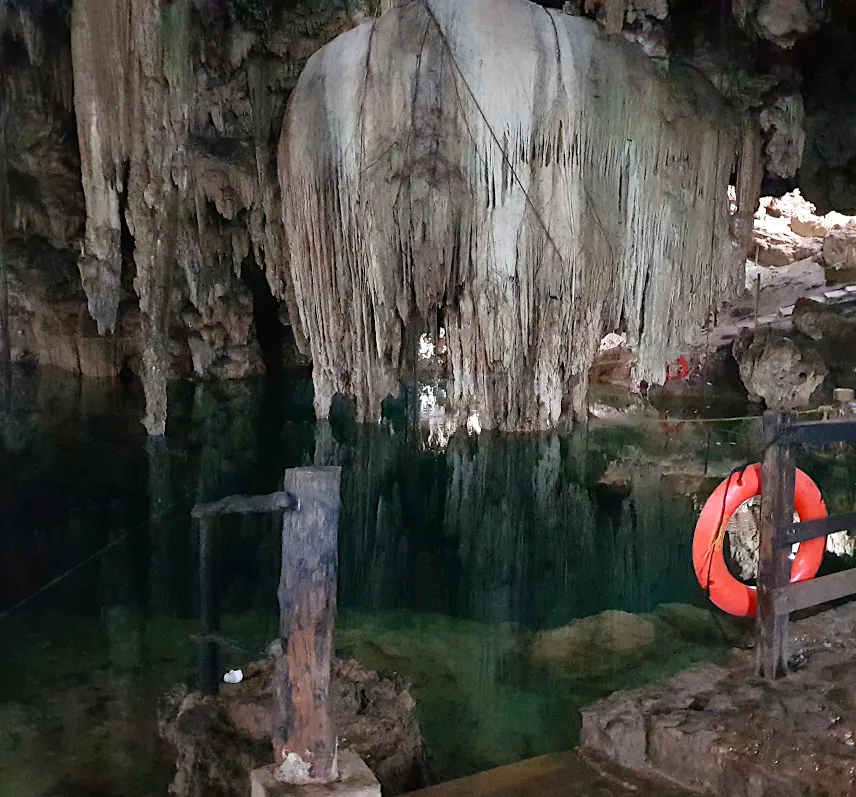 Day 6 – Day trip from Tulum to Sian Ka'an
Sian Ka'an is a biosphere reserve. It features tropical forests, fresh and saltwater swamps, mangroves, and even a section of coral reef in the sea. Additionally, you can find 23 Mayan archaeological sites including Muyil.
Muyil is a great vantage point to explore Sian Ka'an as the ruins are very close to the road. When we visited, we didn't see any other tourists and the overgrown buildings in the forest gave us serious Tomb Raider vibes.
From the ruins, a wooden boardwalk leads to the boats. Don't miss the observation tower although it looks a bit sketchy. The views are worth it.
The boat tour will be a real highlight of the trip. You'll drive through the lagoons, do some bird watching and even have the chance to spot manatees (unfortunately we didn't on our trip). The best part of the tour is the natural lazy river. You'll put on a life jacket and float down a canal only surrounded by crystal clear water and serene nature.
How to get from Tulum to Sian Ka'an with public transport:
Buses from Tulum to Muyil run about every 30-60 minutes, so there's no real need to plan in advance. The buses leave from the ADO bus station and take around 20 minutes.
We decided to take a colectivo from the ADO bus station to Muyil which was equally easy and cheap.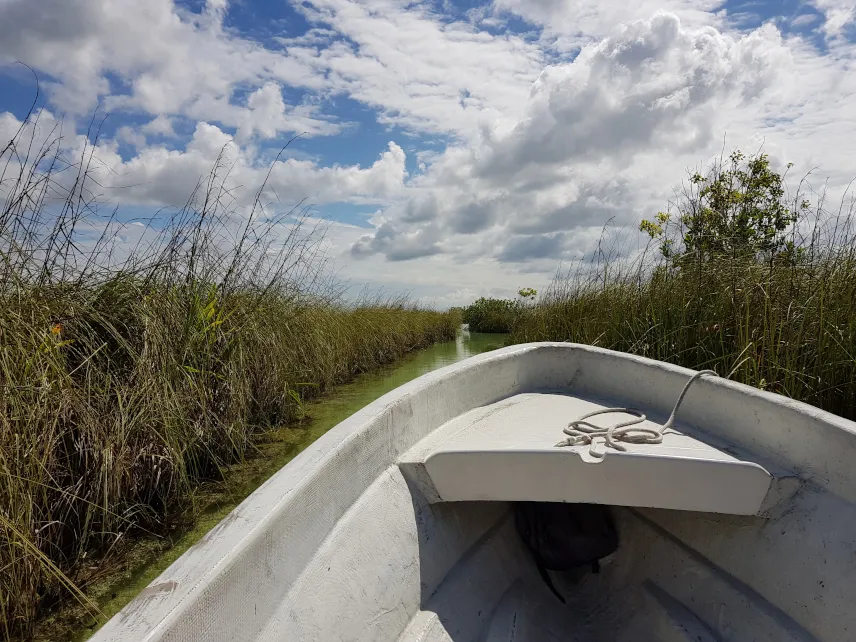 Day 7 – Day trip from Tulum to Akumal
We loved snorkelling with turtles in Akumal. We've snorkelled with turtles in many places before and we can say that we had a great experience in Akumal as we easily saw several turtles. Additionally, the white sandy beach is a nice little spot to dry off and relax a bit afterwards.
Go there early. Not only to beat the crowds but also because the bottom is sandy and the water gets cloudier throughout the day. We brought our own snorkelling gear so we didn't opt for a guided tour. Just head towards the seaweed areas and you'll probably spot a turtle quickly. Be respectful, leave some space to this wild animal, and of course never touch it.
How to get to Akumal by public transport:
Taking a Colectivo from the ADO bus station in Tulum to Akumal is easy, cheap, and straightforward. We have read online that the entrance to the beach gets successively blocked and places charge you to enter so be aware of that.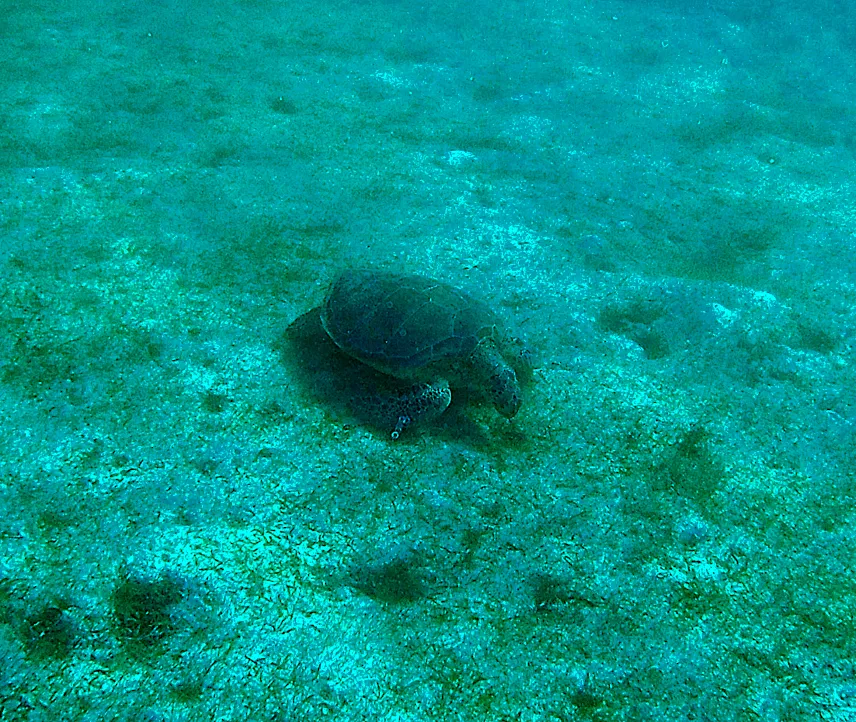 Day 8 – Backpacking Laguna Bacalar
The Laguna Bacalar or Lagoon of Seven Colours is breathtakingly beautiful. On your first day here just check out one of the many beautiful beach clubs and relax after your travel day. If you're feeling more active, you can check out the San Felipe Fortress in the centre.
How to get from Tulum to Bacalar with public transport:
Direct ADO buses from Tulum to Bacalar run very frequently. Travel time is around 3 hours.
How long should I at least stay in Bacalar?
We suggest staying in Bacalar for at least one full day: The lagoon itself presents so many highlights and you shouldn't miss out on relaxing at one of the many gorgeous beach clubs.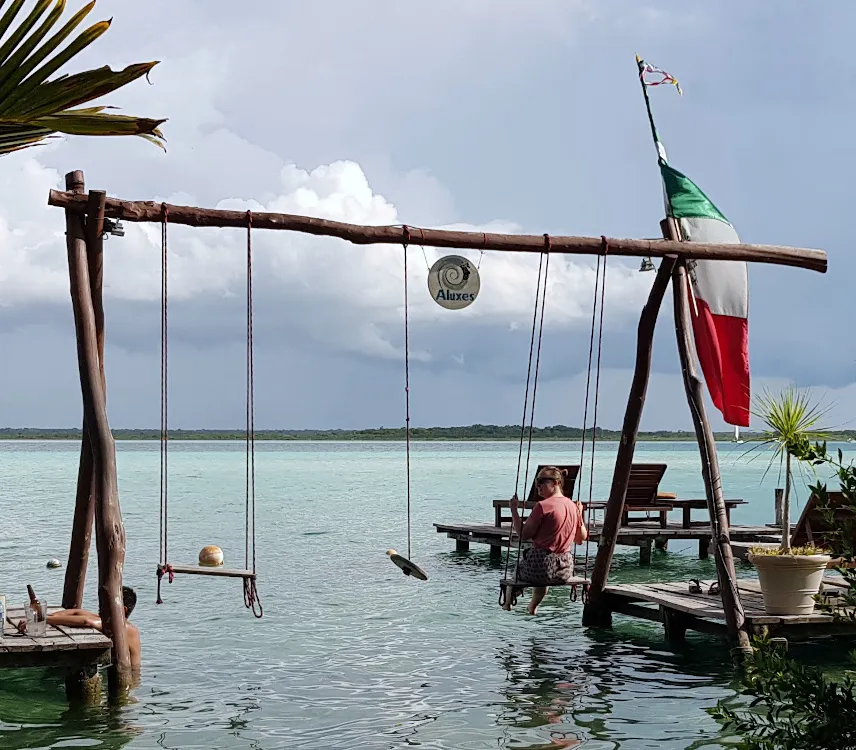 Day 9 – Exploring Laguna Bacalar
Get out on the water today! Rent a kayak and explore the lagoon yourself or go on a guided boat tour. Highlights are
several small islands like Isla de los Pajaros
cenotes in the lagoon like Cenote Esmeralda or Cenote Cocalitos
the pirates' channel
a Mayan mud spa treatment with lagoon mud
stromatolites – Stromatolite is the Greek name for layered rock. They are formed by microorganisms and present one of the first life forms on earth. Nowadays, they are super rare. I'm a trained geologist so trust me, this is incredibly cool.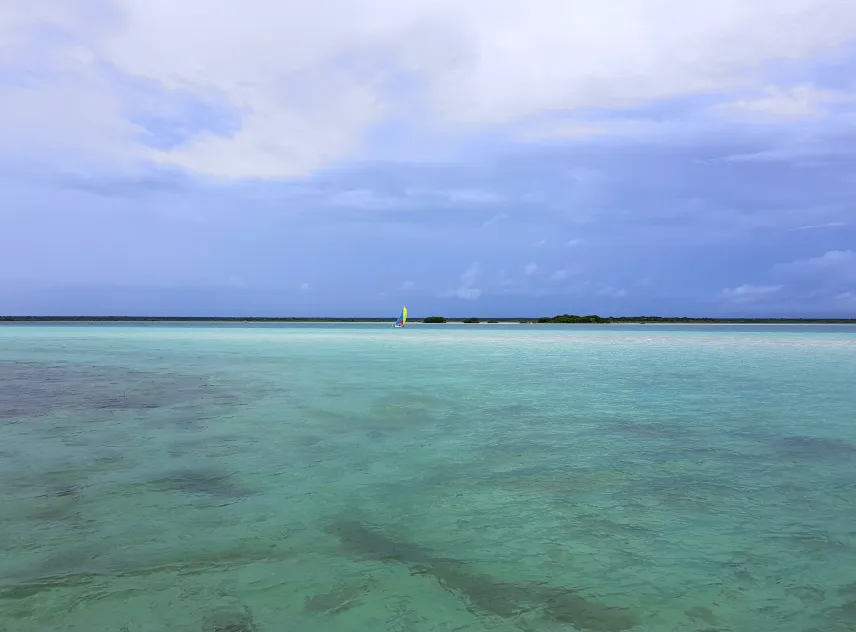 Optional: Day 10 – Scuba diving or snorkelling in Mahahual
Mahahual is a real paradise for snorkellers and scuba divers. Like the whole Caribbean coast of Mexico, it's located at the Mesoamerican Reef System, the second-largest coral reef system in the world after the Great Barrier Reef. In contrast to places like Playa del Carmen or Cancun, it's significantly less crowded here.
I've honestly done one of my best scuba dives ever here (and I've done 67 in total so far). The reef is in good condition and I saw a whole school of rays!
If you prefer snorkelling, you can reach the reef directly from the beach so you don't have to book a tour if you are confident enough to go on your own. Guided tours can lead you to even remoter stretches of the reef as well as turtles.
Mahahual is also a great place to relax with cabanas on the beach, hammocks in the sea, bars with swings as chairs and other instagrammable goodies – while being significantly less crowded than Tulum. Beware that Mahahual has a cruise ship port so it can get crowded on cruise days.
How to get from Bacalar to Mahahual with public transport:
There is one direct bus from Bacalar to Mahahual leaving at (1:05 pm; 2022). There are also Colectivos running this route but less frequent than in other places because they take longer to fill up. The ride takes around 1.5 hours.
How long should I at least stay in Mahahual?
If you're not into snorkelling or scuba diving it's okay to skip Mahahual altogether if you ask us. If you go, the length of your stay depends on how much time you want to spend underwater. For us, one full day in Mahahual was enough.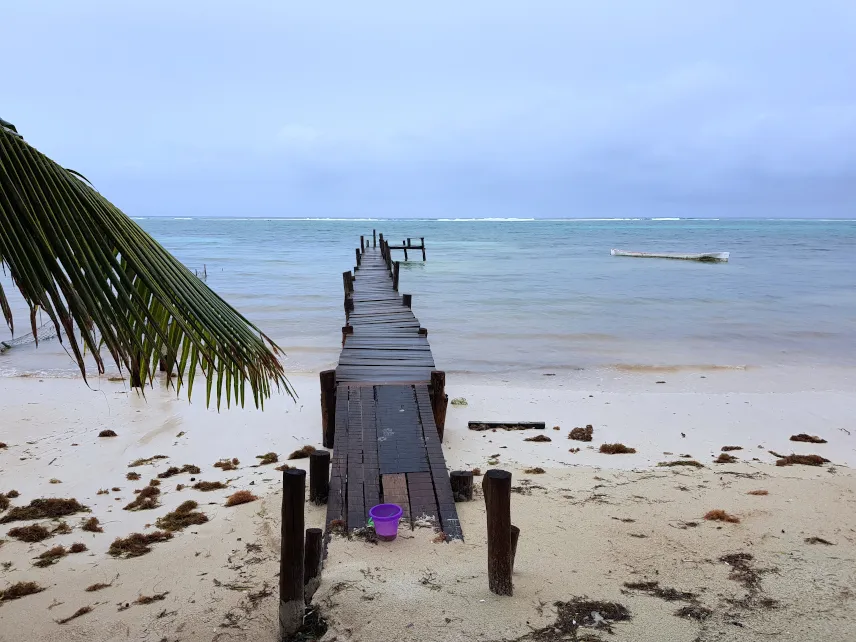 Optional: Day 11 to 14 – Relax in an (all-inclusive) resort
You've seen a lot of Yucatan in just 10 short days. We recommend spending a couple of days in an all-inclusive resort in the Playa del Carmen or Cancun area and relaxing before you go home. It's one of the best places in the world to try and enjoy this experience. We just love that style of travel because we often go backpacking on limited work holidays and need some relaxation after a packed backpacking trip.
How to travel on from Mahahual with public transport:
Buses from Mahahual to Limones start running very early in the day and run approximately every hour. From there, buses run up and down the coast frequently as this is the main Cancun - Chetumal highway. It's super easy to reach every resort along the coast. Our bus driver even dropped us off directly in front of the gate 🙂
From Limones, it's also easy to head further south to Chetumal close to the Belize border or further north all the way back to Cancun airport.
How long should I at least stay in an all-inclusive resort?
We suggest staying in a resort for at least two full days: Most resorts are so big that you need some time for orientation. There are several spots on the beach and at the pool to relax. Additionally, there are oftentimes many different bars and restaurants. We always love to start with the buffet-style restaurant and visit an a la carte restaurant on our second evening. Additionally, there are often many activities included such as a gym or sports classes you might want to take advantage of.