Our travel style is a bit controversial: we like backpacking but we also like all inclusive resorts so we started to combine them. This gives us both an authentic travel experience as well as the possibility to enjoy all inclusive luxury while staying on a budget. Among others, we have tried all inclusive hotels in Mexico, the Dominican Republic, Cyprus, and Egypt.
If you want to give all inclusive a try, our tips for all inclusive resorts will help you to get started.
Are all inclusive resorts worth it?
Yes! For us, it's the most relaxing form of travel.
Tips for all inclusive resorts
Tip 1: How to choose an all inclusive resort?
Like with regular hotels, there is a wide variety of all inclusive resorts. There are
family-friendly resorts which offer childcare and loads of activities for kids like playgrounds or water parks
adults only all inclusive resorts which are geared toward people over 16 or 18
resorts geared towards relaxation with amazing spa areas and a quieter vibe
resorts geared towards party with music bumping, animators, night clubs, you name it
resorts with many sports and activity options like Club Med
big resorts with a lot of options
small resorts which are more cosy and familiar
and so on…
Do your research and read some comments to get a feel for the place you chose.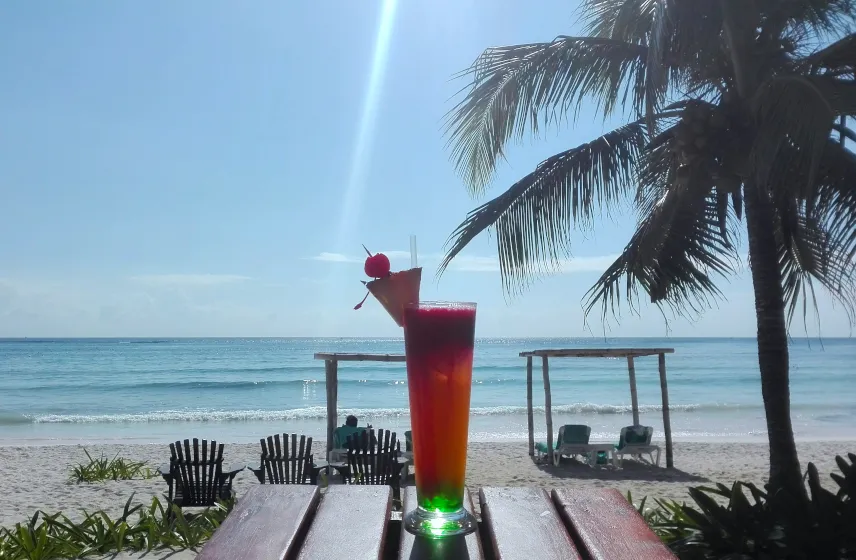 Tip 2: Best regions for all inclusive resorts
All inclusive resorts in Europe
In Europe, there are a lot of options in popular holiday destinations like Spain and Greece. The most budget-friendly all inclusive resorts can be found in Turkey where you can get 5-star luxury at a very affordable price.
All inclusive resorts in Africa
North Africa is a real hub for all inclusive resorts. The options in Egypt are sheer endless. You can easily escape the European winter to relax at the Red Sea. Like in Turkey, luxury all inclusive is incredibly affordable here.
Tunisia is another nice all inclusive friendly country in the region.
Further south, you'll find some all inclusive options in Kenia.
All inclusive resorts in America
The Caribbean is a real cornucopia for all inclusive resorts. You will find most options in Mexico, the Dominican Republic, Jamaica, and Cuba.
On the other side of the continent, Hawaii is your best option.
All inclusive resorts in Asia
All inclusive in Asia is not as popular as in other destinations. There are some amazing options in the Maldives. Beware that they are far from budget-friendly. In other popular destinations like Thailand, Indonesia or the Philippines, all inclusive options tend to be few and far between as well as rather pricey - these countries are not the best region for all inclusive holidays.
All inclusive resorts in Oceania
Places like French Polynesia and Fiji are prime destinations for your all inclusive honeymoon.
Tip 3: What to pack for an all inclusive resort?
Most items are the same as for your regular vacation. Here are the exceptions:
Make sure to check out the hotel dress code before you pack! For many resorts, you need long trousers and proper shoes for dinner.
A beach bag. All inclusive resorts can be big and involve quite a bit of walking. It's great to have your sunglasses, sunscreen, and beach towel with you as well as something to cover up when you want to hop directly from the beach to the buffet without going to your room first.
An insulated refillable cup can be useful to reduce waste, keep your drinks cold, and save you from frequent trips to the bar.
Towel clips can be handy to keep your towels on your sunbeds (I guess I am too German not to mention this tip after all).
Pack a swimsuit and beach clothes in your carry-on. This way, you can use all the amenities if you arrive before check-in time. The same applies when you want to leave the resort after check-out time.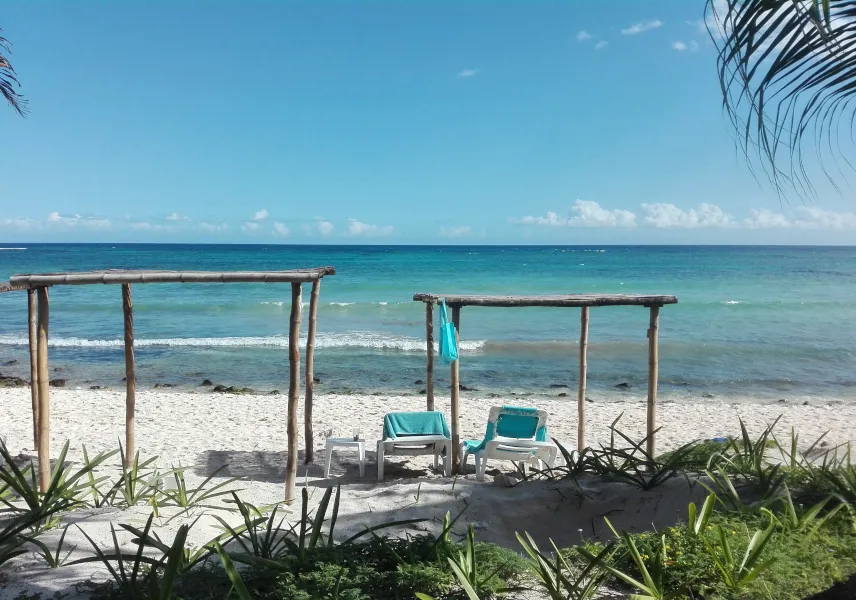 Tip 4: How many days do you need in an all inclusive resort?
We recommend staying at least two full days. Take your time on the first day and explore the different pools and the beach and find your spot. Check out the bars and restaurants to find your favourite and possibly make reservations for the a la carte options.
Find out if there are any included activities like sports classes or cooking classes. Afterwards, you want to have enough time to take advantage of included activities and amenities. After all, you don't want to leave before the relaxation kicks in, do you?
Tip 5: Best Time to Go to an All Inclusive Resort
The most expansive and busiest times to visit all inclusive resorts are the summer holidays, the American spring break and Christmas.
We personally love to escape the German winter and go to either southern Europe, North Africa or the Caribbean. European all inclusive resorts are also great in the shoulder seasons in spring and autumn.
We would advise you to avoid the rainy season in the Caribbean from May to September. Yes, prices are lower but you have a high chance of rain and even hurricanes.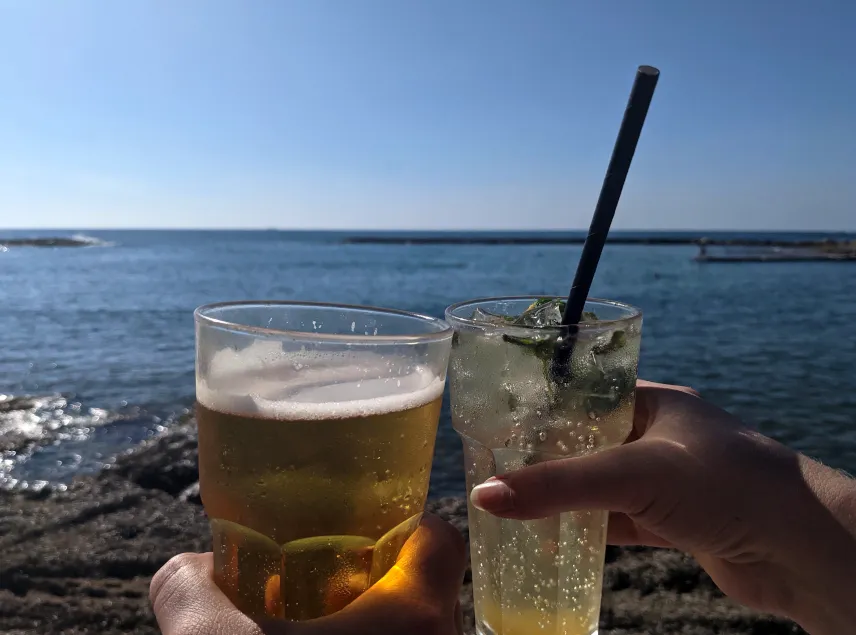 Tip 6: Where to eat at an all inclusive resort?
In most all inclusive resorts you have two options: Buffet and a la carte. In general, you'll have breakfast and lunch at the buffet place and dinner either at the buffet place or in an a la carte restaurant. A la carte restaurants often have a theme like Italian, Asian or fusion cuisine. They offer a three-course meal with various options for each course. Make sure to check if all the meals and drinks in the a la carte restaurant are included. Oftentimes drinks like house wine are included but bottles of wine are extra. Don't be afraid to ask if in doubt!
Bonus tip: Make Your A La Carte restaurant Reservations ASAP
Many all inclusive resorts require reserving for the a la carte dining options in advance. Make sure to do this as soon as possible so you don't miss out on your favourite meal.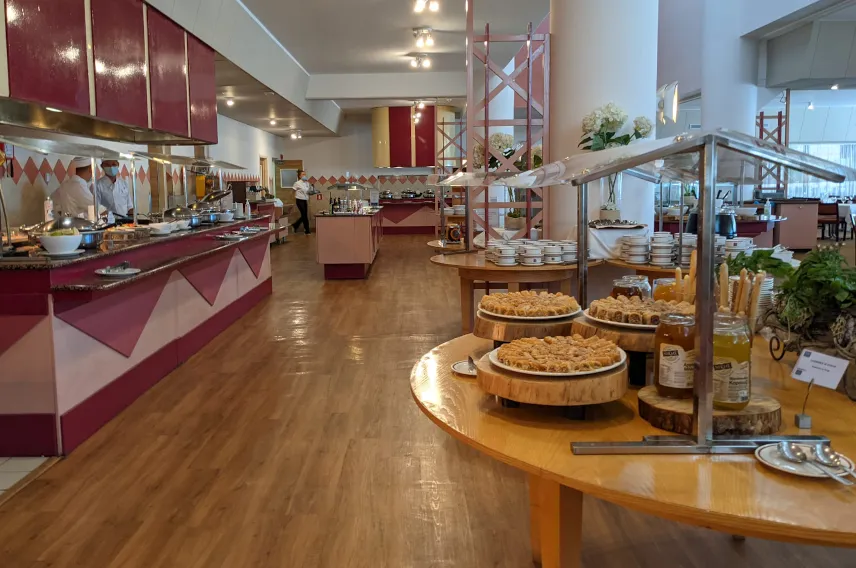 Tip 7: What to drink at an all inclusive resort?
In case this is important to you, you should check if branded liquors are included in your all inclusive package. Especially cheaper all inclusive resorts only include local liquors in your deal. It is also possible that resorts offer different packages which have varying drink options included and are mostly indicated by the colour of your wristband. In our experience, you can always ask for drink options which are not on the menu like non-alcoholic versions of the cocktails or the signature cocktail of the bartender - we even got a flaming drink once. Check out the bar opening times. In some resorts you can get drinks 24/7 in others the bars close at a certain time. Also, make sure to check if the mini bar is included before you indulge.
Bonus tip: In most resorts, you have to wear a wristband to indicate that you're allowed to be on the premises and possibly the kind of package you have booked.
Tip 8: What's not included in an all inclusive resort?
Other than food and drink options, some activities might not be included in your stay. Most resorts include the gym and unmotorized sports in their rates. Other activities like scuba diving or boat tours cost extra. Additionally, the spa area can be free of use but treatments mostly cost extra.
Check the hotel description and don't assume that everything is included!
Tip 9: All inclusive vs full board
Full board does mean that all three meals of the day - breakfast, lunch, and dinner - are included. Sometimes, simple drinks like water, fruit juice, coffee and tea as well as soft drinks, house wine and house beer can be included.
In an all inclusive plan, (mostly ) all drinks should be included in between meals as well. Additionally, activities might be included.
Tip 10: How to get from the airport to your all inclusive resort
We normally combine a stay at an all inclusive resort with a backpacking trip so we rock up to the resort with public transport which is completely possible. The looks you get when you enter the resort on foot with your backpacks on are hard to beat 😂
If that's too adventurous for you, can:
Take a taxi. This might be a bit of a hassle because you first need to find one and second negotiate the price.
Book a transfer: this is the easiest option. You'll get picked up at the airport and immediately can begin to relax.
Book the all inclusive resort as part of a package deal which includes flights and transfers.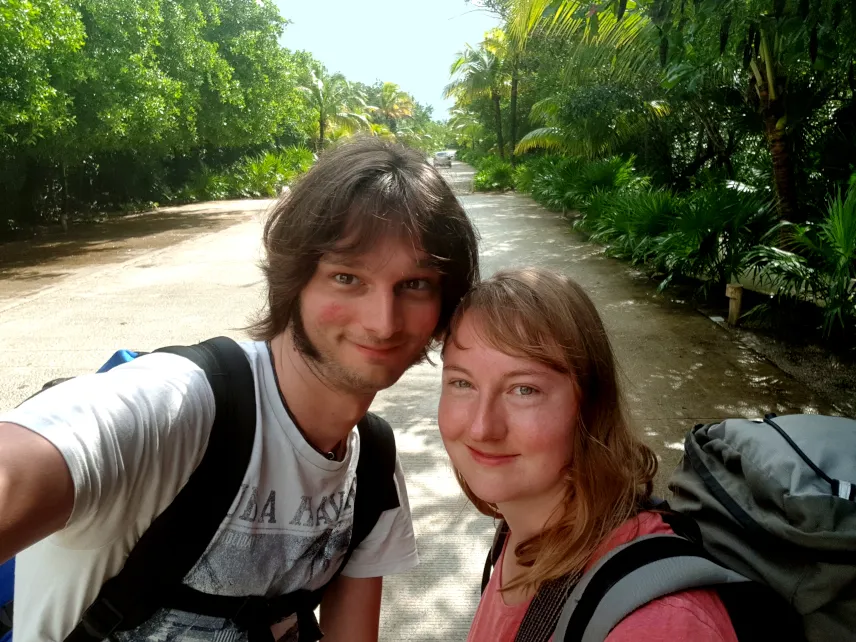 Tip 11: Avoid booking day trips in the resort
The majority of excursions you can book in the resort will be overpriced. Additionally, there will be no money flow to the local economy.
If possible, go out and explore the area around the hotel. This is fun and you might stumble across local travel agencies which can offer you a more genuine experience at a better price.
You might also want to compare resort tour prices with online prices for example on Viator.
Tip 12: All inclusive can be the cheaper option
Surprisingly, depending on your travel style and the country you travel in, all inclusive can be cheaper than backpacking – with all-you-can-eat food and drinks already included! Here's an example from our trip to Cyprus:
All inclusive hotel: 60€ per Person and night
Backpacking: 72,50€ per Person and night (maybe more like flashpacking)
25€ for the apartment
5€ for breakfast at home
7,50€ for sunbeds and umbrella
5€ for a street food lunch
20€ for dinner in a restaurant
10€ for two cocktails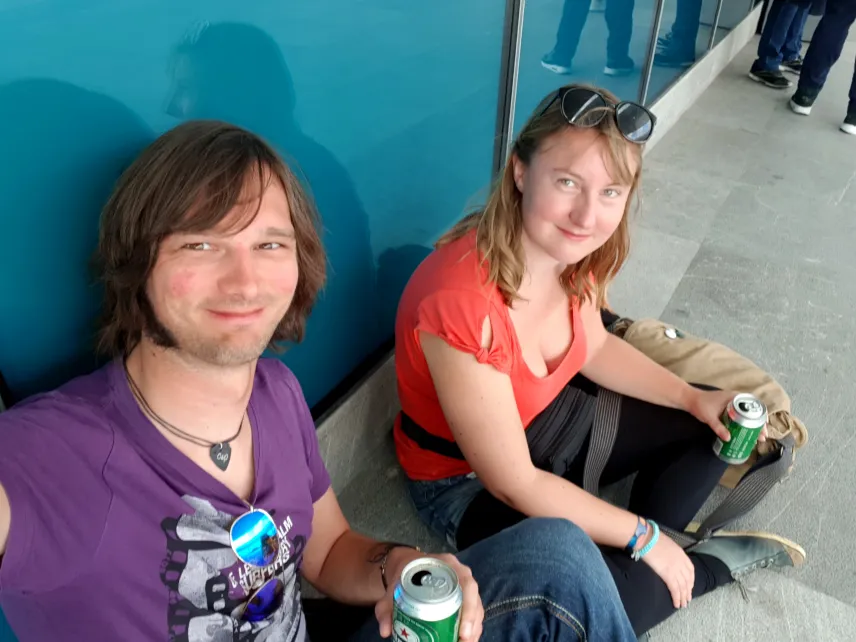 Our favourite all inclusive resorts:
Best all inclusive resort in Mexico:
Akumal Bay - Beach & Wellness Resort, Akumal, Mexico
We just loved the white sandy beach, the infinity pools (plural!), the Bali beds, and the turtles right in front of the hotel. Every room has its own private hot tub which seems out of reach for the regular backpacker like us. The drinks were out of this world – think flaming coffee, cocktails coloured like the Mexican flag or tequila tastings.
Best all inclusive resort in Egypt:
Labranda Royal Makadi, Makadi Bay, Egypt
Our favourite budget-friendly hotel in Egypt. The reef right in front of the hotel is in good condition. You can enjoy stone oven pizza right on the beach. The Labranda promenade offers a greater culinary variety than I have ever seen. You can choose between a Greek taverna, a burger bar, an ice cream parlour, a Bedouin tent, sushi, teppanyaki, Cuban, and many more – just make sure it's included in your package!
Best all inclusive resort in Cyprus:
Leonardo Plaza Cypria Maris Beach Hotel & Spa, Paphos, Cyprus
This super budget-friendly resort is adults only. It is geared towards a younger crowd. There is sparse animation and light music as well as a nightclub. Most drinks are included but special cocktails and branded spirits are not. For a small additional charge, you can visit the a la carte restaurants.
Yes, most of our all inclusive pictures feature food and drinks, because that's what we're there for 😉
This post contains affiliate links. If you use these links to buy something we may earn a commission. You would help us a lot if you do so. Thanks.