Are you dreaming of a Cyprus vacation but you need to travel Cyprus without a car? Don't worry, this Cyprus travel blog will show you how you can backpack Cyprus by bus.
We have explored Cyprus in-depth for three weeks and tell you how to include the most beautiful places in Cyprus in your Cyprus travel itinerary.
Backpacking Cyprus Travel Tips
Why Visit Cyprus
Cyprus has
Great weather.
Delicious food.
Loads of history.
💡
Why not to visit Cyprus? For sandy beaches. Most beaches in Cyprus are rather rocky and pebbly but nonetheless beautiful.
Getting Around Cyprus Without a Car
Getting around Cyprus without a car is surprisingly easy. Your two best options are:
Cyprus Buses
Bus travel in Cyprus is cheap and easy. City buses only cost 1,50€ and run as often as every 10 minutes in places like Paphos or Limassol. Intercity buses link the big cities several times a day. Costs are between 4€ and 9€. If you don't start your journey at the main bus station, just look for the Intercity Buses logo at the bus stop.
https://www.cyprusbybus.com/ is the perfect resource: it has all the lines, routes, timetables, prices, and everything else you can wish for and is super reliable, even for holiday schedules.
Cyprus Tours
Tours are a convenient option to travel around Cyprus without a car!

Open blogpost

Open blogpost
Open blogpost
Where to Stay in Cyprus Without a Car
Most backpackers stay in the bigger cities in Cyprus:
Paphos
Limassol
Larnaca
Ayia Napa
Nicosia
They are best connected by public transport and have the best overall infrastructure.
Airport Cyprus
There are two airports on Cyprus:
Airport Cyprus Paphos
Airport Cyprus Larnaca
Both have good connections to many European destinations – including low cost carriers like EasyJet and Ryanair.
Public transport airport shuttles from Paphos and Larnaca should cost a maximum of 15€ per person.
How Many Days in Cyprus
As Cyprus is not only about sightseeing but also about relaxation, we would say 7 days is the minimum time you need in this small Mediterranean country.
The sweet spot is 10 days in Cyprus.
Two weeks is ideal if you want to get a lot of beach time in.
Best Time of Year to Visit Cyprus
Of course, you'll have the best weather in the Cyprus summer. That's when you'll also have the most crowds.
We visited in Autumn. The air was still warm and the sea pleasant enough to swim in but there were fewer tourists and the prices were lower.
If you visit in the off-season in winter, beware that some hotels and restaurants might be closed and some tours not on offer!
Itinerary Cyprus
Day 1 – Arrive and enjoy the Ayia Napa nightlife
After landing in Cyprus, make your way to Ayia Napa for some relaxing beach time. We chose Ayia Napa over Larnaca because the beaches on the east coast are nicer. Should you arrive at Paphos airport, this will be the longest journey of the entire trip with 180 km (112 mi). Relax, settle in, and maybe take a first look at the famous Ayia Napa nightlife.
Edit April 2022: It seems there is not much going on in Protaras, especially in the off season so it Ayia Napa is the more lively choice.
Best restaurants and bars in Ayia Napa
Taverna Napa is a great restaurant for a first glimpse into Cypriot cuisine. Make sure to try their meze, a taster of around 20 different delicious dishes.
For cheap (2,50€) happy hour cocktails, head to Tommy's Pub.
The Square Bar is amazing for live music.
Although the google reviews are mediocre, we really enjoyed Karamelomeno Kremidi for a late-night snack in form of a gyro.
How to get from the Paphos or Larnaca airport to Ayia Napa by bus
Ayia Napa is easy to reach both from Paphos and Larnaca airport. From Larnaca, you can take one of the direct shuttle buses, which run several times a day to Ayia Napa. From Paphos you have two options: 1) you can take the shuttle to Larnaca and from there one of the frequent buses to Ayia Napa or 2) you can go to the main bus station in Paphos (Municipal Market Station) and take the direct bus from there, which runs once a day. The bus from Paphos airport to Paphos runs several times a day.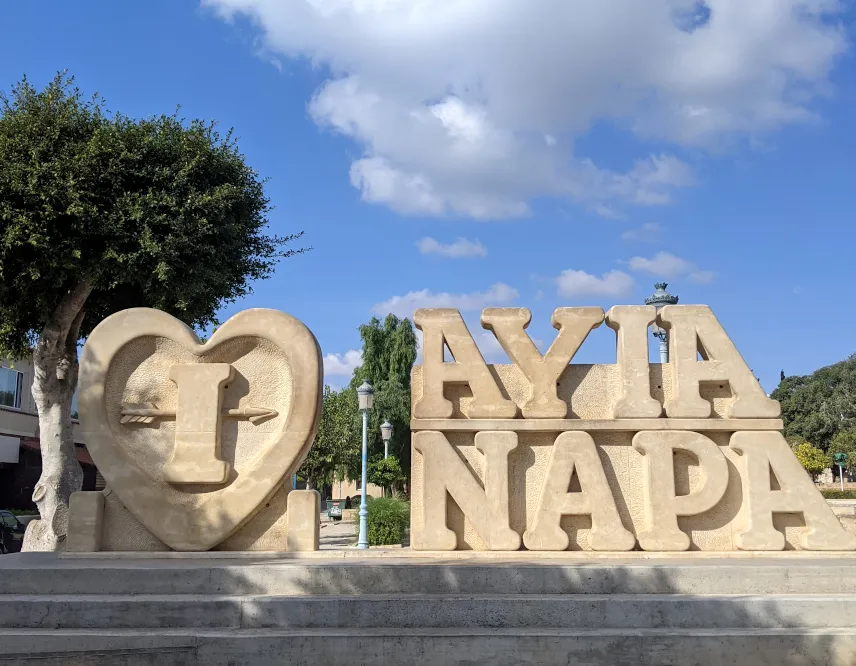 Day 2 – Enjoy the beaches in Ayia Napa
Relax at the beach on your first full day in Cyprus! We loved walking along the promenade from the harbour. It's around 4 km (2.5 mi) but you'll walk along nice viewpoints and cute little bays. As you can see in the picture, Nissi beach is not exactly a hidden gem anymore. In our opinion, the beach with the small island in front is still worth a visit. In case the beach is too crowded for your taste, you can choose one of the many other bays along the promenade. Municipal sunbeds are only 2,50€ which we found very reasonable. The Vathia Gonia is gorgeous but Pernera Beach had the comfier sun loungers and fewer people when we visited.
How to get from Ayia Napa to Nissi Beach
You can walk as we did or take the bus, which should run approximately every 30 minutes. It is also possible to rent a bike or a small electric vehicle but beware that you cannot drive all the way to Nissi beach as you have to cross the sand at Vathia Gonia beach.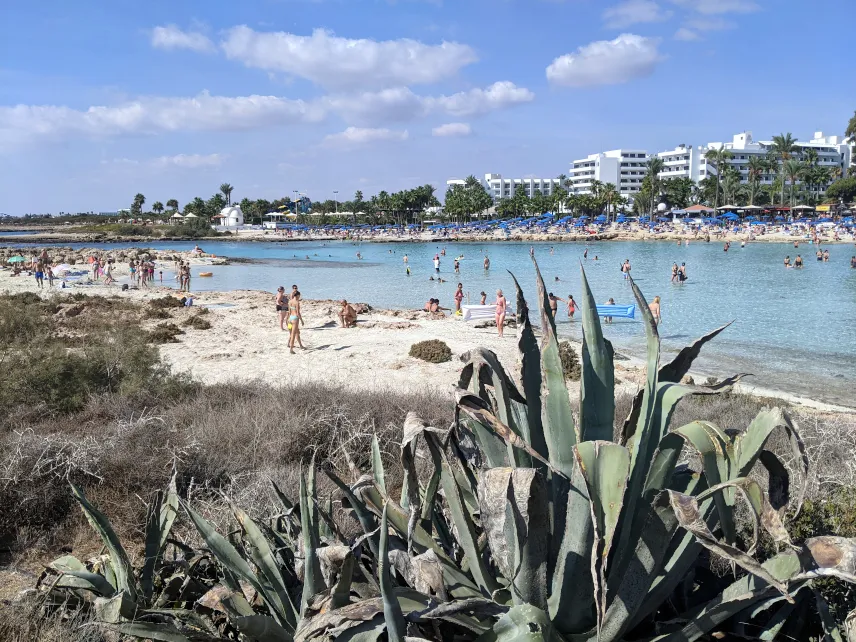 Day 3 – Day trip from Ayia Napa to Cape Greco, the Sea Caves and the Blue Lagoon
Cape Greco is not only the easternmost point of Cyprus but also of the whole EU. It's also the highest point of the area thus offering amazing scenic views. There is a plethora of rock formations to explore in this area: several sea caves, bridges, even a rock mushroom, as well as the beautiful Ayioi Anargiroi Church on the rocks above the Ayioi Anargiroi Cave.
Natural bays like the Blue Lagoon offer an amazing opportunity to cool off on a hot day. As the shore is rocky, the water is crystal clear.
How to get from Ayia Napa to Cape Greco
If you don't want to rent a quad bike or go on a jeep tour, you can of course walk (around 9 km or 5.5 mi). Or you are lazy like us and go on a boat tour. There are plenty of tour operators along the harbour who offer shorter or longer tours, in the morning or in the evening, and with or without swimming stops – just pick the one you like best.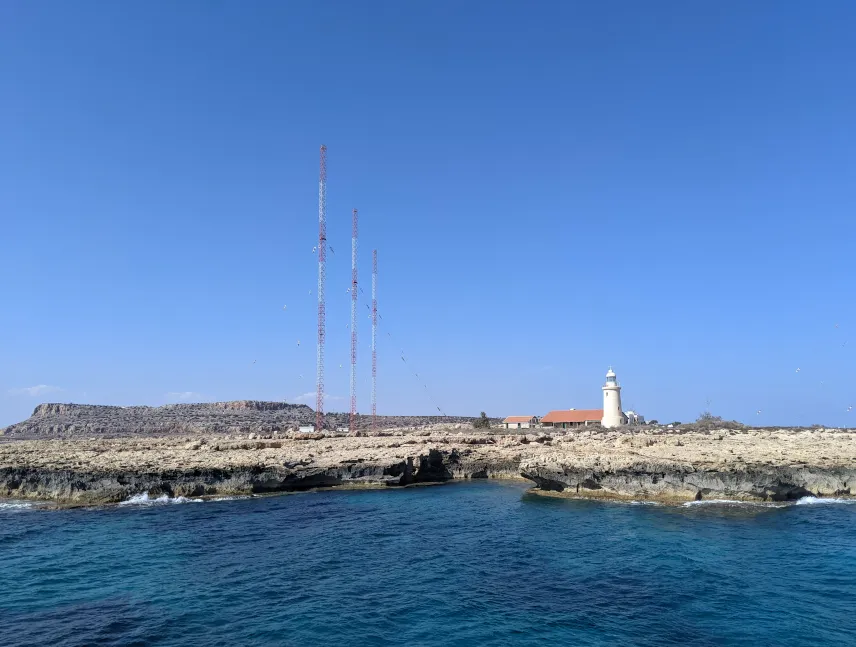 Day 4 – Backpacking Nicosia
We fell in love with Nicosia. Lonely Planet chose it as one of the best cities to visit in 2022 and rightly so. It's where you feel the history and culture of Cyprus like nowhere else. We recommend spending at least one night because the nightlife is modern and vivid. The Leventis Municipal Museum gives a great overview of the history of Nicosia and Cyprus – the best part is that it's completely free to visit!
As there were no free walking tours when we visited, we did the self-guided walking tour by MelBTravel to get a first overview. Walking along the city walls and checking out some of the many churches and archaeological sites is amazing! Visit the Sakolas Tower Observatory for a 360° view over Nicosia / Lefkosia including the Turkish side. Speaking of the Turkish side: As Nicosia is the last divided capital in the world, we recommend making the border crossing and checking out the Turkish side as well. Make sure to bring your passport and check the current regulations. The picturesque Büyük Han is one of the best places to get a Turkish coffee!
Best restaurants and bars in Nicosia
Avo Armenian Food and Piatsa Gourounaki Express are two cheap and fast restaurants for a sightseeing break.
In Greece, we fell in love with dessert restaurants and there is no shortage of them in Nicosia – we loved our chocolate sampler at Chocolate Maze.
Additionally, we found two amazing craft beer places: Golem Brewhouse and Brewfellas.
If you prefer cocktails, Lost + Found Drinkery is on par with top-notch cocktail bars in other major European cities.
If you're looking for a traditional shisha, Shisha Friends has got you covered.
How to get from Ayia Napa to Nicosia by bus
As Nicosia is the capital of Cyprus, there are many direct busses from Ayia Napa as well as all other major destinations on the island.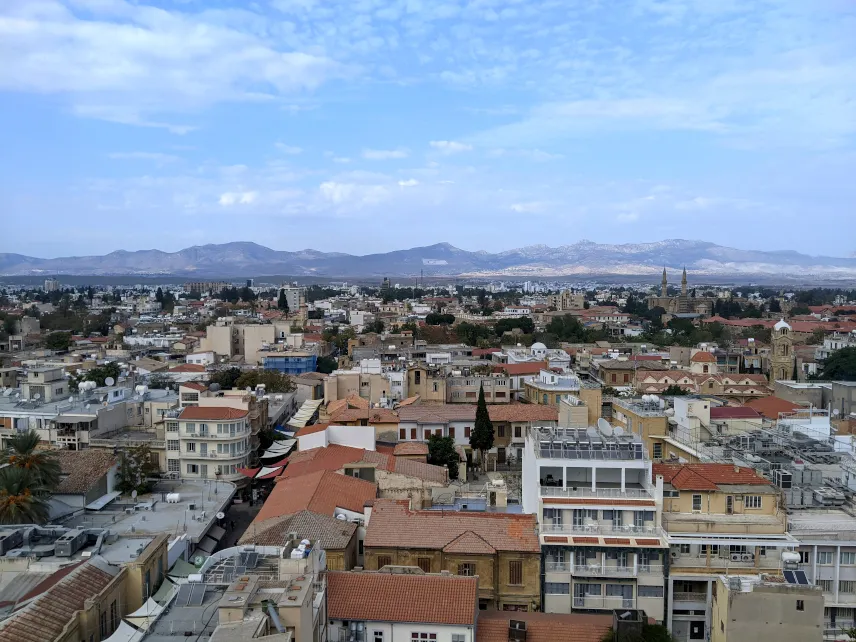 Day 5 – Choirokoitia Archaeological Site
Choirokoitia or Khirokitia is an archaeological site dating from the Neolithic age. This UNESCO world heritage site is one of the best-preserved prehistoric sites in the eastern Mediterranean.
Our favourite part were the roundhouses, which were carefully reconstructed using the old materials and methods. It was amazing to learn in detail how they were built. Afterwards, it was much easier to understand the ruined settlement leading up the slope to the top of the hill. Make sure to walk the round tour for a cave and nice views along the backside of the hill.
How to get from Nicosia to Choirokoitia by bus
Here is where things get interesting. The intercity buses from Nicosia to Limassol do stop here – in front of the Oasis restaurant to be precise. The stop is called Choirokoitia and in doubt, you can tell your bus driver where you want to get out. If you get a daily ticket for 9€, you can just hop off the bus, visit the archaeological site, and hop on the next bus (or two buses later) again. The guys at the ticket office even kept our luggage for us so that we didn't have to carry it around.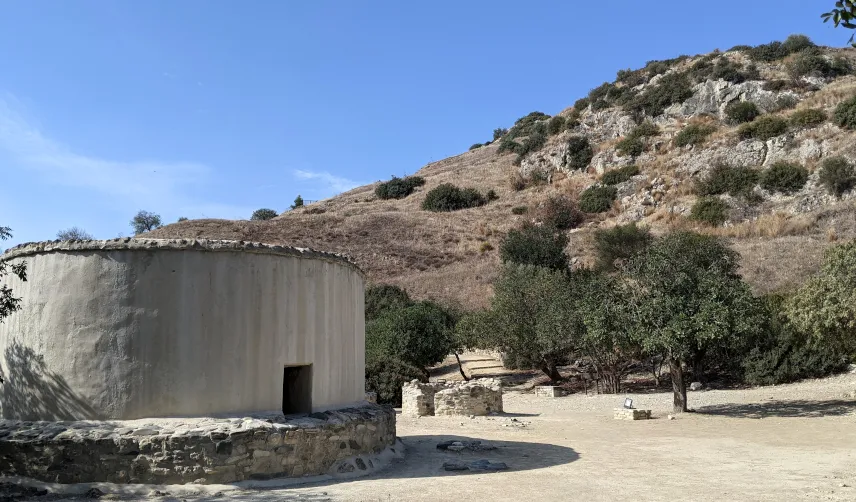 Day 6 – Backpacking Limassol
Limassol has a lot to offer: from ancient archaeological sites to a modern marina combined with a buzzing nightlife. The waterfront is lined by the promenade the Molos, which is great for some strolling and people watching. And don't forget the city beach, which is not the most beautiful beach on the island, but it's sufficient for a quick beach fix. Check out Lady's Mile Beach for a nicer beach.
The Limassol Castle with the Medieval Museum is a must-visit and we heard that the Archeological Museum is also worth a visit. If you don't mind heading a bit further out of the city centre, you can visit the ruins of Amathus, Kourion, ****or Kolossi Castle.
Best restaurants and bars in Limassol
The new marina is an area for food with many popular chains like Wagamama or Tavernaki.
We preferred the area around the old market because the cuisine was much more local.
Genethliou Mitella street is lined with bars.
We loved Kafeney for craft beer.
If you're more in the mood for a shisha or a cocktail with a rooftop view, Da Vinci is the place for you.
For some traditional Cypriot ice cream flavours, head to Gelato Mio.
How to get from Nicosia to Limassol by bus
As Limassol is Cyprus's second biggest city, direct buses do not only run from Nicosia but also from other cities like Paphos or Larnaca.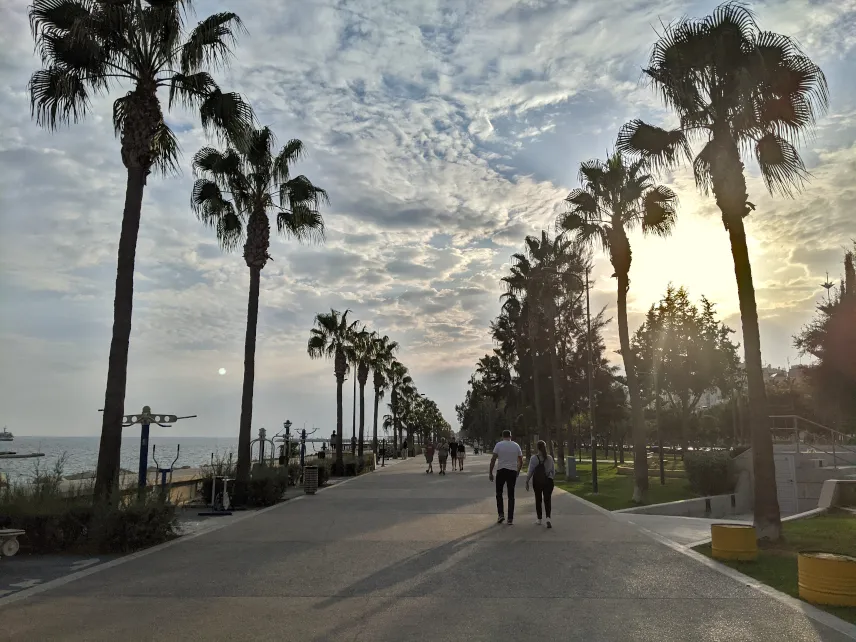 Day 7 – Day trip from Limassol to Kourion
Kourion was an important ancient Greek city-state. Nowadays, visitors can explore Greek, Roman, and Byzantine ruins. Beautiful views along the coast are a bonus. There is much more to see than the famous amphitheatre with its sea view. The agora is huge and we were surprised that we were allowed to walk across it. Additionally, you can visit the remains of several houses, a bath, and an old basilica. If you want to satisfy your inner archaeologist, you can explore the Amathus gate cemetery on your way from the bus stop.
How to get from Limassol to Kourion by bus
Kourion is easy to visit from Limassol but it takes a while. There are two bus routes: 1) The 16B which takes around 50 minutes from the EMEL Bus Station or 2) the 18 which takes around 50 minutes from My Mall. Both places can be easily reached by the city buses and the EMEL bus station might even be walkable depending on the location of your accommodation. The buses only run every few hours so be prepared for this only 18 km (11 mi) journey to become a day trip. When we visited, there was a restaurant right next to the bus stop where we could pass the time until the next bus.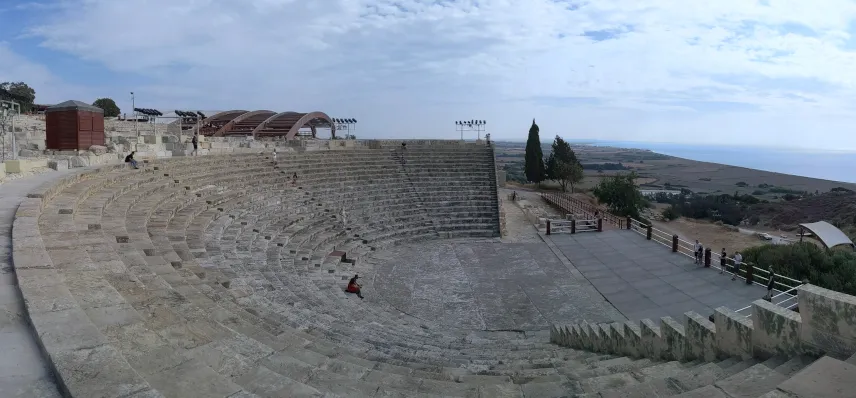 Day 8 – Backpacking Paphos
Paphos was our favourite city to explore in Cyprus. It's split into two parts: the harbour area Kato Paphos and Ktima Paphos on a hill. Make sure to explore both the more touristy Kato Paphos area with its archaeological sites and the Ktima area, the old town and centre area.
The Fabrica Hill area is a serious hidden gem. It's scattered with caves, catacombs and hidden churches, which you can all visit for free – there's even an amphitheatre. Get your inner Indiana Jones going and explore to your heart's content – there will be hardly any other tourists.
Best restaurants and bars in Paphos
The Windmill was our favourite spot to have meze in Kato Paphos. The restaurant is quite touristy but the food was delicious and the service was lovely.
If you're looking for a more local experience, try Minas tavern just down the road.
ta Mpania has some lovely ocean views but we recommend to go only for drinks and not for food.
As the old town is set on a hill, you'll find plenty of places with a great view. Muse is very trendy and expensive but the views are amazing.
If you're looking for a more low key experience with an equally nice view, we really enjoyed Soli Aepia.
Souvlaki Livadias has the best Souvlaki we tried in Cyprus, and trust us, we tried a lot.
How to get from Limassol to Paphos by bus
Intercity buses from places like Limassol run very frequently and are a cheap and easy mode of transport.
The 610 bus runs from Kato Paphos to the municipal market station in the old town every 15 minutes during the day for 1,50€. Of course, you can also walk.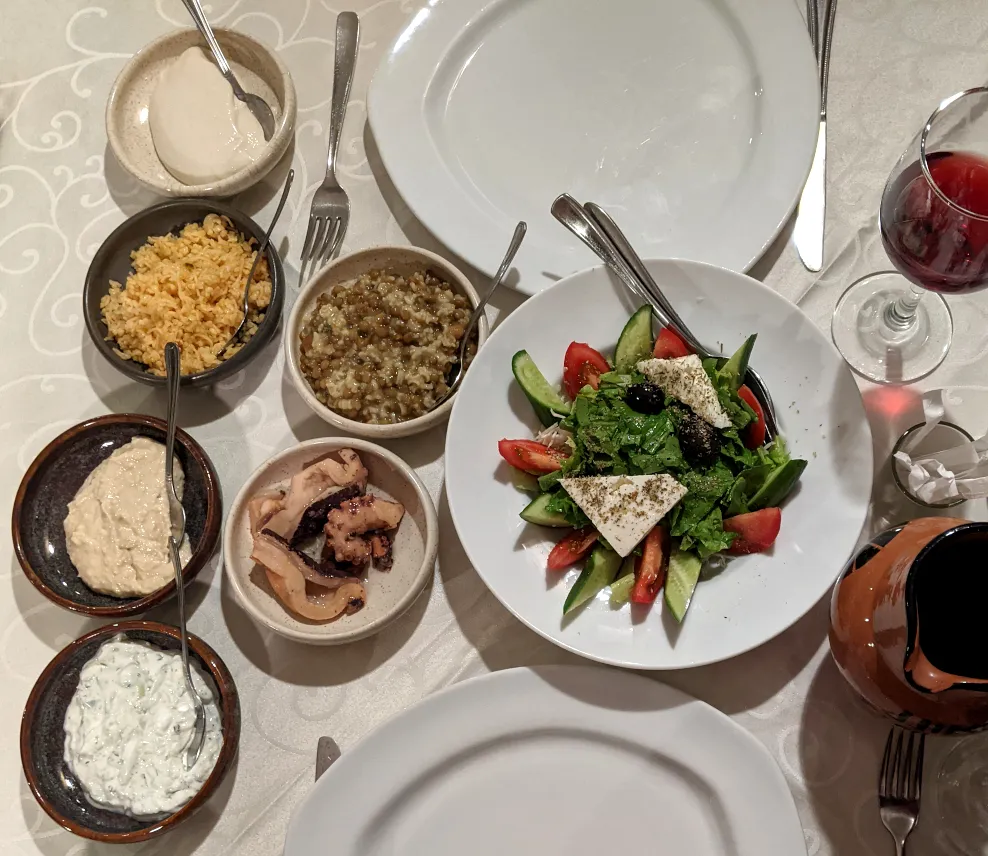 Day 9 – Archaeological sites in Paphos
No, the picture below is not from Egypt, it's from the Tombs of the Kings which ****can give you proper Indiana Jones vibes. The necropolis is a UNESCO world heritage site and was our absolute favourite place in Paphos. The underground tombs date back to the 4th century BC and are thought to have been the burial sites of aristocrats (though not kings as the name suggests). You can climb down many of the tombs and explore to your heart's content.
If you're not tired of archaeology yet, you can also visit the Archaeological Site of Nea Paphos. The UNESCO world heritage site features several Roman villas, well preserved mosaic floors, an amphitheatre, an Early Christian Basilica, the Byzantine Saranda Kolones Castle, as well as some smaller sites. The Paphos lighthouse is also in this area. The archaeological park is right next to Paphos Castle. Although it's Paphos' main landmark, we suggest that you save your money to enter it because there isn't really anything to see and the view itself is not worth it.
How to get to the Archaeological sites in Paphos
We loved walking to the Tombs of the Kings along the promenade – just make sure to take a turn before hotel Elysium so you don't get stuck in front of a gate like we did when we trusted google maps.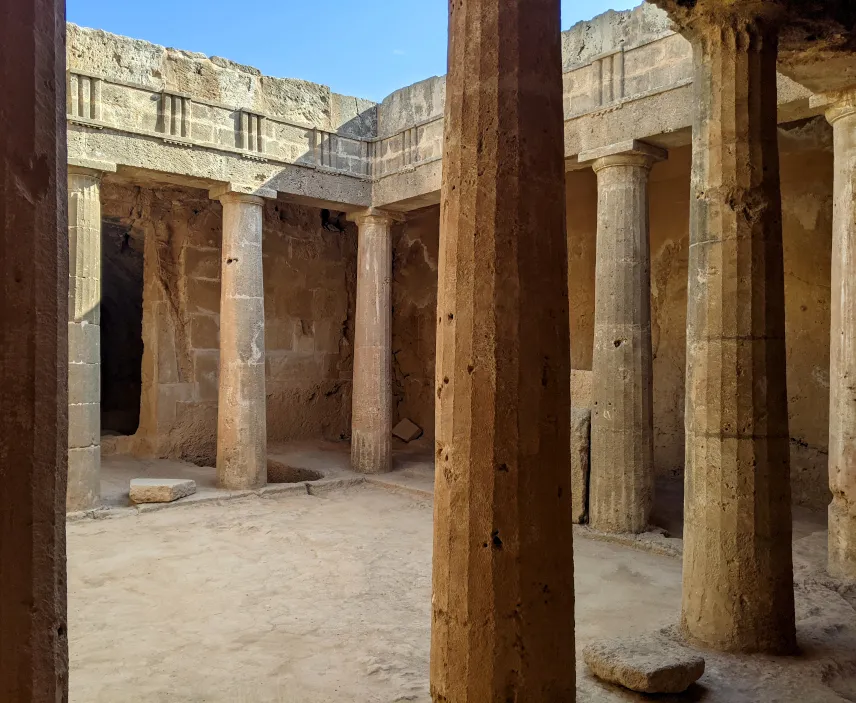 Day 10 – Day Trip to the Troodos Mountains, Omodos, and Kykkos Monastery
Omodos is a cute little village with small alleys and picturesque views. The Holy Cross Monastery which supposedly holds a part of the Holy Cross and the Holy Rope is worth a visit, even if you're not Orthodox. Omodos is also a hub for wine tastings and if we're completely honest, we would probably stay the night to do a tasting if we could do it again.
You cannot visit Cyprus without visiting at least one monastery as the island has a long Greek Orthodox history. Kykkos monastery with its painted archways, relic collection and beautiful church is definitely worth a visit. Make sure to also check out the tomb of Archbishop Makarios III and the Throni of Panagia Kykkou with its beautiful views of the surrounding Troodos mountains when you're in the area. ****
How to get from Paphos to the Troodos Mountains by bus
Most buses are going from Limassol to the Troodos mountains if you want to spend one or more nights to do a wine tasting or some hiking. For example, bus 40 leaves from Limassol to Omodos several times a day. In general, travelling around the Troodos mountains by public transport is quite tedious. So if you're lazy like us, there are several great tour options. We only paid 20€ for a day trip to Omodos, Kykkos monastery, and Chrysorrogiatissa monastery which was totally worth it.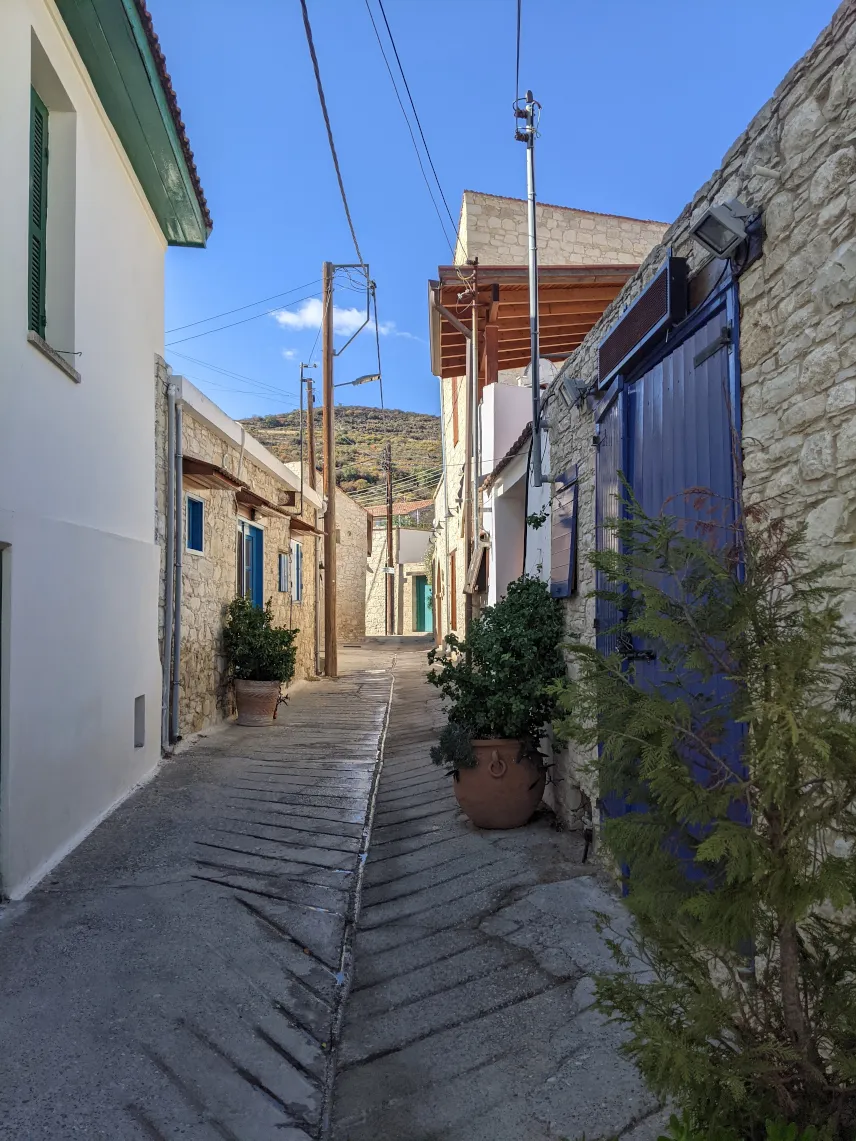 Day 11 to 14 – Optional: Enjoy the Paphos Beach
Cyprus is an all-inclusive resort paradise. We just love to relax in a resort after a backpacking trip, which sometimes can be stressful. We feel like we have explored the sights and the culture and now we just want to chill. Going all-inclusive is a nice carefree option where you don't have to think about your next meal or your next cocktail.
We stayed at two resorts in Paphos:
How to get from the Kato Paphos to the beaches
From Kato Paphos, the bus 611 will take you down Poseidonos Ave where most of the resorts are. During the day it runs as often as every 10 minutes. The Paphos airport buses also stop along this road so the location is a perfect last stop to relax before you fly back home.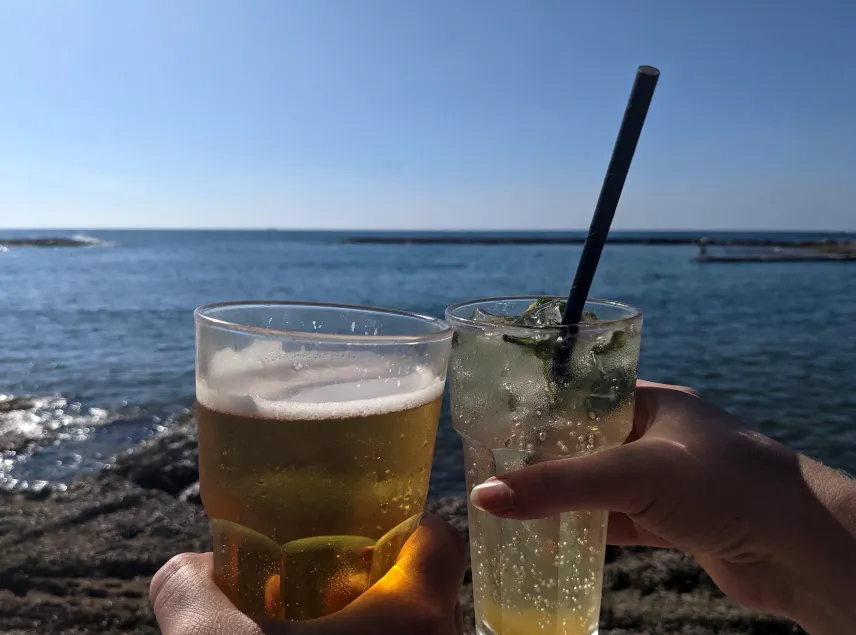 This post contains affiliate links. If you use these links to buy something we may earn a commission. You would help us a lot if you do so. Thanks.