You want to escape the cold but you don't feel like taking a long haul flight? Worry not! There are plenty of beautiful summery destinations just a short flight away that will give you beach vibes all year round.
You might be as tempted to evade the long cold (Covid) winter as we are but you don't want to leave the security of the European Union. Being able to use your European Health Insurance Card can give you great peace of mind especially in recent times. So travelling in Europe is the perfect option for you if you want to spend your winter in the sun without leaving the safety of the EU.
We have tried and tested all destinations ourselves like in all our blogposts! Some like Crete as far back as in 2010, some like Cyprus as recently as in 2021.
Backpacking in winter: Cyprus
Cyprus is the perfect winter getaway if you don't mind rocky beaches. There is plenty to explore and the food inspired by greek and mediterranean cuisine is amazing. Cyprus is a backpacking paradise! Public transport is cheap and easy to navigate.
Cyprus weather in winter
Cyprus can lure you with its subtropical mediterranean climate. Even in the coldest month of January, air and water temperatures can reach up to 16°C (60°F). With 340 days of sun per year, you still get at least 6 hours of sunshine per day.
The best beaches in Cyprus
While Cyprus does not have the finest white sandy beaches, you can still find many cute bays. Because the sand is quite rocky, the waters are amazingly blue. Our advice: Bring water shoes! This island does not only have one but two blue lagoons. Take at least one boat trip!
Nisi Beach, Ayia Napa with its small island.
Fig Bay, Protaras.
Rikkos Beach, Paphos.
Things to do in Cyprus in winter
Of course, especially the colder months are perfect to do some exploring. In Cyprus you can go as far back as 7000 B.C.: The Neolithic settlement of Choirokoitia is well worth a visit. But there is also plenty of Greek and Roman history at places like Kourion and recent history in the capital Nicosia. Because the island is quite small, it's easy to drive from one side to the other in just a day (although we advise changing base if you want to do some proper exploring). Plenty of museums, especially in the bigger cities, provide an excellent pass time for the few rainy days.
Cyprus things to do in bad weather
Limassol Castle and medieval museum.
Visit one of the many museums in Nikosia – the Leventis Municipal Museum of Nicosia is a total recommendation!
Do a wine tasting – the typical Commandaria is delicious!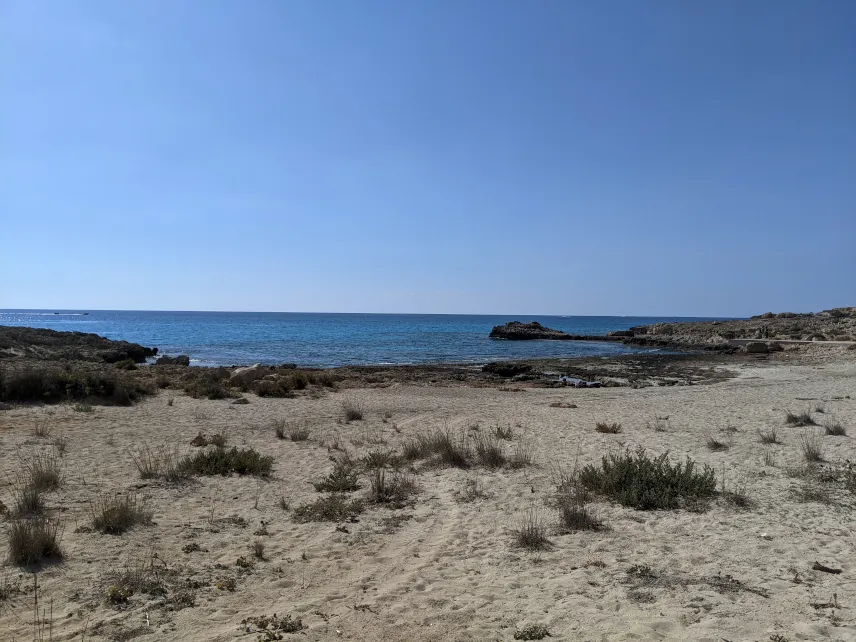 Backpacking in winter: The Algarve, Portugal
Portugal is great for either backpacking or a road trip. The beaches of the Algarve are amazingly beautiful. When you go off-season, you will have them all to yourself to take some great (insta) photos. Don't miss out on venturing off-the-beaten-path and explore some of the hidden gems – be it on the coast or in the inland. By the way: The Algarve is a paradise for fish and seafood lovers.
The Algarve weather in winter
The climate in Portugal is temperate maritime, which is the reason for its mild winters. Temperatures in the coldest month of January can reach up to 16°C (60°F). You can get up to 4 hours of sun per day, while you have to account for an average of 10 days of rain.
The best beaches in the Algarve
The beaches are among the most aesthetically pleasing we have ever seen, especially in Europe. You'll find flat and sandy beaches in the eastern part of the Algarve around Tavira. The southwestern coast around Lagos features dramatic cliffs and caves. And just around the southwesternmost point of the European mainland in Sagres, you'll find a true surfers paradise along the Atlantic coast.
Praia da Ilha de Tavira on an island off the coast of Tavira.
Benagil cave beach.
Praia de Odeceixe-Mar.
Things to do in the Algarve in winter
When you visit the Algarve, make sure to not only explore the beautiful beaches but also the hinterland with its cork trees and charming villages like Caldas de Monchique. The lively capital Lisbon is only a stone's throw away with the train or car and well worth a visit.
The Algarve things to do in bad weather
Explore Tavira with its historical buildings, churches, the castelo, and the roman bridge. The Museu Municipal de Tavira is worth a visit.
Take a spa day in the hot springs of Caldas de Monchique.
Visit the close by capital Lisbon for some great shopping and food.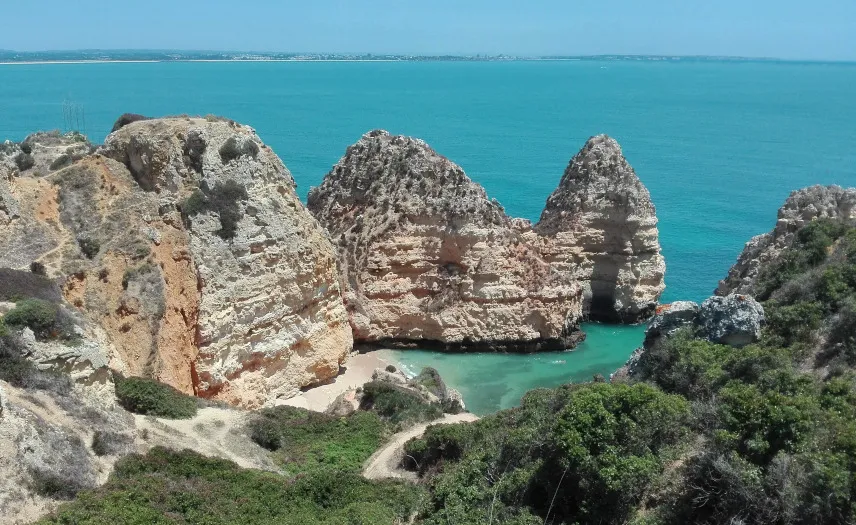 Backpacking in winter: Crete, Greece
Crete is steeped in history. The bigger cities Heraklion, Chania, and Rethymno are well connected by buses and sights like Knossos can be easily reached by bus. When you have done enough exploring and the weather is not good enough for a beach day, try ALL the food. Make the most of your winter visit by trying Stamnagathi – a special wild vegetable that only occurs in Crete and only in the winter months.
Crete weather in winter
Crete with its mediterranean climate is the southernmost island of Greece. The coldest month is January with a maximum air and water temperature of 16°C (60°F). With 305 days of sun, it's Greece's sunniest island. You can expect 4 hours of sunshine per day and 11 days of rain per month in January.
The best beaches in Crete
Crete was the first time we travelled abroad together so we did not explore as many beaches as we would have nowadays. To be honest, we mostly stayed at Amoudara Beach, where our hotel was. While it's not the prettiest beach, it has a lot of infrastructure and you can walk it all the way to the capital Heraklion.
Ammoudara Beach.
Around Chania, you find many picturesque beaches like Balos, Elafonissi, and Falassarna.
The palm beach of Preveli.
Things to do in Crete in winter
There is so much to explore on Crete! Cities like Rethymno and Chania with its Venetian port are certainly worth a visit. Also, you shouldn't miss the antique Knossos with the maze where the Minotaur lived according to Greek mythology. Of course, Crete has many amazing hiking opportunities – especially in winter when it's not too hot. Warning: The famous hike through the Samaria Gorge is not possible in winter as it is completely flooded by the Tarraios river.
Crete things to do in bad weather
Stay at one of the many all-inclusive resorts.
The capital Heraklion features many museums like the archaeological museum and the historical museum – the fort in the Venetian harbour is great to explore.
Leave the bad weather behind and day-trip to Santorini.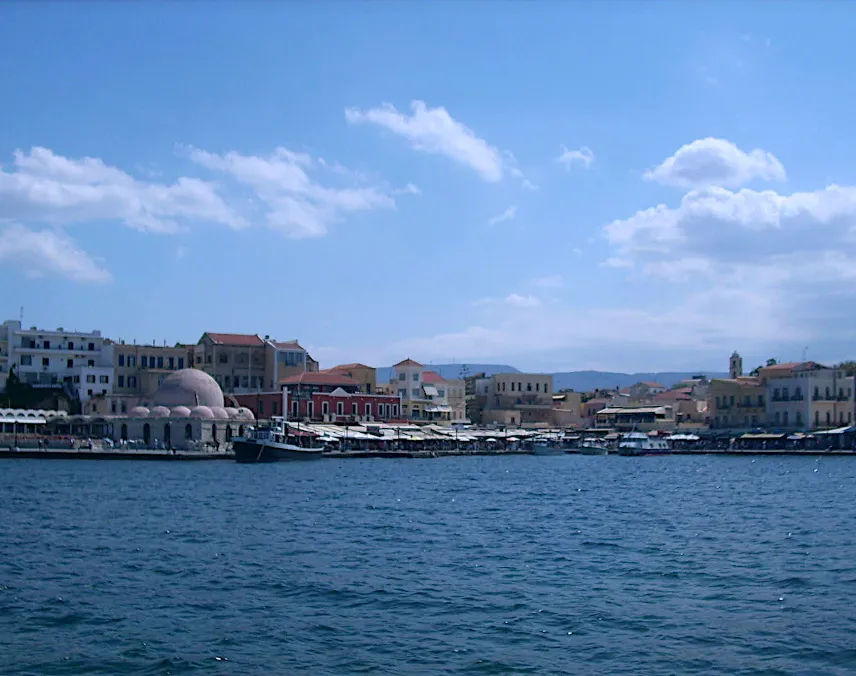 Backpacking in winter: The Canary Islands, Spain
As we have only visited Gran Canaria so far, this is the only island we can talk about. You can have a perfect winter getaway on Gran Canaria, especially in the south of the island where the climate is dessert-like. You'll find many beautiful natural and artificial beaches as well as some of Europe's best water-sports opportunities. So called Guaguas or buses will let you reach most parts of the island.
Gran Canaria weather in winter
The climate on Gran Canaria is very balanced: The coldest month of January (21°C or 70°F) is only slightly colder than the hottest month of August (26°C or 79°F). This makes the island a great destination all year round. Water temperatures range from 23°C (73°F) in August to 18°C (64°F) in February. The island is very dry: While you almost won't see any rain in summer, even the rainiest month of November only has eight days of rain.
The best beaches in Gran Canaria
Gran Canaria features many amazing beaches, especially in the more touristy south of the island around Maspalomas. In addition to many natural beaches, the island features a lot of man-made beaches which were built to accommodate sunbathers and swimmers. With their yellow fine sand, artificial beaches like Amadores beach, Anfi del Mar and Playa de Mogan are well worth a visit. Last year, 15 of Gran Canaria's beaches were awarded the Blue Flag for great water quality.
Dunas de Maspalomas – a 4 km² (1.5 square miles) dune area that borders the Atlantic Ocean.
Playa del Inglés – a 2.7 km (1.6 mi) long very popular beach.
The dark lava beach in San Agustin.
Things to do in Gran Canaria in winter
Gran Canaria is famous for its variety of microclimates. From the mountains to the sea, there is a lot to see. The landmark of the island is Roque Nublo, its third highest peak with 1813m (5950 ft). The Canary Islands are also a water sports paradise! You can scuba dive, surf, or sail.
Gran Canaria things to do in bad weather
Stroll the colourful alleys of Puerto de Mogan – or maybe choose the less touristy Agaete further up north.
The capital Las Palmas is a cultural town with lots of good museums and galleries.
The Botanical Garden Viera y Clavijo – it's one of the best free things to do in Gran Canaria. It's also a great alternative to Palmitos Park with their dolphin shows in case you don't want to support animal shows.