We travelled the Algarve to create an Algarve Portugal travel itinerary for you. Like always, we show you how you can road trip the Algarve efficiently and with different time budgets from one to five days – including a map.
Road Trip Algarve
How Many Days in Algarve
You know that we love efficient itineraries and we are firm believers that your adventures in the Algarve should not be hindered by a lack of time.
Even with only one day in the Algarve, you can see many of the highlights of the Rocky Algarve like:
The Algarve cave beach at Benagil.
Praia de Carvoeiro, framed by picturesque buildings and rocks.
With two days in the Algarve, you can explore the Sandy Algarve with:
Faro & the Ria Formosa Natural Park.
Tavira & Santa Luzia.
With three days in the Algarve, you can explore Lagos and Sagres. This is time sweet spot if you ask us.
With four days to five days in the Algarve, you have the time to venture off the beaten path and explore the West Coast as well as the hinterland.
Airport for the Algarve
Faro
If you're looking for airports in the Algarve, Faro is your best bet. There are plenty of national and international flight connections – also by low-cost carriers like RyanAir, EasyJet, or TAP.
Lisbon
If you're looking to fly in from outside of Europe, you might have to choose Lisbon Airport. You can either rent a car in Lisbon or take a bus or train (or flight) to the Algarve and rent your car there.
Driving in Algarve
For exploring the Algarve, cars are your best option. You can reach most of the towns and cities by train and bus but it takes a lot longer.
Additionally, the undisputed highlight of the Algarve is the beaches which can theoretically be reached by public transport and walking. This takes a lot of planning though and makes beach hopping incredibly complicated.
Best Towns in the Algarve
Honestly, the best location in Algarve does not matter that much. Distances are not far and you will not drive more than 1.5 hours tops using our itinerary.
Here are our three favourite towns in the Algarve:
1. Lagos
Lagos is our favourite base to explore the Algarve.
Pro: You find a cute town centre with loads of restaurants and bars as well as some amazing beaches within walking distance. The town has a bit of a backpacker vibe.
2. Albufeira
Many tourists choose Albufeira for their Algarve vacations.
Depending on you, either pro or con: It's the largest resort town in the Algarve so it's the liveliest, most energetic, and most cosmopolitan base.
3. Faro
Pro: Faro is the perfect base if you don't want to venture too far from the airport. It has a charming town centre.
Con: If you ask us, the downside is that you can only reach the beaches by boat as they are located in the Ria Formosa Natural Park.
Algarve Day Trips or Moving Around?
As we mentioned above, the Algarve is small enough to choose one base and explore on day trips.
If you want to change your base on your Algarve route, we recommend:
Faro for day 1-2 of your Algarve Road Trip (Rocky Algarve and Sandy Algarve)
Lagos for day 3- 5 of your Algarve Road Trip (Algarve West Coast and Hinterland)
Algarve Portugal Itinerary Map
The best spots for your Algarve trip.
Itinerary Algarve
| | | | | | |
| --- | --- | --- | --- | --- | --- |
| | Algarve 1 day itinerary | Algarve 2 day itinerary | Algarve 3 day itinerary | Algarve 4 day itinerary | Algarve 5 day itinerary |
| Rocky Algarve | x | x | x | x | x |
| Sandy Algarve | | x | x | x | x |
| Lagos & Sagres | | | x | x | x |
| Algarve West Coast | | | | x | x |
| Algarve Hinterland | | | | | x |
Algarve Itinerary 1 Day – Rocky Algarve
If you have 1 day in Algarve, we recommend that you check out the highlight of the Algarve, the Rocky Algarve.
Algarve Cave Beach at Benagil
Of the many outstanding beaches of the Algarve, the cave beach of Benagil is our favourite.
You cannot reach it on land. You either have to rent a kayak or sup and paddle yourself, or you can go with a private or shared motor boat.
💡
We did swim and can confirm that it's possible but it's stupid.
Carvalho Beach
The nearby Carvalho Beach also has a lot of nooks and crannies to explore. The access to the beach is by means of two tunnels with stairs that are carved into the stones – super cool!
Praia de Carvoeiro
Praia de Carvoeiro framed by picturesque buildings and rocky cliffs is worth a visit as well.
💡
You can hike along this whole stretch of coast on the Seven Hanging Valleys Trail, which takes around 6 hours to complete. We took the car and have 0 regrets.
Algarve Itinerary 2 Days – Sandy Algarve
With 2 days in Algarve, you have the time to discover a different side of the Algarve, the Sandy Algarve. The eastern Algarve coast features less dramatic cliffs. This makes the beaches more accessible.
Tavira
The town of Tavira is such a gem. With a bit of exaggeration, it is called the Venice of the Algarve because of the Gilão River. Several bridges connect the two parts of town, the Roman Bridge is one of the main symbols of Tavira.
The town's architecture is influenced by the Moors with white buildings and Morrish-style doors and rooftops. Of course, there's also a castle.
Tavira Island
Taking a boat from Tavira to Ilha de Tavira was one of our all-time favourite holiday experiences. First, you'll drive through the Gilão River and the Salinas. Afterwards, you'll make it to Tavira Island with its several beaches.
Santa Luzia
Santa Luzia is called the octopus capital of Portugal. If you like octopus, you must go there and try some. If not, it's not a must-see.
Faro
Faro is the capital of the Algarve and with around 50000 inhabitants also the largest city in this area. Make sure to have a short stroll around the beautiful old town.
💡
The museums of Faro are a great idea in case you catch a rainy day.
Ria Formosa Natural Park
If you don't have enough boat rides yet, you can hop on your second Algarve boat trip of the day to Parque Natural da Ria Formosa, one of the largest lagoon protected areas in Europe.
It consists of a maze of channels, islands, marshes and sandbars that stretches for 60 km (37 mi). Its diverse ecosystems attract a wide variety of animals, including numerous bird species such as the purple rail, the park's symbol animal.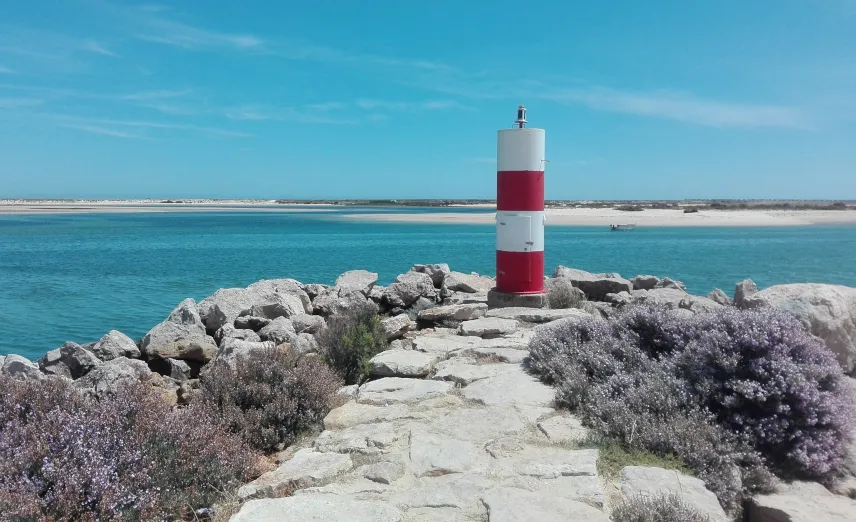 Algarve Itinerary 3 Days – Lagos & Sagres
With 3 days in Algarve, you can explore our favourite town and the end of Europe.
Lagos
Lagos was our favourite town in the Algarve. We loved walking through the alleys of the old town and along the Ribeira de Bensafrim.
We also loved how accessible the beaches in Lagos are. The Instagramable Pinhao Fort Bridge is an easy walk from town. Following the coastline, you'll find plenty of beaches, caves, and cliffs until you reach Ponta da Piedade. If you don't want to walk, you can take the tourist train.
Lagos is also a great spot to explore the cliffs and caves by boat. You can either go on a guided tour or paddle yourself.
Sagres
Sagres is the surfer hotspot in the Algarve. The small fishing village is a water sports heaven: you can not only surf but also scuba dive and go fishing. Sagres is a place for nature lovers, beach fans, hikers, and bikers.
Cape St. Vincent
Cape St. Vincent is the southwesternmost point of the European mainland. Maybe this is notoriously German but we quite enjoyed eating the Letzte Bratwurst vor Amerika (the last sausage before America). Have a quick stop at Fortaleza de Belixe on the way.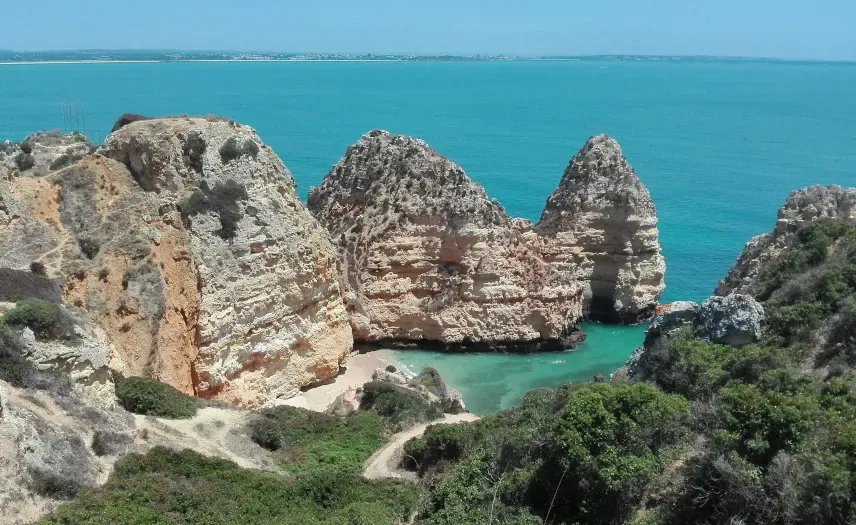 Algarve Itinerary 4 Days – Algarve West Coast
4 days in Algarve: make your way further up the west coast. You'll find amazing beaches with significantly fewer people than on the south coast. Some of our favourite beaches on the west coast are:
Praia do Amado
Praia do Amado beach comes with a lifeguard, a surf school, and two snack bars. Still, it's far from overrun.
Praia da Amoreira
Praia da Amoreira is picture-perfect beautiful. The beach itself is lovely but the Aljezur River brings it to another level. When we visited in summer, the water level was low enough to walk along the sandy river bed and enjoy several swims.
We approached Amoereira Beach from the south but you can also go there from the north. Both sides have restaurants.
Praia de Odeceixe-Mar
Right on the northern border of the Algarve, you can find Praia de Odeceixe-Mar. Like Praia da Amoreira, it is located at a river estuary. It is part of the 7 Maravilhas – Praias de Portugal (7 Wonders – Beaches of Portugal) – and rightly so.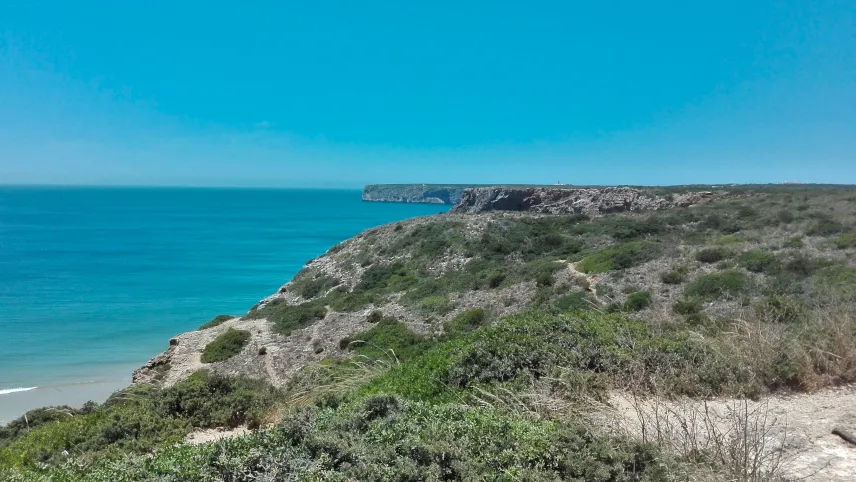 Algarve Itinerary 5 Days – Algarve Hinterland
With 5 days in Algarve, you have the time to explore the hidden gems of the Algarve hinterland.
Monchique
Monchique or Caldas de Monchique to be more precise with its hot and cold springs is charming. The spa town has been famous since Roman times for its waters, which supposedly have healing properties. You can either drink the water for free or opt for a whole spa treatment.
Alcantarilha
The bone chapel in Alcantarilha is a true hidden gem. It's also worth a quick wander around town.
Carob Trees and Cork Trees
We fell in love with the taste of carob during our time in Portugal. Did you know that the largest carob tree in Portugal is near Moncarapacho in the Algarve? It is estimated to be over 600 years old and still produces huge quantities of beans. There's even a Carob World close to Faro.
Driving through the Algarve, you'll see plenty of cork trees. You can learn about cork manufacture at some places, e.g. at NF Cork just a 10 minute drive away from Carob World 😉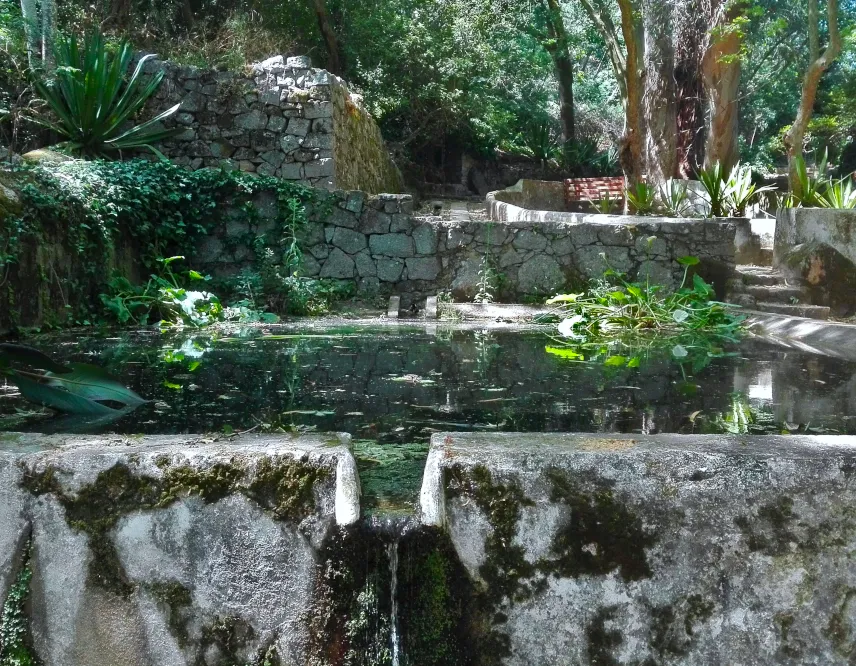 This post contains affiliate links. If you use these links to buy something we may earn a commission. You would help us a lot if you do so. Thanks.