Heavily updated January 2023
So far, we have visited 50 countries. These are our adventure bucket list ideas for all of them.
Our name is bucketlist2life so of course we thrive on bucketlists. Logically, we have to share 50 fun adventures from every country we have visited so far. Admittedly, they are not all super crazy things to do but we have tried and tested them all ourselves and can 100% recommend them. We have listed them in alphabetical order because we could not possibly decide on the best adventure ideas.
Adventure Bucket List Map
Adventurous Bucket List
1. Albania: Go legally wild camping
Albania is the only country in the Mediterranean where it is allowed to wild camp. You can choose to stay at the beach or in the mountains, in cities or in the countryside.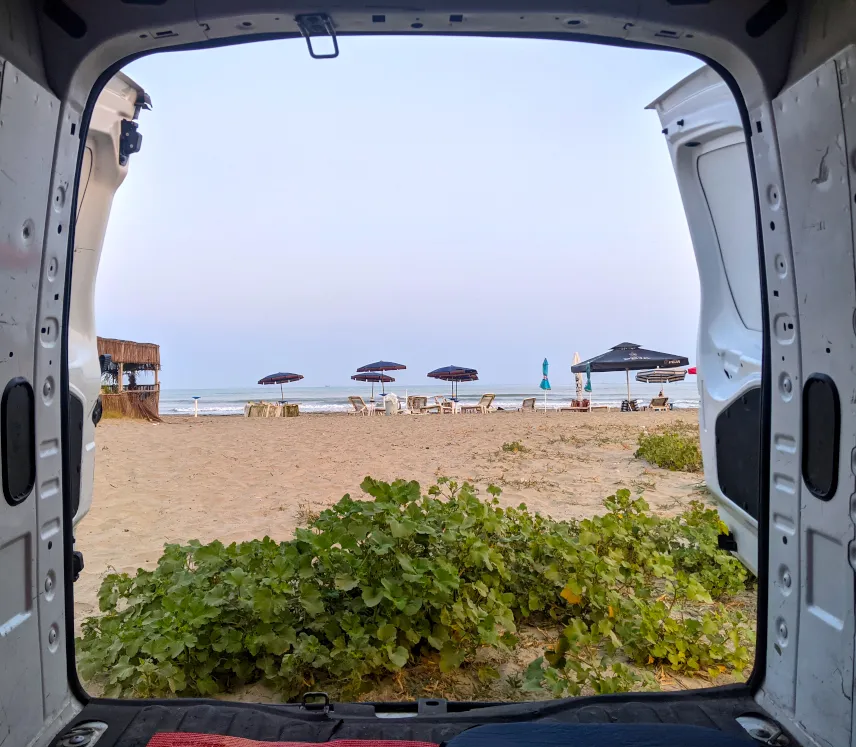 2. Austria: Taking the boat from Vienna to Bratislava
Did you know that Vienna and Bratislava are the two European capitals closest together? They are linked by the Danube. Taking a fast boat between the two cities is a great adventure.
3. Belgium: Beer tasting
Belgium does the best beer in the world. If we as Germans say so you have no choice but to put a Belgian beer tasting on your bucketlist.
4. Belize: Go snorkelling at the Blue Hole
Snorkelling or scuba diving is the best thing you can do in Belize. Worry not if you cannot make it to the Blue Hole. Other places in Belize have amazing snorkelling opportunities as well. For example, we found Manatees at Caye Caulker!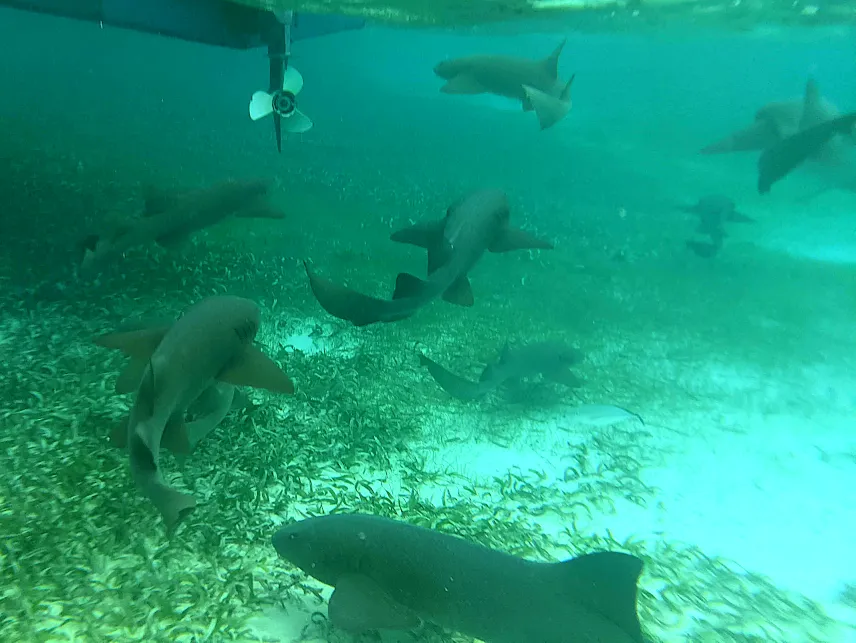 5. Bulgaria: Hike the Seven Rila Lakes
The hike to the Seven Rila Lakes is the best thing we have done in Bulgaria. Where else can you see 7 stunning mountain lakes in a row? The landscape is stunning and seems to get better with every turn and every new lake you discover.
6. Costa Rica: Spot Tapirs at Corcovado National Park
Corcovado National Park is one of the most bio-diverse regions on earth. Seeing Tapirs in the wild is a real highlight.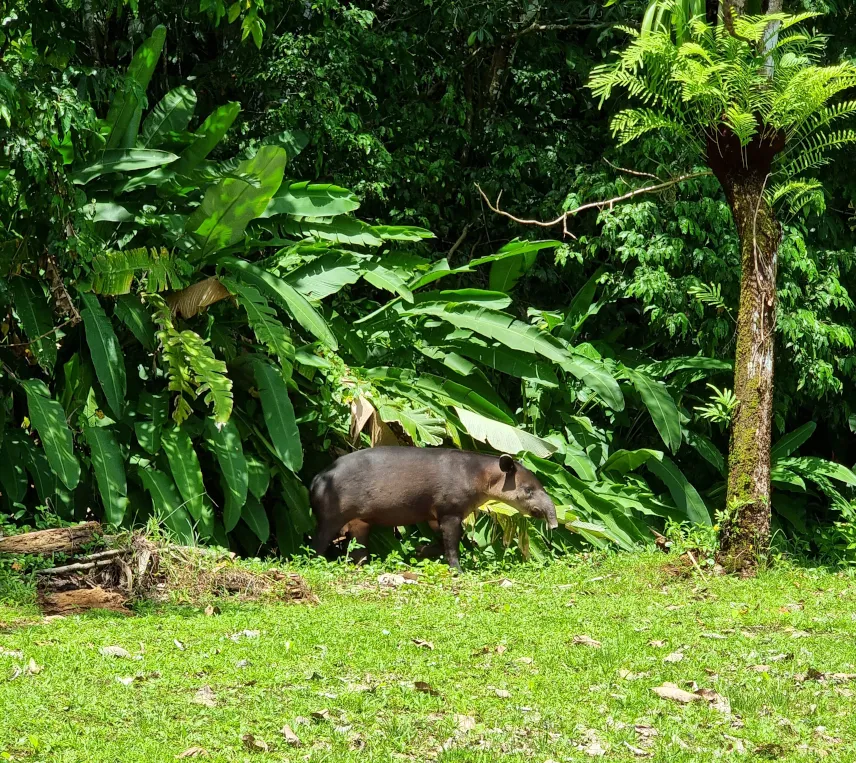 7. Croatia: Blue cruise
The Croatian coast is stunning. Of course, one of the best adventures you can have here is a boat trip. On a blue cruise, you will sail the crystal clear waters of the Adriatic Sea on a small boat for several days and nights.
8. Cyprus: Cross the border in Nicosia
Cyprus is currently the only place where you can cross from one country to another within the capital.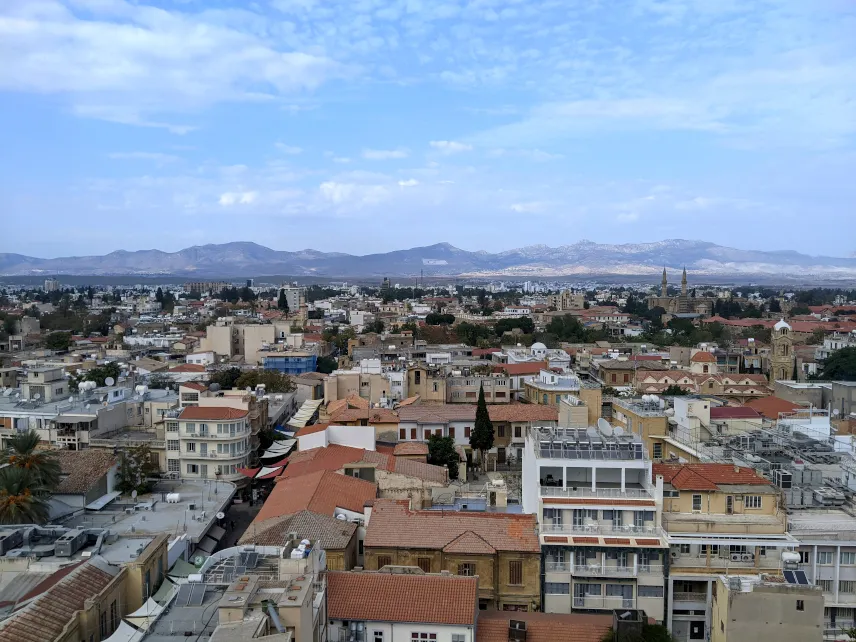 9. Czech Republic: Bathe in beer in Prague
The Czech Republic, among other things, is known for its great beer. You can drink it affordably all around the Czech Republic and Prague - and you can bathe in it. In the beer spa, you'll get your private room with a bathtub full of beer. Right next to that tub is a tap, where you can draw your own Pilsener and dark beer - as much as you like! To rest you'll have a bed made of straw with a view of a romantic fireplace. And you'll have a private sauna, where you can sweat out some of that alcohol.
10. Denmark: Explore the bunkers on Thyborøn beach
This is probably more of a personal highlight: On the coastline of Denmark, you can find a series of World War II bunkers. We love to travel there with our families and explore this historic site right on the beach.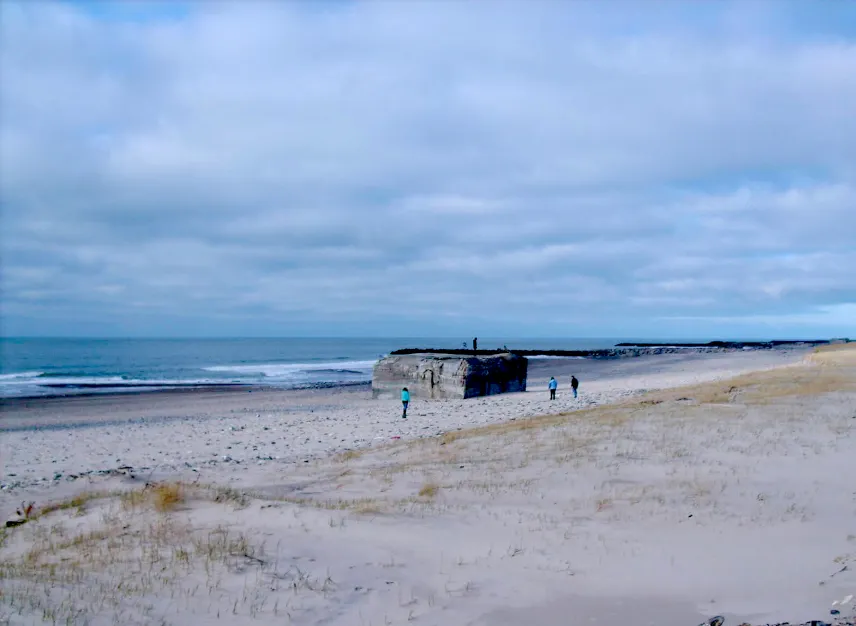 11. Dominican Republic: Bacardi Island
If you're old enough to remember the TV advertisement for Bacardi rum, you might be interested to learn that the beach really exists. It's the nicest beach in the Dominican Republic and is located on the island of Cayo Levantado.
12. Egypt: The pyramids
No shit Sherlock, the pyramids are the best thing you can do in Egypt. The thing is: they live up to there hype. One of my best birthday adventures ever.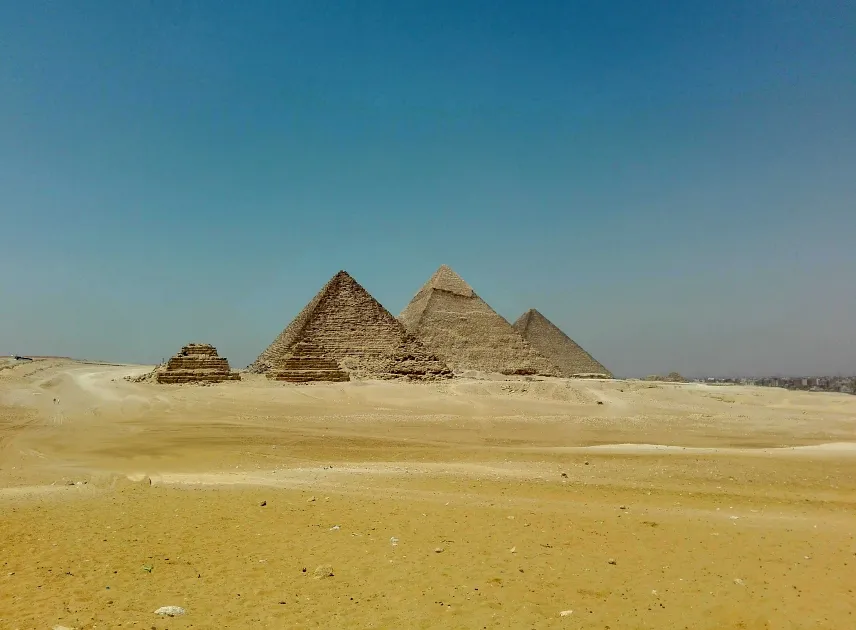 13. El Salvador: Swim in a hot waterfall
Where else in the world can you swim in a hot waterfall? Salto Malacatiupan is an easy day trip from Santa Ana and thus can be easily incorporated into your El Salvador itinerary.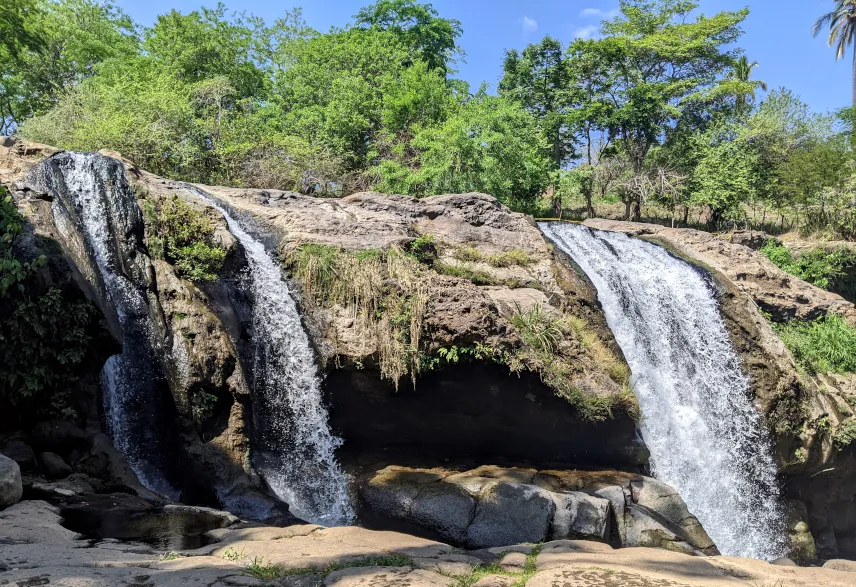 14. Estonia: Enter a submarine
The Seaplane Harbour Museum is one of the coolest museums ever. It looks like a supervillain's lair and you can enter a real submarine. It's definitely one of the best things to do in Tallinn.
15. Finland: Sweat in a Sauna
Sauna and Finland belong together. Since 2020, Finnish sauna culture has even been an Intangible Cultural Heritage of UNESCO. It becomes an adventure once you hop into the freezing cold Baltic Sea to cool off after the schvitz.
16. France: Visit the catacombs in Paris
The catacombs are underground ossuaries, which house the remains of over 6 million Parisians. A 1.5 km (0.9 miles) circuit leads you through the catacombs. It feels a bit like a horror movie
17. Germany: Have a boozy hike in the Black Forest
The Black Forest (or Schwarzwald as we say in German) in Baden-Württemberg is known for its ham, its gateau, and its scenic mountain views. But not many people know that the Black Forest is a wine region and is also known for homemade liquors and spirits. The beautiful town Sasbachwalden, full of half-timbered houses, boasts the unique opportunity to go on an immensely scenic hike through vineyards and along waterfalls - interrupted every few 100 meters by a well, offering ice-cold beverages. Every fountain is filled by a different owner with their own delicious schnapps that tastes like cherry, blueberry, eggnog, Jerusalem artichoke, pear, and so on...
18. Greece: Food adventures
We love Greek food. If you ask us, a food tour is the best adventure you can have in Athens or Thessaloniki.
19. Guatemala: Sleep on an active volcano
Yes, the hike to Acatenango is super challenging but will be the highlight of your Guatemala itinerary. You can watch it all night as it erupts. If you're lucky, you might even be able to see lava.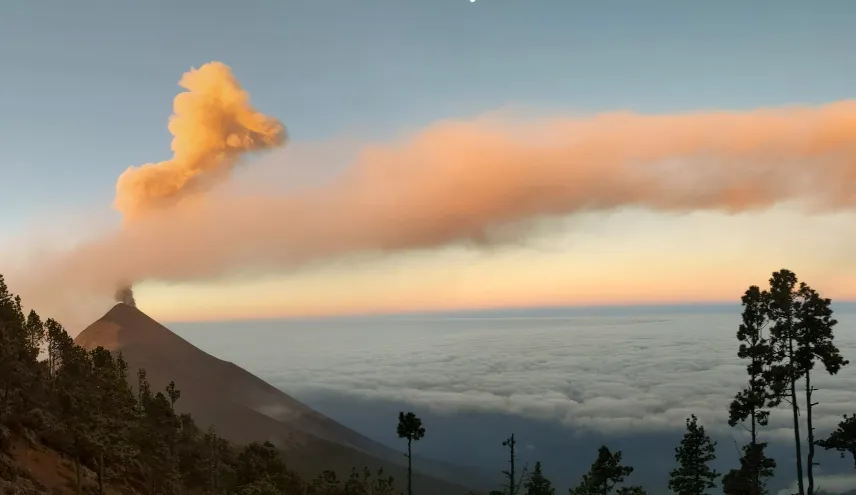 20. Honduras: Scuba diving on the Bay Islands
Utila is one of the prime places worldwide to get certified as a scuba diver. It's super beautiful and affordable. Go put it on your Honduras itinerary!
21. Hungary: Heviz thermal lake
Did you know that the thermal lake in Hevíz is the largest natural and biologically active thermal lake in the world, where you can swim all year round? It has an area of around 4.4 hectares and is fed by a thermal spring from a crater at a depth of 38 meters (125 ft). Of course, it's also super healthy to swim in the thermal waters.
22. Iceland: Swim between continental plates
Iceland is where the North American and Eurasian Plate meet. The Silfra Fissure is located at the place where they diverge. It's filled with crystal clear water you can swim in. You might want a dry suit though because it's fricking cold.
23. Indonesia: Seeing the burial rites of the Tana Toraja on Sulawesi
In Tana Toraja in Indonesia, burials are something else. Here, the funeral is the main event in life. In other words: it is very expensive. And if the family doesn't have the money for a big funeral, the body gets embalmed until they do. It gets to stay inside the house and is treated as if sick: the clothes are changed and they are bathed and fed. The actual burial celebrations last for several days on specially constructed sites. The whole family and community congregate and many buffalos and other animals are sacrificed. The last step is to carry the body to its final resting place in elaborate, building shaped coffins. This whole unique process is much better to be experienced than to be read upon!
24. Israel: Float in the Dead Sea
The Dead Sea is one of the most unique places on earth. Floating in hyper-saline water is like nothing we've ever experienced.
25. Italy: Island hopping in Venice
Venice does not have to be expensive - especially when you take the public boats or Vaporettos. You can even do some budget island hopping and explore Murano, Burano, and more.
26. Jamaica: Visit the birthplace of Reggae
Jamaica is more than just stunning beaches. Visiting the capital Kingston will give you a whole new appreciation for Raggae music and a deeper understanding of Rastafari culture.
27. Jordan: Sleeping INSIDE a Beduin cave in the archaeological city of Petra
Yes, you heard right. You can sleep IN the ancient ruins of Petra. In a cave. Need I say more? If so maybe the fact that you will be the first one exploring Petra in the morning and the last one exploring in the evening (because you don't have to leave!) will convince you. Additionally, you'll get great Beduin style breakfasts and dinners cooked over a fire in front of your cave. And you'll get to experience the famous Beduin hospitality. A must for your Jordan bucketlist.
bobsleigh in Sigulda
28. Latvia: Ride a
Where else can regular people go down an Olympic bobsleigh track? It's an easy day trip from the capital Riga to Sigulda.
29. Lithuania: Europe's second largest sand dunes
Vising the sand dunes in Nida on the Curonian Spit was the biggest adventure we had on our Lithuania backpacking trip.
30. Luxemburg: Casemates du Bock
The Casemates of Luxembourg are caves and passageways carved into the rock, built for defensive purposes from the 17th century and originally forming part of the Luxembourg Fortress. Nowadays they are open for the public to explore.
31. Mexico: Swim in pink lakes in Yucatan
You've heard all about Tulum, the lovely hipster beach town on the Riviera Maya in Yucatan. But have you ever heard about Las Coloradas - the pink lakes in the town of Rio Lagartos in the north of the Yucatan peninsula? There, you can go on a boat tour, visit a huge colony of flamingos, coat yourself in healing mud - and visit the pink lakes. Yes, they really are pink! The colour originates from a high salinity as well as bacteria and algae. This will definitely be one of your most unique picture spots!
32. Morocco: Sleep in the Sahara desert
What could be a greater adventure than taking a camel into the desert and sleeping under clear night skies?
33. Netherlands: Ride a Tandem
The Netherlands themselves are not the most adventurous country but riding a tandem is a romantic hidden gem that belongs on your adventure bucketlist.
34. Nicaragua: Volcano boarding at Cerro Negro
Volcano boarding might be the most adventurous thing you can do in Nicaragua but if we did it so can you!
35. North Macedonia: Take a boat through a Canyon to a cave
At Matka Canyon, you can hop on a boat and the ride will take you through a picturesque canyon to a beautiful cave. It's an easy day trip from the capital Skopje.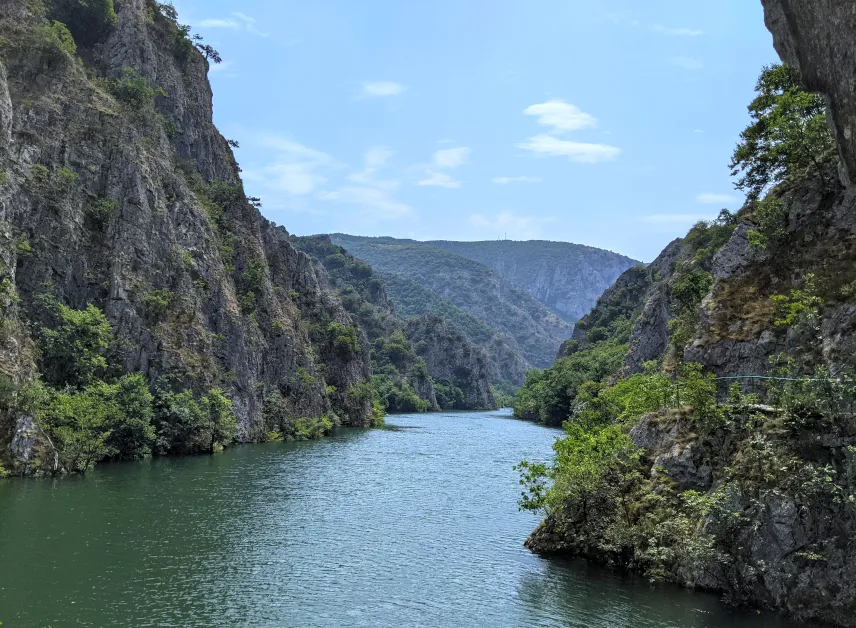 36. Panama: Experience Gunma culture on the San Blas islands
On the San Blas islands in Panama, you can do some world-class island-hopping and combine it with learning more about the indigenous Guna Yala culture.
37. Poland: Canoe tour on the Czarna-Hańcza
Our favourite Poland adventure has nothing to do with its amazing cities or the beautiful Baltic Sea. It's a canoe tour on the Czarna-Hańcza a true hidden gem adventure.
38. Portugal: Benagil cave beach
Benagil cave beach is one of our favourite beaches worldwide and does 100% belong on your Portugal itinerary. You can either take a boat, rent a kayak or if you're adventurous (read stupid) like us, swim.
39. Romania: carriage ride in the Danube Delta
The Danube Delta is one of the best spots in Europe to spot birds and other wildlife. A horse carriage ride through the delta is a romantic hidden gem and belongs on every Romania itinerary.
40. Slovakia: Have a drink in a UFO
Well, maybe it's not a real UFO but it does look like one. It also offers great views over the capital Bratislava and is a very romantic hidden gem.
41. Slovenia: Take a train in a cave
The Postojna karst area is home to the second-largest stalactite caves in the world that are accessible to tourists. Where else in the world do you get to drive a train inside a cave? It's next to the Predjama Castle, the largest cave castle in the world and belongs on every Slovenia itinerary.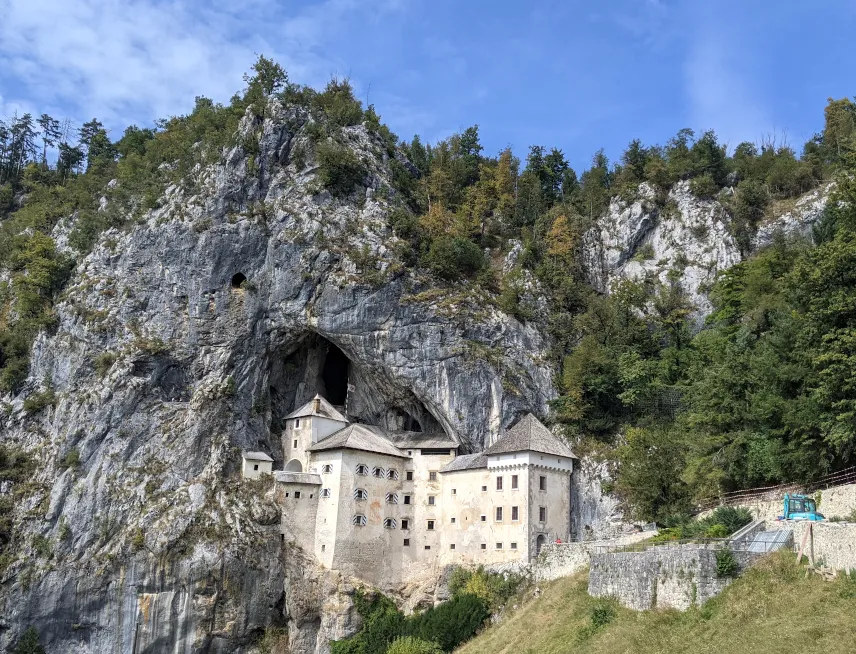 42. Spain: Party on Mallorca
Germans be Germans. Ibiza might be more famous for partying but parties on Mallorca are definitely wilder, more of an adventure, and more affordable.
43. Sri Lanka: Hike the Nine Arches bridge, Ella
Yes, the bridge itself is Instagram-famous. You probably did not know that you can hike across the bridge and all the way to town on the train tracks.
44. Sweden: Spend a week in the wild
In Sweden, you can rent a canoe and gear and wander off into the wilderness by yourself for as long as you like. Swim, sleep under the stars and cook over an open fire!
45. Switzerland: The most powerful waterfall in Europe
The Rhine Falls in Schaffhausen is the most powerful waterfall in Europe and a sight to see.
46. Thailand: Spend time with elephants
To be 100% clear, we do not recommend riding elephants. That's just animal cruelty. But to visit an elephant sanctuary and spend some time with these giants is a one of a kind adventure!
47. Turkey: Cross the Bosporus
In Istanbul, you can cross the Bosporus Strait otherwise known as the boundary between Asia and Europe.
48. United Kingdom: London Eye
We have visited the UK a ton of times but riding the London Eye might have been quite frankly the most adventurous thing we've done there.
49. United States of America: The crown of the Statue of Liberty
The United States of America are such a huge country and still what could be more quintessential than the Statue of Liberty? Visiting the statue itself is pretty basic. But did you know that you can enter the statue and even go all the way up to her head? It does not cost much more, you just have to book a ticket in advance!
50. Vatican City: Views from the roof of St. Peter's Basilica
The Vatican itself is a pretty special place to visit. The highlight for us was visiting the roof. It gives you an idea of the scale and you can peep into the areas that are closed to the public.