Like all of our itineraries, we have tried and tested it ourselves in February and March 2022. We include amazing things to see in Belize as well as the best places to stay in Belize.
Here's how to spend 2 weeks in Belize:
Is Belize expensive?
Many backpackers skip Belize because it has the reputation to be expensive. And yes, it really is expensive.
Budget Belize
We found that it's very manageable to stick to a 30 USD per day budget as long as it comes to cheap accommodations and street food or home-cooked meals.
As soon as you want to take a tour or boat transfer, the prices rise significantly.
In total, we spend an average of 50 USD per day, including all of our accommodations, meals, tours, and transfers.
Public transport in Belize
We found that travelling Belize by public bus is an easy and reliable way to reduce your spending. Normally, you can just jump on the bus and buy your ticket. If you don't want to get off at the major bus stations, you can just tell the conductor where to stop. It should cost you around 4 and 6 BZD.
Belize bus schedule
The bus schedules in Belize can seem a bit hard to navigate at first, especially if you want to venture off the major north-south and east-west routes. We found this website to be very reliable, even with the current COVID schedule.
Airbnb Belize
Airbnbs can be a great option in Belize, especially if they include a kitchen. Cooking your own meals can seriously help you to reduce your daily budget as even street food meals cost 5 USD and upwards.
Belize Itinerary
Itinerary Belize Day 1 - Arrive in Orange Walk Town
Orange Walk Town is a great first stop if you arrive from the Mexican border but it's also worth a visit if you fly in. It's a cute little city with loads of delicious street food. Check out the food court to fuel up after your journey, wander the streets, and relax a bit.
We recommend you to stay at Casa Ricky's. The lovely host will hook you up with a SIM card, exchange your money, book a tour to Lamanai and help you settle in in Belize.
How to get to Orange Walk Town from Corozal, Mexico with public transport
As we write this article, there is no public transport across the Mexico-Belize border. Currently, you have to take a taxi from the Santa Elena border to Corozal. Buses from Corozal to Belize City leave every hour on the hour throughout the day. You can just hop off at Orange Walk Town.
How to get to Orange Walk Town from Philip S. W. Goldson International Airport with public transport
If you arrive at Philip S. W. Goldson International Airport, you can hop on a northbound bus in Ladyville at the airport road intersection if you don't mind a bit of walking.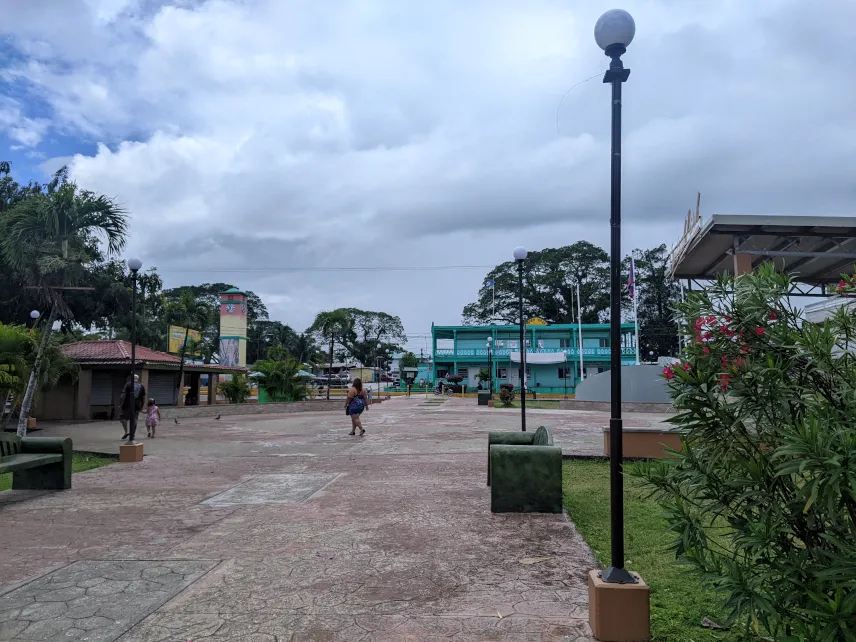 Itinerary Belize Day 2 - Day trip to Lamanai Mayan ruins from Orange Walk Town
Lamanai is one of the biggest Mayan Ruins in Belize. You can (still) climb the temples and admire the views from the high temple. The biggest temples are the Mask Temple, the Jaguar Temple, and the High Temple. Lamanai means "submerged crocodile" in the Mayan language and you can spot many of the reptiles in the adjacent lagoon.
For history buffs, it's interesting because it's one of the last sites inhabited by the Maya, even in the Spanish colonial times (A.D. 1544-1700). Even if you're not super interested in history, the trip will be worth your while, especially if you take the boat tour.
How to get from Orange Walk Town to Lamanai
The archaeological site can best be reached by a wildlife-spotting boat tour. You'll most likely see crocodiles, turtles, iguanas, monkeys, and many many birds.
If you want to travel with your rental car, the road is said to be in a bad condition and the ride long.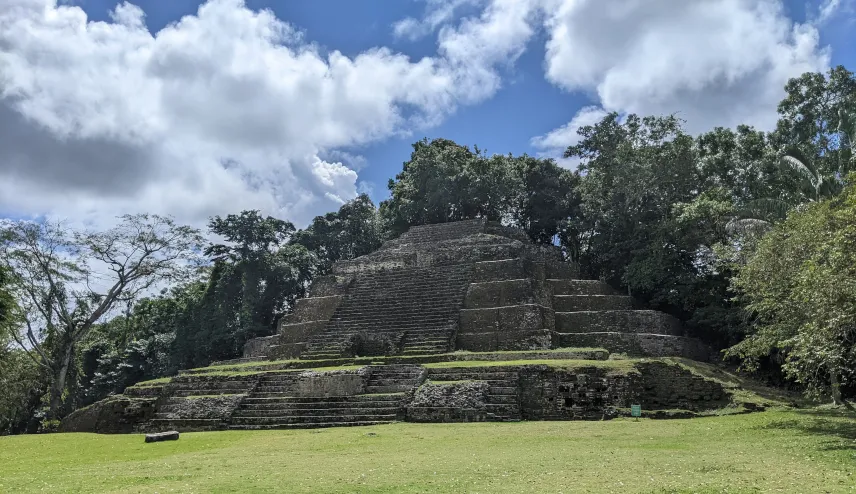 Itinerary Belize Day 3 - Way to Caye Caulker
The trip to Caye Caulker will set you back around half a day, so once you arrive do what the island is famous for: Go slow! There are no cars on the island - only bicycles and golf carts. This is the perfect place for some R & R.
If you treated yourself to an accommodation on the waterfront you have the perfect place to relax right on your doorstep. If not, two bars we have enjoyed for a relaxing evening were Sip N' Dip and The Magic Grill.
Be aware that this island is not much of a beach destination, you mostly enter the water via bridges and steps.
How to get from Orange Walk Town to Caye Caulker with public transport
First, you have to take the public bus from Orange Walk Town to Belize City. When we visited in 2022, it ran every hour on the hour. The two-hour-long ride set us back 4 BZD.
In Belize City, it's easy enough to walk from the bus station to the ferry pier. It's around 800 m (0.5 mi) and the area is lively throughout the day.
As of 2022, there are two ferry companies that run from Belize City to Caye Caulker (and further to San Pedro): Ocean Ferry Belize and Belize Express Water Taxi. Both take around 45 minutes to reach the island. Supposedly, they both coast around the same. We cannot confirm as we just walked into the first place we found, which was Ocean Ferry Belize. What we can tell is, that the prices that you can find online were outdated (the online price was 25 USD and we paid over 40 USD) and that it's much cheaper to book a return ticket than a one-way ticket.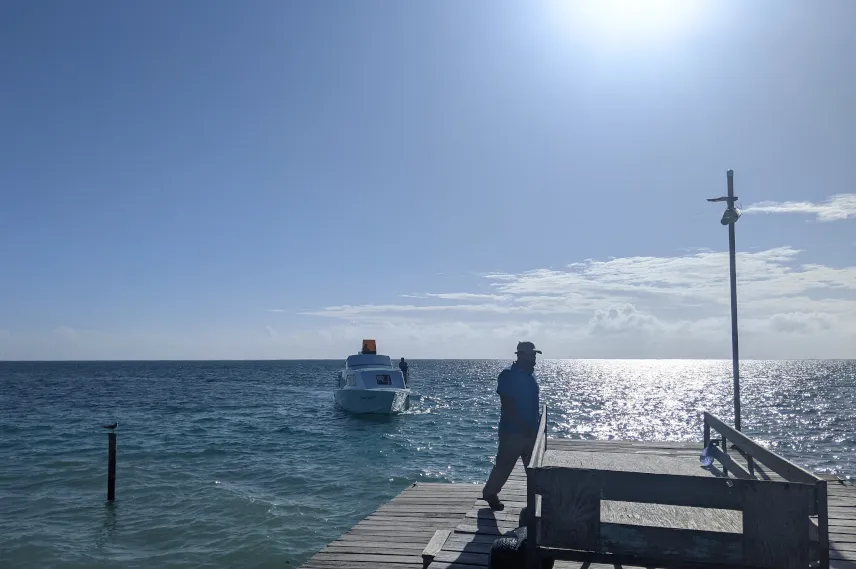 Itinerary Belize Day 4 - Snorkeling on Caye Caulker
Snorkelling is a must on Caye Caulker! You can venture out to have a great day trip in the Hol Chan Marine Reserve (or even further to the Blue Hole) - or you can stay close to the island what is which we have done due to bad weather.
Our first stop was shark and ray village. Here, you can swim with more nurse sharks and rays than you can count. We didn't know that the animals get fed here, so it's not exactly environmentally friendly - you can make a more informed decision than we did now. Afterwards, you do two snorkel stops: one at a channel and one in a beautiful coral garden. Normally, you have a quick pitstop to see seahorses but conditions were too choppy when we went. Instead, we went in search of Manatees and even found one off-season.
How to go snorkelling on Caye Caulker
For a full-day tour, Anda De Wata is a great option as they actually visit San Pedro for lunch.
How to Scuba Dive the Blue Hole from Caye Caulker?
The only dive shop currently offering diving and snorkelling trips from Caye Caulker to the Blue Hole is Frenchie's and even they only go very infrequently. I hope this saves you a lot of time searching...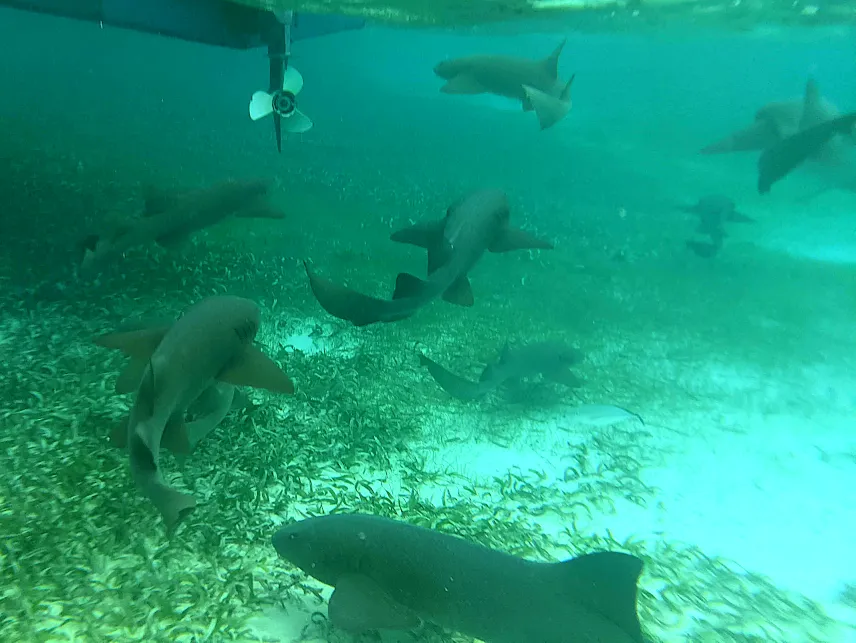 Itinerary Belize Day 5 - Go Slow on Caye Caulker
A perfect way to start your day is Yoga at Namaste Cafe. It's donation-based and their roof terrace offers a nice view.
The quintessential place to spend your lazy days on Caye Caulker is the Lazy Lizard.
Of course, you can also rent a bike and explore the island if you feel more active. There's even a small ferry that helps you to get to the northern part of the island - you can also take your bike on the ferry.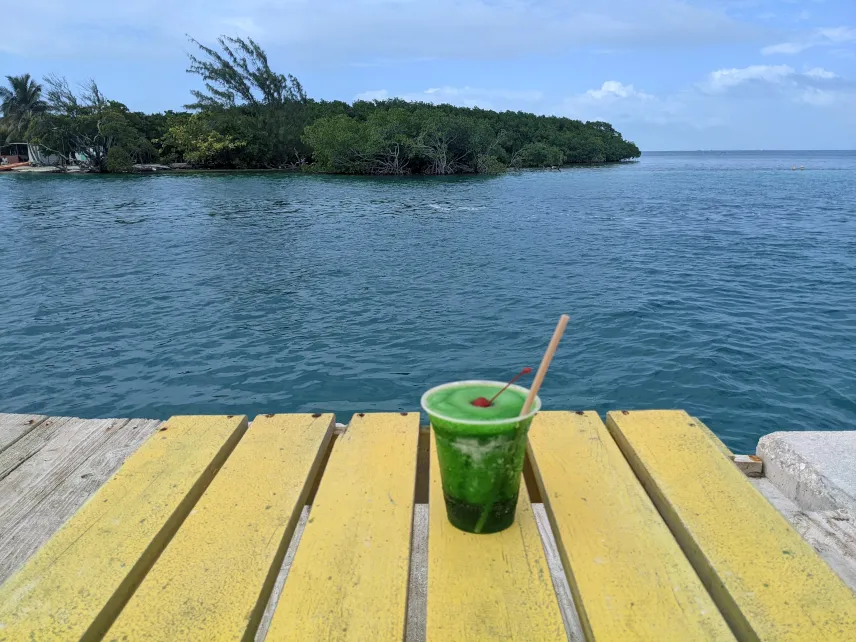 Itinerary Belize Day 6 - Way to Dangriga
Dangriga is a bustling little city on the Caribbean coast. It's also the perfect hub to explore the nearby Caribbean islands like Tobacco Caye. The town is dubbed the "culture capital of Belize". It's a great place to witness Garifuna culture. Garifuna are Afro-Caribbeans with their own language and culture.
The trip to Dangriga will set you back half a day. You can get a good first glimpse into the Garifuna culture in one of the many local restaurants like Tuani Garifuna. Dangriga also features a nice enough beach for some relaxation.
How to get from Caye Caulker to Dangriga with public transport
First, you need to go back to Belize City - preferably with the same company you took on the way to the island to save some money. Afterwards, you walk to the same bus station you arrived at to go to Caye Caulker.
Here, you can just hop on one of the southbound buses. Make sure to check the schedule ahead of time to avoid a long wait. The bus ride takes around three hours.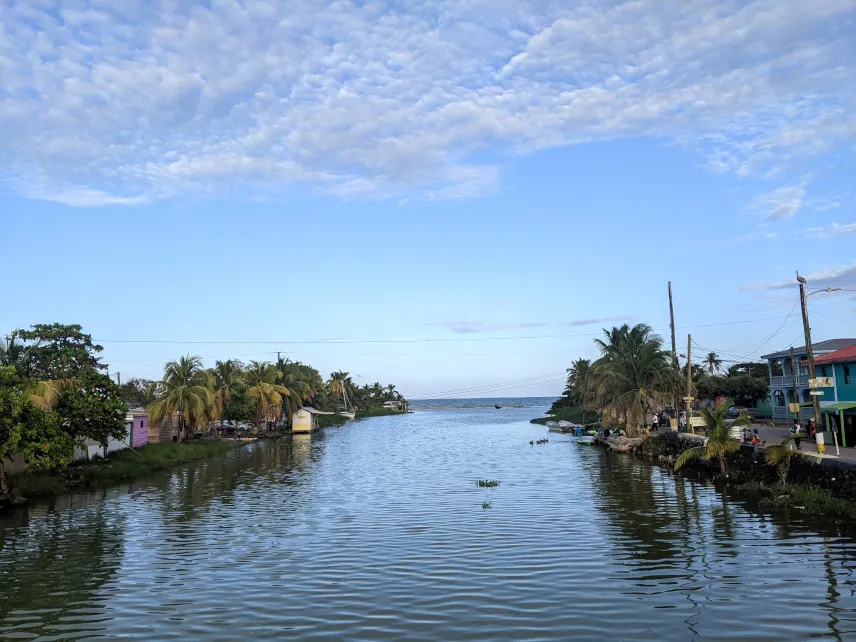 Itinerary Belize Day 7 - Tobacco Caye
Tobacco Caye is the perfect place to spend the day (or many more if you have the time) on a Caribbean island. It's much more off-the-beaten-path than Caye Caulker. You can walk around the island in a couple of minutes. There are only a few guesthouses, some of them feature overwater bungalows. Most hotels should provide you with three meals per day as there are no restaurant or shop options - though there are currently two bar options. There is rarely any internet.
The island is a snorkeler's and scuba diver's paradise. Just going in from the shore, you'll see plenty of rays and fish. You can also book snorkel and dive excursions, especially if you stay longer.
How to get from Dangriga to Tobacco Caye with public transport
Most hotels will arrange your boat transfer with you. In case they don't you can just go to the spot I have marked on the map in the morning and ask one of the fishermen to drive you. A one-way trip should cost around 30 USD (2022) and a return 60 USD. The fishermen are also a great option if you don't want to spend the night on the island although we totally recommend to do so.
The ride on the small boat takes around 45 minutes and can be quite bumpy.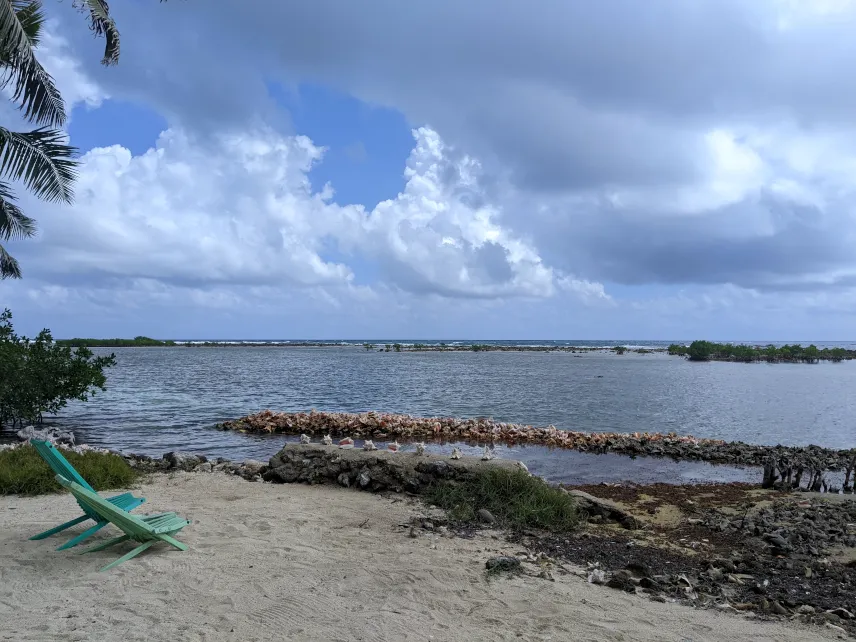 Itinerary Belize Day 8 - Way to Hopkins
Hopkins is our favourite place in all of Belize. The beach is beautiful - in contrast to Caye Caulker where the waterfront is mostly beachless. The vibe is laid back, there are many amazing restaurants and a lot of activities.
How to get from Dangriga to Hopkins with public transport
If you stayed the night on Tobacco Caye, you have to first boat back to the mainland.
There are some direct buses from Dangriga to Hopkins but when we travelled in 2022 they were few and far between.
You can also hop on one of the southbound Belize City - Punta Gorda buses and tell the driver that you want to get off at the Hopkins section. Here, (shared) taxis are waiting to take the travellers the 7 km (4.5 mi) into town. It cost us 5 USD per person but we are not sure if we should have paid 5 BZD... It was well worth to avoid the long walk though.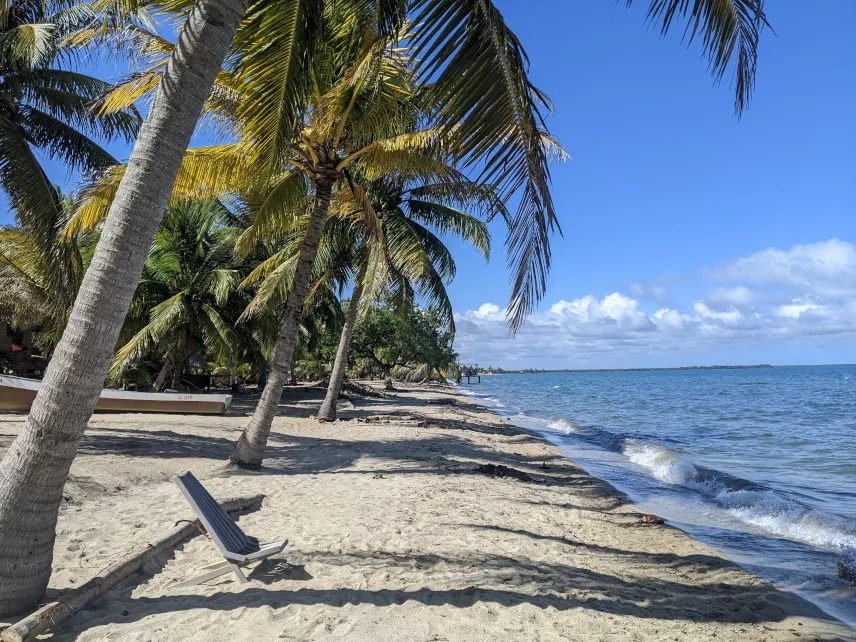 Itinerary Belize Day 9 - Day trip from Hopkins to Cockscomb Basin Wildlife Sanctuary and Jaguar Preserve
The Cockscomb Basin Wildlife Sanctuary is the world's only Jaguar Preserve. You probably won't find a Jaguar. What you will find is plenty of hiking trails. The tiger fern trail is the prettiest. It ends at a beautiful waterfall. Make sure to explore the second pool as it's more secluded and nicer for a dip. The trail is around 6 km (3.7 mi) round trip and is mostly uphill on the way to the waterfall and mostly downhill on the way back.
Don't skip the tubing! You can rent a tube at the visitor centre for 15 BZD (2022). A short, well-signposted path leads you to the entrance and back after you drifted on the lazy river for about 30 minutes. You can buy drinks in the visitor centre.
A nice little hidden gem is the plane crash trail. From the sign on the road, a 300 m (1000 ft) path leads you to a small plane wreck - a nice little addition to a perfect day out!
How to get from Hopkins to the Cockscomb Basin Wildlife Sanctuary with public transport
A tour will set you back around 100 USD. Of course, using public transport is much cheaper but also more unreliable. Your best option is the 7:00 a.m. bus to Dangriga. Hop off at the Hopkins sections and wait for a southbound bus to Maya Centre. From here, you have to walk to the entrance. It's an 8 km (5 mi) hike on uneven ground. If you're lucky, you can hitchhike.
If you're staying at Latitude 17, the amazing owner Wade may lend you his 4WD car or even join you on a day trip. He did with us and it was great fun!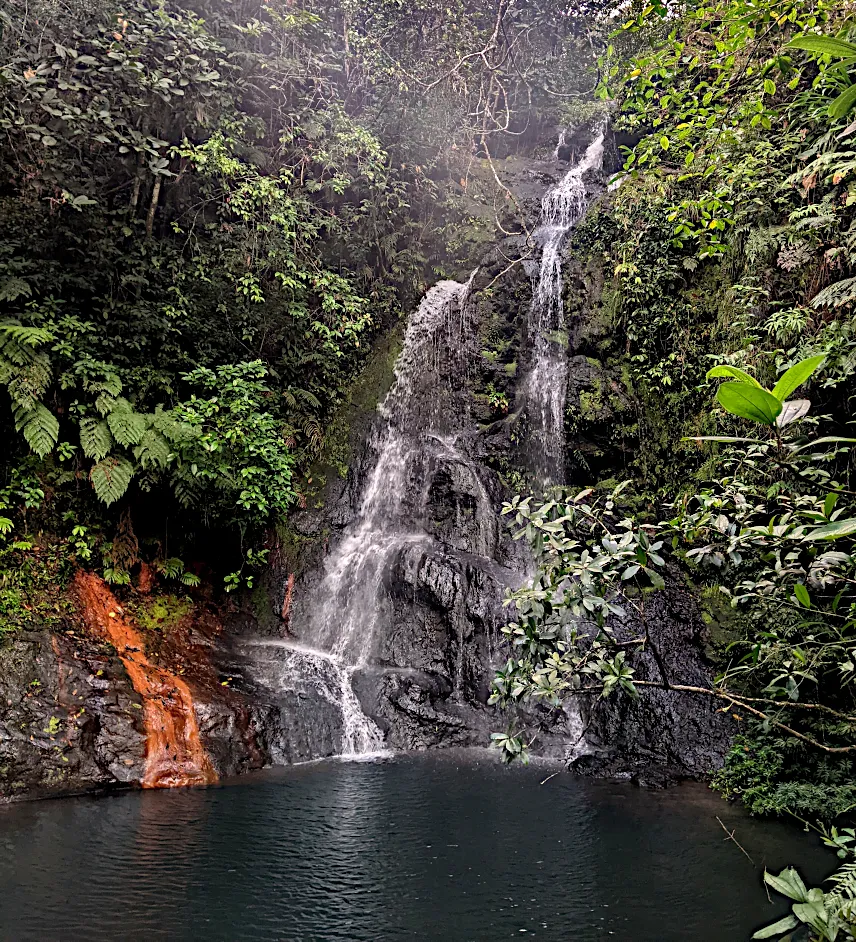 Itinerary Belize Day 10 - Relax in Hopkins
Hopkins is the perfect place to relax. Grab a coconut and spend your day at the beach. It's also a nice place to explore Garifuna culture. Fred's Lime Tree lime tree offers Garifuna drumming sessions a couple of times per week - next to delicious food. Queen Bean is a great restaurant to explore Garifuna cuisine at an affordable price point. We wouldn't be German if we didn't mention Peer's Place, a cute German-owned restaurant with delicious food.
If you don't go on a full moon (like we did) you can explore a bioluminescent lagoon. Of course, you can also explore Hopkins from the water - be it with a kayak, a SUP or a boat.
Itinerary Belize Day 11 - Way to San Ignacio
San Ignacio is our favourite city in Belize. It features amazing street food and is also the hub for the adventure excursions in the west of the country.
If you're there on a Saturday, make sure to explore the vibrant market and try some pupusas. You can find a lot of bars and restaurants along Burns Avenue. Many travel bloggers recommend Ko-Ox Han Nah and rightly so - the food is delicious and affordable and the service lovely.
How to get from Hopkins to San Ignacio with public transport
First, you have to make your way back the way you came on a northbound bus to Belmopan. Here you have to change to a westbound bus. For us, this experience was a bit confusing. The next bus to San Ignacio was already fully booked. We had to wait for this bus to leave to be able to buy tickets for the next bus. We ended up waiting in the cage-like waiting area for over two hours. Normally, you can just jump on the bus and buy your ticket there...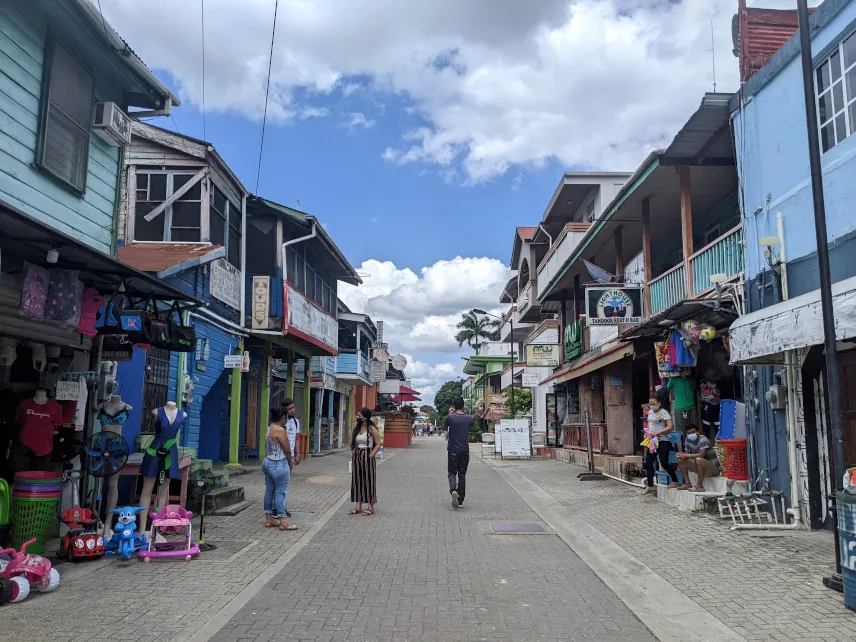 Itinerary Belize Day 12 - Day trip from San Ignacio to the ATM Cave
The ATM cave is the adventure of a lifetime. You climb and swim through a cave - whilst you can explore Mayan artefacts and history - a unique combination.
A 40 minutes hike leads to the entrance of the cave. You have to cross the river three times. To reach the cave entrance, you have to swim for a few meters. Afterwards, you wade through less or more deep water.
In the middle of the tour, you climb a little higher to the dry part of the cave. Here, you are walking on socks among Mayan ceramics and even bones as the cave was used for sacrifices in the old times. An experience you'll never forget!
How to get from San Ignacio to the ATM cave
You need a guide to enter the cave so it's easiest to book a tour. The price is steep (125 USD, 2022) but the experience is totally worth it. We loved our guide JC from Mayawalk Tours.

Open blogpost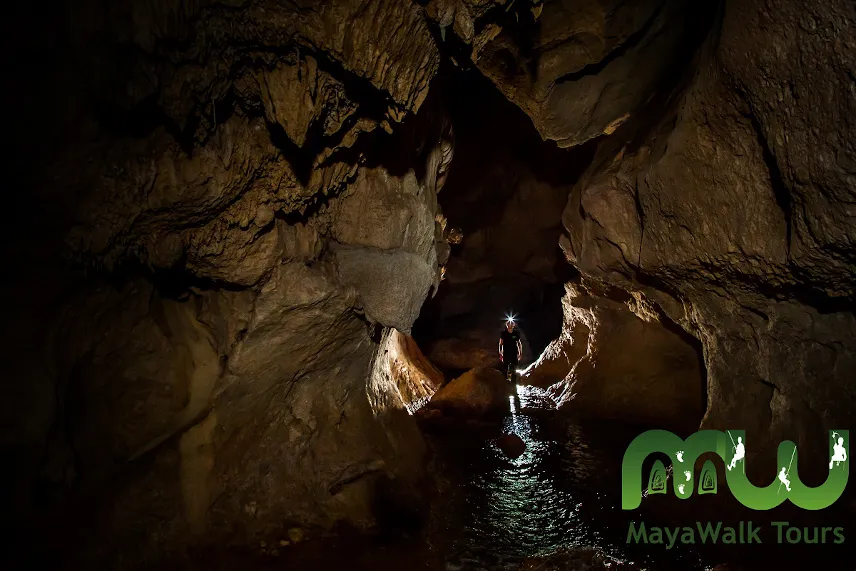 Itinerary Belize Day 13 - Caracol, Rio Frio Cave, and Rio On Pools
Caracol is the biggest Mayan ruin in Belize and it's totally worth a visit - especially if you're a history buff. As it's super remote you won't have to share it with many tourists. Additionally, you can still climb many of the structures and enjoy the amazing views.
You can interrupt your drive there with the Rio Frio Cave, a huge cave with a beach inside. Unfortunately, you can not swim in the cave as the water is too shallow. To get your swimming fix, you can stop at the Rio On Pools on the way from Caracol. They are a series of natural rock pools and waterfalls that are interconnected with natural water slides that you can try out if you're brave enough.
How to get from San Ignacio to Caracol
The road from San Ignacio to Caracol is mostly unpaved and in a bad condition. The drive will take you around three hours. If you decide to rent a car, you should opt for a 4WD - and even in that case I only recommend this trip to experienced drivers.
We opted to take a tour that stopped at the Rio Frio Cave on the way to Caracol and the Rio On Pools on the way back.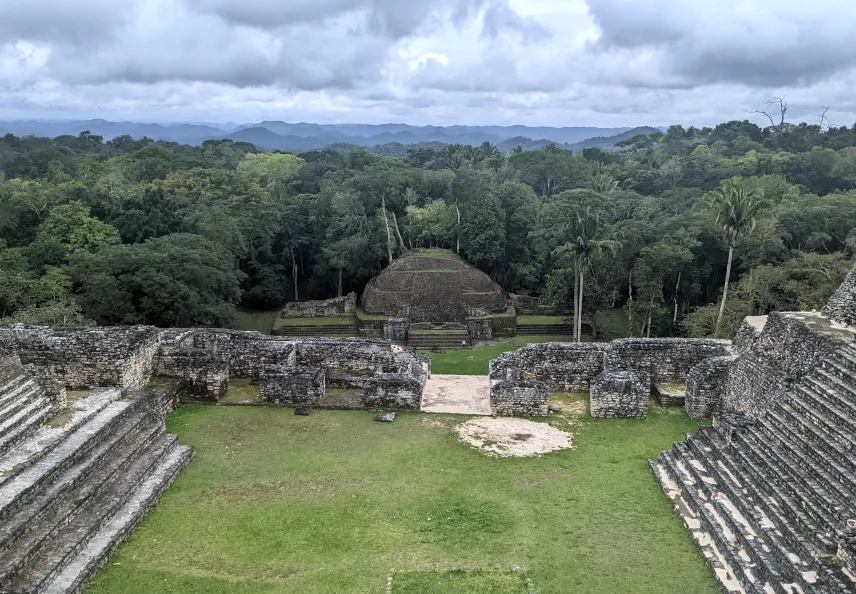 Itinerary Belize Day 14 - Way to Guatemala or the airport
Philip S. W. Goldson International Airport
How to get from San Ignacio to
Basically, you have to go back the way you came. First, to Belmopan and from there to Belize City. If you don't mind walking, you can take the northbound bus from here and exit at the airport road intersection like you might have done on your first day in the country.
How to get from San Ignacio to Flores, Guatemala with public transport
Take a taxi to the border. We took Silent Lion Shuttle for 15 USD and were really happy with the service. After you have completed all the border formalities, you can easily walk to the colectivo station (we marked it on the map) - don't let touts tell you otherwise.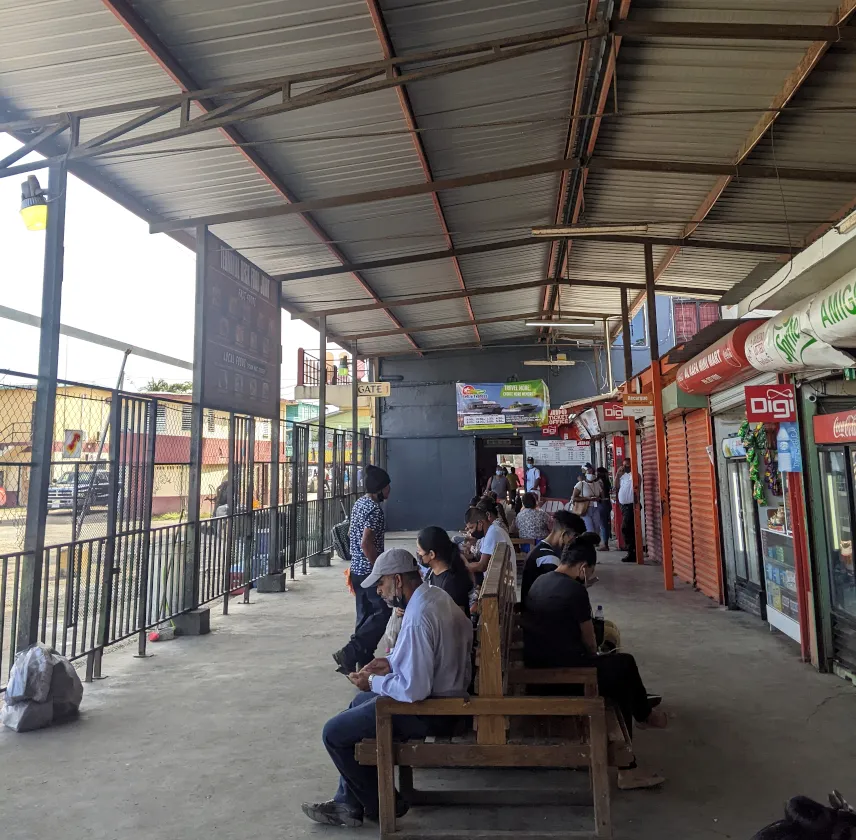 This post contains affiliate links. If you use these links to buy something we may earn a commission. You would help us a lot if you do so. Thanks.