Do you want to go backpacking in Belize and wonder what is the best place to stay in Belize on a budget? Don't worry, we've got you covered.
We show you all the cheap Belize places to stay – especially if you want to recreate our 2 week backpacking Belize itinerary.
For this Belize hostel guide, we only share the accommodations we personally visited and liked.
Because we didn't like all the cheap Belize accommodations we went to, we additionally interviewed our sister (in-law) who also backpacked Belize on a budget. Together, we have compiled a list of 5 places to stay in Belize on a budget.
1. Hostels in Hopkins Belize
Where to stay in Hopkins on a budget.
The Funky Dodo Backpackers Hostel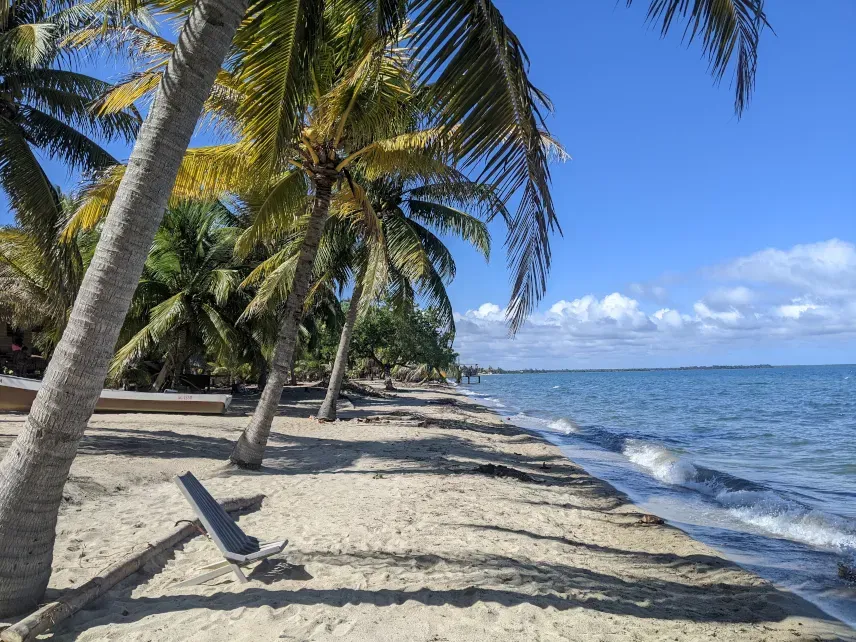 ⭐ Rating: 7.9 / 10 (225 reviews)
Why choose this hostel? The Funky Dodo Backpackers Hostel is where our sister (in-law) stayed. It is not only the most budget-friendly accommodation in Hopkins but also the hostel. They offer private rooms and dorms with lockers, curtains, lights, power, and hooks.
There's a garden with hammocks to chill and a communal kitchen as well as WiFi.
The location is great – within walking distance of public transport, shops, and restaurants. Our favourite beach in Belize is located within 1-minute walking distance.
According to our sister (in-law), the coffee is great.
Funky Dodo is an institution itself, THE backpacker stay in the Stann Creek District. It's in the very centre of Hopkins, near everything you need: restaurants, bars, beach, bus stop, ATM (that surprisingly worked the day we were there!). They have a small number of simple, but well kept. and equipped private rooms additional to their dorms, who group around an open kitchen and lounge area, which was always filled with life.
Latitude 17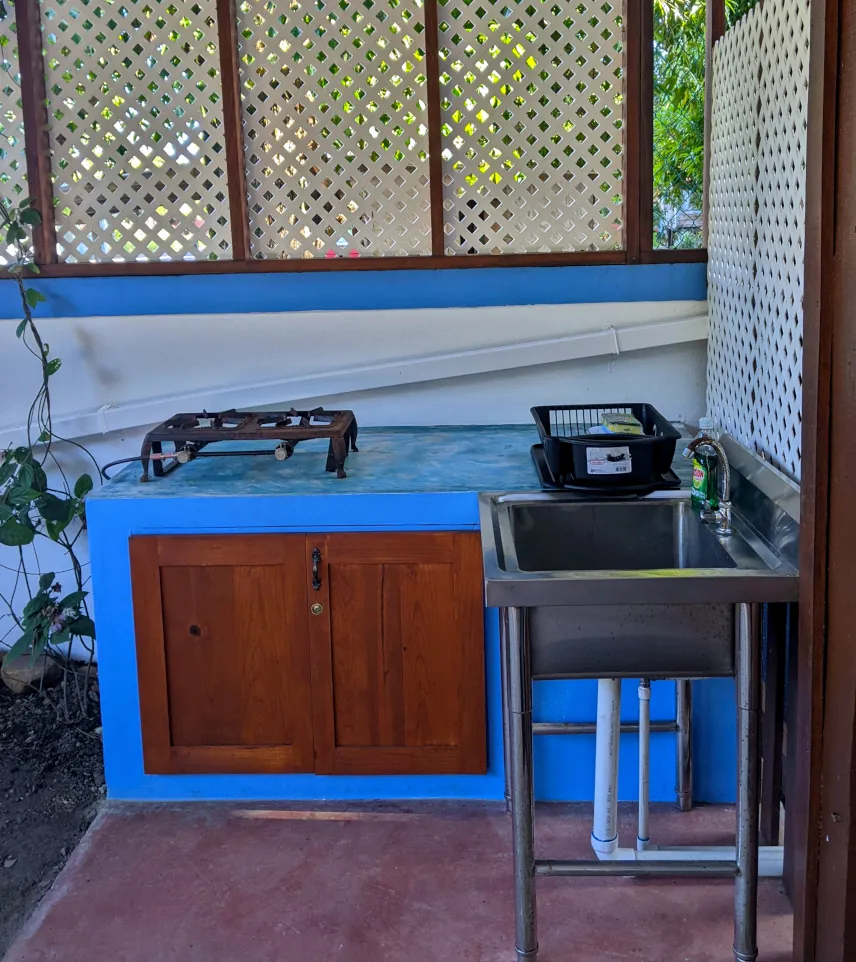 ⭐ Rating: 8.3 / 10 (14 reviews)
Why choose this hotel? While it's not technically a budget accommodation, we loved our stay at Latitude 17 so much that we couldn't omit it from this list.
We loved preparing our breakfast in the outdoor kitchen and having it on the terrace while watching hummingbirds. We also loved watching the sunset from the owner's rooftop terrace (which is currently the highest in Hopkins.
Speaking of the owner: He was such a great host. Our joint tour to Cockscomb Wildlife Sanctuary was such a fun day out!
The location was impeccable. 1-minute walk to the beach and just a few more to shops, restaurants, the ATM, and public transport.
For further distances, free bikes in very good condition were available.
Great location, very central but set back from the main street. Lovely balcony which we used every day. Wade was helpful and informative. We enjoyed watching the birds and iguanas. The rooftop terrace had excellent views.
2. Hostels in Orange Walk Town Belize
Where to stay in Orange Walk Town on a budget.
Casa Ricky's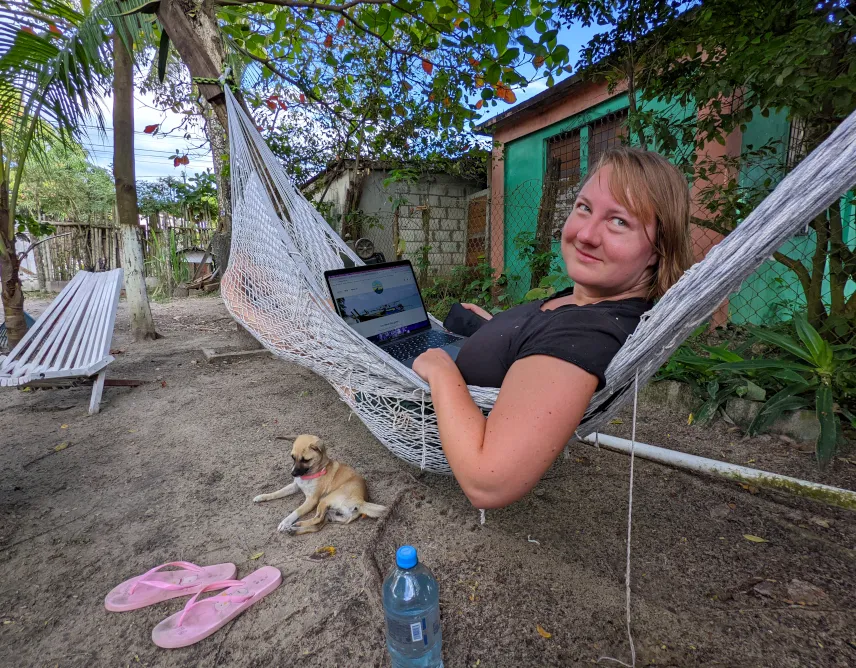 ⭐ Rating: 9.1 / 10 (309 reviews)
Why choose this hostel? Casa Ricky's was our first stop in Belize and we could not have asked for a better one. Ricky used to be a Couchsurfing host before he opened his hostel and his hospitality is through the roof. He hooked us up with Belizean SIM cards, exchanged money at a good rate, washed our clothes, booked our Lamanai tour, and gave us great general advice and directions.
The communal area is super cosy with loads of hammocks and the kitchen is incredibly well stocked and clean. Coffee and water refill is free.
There are free bikes to explore the area.
The location is close to the town centre as well as the bus stop.
Lucky enough to be the only guest when I stayed! The kitchen area is huge and very well equipped. Ricky and Irani are the best hosts ever and very knowledgeable. They gave me lots of tips on where to go and not to go, bus schedules etc. There is a wee shop that they run too so they were able to help me with a SIM card, data etc. Cute dogs, and I discovered the turtles on my last day!
3. Hostels in San Ignacio Belize
Where to stay in San Ignacio on a budget.
Bella's Backpackers Cayo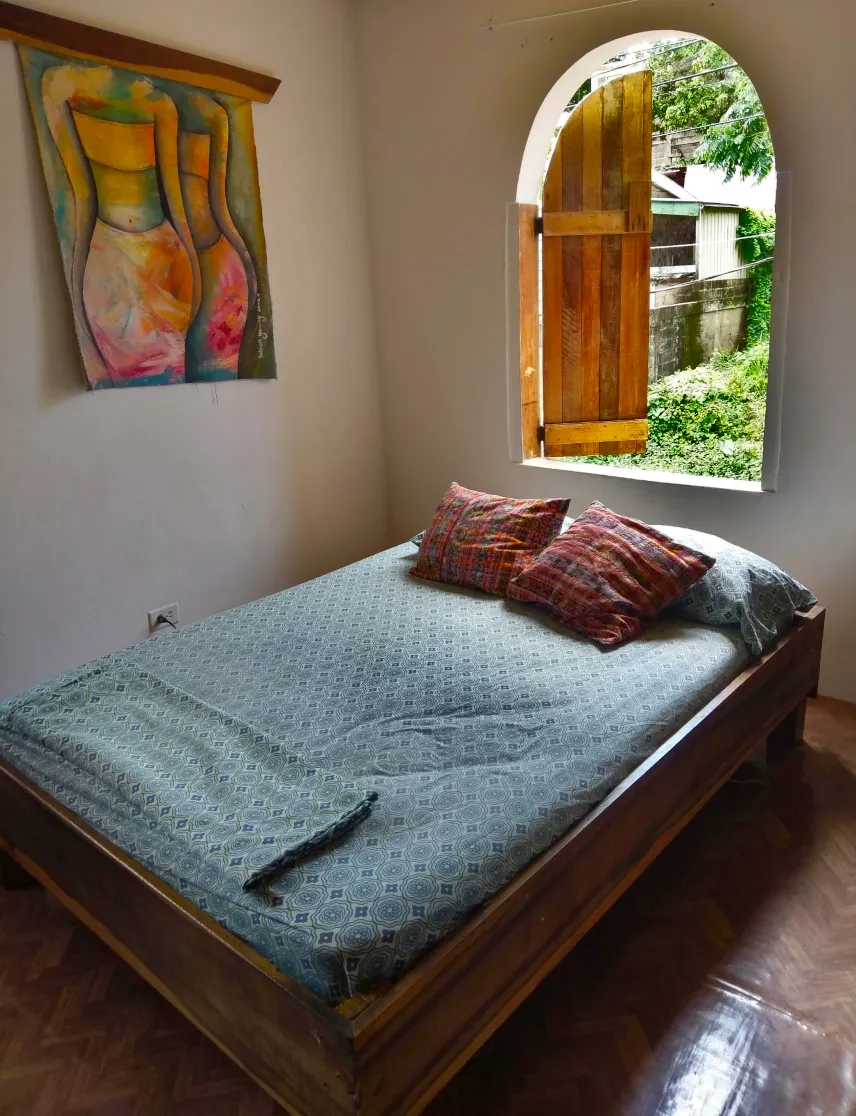 ⭐ Rating: 7.6 / 10 (103 reviews)
Why choose this hostel? Bella's Backpackers Cayo is not only the cheapest accommodation in San Ignacio but also comes highly recommended by our sister (in-law).
She raved about the rooftop terrace with cosy hammocks and views to chill for hours.
They offer private rooms and dorms – every room comes with its own terrace.
There's a laundry service and a tour agency.
The communal kitchen is well-equipped.
The location of the hostel is central and just a short walk from the bus stop. The walk to Cahal Pech Mayan ruins takes around 30 minutes.
Loads of great areas to chill with hammocks. The staff were really helpful. Laundry service was a good price and quick, also smelt super clean and fresh. Amazing location, close to all restaurants. Perfect place to chill for a few days.
4. Hostels in Caye Caulker Belize
Where to stay on Caye Caulker on a budget.
Bella's Backpackers Hostel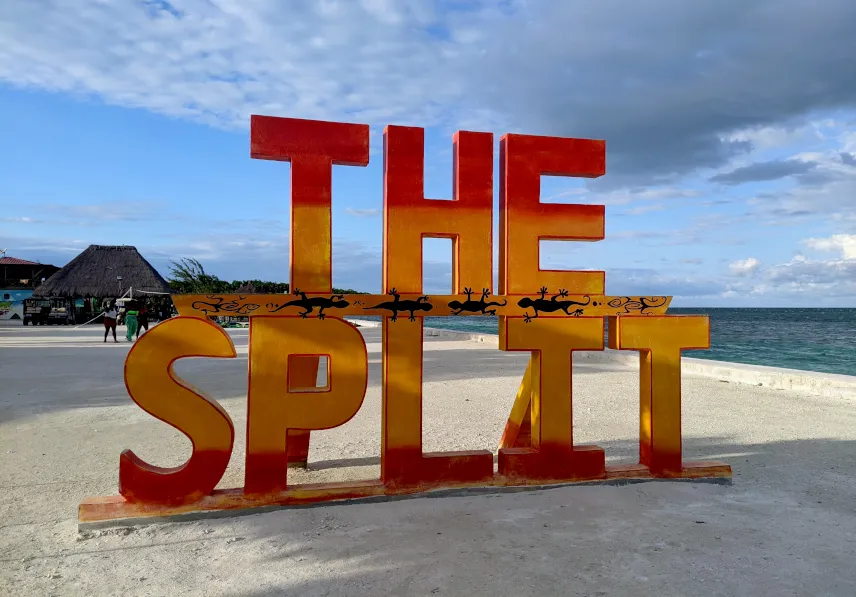 ⭐ Rating: 6.6 / 10 (431 reviews)
Why choose this hostel? Choose Bella's Backpackers Hostel because it is the most budget-friendly option in Caye Caulker.
You can choose between private rooms and dorms.
It is located on the main street with a bar on the beach. The location is close to the split and everything else important on Caye Caulker.
You can use kayaks for free.
The communal area is cosy with hammocks and you can use a communal kitchen.
*Among one of the best hostels I have ever stayed at. It perfectly combines family atmosphere with social vibe.
I was sick throughout the majority of my stay there and never did I feel like I needed to book a hotel room. It was comfortable, cold and clean. And the people working there are incredible. I forgot some important stuff and they managed to send it with someone going to Caye Caulker. It is a pretty quiet hostel, but allows ample space to meet people. One afternoon one employee gathered everyone's and took them to the river. Later he invited us for drinks and hosted a little gathering in which almost all guests partook. If you have any questions about tours or activities, they are incredibly helpful. The shared rooms had huge lockers.*
5. Hotel in Dangriga Belize
Where to stay in Dangriga on a budget.
Bonefish Hotel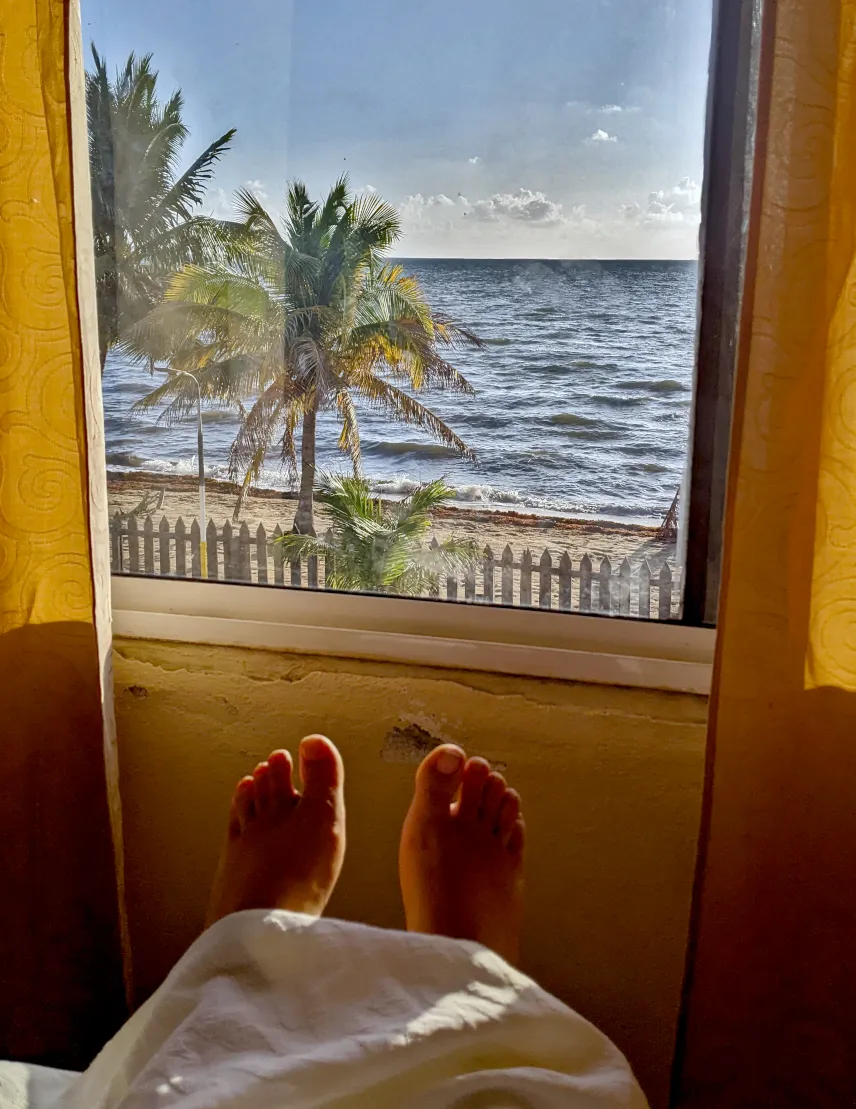 ⭐ Rating: 7.6 / 10 (8 reviews)
Why choose this hotel? Bonefish Hotel is your best base to visit Tobacco Caye. There is not really a budget accommodation option in Dangriga so Bone Fish is your best bet.
It's located close to the bus station and shops and restaurants as well as directly on the beach – just check out the view from bed!
The owner was super friendly and helpful.
The people who work there are excellent - patient with questions, knowledgeable, kind and understanding. The room is large, the bed comfortable. There was no problem locking the door! Not only would I return, but I will return - in a few days.
This post contains affiliate links. If you use these links to buy something we may earn a commission. You would help us a lot if you do so. Thanks.