When planning a Guatemala backpacking trip, you should consider adding backpacking in Belize to your Guatemala itinerary!
If you're planning a trip to Belize and Guatemala you can see the highlights of two countries. Let's be honest: Guatemala does a lot of things great. The Acatenango volcano is truly the highlight of any Central America trip and the Tikal ruins are amongst the most impressive we've visited. Other things it does not do that great. The Caribbean beaches of Livingston and co pale against their Belizean counterparts. So why not combine both countries in one itinerary to get the best of both worlds?
This two week Guatemala and Belize itinerary provides you with the bare minimum of time you'll need to explore the two countries. In places like Hopkins, Belize, or Lago de Atitlan, Guatemala, you might be very much tempted to prolong your stay - and we encourage you to do so if you have the time!
How to get around in Guatemala
Like so many travellers, we resorted to shuttles in Guatemala. They are easy to book, frequent in between the major tourist destinations, and relatively cheap. Most of the time, you can just walk into a local travel agency and book your shuttle for the next leg of the trip - it's also much more affordable than booking online.
How to get around in Belize
Unlike in Guatemala, there is no well-established shuttle infrastructure in Belize. You'll mostly find private shuttles for some steep prices. But also unlike in Guatemala, the public buses are easy to navigate and hence an affordable alternative. There are two main routes: the NorthSouth route and the East-West route which meet in the capital Belmopan. The Belize bus schedule can be found here.
Budget Guatemala
Depending on your style of travel, you need to budget around 50 USD per person and day for this trip - both for Guatemala and Belize. Admittedly, we haven't done Guatemala on a super tight budget (especially avoiding the local buses) but it's still not a super budget-friendly destination as many other travellers confirmed. Having a transfer or tour almost every second day adds up but you also get to see a lot.
The majority of this cost for Guatemala will be:
Accommodation: 15 USD
Food: 10 USD
Transfers or tours: 25 USD, tours are cheaper than in Belize but of course, transfers are more expensive than public buses
Budget Belize
Accommodation: 15 USD
Food: 10 USD
Transfers or tours: 25 USD, tours are much more expensive than in Guatemala but you can save a lot of money by using public buses.
Day 1 - Explore Antigua
Antigua is a great first stop to arrive in Guatemala. It offers great food and drinks - from craft beer and artisanal coffee to traditional cuisine and street food. Wonder the streets, if you have time take a walking tour, settle in and relax after a potentially long travel day.
Here are some of our favourite food and drinks options:
Best coffee: Fat Cat
Best local food: The market
Best bar: Antigua Brewing Company
How to get from Guatemala Airport to Antigua
The easiest answer is Uber. It costs around 20$ and takes around 2 hours depending on the time of day - allow some extra time for heavy traffic.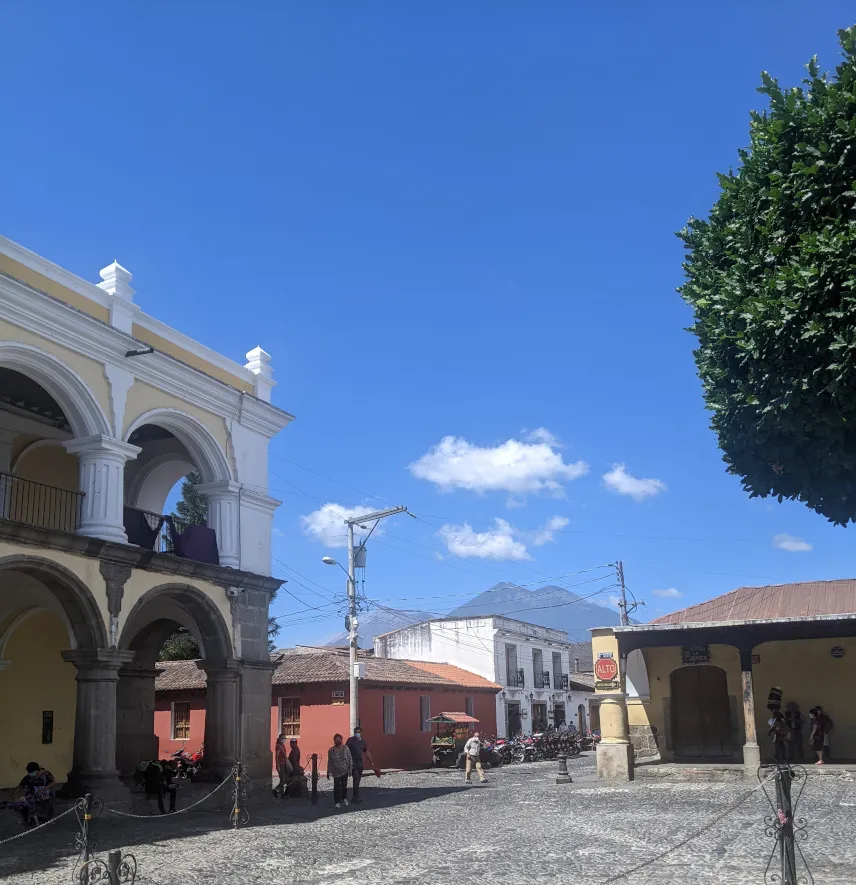 Day 2 and 3 - Hike Acatenango and Fuego volcanoes
This will be one of the highlights of your trip! The hike up takes around 6 hours (depending on your fitness) with an extra 5-hour hike to Fuego (only go there if you're incredibly fit). It's a 1500 m (1 mi) elevation gain on very gravelly, slippery ground. The reward of your struggles? An amazing view from Acatenango to Fuego, which normally erupts around every 15 minutes. At night, you can see lava flowing if you're lucky.
How to get from Antigua to the Acatenango and Fuego volcanoes
Easy. Take a tour.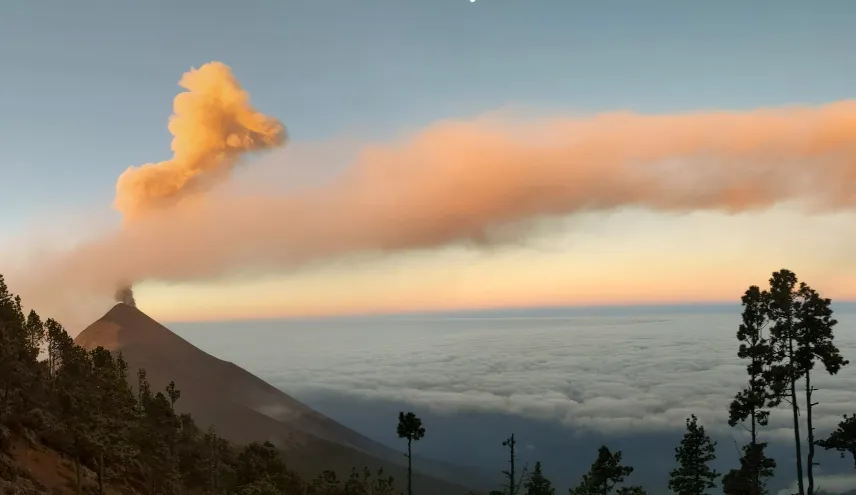 Day 4 - Relax in Antigua
As the hike to the volcano is super tough, we would recommend an extra day to relax in Antigua. We also found that the sleep at 3.7 km (2.3 mi) elevation is not as restful as one might think after such a strenuous hike... You can just continue your food tour or book a relaxing massage.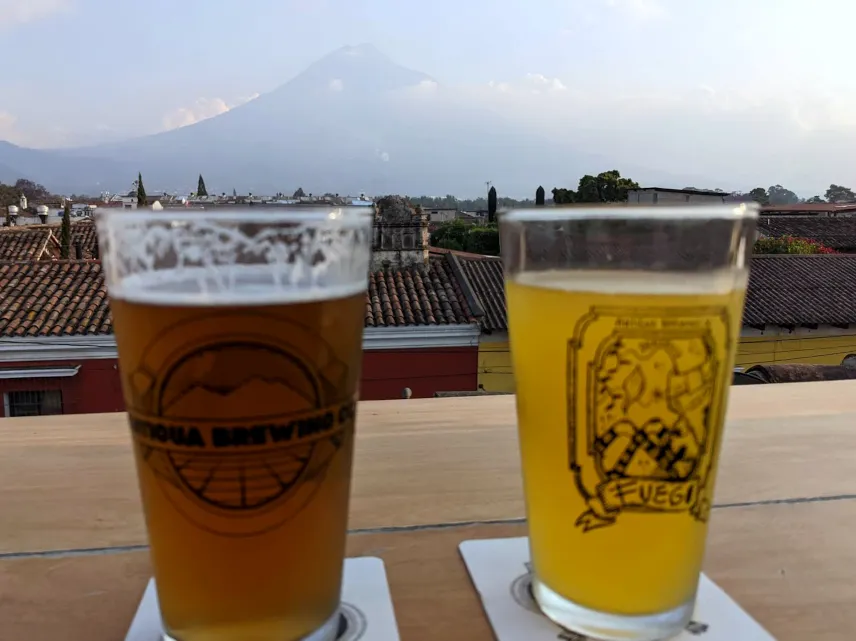 Day 5 and 6 - Guatemala to Belize - Antigua to Hopkins
This will be the longest travel of your entire trip but it will be very straightforward and you can interrupt it in a beautiful place like Rio Dulce. If you have more time, this is another great place to stay a day or two longer.
How to get from Antigua to Rio Dulce
Easy and straightforward: Take a shuttle 😉
How to get from Rio Dulce to Livingston
It depends on when the shuttle arrives in Rio Dulce. Currently, three boats a day (9:30 am, 1:30 pm, and 4:00 pm) leave from Rio Dulce to Livingston. The early shuttles should drop you off in time for the last boat. If not, you can easily spend a night in Rio Dulce which we found to be quite charming.
How to get from Livingston, Guatemala to Punta Gorda Belize
Warning: If you spend the night in Rio Dulce, you'll either have to spend another night in Livingston as currently, the only boat from Livingston to Punta Gorda leaves at 7:00 am. You can also rent a private boat which will be much more expensive.
The boat from Livingston to Punta Gorda currently does not leave every day so you might catch the boat from Puerto Barrios as an alternative.
How to get from Punta Gorda to Hopkins
As the boat leaves at 7 am and takes around an hour, you can easily catch a northbound bus from Punta Gorda to Dangriga. Jump out at Hopkins section and take a shared taxi (10 BZD) into town.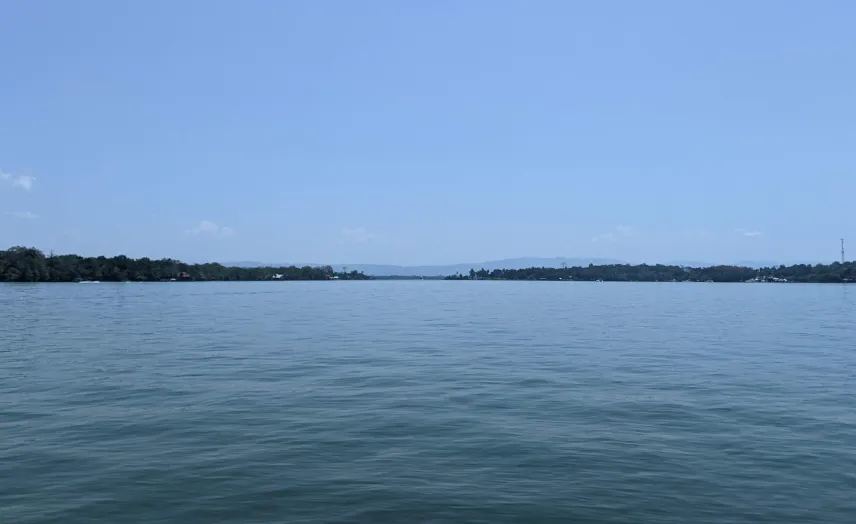 Day 7 - Relax in Hopkins
Hopkins is our favourite place in all of Belize. The beach is long, clean and beautiful. You can also experience Garifuna culture - how about a drum circle or a cooking class? For us, it's the better alternative to just visiting Livingston in Guatemala. In our opinion, it's also the better alternative to Caye Caulker as the beach is actually sandy and there are more things to do - how about an off-the-beaten-path bioluminescent lagoon or the world's only jaguar reserve?
The food options here are delightful as well. From Garifuna dishes at Queen Bean to Western cuisine at Peer's Place, there's everything your stomach could desire - including coconuts on the beach.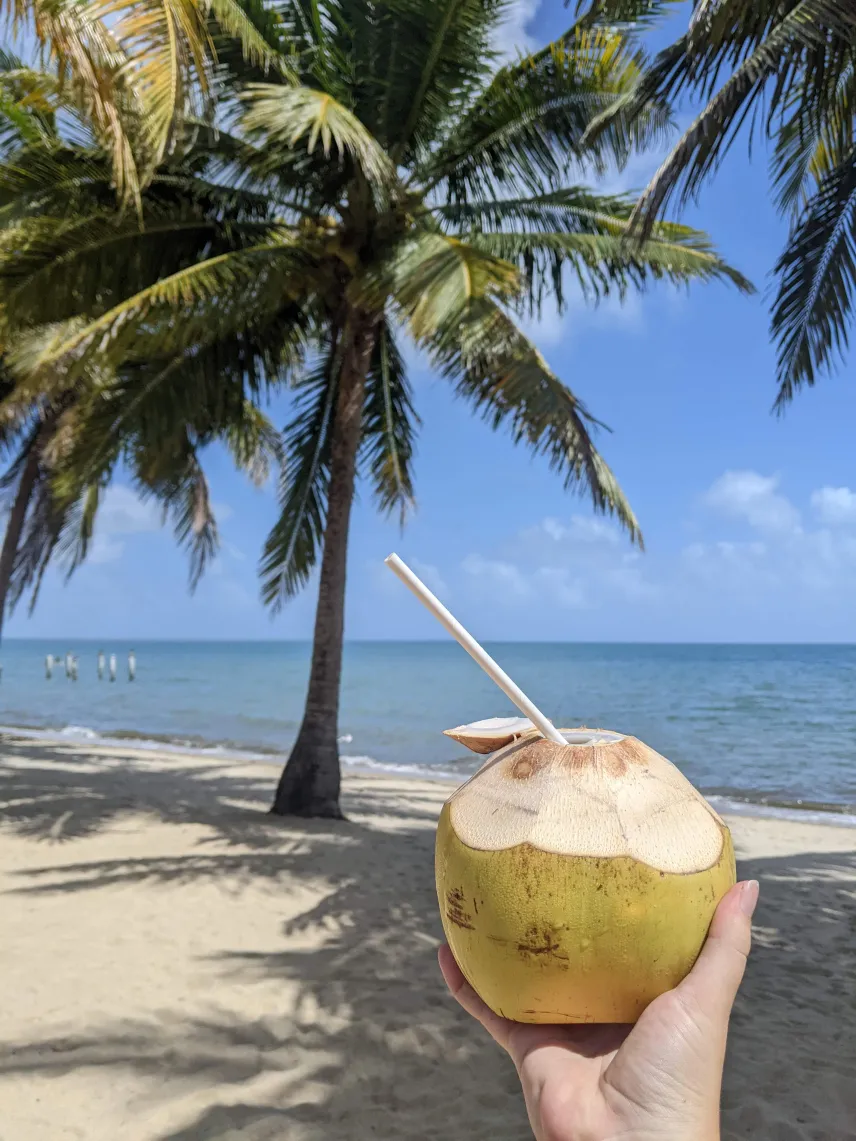 Day 8 - Way to San Ignacio
San Ignacio is the adventure hub in western Belize. Here, you can visit waterfalls, Belize's biggest Mayan ruin Caracol, and caves. If you ask us, the ATM cave is a must on your Belize trip!
San Ignacio is also the town in Belize where we found the cheapest and most abundant street food. If you're there on a Saturday, don't miss the market! Burns Avenue offers a lot of nice bars and restaurants.
How to get from Hopkins to San Ignacio with public transport
Hop back on the northbound bus to Dangriga and further to the capital Belmopan. Here, change to a westbound bus to San Ignacio. You might have to wait a bit if the next bus is already fully booked.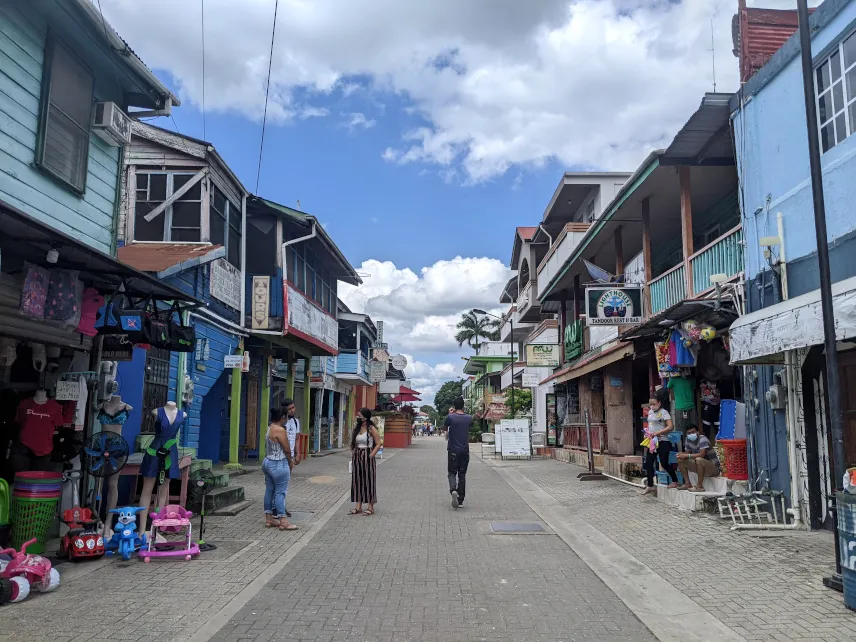 Day 9 - Day trip from San Ignacio to the ATM Cave
This might be controversial but we recommend going to San Ignacio / the ATM cave instead of Semuc Champey and the Kanba Caves, Guatemala. The way to Semuc Champey is very long and windy. Although in another country, San Ignacio can be much easier reached from Flores.
Additionally, we have learned that walking through the Kanba Caves in Guatemala with candles is really detrimental to the ecosystem. In contrast, the tours in Belize are very environmentally conscious. They can only enter with socks so you don't contaminate the cave floor. You'll get all the same adventure but with some additional Mayan artefacts as a bonus.
If you are also craving the pools of Semuc Champey, San Ignacio has the Rio On Pools to offer. You can bathe and slide in picturesque pools with small waterfalls - completely without the crowds! On our visit, we were the only tourists - almost unheard of in Semuc Champey. You just have to budget another day, but in San Ignacio, that's easily possible.
How to get from San Ignacio to the ATM cave
You need a guide to enter the cave so it's easiest to book a tour. The experience is totally worth it. We loved our guide JC from Mayawalk Tours.

Open blogpost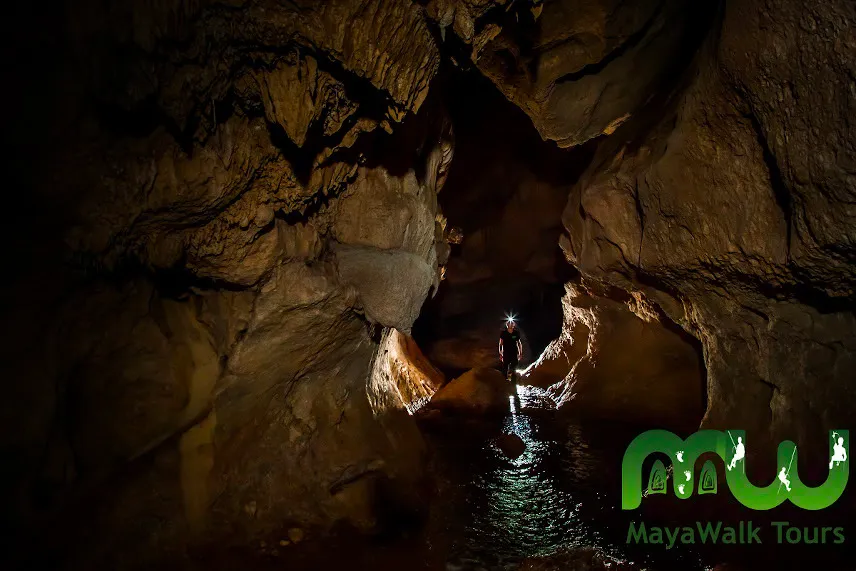 Day 10 - Belize Guatemala border - from San Ignacio to Flores
If you leave early in the morning, you'll have half a day enjoying Flores. You can swim in Lake Peten, take a lancha out, or feast in one of the amazing restaurants.
How to get from San Ignacio, Belize to Flores, Guatemala with public transport
Take a taxi to the border. We took Silent Lion Shuttle for 15 USD and were really happy with the service. After you have completed all the border formalities, you can easily walk to the colectivo station (we marked it on the map) - don't let tours tell you otherwise.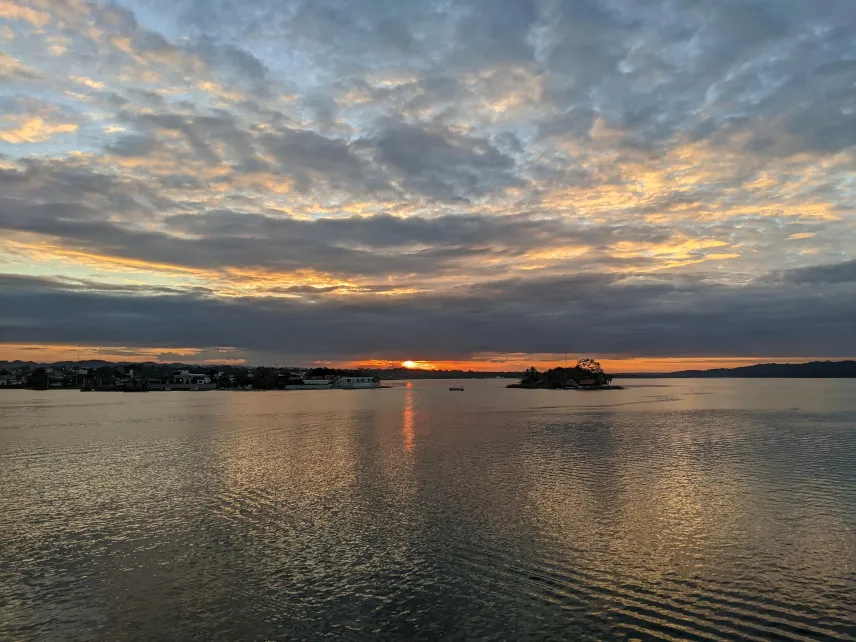 Day 11 - Day trip from Flores to Tikal
The Tikal Mayan ruins are amazing. You can easily spend a whole day or even more there. The city covered an area greater than 16 square kilometres (6.2 sq mi) and included about 3,000 structures. Even if You're not the biggest history buff, the Great Plaza with its two great pyramids as well as the North and Central Acropolis will impress you. Don't miss the Star Wars Temple: Temple IV was featured in (you guessed it) Star Wars Episode IV. And the view is impressive even if you're not a Star Wars nerd. Our second favourite viewpoint is the pyramid in the Mundo Perdido. This is also the second area we recommend you not to miss.
How to get from Flores to Tikal
The easiest way is taking a shuttle or a tour.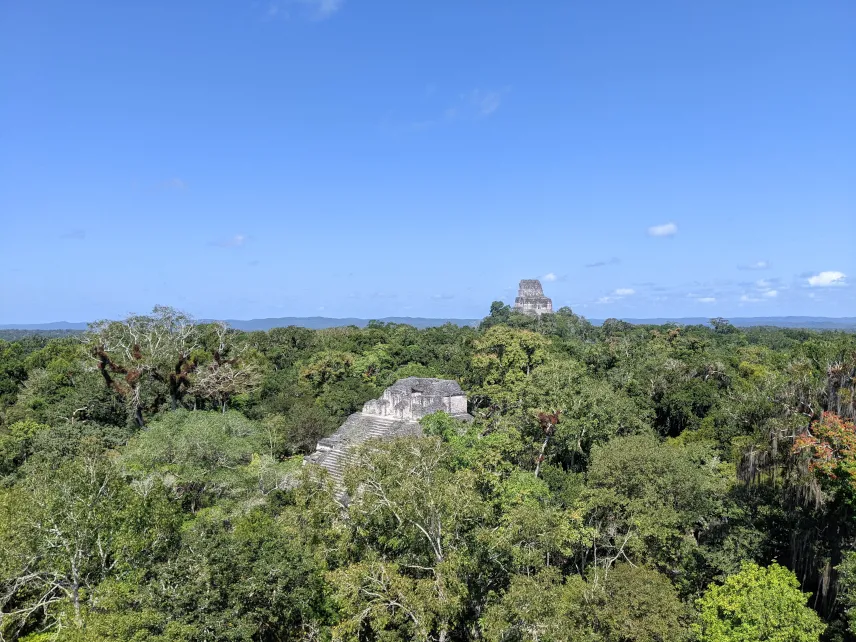 Day 12 - Explore Flores and its surroundings
Flores and its surroundings are easily beautiful enough to spend a day. You can do a lot of things.
Rent a kayak
Take a lancha to Museo Santa Barbara, Jorge's Swing Rope, or Playa Chechenal
Walk around the island (this should only take you 30 minutes)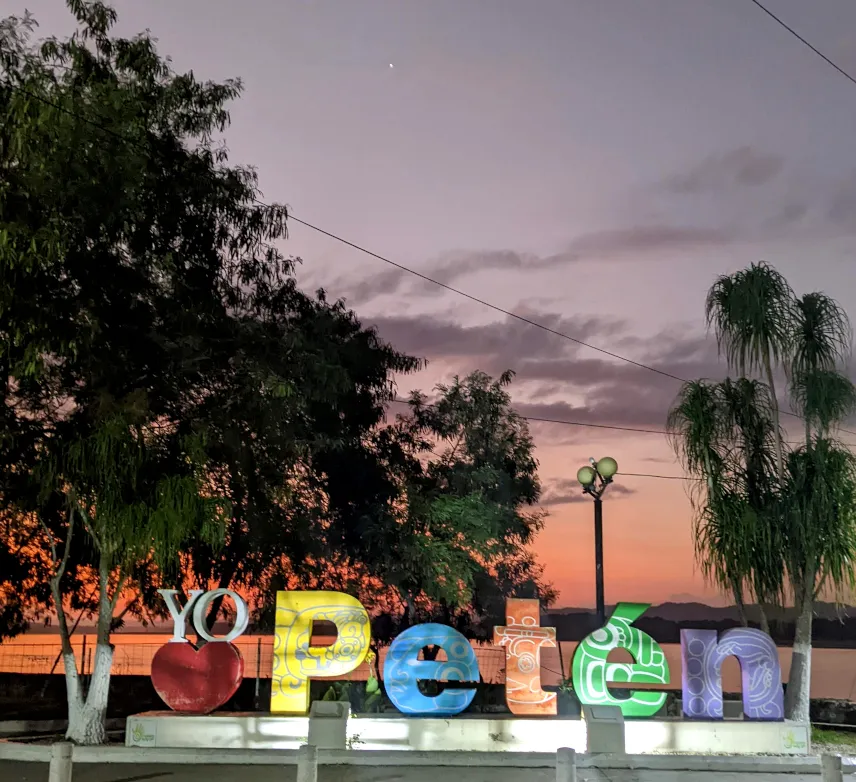 Day 13 - Way to Lake Atitlan
Even when you leave super early, you'll lose a whole day in the shuttle. Most shuttles will drop you off in Panajachel which is easily nice enough to spend one night. The morning views of the lake are spectacular here.
How to get from Flores to Lake Atitlan
We recommend a shuttle again. The trip takes at least 15 hours (also depending on where you want to go on the lake) so it will not be possible to do it in one go during the daylight hours.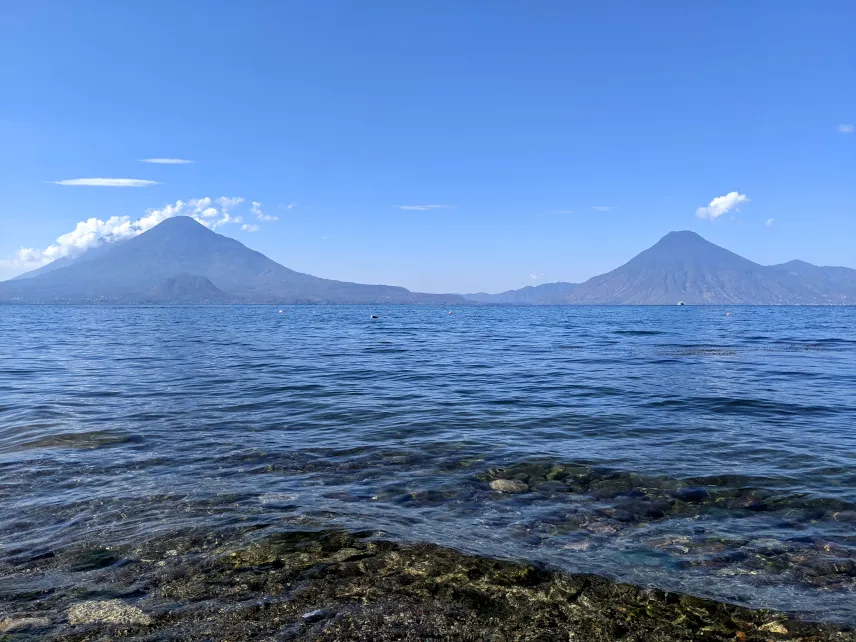 Day 14 - Relax at Lake Atitlan
If you're not seriously into shopping, Panajachel is not the place for you. We have personally explored several towns and can recommend:
San Pedro for a backpacker scene, parties, and language schools
San Marcos for spirituality, yoga, vegan food, and rock climbing
Santa Cruz for great views, nice hostels, and scuba diving
Other places that have been recommended to us:
Tzununa for a more low key version of San Marcos
San Juan for a local feel with loads of arts and crafts (outdoors and in shops)
How to move around Lake Atitlan with public transport
Easy - you move around Laka Atitlan by boat or Lancha. Just go to the dock we marked on our map in Panajachel and hop on the next boat to the destination of your choice. They leave very frequently during the daylight hours.