We visited Porto to compile an efficient Porto one day itinerary for you. We show you the best things to do in Porto – even if you only have 24 hours in Porto or less.
Tips for Porto
Porto in One Day Map
All stops for your Porto itinerary:
Is Porto Worth Visiting?
Porto is absolutely worth a visit! The smaller and quieter counterpart to Portugal's capital Lisbon is perfect for:
Travellers who like it walkable and intimate
Foodies and port wine enthusiasts
Individualists
People with a lower budget
Harry Potter fans

Open blogpost
Best Neighbourhoods in Porto Portugal
If you only have one day in Porto, you want to stick to the central areas:
Yellow: Cedofeita
Red: Baixa
Green: Bonfim
Blue: Ribeira
Purple: Vila Nova de Gaia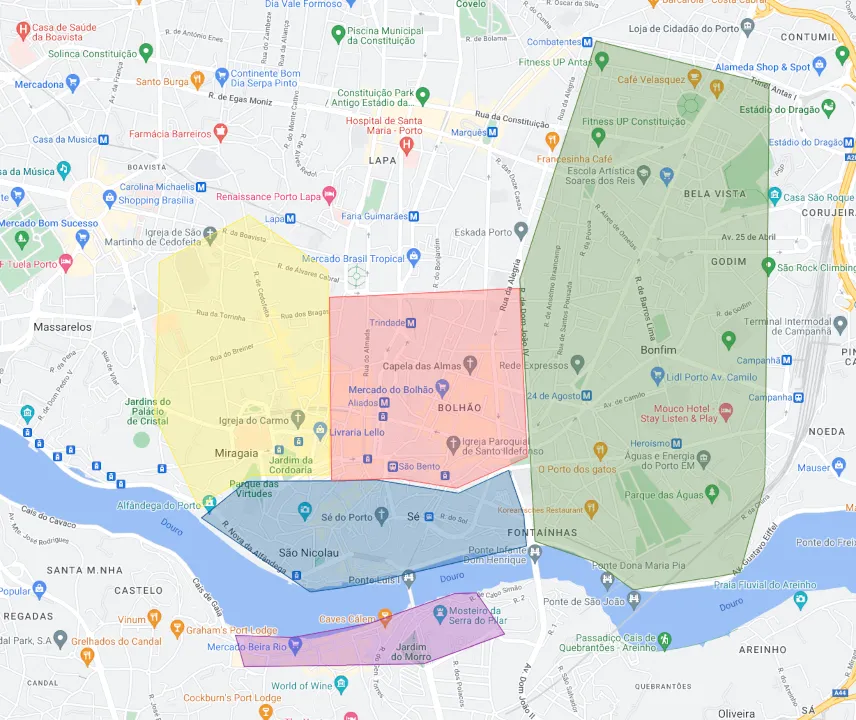 How Many Days in Porto?
How many days do you need in Porto? As Porto is a rather small and walkable city, one efficient day is enough to see the major sights.
How many days can you spend in Porto is a different question. If you have more time, you can do our 1 day itinerary for Porto at a more relaxed pace. Additionally, you can go on a day trip e.g. to the beaches or Douro Valley.
Porto Day Trip From Lisbon
Buses and trains between the two cities take around 3 hours and run from the early mornings to the late nights so a day trip from Lisbon to Porto is strenuous but doable.
Another option is a guided day trip to Porto:
Things to Do in Porto For a Day
Porto Itinerary Morning – Baixa
Churches and Harry Potter
After a quick breakfast in your hotel or on the go, head to Igreja dos Clérigos to climb the tower for an overview of the city.
Lello Bookstore, also known as Harry Potter Bookstore, is a must for Harry Potter fans. Be aware that this spot is super popular nowadays and that you have to buy a ticket to see the magical interior.
Igreja do Carmo & Igreja dos Carmelitas Churches are two connected 16th-17th century churches with beautiful tiled walls. We loved the lavish Baroque and Rococo style interior of Igreja do Carmo!
Plazas and Avenues
Head down the beautiful Rua da Fábrica to Praça da Liberdade. This square is connected to Praça do General Humberto Delgado where the Porto the city hall is located by Avenida dos Aliados. You can find many fine shopping boutiques and restaurants lining the avenue.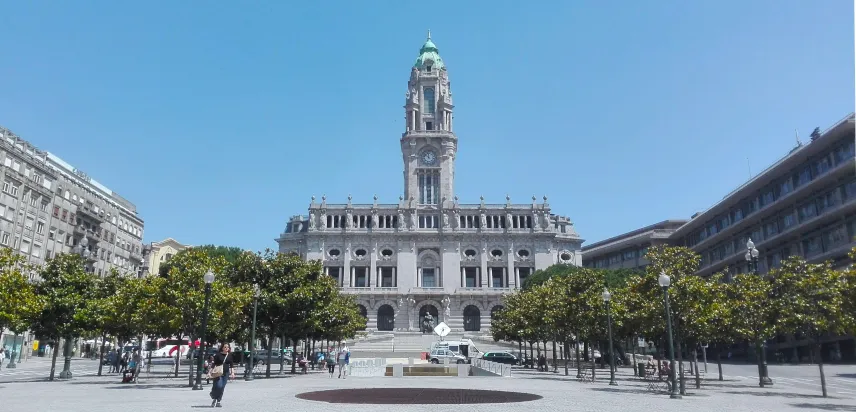 Porto Itinerary Lunch – Baixa
Market Lunch
Your lunch spot Mercado do Bolhão is only a stone's throw away from the city hall. Make sure to not only enjoy your food but also have a wander around to check out the market stalls.
Azulejos
Your next stop is the azulejo triangle:
Capela das Almas
Church of Saint Ildefonso
Estação de São Bento
Azulejos are a form of Portuguese painted (mostly blue) tin-glazed ceramic tilework. The aforementioned buildings are the three prime examples of this style in Porto.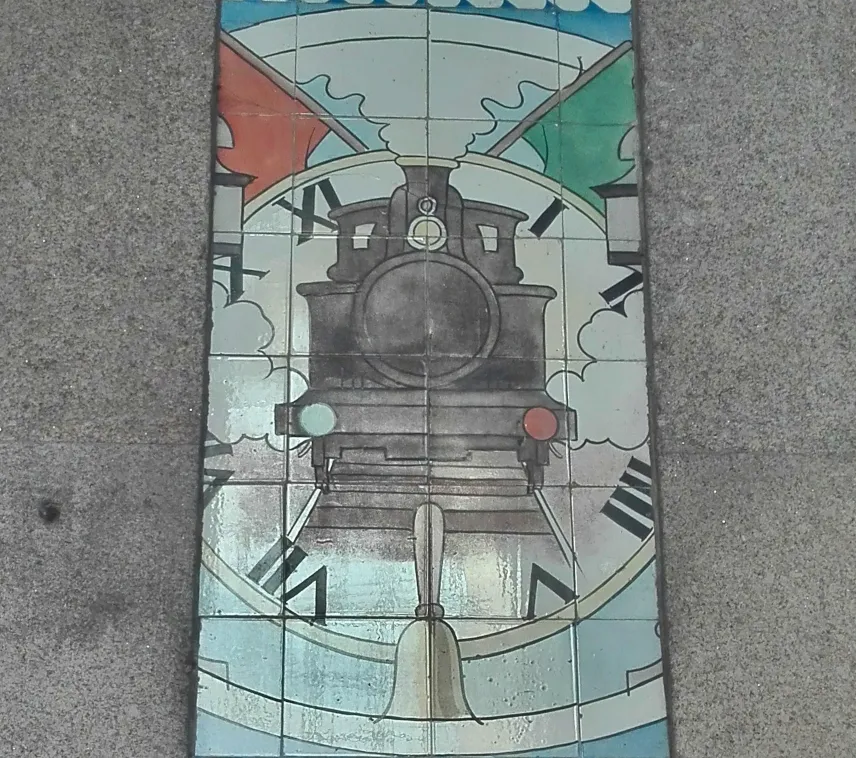 Porto Itinerary Afternoon – Ribeira
Views
If you have read any of our other blog posts, you know that we love rooftop bars. We strongly suggest a pit stop at Rooftop Flores – be it only for a drink or a cheeky little snack like a pastel de nata.
Afterwards, head to Miradouro da Vitória for even more views.
The Most Beautiful Building in Porto
Palácio da Bolsa was Porto's former stock exchange. It is a 19th-century building with a stunning Neoclassical facade. To access the lavish interior, you need to book a guided tour (starting every 30 minutes).
Right next to it is the Church of São Francisco. It's a prime example of Gothic architecture in Porto. While the exterior is relatively plain, the interior is richly decorated in the Baroque and Rococo styles but comes with quite a high price tag to see.
Ribeira
The Ribeira district is a UNESCO World Heritage Site. The area is full of cafes and tiny alleys. First, head down Rua da Reboleira and Rua da Fonte Taurina to get to the heart of the district, Praça da Ribeira.
From here, you can stroll down the incredibly picturesque Cais de Ribeira Promenade along the Douro River.
Porto Cathedral
Porto Cathedral is the last church of today but it's worth it, we promise!
There are essentially 3 ways to get from the Ribeira Promenade to the Porto Cathedral:
Walking
Lada Elevator (free)
Funicular dos Guindais (paid)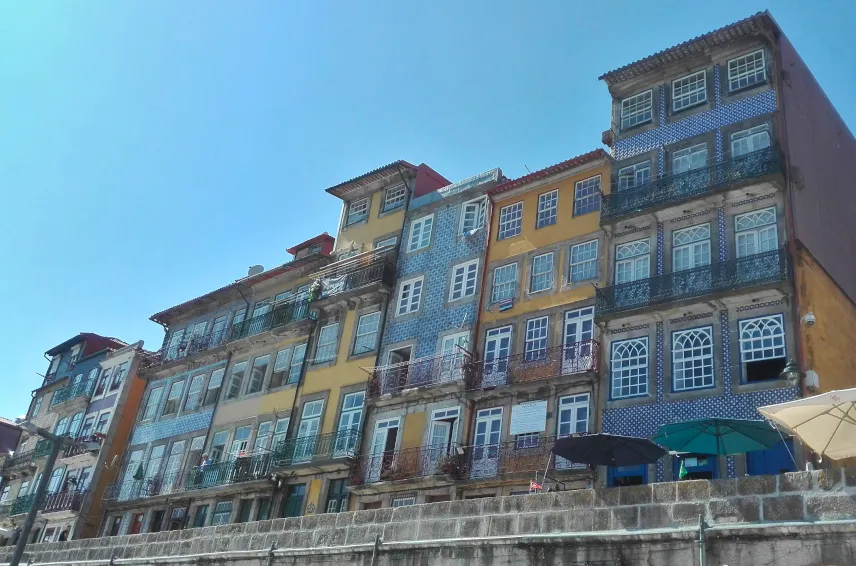 Vila Nova de Gaia
Porto Itinerary Evening –
More Views
Head across Porto's landmark, the Ponte Luís I Bridge, to Vila Nova de Gaia. From here, you have great views over the Douro River, e.g. from Miradouro da Ribeira.
We also liked Mosteiro da Serra do Pilar, not only for the views but also for the interior.
Port Wine
If you drink alcohol, a port wine tour and tasting is a must in Porto – after all it is called port wine. There are over 60 wine houses to choose from. Popular ones are Cálem, Sandeman, and Taylors where you should be able to just walk in and book a port tasting.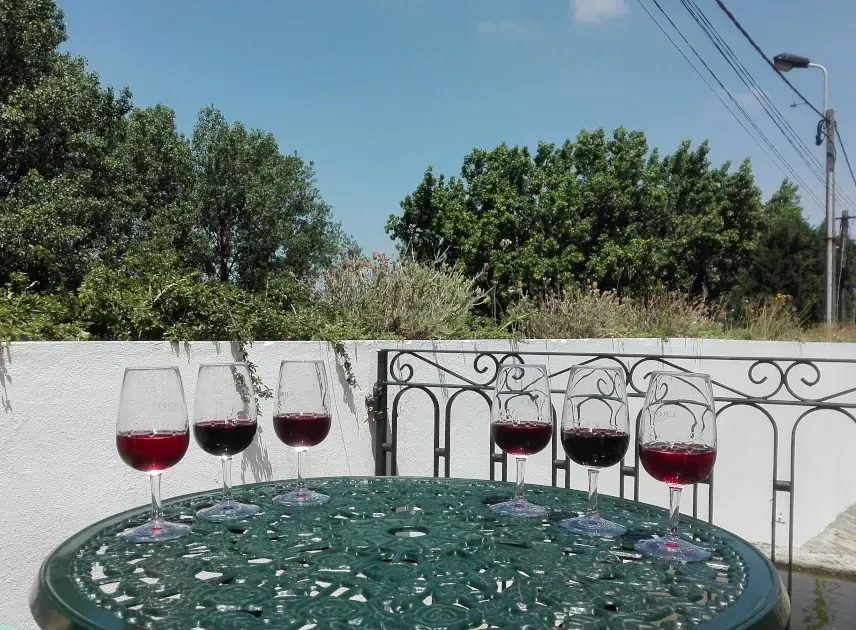 Douro River Cruise
If you don't drink alcohol or you still have some time to spare after your tasting, a Douro River Cruise is a relaxing way to end your day of sightseeing. The most popular tour is the short 6 bridges tour which only takes around 50 minutes.
Dinner
There are too many restaurants in Porto for us to give that one recommendation. What we will say is that you should try
Tripas a Moda do Porto if you don't mind eating beef stomach.
Francesinha sandwich for the best base for drinks you'll ever have in your life.
Porto Itinerary Nightlife – Cedofeita
University Area
The University Area is the best in Porto for cheap drinks. Adega Leonor is a popular spot here.
Rua da Galeria de Paris
Rua da Galeria de Paris is the best party area in town.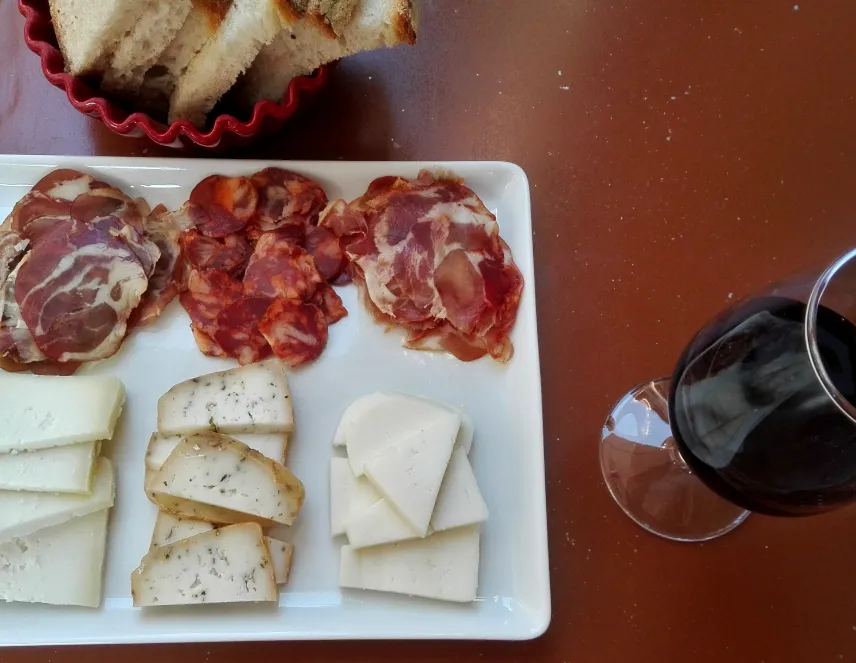 Lisbon and Porto Itinerary
In as little as 2 days, you can combine both cities with our 1 day Lisbon and 1 day Porto itinerary. Buses and trains between the two cities take around 3 hours and run from the early mornings to the late nights.

Open blogpost
This post contains affiliate links. If you use these links to buy something we may earn a commission. You would help us a lot if you do so. Thanks.