We visited the small Mediterranean country to answer the question of how many days should you spend in Montenegro in our Montenegro travel blog. Even if you want to travel Montenegro by public transport, i.e. without a rental car, our efficient Montenegro 4 day itinerary is enough to cover the basics.
Is 4 Days in Montenegro Enough?
First and foremost: How many days do you need in Montenegro? We think four days in Montenegro is the bare minimum – if you like fast-paced travel itineraries like us.
Even if you want to go backpacking in Montenegro without a car, you can see a lot of the small country – especially if you use tours the smart way.
Where to Stay in Montenegro
As Montenegro is a small country, the best area to stay in Montenegro is hard to tell. Theoretically, it is small enough to cover everything with day trips but we still recommend you to change base a couple of times. We liked staying in
Podgorica for an authentic Montenegrin vibe.
Budva for the beach.
Kotor to see the town in the morning and evenings without all the cruise ship tourists.
Backpacking Montenegro
Many travellers rent a car in Montenegro. Let us tell you that it's super easy and budget-friendly to go backpacking in Montenegro with public transport (and tours).
We always just turned up at the bus station and bought a ticket. If you want to check schedules or book tickets online, you can check out busticket4.me.
💡
Bucketlist2life travel tip: Make sure that you print your bus ticket. Tickets on your phone will most likely be declined.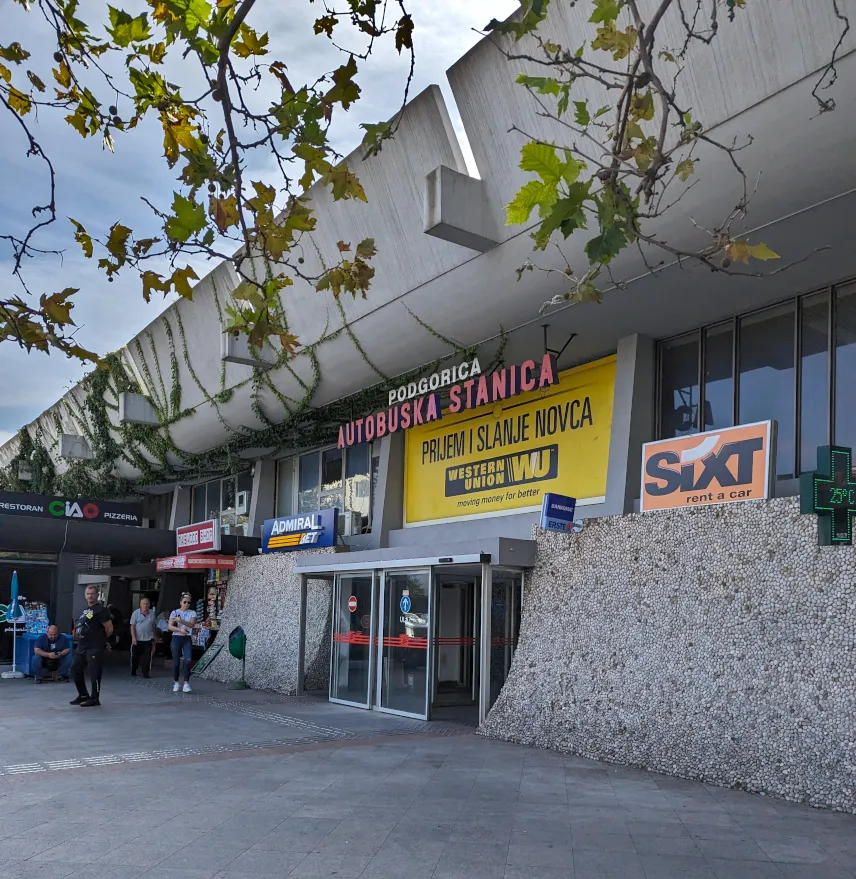 Montenegro Itinerary 4 Days
Montenegro Travel Itinerary Day 1 – Podgorica
Where to Stay in Podgorica on a Budget
We stayed at House with a garden in Podgorica Center and couldn't be happier with our choice. The location was amazing, the room comfy and the hospitality of the owners through the roof.
What to See in Podgorica Montenegro in One Day
Morning: We would recommend spending the morning doing a free e-bike tour to get a guided overview of the city.
Afternoon: Check out some of the sights you have missed on the tour like Skaline, the Clock Tower, or Podgorica Old Town.
Evening: Have a traditional Montenegrin Dinner at Pod Volat. Enjoy a nightcap at the amazing Itaka Library Bar.

Open blogpost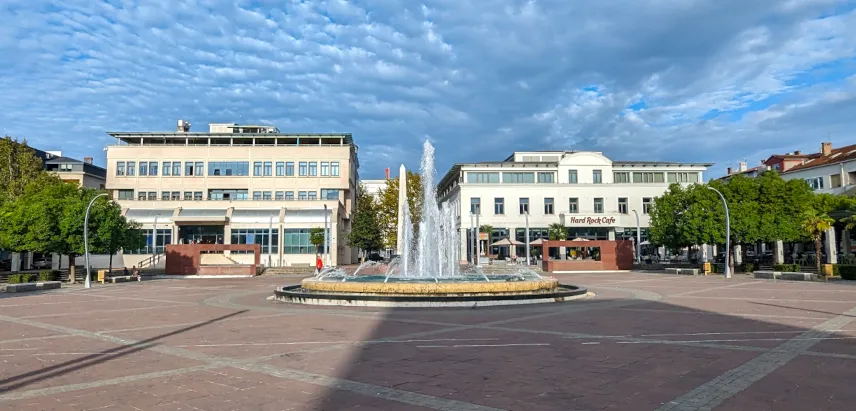 Montenegro Travel Itinerary Day 2 – Budva
Bus from Podgorica to Budva
The bus from Podgorica to Budva leaves at least every hour throughout the day, often more. It takes around 1.5 hours and should cost around 6€.
Where to Stay in Budva on a Budget
If you're looking for a cheap place to stay in the old town of Budva, check out Freedom Hostel.
What to See in Budva Montenegro in One Day
Morning: The old town of Budva is charming but small. Even if you stroll through all the alleys and visit all the churches, it should not take you more than an hour.
If you're more of a history buff, you can visit the archaeological museum or the citadel.
Don't miss the beaches. Plaza Ricardova Glava has the stunning backdrop of the old town. If you walk further along the coast past the statue of the ballerina, you reach the even more beautiful Mogren Beach.
💡
Bucketlist2life travel tip: You can spend much more time than one day in Budva, especially if you hit the beaches.
Afternoon: Make your way to the Sveti Stefan Peninsula for a perfect picture spot. It's only 10 km from Budva. Buses from Budva to Sveti Stefan depart every 15 minutes and cost around 2€. Warning: The buses don't leave from the bus station but from the main road!
💡
Bucketlist2life travel tip: You can not actually enter the Sveti Stefan Peninsula as it's private property.
Evening: Restoran Vista Vidikovac is the best place for (sunset) views. For some authentic Budva food, go to Rivijera Restaurant and order the Makaruli.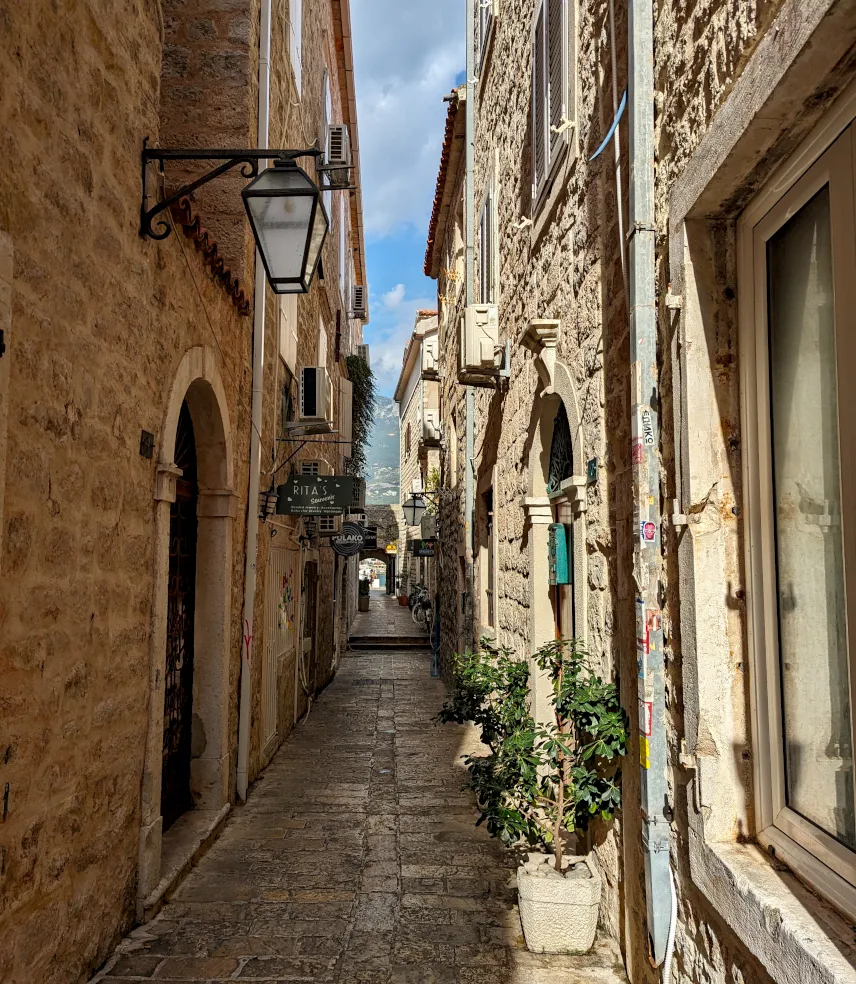 Montenegro Travel Itinerary Day 3 – Kotor
Bus from Budva to Kotor
The bus from Budva to Kotor leaves at least once per hour during the day, oftentimes more. It costs around 3.50€. Direct buses take around 30 minutes.
💡
Bucketlist2life travel tip: Some buses stop in Tivat first and hence take around 60 minutes.
Where to Stay in Kotor on a Budget
We stayed at Old Town Youth Hostel. The location was super central in the old town but you can definitely find cheaper options.
What to See in Kotor Montenegro in One Day
Disclaimer: We actually did all this in one day and so can you!
Morning: Start your morning while it's still cool by hiking up to Kotor Fortress. You can take the official way which will cost you 8€. Or you can do the "Ladder of Kotor" hike which we did. It leads you to a back entrance.
💡
Bucketlist2life travel tip: There used to be an actual ladder to climb through the window which has been removed but you can still climb in. If we managed, you have the potential to do so as well.
Afterwards, take some time strolling the alleys of Kotor Old Town. Visit some churches and don't miss out on circling Kotor on its city walls while it's still free.
Afternoon: A Boka Bay boat tour will be the highlight of your trip.
You will
Visit the super picturesque Lady of the Rocks Island close to Perast.
Enter an old submarine tunnel.
Drive past Mamula Island.
Enter the Blue Cave. the largest cave in the Adriatic Sea, where you have the opportunity to swim.
💡
Bucketlist2life travel tip: This is one of the occasions a prebooked tour can save you money. Our friends were charged 40€ at the dock so if you don't feel comfortable haggling, go with this tour!
Evening: Konoba Scala Santa is great for some more Italian-inspired Kotor cuisine. Bastion 3 satisfies your cravings for Balkans cuisine.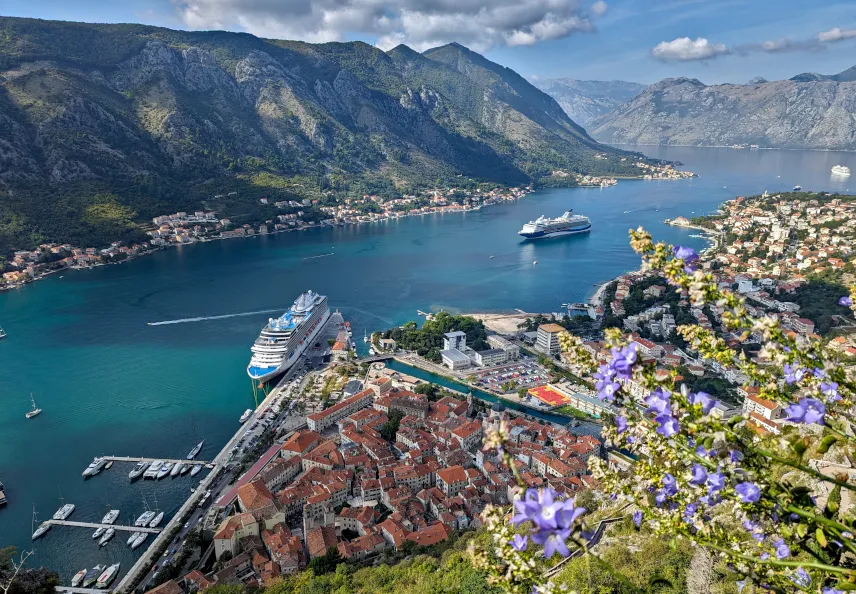 Montenegro Travel Itinerary Day 4 – North Montenegro Tour
While a North Montenegro Tour is not the most thorough way to see this part of the country, it is definitely the easiest and most time-efficient – especially if you don't want to drive on these crazy mountain roads. Trust us, we have been on them and we would not recommend.
On this tour
Take a picture of Our Lady of the Rocks.
Take a panoramic picture of Boka Bay.
Have a local breakfast which we loved.
Visit Tara Bridge and Tara River Canyon, one of the deepest river canyons in Europe.
Hike around Black Lake.
Enjoy a traditional lunch.
Visit Ostrog Monastery.
This is the exact tour we did.

Open blogpost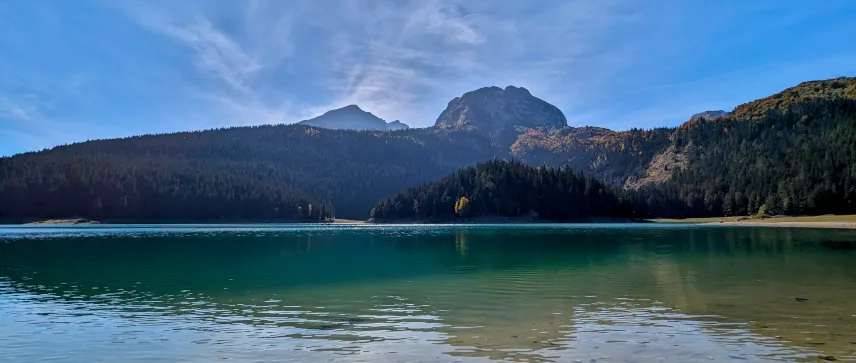 This post contains affiliate links. If you use these links to buy something we may earn a commission. You would help us a lot if you do so. Thanks.