Most travellers budget around 2 weeks for their Laos backpacking route. We provide you with a super packed and fast-paced itinerary for Laos that will bring you from Don Det in the far south to Luang Namtha in the far north in just two weeks.
We spend four weeks in Laos in 2023, so if you ask us, two weeks is not enough to explore this beautiful country. Consequently, this Laos travel blog will give you plenty of options to add to your Laos travel itinerary and/or slow it down if you have the time.
2 week Laos itinerary
1. Day 1 & 2 – 4000 Islands / Don Det
Don Det is a great first stop if you travel from Cambodia to Laos by bus as it's just a 30 minute drive from the Cambodia Laos border.
How much time do you need in Don Det?
This was hands down the most relaxed place on our whole Laos, Vietnam, Cambodia itinerary. You need one day to check out the highlights but you can stay much longer and relax.
Things to do in Don Det
Day 1: The main activity is going on a full-day kayak tour on the Mekong River which brings you to the major sights of the area, first and foremost Khone Phapheng Falls, the widest waterfalls in the world and the largest waterfalls in Asia.
Day 2: If you're looking for a more low-key activity, you can rent a bicycle and ride over to Don Khon to see the Li Phi Somphamit Waterfalls.
By far our favourite activity on the island though was just sitting in one of the many cosy restaurants or at the beach and relaxing.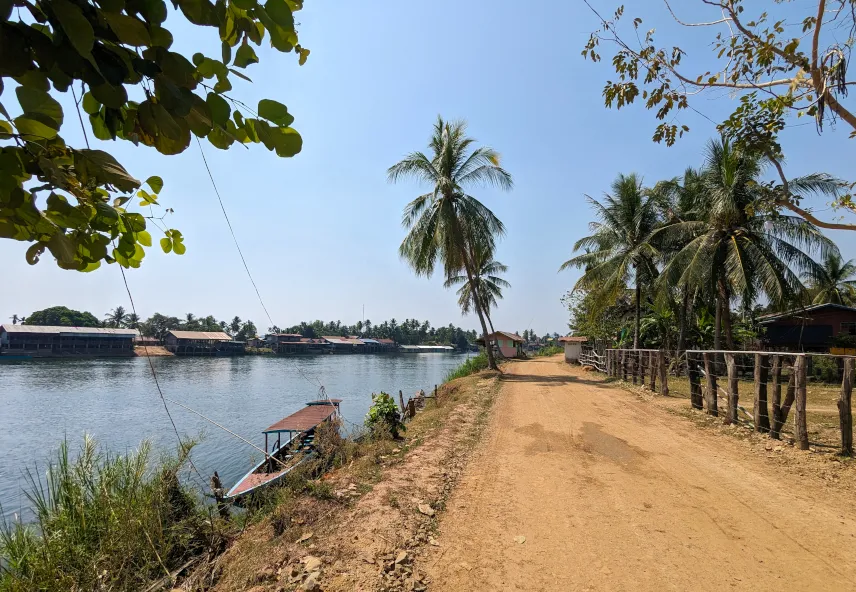 2. Day 3 – Pakse (Option: Pakse Motorbike Loop)
Pakse is the third largest city in Laos. It's mostly known as a jumping-off point for the Pakse Motorbike Loop.
How much time do you need in Pakse?
We wrote a whole blogpost about doing the Pakse loop as a day trip. This is a time-efficient alternative to doing the Pakse Loop on a motorbike as this will take you several days.
Things to do in Pakse
The main activity in Pakse is the Pakse Loop. If you have more time, you can also check out Vat Phou (which is also possible as a day trip if you don't ride a bike).
How to get from Don Det to Pakse
First, you hop on a boat to Nakasong. From there it's a short van ride to Pakse.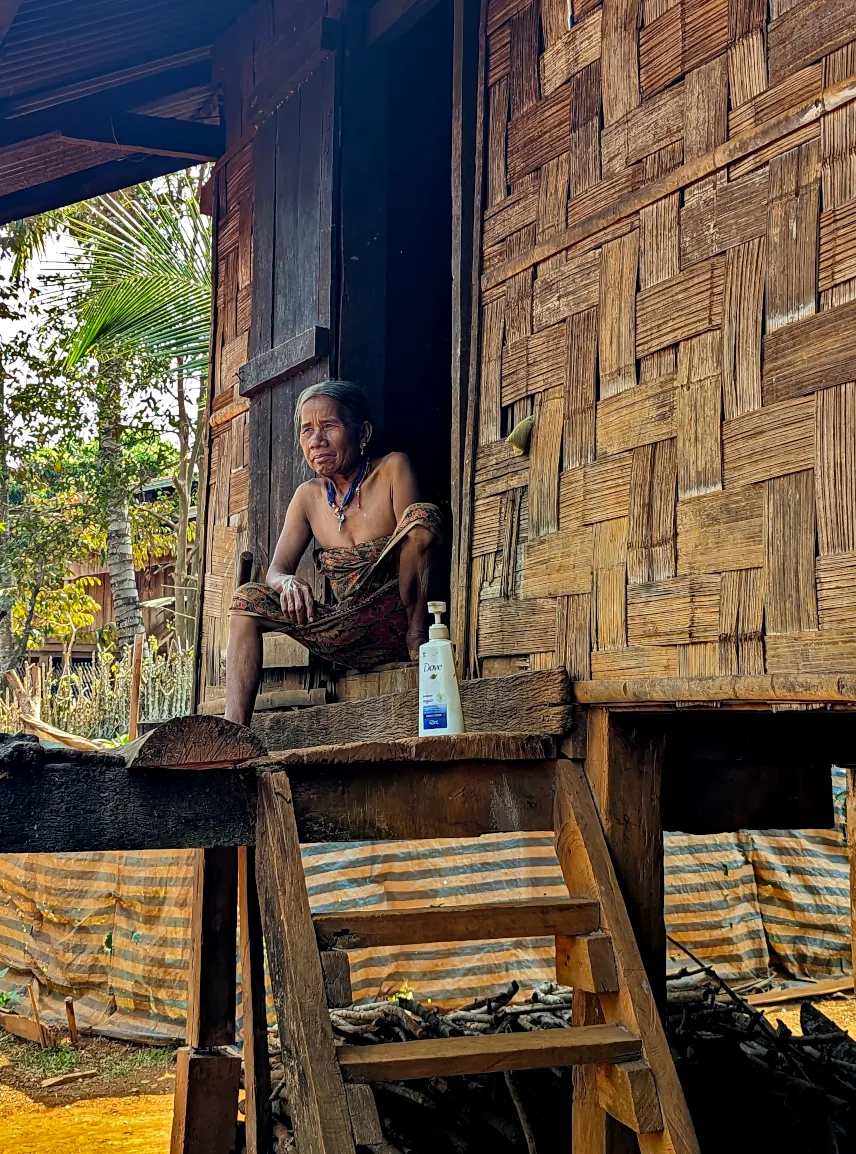 Option: Kong Lor Cave or Thakhek Motorbike Loop
Of course, the Thakhek Loop should not be missed if you're brave enough to ride a motorbike. If you aren't (like us), we wrote a whole blogpost about visiting the Kong Lor cave by public transport.
If you don't want to do either of these things, there is no real reason to visit Thakhek, especially if you're short on time.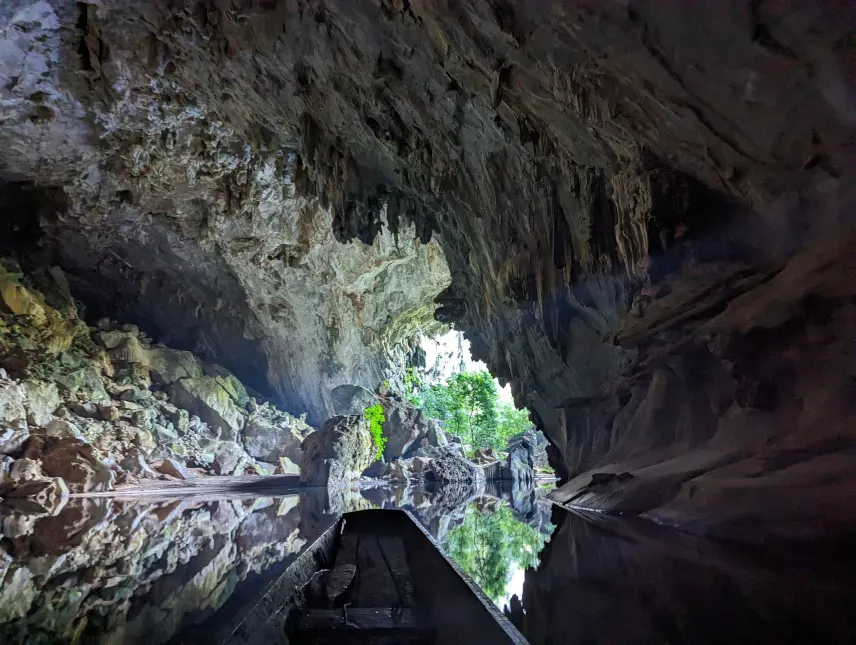 3. Day 4 – Night bus from Pakse to Vientiane
4. Day 5 – Vientiane
How much time do you need in Vientiane?
In our opinion, 1 day is enough to explore Laos' capital Vientiane.
Things to do in Vientiane
As some of the sights can be a bit spread out, it's best to rent a bicycle to see
Pha That Luang
The Arc de Triomphe or Patuxai
That Dam Stupa
Presidential Palace
Wat Si Saket
Ho Phra Keo Museum
Vat Simuang
COPE Visitor Centre
Night Market
How to get from Pakse to Vientiane
The ride on a comfortable night bus takes 12 hours.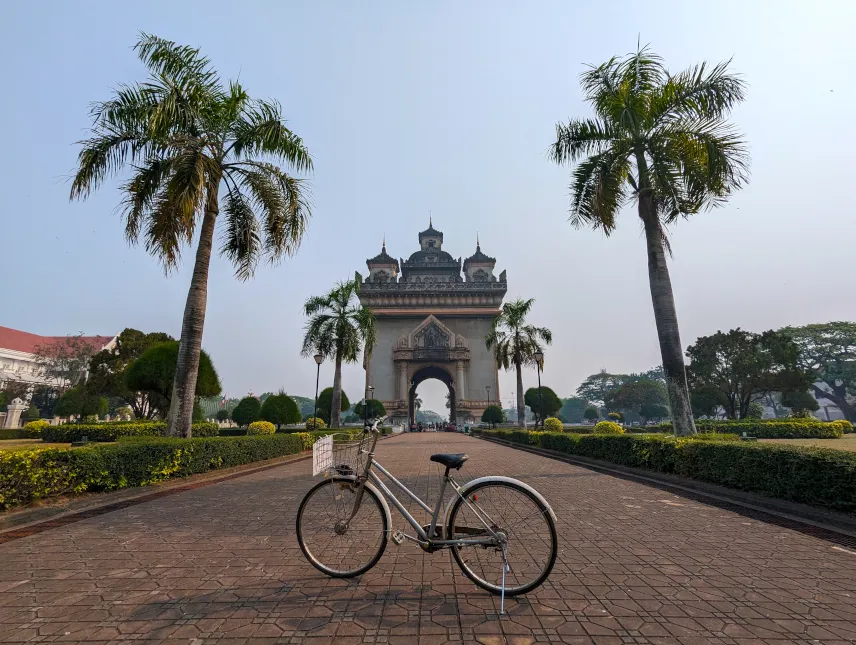 5. Day 6 & 7 – Vang Vieng
Vang Vieng is the adventure capital of Laos. It's also a great place to party.
How much time do you need in Vang Vieng?
Two days are enough to see the highlights but you could spend a lot longer to get off-the-beaten-path as well as relax/adventure/party more.
Things to do in Vang Vieng
Day 6: Today is the day to go tipsy tubing. It's a Vang Vieng staple and should not be missed.
If you still have some energy (and money) left in the evening, you can head on a hot air balloon tour or go paramotoring.**
Day 7: This is the day for the three things Vang Vieng does best: Viewpoints, lagoons, and caves. You can either rent a motorbike or hire a tuk-tuk which is reasonably priced if you share it. There are too many options to mention but we loved Nam Xay Viewpoint (the Instagram famous one with the bikes, still it was not crowded at all), cave tubing in Tham Nam (Water Cave), and Lagoon 4 to relax.
How to get from Vientiane to Vang Vieng
A van will take you less than two hours.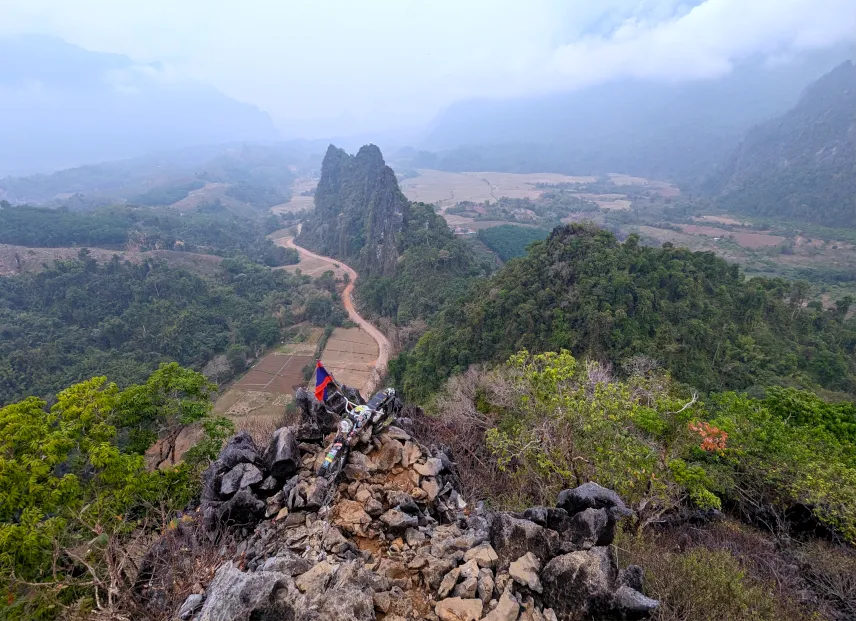 6. Day 8 & 9 – Luang Prabang
The two highlights of Luang Prabang are the beautiful old town – including a lot of nice cafes (which especially hit the spot when you're travelling long term) and the Kuang Si Waterfalls.
How much time do you need in Luang Prabang?
You need around two full days to explore Luang Prabang.
Things to do in Luang Prabang
Day 1: Get up early and head to the almsgiving ceremony. Around sunrise, Buddhist monks walk the streets to receive alms from the community. While this ceremony is increasingly commercialised, it's still interesting to see.
Combine the almsgiving with a visit to the morning market.
Spend the rest of the day exploring the UNESCO World Heritage town of Luang Prabang. 800 buildings, such as sacred buildings, colonial buildings and traditional houses on stilts are listed by UNESCO.
For sunset, head to Mount Phousi for a great view over the city – expect to see a crowd.
Day 2: This day is reserved for the Kuang Si Falls, which many call the most beautiful waterfalls in Asia. The journey takes around 1 hour by minivan or shared tuk-tuk. You do want to spend some time here as there are several swimming pools and picnic spots.
For sunset, head on a Mekong River cruise.
Of course, you shouldn't miss the amazing night market for dinner.
How to get from Vang Vieng to Luang Prabang
We strongly advise you to take the new high-speed train. The train ride takes less than two hours whereas the ride with a van will take you around eight hours on a super bumpy road.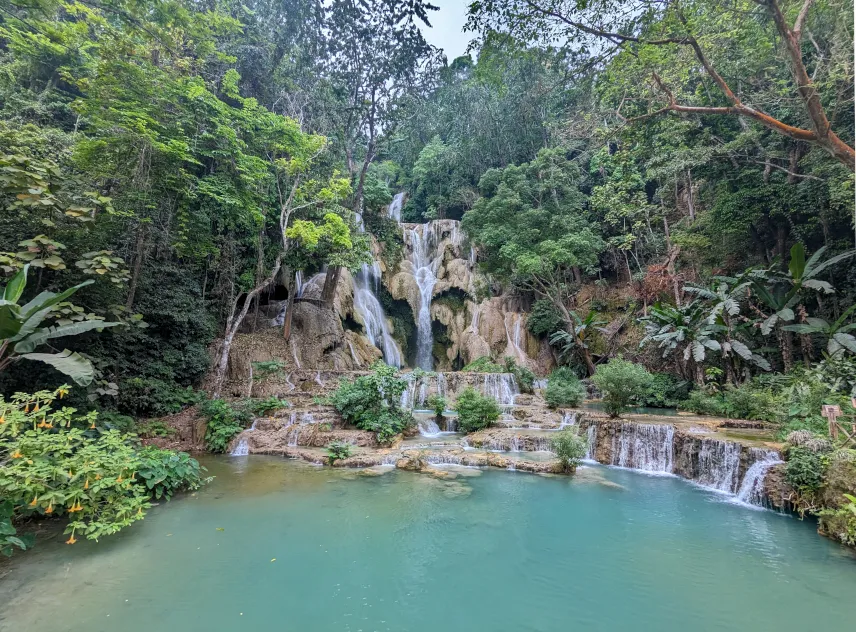 7. Day 10, 11, & 12 – Nong Khiaw
The best thing to do in Nong Khiaw is do an overnight hike! There are plenty of tour agencies in town who will sell similar trips at the same price.
How much time do you need in Nong Khiaw?
You need three days here: One day to arrive and book the hike and two full days for the actual hike.
Things to do in Nong Khiaw
Day 10: If you're not saving your energy for the following two days of hiking, there are many amazing viewpoints in the area.
Day 11: You'll start the 2 day trek by walking a bit through the countryside. Lunch will be served in a traditional village. Our personal highlight came in the evening after an afternoon of hard and hot hiking. We just loved our homestay. The family was super friendly, we were taught how to cook super delicious food, we played with the children although there was no common language – and there were puppies.
Day 12: On the second day of the trek, you'll be teamed up with some day trippers. First, you'll hike up Phanoi Viewpoint which comes with a cave. Afterwards, you'll hike to Tad Mook Waterfalls to cool down. The tour ends with some kayaking on the Nam Ou River.
How to get from Luang Prabang to Nong Khiaw
A three hour van ride is your best option.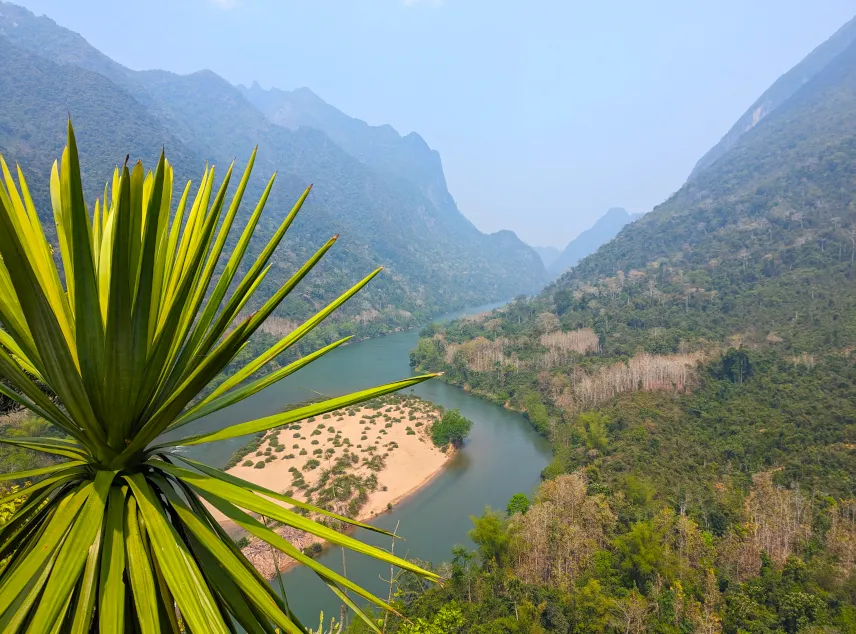 Muang Ngoy
Option:
If you have some time to spare, Muang Ngoy is a super chill small town along the Nam Ou River to spend it. There are plenty of guest houses and restaurants. You can hike, visit caves and local villages or relax – either at the Nam Ou River or in a traditional herbal sauna.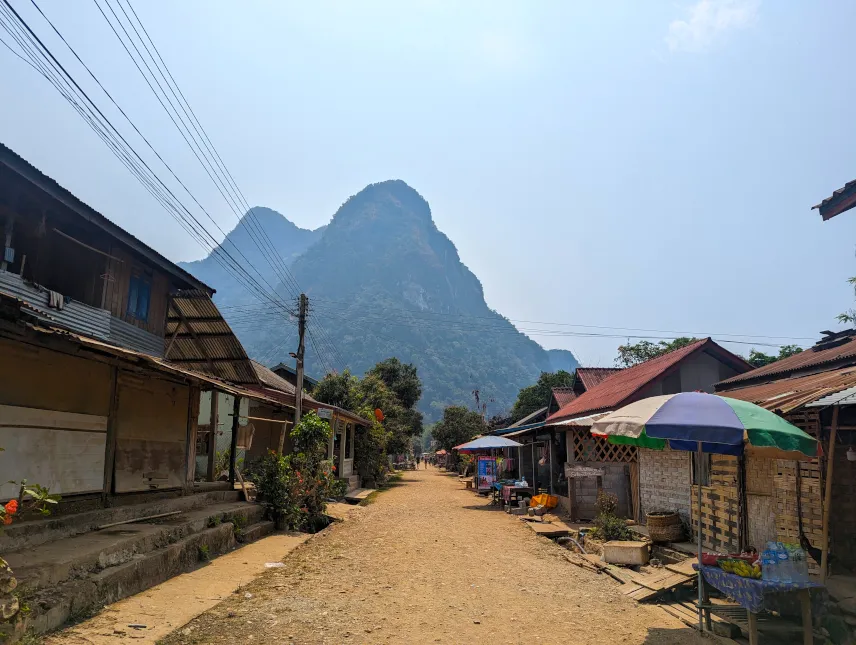 8. Day 13 – Luang Namtha
Full disclosure: This is the only place on our itinerary that we didn't visit ourselves. We wish we had though. The drive from Nong Khiaw to Houayxay is super long and Luang Namtha is a great place to break it up. We met some smarter travellers that did just that and recommended it.
How much time do you need in Luang Namtha?
According to the travellers we met, one night is enough to rent a bike and explore the surrounding.
Things to do in Luang Namtha
There seem to be many awesome things to do like trekking or riding a bike.
How to get from Nong Khiaw to Luang Namtha
First, you have to hop on a Songtaew to Pak Mong. This is where vans to Luang Namtha leave. The ride takes around eight hours on bumpy roads.
9. Day 14 – Houayxay (Option: Gibbon Experience)
Let's be honest, there are two main reasons to go to Houayxay:
Things to do in Houayxay
Using it as a jumping-off point to cross the border into Thailand.

Do the Gibbon Experience.
How much time do you need in Houayxay?
If you only use it as a jumping-off point to Thailand, one night (or no night) is enough. Keep in mind that the border currently closes at 10 pm.
We did the Gibbon Experience and enjoyed it thoroughly. The express tour takes 1 night / 2 days and the regular tour 2 nights / 3 days.
How to get from Luang Namtha to Houayxay
You basically hop back on the same van towards Houayxay you came from.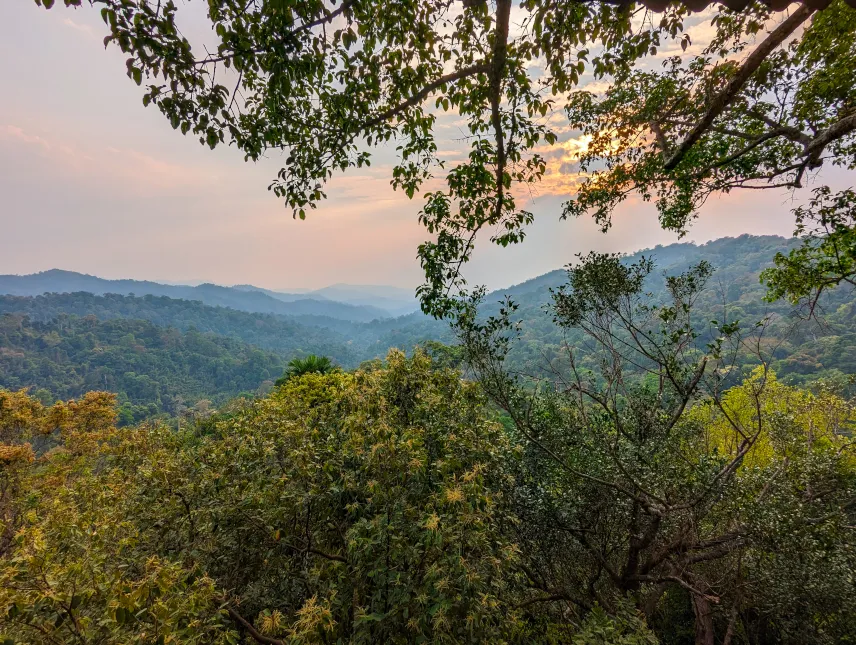 Why did we not Take the Slow Boat from Luang Prabang to Houayxay?
Because we went to Nong Khiaw, it did not make sense to backtrack to Luang Prabang, spend one night there, and take the slow boat for two days. Going by bus was much more time efficient. Let's be honest though: It was not comfortable at all.
Be assured that this route is possible although you don't find information online and currently cannot book the buses online.
This post contains affiliate links. If you use these links to buy something we may earn a commission. You would help us a lot if you do so. Thanks.