We travelled North Macedonia by public transport and enjoyed it a lot. In hindsight, we must say that some tours would have made our lives much easier. Here's how Skopje day trips can save you time and effort:
First and foremost, you'll save a lot of time. With a guided tour, you can see places like the Millennium Cross and Matka Canyon in half a day. With public transport, it will take you a full day.
If you don't have much time in North Macedonia, tours can easily bring you to places you'd otherwise miss completely like Bitola.
A guide has unique insights. Would you taste different forest fruits and gather different herbs in Berovo on your own? We know that we wouldn't.
Highlights like the Mavrovo National Park are super tricky to visit without a car.
North Macedonia is not a big country. You'll rarely drive more than three hours from the capital Skopje. Theoretically, you can see the whole country without packing or moving once.
Top 3 Picks Skopje Day Tours
Day Trips From Skopje
1. From Skopje to Millennium Cross and Matka Canyon
⭐ Rating: 4.5 / 5 (125 reviews)
Millennium Cross and Matka Canyon are the two highlights in the Skopje area!
Why choose this tour? If you have a busy schedule, the Half-Day Tour from Skopje: Millennium Cross and Matka Canyon is a great time saver! Visit
Millennium Cross on Vodno Mountain (including the Skopje cable car ride!).
Church of St. Panteleimon.
Matka Canyon (optional boat ride).
Including:
Local English-speaking guide.
Transport by private vehicle.
Cable-car ride to Millennium Cross!
I recommend this tour if you don't have a car yourself, very great opportunity to discover the area around Skopje.
2. From Skopje to Matka Canyon and Tetovo
⭐ Rating: 5 / 5 (1 review)
Tetovo is a city in the northwestern part of North Macedonia. It was founded in the 14th century.
Why choose this tour? Honestly, you can visit both places by public transport. The Full-Day Matka Canyon and Tetovo Tour from Skopje is only a matter of convenience and time efficiency.
Visit Matka Canyon and travel in a small boat to Vrelo Cave.
Explore Macedonia's Orthodox and Muslim heritage at St. Andrej Monastery and the Painted Mosque.
Visit Arabati Baba Tekke in Tetovo.
Including:
Pick-up and drop-off at your hotel or any preferred location in Skopje.
All transfers with comfortable A/C car or minivan.
Experienced English-speaking guide/driver for the tour.
Completely blown away by the beauty of the canyon and all the places we visited during our stay in this beautiful country. Our tour guide, Daniel, was the best we could ever hope for... a highly-motivated guide with a very warm personality. An absolutely excellent tour guide, who managed to handle a group of 6 girls (who talked nonstop) on holiday super well. Thank you for the great service, it was a wonderful day. Can't wait to return to your country :)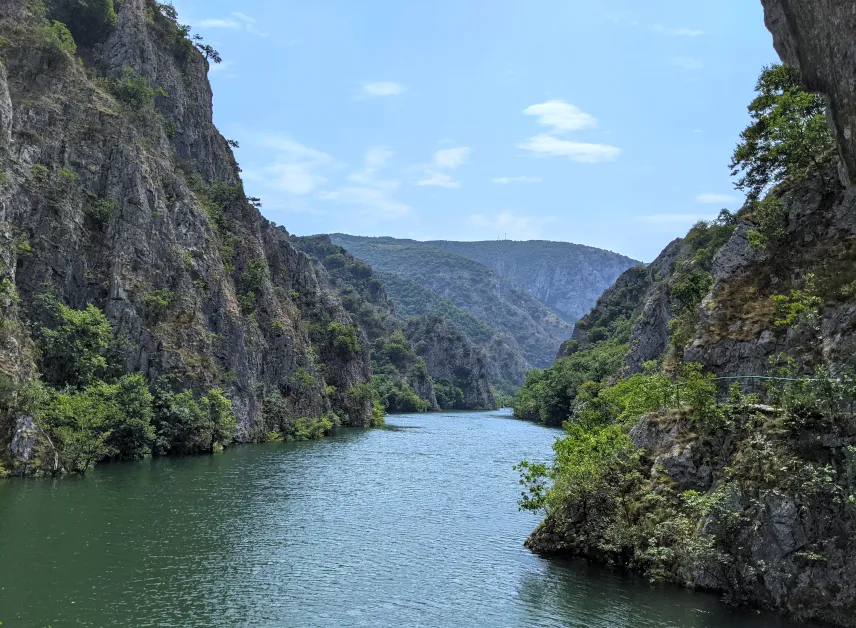 3. From Skopje to Ohrid
⭐ Rating: 4.5 / 5 (5 reviews)
As North Macedonia is landlocked, Lake Ohrid is the beach destination of the country and a must-see.
Why choose this tour? We only recommend the One day tour to Ohrid and Ohrid Lake from Skopje if you don't have the time to go for longer. This tour is the best opportunity to see the major highlights in just one short day:
Tour Ohrid's old town with its traditional houses, medieval churches, monasteries, and open-air ruins.
Visit the ancient theatre and Samoil's Fortress.
Head to the famous Monastery of St. Naum.
The boat trip to the underwater springs and the Forgotten Church is optional but we 100% recommend that you do it as we loved it!
Including:
Air-conditioned vehicle.
English-speaking guide.
Lena was a great guide and her cousin was a safe and careful driver. We had a great day at Lake Ohrid.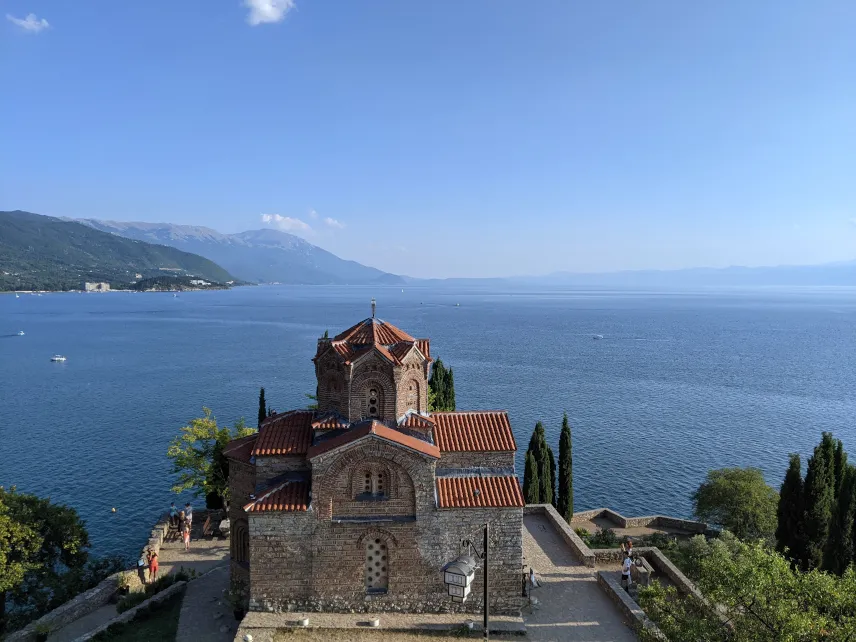 4. From Skopje to Mavrovo
⭐ Rating: 5 / 5 (4 reviews)
The Mavrovo National Park is the largest national park in North Macedonia.
Why choose this tour? Choose the Mavrovo Day Trip from Skopje because the beautiful region of Mavrovo can be tricky to visit from Skopje without hiring a car.
Visit Sharko Cave with its many stalactites and stalagmites.
Visit Galicnik Village where the traditional Galicka wedding takes place on 12th July each year.
Drive along Mavrovo Lake and Radika Canyon.
Visit St. Jovan Bigorski, the biggest monastery in North Macedonia.
Visit Duff Waterfall.
Visit Rajcica Monastery.
Enjoy a traditional lunch in Mavrovo.
Including:
Hotel pickup and drop-off.
Transport by private vehicle.
Private driver/guide.
Lunch.
This tour was one of the highlights while recently visiting Macedonia. The tour guide, Suzanna, and driver, Danielle, were both tremendous. They went out of their way to show me some spectacular scenery and make sure I got the most out of the day. It was genuinely a lot of fun. Mavrovo deserves to be more well known and is chock full of interesting landscapes and villages. If you want a relaxing day outside of Skopje, you can't do better than this.
5. From Skopje to Bitola
⭐ Rating: 5 / 5 (1 review)
Bitola is the second largest city in North Macedonia and 100% worth a visit – we loved it there!
Why choose this tour? Bitola belongs on every Macedonia itinerary. If you don't have the time to spend a night or more, the Private Full-Day Trip to Bitola is the perfect option for you.
Visit the archaeological site Heraclea.
Learn why Bitola is called the "City of Consuls" at Shirok Sokak pedestrian street.
Relax in one of the trendy cafes or restaurants.
Tour the Old Bazaar and the Green Market.
Including:
Pick-up and drop-off (hotel or any location of your preference in Skopje).
English-speaking driver/guide.
All transfers with comfortable air-conditioned car or minivan.
A perfect trip in wonderful Macedonia!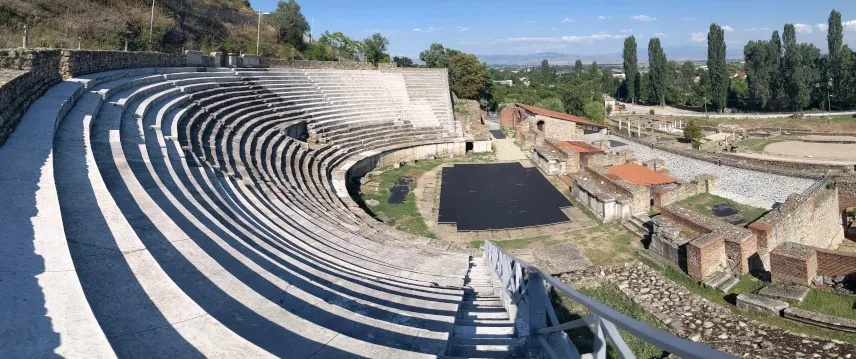 6. From Skopje to Kokino
⭐ Rating: 5 / 5 (4 reviews)
The Megalithic observatory and ceremonial site of Kokino is about 3,800 years old.
Why choose this tour? The Monastery Osogovski and Kokino Day Trip from Skopje is perfect for people who love (ancient) history. On this Skopje day trip, visit
The Megalithic site of Kokino.
The picturesque Osogovo Monastery from the 12th century.
Including:
Private tour.
Professional guide.
Hotel pickup and drop-off.
The trips was great and the guide was very knowledgeable on both history and culture. The driver was very good as well.
7. From Skopje to Berovo
⭐ Rating: 5 / 5 (2 reviews)
Berovo is a small mountain town at an altitude of 800 to 900 meters at the foot of the Malesevski mountains. Berovo represents a unique combination of almost untouched nature and cultural heritage.
Why choose this tour? The Berovo Full Day Tour and Hike will get you truly off the beaten path in the nature of eastern North Macedonia. It's perfect when you're into hiking and organic food.
The 12-kilometre hike will take you to Berovo Lake and colourful meadows. You can taste different forest fruits and gather many different herbs for preparing tea.
The hike ends at the "Klepalo" sheepfold where you will have a traditional lunch prepared with eco-products from your surroundings.
Including:
Private transfer.
Guide.
Lunch in a sheepfold.
Excellent day trip with à very Nice driver ( Robert) and à very enthousiastic mountains guide, proud to show his région. Not a touristic zone, very quiet, beautiful nature which invite you to relax and take thé time for Macedonian s encounters I recommand 100%
8. From Skopje to Strumica Monasteries and Waterfalls
⭐ Rating: 5 / 5 (1 review)
The eastern part of Macedonia abounds with exceptional natural beauty as well as beautiful old monasteries.
Why choose this tour? The Strumica monasteries and waterfalls tour from Skopje brings you to hidden gems in the eastern part of North Macedonia.
Monastery of St Leontius.
Monastery of the Most Holy Theotokos Eleusa.
Strumica Municipality.
Koleshino Waterfall.
Including:
Pick-up and drop-off at your hotel or any other preferred location in Skopje.
All transfers with comfortable A/C car or minivan.
Experienced English-speaking tour guide/driver.
Unforgettable trip, magical places. The Koleshino waterfall is just splendid, a place of connection with nature (I would put a tiny house there 😜 to wake up every morning to this splendor). And the monasteries a beautiful discovery also soothing places with a harmonizing energy. The guide was extraordinary. Gratitude. 🙏
9. From Skopje to Tikvesh Wine Region
⭐ Rating: 5 / 5 (1 review)
Tikvesh is the best-known wine region in Macedonia. It is located in the heart of the country and stretches along similar latitudes as the Bordeaux region in France, the Tuscany region in Italy and the Napa Valley region in California. Wine is produced here since the 4th century BC. See rolling hills and vineyards as well as archaeological sites.
Why choose this tour? To learn about the culture and history of the Tikvesh wine region and taste a variety of local wines at a winery.
Including:
Pick-up/Drop-off at any hotel or address within Skopje.
Transportation in an air-conditioned vehicle.
Experienced English-speaking local tour guide.
Wine tasting tour (3 kinds of wines and lunch at the winery restaurant).
Visit St. Panteleimon monastery and Stobi ancient site, including admission fees.
1 bottle of water per person.
Great tour, a nice balance of history in the region and trying wines/wine history in the area. And the architectural ruins were some of the best we've seen from that era. Definitely recommend it for couples spending a few days in the area!
10. Skopje to Kosovo Day Trip
⭐ Rating: 5 / 5 (132 reviews)
Real talk: We did not visit Kosovo and still regret it to this day. The tour from Skopje to Pristina and Prizren is the most convenient way to do it!
Why choose this tour? If you want to get a glimpse of Kosovo, the Kosovo Day Trip: Pristina and Prizren Tour from Skopje is the perfect option.
Visit Kosovo's main cities of Pristina and Prizen.
Enjoy a walking tour in Pristina.
Go on a walking tour in the Ottoman-era old town of Prizen.
Including:
Private tour.
Local guide.
Hotel pickup and drop-off.
Walking tours.
Transport by air-conditioned minivan.
Superb driver and guide that made the whole tour a memorable experience from beginning to end. Both towns were definitely worth visiting and the lunch stop was an experience in itself
Skopje Tours
1. Skopje Walking Tour
⭐ Rating: 5 / 5 (210 reviews)
Don't just explore outside of Skopje, also learn about the capital!
Why choose this tour? Walking In Skopje is great if you want an easy and cost-efficient way to get a taste of Skopje. You'll visit many of Skopjes highlights like:
Macedonia Square
Memorial House of Mother Teresa
Museum of the City of Skopje
Park Woman Warrior
Kapan Han
Suli Han
Skopje Fortress Kale
Including:
English-speaking tour guide
This was a very interesting tour of Skopje. Great storytelling about Skopjes history and present time. You get to see the most interesting parts of the city and the guide is very knowleadgable and engaged. You can ask him about everything. Was not too short and not too long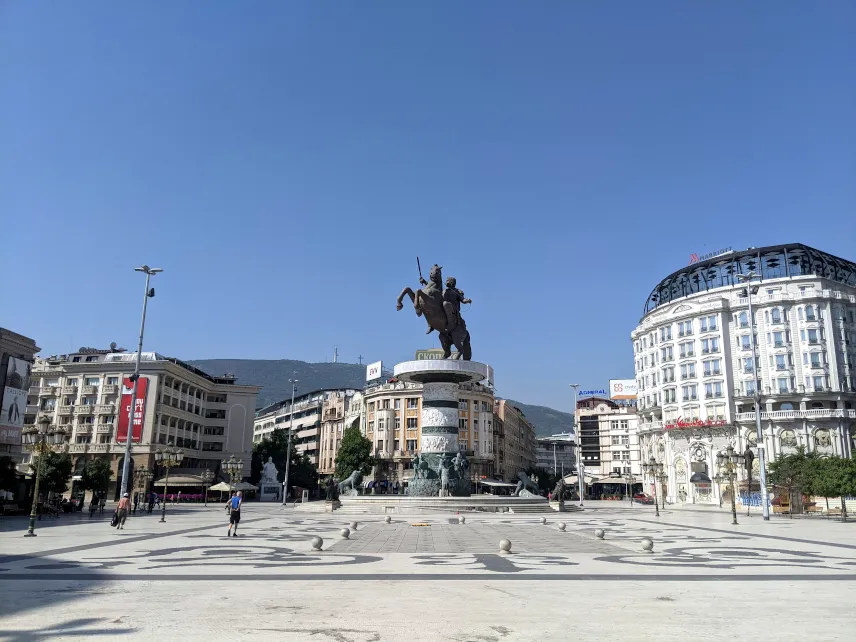 2. Skopje Airport Transfer
An airport transfer is the most hassle free way to get from Skopje airport to your hotel.
This post contains affiliate links. If you use these links to buy something we may earn a commission. You would help us a lot if you do so. Thanks.