You want to spend some time at the beach but you don't want to overstretch your Mexico travel budget? We show you how to do Mexico on a 30$ budget or less.
There are still many cheap Mexico beach towns like Chacahua or El Cuyo. Other beach towns in Mexico like Puerto Escondido or Holbox can be travelled on a budget if you stick to our tips. If you book your accommodation in advance, stick to street food or cooking and save money on activities, you can have a great time at the Mexican beach for less than 30$!
Without further ado, here are our top 10 cheapest Mexico beach destinations:
10 Cheapest Beach Towns in Mexico
Mexican Beach Towns in Oaxaca
Head to the Oaxaca coast when you're looking for small Mexican beach towns which are still off the beaten path!
Chacahua on a budget
Chacahua is the perfect budget-friendly beach destination in Oaxaca Mexico. This laid-back beach town is found in Lagunas de Chacahua National Park and is ideal for those travellers looking for a more rustic beach experience. What's great about Chacahua is there is a unique blend of African and Mexican cultures.
The village can only be reached via a shared boat that cuts through the Lagunas, or by a short boat ride and next hopping in the back of a pick-up truck that twists along a dusty road. The small community is cut between an inlet which can only be crossed via a small boat or lancha. One side is filled with cabañas and restaurants, on the other side find more local homes and the popular lighthouse trail. This is one of the best places to catch a sunset in Chacahua.
Wander between each guesthouse and ask for pricing. The standard cabaña on the beach costs +/- $500 pesos. However, a common way to enjoy Chacahua on a budget is to bring a tent and sleep under an awning. Many places will waive the camping fee if you eat all the meals at the on-site restaurant. Otherwise, expect to pay around $50 pesos a night for camping, which includes access to the bathrooms, showers, and the common-space facilities. In Chacahua, a standard breakfast costs around $50-$70 pesos and heaping typical dishes of seafood cost on average around $150 pesos.
Chacahua is becoming a popular surf destination, but even if you don't surf there's plenty to do. Stroll the long stretches of empty beaches, hike to the lighthouse, get a massage, take a yoga class, or simply unplug, read a book, journal, or nap in a hammock. Since it is a surfer's paradise, the waves can be strong, so swim with caution and observe where others are swimming. Close to the jetty is a suitable beach area.
Don't expect luxury visiting Chacahua, rather experience an authentic beach in Mexico and the perfect place to disconnect from it all.
Recommended by Megan from Packing up the Pieces
Hotels in Chacahua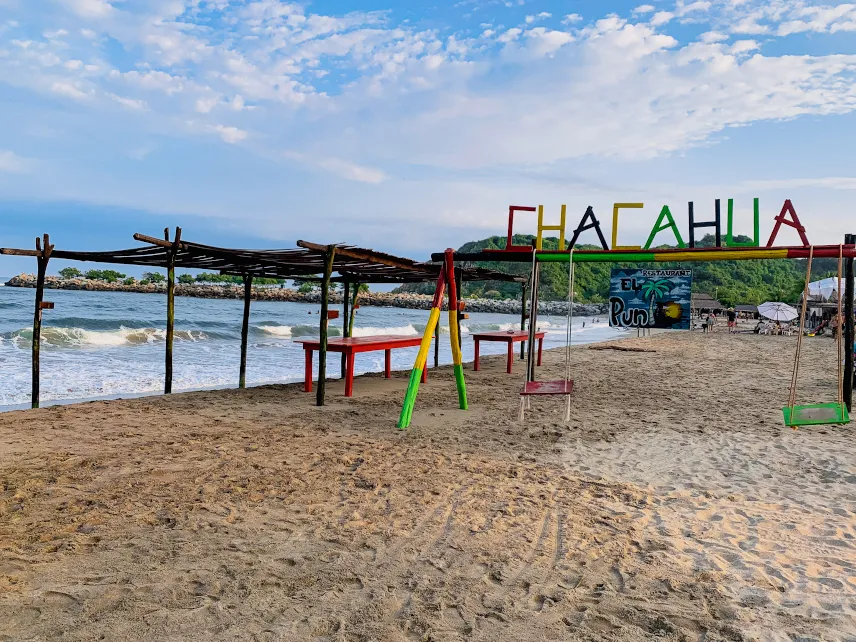 Mazunte on a budget
Mazunte is the perfect addition to your Mexico itinerary. Close to Puerto Escondido, it still managed to stay less travelled and keep more of its hippie charm. Be quick to visit though because it's gaining popularity fast. Unlike in Puerto Escondido, the sea is swimmable here because the bay is a bit more sheltered.
You can easily reach it from Puerto Escondido - which is also the closest airport - with a local bus and a colectivo for a few dollars.
The days when you could just rock up and find a cheap cabana on the beach are over and gone. As there aren't many hostels it's advised to book your dorm at least a week in advance if you want to pay less than 10$ per night.
Beach chairs are 200 pesos (10$; 2022) but you can easily just sit in the sand (next to the rocks in the centre of the beach you can find shade, especially in the afternoon) or at one of the many beachside restaurants. To be honest, we found the restaurants in the centre of town to be nicer and cheaper. Here, you can still find 5 tacos for 60 pesos.
Depending on your lifestyle and the activities you chose, it's possible to spend a lovely day in Mazunte on a mere 20$ budget. With its relaxed vibe, it's also a great place to meet other travellers - be it in your hostel, at the beach, or your yoga class.
The main activity in Mazunte - besides the beach - is hiking to Punta Cometa for sunset. Additionally, you can do yoga, meditation, ecstatic dance, or participate in a Temazcal ceremony for some deep soul searching.
Recommended by Carina from bucketlist2life
Hotels in Mazunte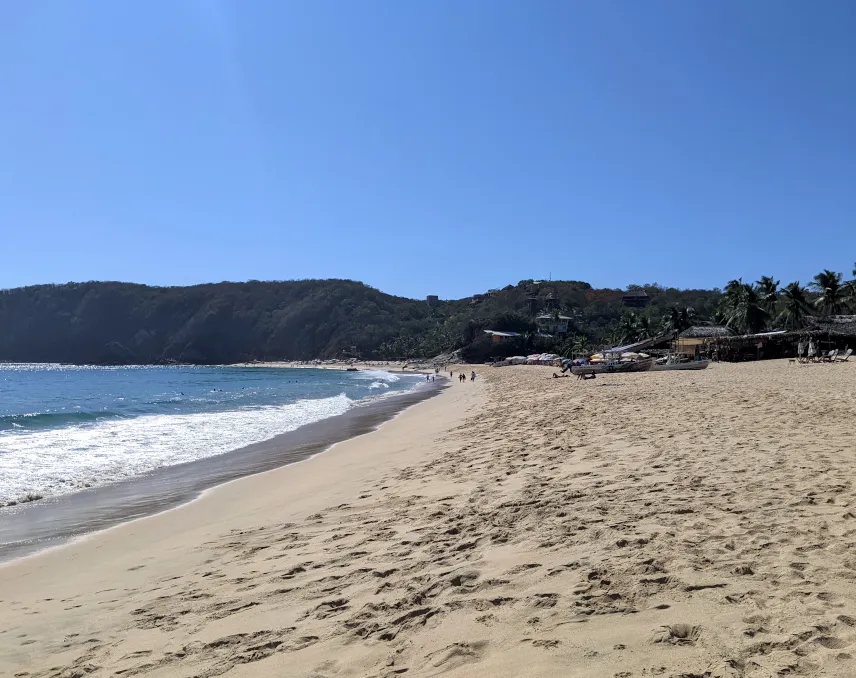 Puerto Escondido on a budget
Puerto Escondido - on Mexico's Oaxaca coast - is a town growing in popularity. With its low prices, excellent surf and stunning beaches, it's easy to see why backpackers and tourists alike are heading to Puerto Escondido. Fly to Puerto Escondido via Mexico City or get an inter-city bus from Oaxaca City or San Cristobal de las Casas.
For those seeking a social trip or just to keep costs low, a dorm bed in a hostel can cost as little as $12 per night. For example, Vivo Escondido in the Rinconada neighbourhood has $14 air-conditioned dorms. While Casona Puerto Dreams has 4-bed dorms costing just $12 per bed. Both hostels also have kitchens so you can cook. Head to the Chedraui supermarket or Mercado Benito Juarez to pick up your low-priced ingredients.
For eating out, you can get a main course and a drink for around $15 in a restaurant. Or, for cheap eats, head to the Centro district for local eateries and street food stalls, where you'll easily find $1 tacos or burritos.
Another great thing about visiting Puerto Escondido is that there are plenty of low- or no-cost activities. Watch world-class surfing from Playa Zicatela for free, swim in the tropical paradise beach of Playa Carrazillo (also for free) or release baby turtles into the wild on Playa Bacocho for just $5. Bring your towel to lay on as sun loungers aren't common on the beaches of Puerto Escondido. And, bring your own beer to enjoy while watching the sunset over the ocean for the perfect end to the day – where you'll meet plenty of other travellers doing exactly the same.
Overall, you can stay and have a good time in Puerto Escondido for $30 a day with a dorm bed, cooked or local food and cheap activities.
Recommended by Zoe from Zoe Goes Places
Hotels in Puerto Escondido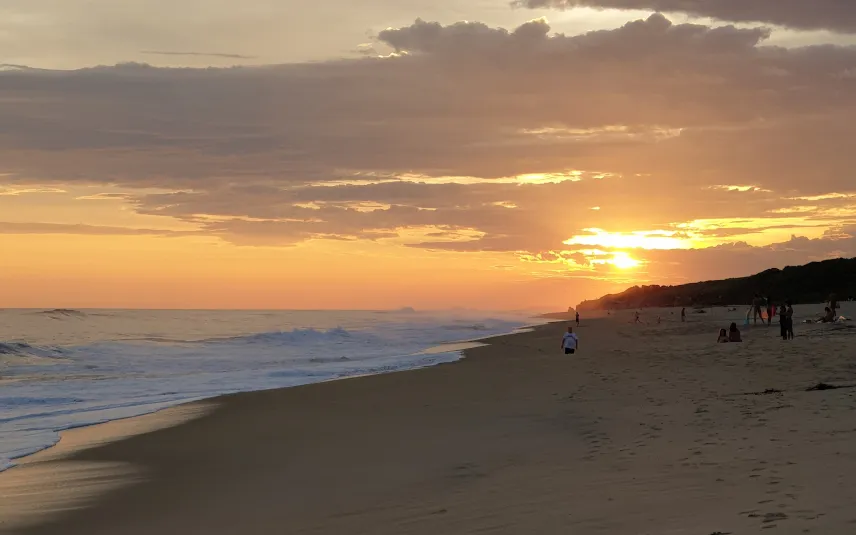 Mexican Beach Towns on the Yucatan Peninsula
While the Yucatan Peninsula features some of Mexico's most famous beaches like Cancun or Playa del Carmen, you can still find some cheapest Mexican beach towns here!
Progreso on a budget
For a budget-friendly Mexico beach destination in the Yucatan, away from the resorts of Cancun, Tulum, or Playa del Carmen, consider visiting Progreso. The town is located north of Merida, along the Gulf of Mexico. It is accessible by bus for 21 pesos (one way) through Autoprogreso.
While most of the beachfront lodging can get pricey (up to $80 per person per night), you can still find some affordable lodging options if you are willing to share lodging. Additionally, travellers can look for inland lodging options, away from the beach.
It's possible to find a four-person Airbnb in Progreso with WiFi and air conditioning for around $40-$80 total per night. However, you may need to look outside of Progreso, to the towns of Chelem and Chicxulub. Both towns are accessible to Progreso by taxi.
For affordable dining options in Progreso, look for restaurants just inland from the beach. Rosticerias selling charcoal roasted chicken and loncherias selling tortas, tamales, and salbutes are economical food options.
Progreso is a great solo travel destination for travellers who enjoy water activities. The beach in Progreso is excellent for swimming and sunbathing. The water is calm and does not have as much of a sargassum problem as other beaches in the Yucatan peninsula.
Besides the beach, you can also visit Reserva Ecologica El Corchito, where you can swim in cenotes, freshwater limestone sinkholes that are found all throughout the Yucatan peninsula. You can also enjoy renting paddle boards or kayaks throughout the mangroves of La Ria Progreso.
While Progreso has pockets of areas that can get expensive, the majority of the town is quite affordable. And it offers plenty of inexpensive water activities that you can enjoy on a limited budget.
Recommended by Astrid from Mexico Family Travel
Hotels in Puerto Escondido
El Cuyo on a budget
Though Mexico is famous for its beach towns on the Caribbean Sea, like Cancun and Tulum, they aren't always easy to visit on a budget. Located not far away, however, you'll find all of Mexico's best Yucatan beaches that are located on the Gulf of Mexico.
Among the best ones, El Cuyo is a truly special Mexico beach town. It has a privileged location and sits on the eastern edge of the Yucatán Peninsula, where the Gulf of Mexico meets the Caribbean Sea.
Still an up and coming destination for many, kiteboarders have been flocking to El Cuyo for decades. In fact, one of the top activities in El Cuyo is just relaxing on the beach and watching the kiteboarders as they seemingly surf the sky!
If you want to try kiteboarding, consider renting a room in one of the kite-boarder hostel houses (AKA Kite Houses). Overall, El Cuyo is very inexpensive, but the Kite Houses are always the cheapest way to stay right on the beach.
Besides kiteboarding and swimming in the Gulf of Mexico, you can visit the pink lakes of Las Coloradas, located about an hour from El Cuyo. After a day of activities, head to Naia Cafe or El Chile Gordo for a bite to eat at two of the best budget-friendly cafes in El Cuyo.
The easiest way to get to El Cuyo is to fly into Cancun International Airport (code: CUN) and then take the ADO bus. You can also get there by bus from the colonial city of Merida. Both cities are about 3.5 hours from El Cuyo.
Recommended by Shelley from Travel Mexico Solo
Hotels in El Cuyo
Holbox on a budget
If you are looking for an amazing beach destination on a budget, visit Isla Holbox. You can stay in Kin Camping for under $20 per night. The campsite is located just a few minutes' walk from the beach and offers amazing facilities. Free WiFi, kitchen or bar for the guests are just a few of them.
Isla Holbox is one of the safest places to visit in Mexico so it is a great option for solo travellers. There are also plenty of free things to do on the island. You can wander around and admire beautiful street art or look out for flamingos at Punta Mosquito.
It is also one of the best places to watch sunsets. Punta Cocos or the Pier look really stunning when the sun goes down. Renting a bike is a cheap option to explore the island. Isla Holbox is very small so you can plan your trip around the island for just a few dollars.
A plethora of hammocks at the beaches in Holbox which are free to use will give you an opportunity to relax without spending money. Waters in Holbox are shallow and very clean. This peaceful island has plenty of luxurious hotels, however, visiting this dream island on budget is also possible.
Recommended by Paulina from ukeveryday
Hotels in Holbox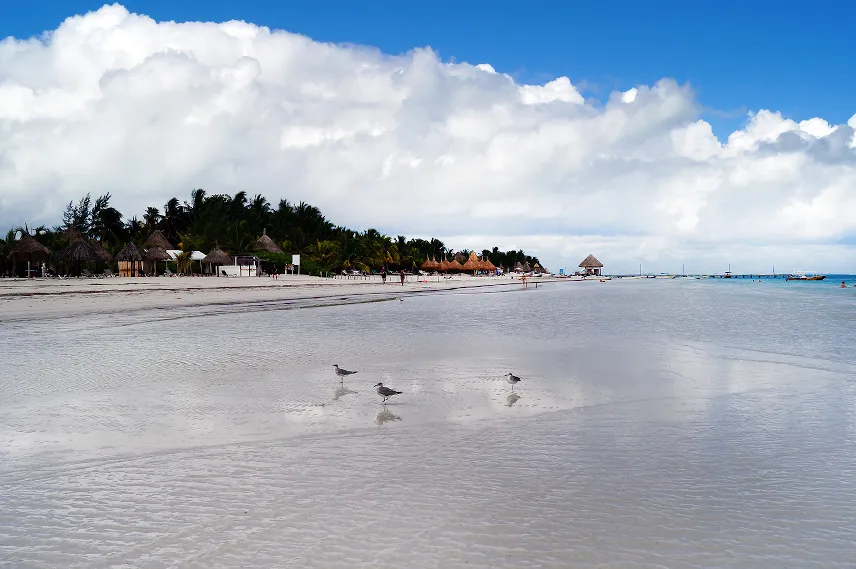 Bacalar on a budget
While Bacalar is not strictly a beach town, it will still blow you away with its aquatic beauty. It's simply a must on your Yucatan backpacking trip! The Laguna Bacalar is also called the Lagoon of Seven Colours and rightly so.
It's super easy to reach as the buses, ADO and local, driving the Chetumal - Cancun highway stop here.
You can find a bed in a dorm room for as little as 11$ per night. If you want to stay on the waterfront - which is a total recommendation - you have to calculate at least 16$.
In Bacalar, everything is about the water. You can relax in one of the many beach clubs, which can get pricy (think 6$ for a cocktail). Hence our recommendation is to stay somewhere with water access. You can also go on a boat tour (about 25$; 2022) or rent a kayak (about 5$ per hour; 2022) to explore the lagoon on your own.
And there is a lot to explore. Several cenotes feed the lagoon. Additionally, Laguna Bacalar is one of the few places in the world, where you can find stromatolites - trust us, this is incredibly cool. You can also pay a visit to the shipwreck in the Pirates Channel.
Overall, you have to calculate a bit to travel Bacalar on a 30$ budget but it's definitely doable if save on eating out and activities.
Recommended by Carina from bucketlist2life
Hotels in Bacalar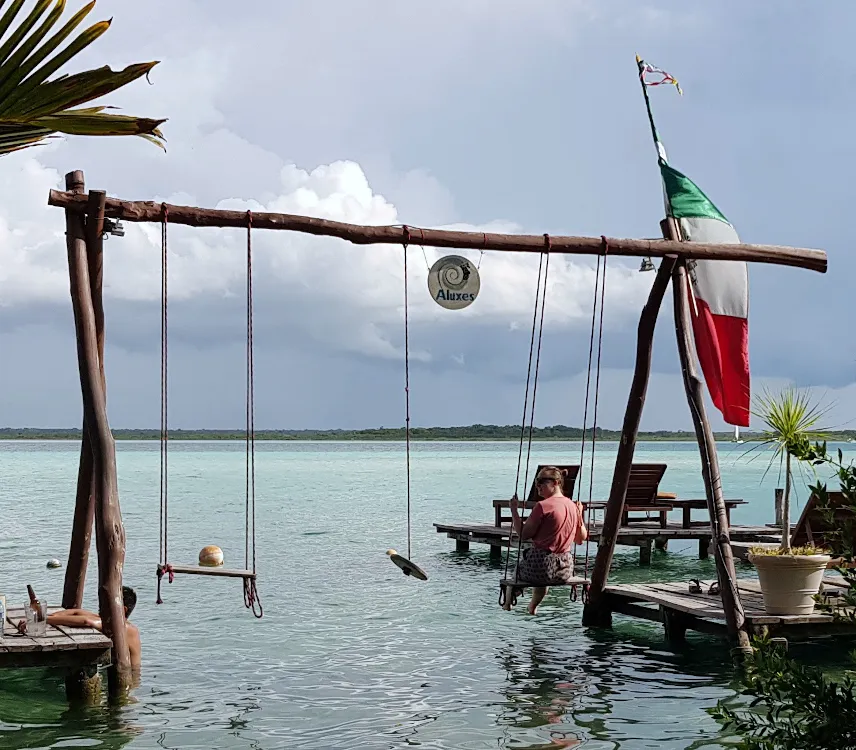 Mexican Beach Towns on the West Coast
If you're looking for some hidden gems in Mexico, head to the West Coast!
Ensenada on a budget
If you need an international getaway on a backpacker's budget then Ensenada is your place. At just over 75 miles from the Mexico-US border, Ensenada is easily accessible by public transit. Adventurers just need to cross the San Ysidro Port into Tijuana on foot, walk–or taxi–just under 2 miles to the Tijuana Linea Bus Station and grab a bus to the beach town of Ensenada. A roundtrip bus ticket from Tijuana to Ensenada is just about $20.
Accommodations are still relatively inexpensive in Ensenada. We travelled as a family of 3 and paid $50 per night for a stand-alone home. Single travellers can expect to pay around $20-$40 for a private room on Airbnb. Ensenada's also has a hostel, Ensenada Backpackers, that charges $20/night for dorm accommodations and $35/night for private rooms.
In Ensenada, selecting a beach is all about whether you are there to surf or to sun. However, if you came to Ensenada by public transport, you will need to either take a taxi or, even better, rent bikes to cycle to the many beaches that Ensenada has on offer.
If your feet are your only mode of transit, Playa Hermosa will be your beach. Closest to the port, Playa Hermosa is a good beach for those, like us, who want to learn to surf. Our lessons through Surf Ensenada had us riding waves by noon. But if you prefer a relaxing day at the beach, Playa Hermosa also offers big stretches of sand and clear water.
More serious surfers head north to Playa San Miguel beach. South of Ensenada has Playa Pacifica and El Faro beach. Neither beach is walkable from downtown Ensenada, but if you have a car or rent bikes, they are both great places to swim and sun.
Recommended by Faith from 3 Tickets Please
Hotels in Ensenada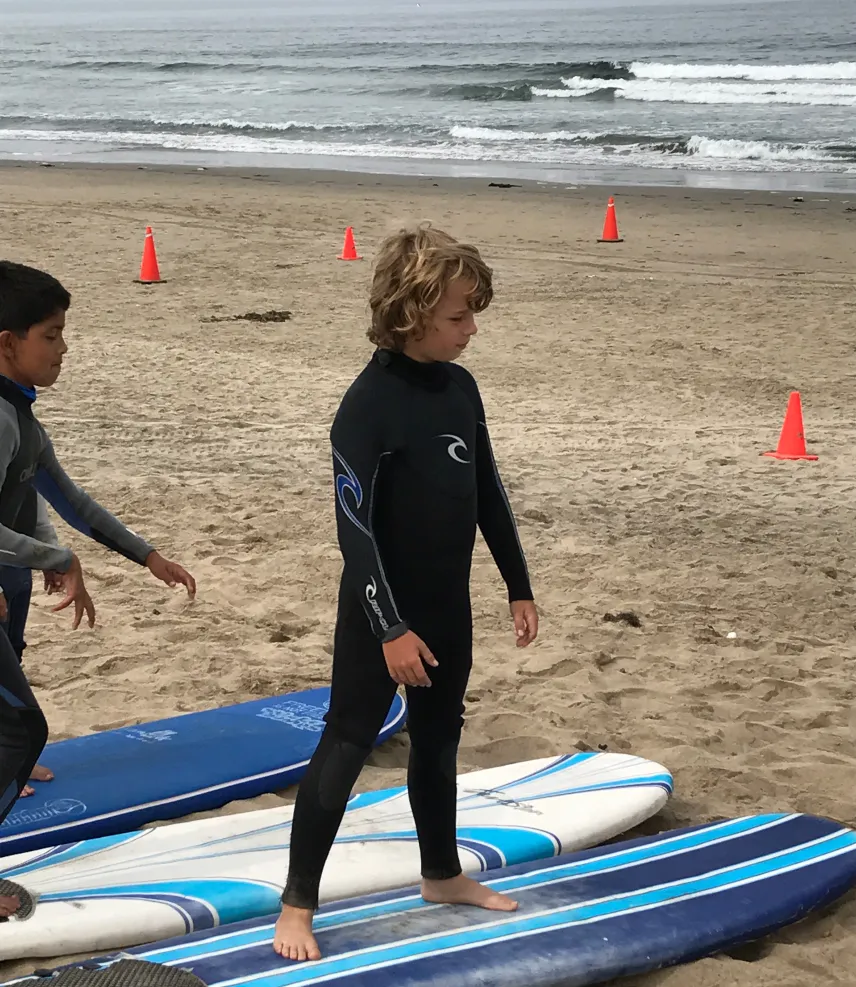 San Pancho on a budget
Located in Nayarit state, not far from Sayulita, Mexico, don't miss out on the charming beach town of San Pancho. Its official name is San Francisco, but everyone calls it by the nickname San Pancho.
Even if you're not staying in San Pancho, one of the best things to do in Sayulita is take a day trip to explore this charming town. In fact, many say San Pancho is like the Sayulita of 10-15 years ago, before it became a popular destination.
There are a few great beaches in San Pancho, like Playa San Pancho, the main beach. It has plenty of palm trees for shade but minimal services, so you'll want to pack your own food and drinks.
Many people visit to go surfing in San Pancho, and you'll find locals offering inexpensive lessons — much cheaper than surfing lessons in Sayulita. This is a popular backpacker town, and there are plenty of hostels to choose from.
To get to San Pancho, you'll fly into Puerto Vallarta International Airport (code: PVR). From there, walk outside and over the pedestrian bridge to the bus stop.
Look for a Compostela bus with a green sign that reads "San Pancho," and take it. San Pancho is about 90 minutes away from PVR airport, and the bus will cost about $50-100 pesos ($2.50-5USD).
Recommended by Shelley from Travel Mexico Solo
Hotels in San Pancho
Sayulita on a budget
Sayulita, a surfer town on Mexico's Pacific coast, is perfect for travellers of all budgets, from shoestring backpackers to people in search of bougie yoga retreats.
If you're more on the budget end of the spectrum, not to worry- it's easy to find entire apartments (suitable for at least two people) for rent on Airbnb for about $35 a night- or if you're looking for something even more affordable, you can find a bed in a hostel dorm room, like La Redonda Sayulita, for under $15 a night.
With Sayulita's growing popularity, the cost of visiting is definitely rising, but if you're diligent on how you spend your money (e.g., eating mostly street food, hitting up some of Sayulita's killer happy hours, and focusing on free activities, like lounging on Playa Sayulita), you could easily explore the quirky town on $30 a day.
To get here, you can take a COMPOSTELA bus directly from the Puerto Vallarta airport every 20 minutes or so. Once you're in the town, you'll need to spend no money on transportation, given Sayulita's small, walkable footprint.
No matter what kind of traveller you are- solo or backpacking with friends- you can enjoy the loud and party-loving atmosphere- in fact, it's bursting at the seams with backpackers, digital nomads, and expats to befriend. 
Sayulita is all about hanging out at the beach and soaking up the colourful town's chilled out vibes- so it would be easy to spend just chilling at any of its beautiful beaches for free. While Playa Sayulita is the most popular option in town, with plenty of bars and restaurants around it, these options tend to be on the pricier side- and the beach is usually on the crowded and dirty side.
Luckily, there's quite a few options in the area, like Playa de la Muertos, which is usually quite a bit cleaner than the main beach, or Playa la Lancha, the best place in town to see professional surfers in action.
If you're looking for something a bit more active, consider riding Sayulita's famed waves and renting a surfboard from Quiverito Surf Shop **** and Los Rudos Surf Shop for about $20 per day.
So if you're looking to party or try your hand at surfing in a stunning beach setting, Sayulita may be the perfect beach destination for you.
Recommended by Jessica from Uprooted Traveler
Hotels in Sayulita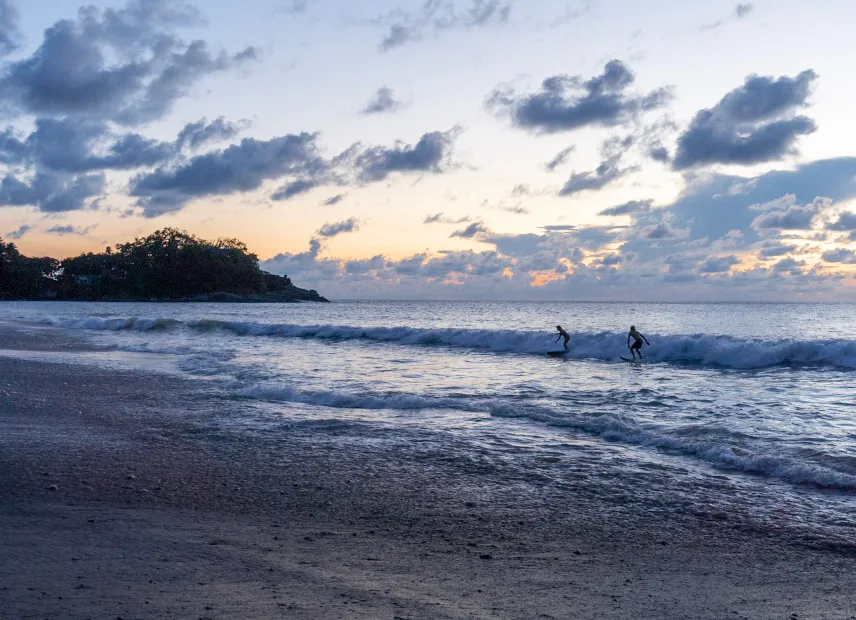 This post contains affiliate links. If you use these links to buy something we may earn a commission. You would help us a lot if you do so. Thanks.