This post contains affiliate links. If you use these links to buy something we may earn a commission. You would help us a lot if you do so. Thanks.
You're backpacking in Laos and looking for the best places in Laos to stay on a budget?
We have written a review about our favourite hostels in Laos. In contrast to other blogposts, we don't just compare booking.com ratings. We only share our own experiences as well as recommendations from travellers we have met on the road.
Laos Accommodation
Don Det Hostels
Don Det is the only place on this list where it makes sense to just arrive and walk around to find accommodation. You won't find any hostels here, but guesthouses are extremely affordable (starting at 6$ per night in a single room) so treat yourself to a private room.
The Boathouse and Mr. Phaos Riverview Guesthouse
If you're like us and you're too lazy to walk around, The Boathouse and Mr. Phaos Riverview Guesthouse are two super nice options for bungalows with a Mekong River View. Both are a bit far away from the pier and the main town but you can get around by bicycle super easily. We drove past them by bike and they look nice. Book early because the bungalows with nice views will sell out fast.
Dalom Guesthouse
If you're a last-minute booker like us, Dalom Guesthouse is a decent option close to the ferry and right in the main town close to all the bars and restaurants.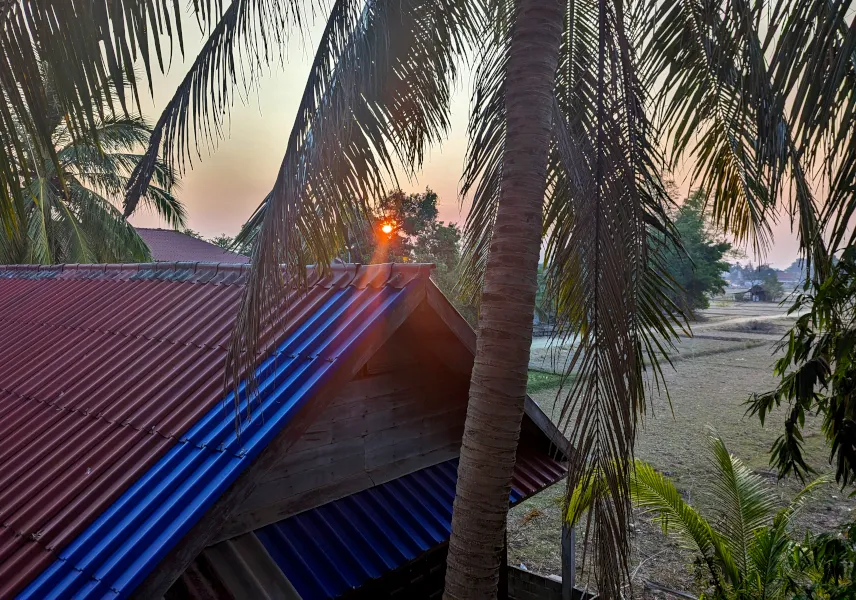 Pakse Hostels
Sanga Hostel Pakse
Sanga Hostel was our favourite hostel on this trip. Book early, because this gem of a hostel will sell out.
The dorm beds are extremely spacious and come with curtains, light, and power outlets. I never had my hostel towel folded as a swan before. The bathrooms are clean and plentiful. The included breakfast is delicious and dinner was nice as well. The location is super central.
The best thing about this hostel might be the friendly owner who helps you organise day trips e.g. the Pakse Loop, motorbikes, and onward travel.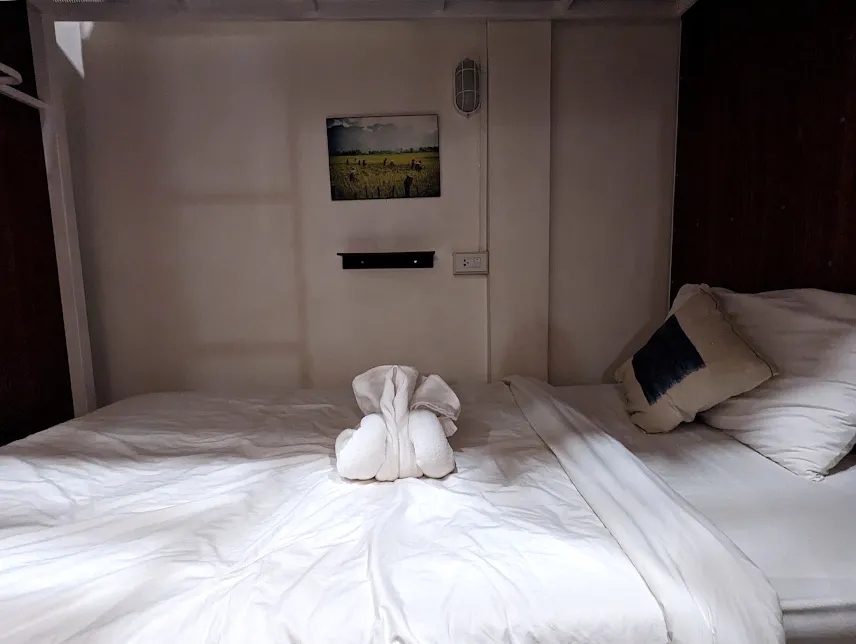 Thakhek Hostels
In Thakhek, you have basically two hostel options.
Bike & Bed Hostel Thakhek
We stayed at Bike&Bed. There were sufficient power outlets and bathrooms. The common area is super cosy. There was free coffee and tea in the morning. The location is right in downtown Thakhek next to many restaurants (try Six Friends!). The owner and volunteers are friendly but unfortunately not super knowledgeable about the area.
La Casa Hostel Thakhek
If you're looking for more information, for example on how to visit the Kong Lor Cave with public transport, go to La Casa two blocks down.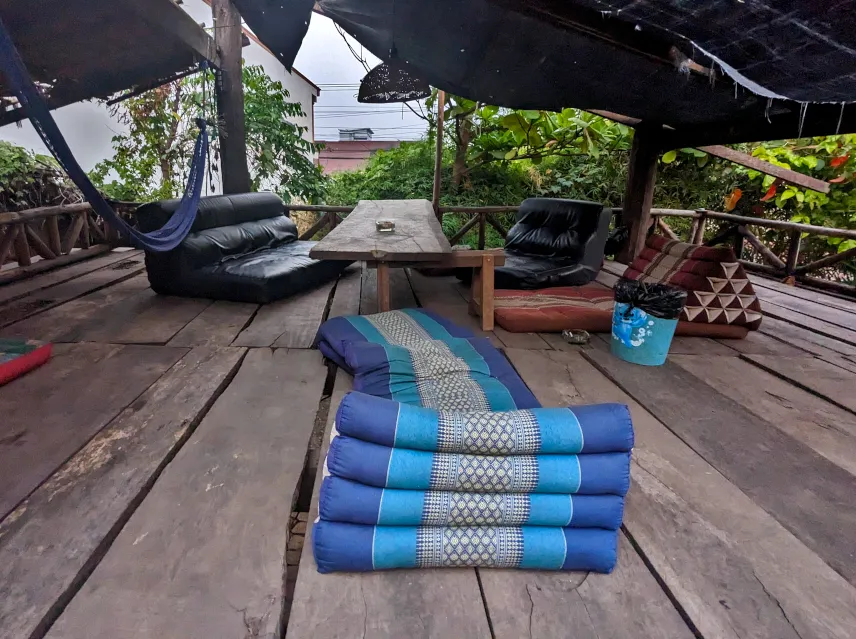 Kong Lor Hostels
Like Don Det, Kong Lor is not a place for hostels. There are some nice guesthouses. If you don't mind arriving and looking around, check out the "homestay village", it's signposted.
Kong Lor Cave Resort
The single best accommodation in Kong Lor, if you don't have a motorbike, is Kong Lor Cave Resort. The bus stops directly in front of it and it's an easy walk from the entrance of the Kong Lor Cave. The food is a bit more expensive but amazing – the smoothie was the best we had in all of Laos (and we must have had around 30 shakes to compare it with).
SpringRiver Resort
If you are looking for something a bit more upscale we can recommend the Spring River Resort. They are super helpful when it comes to reaching the resort and the view is spectacular. You can reach the cave by boat directly from the resort – super unique!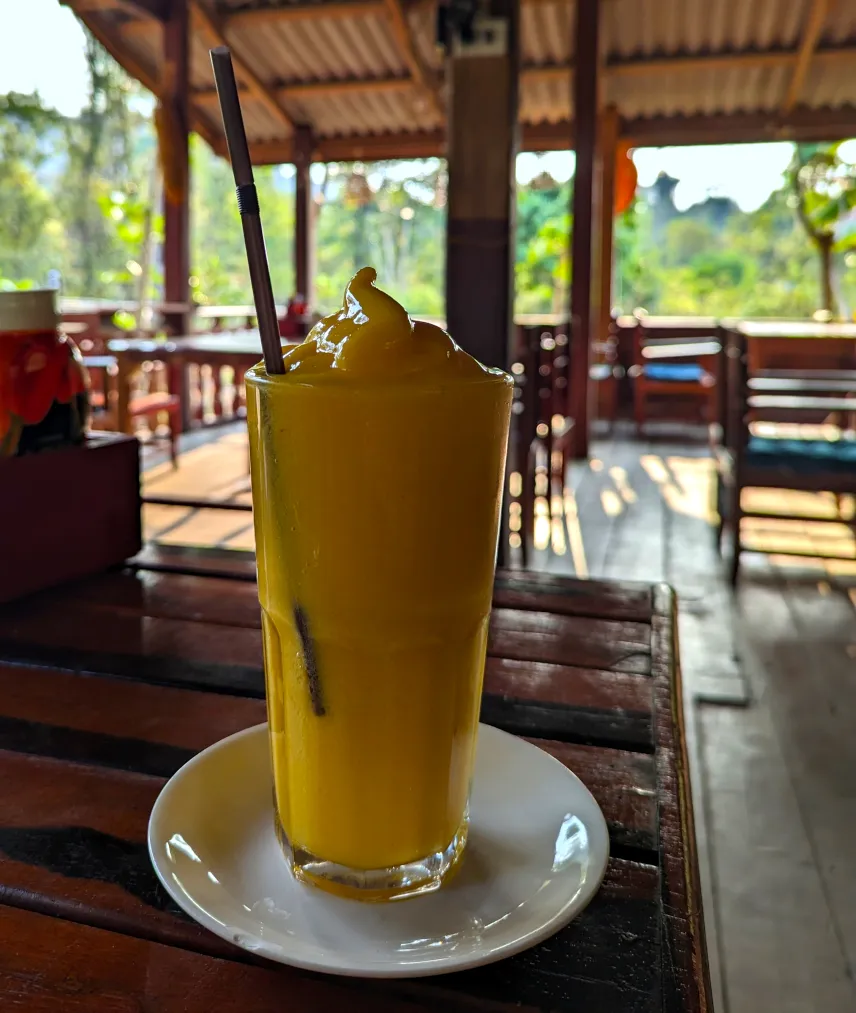 Vientiane Hostels
Barn 1929s Hostel Vientiane
We stayed at the Barn1920s Hostel. The facilities we the best in all of the hostels in Laos. There were lockers in the bed nook as well as lights, power outlets, and of course curtain. The free breakfast meant that there were ingredients in the kitchen which you could prepare to your heart's content – which we took full advantage of. You get one free hipster drink in the Barn 1920s cafe – yummy. A free bike rental is included in your stay.
The location is amazing, right in the centre of town. There is a local night market right in front of the door where we had amazing dinners for less than 1$ – and we never hurt our bellies.
The downside you ask? The AC is very cold. Too cold for the German taste.
Barn Laos Hostel Vientiane
They have a sister hostel, the Barn Laos Hostel with all the same amenities, which is a great option in case Barn 1920s is fully booked.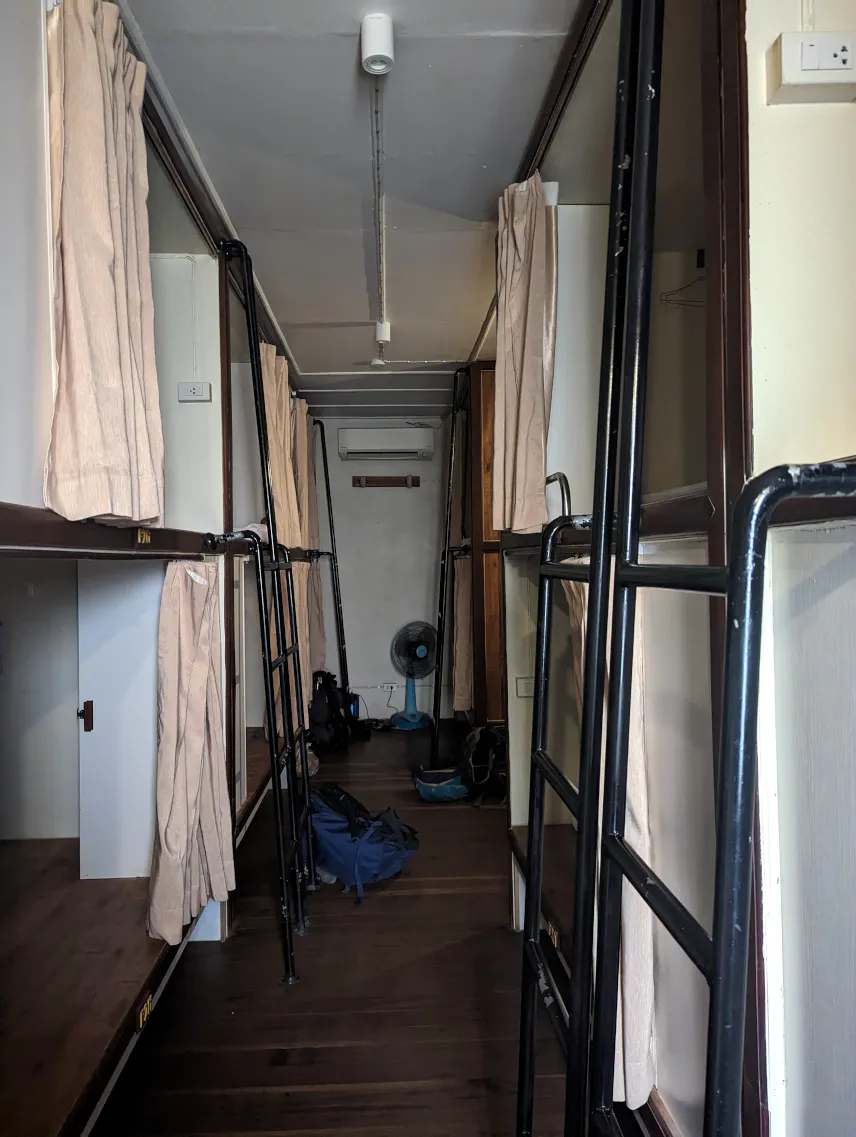 Vang Vieng Hostels
Vang Vieng Freedom Nana Backpackers
Let's be real, Vang Vieng is a party town and places like Nana Backpackers Hostel are the pure definition of a party hostel.
Vang Vieng Freedom View Hostel
If you want a quieter hostel with the option for some hustle and bustle, check out the Vang Vieng Freedom View Hostel. The beds have curtains, power, and lights. The free breakfast is yummy. The best is the view from the rooftop terrace which is often quiet enough to even get a yoga session in.
Vang Vieng Freedom Backpackers 2 Hostel
Vang Vieng Freedom View Hostel is right around the corner from their more party-friendly sister hotel Vang Vieng Freedom Backpackers 2 where you can go to enjoy the pool and some fun times.
Vang Vieng Friendly House
If you're looking for more peace and quiet, friends have recommended the Vang Vieng Friendly House.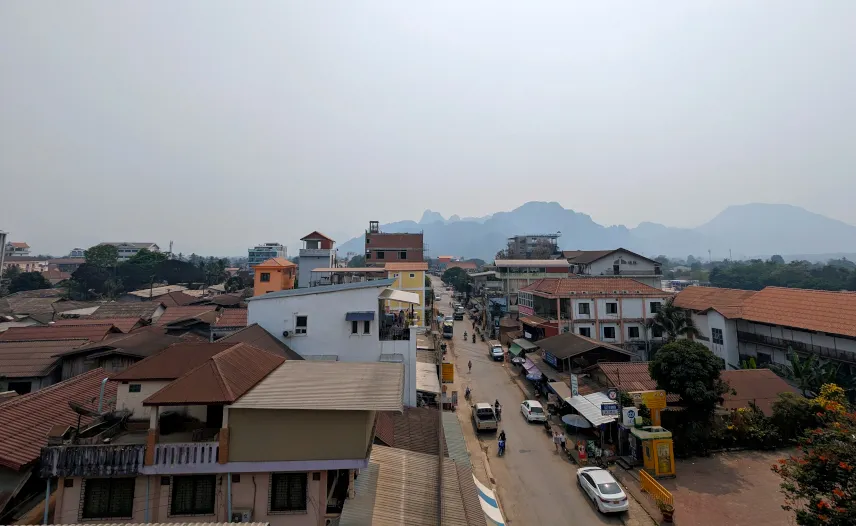 Luang Prabang Hostels
There are two main regions for accommodations in Luang Prabang: In the city centre and along the Nam Khan River.
Funny Riverside Backpackers Luang Prabang
We stayed at Funny Riverside Backpackers right on the river which was super cosy. So cosy indeed that it was hard to leave the chillout area and make the 1.5 km walk into the city. The dorm was comfortable with lockers, curtains, light and power by the bed as well as an ensuite bathroom. The free breakfast was amazing. There was free water, coffee, and tea all day.
Unfortunately, location in Luang Prabang matters as the Loca App (the Laos Uber) is not super reliable and tuk-tuk drivers will try to rip you off.
Downtown Hostel Luang Prabang
If you want to be closer to the UNESCO World Heritage centre, the morning and night markets, as well as the almsgiving ceremony (which starts at sunrise to every meter counts), you should choose a hostel in the centre. A friend recommended Downtown Hostel and that's where we would choose to stay the next time.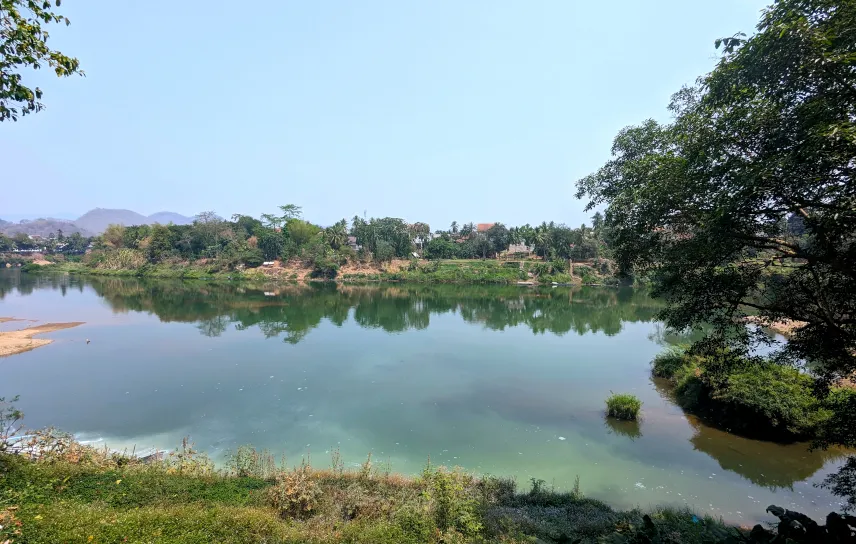 Nong Khiaw Hostels
We saw many backpackers unsuccessfully walk around to find accommodation so we suggest you book ahead.
Sythane Guesthouse Nong Khiaw
Sythane Guesthouse is the place in Nong Khiaw with the best price-performance ratio. It's close to many restaurants and travel agencies. Ask for an upstairs room. There you'll have a hammock with an amazing sunset view. The downstairs rooms are a bit damp and dark to be completely honest.
SunRise Bungalow Nong Khiaw
If you're looking for a seriously budget dorm, SunRise Bungalow is your only option. You can stay in a dorm for as little as 4$ per night, although according to the comments, it's not really advised. We met some travellers who were happy in the private rooms though.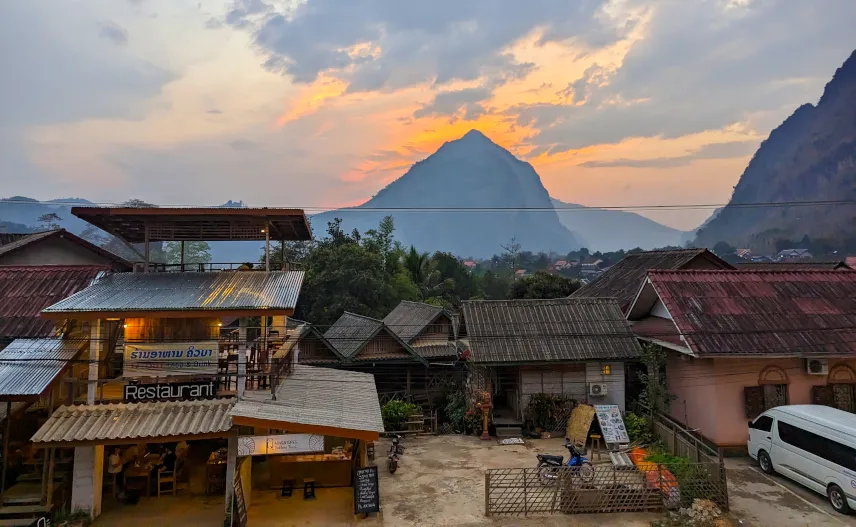 Huayhoi Hostels
This is the homestay where we went on our two-day hike from Nong Khiaw and we loved it. It was very rustic with a squatty potty and a bucket shower but the owners were super friendly.
The best thing was when they showed us how to cook super delicious Laos food.
Or maybe the best thing was the puppies….
Thong Homestay: 030 9900949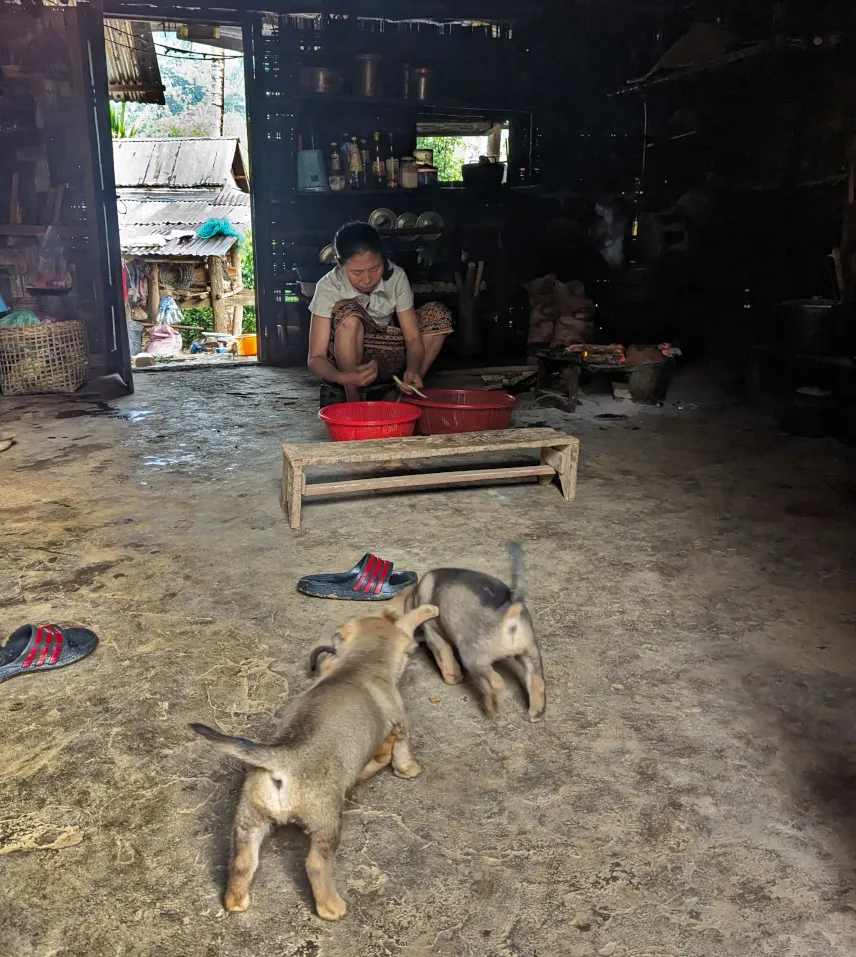 Houayxay Hostels
In Houayxay, we treated ourselves to a private room as we just came back from two back-to-back overnight hikes. Additionally, you'll save only around 1$ in a hostel compared to a guesthouse.
Oudomphone Guesthouse 2 Houayxay
We stayed at Oudomphone Guesthouse 2. The room was basic but sufficient, and the shower was hot. The location was right in the centre and the owner was amazing. She made sure that we got into our room even after our bus was 4 hours delayed and we arrived after 10 pm. In the morning, she prepared some delicious sandwiches to go.
Little Hostel Houayxay
If you're looking for a hostel, Little Hostel is the place to go. It comes highly recommended by some travelling friends. Of course, it has curtains, power outlets and lights.