After two visits to Thailand, here's our take on spending 2 weeks in Thailand – without flying but with all the Thailand highlights for first time visitors as well as returning travellers.
As always, we have tried to pack as much as possible into our travel itinerary to Thailand, taking loads of night buses and night trains as well as using the transfers for sightseeing.
We'll give you plenty of options to customise your 14 days Thailand itinerary according to the season as well as your preferences. We'll also provide loads of insider info to help you make the most of two weeks in Thailand!
How to Plan a Thailand Trip Without Flying
Planning a trip in Thailand without flying is very easy with many transport options like
Night buses
Night trains
Night boats
The tourist infrastructure is amazing and you can book your transfers in travel agencies all over the country as well as online.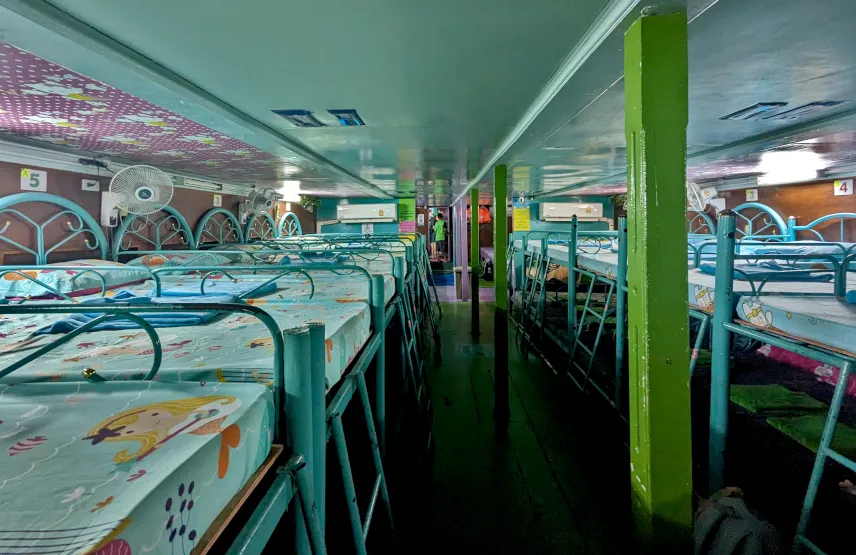 Best Place to Visit in Thailand for First Timers
The best places in Thailand for first time visitors are:
Chiang Rai
Chiang Mai
Pai
Ayutthaya
Bangkok
Koh Tao
Koh Pangan
Koh Samui
Koh Lanta
Khao Lak
Of course, we have included all of them in our itinerary to Thailand!
Northern Thailand Itinerary
Chiang Rai 2 Day Itinerary
Our itinerary starts in Chiang Rai in Northern Thailand. The city is mostly known for its outstanding temples as well as great trekking.
Day 1 – Chiang Rai
Spend your arrival day exploring the city centre! While Chiang Rai is mostly famous for its attractions outside of town, the city centre itself is worthwhile exploring. Check out our Chiang Rai itinerary for sightseeing tips!
Hit the night market for some delicious and cheap dinner!
Day 2 – Chiang Rai
Day 2 is the day for all the highlights in Chiang Rai:
The White Temple
The Blue Temple
The Black House or Baan Dam Museum
A Longneck or Karen Village
The Golden Triangle, where you can see Myanmar, Laos, and Thailand in one view.
If you're short on time, it's best to see all the attractions on a full day guided tour.
How to get from Laos to Chiang Rai
Chiang Rai is a great first stop when you come from Laos as it's only a 1.5 hours drive from the border. Transfers are widely available from Houayxay but you can also take public transport. First, you need to take a Songthaew to the border. There you'll find a bus crossing the bridge. On the Thai side you need to catch a local bus to Chiang Khong where the buses to Chiang Rai leave.
💡
If you have the extra time, we 100% recommend you do the Gibbon Experience in Houayxay.
How to get from Bangkok to Chiang Rai
If you're coming from Bangkok and you want to avoid flying, you can take a surprisingly comfortable night bus from Bangkok to Chiang Rai. Our ride even included a hot meal – in the middle of the night…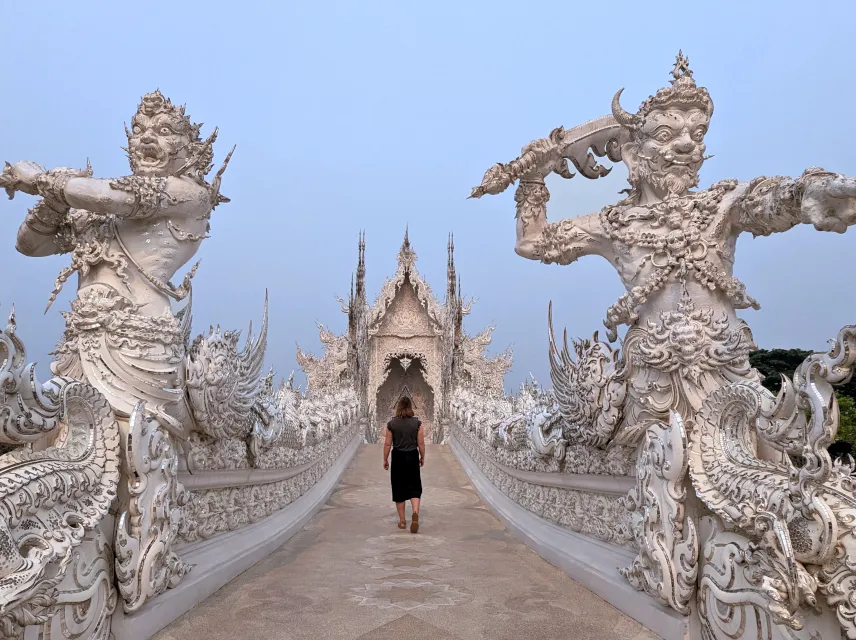 Chiang Mai 2 Day Itinerary
Chiang Mai is the digital nomad hub in Northern Thailand. It is famous for its old town with many temples, trekking, and elephant sanctuaries – as well as the Loi Krathong Festival.
It is well connected to Bangkok by night train (as well as many buses, of course). You can easily spend many days, weeks, or months here but we'll showcase the best things to do if you only have two days in Chiang Mai.
Day 3 – Chiang Mai
Spend the morning in the old city exploring the many Buddhist temples like
Wat Chedi Luang
Wat Sri Suphan
Wat Phra Singh
In the afternoon, hire a tuk-tuk (or a bike) to explore Doi Suthep mountain.
On the way, you can opt to stop at
a waterfall like Huay Kaew
Royal Winter Palace with the palace gardens
Doi Pui Hmong Village
and many more.
The highlight will be visiting Wat Doi Suthep during sunset which will illuminate the golden stupa as well as Chiang Mai beneath you.
Hit one of the many night markets for dinner.
Day 4 – Chiang Mai
Today, you have two options:
Option 1 – Visit an elephant sanctuary. If you do your research before going to find an ethical place, this can be a truly magical experience.
Option 2 – Visit Doi Inthanon, Thailand's highest mountain.
💡
What not to do in Chiang Mai:
Go elephant riding. It's animal cruelty.
Visit Tiger Kingdom. It's animal cruelty.
Go on the "Night Safari". Many lists do include this as one of the best activities to do In Chiang Mai. First of all, it's a zoo. While we will not make any argument for or against zoos here, you should know that secondly, they have the animals perform tricks. Which is – you guessed it – animal cruelty
How to get from Chiang Rai to Chiang Mai
Buses from Chiang Rai to Chiang Mai leave every 30 - 60 minutes throughout the day.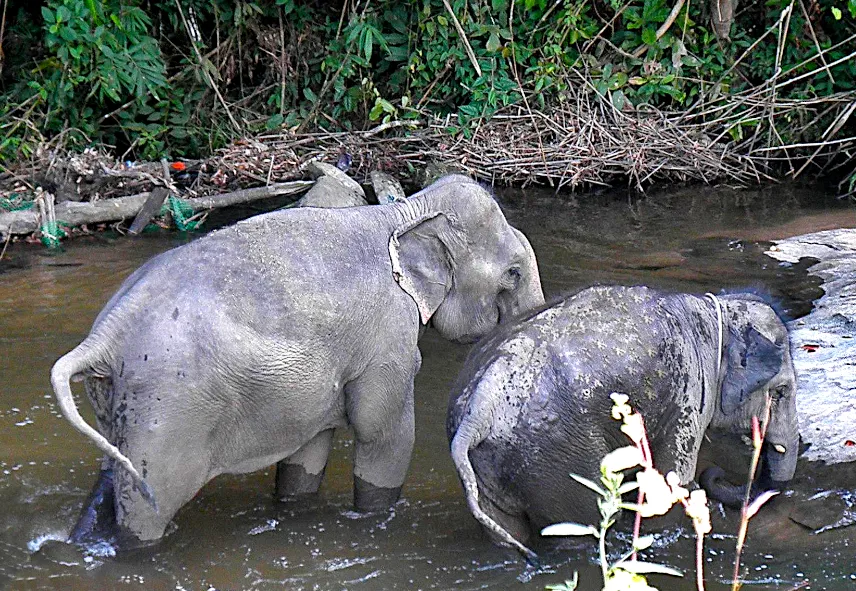 Option: Pai
Pai is another backpacker favourite in Northern Thailand. Most people we met went tubing or trekking here. We didn't go there ourselves as it was the smoky season or burning season when we visited and the air quality was just horrific.
💡
Check for the air quality when you travel northern Thailand in the smoky season from January to March!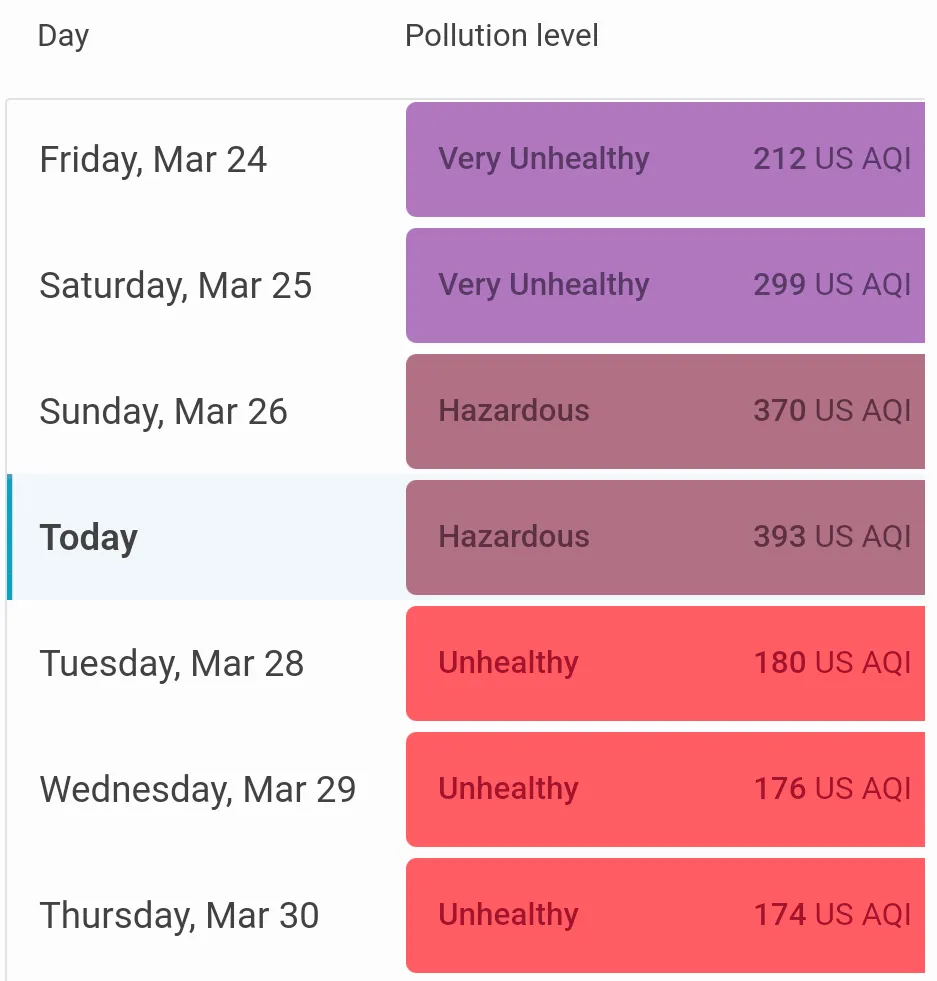 Central Thailand Itinerary
Ayutthaya 1 Day Itinerary
Ayutthaya is an amazing place to rent a bicycle and explore the historic sites for 1 day (or more).
It was the capital of the Siamese kingdom of Ayutthaya from 1351 to 1767 and the most important metropolis of the Southeast Asian mainland in the 18th century. The ruins of the old town are a UNESCO World Heritage Site.
Day 5 – Ayutthaya
Some of our favourite places in Ayutthaya are:
Wat Yai Chaimongkol
Wat Chai Watthanaram
Wat Maha That with the Buddha's Head embedded in a banyan tree
Wat Ratchaburana
Wat Phra Si Sanphet
You'll get a map when you rent a bicycle so you can easily create your own itinerary.
In the evening, the night market is your best option for cheap and delicious food.
💡
We recommend you stay the night as there are some charming 
accommodations
. In case you want to leave on the same day, there are lockers at the train station.
How to get from Chiang Mai to Ayutthaya
The last night train to Ayutthaya currently leaves Chiang Mai at 6 pm. They are comfortable sleeper trains.
💡
Bring some warm clothes because they blast the air con.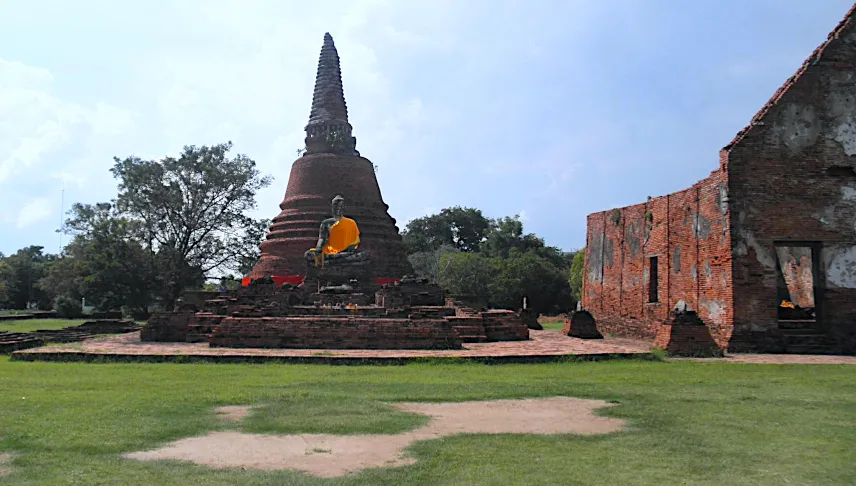 Bangkok 2 Day Itinerary
Bangkok is Thailand's capital with loads of history as well as a vibrant modern side with a thriving nightlife. You can easily spend more time here but two days are enough to cover the basics.
💡
If you want to save money in Bangkok move around by Grab/Bolt, public transport, or public boat. Taxis and tuk-tuk will overcharge.
Day 6 – Bangkok
Your first day in Bangkok will lead you to all the historical highlights in Bangkok like:
The Grand Palace.
Wat Pho.
Wat Saket / The Golden Mount – also for the views.
Chinatown.
Wat Arun is amazing to watch the sunset from the other side of the river so consider making this your last stop.
Depending on where your base in Bangkok is, the best way to reach the Grand Palace, Wat Pho, and Wat Arun might be via boat on the Chao Praya River. Public boats are a fast and cheap way to combine transfers and sightseeing.
Unless you really love the peace and quiet, you should spend one evening experiencing the backpacker hustle and bustle of Khaosan Road.
Day 7 – Bangkok
Today is the day to explore modern Bangkok.
Head to ICONSIAM. Not necessarily for shopping but for the food court and the free viewing platform.
Check out Warehouse 30 and the surrounding area for art galleries, street art, and hipster vibes.
Shop till you drop in Siam where you'll find the MBK Center, the Siam Paragon, and Central World, one of the largest malls in South Asia.
Relax in a park. Many will recommend Lumphini Park but we prefer the new Benjakitti Park with its skywalk with amazing skyline views. Pro Tip: The two parks are connected by a walkway.
End your day in a sky bar (we loved Tichuca).
How to get from Ayutthaya to Bangkok
Currently, there are 26 train options from Ayutthaya to Bangkok starting at 1$ and taking around 1 hour. Easy-peasy.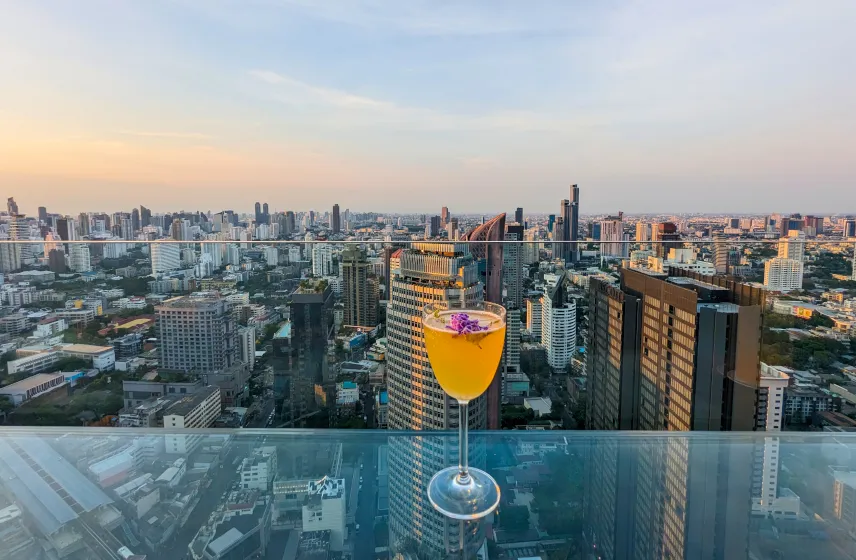 Southern Thailand Itinerary
As you can see in the table below, the two different coasts of Thailand – the Gulf Coast and the Andaman Coast – have very different climates. Hence which side you chose might not only be a matter of preference but also of weather.
In case you visit Thailand between January and March when both coasts are dry, you can combine the two. It will take you around 15 hours to cross the mainland called the Malay Peninsula, e.g. from Koh Tao to Koh Lanta.
| | | |
| --- | --- | --- |
| Month | Gulf Coast | Andaman Coast |
| January | Dry | Dry |
| February | Dry | Dry |
| March | Dry | Dry |
| April | Dry | Wet |
| May | Dry | Wet |
| June | Dry | Wet |
| July | Dry | Wet |
| August | Dry | Wet |
| September | Wet | Wet |
| October | Wet | Wet |
| November | Wet | Dry |
| December | Wet | Dry |
Option A – Gulf Coast
The Gulf Coast is dry between January and August. The rainy season is between September and December. During this time you might consider doing our option B – the Andaman Coast.
Where to Stay on the Gulf Coast of Thailand?
We just loved Koh Tao. It is small, relaxed, and reasonably priced.
Koh Tao
The main objective of Koh Tao is to relax. Of course, there are still plenty of things you can do.
Day 8 to ? – Koh Tao
Here are some of the best things to do on Koh Tao:
Go SCUBA diving. It's a great place to get certified or just for fun dives.
Go snorkelling. There are plenty of travel agencies offering snorkelling tours around the island.
Visit Koh Nang Yuan with the famous viewpoint.
Hike to a viewpoint like West Coast Viewpoint and Tanote Peak.
Party at Escobar.
Watch the sunset at Sairee Beach and the fire show after the sun went down.
💡
If you're looking for great value accommodations right at Sairee Beach, we can recommend
Grand Beach Resort
or
Silver Sands Resort
. The latter also comes with a very competent travel agency and laundry service.
How to get from Bangkok to Koh Tao
The process of getting from Bangkok to Koh Tao is very easy. First, you'll hop on a night bus to Chumphon where you'll hop on a speed boat to Koh Tao.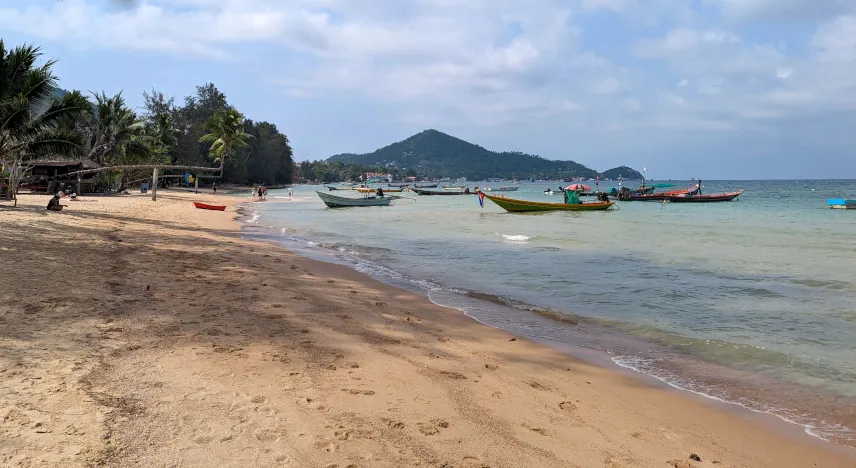 Option: Koh Pangan or Koh Samui
To be clear: You can easily spend one week or more on Koh Tao. If you want to switch things up, Koh Pangan and Koh Samui are the two obvious choices.
Koh Pangan is mostly known for its full moon party.
Koh Samui is the most tourist and family-friendly of the three Gulf Islands as it's the only one with an airport.
Asia Highlights wrote a full comparison.
How to get from Koh Tao to Koh Pangan or Koh Samui
Koh Pangan and Koh Samui are short speedboat rides away from Koh Tao.
Andaman Coast
Option B –
The best time to visit the Andaman Coast is the dry season from November to March. The rainy season on the Andaman Coast is from April to October. During this time you might consider doing our option A – the Gulf Coast.
Andaman Coast of Thailand?
Where to Stay on the
We loved Koh Lanta for its relaxed Hippie vibes.
Koh Lanta
The main objective of Koh Lanta is to relax. Of course, there are still plenty of things you can do.
Day 8 to ? – Koh Lanta
Here are some of the best things to do on Koh Lanta:
Go island hopping. Look for a tour that includes Koh Mook and the Emerald Cave. It will be a highlight of your trip.
Visit Mu Ko Lanta Nationalpark to check out the beaches, the lighthouse, and the monkeys.
Check out Lanta Old Town with its stilted wooden houses.
Go beach hopping and relax in one of the many beach bars.
💡
Lanta Marina Resort
is your best option if you're looking for cheap and rustic beach bungalows like they used to exist all over Thailand.
How to get from Bangkok to Koh Lanta
Your easiest option is to take a night bus from Bangkok to Krabi. Minivans from Krabi to Koh Lanta leave every 2 hours during the day and cost 10$.
💡
You can use your stopover in Krabi to visit one of Thailand's most famous beaches: Railay Beach. We have not tried it ourselves but boats seem to leave at Klong Jilad.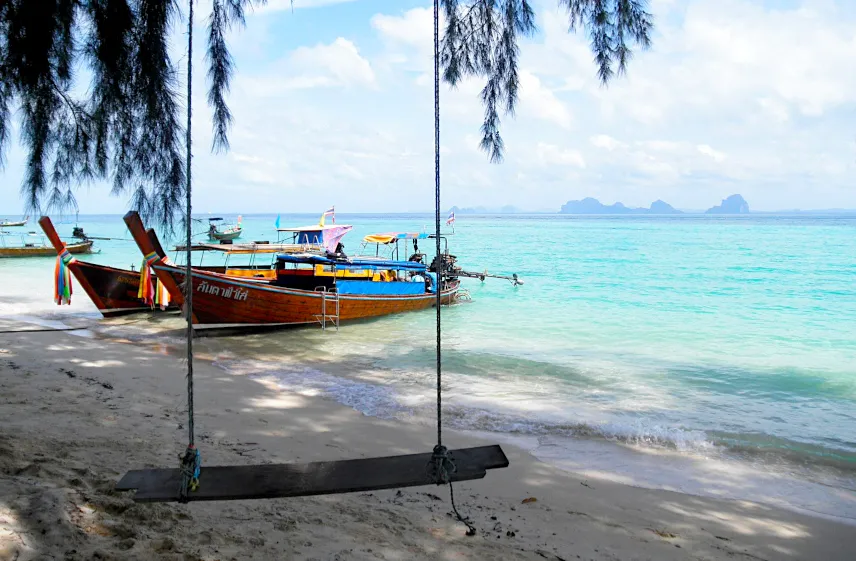 Option: Khao Lak
If you want to, you can easily spend a week or more on Koh Lanta. If you want to switch things up, we recommend you to go to Khao Lak.
We chose Khao Lak for three reasons:
💡
Khaolak Sunset Resort
is a great choice if you want to stay directly on the beach for under 50$ per night. It's adults-only and super quiet. To our knowledge, it's the last resort in Khao Lak with sunbeds on the beach.
How to get from Koh Lanta to Khao Lak
A transfer from Koh Lanta to Khao Lak takes around 5 hours as you'll most likely have to change minivans.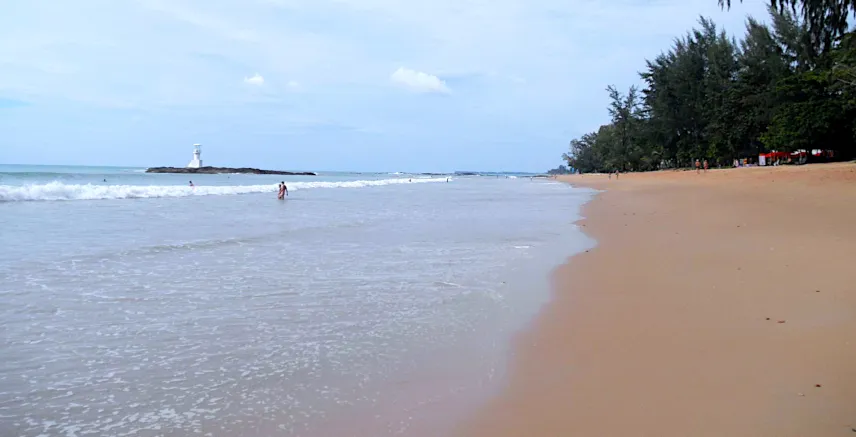 This post contains affiliate links. If you use these links to buy something we may earn a commission. You would help us a lot if you do so. Thanks.