Cambodia or Laos – Where to go on your Next Trip?
The short answer is: Go to Cambodia for Angkor Wat and the islands and to Laos for everything else. Let us explain:
Cambodia vs Laos – General Comparison
| | | |
| --- | --- | --- |
| Category | Cambodia | Laos |
| Getting There | Easy | Easy |
| Visa | 30 days on arrival | 30 days on arrival |
| Transportation | Sufficient | Sufficient |
| Best time to visit | October-March | October-March |
| Cost | 40€/person/day | 20€/person/day |
| Accommodation | 10-15€ per night | 5-10€ per night |
| Food | Relatively expensive | Cheap |
| Beaches | Islands | Landlocked |
| Landmarks | Angkor Wat | Luang Prabang |
| Outdoor Activities | Snorkelling, scuba diving | Trekking, kayaking, caving,… |
| Nightlife | Siem Reap | (Vang Vieng) |
| Vibe | Less chill | More chill |
| Safety | Safe | Safe |
Cambodia vs Laos – Getting There
Getting to Cambodia and Laos by public transport
Both Cambodia and Laos are well connected to their neighbours by public transport. Popular bus routes include:
Getting to Cambodia and Laos by plane
Both countries are also very well connected to their Asian neighbours by flights. The major airports are:
Cambodia
Phnom Penh
Siem Reap
Sihanoukville
Laos
Vientiane
Luang Prabang
Pakse
If you want to travel from without Asia, it's easiest to change planes in one of the major transportation hubs in the area like Singapore, Bangkok, or Kuala Lumpur.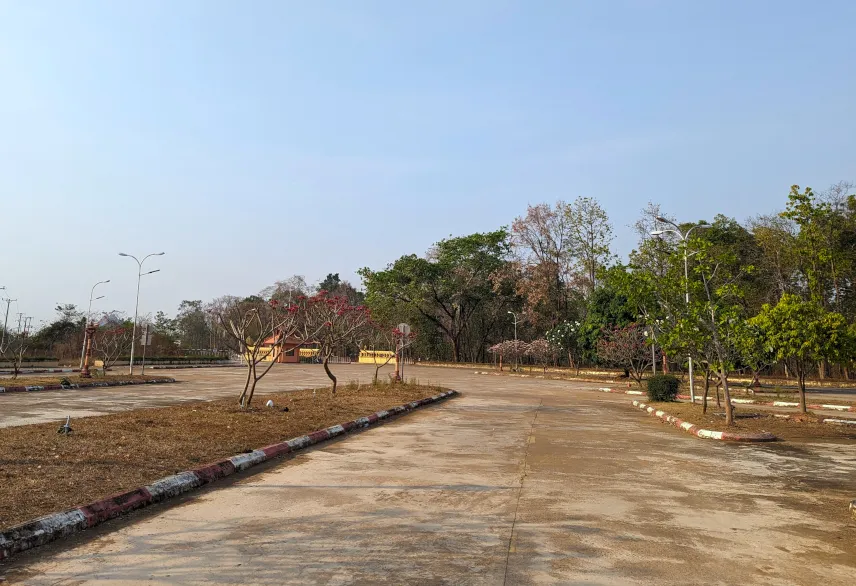 Cambodia vs Laos – Visas
As of writing this blog post, both countries grant a 30-day visa on arrival. Most popular land border crossings are well-organised and uncomplicated. Expect to pay some small bribes though.
Cambodia vs Laos – Transportation
All major travel destinations in Cambodia and Laos are well connected by public transport. You can either buy your tickets online or from one of the many travel agencies you'll find everywhere.
You'll find a decent network of buses, trains, tuk-tuks, and tourist transfers in both countries.
Be aware that the infrastructure in both countries is not as well developed as in their neighbouring countries of Vietnam and Thailand. Road conditions can be bad and travel times long.
💡
Watch out if you book a night bus as a solo traveller! They have single and double beds –and you will have to share the double bed with a stranger. Make sure to book early and request a single bed if you want to avoid being in a tight space with a person you don't know.
Cambodia Transportation
The main transportation hub in the country is the capital Phnom Penh. From here, you can reach all other destinations like
Kep, Kampot, or Sihanoukville on the coast.
Battambang and Siem Reap in the west of the country.
Kratie and Laos towards the north.
Worst road: Between Kampot and Sihanoukville.
Train connections are available between Phnom Penh and Kampot/Sihanoukville.
Laos Transportation
Laos is an elongated country. Most travellers traverse it from north to south or vice versa on a well-established route.
Worst road: Between Vang Vieng and Luang Prabang. Take the newly established high-speed train here.
Train connections are available between Vientiane and Vang Vieng/Luang Prabang.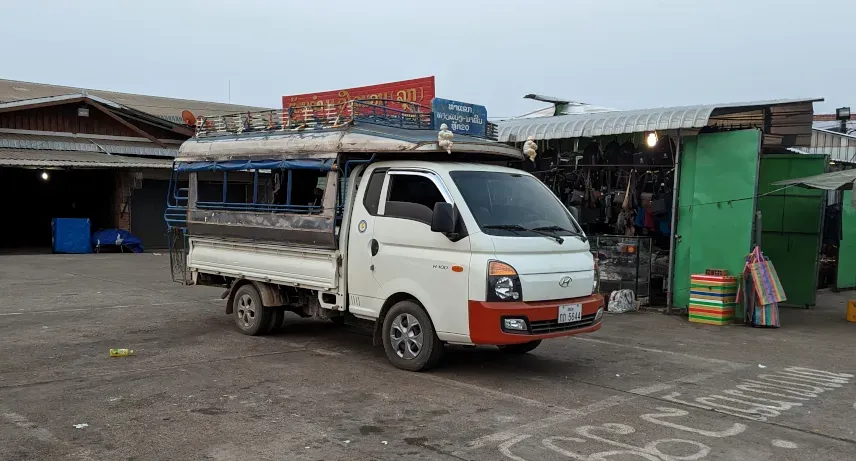 Cambodia vs Laos – Best Time to Visit
The dry season in Cambodia and Laos is between October and March.
💡
Beware of the smoky season or burning season in northern Laos. Between February and April, slash-and-burn farming takes place. This may cause everything from haziness to hazardous air conditions making it dangerous and hard to breathe.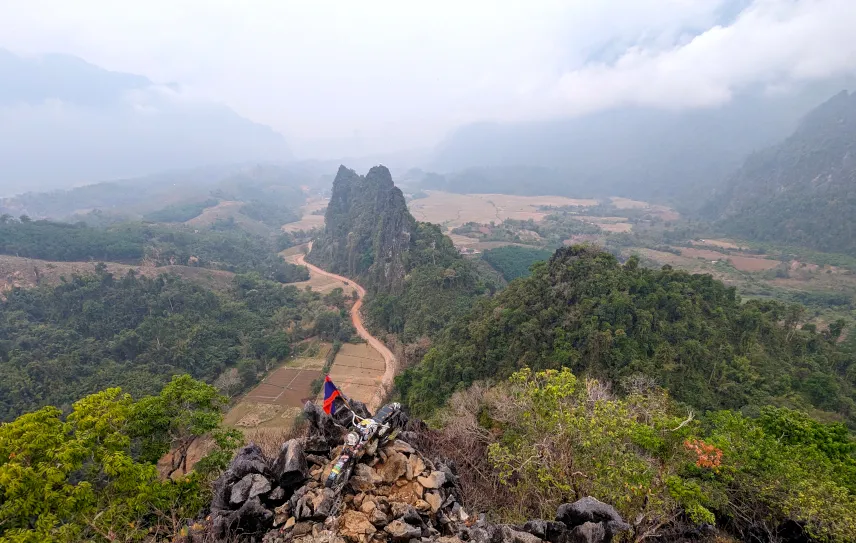 Cambodia vs Laos – Cost
Living roughly the same lifestyle, we paid
20€ per person and day in Laos.
40€ per person and day in Cambodia.
Laos is a super cheap country to travel considering to accommodation, transport, food, and activities. You get a lot of bang for your buck here.
Cambodia vs Laos – Accommodation
In Cambodia, we paid around 10-15€ per night for a dorm bed.
In Laos, we paid around 5-10€ per night for a dorm bed.
In general, we found the value for money to be better in Laos.
Cambodia vs Laos – Food
Cambodian and Lao food are very similar to each other. Both cuisines are also very similar to Thai food to give you an idea of what to expect.
Rice and noodles are a staple in both countries – Lao people even call themselves "children of sticky rice". You'll mostly find curries, soups, and stir-fries. The main difference might be the better availability of fish and seafood in Cambodia because of its coastline.
In both countries, you'll find street food everywhere. Night markets are a great source of cheap meals and they are located all across the two countries.
Expect to pay
Less than 1€ to 2€ for a street food meal in Laos.
2€ to 4€ for a street food meal in Cambodia.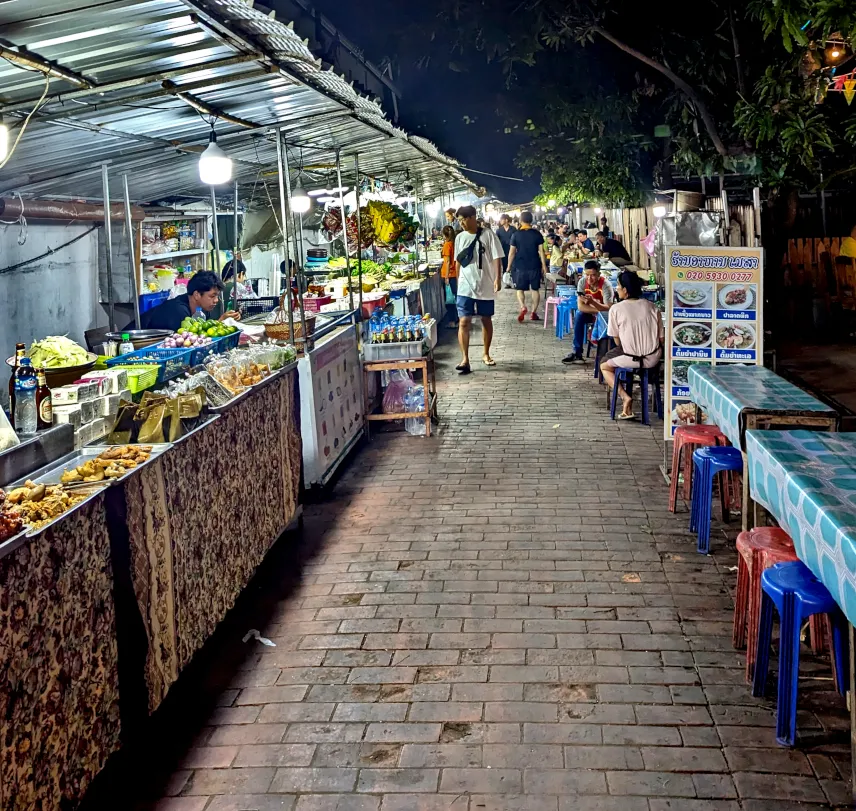 Cambodia vs Laos – Beaches
Cambodia Beaches
Cambodia has both mainland beaches and islands.
Mainland beaches in Cambodia can be found in
We have visited all three and must say they are a bit underwhelming.
Visit the Cambodian islands for a great beach time instead.
Koh Rong is the largest and most famous island in Cambodia.
Koh Rong Samloem s a backpacker paradise.
Koh Ta Kiev gives you Robinson Crusoe Feelings.
The islands can be accessed from Sihanoukville.
Laos Beaches
Laos is a landlocked country hence you will not find any ocean beaches. There are plenty of river beaches in Laos, e.g.
Mekong River - 4000 islands
Nam Khan River - Luang Prabang
Nam Ou River - Nong Khiaw
Additionally, you'll find waterfalls, e.g.
Bolaven Plateau - Pakse
Kuang Si - Luang Prabang
And of course, there's the option to go river tubing or lagoon hopping in Vang Vieng.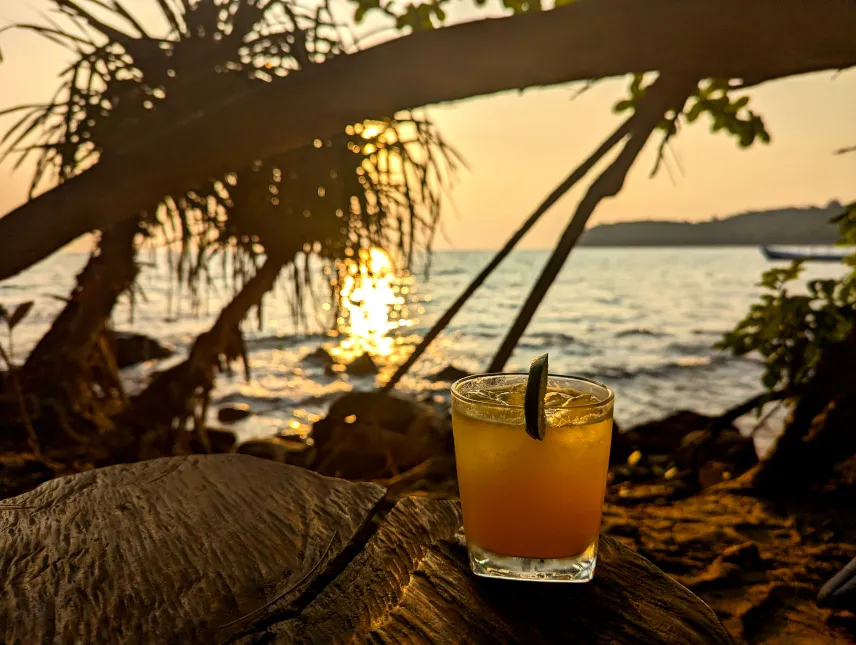 Cambodia vs Laos – Landmarks
The most famous landmark in Cambodia is Angkor Wat. It is a must-see place and belongs on your itinerary.
The two most famous landmarks in Laos are the UNESCO World Heritage town Luang Prabang and the Kuang Si Waterfall close to Luang Prabang which is often called the most beautiful waterfall in Asia.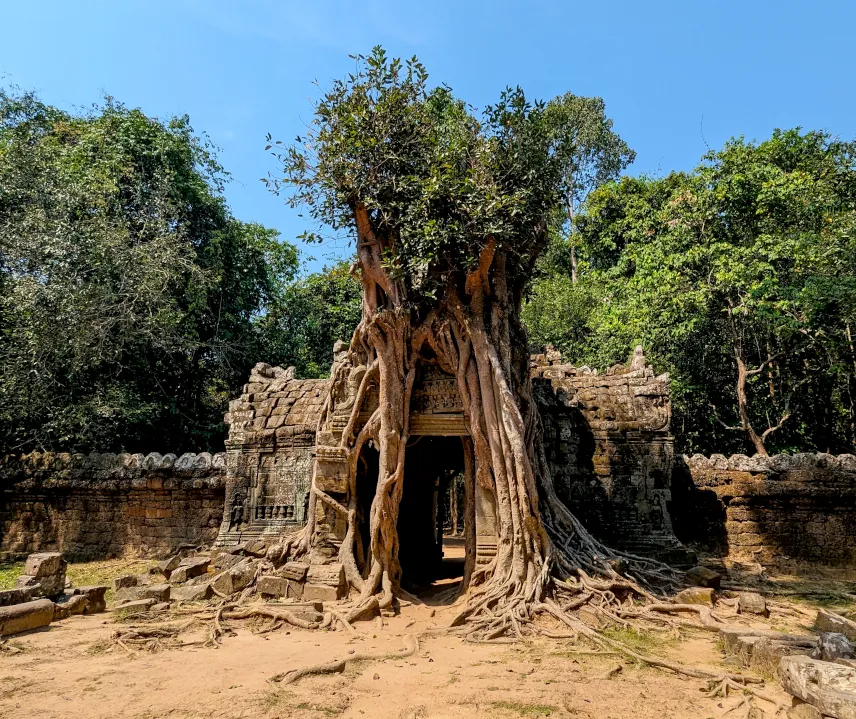 Cambodia vs Laos – Outdoor Activities
Cambodia Outdoor Activities
Cambodia is not really known for its outdoor activities. There are some hikes you can do around Kampot and there's also some brilliant kayaking in this area.
On the islands, you can snorkel or scuba dive.
Laos Outdoor Activities
Laos is a hub for outdoor activities. These are just a few of our favourites:
The Gibbon Experience in Houayxay.
Trekking in Nong Khiaw.
Everything in Vang Vieng from Tipsy Tubing to caving, trekking, and lagoon hopping.
Waterfall hopping around the Bolaven Plateau.
Kayaking around the 4000 islands.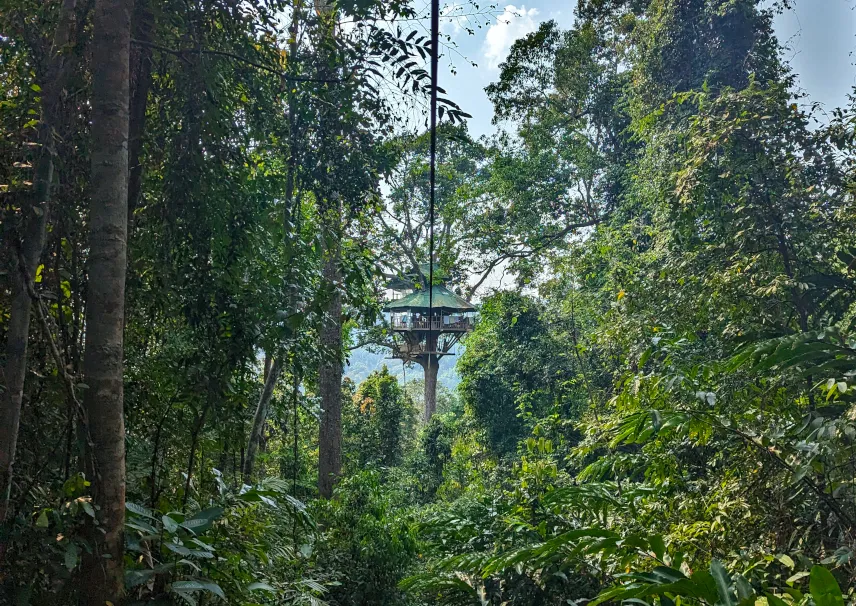 Cambodia vs Laos – Nightlife
Cambodia Nightlife
We found the best nightlife in Cambodia in Siem Reap. Pub Street is a lively hub full of travellers and cheap beer.
The capital Phnom Penh was much quieter.
Laos Nightlife
We found the best nightlife in Laos in Vang Vieng. In the hub of tipsy tubing and backpacker culture, there are some nice bars with a good vibe.
The capital Vientiane is super sleepy. There is no nightlife in Luang Prabang. Because of its world heritage status, there is an 11:30 pm curfew. The place to party is the bowling alley a bit out of town.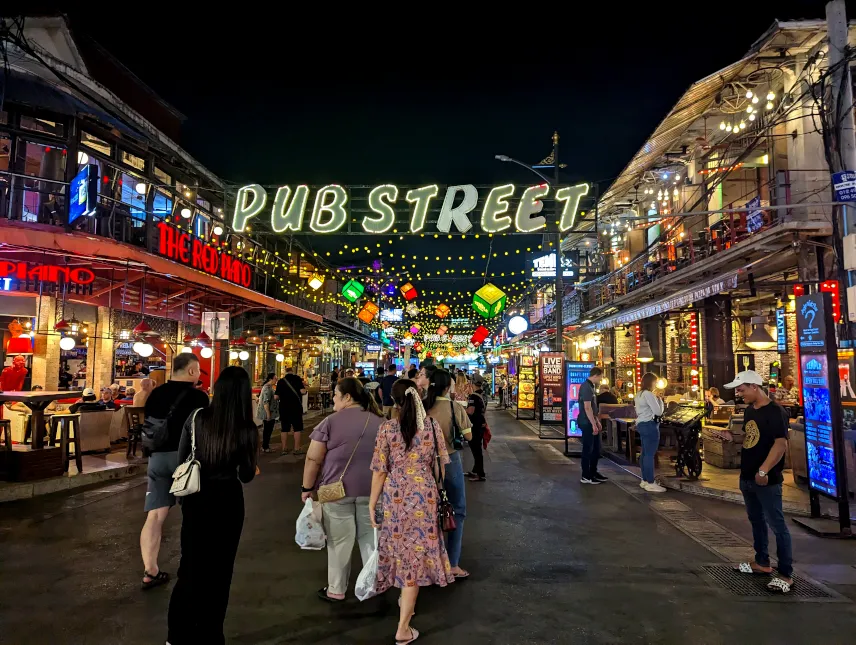 Cambodia vs Laos – The Vibe
Disclaimer: This is the most subjective part of this blog post.
We loved the vibe in Laos. Our visit was hassle-free and super relaxed. All the locals we met were super friendly. At the more remote places, we were even asked to pose for pictures several times.
Cambodia on the other hand did not vibe as much. Tuk-tuk drivers, salespeople, and beggars (even children) were much more present and pushy.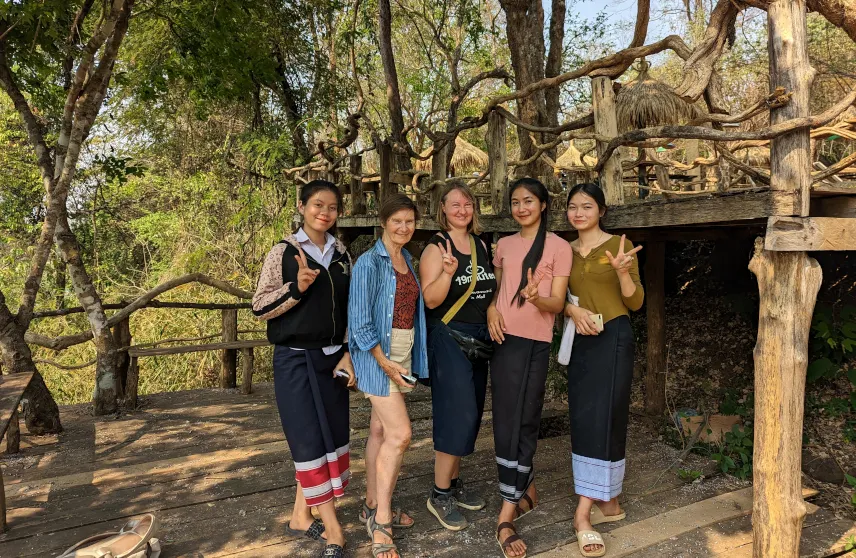 Cambodia vs Laos – Travel Safety
We never felt unsafe in Cambodia or Laos – even me moving around solo as a woman. We also never fell victim to any scam (that we noticed).
The only annoying thing was the constant (when I say constant I mean every few seconds) offers of tuk-tuk drivers in Cambodia.
💡
On a side note:
Malaysia
was the only country in South East Asia where I did not feel safe as a woman.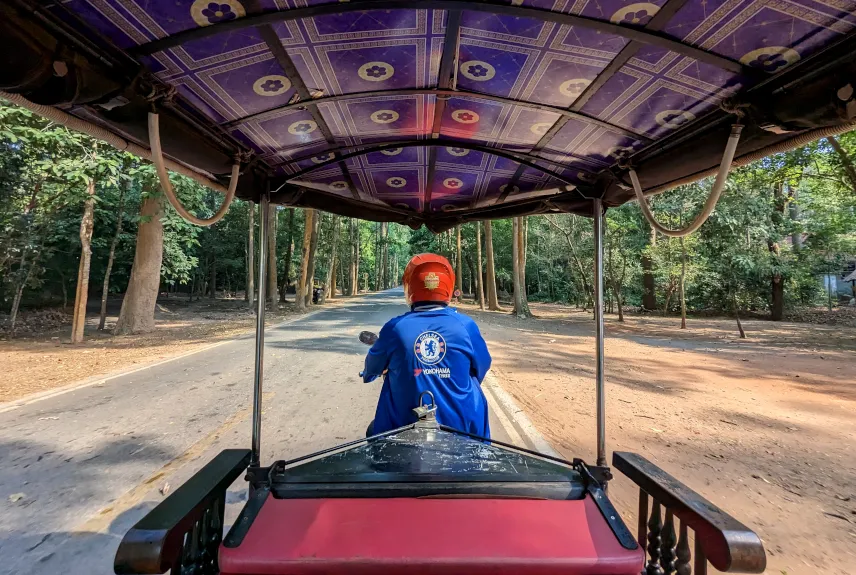 Conclusion
Why visit Cambodia
First and foremost, visit Cambodia for Angkor Wat. Secondly, visit Cambodia for the islands. They are a much less touristy and off-the-beaten-path alternative to the islands in Thailand.
Why visit Laos
Visit Laos for a relaxed experience, fewer tourists, and friendly locals.
The prices are the lowest in the whole region. Taking a hot air balloon in Vang Vieng is one of the cheapest options worldwide.
Additionally, Laos is an outdoor lover's paradise. When you want to go trekking and visit ethnic minorities, it's a much less touristy alternative to Vietnam or Thailand.
This post contains affiliate links. If you use these links to buy something we may earn a commission. You would help us a lot if you do so. Thanks.